Think again if you thought you needed to be a sophisticated Southern landowner to wear a seersucker suit.
This one-of-a-kind suit is turning people's heads once again and has never been hotter. You can wear seersucker at any age and for most occasions and look fantastic the whole time.
If you think I'm wrong, hear me out.
What is a Seersucker Suit?
First things first: seersucker is a type of fabric and not a pattern.
It's commonly believed that seersucker is merely a pattern, but that's a misconception. The unique way the fabric is constructed is what makes this fabric so different from other suit materials. (More on that in a moment.)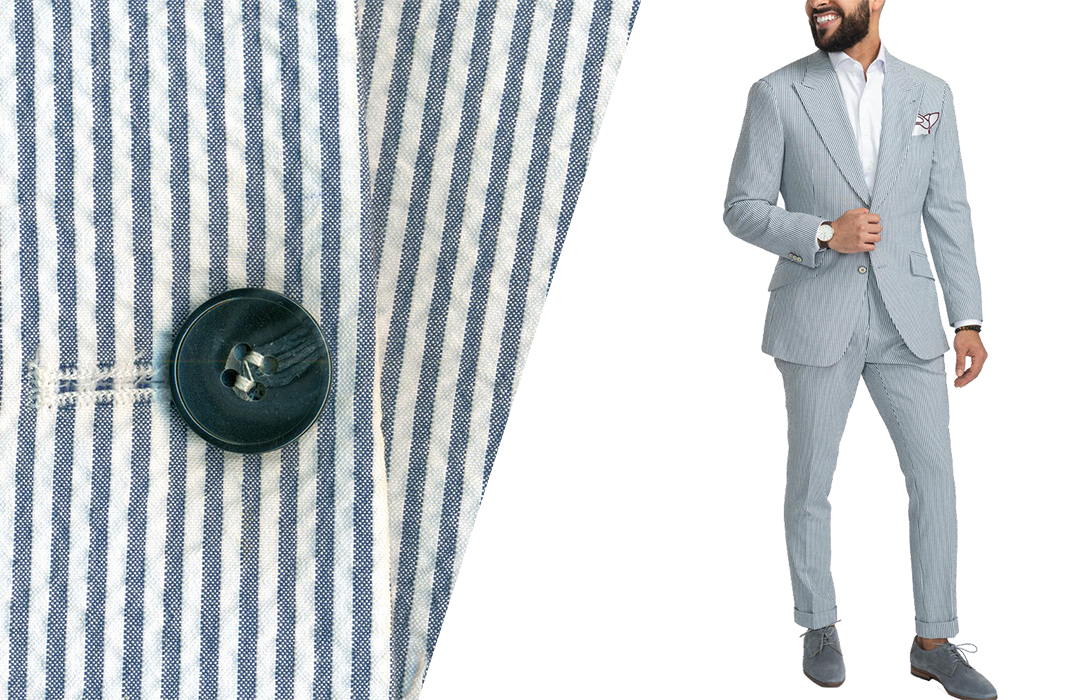 Seersucker looks and feels like many small bumps across the fabric. It's usually designed in stripes but sometimes checks.
Seersucker is a casual material, not ever used for formal business or evening wear.
It's a lightweight cotton blend that is excellent for use in warm climates. The combination of the lightweight material and how it sits on the body makes it a perfect fabric for having a cooling effect.
Finally, seersucker suits are explicitly designed to be an incredibly cool alternative to your standard suit.
How is Seersucker Made?
Seersucker fabric was first woven in India. When the British colonized India, they discovered the material, and it became wildly popular in British colonial circles.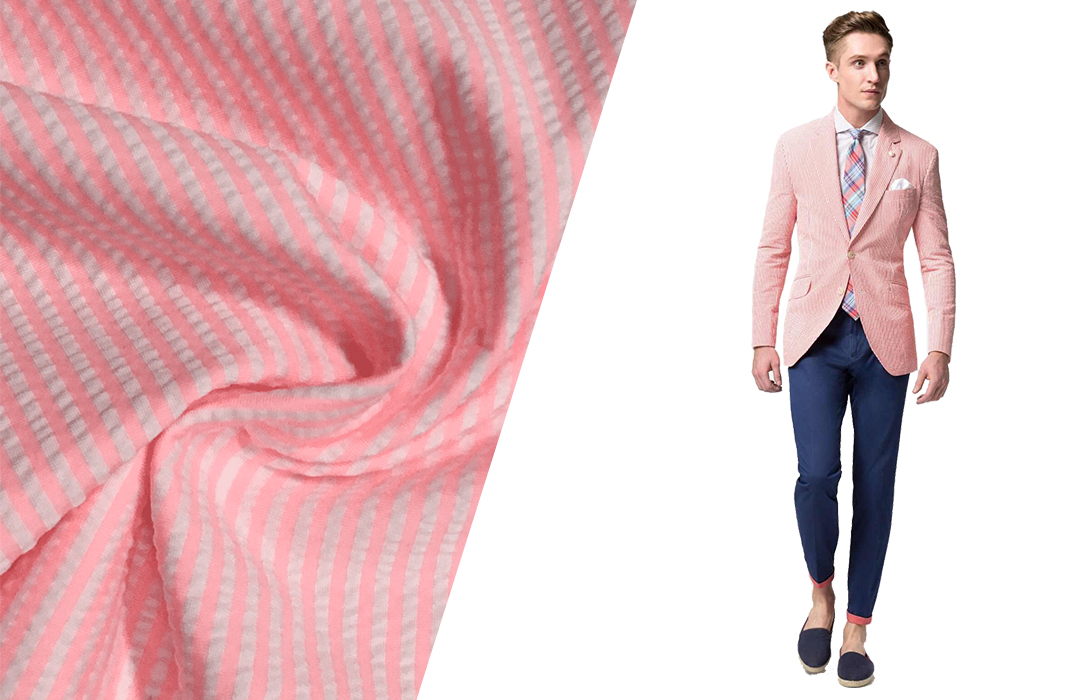 In addition, lighter clothing made this hot, new climate a little more manageable for the newcomers and further enhanced its popularity.
The British introduced seersucker to the United States in the early 1900s, where it gained tremendous popularity in the hot Southern weather.
Seersucker was initially the favored material by laborers, who saw this fabric as an excellent way to cope with their boiling work conditions. Soon, more genteel society picked up on the virtues of seersucker, and it became a fashion statement.
The way the cotton threads are woven causes the threads to bunch up together. This creates a texture that puckers the material. These textured bumps are what help the air to circulate and create that cooling effect.
The Seersucker Suit Should Fit Perfectly
Your seersucker suit needs to fit perfectly. All suits, including all their parts, like your dress shirt, should always be a perfect fit.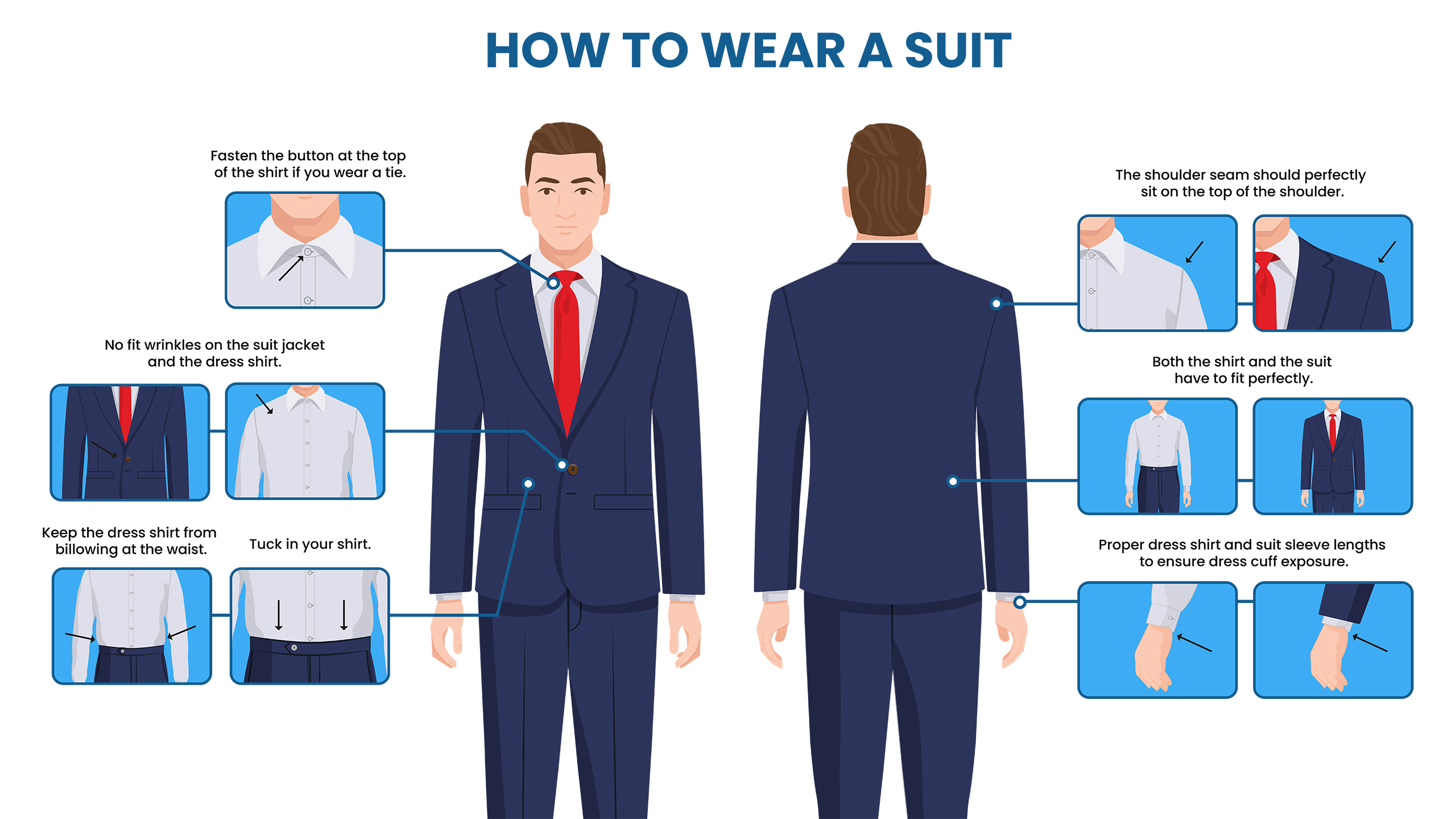 However, it is so much more critical when you are wearing a suit with vertical stripes, such as with seersucker. Although the fit is always an essential part of your suit, there is so much less wiggle room when you are wearing stripes.
Vertical stripes have an elongating effect on the wearer. They may help create the illusion that you are taller than you are. This can ultimately backfire, though, if your suit is too large on you.
When a striped suit is oversized, the excess material will pool around your ankles, shoulders, and wrists.
Any area where the fabric ends up squashed together will ruin the sleek effect of the vertical stripes. Thus, your seersucker suit will quickly go from dapper to slovenly looking.
Basic Tips for Wearing a Seersucker Suit
With a few easy guidelines, you can pull off a seersucker suit as easily as an old Southern lawyer. In other words, you can wear seersucker like a pro.
Be sure to avoid clashing patterns. If your suit jacket is striped or checked, keep that in mind as you match your accessories and dress shirt.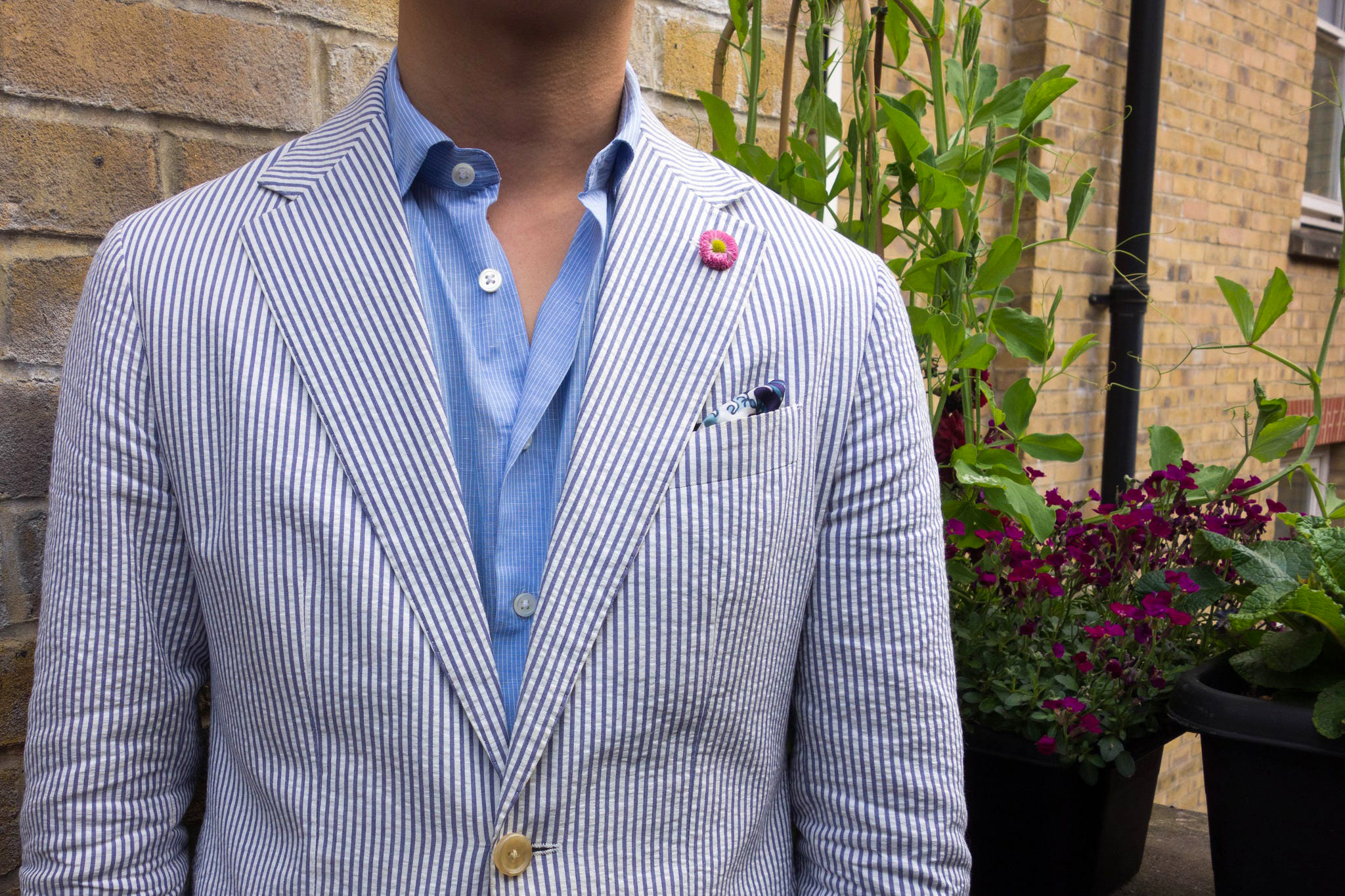 Likewise, avoid bright and flashy colors. It's best to stick to calmer or neutral shades and fabrics that don't have a tremendous sheen.
Consider separating your seersucker suit jacket and pants. Then, you can wear each piece individually and be a fashion success story! That's because seersucker is an excellent material for mixing and matching.
And it should go without saying that you should only wear seersucker suits in warm weather. This material is designed for coolness, so it would look very out of place in cool climates.
Just like you wouldn't (at least hopefully wouldn't) see a fur coat in the South, you shouldn't wear a seersucker suit on a frosty day.
How to Wear a Seersucker Suit
Seersucker suits are essentially shorthand for leisure. Again, they are on the casual end of the suit spectrum and are not appropriate for important events or job interviews.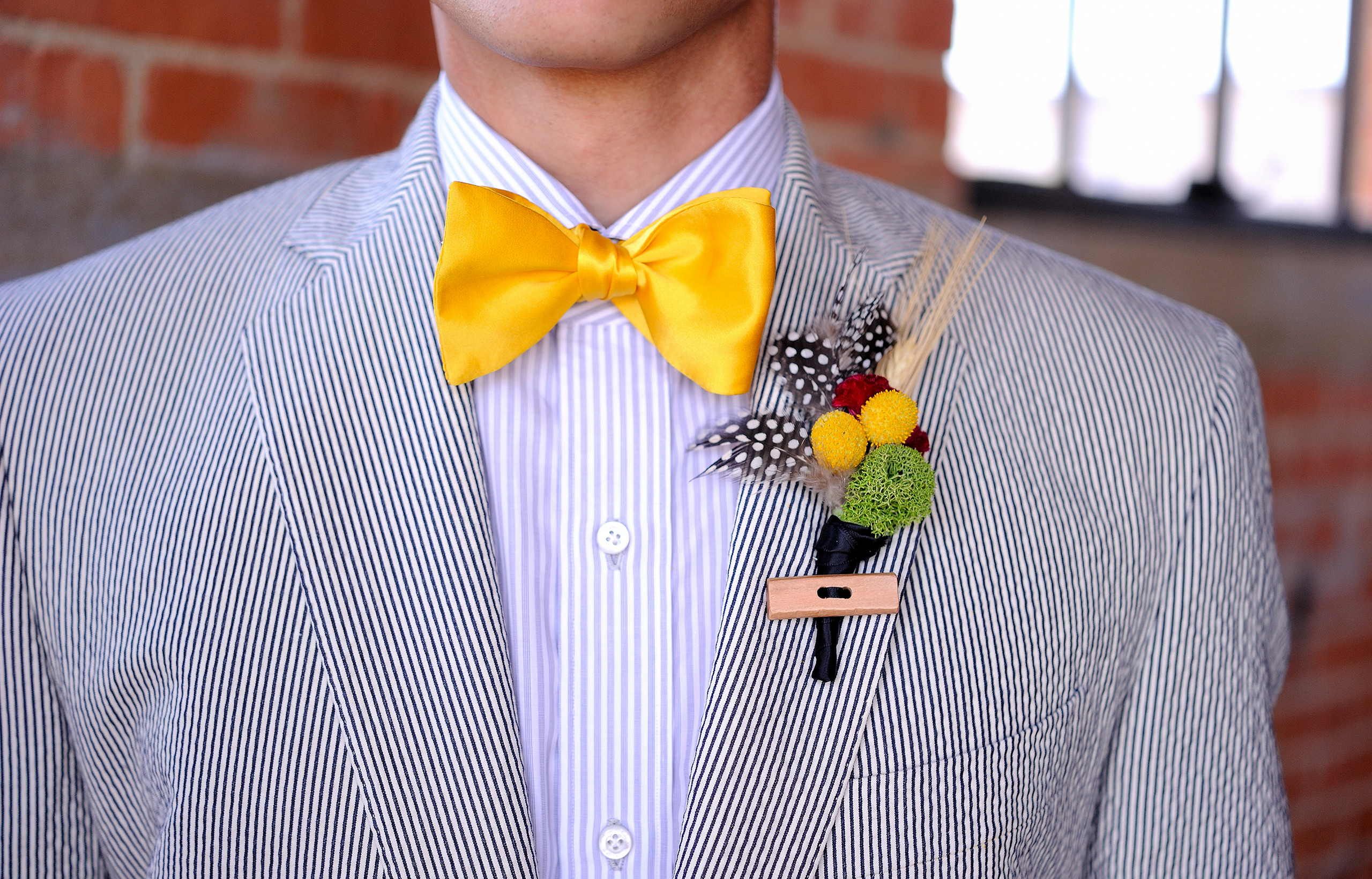 If you arrive at a job interview wearing a seersucker suit, you will be signaling to your prospective boss that you are into relaxation, not working.
It may not necessarily be accurate, but that would be the subliminal messaging. So just leave the seersucker suit at home for interviews.
The focus of a seersucker suit is the fabric; that is the star of your outfit. Don't try to compete with the stand-out material by adding a busy tie or flashy shoes. Just let your seersucker suit shine on its own.
Again, the fit of the seersucker suit can't be stressed enough! The seersucker material isn't awfully stiff, so it won't retain its shape as heavier suits do. Help it out by ensuring that it is an excellent cut for your body.
Separate the Pants
Yes, you can separate your seersucker suit! First, you can wear suit pants by themselves; they make a fantastic summer smart-casual outfit.
Then, depending on how dressy you are looking to go, you can pair your seersucker jacket with a dress shirt or a polo shirt. You can also roll up the sleeves of your dress shirt for a relaxed, dressy style.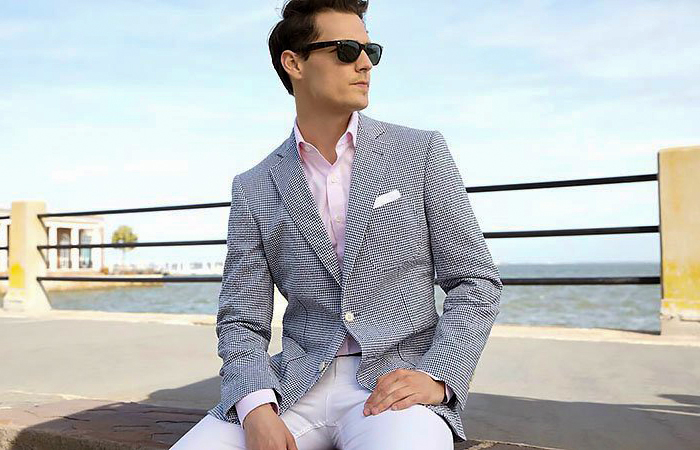 Conversely, you can wear the seersucker suit jacket alone! Pair it with some nice dress pants, such as a good pair of chinos, in a complementary or neutral color.
Keep your shirt light and summery. You could even dress up a good pair of jeans and a nice t-shirt with a seersucker blazer for an extreme leisure fashion approach.
Seersucker is a very versatile fabric!
Dress Shirt
It would be best if you were mindful when pairing a dress shirt with your seersucker suit. A white dress shirt is always best, though you can get away with a pastel-colored dress shirt in some cases.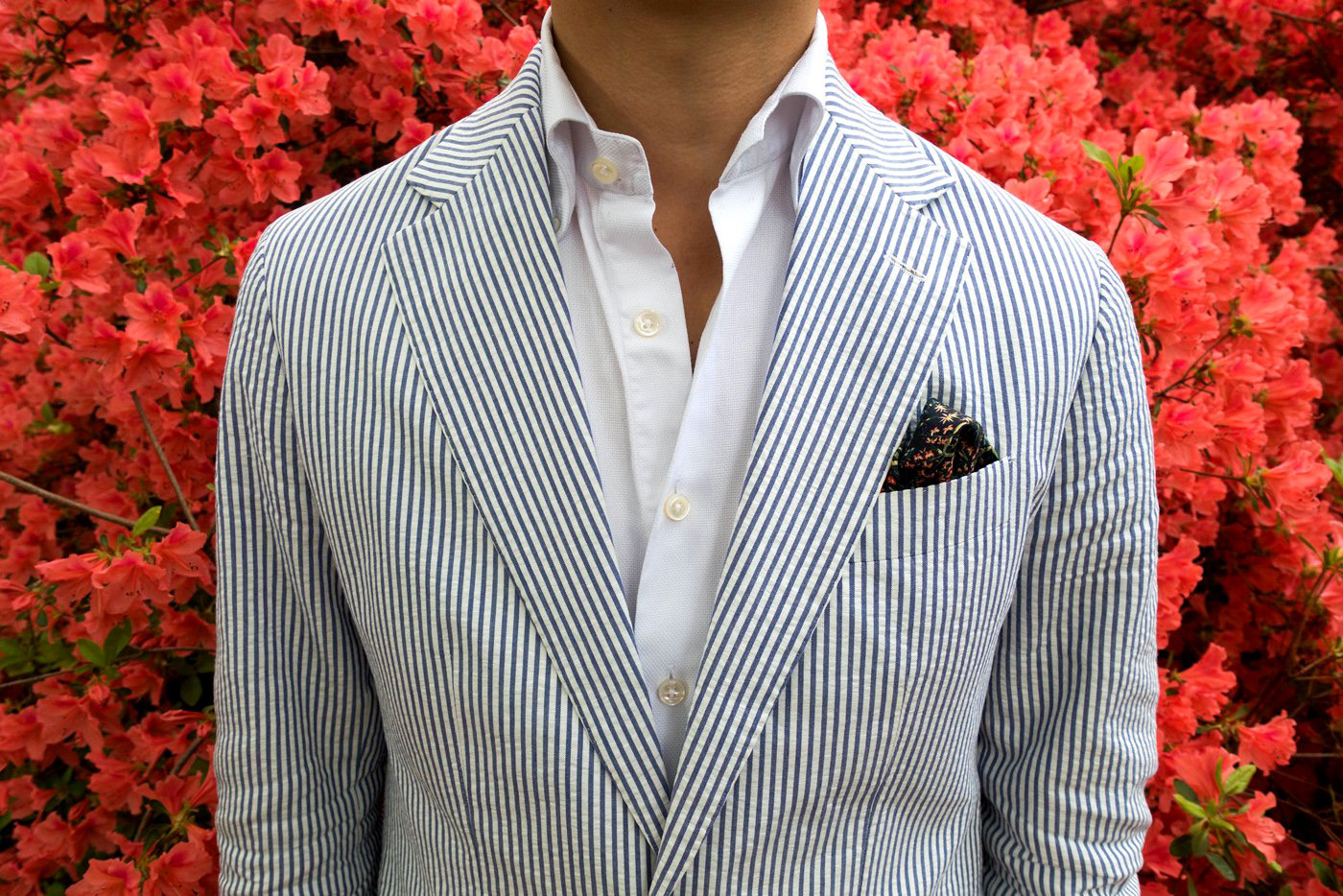 The material of your dress shirt should also be lightweight to match the density of your seersucker suit. For example, a heavy fabric such as twill would feel jarring next to such an airy material.
In contrast to your puckered seersucker suit, your dress shirt should be ironed and very crisp. And again, it must be well-fitting.
Necktie or Bow Tie
The chances are that when you envision a seersucker suit, your mind automatically pairs it with a bow tie. That makes sense! The two have historically been paired together, so that it may be hard to separate them.
The good news is that you have the flexibility to do either a bow tie or a necktie with a seersucker suit. However, the material of the tie is more important than the style of the tie.
A silk tie in combination with a seersucker suit is a fantastic mix. Cotton or linen are also suitable tie fabrics. Wool is a major no-no, however. It is simply too heavy for such a light fabric.
Pocket Square
A pocket square makes any suit more dapper. How could you not add one to your seersucker suit, which is already dapper?
Your pocket square should harmonize with your tie, should you choose to wear one. If you are ditching the tie, match the pocket square to either your dress shirt or the suit itself.
Feeling bold? Use your pocked square as a contrast.
Shoes and Seersucker Suit
Seersucker is a summer fabric, so it stands to reason that a seersucker suit pairs well only with specific shoe styles.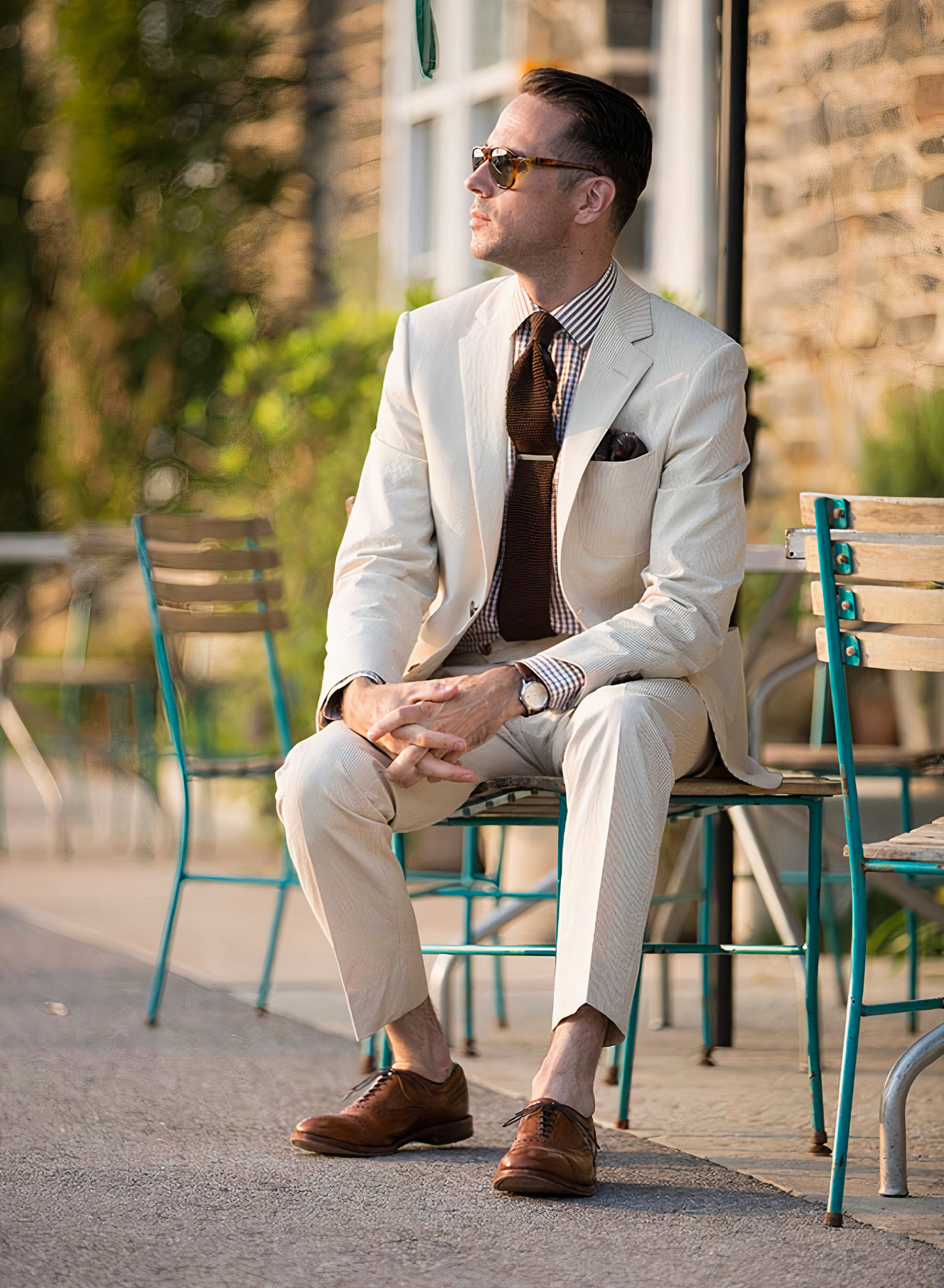 The casual nature of a seersucker suit also means that you can try out casual shoes, such as loafers.
Oxfords or a very classic white buck shoe are also excellent when worn with a seersucker suit. White or light brown is possibly the perfect color combo to stick with for this ensemble.
Socks are still encouraged but may be hidden if you are wearing loafers. Tradition says that if you are wearing socks, they should be the same color as the stripes on your seersucker suit.
Best Seersucker Suit Color Patterns
The stripes on your seersucker suit are one more detail to which you'll need to pay some attention.
Wider stripes lend your suit a more traditional and Southern appearance. Aim for thinner stripes if you are looking for a more modern, updated feel.
Also, stripes and checks on your seersucker suit can make adding other patterns to your outfit difficult.
Another option for your seersucker suit is to forego the pattern altogether. Seersucker suits do come in solid options, though these are less iconic. That's because most people think of patterns when they envision seersucker suits.
Blue and White
For an iconic and classic seersucker suit, you can't go wrong with blue and white stripes or checks.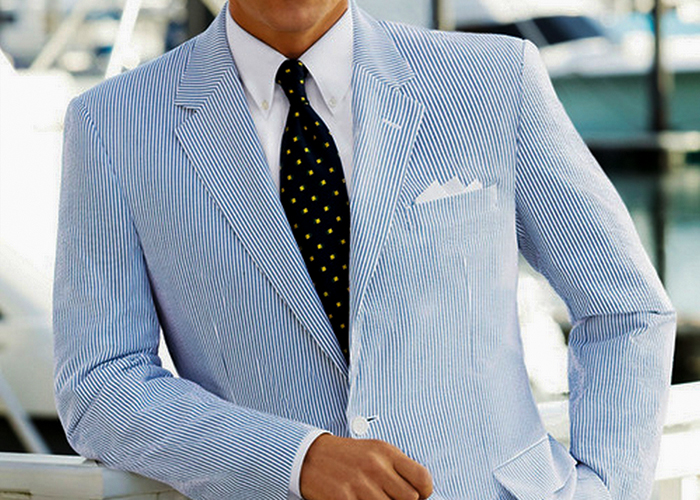 This seersucker suit can be paired with white shoes and a white dress shirt. You can possibly mix things up with a baby blue dress shirt, though that adds an even more casual air.
If you decide to add a tie, a slightly darker shade of blue would look super.
Don't forget to add a pocket square! Here's a great way to add a little extra color; a light yellow could be a really fun addition to this outfit.
Brown and White
For a more unusual direction for your seersucker suit, brown and white look amazing. This suit can work well with either brown or white shoes.
A tie that's a slightly darker or lighter shade of brown would work very well, or maybe a yellow or green tie for a splash of color. You want to stick to primarily natural or neutral shades and stay away from anything bright.
Red and White
For a really sophisticated appearance, you can go with a red and white seersucker suit. Nothing says fun like red, and this is very cheery.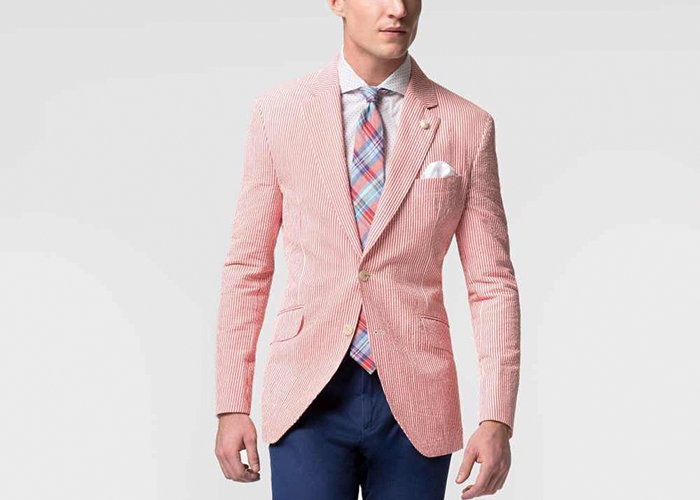 Navy is a great color to play with here. You can also add a pink accent for a dash of the unexpected, perhaps with light pink stripes on your tie.
Brown or white shoes are probably the best choices to wear with a seersucker suit. Also, navy dress slacks can pair perfectly with the look.
Grey and White
Grey and white seersucker suits are very refined. Unfortunately, they are also just begging for a touch of something cheery to brighten them up.
Almost any pastel shade will pair magnificently with a grey and white seersucker suit. Light pink, yellow, or green would all look amazing accenting this suit.
Navy Seersucker
For the height in seersucker suit sophistication, you can't go wrong with a navy suit. It is an incredibly versatile color.
However, if you are leaning more on the casual side of dressing in this suit, you must try a navy-blue dress shirt and no tie. You can even wear it with a t-shirt. It just screams laidback.
If you are looking to dress this suit up a little, a white dress shirt with a navy tie is very elegant looking.
Brown dress shoes are a fitting match.
When to Wear a Seersucker Suit
We've already established that a seersucker suit is strictly a warm-weather kind of suit. But when else is a good time to don this unique style?
Seersucker suits are the perfect "in-between" suit; you don't want to be very dressed up but certainly don't want to look sloppy. This is the suit to wear anytime you want a relaxed and casual look while still looking preppy and put-together.
Seersucker suits are certainly not your run-of-the-mill office suit.
Summer Weddings
A summertime wedding is the ultimate place to show off your seersucker suit. Thus, the ideal setting would be a beach wedding, though almost any summer wedding would be appropriate.
Additionally, a daytime wedding would work best unless it is held outdoors. If it's outdoors, then any time of day is suitable.
However, before you commit to wearing a seersucker suit to a wedding, you need to be one hundred percent sure that a formal dress code is not expected. You should always follow the expectations of your hosts.
Semi-Formal Events
Semi-formal events are that awkward middle ground in dress codes. It is dressier than your office suit, but it's also less formal than a tuxedo. So, where does that leave you?
If you find an invitation in your mailbox that states "semi-formal," you can feel comfortable donning your seersucker suit. For this situation, however, you'll need to steer your suit more toward the dressier side by accessorizing.
So, if you find yourself heading out to a summertime engagement party or Jack and Jill baby shower, get your seersucker suit ready!
Smart-Casual Events
When you are headed out to a casual event and want to dress to impress, slap on your seersucker suit, or wear a piece separately.
Whether headed out to a BBQ, a Fourth of July party, or a community picnic, seersucker is always in style.
If you have a date that you want to impress, a seersucker suit will leave a lasting impression. But, remember, this is not your average suit.
What are the Benefits of Wearing a Seersucker Suit?
It doesn't matter if you wear a full seersucker suit or just a seersucker separate; you can rest easy knowing that this fabric doesn't crease easily.
Who doesn't love the clothing you don't need to iron? It's not that seersucker doesn't necessarily wrinkle, but the puckered fabric hides it beautifully.
It's also easy to wash. Just toss it into a cold water cycle and hang it to dry. However, cotton can be fairly stain-friendly, so definitely be sure to take your seersucker suit in for dry cleaning from time to time.
Another attractive feature of seersucker suits is that this fabric is pretty darn durable and long-lasting. Seersucker is less susceptible to tears than many other fabrics and certainly doesn't wear out quickly.
That's good news to anybody who's ever had to give up beloved suit pants because the seat began to wear thin.
And finally, of course, the best feature is one I've already discussed: how cool it is! The puckering and bumps in the fabric pull the material away from your body. It allows air to circulate between your skin and the fabric, giving you a better chance to cool off.
Author: Alexander Stoicoff
Hi, I'm Alex, and I've studied and specialized in styling in Rome. Through my writing, I want to help men dress well and learn the purpose and significance of suits and other formal attire. My final goal is to make men more confident in their wardrobe choice and life in general.