As the weather begins to warm up, you may notice several men wearing a suit and no socks.
If you're asking yourself, "Can you even do that?" look no further for the answer. Yes, you absolutely can go sock-free! But first, you need to learn how to pull it off.
How to Rock the Bare Ankle Look
You'd think that deciding to step out without your socks would be as easy as slipping on your shoes, but not quite.
Believe it or not, leaving off those two little bits of cloth calls for some planning and coordinating.
Leaving your ankles exposed is a hot trend, but one that requires the right tools if it's going to work in your favor. By tools, I mean the right shoes, the right pants, and of course, the right style.
Appropriate Shoe Style
It isn't a hard and fast rule, but slip-on shoes tend to work best when you're skipping the socks.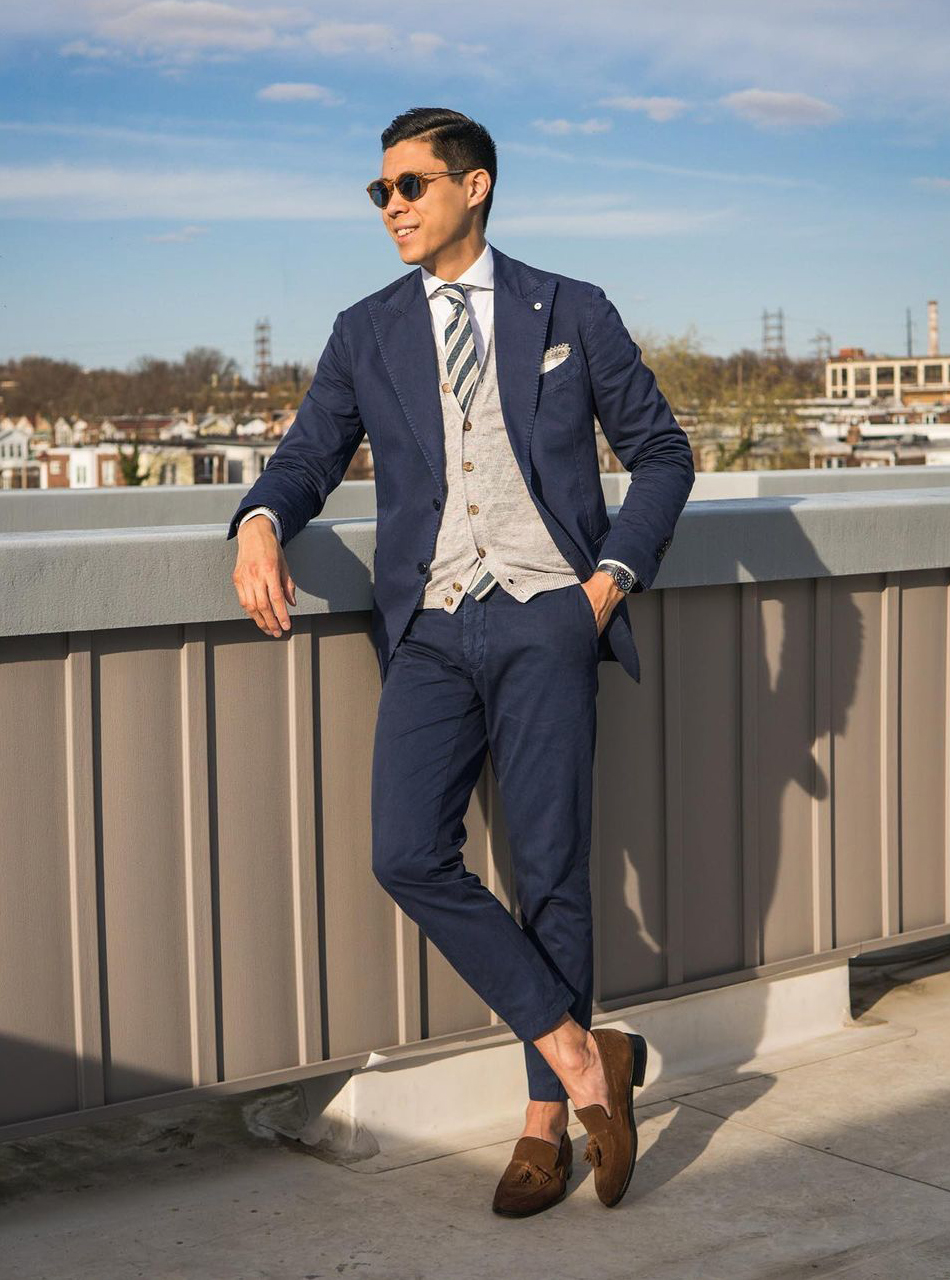 Slip-ons are typically on the more casual side of fashion, and since lacking socks is decidedly casual, the two tones match each other well. Avoid shoes that are weighty and chunky, as well as formal dress shoes.
Sneakers are the ideal shoe for pulling off the no-socks look with a suit; they're the most casual shoe possible. Choose a pair of low-top sneakers with a simple, solid design.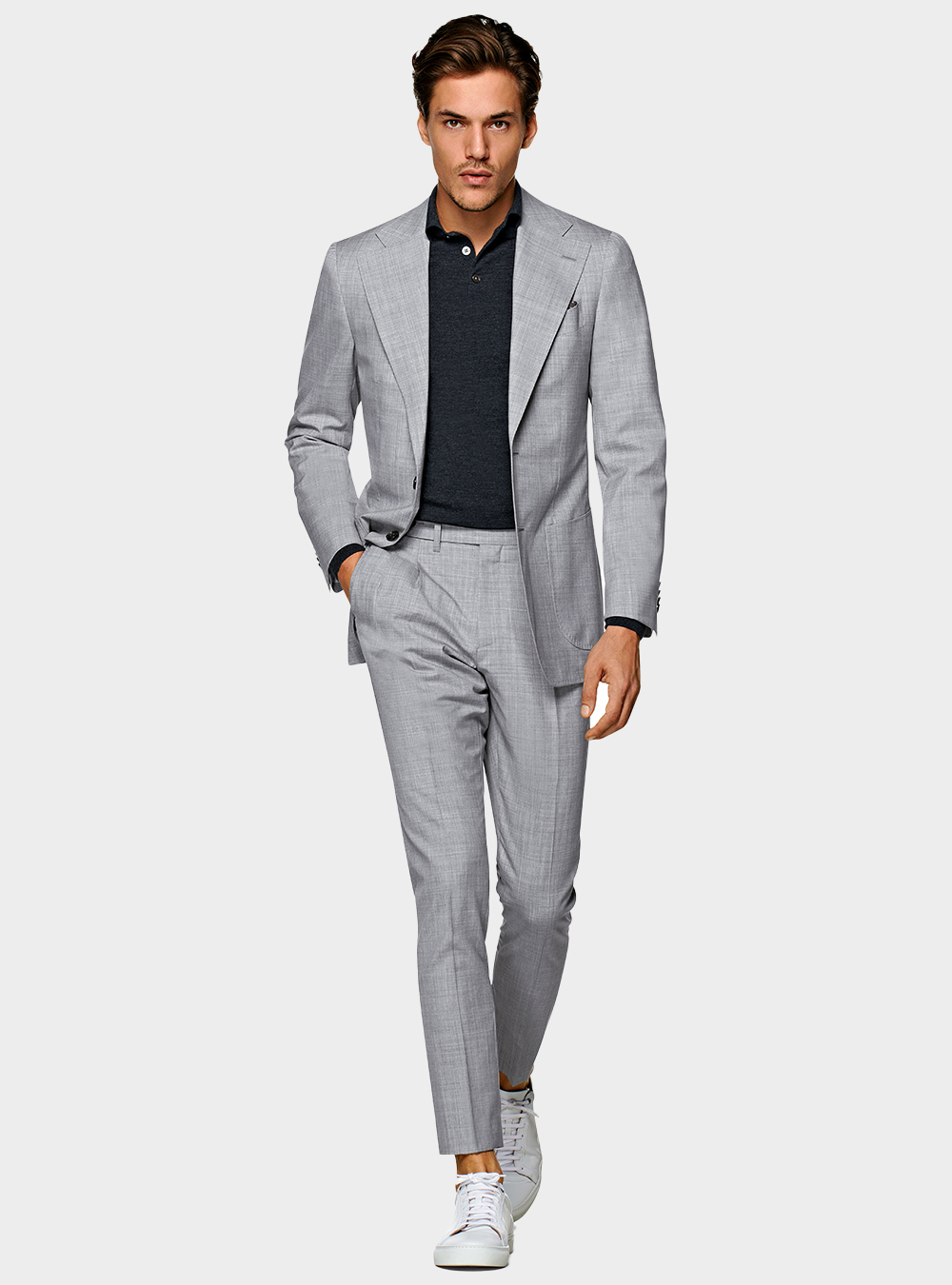 Boat shoes or moccasins are the next-best shoes to complement your sock-free lifestyle. They were made to be worn without socks!
Loafers are a step above boat shoes in formality. They can be worn with a very dressy suit and socks or with a casual outfit as a way of tweaking its formality.
Suede loafers are an excellent bridge between the two extremes.
The most formal dress shoes you can wear without socks are brogues and monk straps. They bring an impeccably polished look to your casual outfit and look super without socks.
Proper Pant Length
If you are making the distinct choice to ditch your socks, it only makes sense to ensure that people notice your sock-free lifestyle. So opt for trousers that will leave a bit of your ankle exposed.
Most professional suits look best with a decent pant break, but for this style, wear ones with only a slight break or none at all.
A heavy break would ultimately defeat the purpose of not wearing socks since nobody would see your ankles. Although, pants with cuffs also work well.
Ideally, your trouser hem should end two inches above the top of your shoe. Don't let your pants go any higher than that.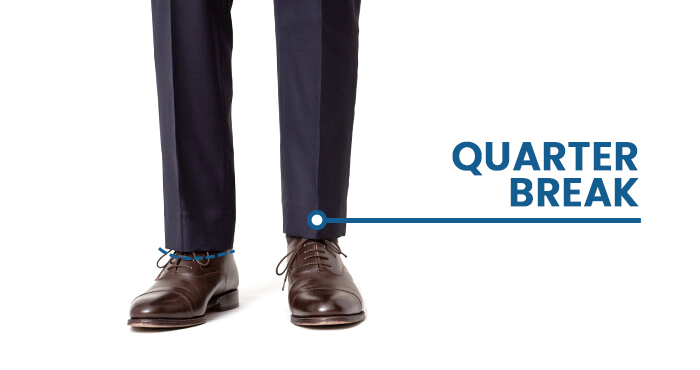 And definitely avoid pants that are cropped to your shin. They don't look serious and usually look like the pants are ill-fitted. People should only get a peek at your ankle.
Adhere to Casual Clothing
Choosing to lose the socks gives your entire style a laidback vibe, so be sure your clothing matches that feeling. If properly matched, jeans, chinos, trousers, and shorts can all work well this way.
If wearing a button-down shirt, add some stripes to help play down the dressiness. Or a t-shirt is always a great option for a cool summer look.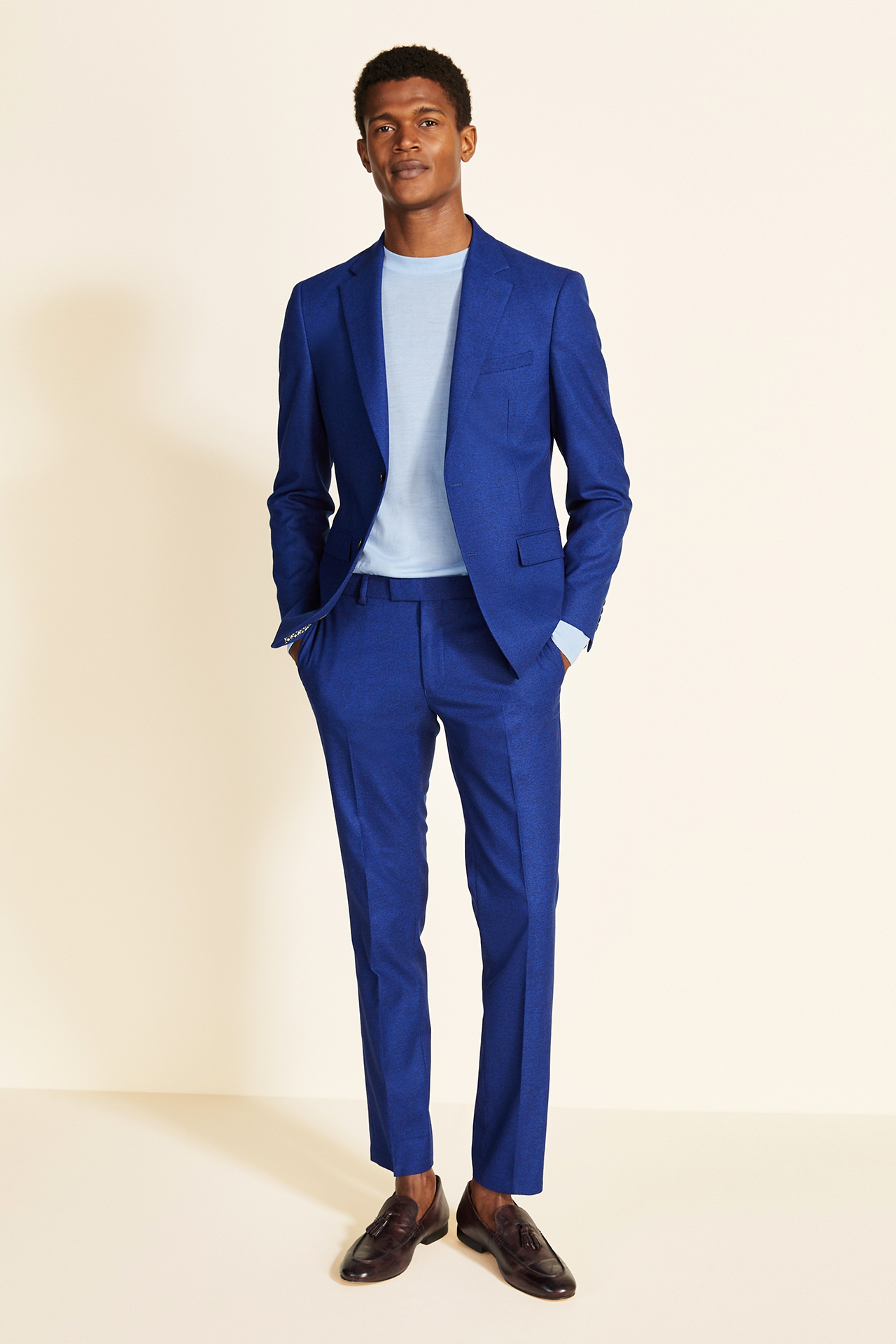 You don't need to be ultra-casual for this look to work, though. Casual suits can be a great time to experiment with the no-sock style.
Just be sure you're choosing the right suit. For example, a heavy wool suit is a poor choice; it's too heavy and formal.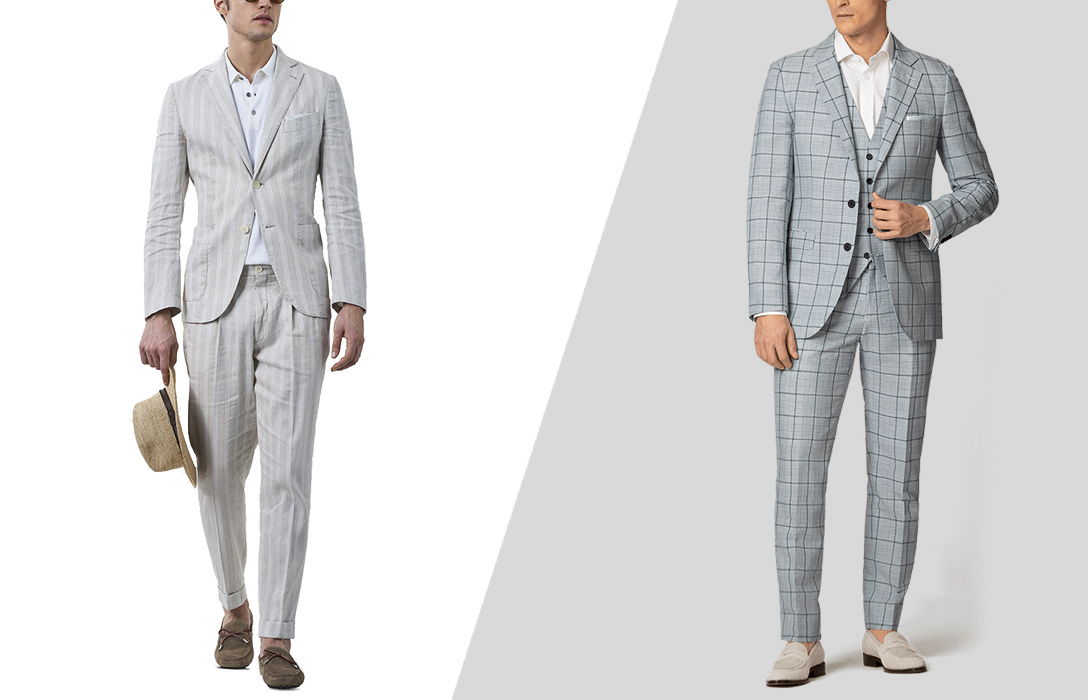 However, a light linen suit is perfect. Of course, be sure to ditch the tie, too.
No-Show Socks with a Suit
Most fashion experts who embrace the no-sock look don't actually leave their feet entirely bare inside their shoes. Instead, they only appear sockless while wearing no-show socks.
This is the best option because it keeps your feet and shoes in good shape. Bare skin against leather can't breathe.
This means that as the skin heats up, it begins to sweat and has nothing to soak up the moisture. You see where this is going; the closed-up, hot space causes your feet to stink.
Having a wet foot is more than smelly and uncomfortable, however. When your foot can't dry off, it can develop a fungus or bacteria, leading to conditions like athlete's foot.
And without the fabric to protect your skin from rubbing against the leather, you'll develop blisters. Yuck.
That's why a pro-move is to wear no-show socks with your suit (and shoes).
They are sort of like little half-socks that only cover your toes and the bottom of your heel, keeping the bottom of your foot dry.
If you've ever spent a day in leather shoes with no socks, you'll quickly realize these are a must.
Be in the Know
Going sockless does more than damage your feet; it can also damage your shoes. The moisture from your feet can cause the leather inside your shoe to warp and curl.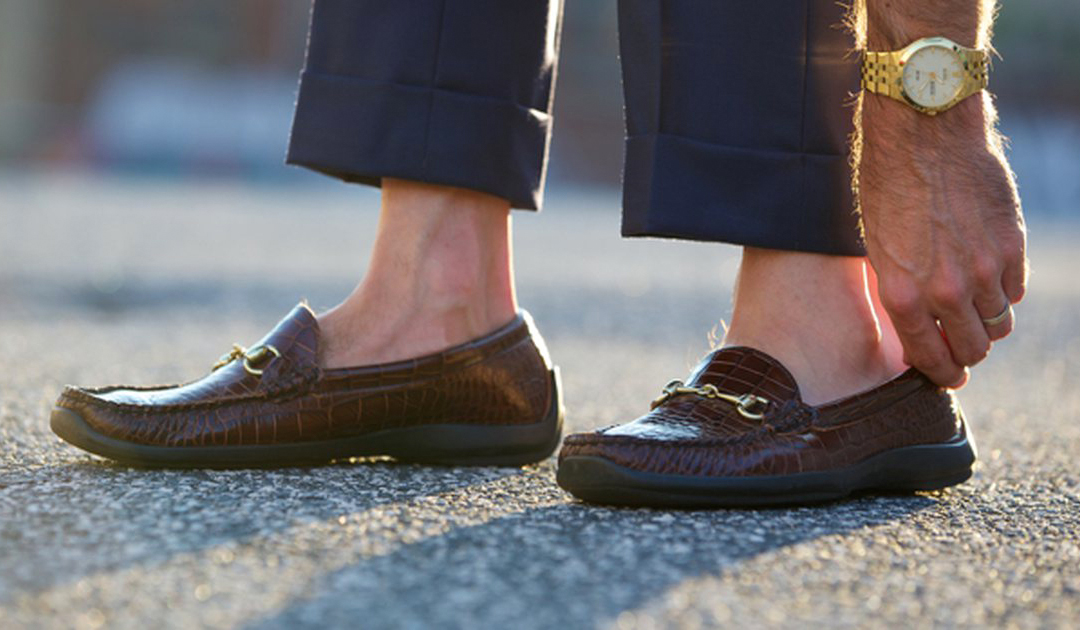 This makes your shoes uncomfortable even when you have socks on! And your feet aren't the only smelly things at the end of the day.
The shoe leather also picks up an unfortunate stink. You can air them out, but the smell doesn't entirely disappear. And it will keep coming back every time your feet begin to sweat.
That's why it's best to put removable porous leather or cotton insoles into your shoes if you're wearing them without socks.
You should also be aware that there is an appropriate time and place to go sans socks; other settings and events require socks.
Casual settings, especially ones that are outside in warm weather, are a fine time to show a bit of ankle. But this look is inappropriate for formal or professional settings.
Don't try it at an important meeting; you might offend the other attendees.
Author: Alexander Stoicoff
Hi, I'm Alex, and I've studied and specialized in styling in Rome. Through my writing, I want to help men dress well and learn the purpose and significance of suits and other formal attire. My final goal is to make men more confident in their wardrobe choice and life in general.