There's an art to learning how to wear loafers with a suit.
This once firmly casual shoe has gained traction as a more formal footwear style but requires a particular eye for pairing them with suits.
Of course, not all loafers can pair well with suits, and not all suits with loafers; but the right combination can be pure magic.
Loafer Styles to Wear with a Suit
As with almost any type of fashion, there are many variations on the loafer shoe.
There isn't just one version of these men's shoes, but several different looks.
However, to classify a shoe as a loafer, it has to meet certain traits that are specific to this dress shoe style.
For example, all loafers are slip-on only, so they lack laces and buckles. They are very similar to slippers, except they have a separate sole and heel, making them stand out.
Generally, loafers are casual, although they can be pretty versatile.
Some styles of loafers are firmly informal, while others can be categorized as dress loafers. Let's look at a few of the most popular dress loafers.
Tassel Loafers
This version of men's loafers is one step above the most casual loafers, but only slightly. Nevertheless, they can be dressed up for semi-formal outfits.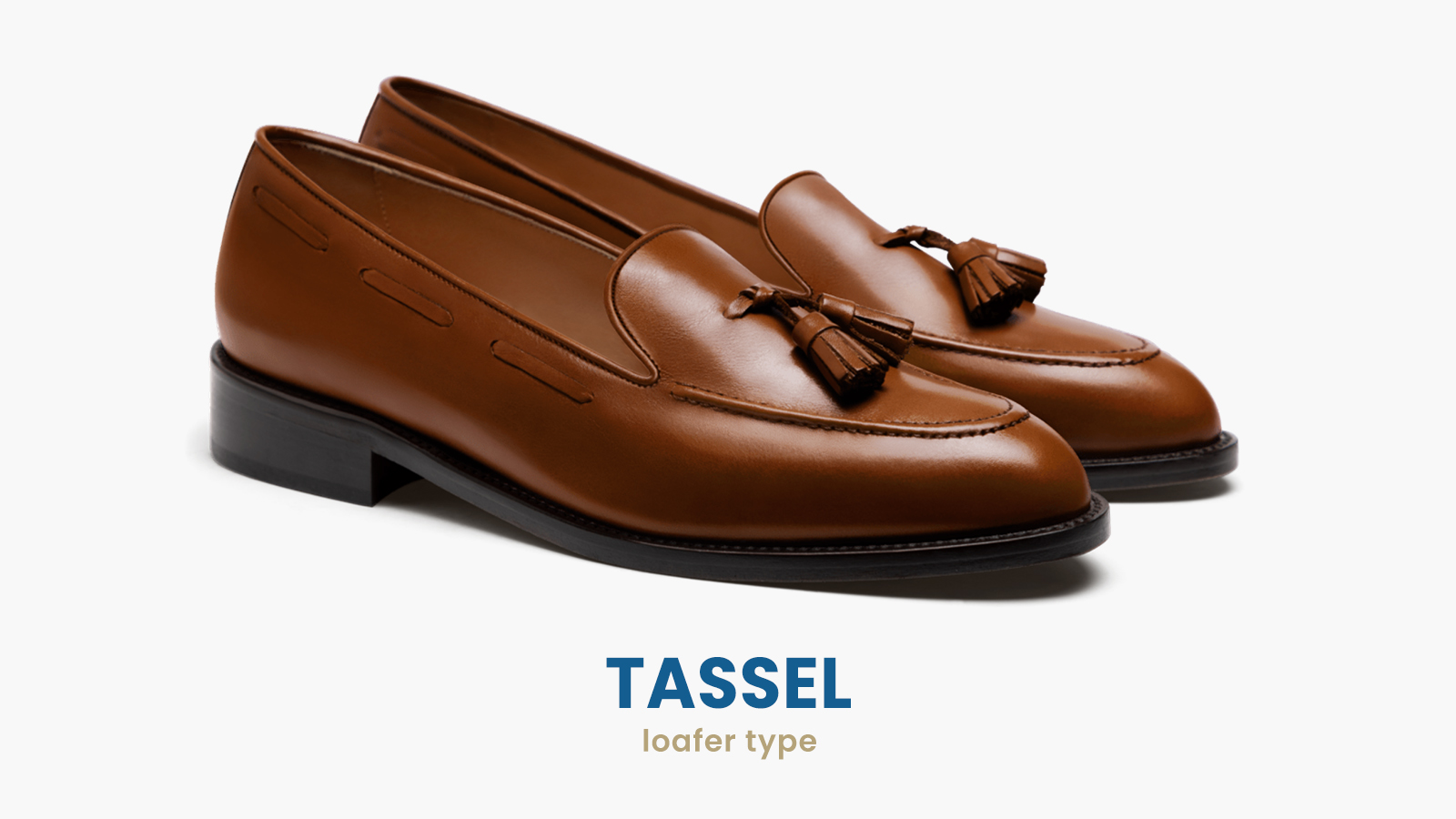 Tassel loafers are defined by the large decorative tassel in the center of the shoe's vamp. They also have a rounded toe and high reverse seam.
This style isn't a good match for a professional suit due to its more laid-back nature. Instead, tassel loafers match well with a casual suit or a blazer outfit.
These shoes are a bit jaunty and add a certain flair to any outfit you pair them with.
Penny Loafers
Quite probably the most recognizable loafer in existence, penny loafers are on the same formality level as tassel loafers.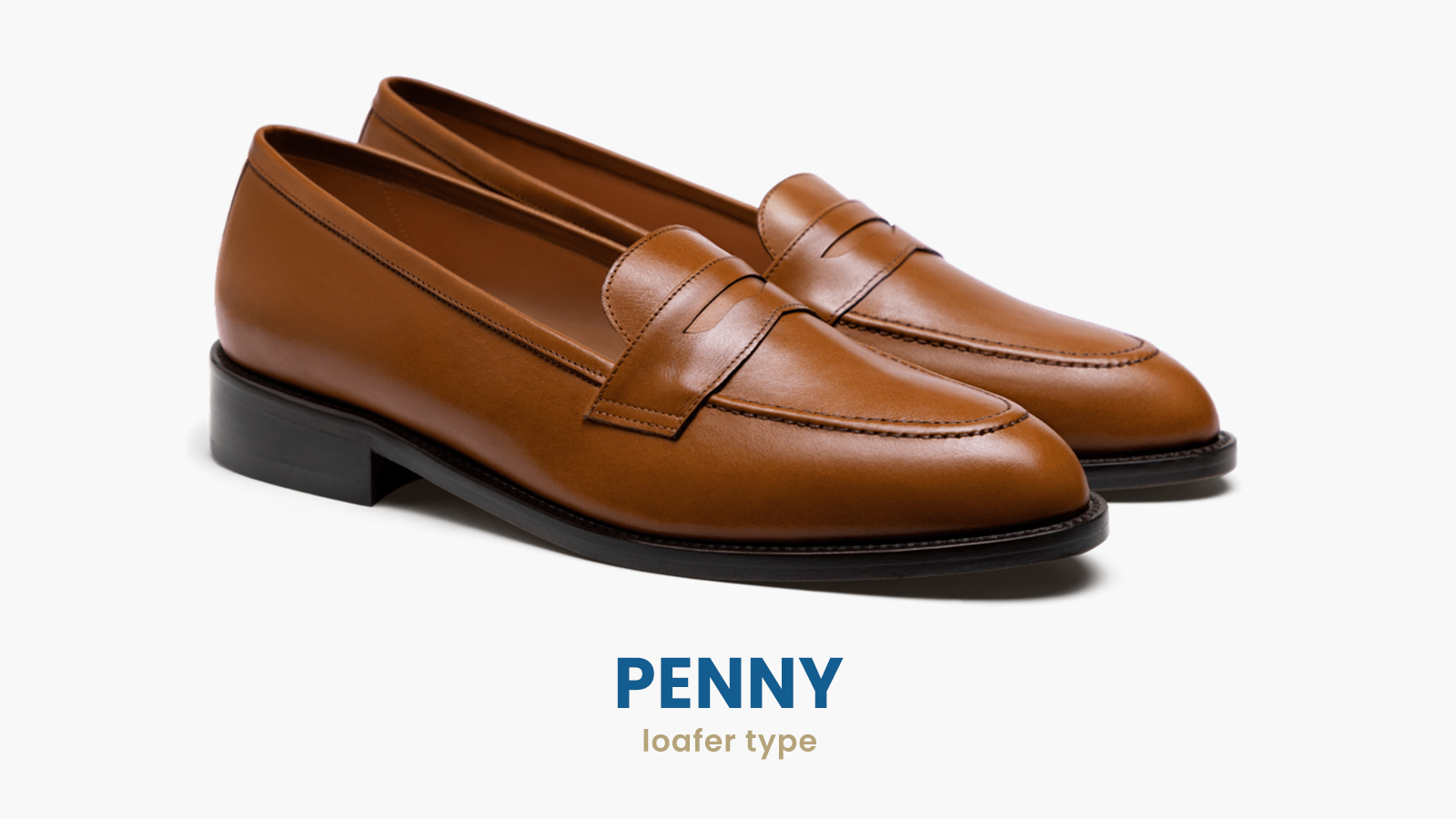 These are most likely the style you picture first when somebody mentions loafers. They are so popular that even women and girls have been known to wear them.
Penny loafers are recognizable by their leather strap across the vamp, with a diamond shape cut out in the center of the strap.
And yes, a penny really can fit in there, and some people do put pennies in their shoes. (Although, not when dressing them up with suits!)
You can wear this loafer with casual suits, although they can also be acceptable with business casual. Nothing more formal is a good fit for penny loafers.
For more dressy suit pairings, stick to dark penny loafers; ideally, black would be the dressiest way to style your shoes with a suit.
Gucci Loafers
Yes, that Gucci. Aldo Gucci designed these dress loafers in the 1960s, and other shoe designers quickly copied this style.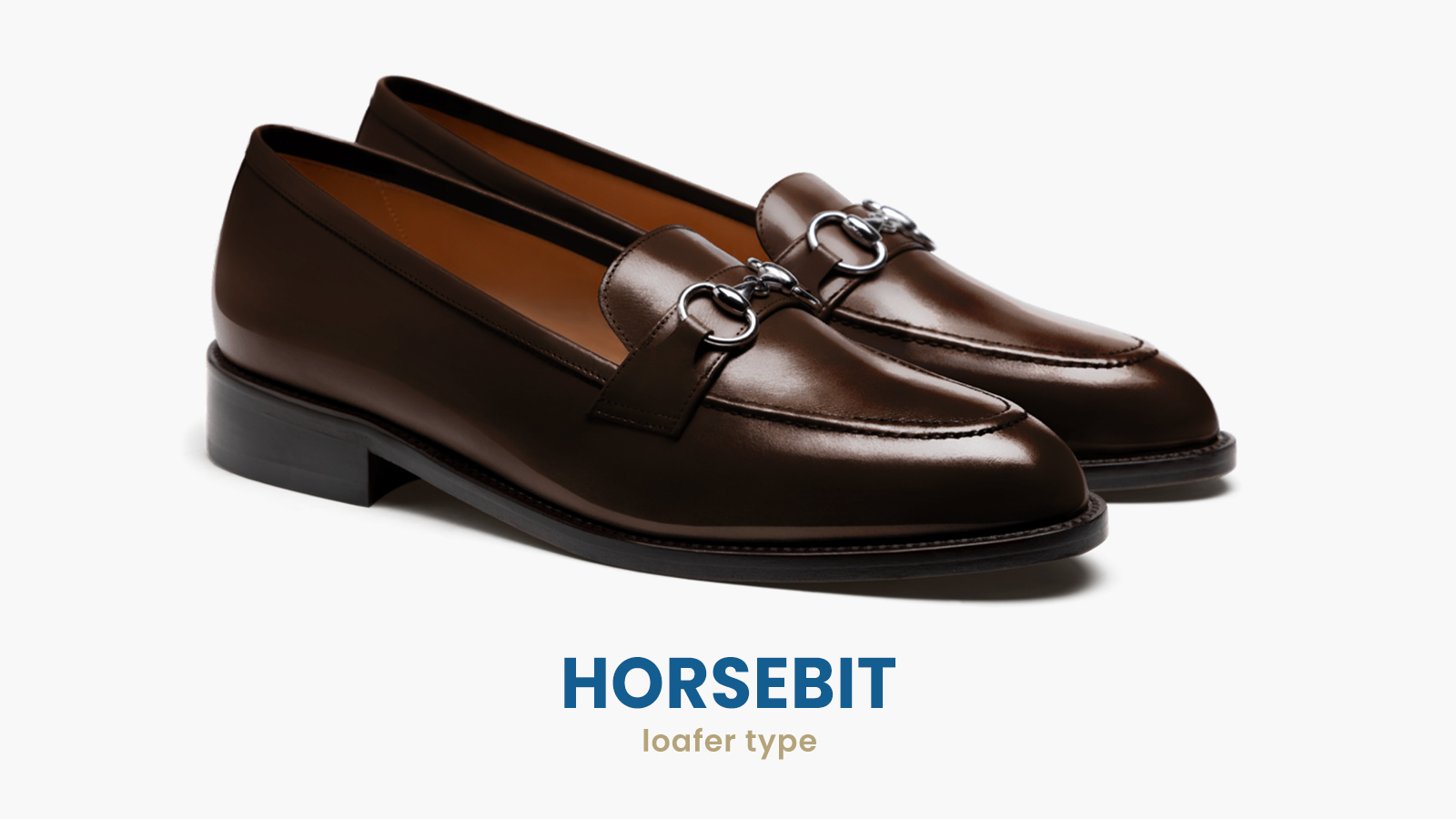 These were the first type of loafers to be counted as formal shoes, turning this shoe category on its ear.
Before these shoes, also called "bit loafers," only Americans were known to wear loafers in a dressy fashion.
These shoes stand out because of the metal bar that lies across the vamp. This bar, called a snaffle, resembles a horse's bit, which is where we get the name "bit loafers."
In addition, they have a low heel and a stitched upper seam.
A black pair of bit loafers go very well with almost all suits. However, despite their more formal nature, these are still not black-tie formal.
You can wear them with business suits, but they will still slightly bring down the formality of your suit.
Different Ways to Wear Loafers with a Suit
Because loafers are highly stylized and frequently associated with a leisurely look, they can be tricky to pair with suits.
That's not to say it can't be done, but it needs to be approached cautiously.
Loafers and suits require more thought than most other dress shoes.
This won't ever be the most conservative way to wear a suit. Loafers give your suit a completely different vibe than Oxford or derby shoes would.
And indeed, not all types of loafers are suit-worthy.
Remember to pay attention to the dress code when putting your outfit together. You don't want to risk standing out (in a bad way) for the sake of a pair of shoes!
Full Suit with Black Loafers for Semi-Formal Events
Step outside the norm with an unexpected shoe when planning a semi-formal occasion.
Dress loafers can be paired well with a full suit if you get the colors right.
For example, you'll need a dark suit for semi-formal, so consider a navy suit. It's a very business-like color and can be quite versatile.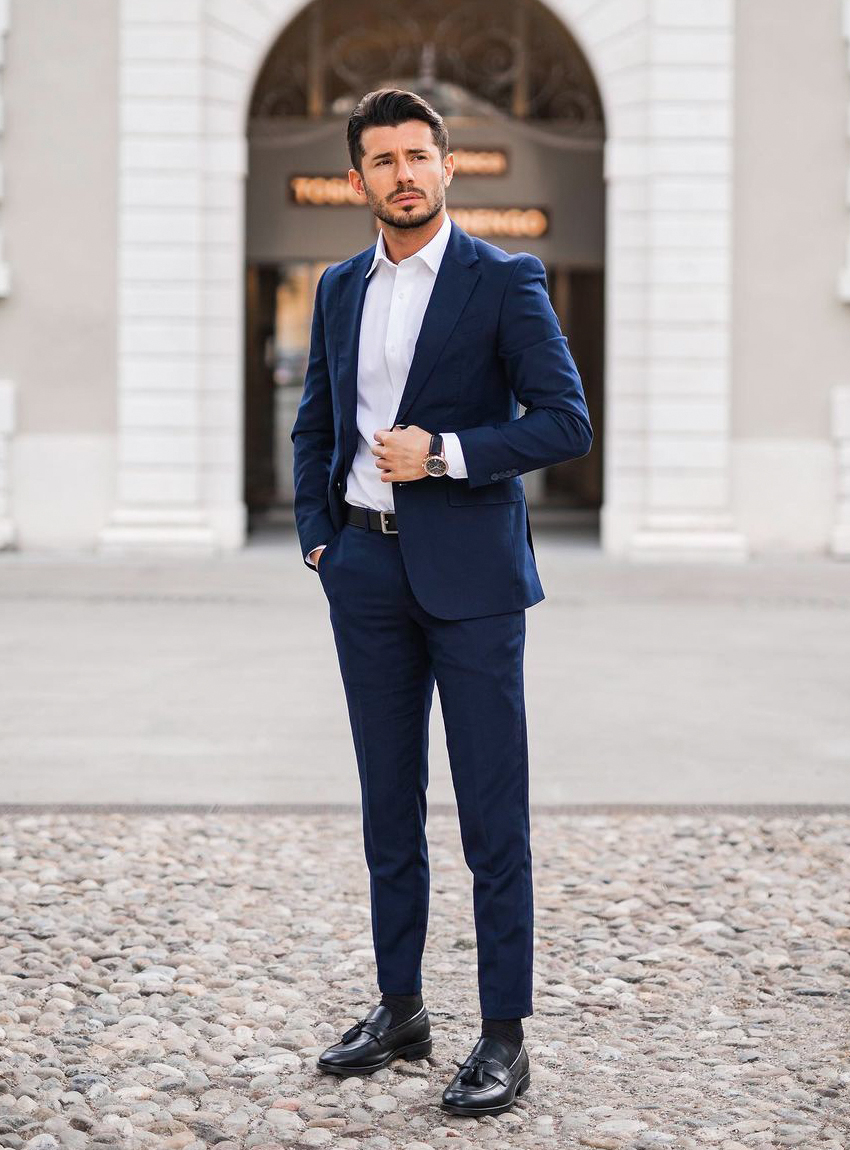 Dark colors raise the formality level for loafers, so black would clearly be the best choice here.
Since bit loafers are the dressiest style, it would make the most sense to pair them with a semi-formal suit.
You can even match loafers with a three-piece suit, which would make your outfit more formal overall.
Brown Loafers for a More Vibrant Look
Brown loafers are a perfect way to warm up a suit. Of course, brown is less formal than black, but you can still make them dressy with a full suit.
However, stick to more casual, neutral-colored suits. Shades like brown and medium grey are the ideal pairings for brown loafers.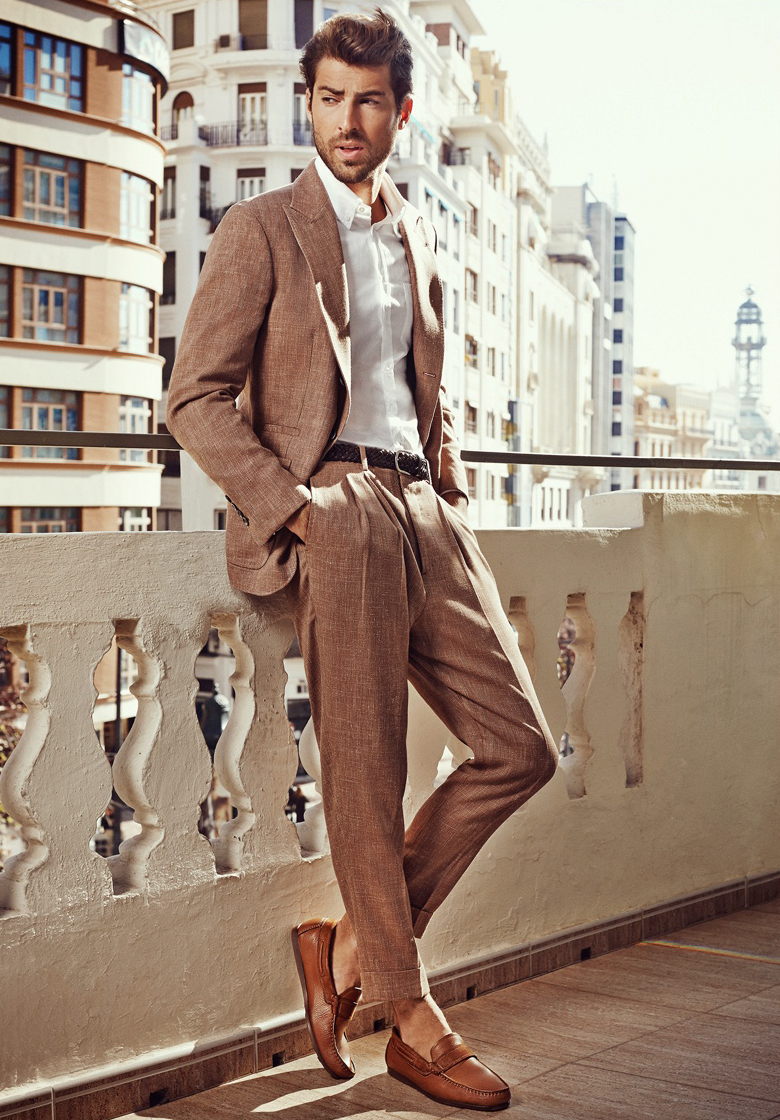 Brown tassel loafers are usually a common choice to portray a playful appearance, especially with a brighter blue suit.
This look will be appropriate if you're dressing for a wedding or daytime semi-formal event.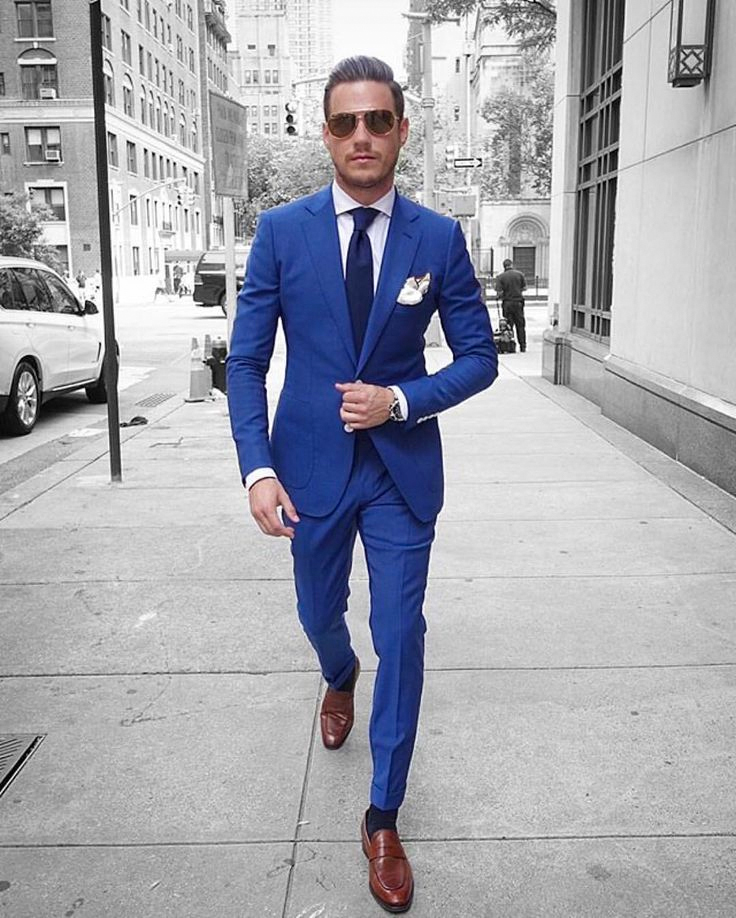 You can display a bit of personality by sporting a shaded dress shirt, like pale blue or light pink.
Add a solid pocket square that complements your tie for a final dash of flair.
Flamboyant Suit Colors with Loafers for Cocktail
If you need cocktail attire, that's the perfect time to play with color!
Step outside your daily neutral color palette and try out some more unusual suit colors, such as burgundy, bright blue, or olive green. Have fun with your color scheme.
Because these vibrant colors are not so formal, they pair very well with tassels or penny loafers. Dark brown loafers look stunning with these non-neutral shades.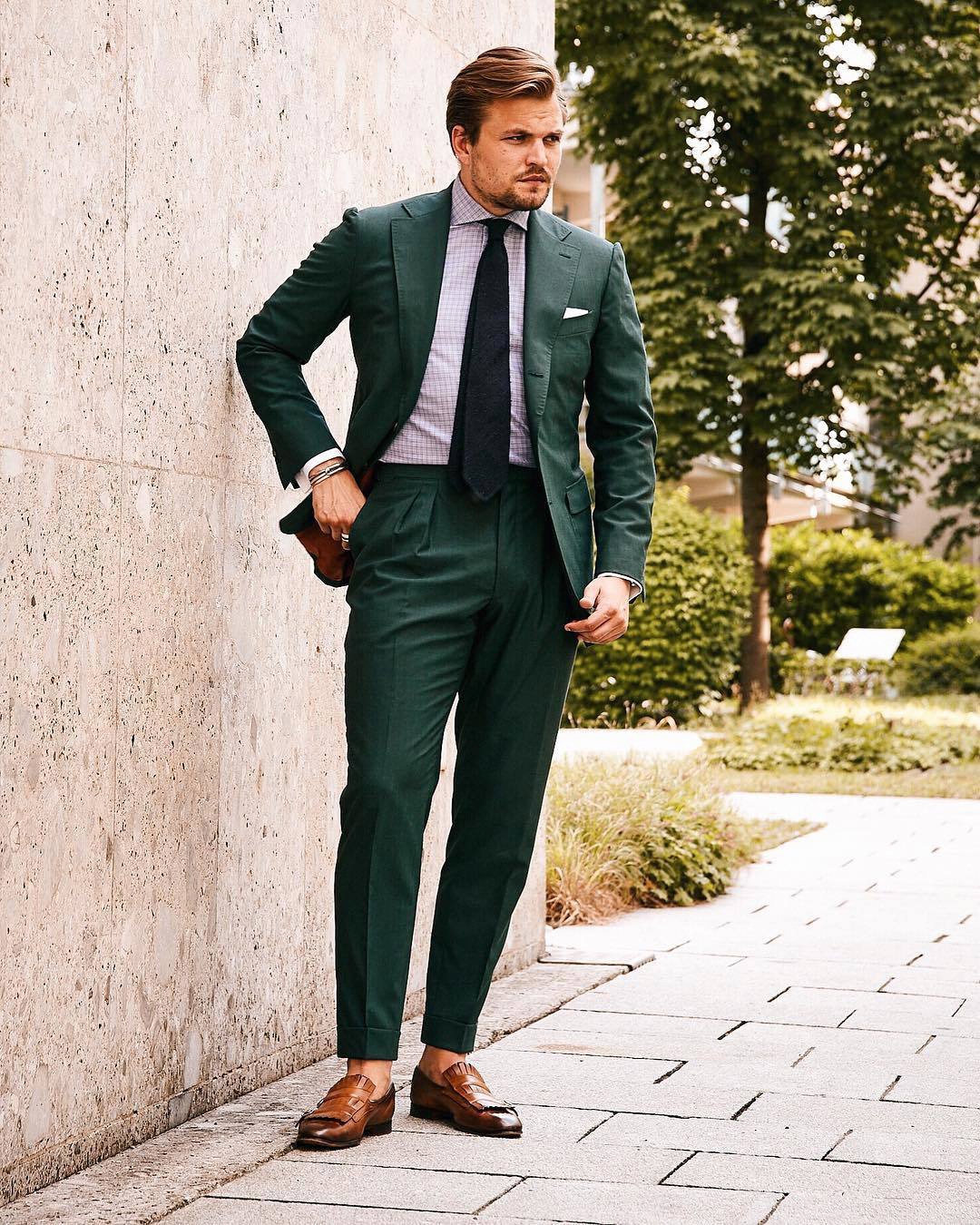 You're putting together a very modern look with this outfit, so look for a suit with a contemporary cut, perhaps a slim-fit suit with a very slight or no pant break.
Light Suit and Brown Tassel Loafers for a Summer Wedding
This is a fantastic laid-back look for a celebration. A summer wedding would be a perfect setting for a seersucker or linen suit.
Of course, lighter colors are the best option since you're opting for more casual summer suit fabrics. This is the time to pull out tan, cream, or light grey fabrics.
Tassel loafers are a natural pairing, but you could also try out penny loafers or a brown suede Belgian loafer.
Of course, don't ignore the dress code for the wedding. You'll need to switch gears if the invitation specifies a more formal expectation.
Wearing Navy Loafers for a Casual Suit Look
Your best option for matching loafers with a casual suit is a pair of navy ones.
They are an unusual enough color for shoes, dark enough to make your outfit a bit less informal, but still not black and formal.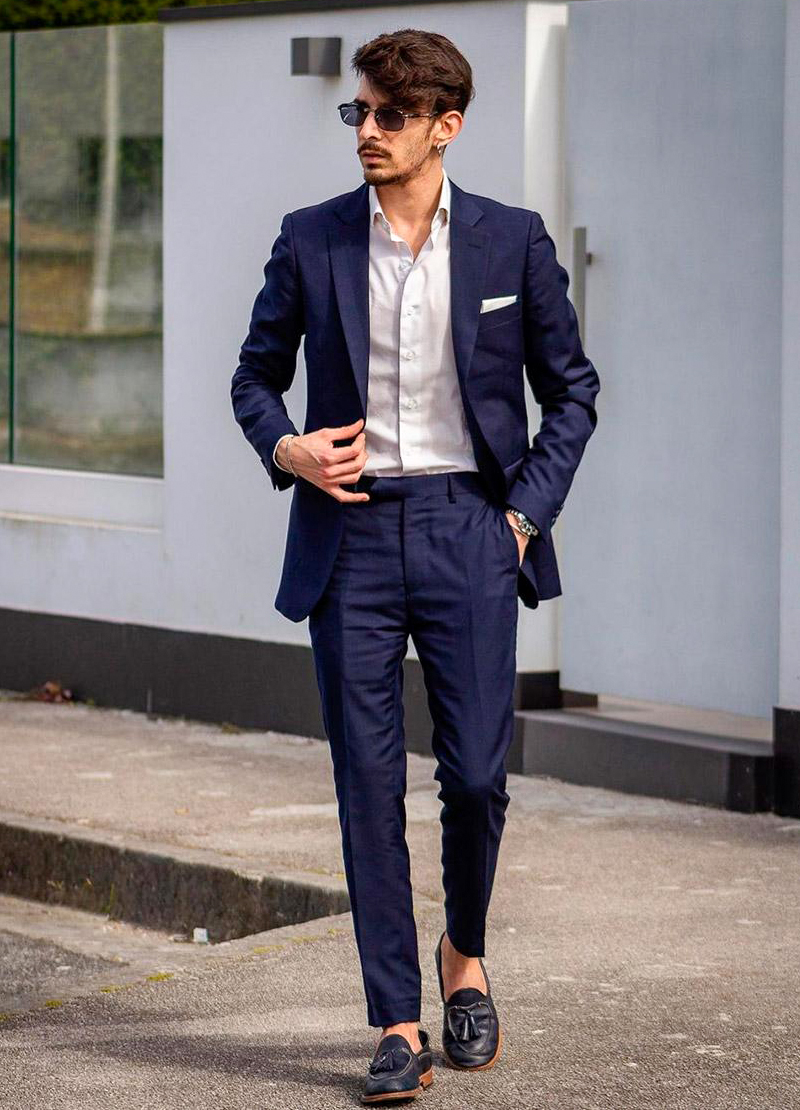 Instead, they add some spice to what might otherwise be a rather bland outfit.
Since the look is informal, always go tieless. Navy shoes create an exciting contrast and a bold balance.
Almost any style of loafer will work, but avoid a Gucci loafer since the style is too formal for the navy shade.
Navy Blazer & Dark Loafers for Business Settings
A navy blazer is ideal for pulling off a business casual outfit. You can finish off this ensemble with grey or brown/light brown pants.
Separates are incredibly versatile, so take full advantage of them when approaching your business casual way of dressing.
Dark brown leather penny loafers are terrific for this look. The dark brown softens the navy blazer but helps tie in the tan or khaki pants you may be wearing.
They keep your outfit more casual than black shoes but look spiffy.
Matching Venetian Loafers with a Suit
Venetian loafers are one of the more casual styles for loafers. To wear them, you'll need a more casual look.
A suit with a lighter color or pattern would make a great combination with these loafers. Summer suits are the ideal way to wear Venetian loafers.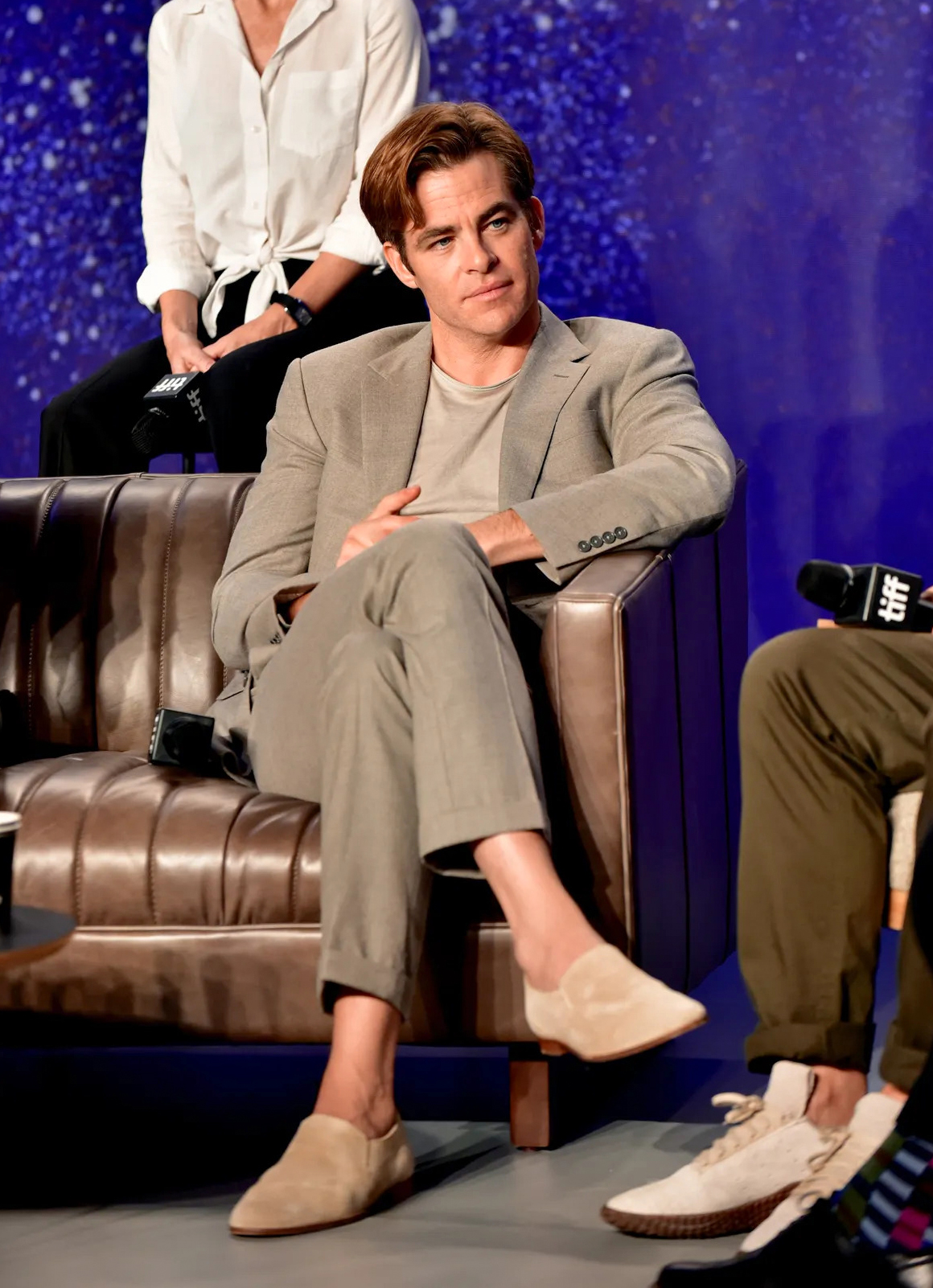 You'll undoubtedly want to avoid making your outfit more formal with a tie, so open your collar to play up the relaxed effect.
You can also try out the sockless look with this outfit.
Smart-Casual Suede Brown Loafers and a Blazer
A smart-casual dress code is your best approach when you need to find something to wear on a date or to an office party.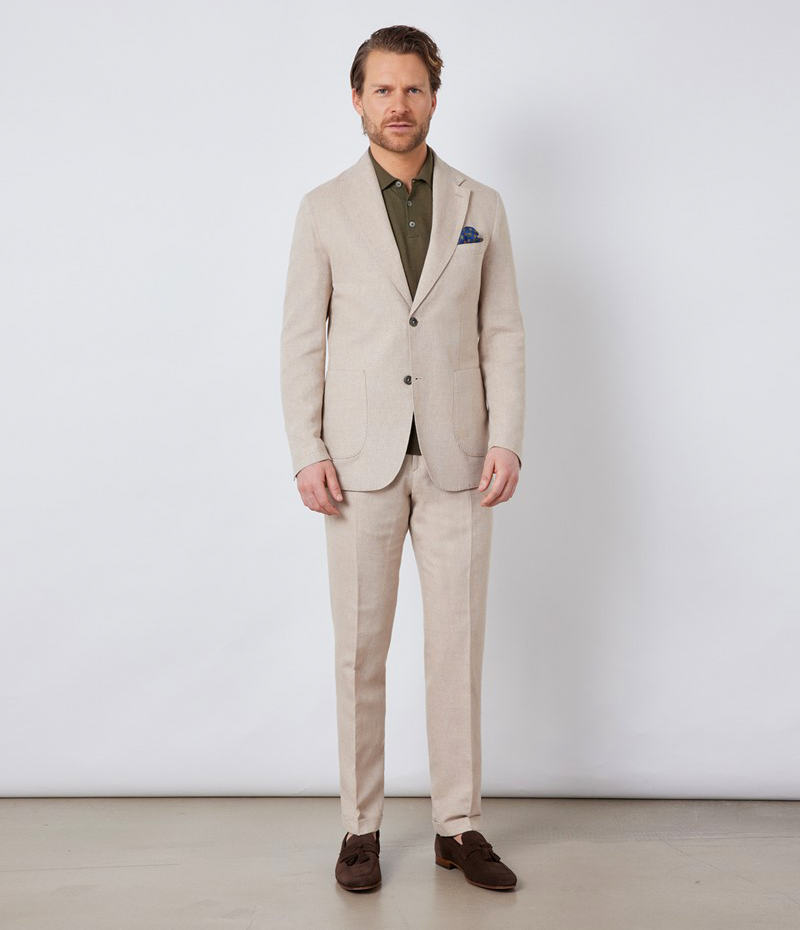 You don't want to come off as too stuffy with a very conservative outfit, but you still want to make a nice impression.
Start with a navy, grey, or brown blazer as your foundation. Then, add a pair of grey chinos or khakis and tassel loafers for a preppy yet informal appearance.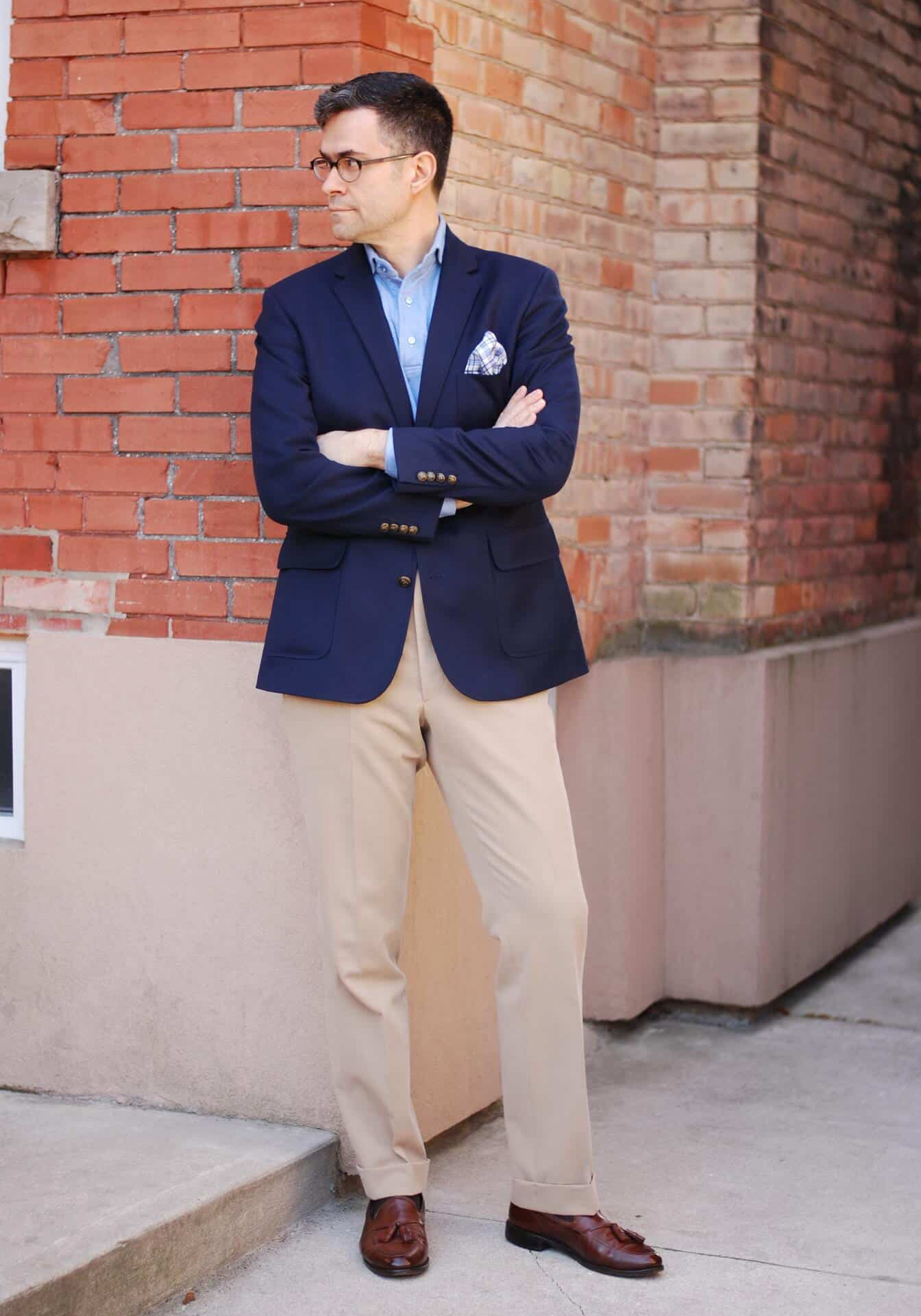 You can make your outfit even more relaxed and confident with a white t-shirt under your blazer instead of a dress shirt.
A jauntily folded white pocket square is the perfect finishing touch.
Things to Consider When Wearing Loafers with Suits
Not all loafers and suits work well together.
It requires a practiced eye to find the right combination that works well together; until then, here are some essential things to remember as you pair these shoes.
Of course, the more you wear your loafers with suits, the better you'll become at building your outfit around them.
Soon, you'll be fully confident in your loafers and suit outfits.
Loafers Portray a More Casual Look
Loafers were initially considered casual shoes but have gained traction in more formal circles over the years.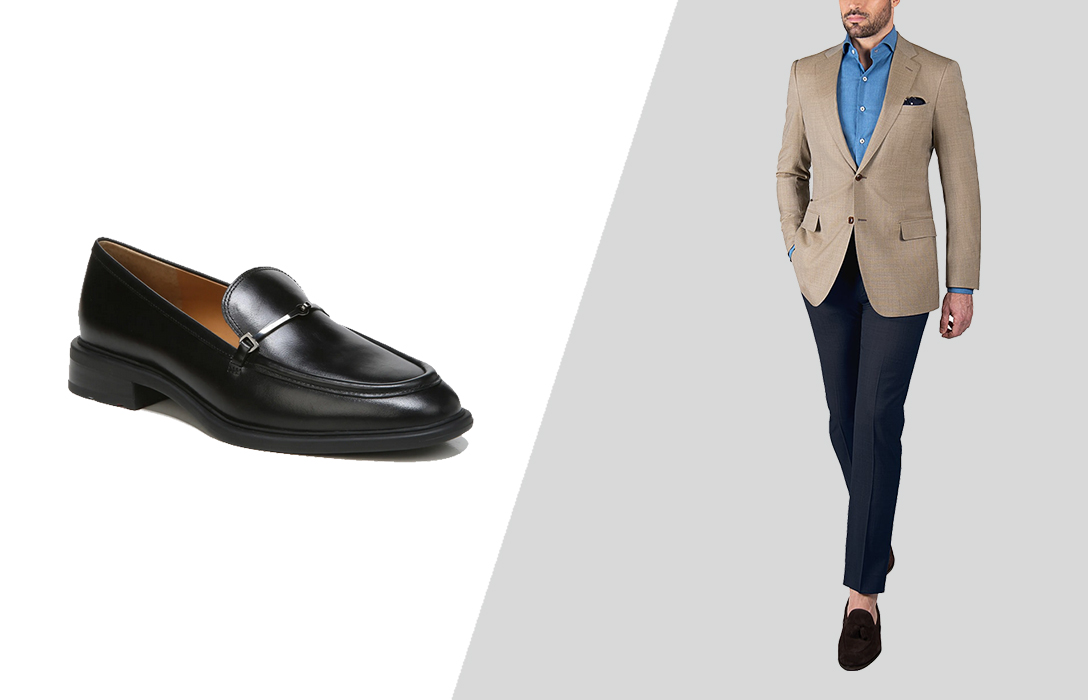 Today they aren't considered either formal or informal; they're versatile enough to work either way.
You can view them as a blank canvas; they'll mostly take on the aspects of the suit you pair them with, depending on the outfit's features.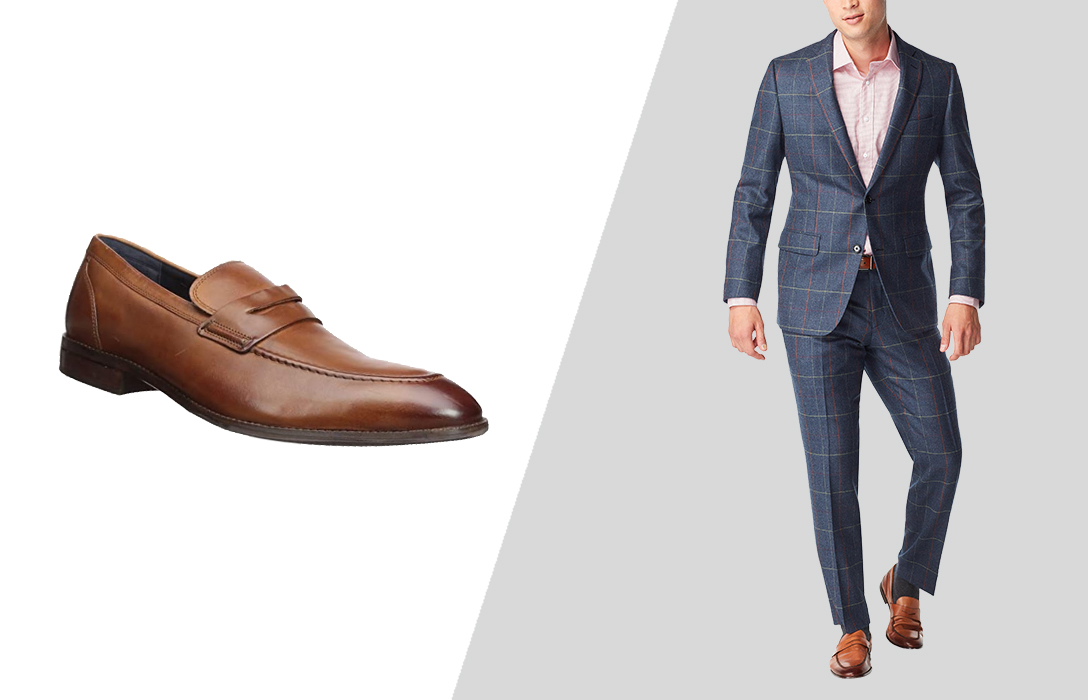 But it's important to know that they'll always be less dressy than standard men's dress shoes, like Oxfords or derby shoes.
Loafer Color
No matter which article of clothing you're talking about, its color always helps determine its formality.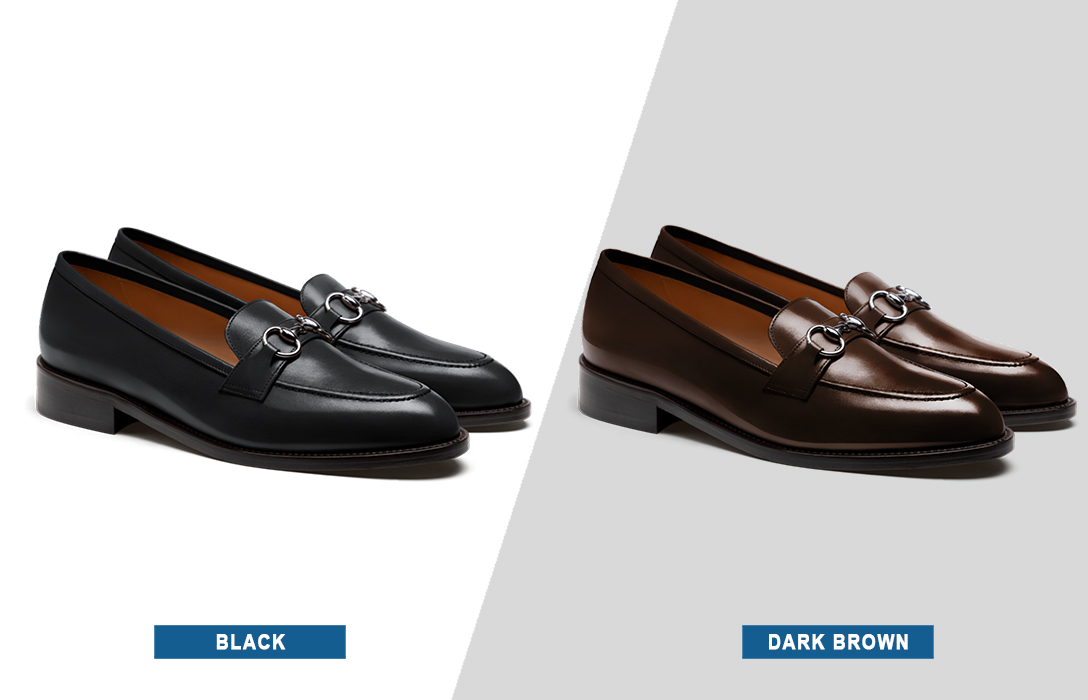 Darker colors are always dressier than lighter ones. Therefore, the most conservative and safe loafer colors are black, brown, navy, or grey.
Almost any suit will work with at least one of these colors. Of course, the lighter the shoe color, the more casual your suit should be.
Different Loafer Materials: Leather vs. Suede
Loafers are some of the most effortless shoes to play with texture, and suede is perfect for that.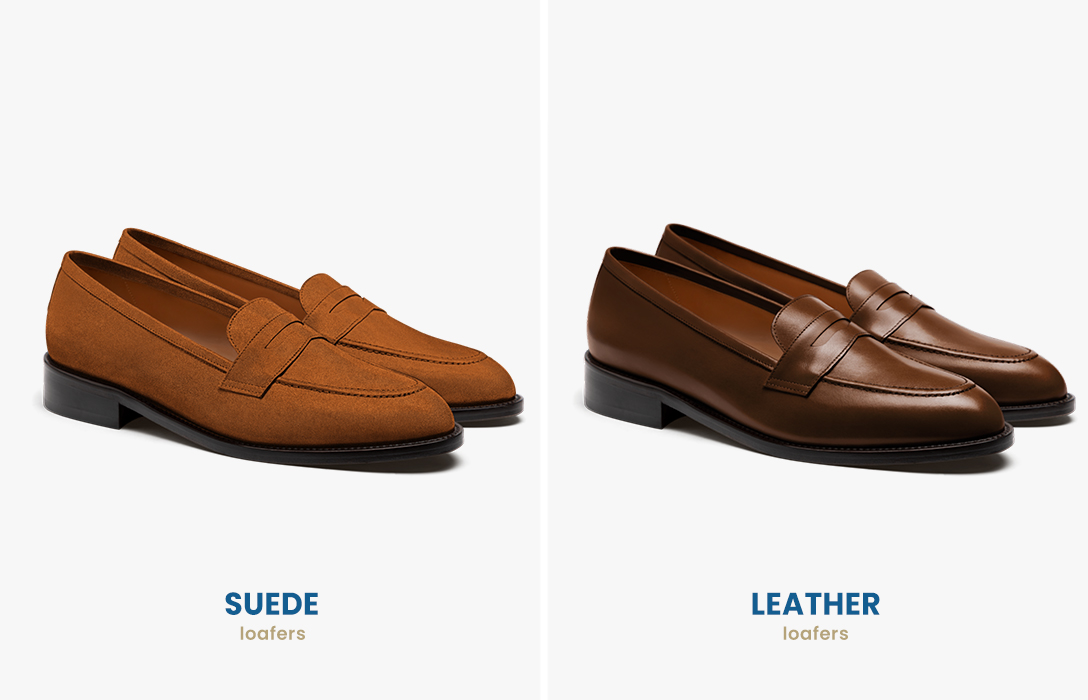 Suede loafers make any outfit more interesting and versatile. However, they're also slightly less dressy.
Leather loafers are the more dressy way to style your shoes.
Suede loafers can be semi-casual, falling right in between semi-formal and casual. That makes them terrific for social events but not acceptable for a business dressing unless it's business casual.
Choosing the Right Suit Color
The color of your suit sets your formality level. Therefore, it's vital to have the right suit color for the occasion.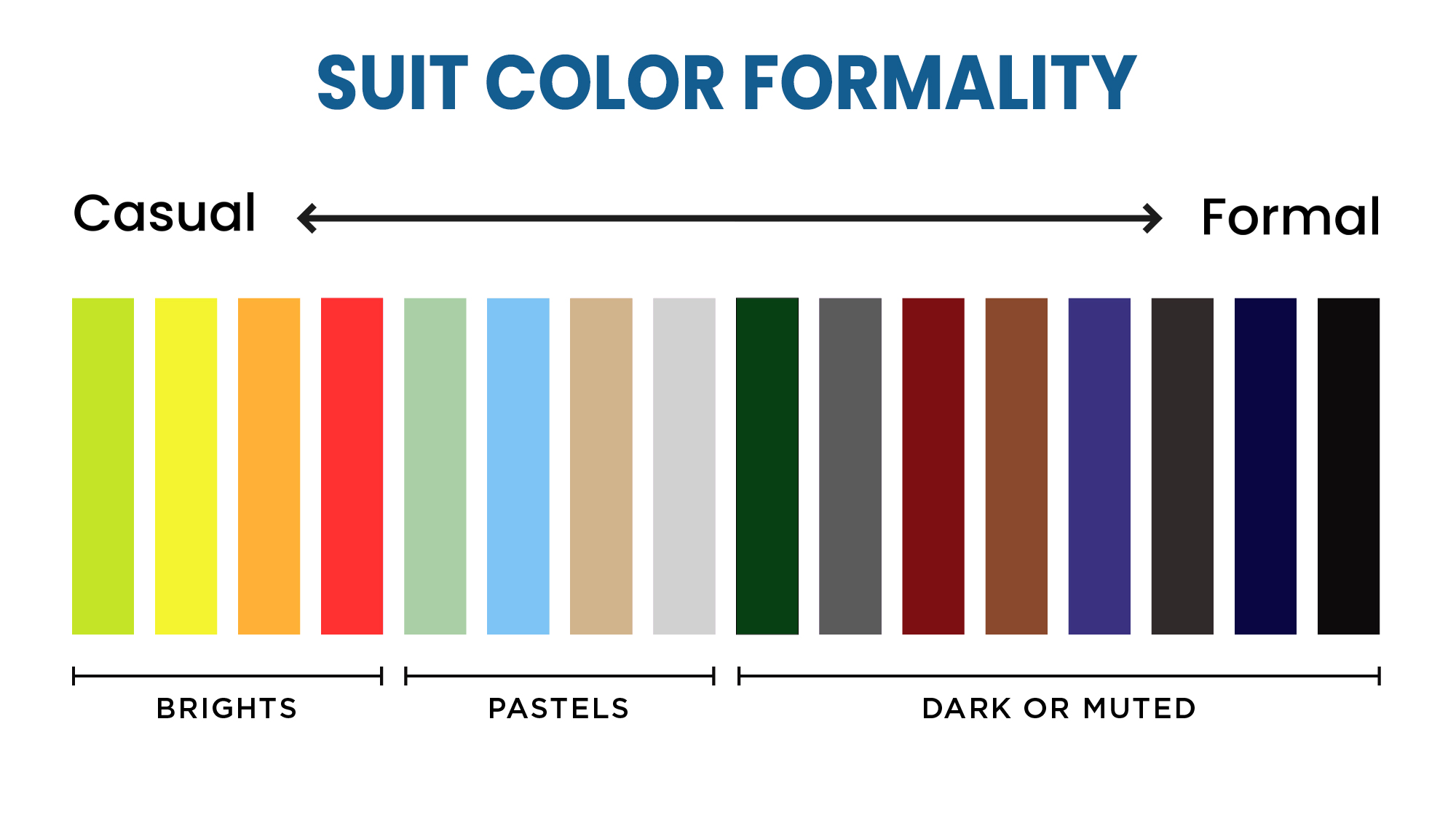 From there, you can match the loafer to your suit.
If you need to look dressy or professional, lean heavily toward dark colors. A charcoal grey or navy suit is the most conservative option, so stick with a traditional black loafer.
On the other hand, when you're aiming for a more relaxed style, light colors and tan loafers can look smashing.
To Wear or Not to Wear Socks
It's always wise to wear socks with leather shoes. Leather isn't breathable, so direct contact with your skin will make your feet hot and sweaty.
This can be more than just uncomfortable; it can also damage the leather insides if you sweat enough.
Sweaty feet and leather might make for some embarrassing smells, too.
This doesn't mean that people need to see your socks. For very casual outfits, you can wear no-see socks that only cover your foot.
It gives you the benefits of wearing socks, but without being seen.
Author: Alexander Stoicoff
Hi, I'm Alex, and I've studied and specialized in styling in Rome. Through my writing, I want to help men dress well and learn the purpose and significance of suits and other formal attire. My final goal is to make men more confident in their wardrobe choice and life in general.