Loafers have etched their mark from New York's skyscrapers to Milan's cobblestone streets.
But have you ever wondered how a single shoe type could offer many flavors?
The short answer is that designers had to adapt the shoe to various tastes, styles, and occasions.
So whether you're a classic penny enthusiast or a Belgian aficionado, a loafer story awaits you. Buckle up – or should I say, slip on?
Penny Loafers
The penny loafer is characterized by a leather strip across the vamp accompanied by a unique center cut-out.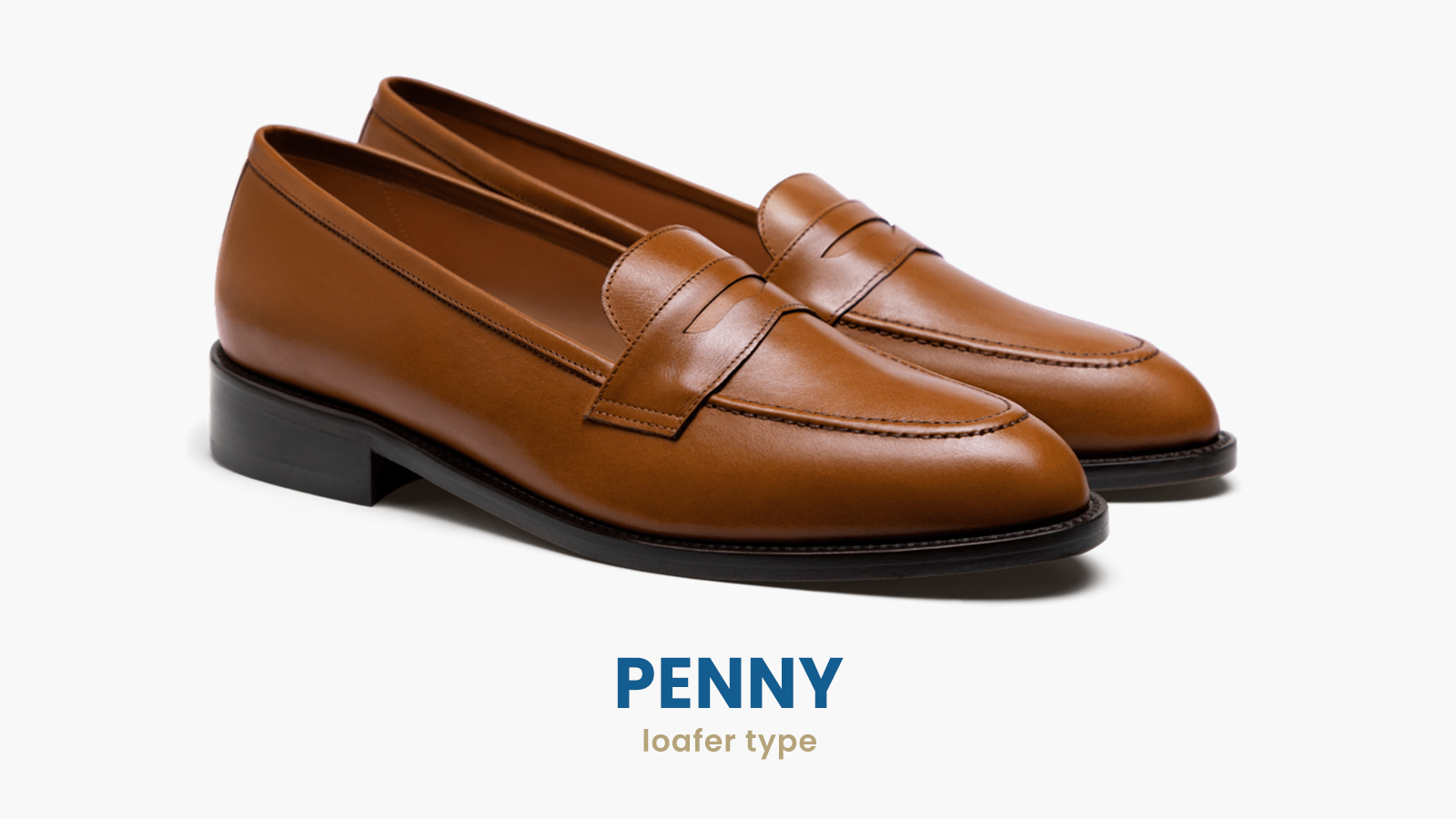 Penny loafers often come in full-grain leather, intertwining durability with classic appeal. These shoes opt for a subtle yet profound statement and exude casual flair blended with formal undertones.
As the tale goes, the penny loafer has seen its fair share of modifications over the decades but remains firmly anchored to its original allure.
There's a charming anecdote that students once used the center slot to stash a penny for those unexpected payphone calls.
And while our communication devices have revolutionized, the penny loafer retains its nostalgic essence.
They are your trusty companions for business casual and smart casual looks. Envision them with dress pants or chinos, capped off with a crisp cotton blazer.
But their versatility doesn't end there. They synchronize with a polo shirt or even your trusty suit just as well.
A little tidbit for the history aficionados: the penny loafer is fondly termed the "Ivy League" essential. Gaining momentum among the college crowd of the 1950s, they're a testament to youthful sophistication and that coveted "old money style."
Bit / Gucci Loafers
Stepping out with a glint of opulence, Bit loafers or, more popularly known, Gucci loafers are where luxury meets tradition.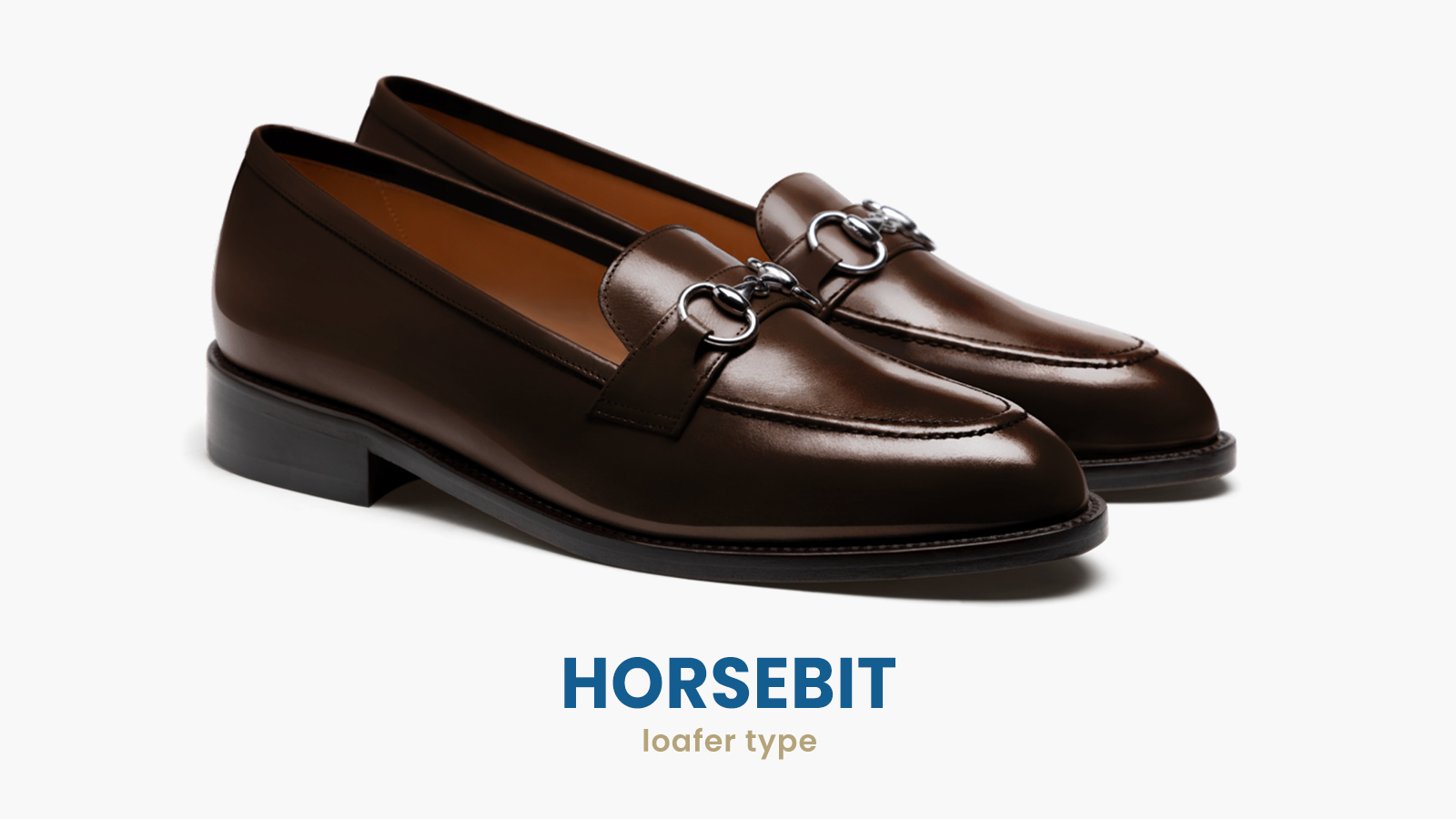 Their standout feature? A golden or metal strap, reminiscent of a horse's snaffle, adorns the top.
Though originally flaunting shades of brown, Gucci also made them in black, tweaking the design and lining, thus sparking a fashion revolution.
For those bold enough, these loafers can be a showstopper when teamed with a linen suit or suit separates. Well-tailored khakis or chinos pair well, too.
Starting out in fashion? I'd recommend not pairing horsebit loafers with jeans and a T-shirt, as they lean towards a fancier vibe.
Tassel Loafers
A playful twist on traditional loafers, tassel loafers are all about adding fun to the mix with decorative tassels dangling from the top.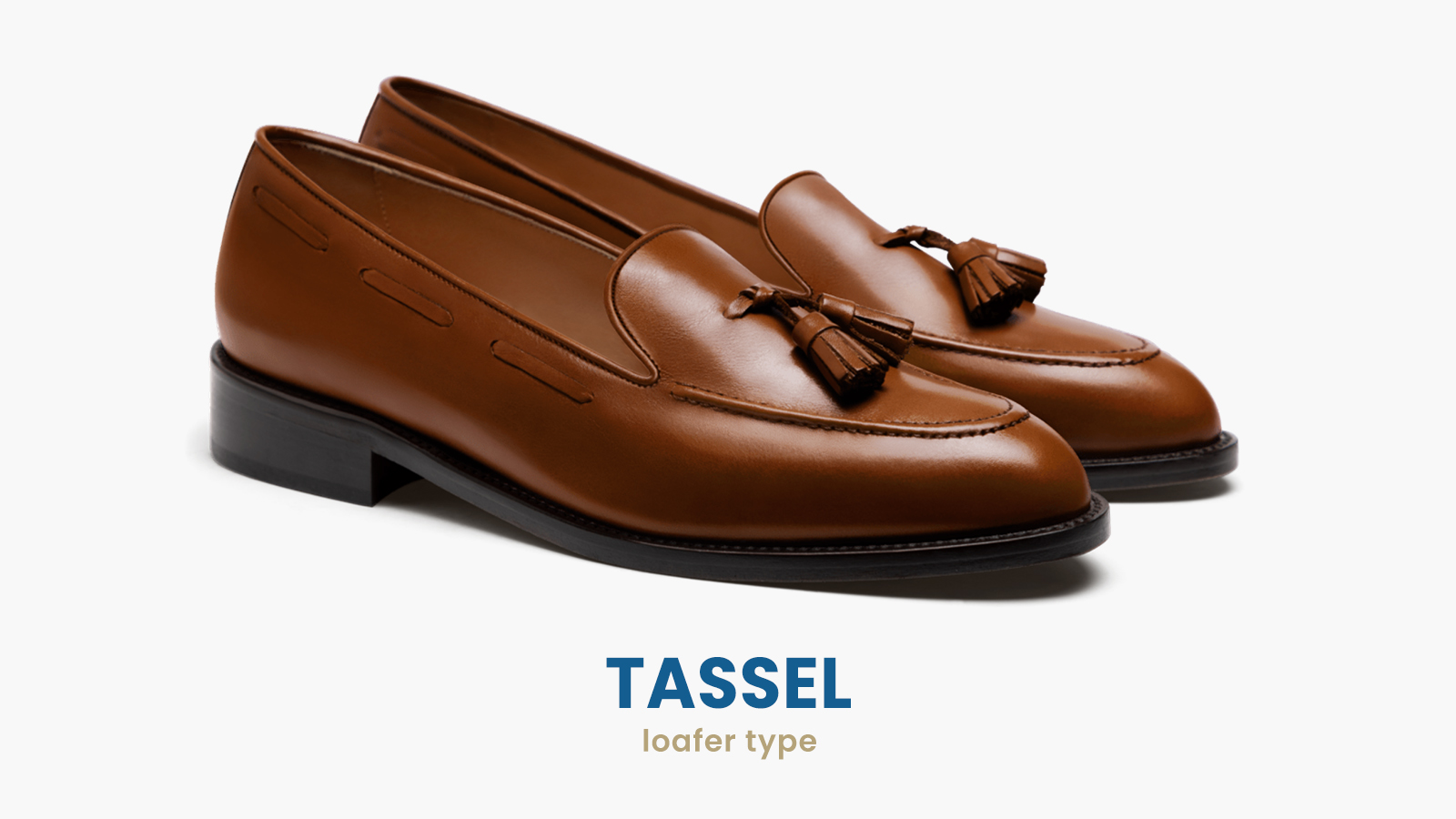 Initially mass-produced by the iconic Alden Shoe Company, these loafers quickly became the rage, especially among the prep school and Ivy League crowd.
Though they've maintained their iconic tassel, the loafers have seen variations in design, from the kind of leather used to the intricacy of their stitching patterns.
Styling tassel loafers is an art in itself. Perfect for business casual settings, they also have a knack for elevating smart casual outfits.
Think blazers, slacks, or even a wool suit. And for those days when you're feeling particularly adventurous? Slide into these loafers, wear chinos and a casual shirt, and watch heads turn.
Kiltie Loafers
The Kiltie loafer, with its decorative fringed tongue overlaying the instep, brings a Scottish flair to the loafer family.
Deriving its name from the "kilt," this shoe is reminiscent of golfing greens and the old-world charm of the British Isles.
Over time, brands have experimented with offering variations from ornate designs to minimalist takes, yet the essence of the kiltie stays untouched.
When you think of styling with kiltie loafers, think classic and vintage. They resonate beautifully with semi-formal wear.
A tweed jacket, dress trousers, and these loafers are a match made in sartorial heaven. They're equally at home with contemporary outfits, giving them that unique edge.
Culturally speaking, kiltie loafers have been the choice of golfers, British aristocrats, and style icons looking to add a touch of vintage panache. Their distinct design ensures they never go unnoticed.
Belgian Loafers
With their distinguishing feature being a small bow sewn into the top, these shoes are a delightful nod to European craftsmanship.
Born in the hands of Belgian cobblers, these loafers rapidly gained popularity amongst the elite, becoming synonymous with luxury and comfort.
As years went by, the original design of the Belgian loafer was embraced by various luxury brands, adding their signature touches.
But no matter the tweaks or variations, their hallmark comfort and finesse remain steadfast.
Styling Belgian loafers is an exercise in grace. They exude charm when paired with tailored trousers, dress shier, and a blazer, offering a relaxed yet polished look.
But their versatility shines through when you sport them with evening wear: a sharp tuxedo and Belgian loafers? Simply irresistible.
Opera Pumps
The epitome of formal footwear, Opera pumps, also known as Court shoes, bring the flair of the opera house directly to one's feet.
With their glossy patent leather finish and a decorative grosgrain bow, they hark back to a time of grandeur and opulence.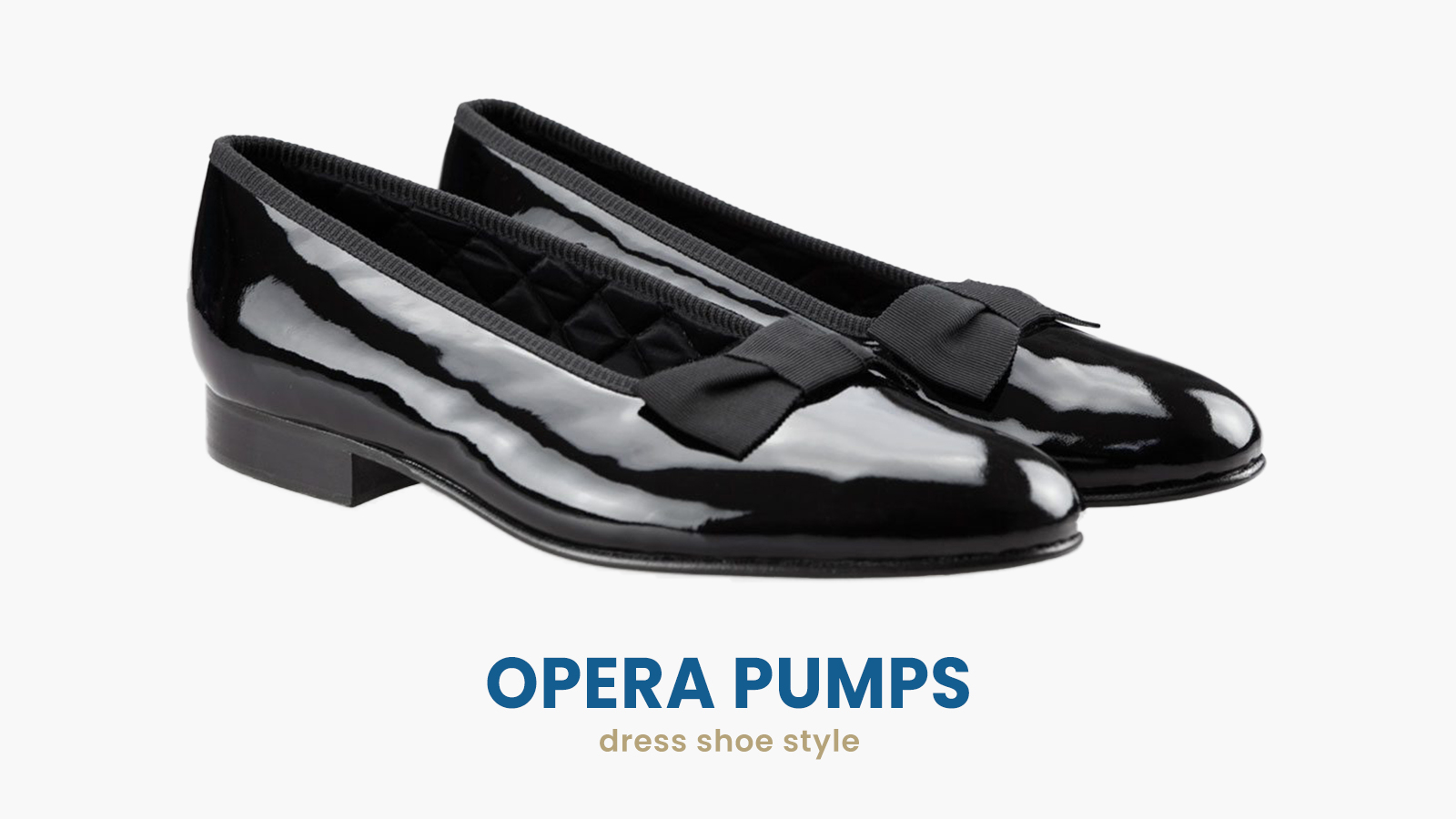 Though they've maintained a consistent design over the centuries, modern interpretations have given the Opera pump a contemporary spin, all while preserving its inherent aristocracy.
When considering how to style Opera pumps, think of grand occasions. They're the perfect companion to a tailored tuxedo, elevating the entire ensemble to unmatched elegance.
Tuxedo Slippers
The tuxedo slipper is an elegant loafer type that bears clean designs, a low-cut profile, and meticulous attention to detail.
Their aesthetic appeal lies in their grandeur and aristocratic elegance that distinguish them from other loafer types.
Crafted from plush materials like satin, these luxury shoes stand in a league of their own.
Icons like Ryan Gosling and David Beckham have flaunted them at red-carpet events, highlighting their charm. Beyond complementing a sharp tuxedo, they add a laid-back sophistication to black-tie affairs.
Velvet Slippers
The velvet slipper is another luxurious and aristocratic loafer, often distinguished by its plush texture.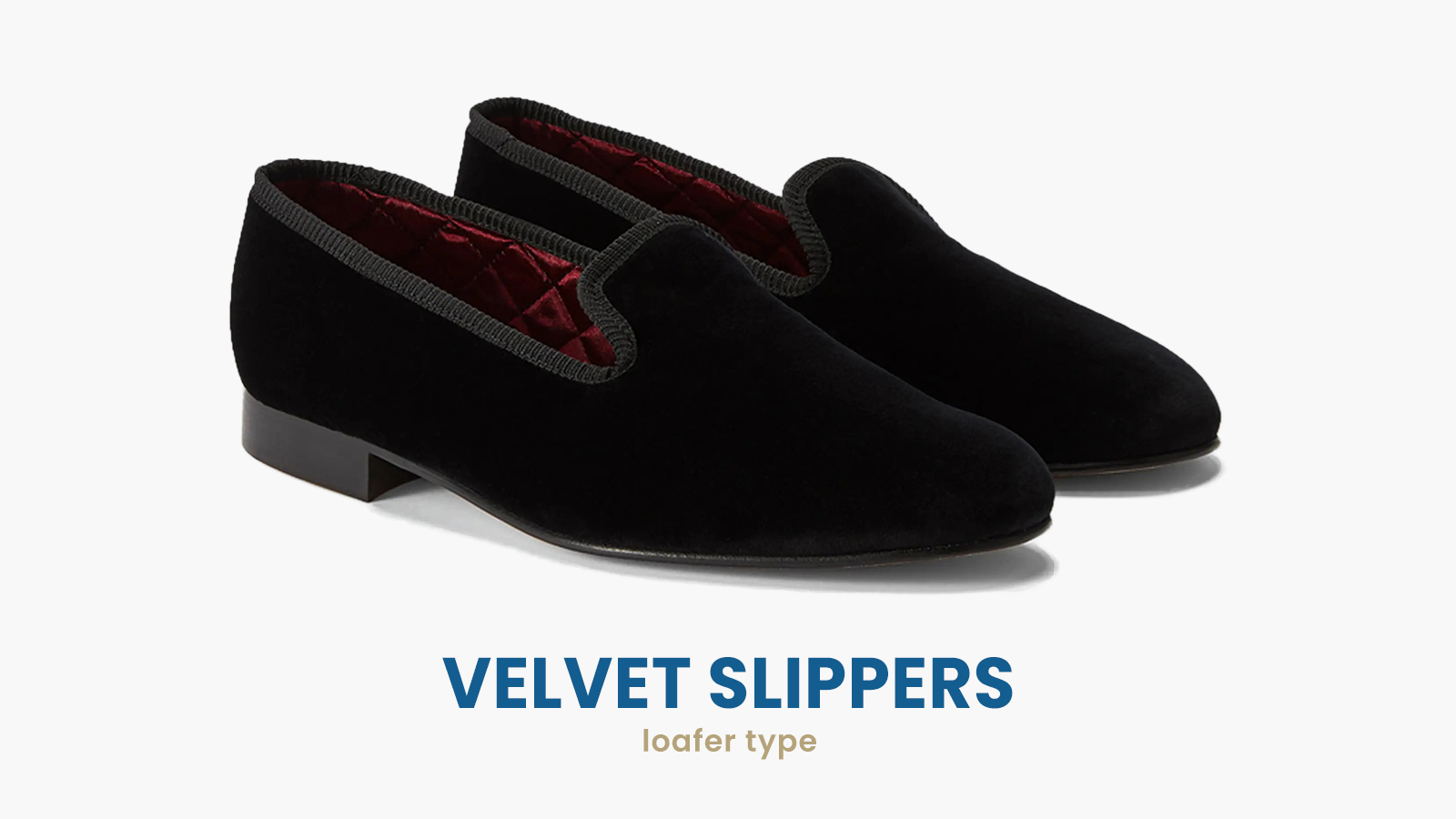 This decadent material can often be adorned with intricate embroidery, gemstone embellishments, or grand patterns, transforming the slipper into a piece of wearable art.
They're impeccable for black-tie events and gala nights but don't shy away from pairing them with well-tailored trousers.
Regardless of the occasion, velvet slippers serve as the pièce de résistance, adding that regal touch to any outfit.
Venetian Loafer
The Venetian loafer is a slip-on shoe with a minimalist design, stripped of all those extra adornments.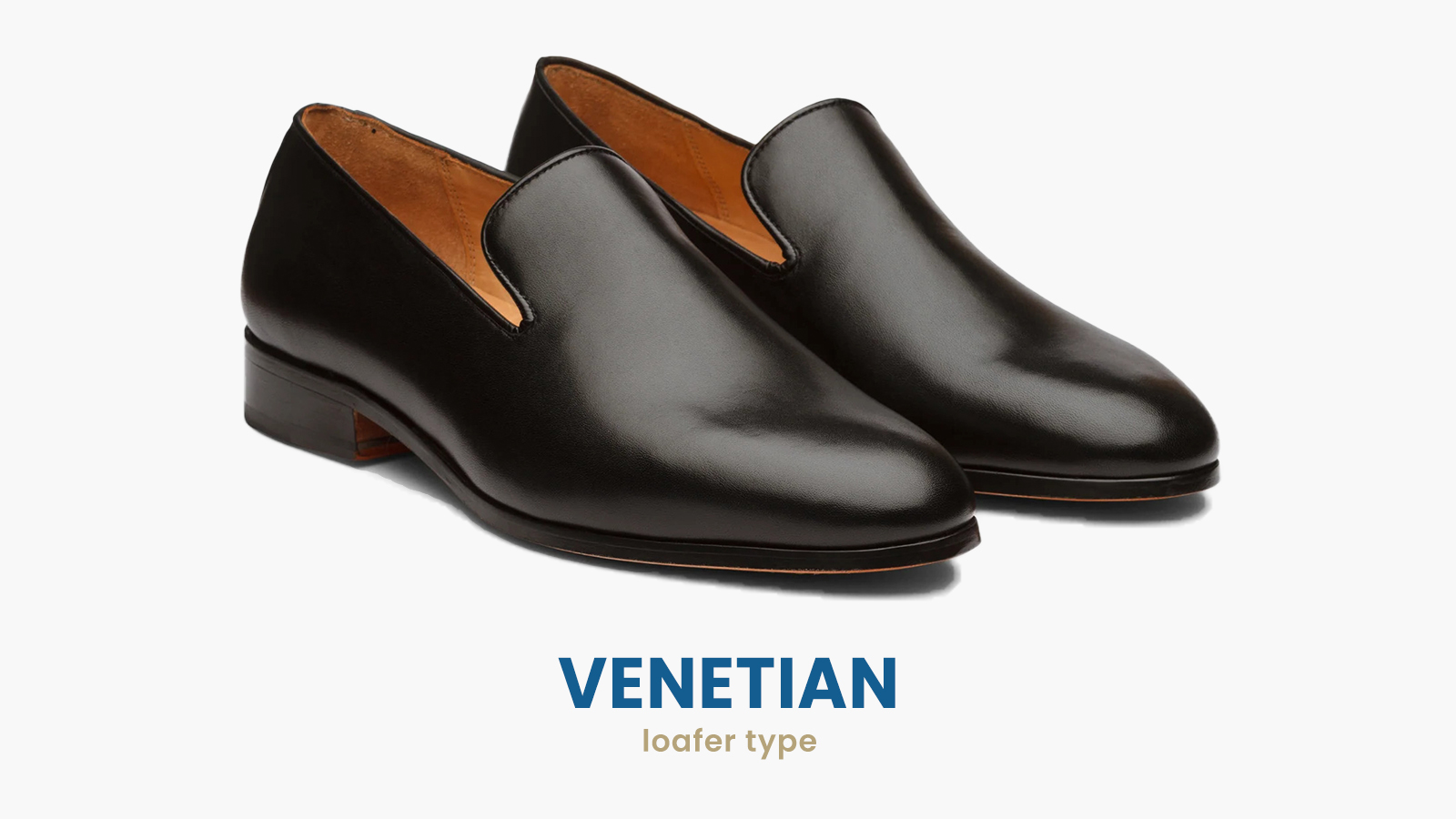 In terms of construction, many Venetian loafers are made from a single piece of leather. That said, they do not have tassels, buckles, or other adornments.
Pair them with chinos for a casual look, or slide them on with a summer suit for a relaxed formal refinement.
Avoid wearing them with too formal outfits. You're free to go sockless here, too.
Monk Strap Loafers
Contrary to the traditional slip-on design of loafers, the monk strap loafer introduces a distinct flair with its buckled closure.
Tracing its origins back to European monks who wore these as a more protective alternative to sandals, the monk strap loafer carries a rich historical tapestry.
Some designs feature a lone buckle strap, while others boast a pair.
Monk strap loafers effortlessly pair with both tailored suits and casual denim. A simple white shirt is perfect to elevate the look.
Perfect for those seeking a shoe with character, they blend vintage appeal with modern style.
Driving Loafers
As their name suggests, driving loafers were initially crafted with the automobile driver in mind.
They boast a unique rubber-pebbled outsole designed to provide comfort during long drives, offering grip and flexibility.
Over time, while their functionality for drivers has remained a central theme, fashion aficionados worldwide have embraced them for their relaxed elegance and comfort.
Modern twists on the classic design often incorporate unique colors, materials, and patterns, making them a true fashion statement.
The world truly is your oyster when thinking of how to style driving loafers. Their inherent casual vibe pairs splendidly with chinos and shorts.
These loafers, coupled with a linen shirt, can be the epitome of casual chic for those laid-back sunny days.
Boat Loafers
An ode to the nautical world, boat loafers (often called boat shoes or deck shoes) are characterized by their slip-resistant rubber sole and leather-laced trim.
Originating as functional footwear for sailors, their design ensures a firm grip on wet, slippery boat decks.
While the functional aspect of boat loafers remains paramount, their stylish appeal hasn't been lost on the masses.
Styling boat loafers is akin to summoning the spirit of a summer vacation. They're best friends with shorts, polo shirts, and light, airy fabrics.
Heading to a beachside brunch or a yacht party? These loafers are your trusty companions, guaranteeing a blend of style and comfort.
But beyond the decks and piers, they've made waves in the fashion industry, becoming synonymous with summer, vacations, and a relaxed yet refined lifestyle.
Espadrilles
Espadrilles are the embodiment of Mediterranean charm. Crafted typically from canvas or cotton fabric with a distinctive jute rope sole, they're summer's favorite footwear.
Their origins trace back centuries, with Spain and France staking a claim to their creation. As the years passed, this humble shoe, once worn by peasants, began its ascent up the fashion ladder.
Today's espadrilles come in myriad designs, from the classic slip-on to those adorned with laces, embroidery, or sequins.
When styling espadrilles, think breezy, think beachy.
Heading for a sunset soirée at a coastal resort? Espadrilles are your perfect dance partners.
Valuable Tips to Style Your Loafers
While loafers are a hallmark of versatility, pulling them off with aplomb requires some know-how.
It's an art, a casual and formal dance requiring a keen eye for detail.
No-Show Socks vs. Barefoot
The perennial debate: to sock or not to sock? No-show socks are a brilliant invention, giving you the comfort of socks without them playing peek-a-boo.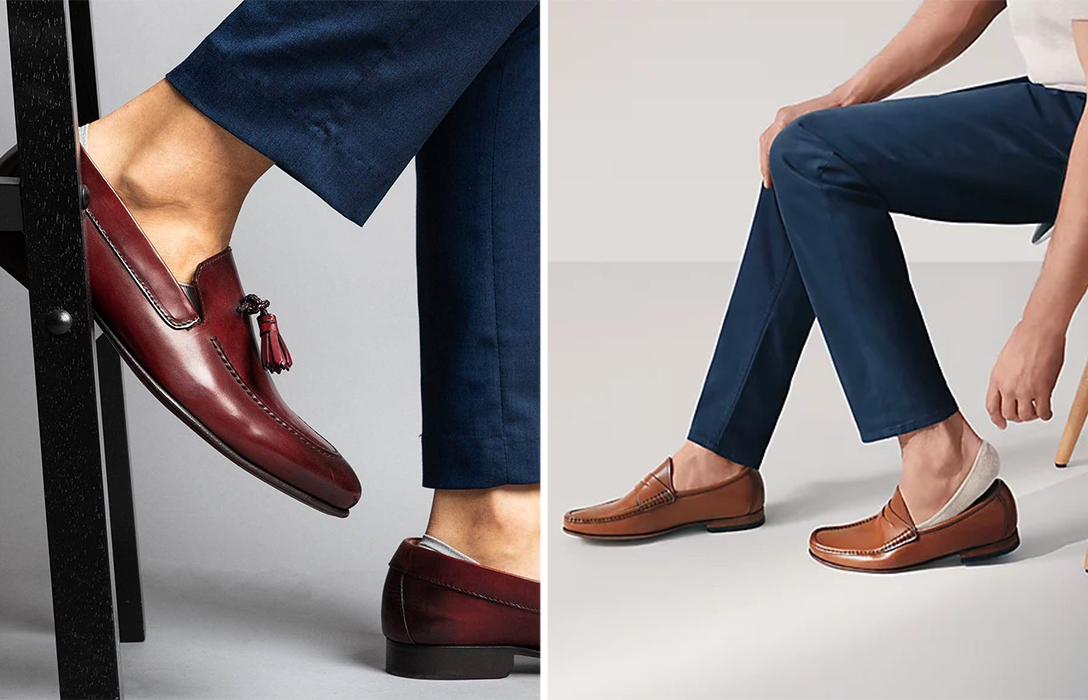 It's especially great if you wear loafers in warmer climates or aim for a more streamlined look. Plus, they ensure that the inner lining of your loafers stays in good shape for longer.
Going barefoot? It's a classic choice that oozes style.
A word of caution: It can sometimes lead to sweaty and uncomfortable situations. If you choose to tread this path, arm yourself.
A dash of foot powder or a spritz of foot spray can be a game-changer. They'll keep your feet feeling fresh, reduce friction, and prevent those unpleasant odors that sometimes come with going sockless.
Material Matters
The material you choose can significantly influence the appearance, comfort, durability, and occasions where they can be worn.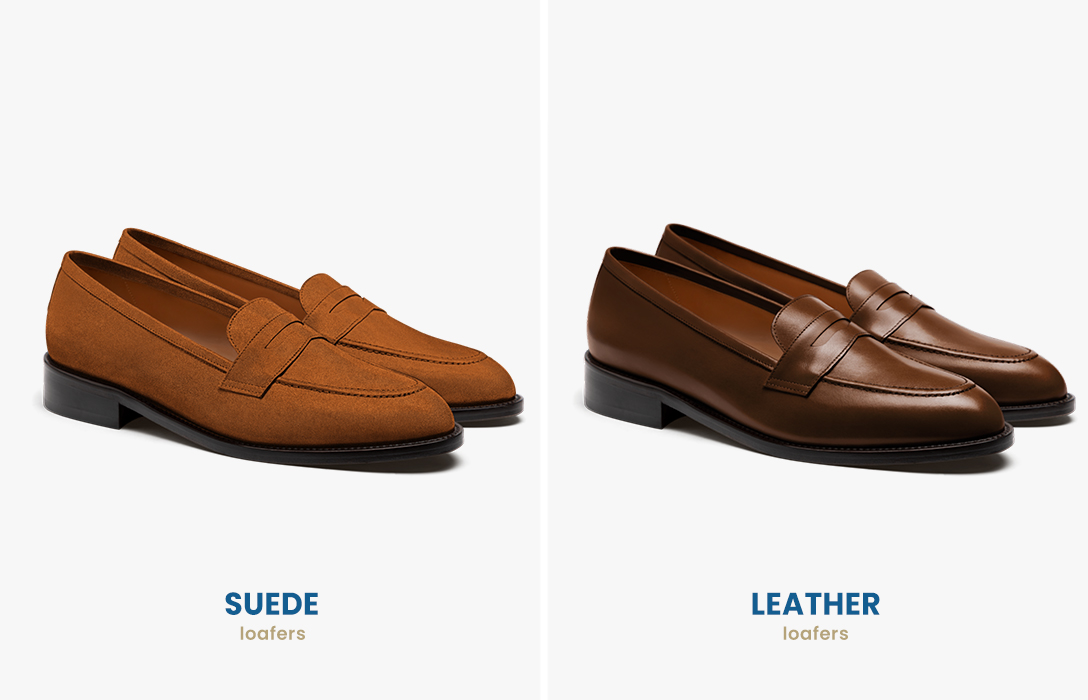 Leather: Full-grain leather offers a rich, textured look that ages gracefully, developing a patina. They are excellent for formal settings but can just as easily be dressed down for a smart-casual look.
Suede: A favorite for those who love a touch of luxury, suede loafers give off a soft, velvety finish. They're inherently more casual than their leather counterparts, making them perfect for laid-back settings.
However, they can be a bit high maintenance – they're more vulnerable to stains and water damage. A suede protector spray is essential; a gentle brushing can help maintain their plush appearance.
Canvas: Perfect for summer and warmer climates, canvas loafers are lightweight and breathable. While they might not scream "formal," they have a relaxed charm that pairs beautifully with shorts or chinos.
Patent Leather: The showstoppers. Patent leather loafers, with their high-gloss finish, are statement pieces. They are trendy for evening events or occasions you want to stand out.
Exotics: For those looking to push boundaries, exotic materials like crocodile or snake skin can be a choice. They're rare, unique, and definitely attention-grabbing.
The Right Trouser Break
The harmony between your loafers and the pants break plays a pivotal role in crafting that impeccable look.
The "break" refers to the fold or crease of fabric at the bottom of your trousers when they meet your shoes.
The slight or no break is the modern maestro's choice. You're allowing the trousers to just touch the tops of your shoes or hover slightly above them.
This style works exceptionally well with slim-fit pants and ensures your loafers get all the spotlight they deserve.
Additionally, it shows that a hint of the ankle can be particularly refreshing in warmer weather, allowing for better breathability and showcasing those loafers in all their glory.
While the half-break is more traditional, and I usually recommend it with other shoe styles, it can sometimes overshadow the elegance of your loafers.
Just avoid the full break when wearing loafers.
The fabric pools more around the ankle, making the look seem unkempt or unintentional, especially if the trousers are not tailored correctly.
Mind the Dress Code
As versatile as loafers are, they're not a one-size-fits-all solution for every dress code.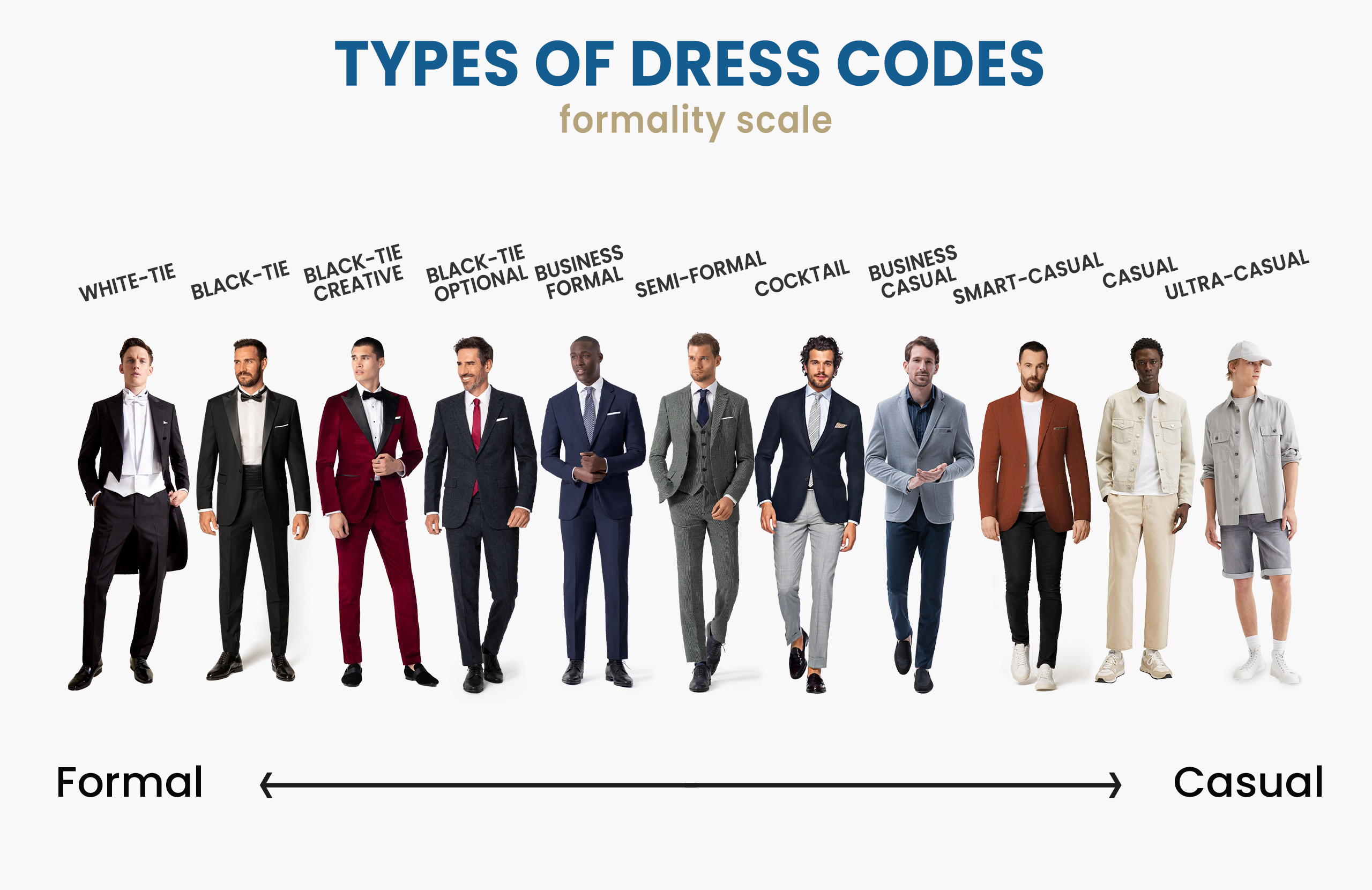 Picture yourself stepping into a high-powered business meeting, your feet adorned in leather penny or horsebit loafers that exude confidence.
Transition to a laid-back office setting, and your tassel or suede loafers playfully peek from under your chinos.
Weekend brunches see you in relaxed driving loafers, while at a black-tie gala, a patent leather opera pumps variant steals the show.
And on warm summer days at outdoor events? Breathable suede or espadrilles are your go-to.
Through each scene and setting, the key is to let the venue, loafer's intricacies, and your own comfort guide your choice, always ensuring you're the best-dressed version of yourself.
Author: Alexander Stoicoff
Hi, I'm Alex, and I've studied and specialized in styling in Rome. Through my writing, I want to help men dress well and learn the purpose and significance of suits and other formal attire. My final goal is to make men more confident in their wardrobe choice and life in general.