One way to make a sharp impression is to embrace the old money aesthetic. You don't need to be a wealthy man to dress like one; you just need to know the idea behind how the uber-rich dress.
So set your Rolex watch aside for a moment because you need to make time to take a lesson in looking money. Old money, that is.
Understanding the "Old Money" Aesthetic
For centuries, wealthy people have waged war between "old money" and "new money." Old money is wealth that's been around for generations; it's about elevated social class.
New money is what people who become wealthy are; they're excited to finally have money, and they show it off too much.
The United States has no nobility, titles, or aristocracy.
So a gauge for old money is how long your family has been in the country or whether they fought in the America Revolution. That status symbol speaks to your pedigree.
New money is gauche, whereas old money is classy and all about a subtle style. It's all about image.
Think about the Roy family on Succession. They exemplified old money; they never once seemed to enjoy their mega billions, but they always dressed in quiet luxury.
Real-Life Old Money Outfit Examples
Looking like you have old money does not mean dressing ostentatiously and in blatantly expensive clothing.
Instead, it's about being subdued. Remember, classy is the word of the day.
Neutral colors are a great start. Light colors are good, too, because they convey a more leisurely image than dark professional shades.
You don't need to be limited when buying just a few high-quality clothing articles versus several cheap shirts and trousers.
Here are a few examples of some old-money aesthetic outfits to help you visualize the actual style: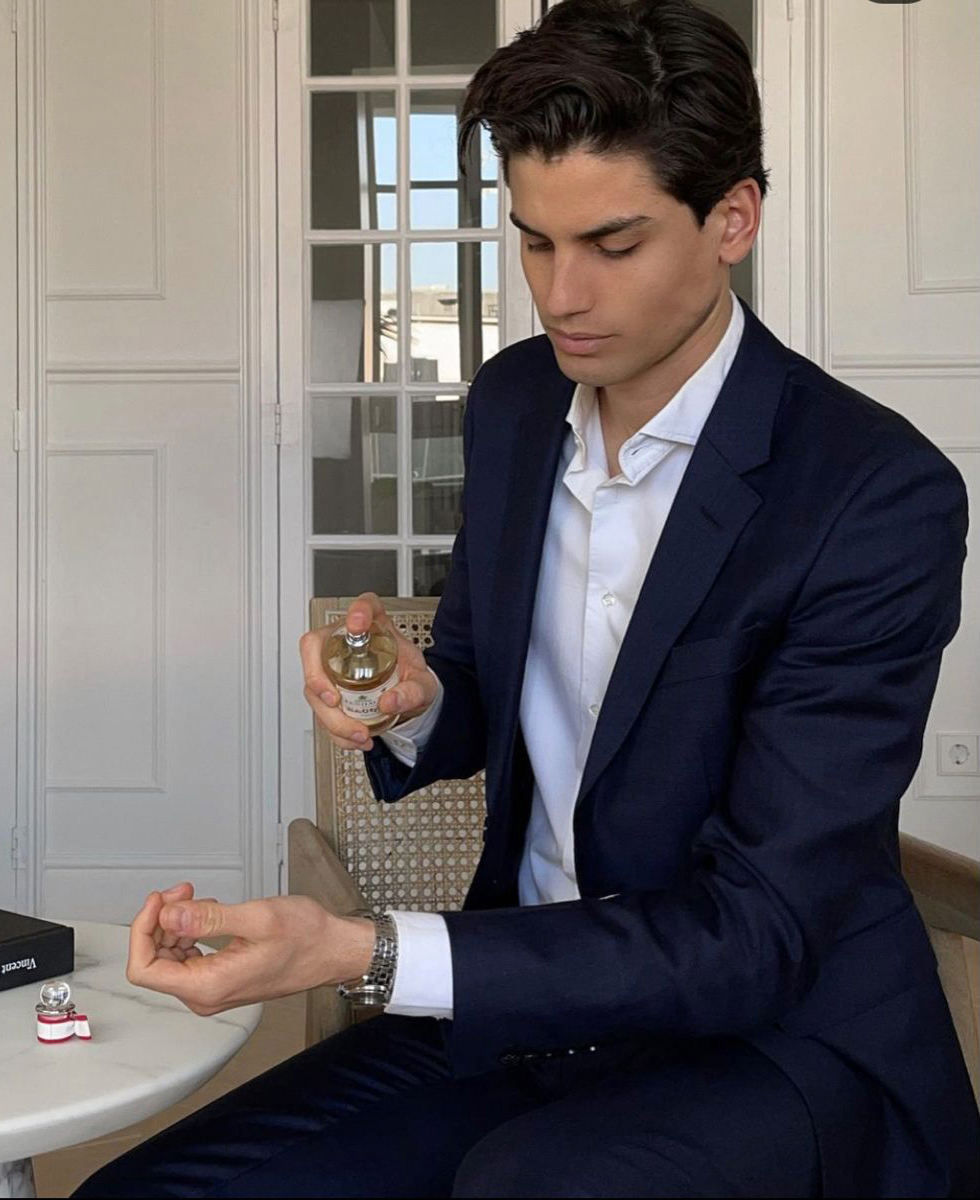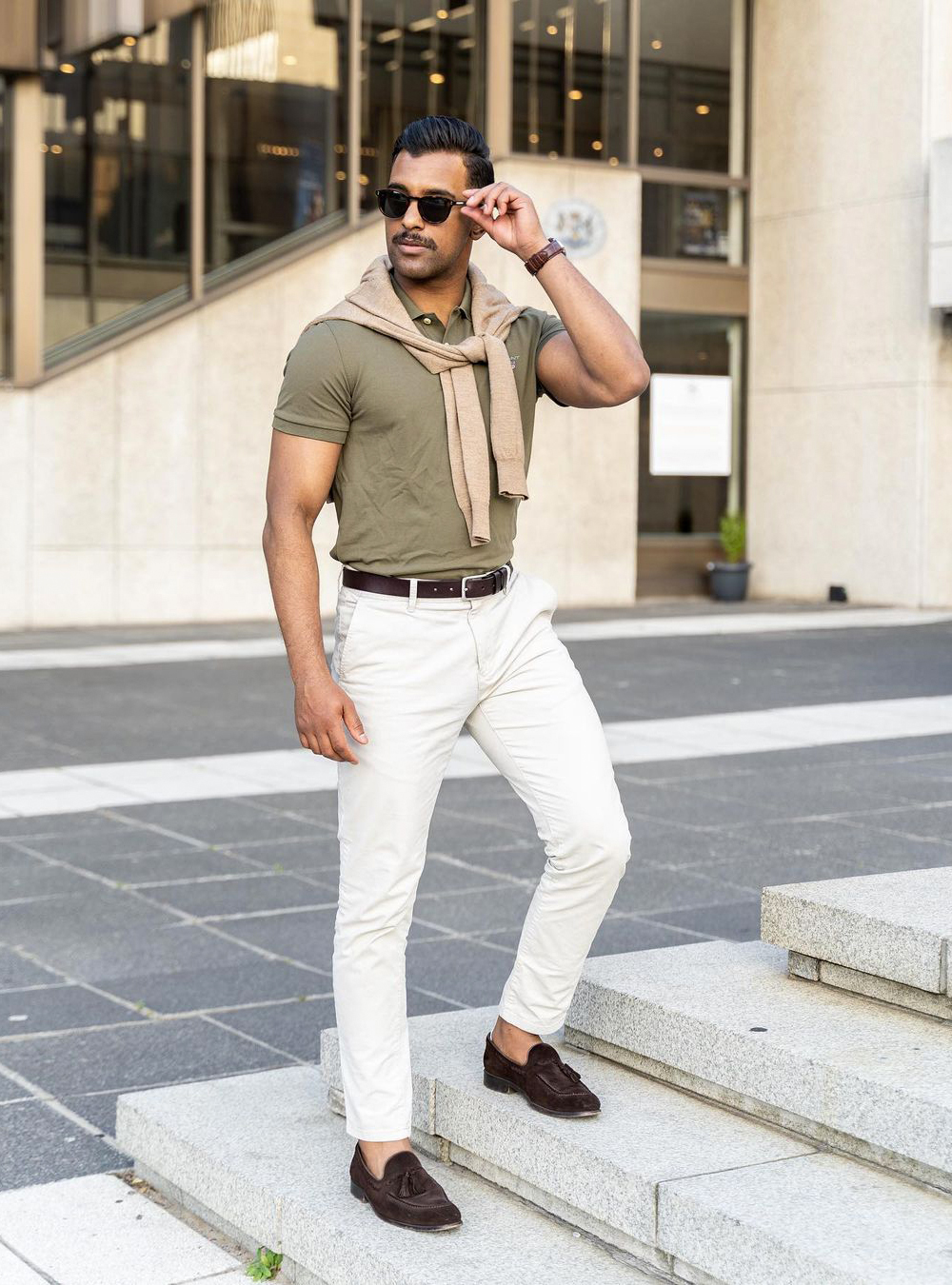 Old Money Style: Wardrobe Essentials
Thanks to the simplicity of the designs and colors of the chosen pieces, you can easily mix and match the garments to create old money looks.
Professional colors connote working, which old money simply does not do.
Aim for lush fabrics. Soft materials and natural fibers are all lovely and understated ways to convey wealth.
Durable fabrics like denim only signal working class.
And finally, focus on quality over quantity. It's better to have a few timeless pieces with superb construction over several cheap knock-offs.
Suits & Blazers
For those times when you need to look professional and powerful, a well-tailored suit is critical. A perfect suit with slim, clean lines is your ticket to making a top-notch impression.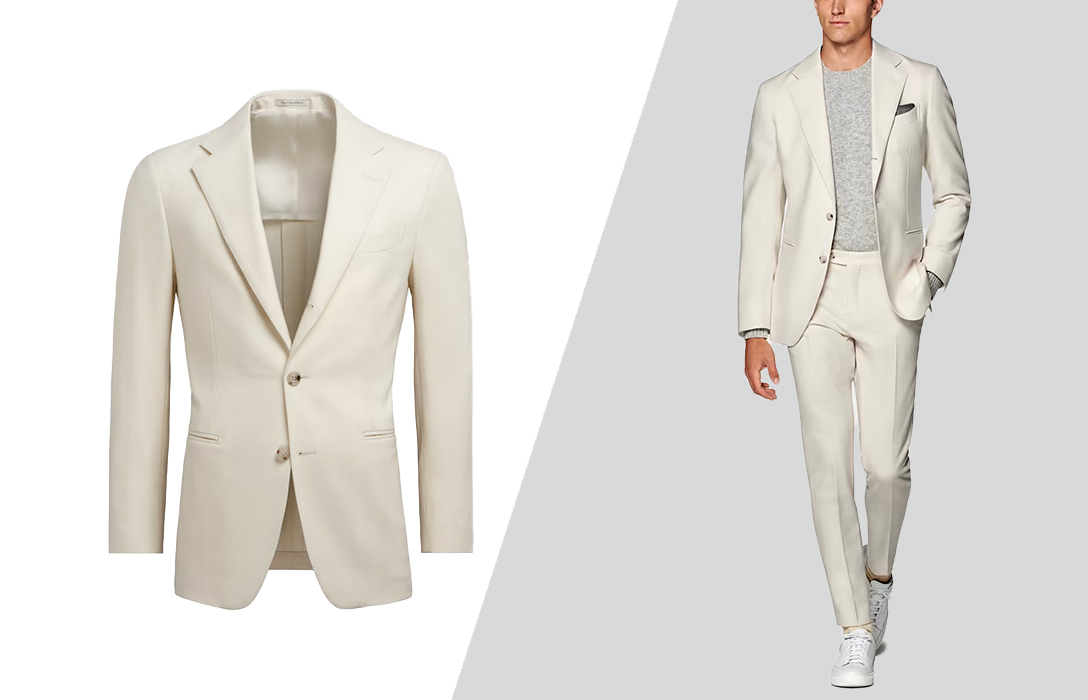 And if you keep it simple and high-quality, you'll play right into the old money aesthetic.
For those times when you aren't making a power move in the boardroom but still need to look swanky, a blazer gets the job done. Blazers are versatile, so they can easily be converted from dressy to informal.
Slide on over a white shirt for a professional image, or pop one on over a t-shirt when you head out for drinks.
Shirts
You don't need to go crazy trying to find a unique cut or style to make you look moneyed. A couple of classics will take you far.
For example, a polo shirt is the ultimate in preppy chic. This is an excellent opportunity to dabble in some pastel colors and change up your neutral palette.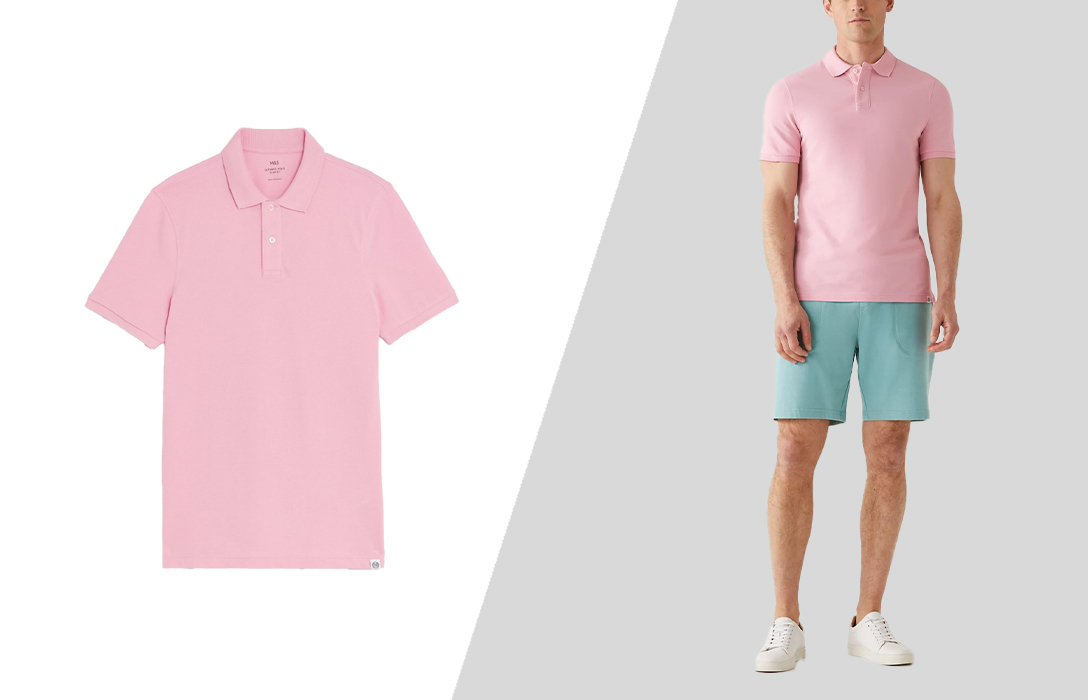 However, it's better to steer away from any shirts, including polo shirts, with a logo on them.
For a more versatile style, stick with a button-up dress shirt. These shirts are primarily associated with dressier styles but are easy to dress down for a "don't care" vibe.
Just leave the collar open and roll up your sleeves. A casual fabric like linen or cotton helps add to the simple sophistication.
You can also change up your look by throwing a sweater over your shoulders, creating a tennis look. And tennis is totally an old money game!
If you include a couple of cashmere sweaters in your wardrobe, you can use them as accessories or to keep warm when a mere button-up won't do.
Trousers
Leave the jeans aside for now; those are for the unwashed masses. Old money doesn't wear such rugged clothing.
Instead, dress pants and chinos are the way to go. Suit pants exude formality, so opt for those when dressing up.
It's ok to forgo the suit jacket for a less rigid style.
Invest in several pairs of chinos for your informal outfits. They should all be varying shades of neutral colors.
Slim fit, flat front, and a minimal break are the ideal elements for your old money chinos.
Footwear
Aim for a simple and sleek style for your shoes. Instead of heavy design features, seek out a minimalist style.
Your shoes should be about versatility and flexibility.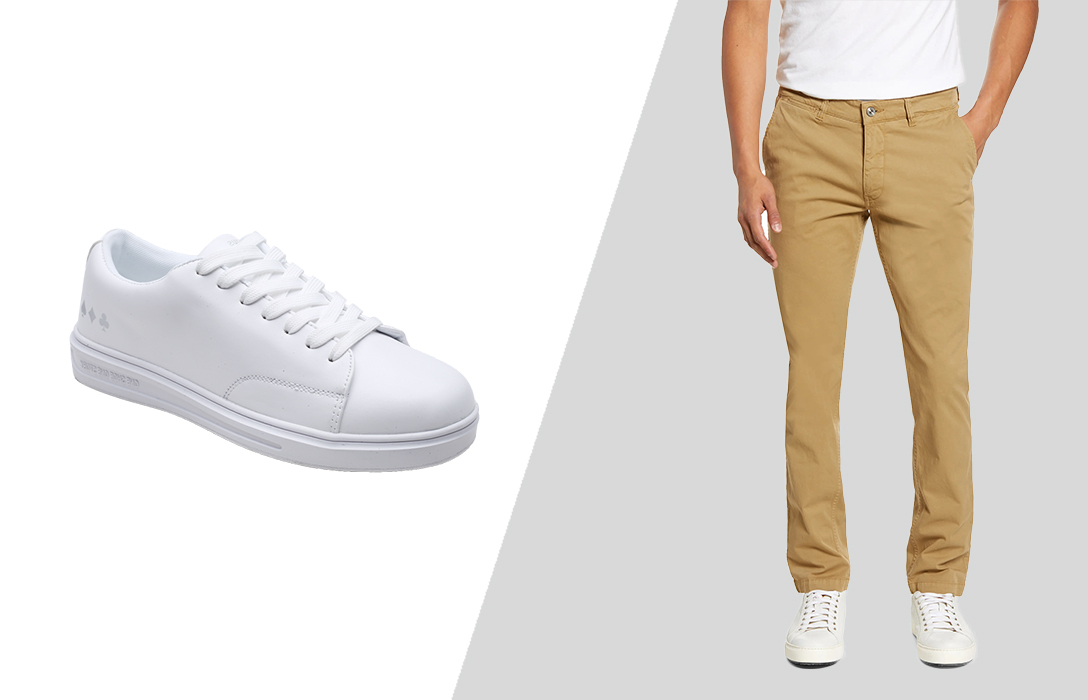 Crisp, white leather sneakers are a classic way to kick back in style. They need to be free from scuffs and completely white; after all, only old money can afford to keep buying new sneakers!
For a dressier look, loafers scream old money. They are where comfort meets class.
Dark brown slip-ons are an elegant combination with a suit or chinos. Unlike other dress shoes, they are easy to transfer from a dressy outfit to a casual one.
Outerwear
Don't let the chilly weather fool you into thinking you need a puffy coat to stay warm. You'll look better with sleek lines, and the right fabric can keep you warm without bulking you up.
For example, a cashmere or wool driving coat will slay that chill. Your old money outerwear should give the impression, "Oh, is it cold out? I hadn't noticed."
Neutral colors and a tapered silhouette will complement your formal ensemble.
Going more casual? A loose-fitting coat works wonders to keep your outfit pulled together.
But don't forget that both coat styles work best with muted colors. And don't forget to pop that collar!
Accessories and Attention to Detail
It's the little things that will make or break your old money aesthetic. Don't betray the game by wearing the wrong small item.
Pay attention to the details to ensure you aren't going overboard; too much bling is a dead giveaway.
Always opt for high-quality leather products for your belt, watch band, and shoes. A cheap leather belt will crack easily and can ruin a perfect outfit.
Speaking of high-quality materials, this should also apply to your ties and pocket squares. Silk is the only way to go; it's incredibly elegant and adds a debonair appeal.
Don't underestimate the importance of wearing a watch. You may not need one, but it adds an excellent level of detail.
Your timepiece should be simple yet sophisticated. Don't choose one with a lot of complications on the face.
Finally, avoid flashy jewelry. Some precious metal is acceptable, but leave the diamond and ruby-encrusted pinky ring at home.
Brand Recommendations
You've now got a good idea of how to build your old money wardrobe.
Need tips on the best places to start shopping? Thankfully, there are several brands that are so steeped in the old money aesthetic that they can carry you all the way.
Author: Alexander Stoicoff
Hi, I'm Alex, and I've studied and specialized in styling in Rome. Through my writing, I want to help men dress well and learn the purpose and significance of suits and other formal attire. My final goal is to make men more confident in their wardrobe choice and life in general.