Does a wedding invitation make you break out into chills as you worry about your wedding attire?
There is a heck of a lot that goes into weddings.
Whether you are a guest or the best man, especially the groom, you have your role to play in this drama. And you really don't want to mess up this important day!
If wedding invitations put fear into your heart, read on for wardrobe help.
I can't help you find a date for the wedding, but I can make sure you look darn good.
The Basics: Things You Should Consider
Chances are, you are not invited to a ton of formal events and galas.
However, you are likely to be invited to a good number of weddings in your life. Now that is an opportunity to look extraordinary, putting on your most formal wedding attire, currently resting in your wardrobe.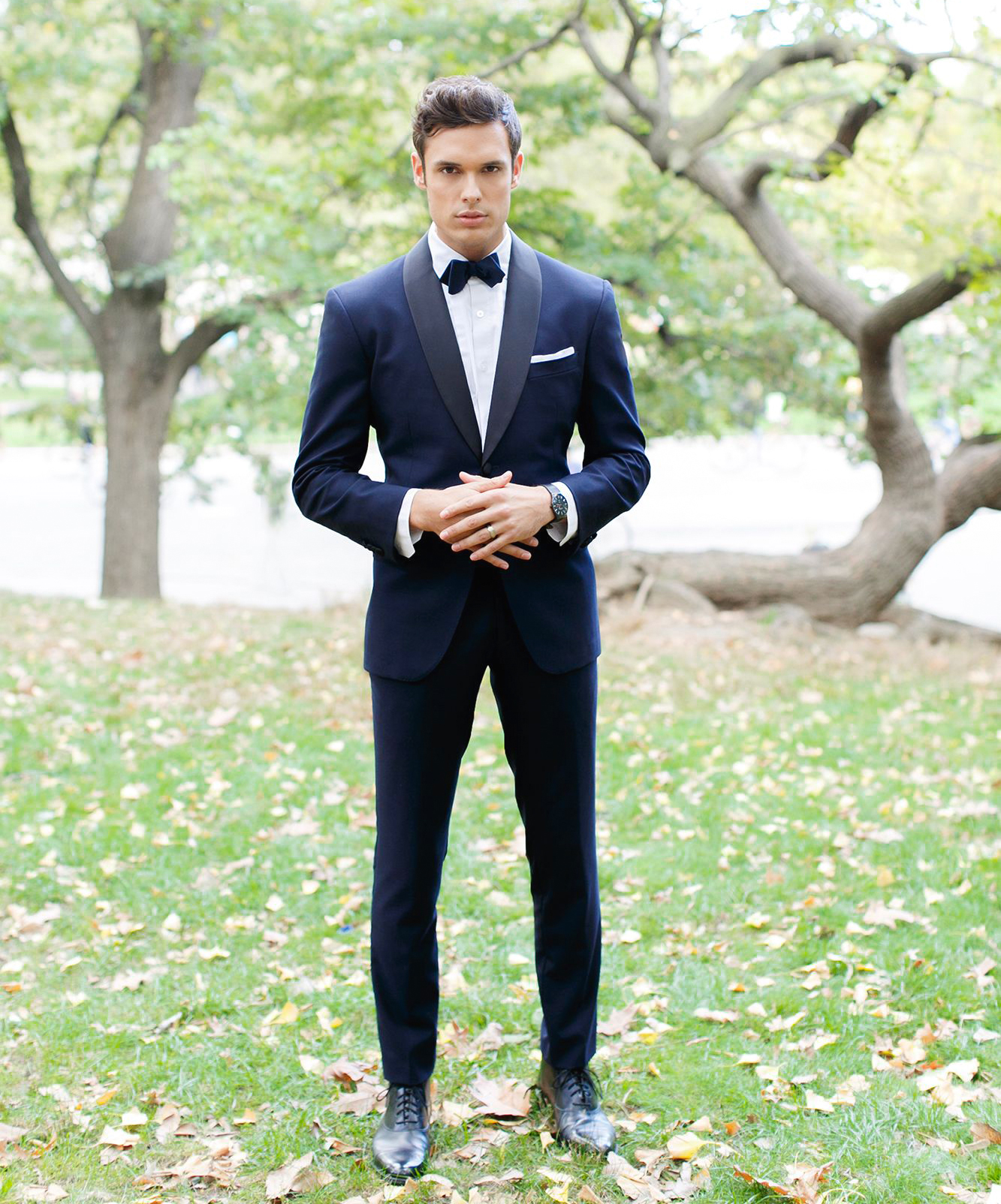 But most men sweat, wondering where they will dig up something nice enough for the big day.
To some, it may send you running to the local tuxedo rental place, looking for something appropriate to wear.
If that describes you, please consider reading the whole article before you make up your mind.
In the end, owning a wedding attire that fits you perfectly might save you a lot of trouble in the future.
Wedding Dressing Codes
A wedding dress code doesn't have to be intimidating. It is merely a set of rules on what is appropriate to wear for a particular occasion or event.
In fact, dress codes can be beneficial to point you in the right direction with your wedding attire.
It is uncomfortable to be over-or (worse) under-dressed for an event. Think of a dress code as your friend, giving you little tips on how your clothing can help you fit in.
The key to making friends with a dress code is learning to decipher what each code means.
When you learn to unpack the meaning behind each particular dress code, you will never worry about dressing for events again.
Suit vs. Tuxedo
A tuxedo is the most formal suit a man can wear. Consider it a suit on steroids.
While both a suit and a tuxedo include a dinner jacket and trousers, there are tell-tale differences between the two pieces.
Both the suit and the tux jacket have various types of lapels for varying formality levels. The difference is that tuxedos do not have any vents on the jacket's sides.
The tuxedo also often includes satin or grosgrain detailing. You will find this on the jacket lapel and as a stripe along the tuxedo trousers' outer seam. The trousers on a tuxedo will not have belt loops.
Buying vs. Renting
Buying beats renting any day. Why pay for a wedding suit that most likely will not fit you as well as a well-tailored purchase? And how many other bodies have worn that suit? Ick.
Wearing your own clothes at a wedding is so much nicer.
Think about never again having to scramble for a suit you feel good in. When you invest in a suit, you will be more than happy to wear it every chance you get.
Also, a suit that has been fitted perfectly to your proportions looks top-notch.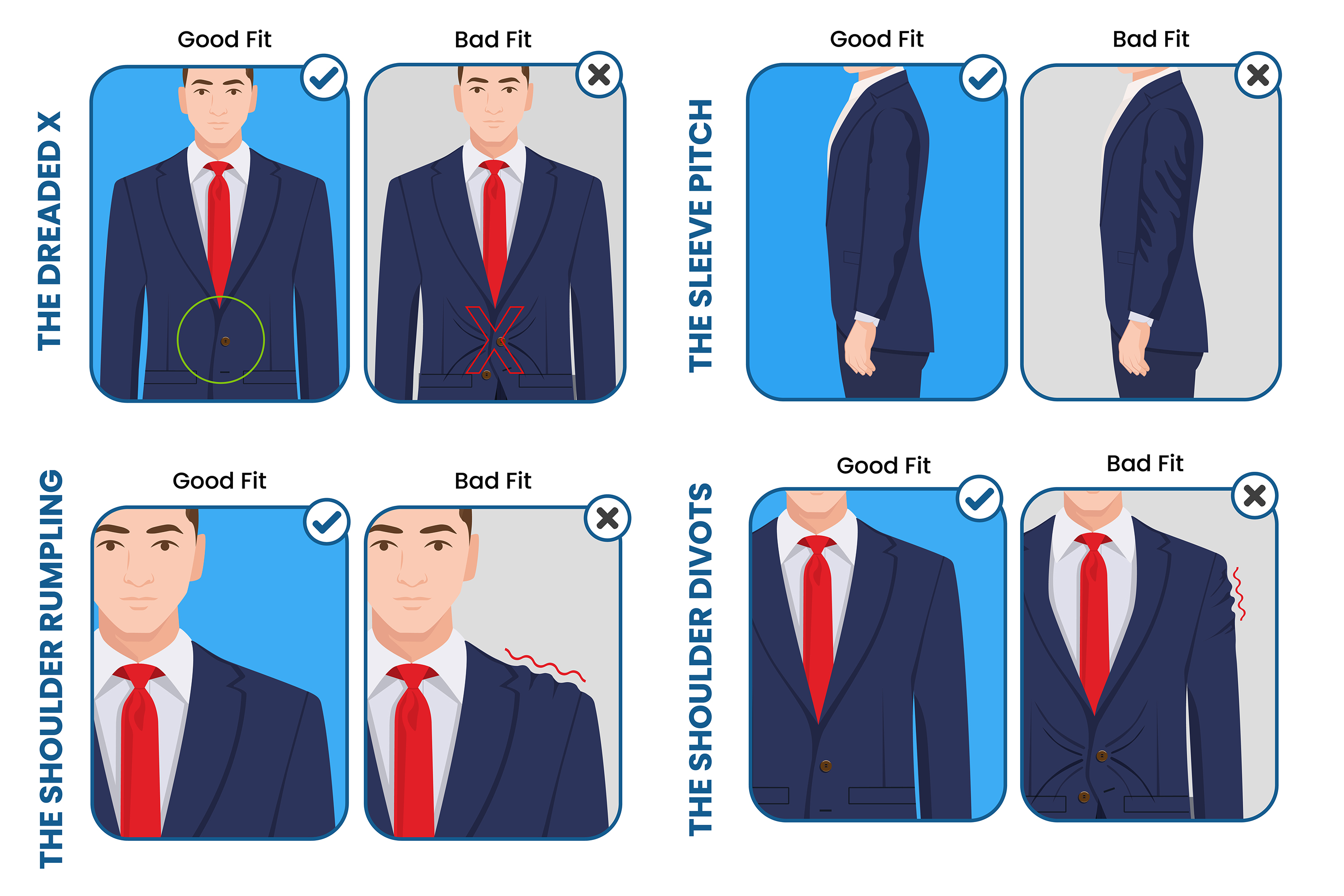 Why reinvent the wheel every time you need wedding attire? Buy, and save yourself the stress (and ultimately, money) from finding the perfect rental suit over and over, especially if you are the groom.
The Material
Just like you would never wear a parka on a summer outing, you would never wear a wool suit to a summer wedding. On the other hand, linen is a perfect summer material for a suit.
Your seasonal wedding attire will change, though it can be simple and inexpensive to transition.
Cooler months are a fantastic opportunity to play with the material. Fall is a fun time because you can sport tweed. On the other hand, winter offers rich textures like wool or cashmere.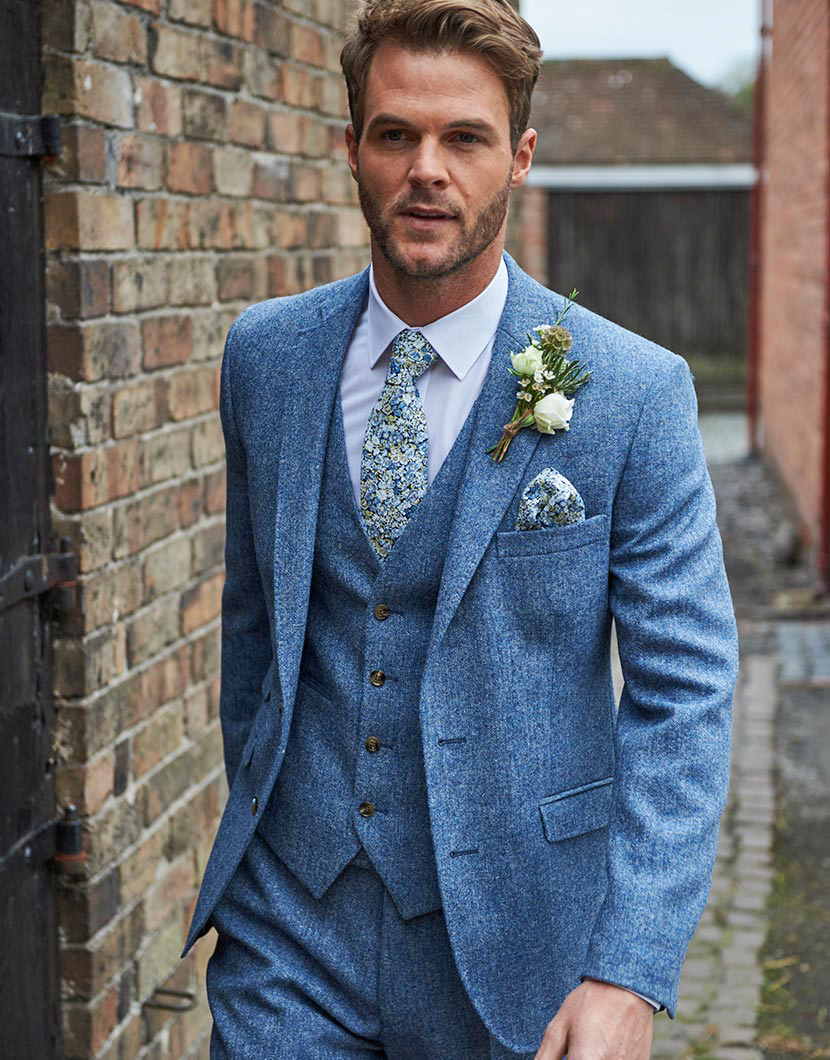 Spring is similar to fall with its unpredictable temperatures. Summer will certainly be warmer, so you will definitely want lighter colors.
Another cooling option is to stick to cooler, softer textures. A chambray, linen, or seersucker suit is the perfect touch.
The Color
Whether your wedding attire consists of a suit or tuxedo, you'll still have to match the color.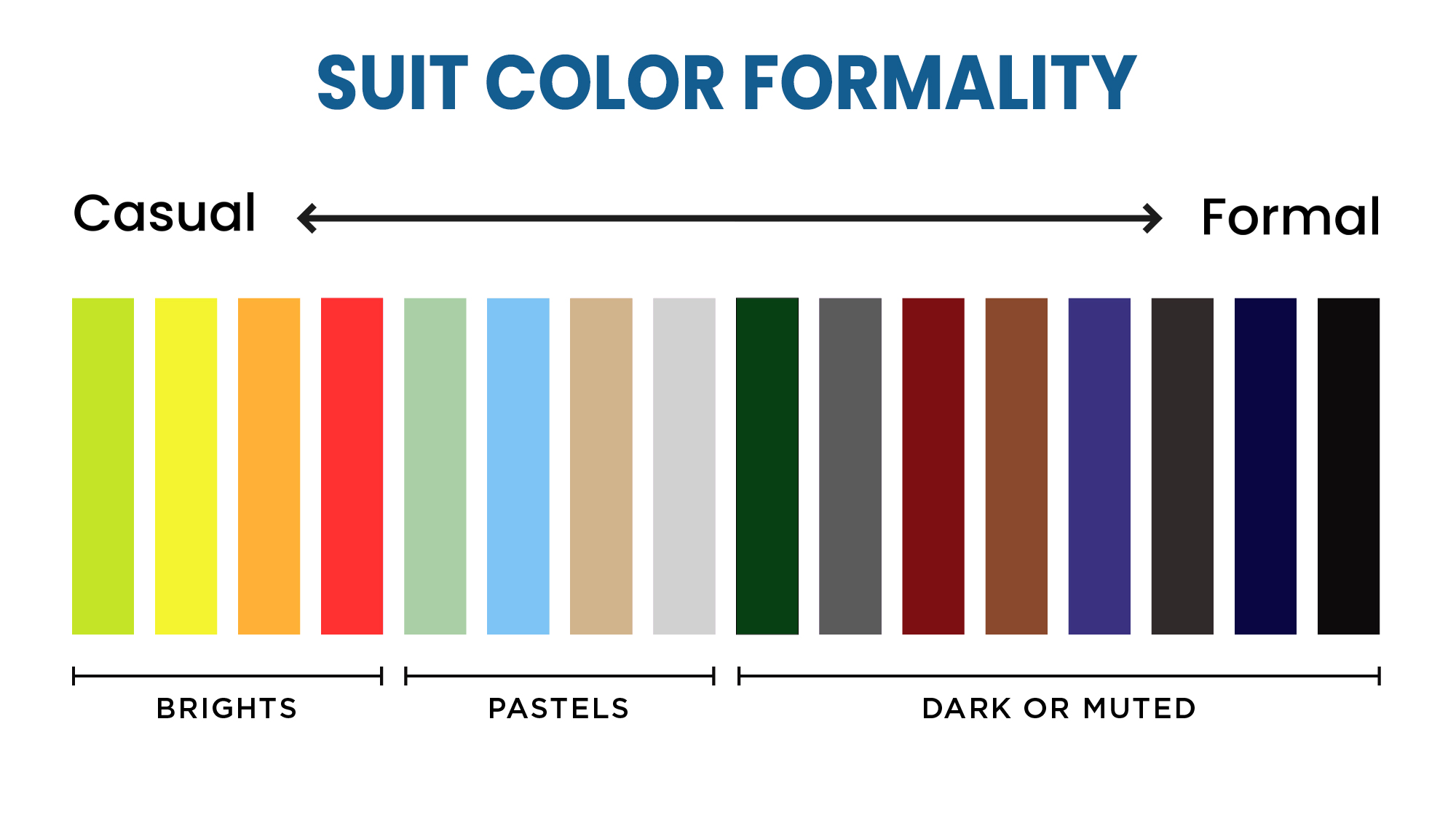 The color is usually determined by both the dress code formality and the time of the day the wedding takes place, i.e., whether the wedding is during the day or the night.
The most formal weddings are usually during the night. It's always recommended to choose darker colors for your wedding suit or tuxedo, such as midnight blue, black, maroon/burgundy, or navy.
If the wedding dress code is strictly black-tie, choose a black tuxedo.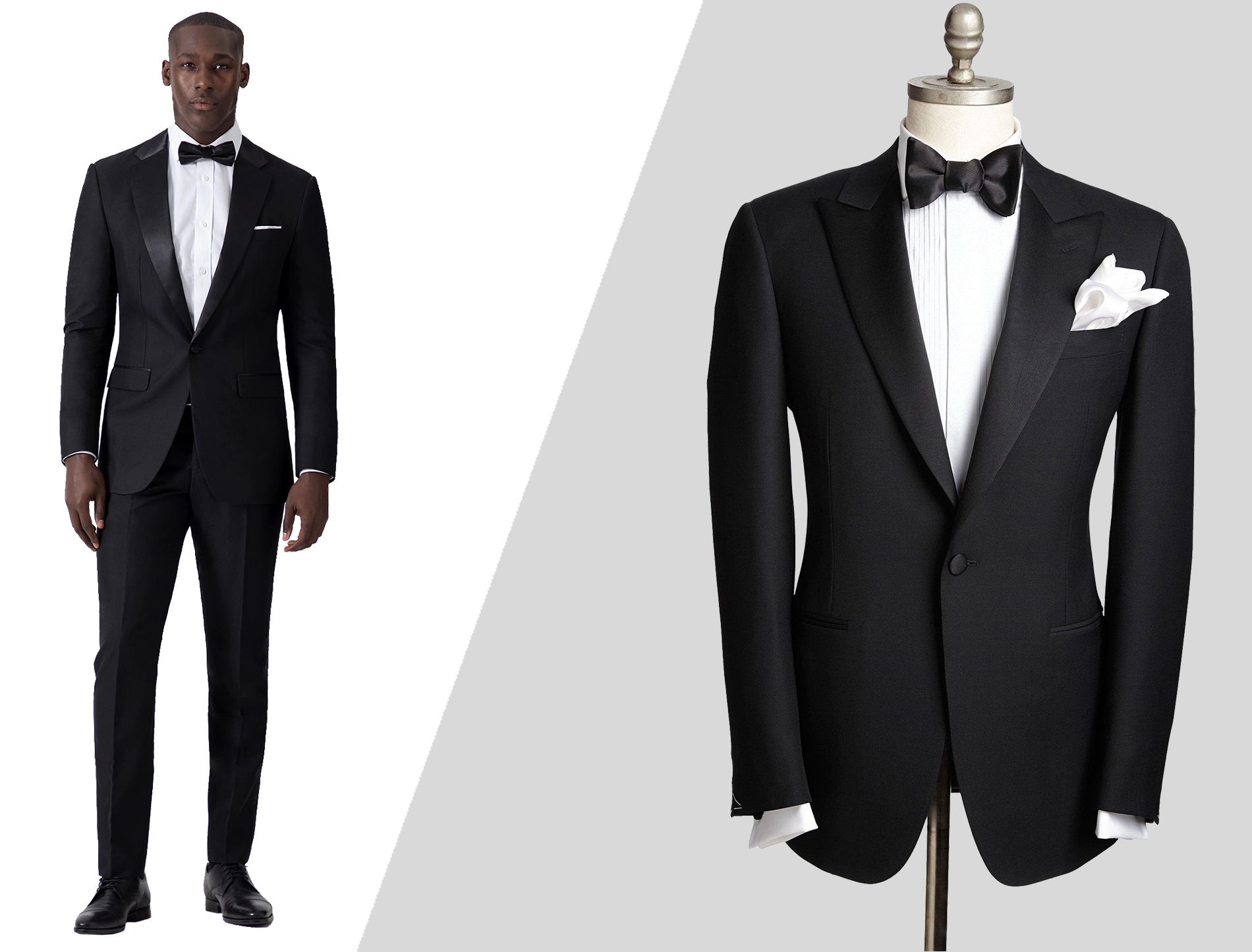 If the wedding takes place during the day, choose lighter colors such as tan, light grey, or blue.
You also want to consider the weather when deciding on your suit color. If the weather is warmer, pick lighter tones, such as tan. If it is still a bit on the cool side, stick to grey and blue tones.
Black Tie Wedding Attire
Dress Code Formality Level: Very High
Most grooms around the Western world choose this dress code as their wedding attire. And if you are invited to a black-tie wedding, the bride and groom clearly have a specific feel in mind for their big day. Don't be that guy that screws it up. Bring your A-game.
Dinner Jacket
You should wear a tuxedo and keep your jacket black because it is the most formal. The lapel of the jacket and its absence of vents will make this the fanciest dinner jacket option.
Tuxedo Trousers
Your pants will have a satin stripe down the outer seam. This material will match the material on the lapel or the trim of your jacket. Be sure the trousers are a perfect length, right to the top of your shoes.
Dress Shirt
There is no negotiating the color of your tuxedo shirt when it comes to black-tie wedding attire. It must be white and crisp. Ideally, it will have French cuffs.
Lace-up Shoes
Your shoes must be black patent leather, worn with black socks. Be sure there are no scuff marks on them!
Tie & Bow Ties
A bow tie is certainly the best recommendation for a formal event; however, a silk necktie is also appropriate. It must be dark, preferably black. A clip-on is never, ever acceptable!
Dress Watch
A slim, dark leather band is the only watch type you can get away with when wearing a tuxedo. The simpler the face, the better.
Cufflinks
Satin knots to match the satin in your tuxedo looks impeccable. If you want to go super fancy, you can get away with tasteful gemstones as long as the metal settings match any other metal in your accessories.
Pocket Square (optional)
Though not required, a white silk pocket square adds a lovely touch.
Creative Black-Tie Wedding Attire
Dress Code Formality Level: High
This dress code still calls for a formal and sensible approach to dressing. Creative black-tie is a chance to have a little fun with your ensemble while toeing the line of formality.
This is your chance to show a bit of your personality, especially if you're the groom. You know, in a classy way.
Dinner Jacket
A tuxedo jacket is ideal for this wedding dress code. Dark colors are the most formal way to dress, so keep your jacket dark red, black, or midnight blue.
Tuxedo Trousers
Just as with a black-tie dress code, these will have a satin stripe to match your jacket.
Dress Shirt
Again, you have a choice to dress slightly down a bit. You can wear either a tuxedo shirt or a white dress shirt. If you opt for a dress shirt, be sure it has French cuffs.
Shoes
You don't escape the black patent leather shoes here. Find a pair with a wood sole for a classy and surprising touch.
Ties & Bow Ties
A bow tie is recommended, though certainly not required. A silk necktie is acceptable. Feel free to add a subtle pattern or a bit of understated color.
Cufflinks
Opt for polished metal with onyx or pearl insets. If you have satin trim in your tuxedo jacket, you wear satin knots to match.
Pocket Square (optional)
White linen or silk would enhance your ensemble's formality level, but you can also choose a subtle color to match your tie.
Black-tie Optional Wedding Attire
Dress Code Formality Level: High
It may come as a surprise that this wedding attire is quite formal. It causes quite a bit of confusion with the word "optional".
But it does not, by any means, imply, "we're cool, man. Only dress up if you really want to!" In fact, it still means you should dress as formally as possible.
Tuxedo or Suit
The darker your suit is, the more formal it is. So, aim for black, or at least charcoal grey, navy, or even midnight blue. Stay as close to black-tie rules as possible.
Dress Shirt
Because you are still aiming for as formal as possible, choose a crisp, white dress shirt. It does not need to be a tuxedo shirt.
Shoes
Wearing a tuxedo? You know the drill: black patent leather shoes. If you are wearing a dark suit instead, a dark leather oxford is perfect.
Ties & Bow Ties
If you don't have or want a bow tie, a silk necktie is in order. You have a little bit of room to play with color and design. Just keep in mind that others will be in black-tie even if you aren't, so don't go overboard.
Watch
Unless you are 007 (let's face it, none of us are), you cannot do a bracelet watch with formalwear. It is simply too casual. Black leather strap it is.
Cufflinks
Cufflinks should be understated. Flashy is not appropriate for this wedding dress code.
Pocket Square
This should match the formality level of your tie. Keep these a similar material.
Read more: Black-tie optional dress code.
Semi-Formal Wedding Attire
Dress Code Formality Level: Mid-High
The semi-formal wedding attire is more flexible. It is also less rigid in its rules. You may skip the tie if you must, but then make up for it with the rest of your outfit.
Be sure your suit and accessories are top-notch in place of the tie. But there's more to the semi-formal dress code than meets the eye.
Suit
You should wear a suit for semi-formal weddings. Dark is good here, but black is too formal. Navy or charcoal grey are excellent options.
If you are attending a daytime wedding, your suit should be light in color. Keep the lines clean and well-tailored.
Dress Shirt
You are free to pick a color or printed dress shirt but keep the color light. White is still a good choice, too. If you are ditching the tie, you may don a shirt with a bolder pattern.
Shoes
These really depend on the color of your suit. In fact, you can play with the color and the material. Either black or dark brown shoes in either leather or suede are appropriate. Go for an oxford or a derby shoe style, and add some broguing if you are feeling bold.
Tie
A tie is your chance to explore the more playful side of semi-formal dress wear. Even though a tie is optional, it is still recommended. A solid color or a small print tie is a great chance to show some personality.
Watch
A dress watch with a leather band or a dive watch with a metal band is both suitable semi-formal accessories for a wedding. If you wear a dive watch, make certain that your metal band matches all the other metal you are wearing.
Pocket Square
A pocket square is another chance to show some colorful personality with this outfit, just as with your tie. Linen or silk are both acceptable if you coordinate it with your tie.
Belt
Be sure your belt is good quality leather. If you are wearing suede shoes, match your belt to them. The leather and metal buckle should align with the other leather and metal items in your outfit.
Shop the Look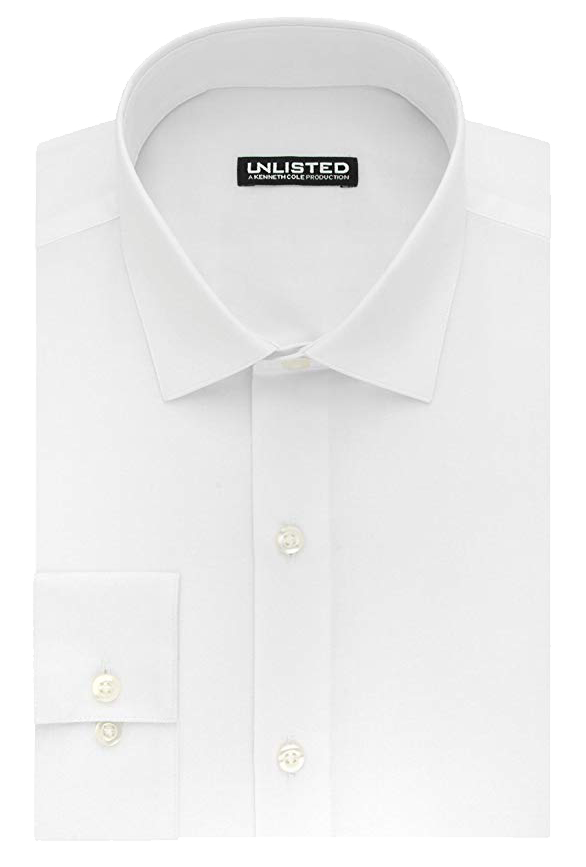 Suit: Two-piece navy blue suit made of Italian wool by Tomasso Black.
Shirt: White slim-fit shirt by Kenneth Cole.
Tie: Solid dark red tie by Elviros.
Shoes: Tilden cap derby dark brown shoes by Clarks.
Cocktail Wedding Attire
Dress Code Formality Level: Mid-High
Cocktail wedding attire is similar to your nicest business wear. With a few tweaks here and there to adjust for formality, you could almost go straight from important board meetings to weddings in the same outfit.
Suit
A cocktail attire suit is typically still a darker tone, though it is acceptable to experiment a bit more with color. You also have the freedom to mix things up a bit here by wearing trousers with a different blazer.
Dress Shirt
If you have chosen a bold suit, stick with a neutral color shirt. However, if you are wearing a basic dark suit, feel free to add a splash of color to your shirt. You still want to be quite dressed up for the wedding, so aim for understated colors and patterns.
Shoes
Leather Oxford shoes are ideal with this ensemble. They can be either light or dark in tone, depending on the time of year. If the wedding is in the daytime, you are free to wear leather loafers.
Tie & Pocket Square
If you are inclined to include a print or pattern, here is a good place for it! You are also welcome to add a bow tie in a fun color or print. Or, you may decide to forgo the tie altogether. In that case, add a pocket square to your blazer.
Watch
Any nice-looking watch that is not bulky is fair game, as long as it isn't a smartwatch or a sport's watch. Dress, dive, or aviator watches are all fine. Just remember to keep them slim, so they don't bulk up your jacket sleeve.
Belt
A narrow black or brown leather belt with a small buckle is the perfect piece for this outfit. Be sure your belt buckle matches the rest of the metal in the accessories you are wearing.
Cufflinks
This isn't the right setting to wear your silk knot cufflinks; they are too fancy. It is best to keep them plain and simple.
Beach Formal Wedding Attire
Dress Code Formality Level: Medium-High
A beach wedding is, in all likelihood, a daytime event. This will probably be the only time in your life that you will ever wear a suit at the beach, so this may take a bit of a mind shift when you are dressing.
Suit
Given the warm weather and time of day, your suit should be a light shade. Tan or khaki are both good beach colors. Linen and cotton-made suits will help keep you cooler as well as looking most fitting.
Shirt
Beaches are fun, so no reason your shirt shouldn't fit right in! Pick a pastel-colored dress shirt for the win. Keep the shirt material airy and breathable for comfort.
Shoes
No sandals at a wedding! It does not matter that you are on the beach. A loafer is ideal for this setting. You even have permission to ditch the socks.
Tie
It is a good idea to wear a tie, even at a beach wedding. It is still a formal event, after all. You can play with color and fabric, as long as you don't clash with a colorful dress shirt.
Watch
This is not an opportunity to show off your smartwatch or sport watch. Because you are still aiming for a certain formality level, you need either a leather or metal watchband.
Pocket Square (optional)
A light color (maybe pastel) will look sublime at a beach setting. Steer away from silk and opt for either linen or cotton.
Belt
You are welcome to play with texture in this setting. Perhaps a light-colored suede belt, but only if you are wearing similar suede loafers.
White-tie Wedding Attire
Dress Code Formality Level: Highest Formality
White-tie events are rare. If you get invited to a wedding with a white-tie dress code, you must know somebody important!
The chances are that you will not be likely to be invited to a white-tie wedding. But you need to be prepared in case that ever happens!
A њhite-tie is similar to a black-tie but taken even further. There are obvious differences, of course.
As the name implies, the tie color is a major difference. You will wear a white bow tie instead of a black one. And there are no cutting corners here, either.
A clip-on tie would never be acceptable. You will need to learn how to tie a bow tie yourself.
Your tuxedo jacket will also be different because it involves wearing a tailcoat. The jacket is black, and the tails should fall just around the back of your knees.
A white-tie ensemble also includes a waistcoat. It is white, with a white tuxedo shirt underneath it.
The waistcoat needs to fall slightly below the front hem of the tailcoat. It's the ideal fit for a white-tie tuxedo. And do not forget your cufflinks and shirt studs.
Match Your Wedding Attire by Time of Day
You don't tend to dress the same way for a daytime outing as you do for a nighttime one. The same holds true with a wedding.
There is no one set time of day to hold a wedding, so your wardrobe needs to be flexible.
You might feel awkward showing up to an event dressed for the wrong time of day. No matter what time during the day you are celebrating, you want to shine!
Daytime Weddings
You won't find a single tuxedo here! Daytime weddings can still be quite formal, but black-tie (and all its variations) is reserved for evening events.
A daytime wedding is usually the best opportunity to wear a lighter shade of suit since that is less formal. Remember that you are still aiming for dressy, so follow the guidelines for the appropriate dress code.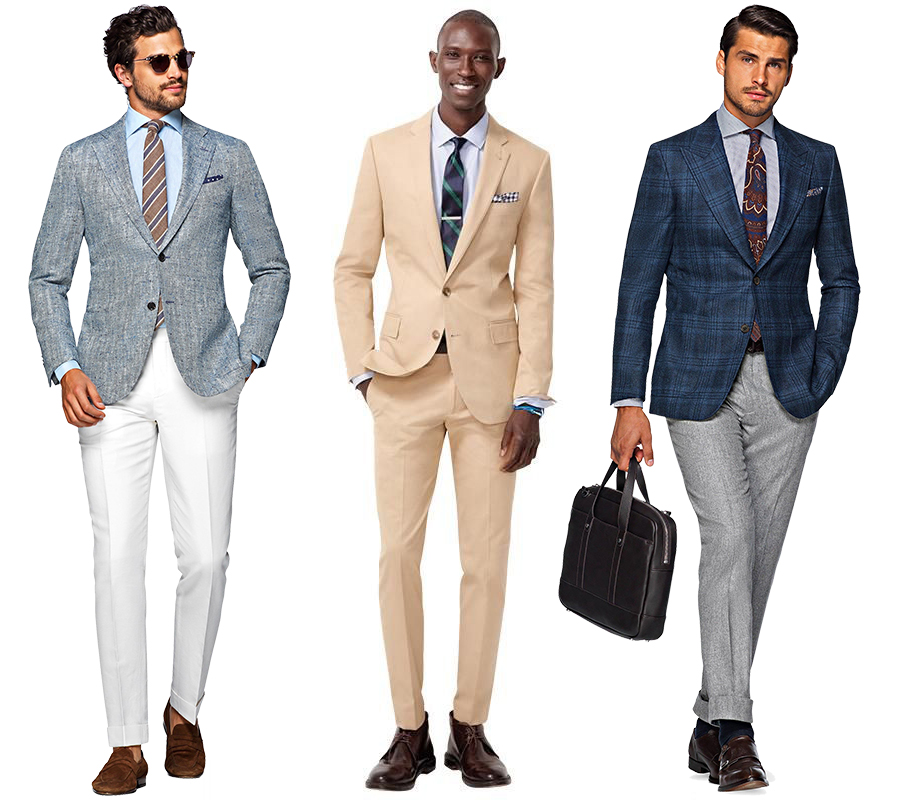 Because it is a notch below formal, you are also a bit freer to play with color. Try a light color dress shirt in either blue or pink. It will look striking while still respecting the dressy occasion.
The most important box you need to check is that your suit and all pieces that go along with it are in mint condition. A well-cut suit in excellent shape is already a winning outfit.
Nighttime Weddings
The rule of thumb is that evening events are more formal. It means a darker suit will meet that standard.
A navy, charcoal grey, black, midnight blue, black, maroon, or burgundy are all options that can be considered.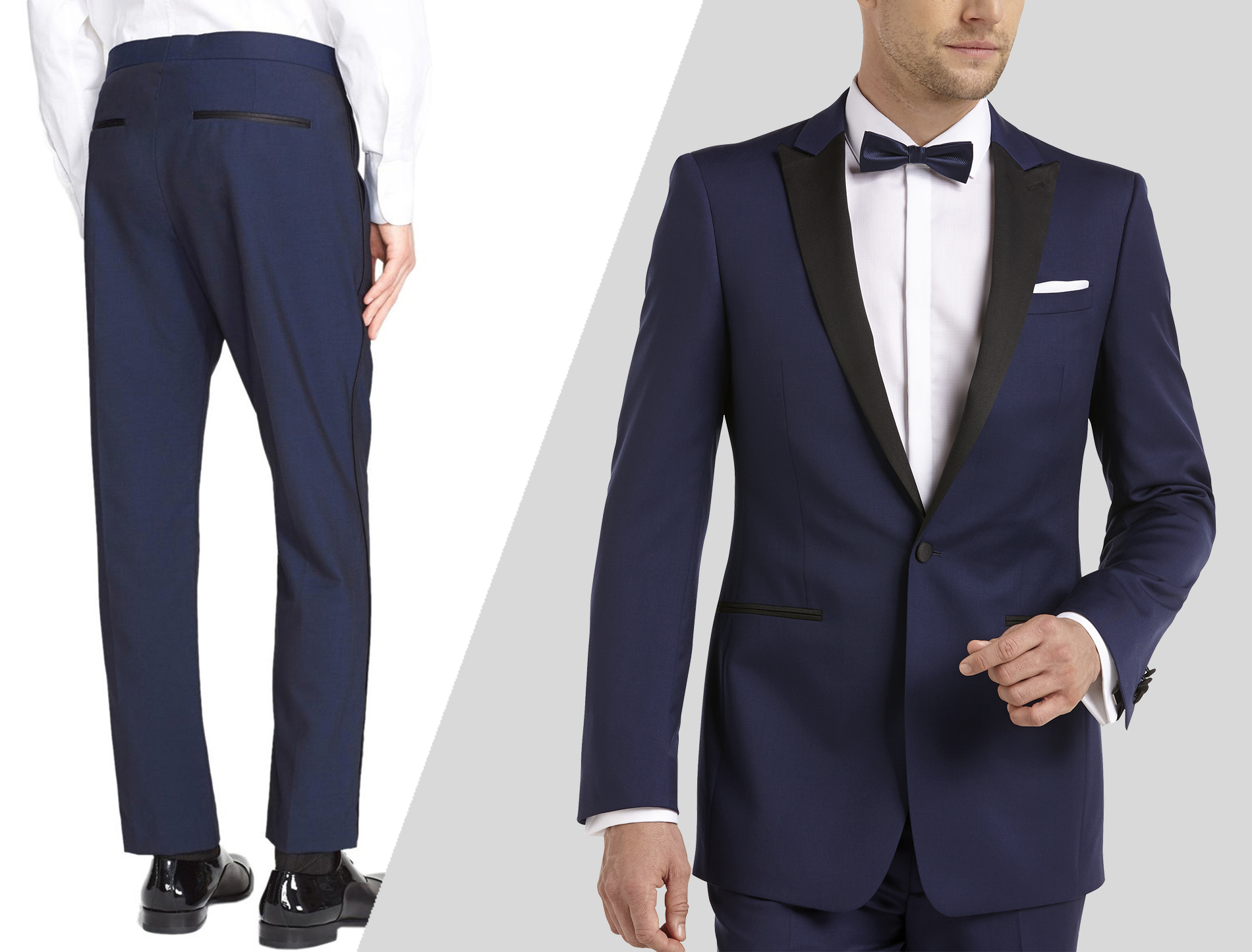 Even if the wedding event isn't declared a black-tie occasion, you can be sure that it is still dressy. The chosen time of day is all the information you need to dictate what you wear.
Always bring your A-game when choosing nighttime wedding attire. Decide which one has the highest formality level, and choose that one. It is better to be just slightly overdressed than at all underdressed.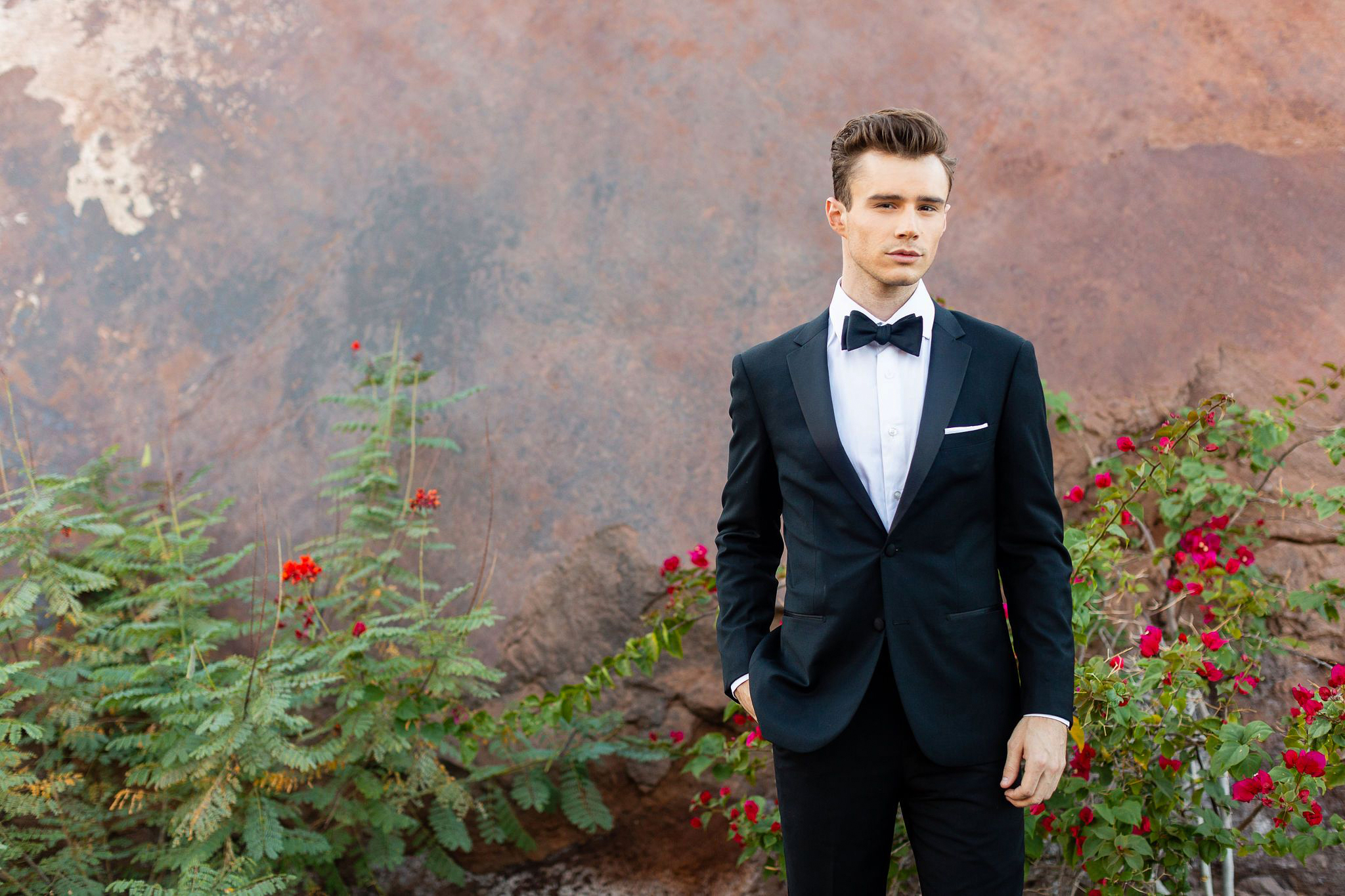 If you don't own a great suit that is a dark color, let me guide you on how to purchase one.
Every man should own at least one excellent suit. You will wear it many times in the next several years. It will be well worth having it on hand every time you need it.
Match Your Wedding Attire by Season
Each season offers an opportunity for amazing seasonal weather. If the weather is cooperating, it can provide an amazing ambiance for a dream wedding.
The weather can also help you decide what to wear – the material of your suit matters for the time of the year. Let the season help determine how you rise to the dress code occasion!
Spring Weddings
If you are looking to add colors, pastel is the key. No matter what colors you decide on, always stick with lighter tones. Spring is a time to get away from the drab dullness of winter.
Depending on which month the wedding is being held, it may still be somewhat cold out. You can never plan too far in advance for spring weather; have a backup plan if in doubt.
Blue suits are perfect spring wedding attire. If the weather is cool, go with a neutral suit shade, such as navy or grey.
Summer Weddings
Warmer weather brings cooler colors. Light shades serve two purposes in summer. First, they are just so darn cheery and sunny! Second, they literally help you stay cooler. It's science, my friend.
Science will also be your friend in choosing what fabric to wear. A lighter fabric with a more open weave may make all the difference and prevent you from sweating. Look into linen or cotton.
Fall Weddings
It is a great opportunity to play with warmer tones and fabrics as the weather turns colder. Any shades that make you think of fall are good. But a shade of navy or dark charcoal grey, I think, is perfect.
The key to dressing for a fall wedding is to layer. While fall can bring cooler temps, it can sometimes be surprisingly warm, especially in early fall.
But as day turns to night, you will likely experience a large temperature drop. It is important to be able to navigate the temperature swings.
And haven't you always wanted to wear tweed? If you aren't attending a formal wedding, this could be an excellent time to sport this very autumnal material. Bonus points if you can work it into your wedding outfit!
Winter Weddings
What other time in your life will you have the opportunity to wear a red/burgundy velvet jacket? Winter can be an incredibly romantic time, so here's your chance to play that up.
Soft fabrics like velvet and corduroy are super cozy and look very dashing.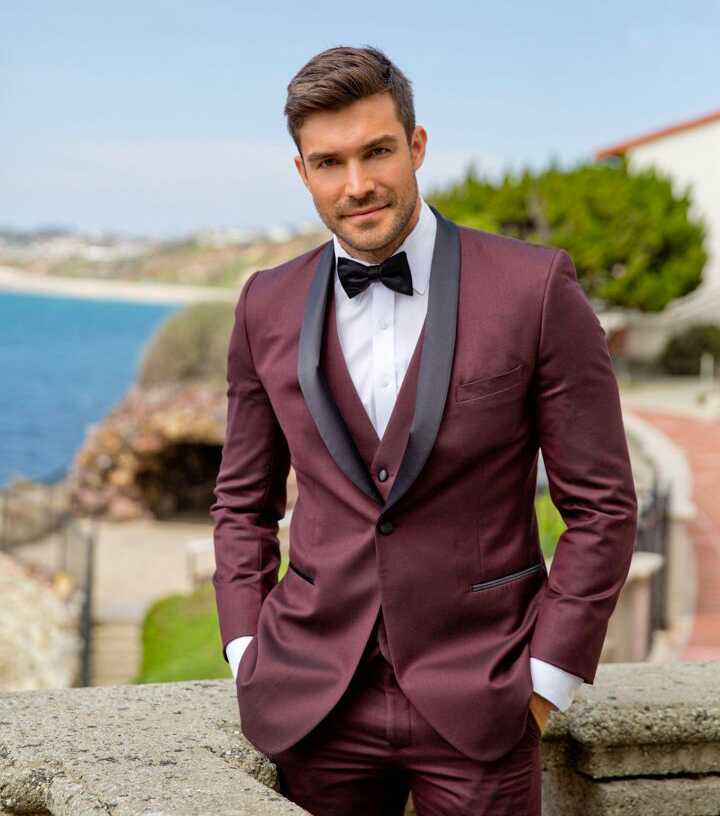 Warm colors will add to the romance. If the wedding is around the winter holidays, play that up with muted reds and greens. Just watch that you don't get confused with another red velvet, suit-wearing winter icon.
Author: Alexander Stoicoff
Hi, I'm Alex, and I've studied and specialized in styling in Rome. Through my writing, I want to help men dress well and learn the purpose and significance of suits and other formal attire. My final goal is to make men more confident in their wardrobe choice and life in general.