Don't let your lack of knowledge about how to wear a mohair suit prevent you from embracing this stunning look.
It's a unique fiber, but you can seamlessly incorporate it into your wardrobe.
Also, mohair is a sublime option to keep on hand for when you need a suit that's just a little more special than your usual choices.
What is a Mohair Suit?
Mohair is a type of wool, but it isn't your standard sheep's wool. It's spun from the underbelly fur of Angora goats and feels different than sheep's wool.
It creates a stiff fiber that can be uncomfortable when woven on its own. So, when mohair is used for suit fabric, it is typically blended with wool, silk, or cashmere to create a luxurious and soft fiber.
Most higher-end suits only incorporate a small percentage of mohair in their combination for a rich sensation.
Mohair suits are recognized for their subtle sheen, which denotes a fancy, elegant appeal. These suits were all the rage in the Swinging 60s for their flashy, mod style.
What Makes Mohair Suits Special
Wool may have cornered the market as the go-to fabric for everyday suits, but mohair stands out as a suit for special events and occasions.
But aside from the unique wool source, what makes this such a unique fiber?
Breathable. The fibers weave together in a way that allows air to flow through and around them. They won't trap your heat and make you sweat, and they will allow cool air to flow around your skin.
Year-Around. Mohair suits are great for summer, thanks to their cooling ability. So, more and more men are starting to embrace mohair as a year-round fabric since it also helps keep them warm in winter.
Vibrant colors. Mohair fibers hold dye exceptionally well, meaning that the colors of the fabric turn out bolder than with other materials. It also allows for a broader range of colors to choose from for your suits.
Durable. The fabric created with mohair fiber is super strong. If you care for it properly, you can count on your suit to last a long time. Wear and tear are not in this suit's vocabulary.
Holds its shape. You can make it through the roughest day without looking like a crumpled mess by quitting time. Mohair suits don't wrinkle easily, keeping you looking fresh longer.
Fancy looking. Due to mohair's inherent sheen, these suits can look elegant and rather expensive. That's because it is.
The Shine Behind Mohair Suits
In the mid-1900s, trendsetters embraced mohair suits as cutting-edge and stylish. It first became cool when jazz musicians of the 1950s adopted this fabric.
But it was the 1960s that really saw an explosion in mohair. It was the contemporary suit.
Mohair's popularity was cemented by Sean Connery when he played James Bond.
Bond favored mohair suits for his evening wear, which makes complete sense when you think about it.
007 would definitely need a durable suit that won't wrinkle on his escapades to keep him looking elegant for the ladies.
How to Wear a Mohair Suit: Pairing & Accessorizing
When you begin building your outfit around your suit, there are many factors you consider, such as fit and color.
But suit fabrics also influence how you wear your suit.
The first point you must decide when building upon your mohair suit is what look you are going for. Due to their luxurious nature, mohair suits can be your perfect wedding attire.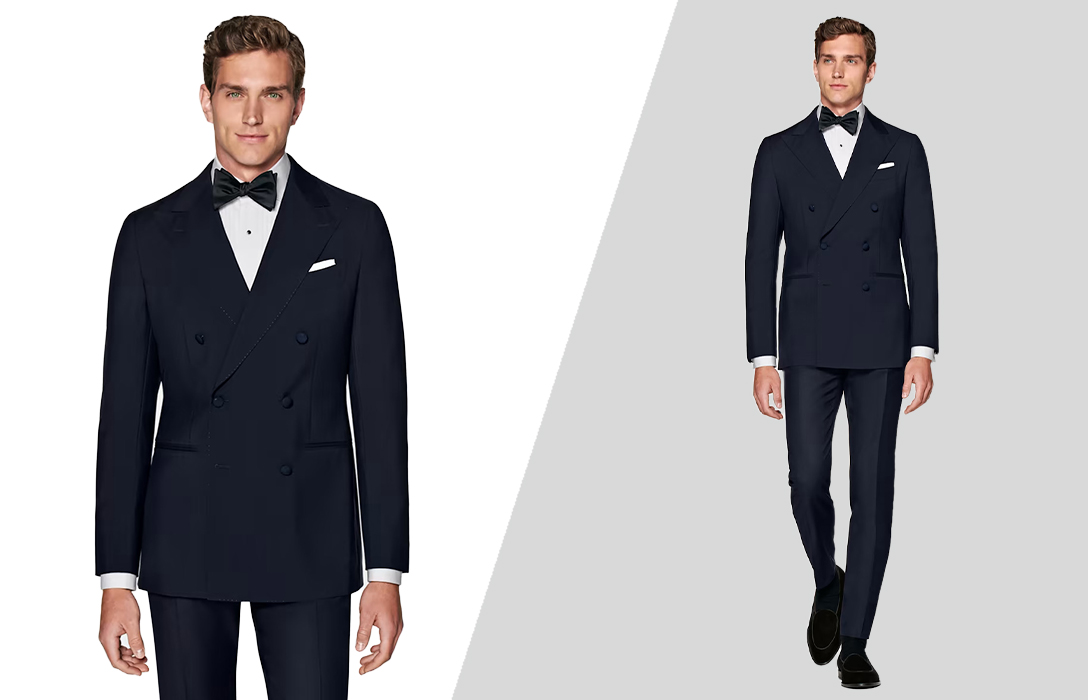 Shop The Look
As I noted above, mohair suits can look flashy. So, it's wise to keep the rest of your ensemble subtle if you're going for a professional outfit.
Opt for a white dress shirt for the most dressy and understated tone. In summer you can relax your look with pale dress shirts.
However, if you want to emphasize your suit's boldness, pair it with a bold-colored dress shirt.
Keep a light touch with accessories. Accessory overload will quickly look gaudy. A simple pocket square can be statement enough to keep your suit classy.
Because of the sophistication of mohair, only choose leather for your shoes and belt. Of course, the colors should match.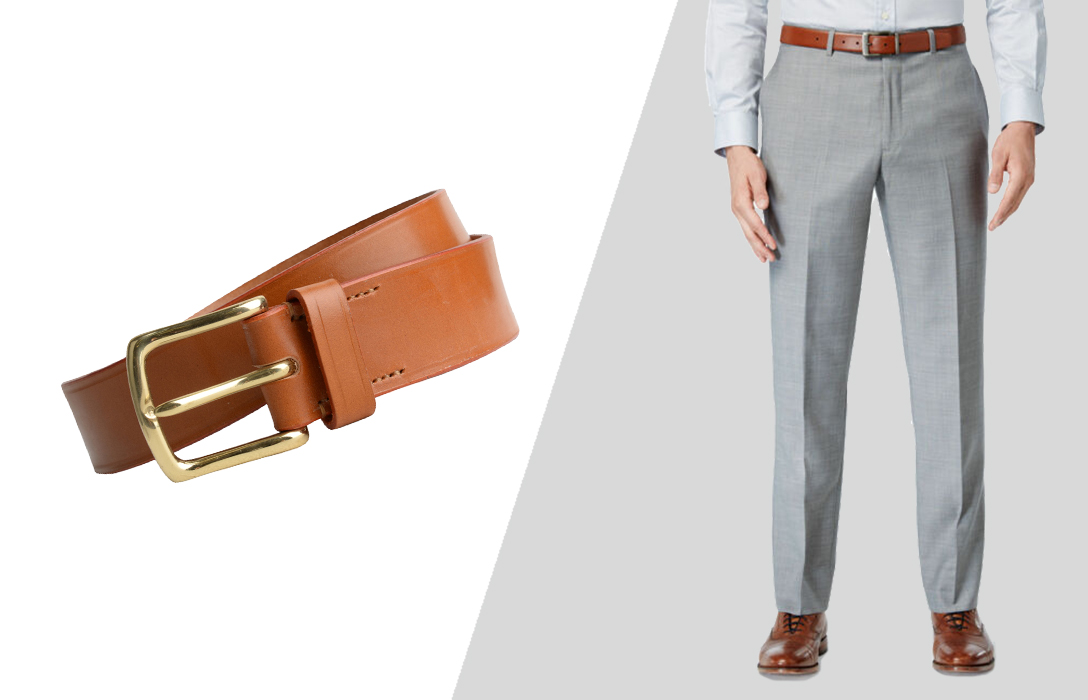 And while a dress shirt can be the ideal touch on a formal outfit, don't let your mohair suit constrain you from a more informal vibe.
You can certainly wear a mohair suit casually by pairing one with a turtleneck or sweater.
When it's appropriate, you can also remove your tie and sport an open shirt collar. This will play up the swinging style mohair can bring.
Best Colors & Patterns for a Mohair Suit
Thanks to how well this fabric holds dye, you have a vast menu of options for your suit's color when it comes to mohair.
You can take this opportunity to really experiment with your suit colors.
However, if you are a beginner in wearing mohair, your standard suit colors are an ideal start. Shades like charcoal, navy, and black come across more vibrantly.
When you feel ready to get a bit bolder with your suit colors, colors like burgundy, blue, or even olive green are excellent choices. These hues are more vivid in mohair.
Pinstripes are a suit pattern that works very well with mohair fabric and read slightly differently in mohair than wool.
However, other patterns that play with color, such as herringbone or houndstooth, may feel too harsh on a mohair suit.
When to Wear a Mohair Suit
Mohair is categorized with luxury fabrics, so a mohair suit makes the most sense for a black-tie event. A mohair tuxedo would be spectacular.
But there are other settings where mohair works beautifully for a dinner suit. Weddings and other semi-formal events are the perfect venue.
Because it's so glamorous, mohair dresses up incredibly well. This also goes for professional settings.
Mohair is also a fantastic choice for travel. Rather than fretting that your suit will get crumpled on the journey, pack a mohair suit for minimal stress.
You'll be relieved when you reach your destination and can feel fresh and crisp.
Controversy Behind the Fabric
Before investing in a mohair suit, it's only fair to make you aware that this fiber has some ethical dilemmas.
In the past several years, reports have surfaced with stories of Angora goats being abused in harvesting their coats.
Some goat farmers in South Africa seem to engage in cruel shearing practices that can hurt the animals.
They also sometimes shear them too frequently, leaving the goats cold and exposed to the elements, possibly resulting in death.
Other reports have found farmers de-horning and castrating young goats with no anesthesia.
Some fashion designers have sworn off working with mohair for these reasons.
While tracing where your mohair fabric came from can be difficult, the textile industry has established a voluntary standard to identify safe and humane practices.
If you are concerned, you can research suits constructed under the Responsible Mohair Standard.
Best Mohair Suit Brands
Mohair can be a very expensive fabric. If you decide to indulge in this luxury suit, you want to get the best results for your money. Here's a look at a few of the best suits to suit several styles.
Alexander McQueen
Are you ready to go all out with mohair? This electric blue suit was designed to make sure you stand out in the crowd.
Step out looking fierce in this slim-fit style. It isn't stiff since it's constructed from a blend of 25% mohair and 75% wool. It's fully lined and has shoulder pads to fill out your top half.
Tom Ford
This Tom Ford design is a great starter option for a formal way to suit up in mohair.
Its peak lapels establish its formality, setting it apart from your usual notch lapels. It's a silk, wool, and mohair blend hopsack fabric. Notice that it includes a ticket pocket, adding a dash of class.
Suitsupply
Here's a casual and vibrant option that incorporates great sophistication. The suit jacket has a natural fit since no shoulder pads provide structure. It has a half-canvassed construction, keeping it lighter and more breathable.
However, its double-breasted structure and jetted pockets make this design graceful and more formal.
Canali
Embrace a traditional and conservative look with this mohair suit from Canali. The light grey shade keeps this suit versatile and mid-range between formal and casual.
The fabric is a blend of 84% wool and 16% mohair, so it's very soft. It's also a good combination of the two fibers for a year-round suit.
Wear this with black accessories to maximize the suit's conventional style.
Zegna
Invest in a traditional professional or semi-formal navy mohair suit that is appropriate for most settings. The shoulders have gentle padding, which beautifully accents a slight frame. And its single-breasted design keeps the suit jacket versatile.
It's a soft blend of 84% wool, so you'll be comfortable even during your busy work days.
Author: Alexander Stoicoff
Hi, I'm Alex, and I've studied and specialized in styling in Rome. Through my writing, I want to help men dress well and learn the purpose and significance of suits and other formal attire. My final goal is to make men more confident in their wardrobe choice and life in general.