James Bond and his debonair suits have captured our imagination for decades. I can't think of any man who wouldn't want to be as sophisticated as him.
Whether he's chasing down international terrorists or wooing the ladies, he looks fantastic no matter what he's doing. He's never caught wearing an outfit that looks less than spectacular.
If this busy international man of mystery has time to perfect his wardrobe, so do you.
What are James Bond's Style Secrets?
So, how does James Bond always manage to look good? I'll tell you his number one secret: it isn't all about fashion.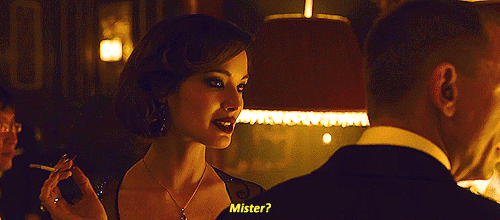 Bond's impeccable presentation stems mainly from his attitude. 007 exudes an attitude and confidence that surpasses all fashion sense.
Let's start with that self-confidence. He's got it in spades. He never wavers or second-guesses himself, and that's evident in all his conversations.
He maintains direct eye contact with the other person he's talking to and never loses his focus. But, of course, when every conversation could take a perilous turn, one would need to have that poise!
Bond also knows how to dress for the occasion. He's never underdressed, nor does he overdress with flashy and bold suits.
Instead, Bond dresses with an eye from the outside looking in; he is aware that how others perceive him is very important.
Therefore, he has high standards in his clothing. He means business and needs the people he interacts with to know that.
High-quality clothing will make people realize that you are a detail-oriented person who likes a job well done.
James Bond Suits & Color Choices
James Bond loves a good suit. And by "good suit," I mean a custom-tailored, well-fitted, high-quality suit.
If you follow fashion designers and trends, you'll notice that in the new 007 movies, Bond tends to heavily favor Tom Ford.
Bond has always been a debonair dresser, but Daniel Craig's modern Bond is refined and sleek, as well.
His suits are always a perfect fit, as though they were made just for him. In fact, they most likely were. However, one has to wonder when the man gets enough free time to visit his tailor.
Bond's suits are usually functional, with no unnecessary flourishes. If the situation is appropriate, he'll don a three-piece suit, but he never wants to be restricted in his movements.
James Bond mostly dresses in muted, solid colors. Neutral shades are exactly his speed, with black and navy being heavy favorites.
He will sometimes also sport a tan or light brown suit, but he often wears darker shades.
He'll occasionally dabble in a patterned suit, but he doesn't usually since patterns make the suit more casual.
The Midnight Blue Tuxedo from Skyfall
007 wore this Tom Ford-designed suit from the O'Connor collection when he went to a Macau casino. It was heavily featured in promotional materials for Skyfall and is the only blue tuxedo that he sports in the film.
It's a beautiful, deep blue with wide black satin shawl lapels, which really ratchet up the formality of this tuxedo.
Unusually, Bond's tuxedo jacket sports a single rear vent. Tuxedos don't typically have vents, making the jacket slightly less formal.
This suit is stunning for any red carpet events you may have. Wear it to a gala, charity event, or formal New Year's Eve party. This suit would also be an excellent groom's suit.
James Bond in Black Tuxedo
A black tuxedo is a stereotypical look for James Bond. He wears several different versions of the standard black tux in his latest films.
In Casino Royale, he wears a sleek Brioni tuxedo with peak lapels of grosgrain silk to a high-stakes poker game with terrorists. This one has the standard ventless back.
Quantum Solace finds him sporting a stunning black mohair and cashmere Tom Ford tuxedo with a shawl lapel. It's remarkably similar to Sean Connery's tux in Dr. No.
Bond wears another Tom Ford tuxedo in No Time to Die. It's comparable to the Quantum Solace tuxedo but a wool blend instead.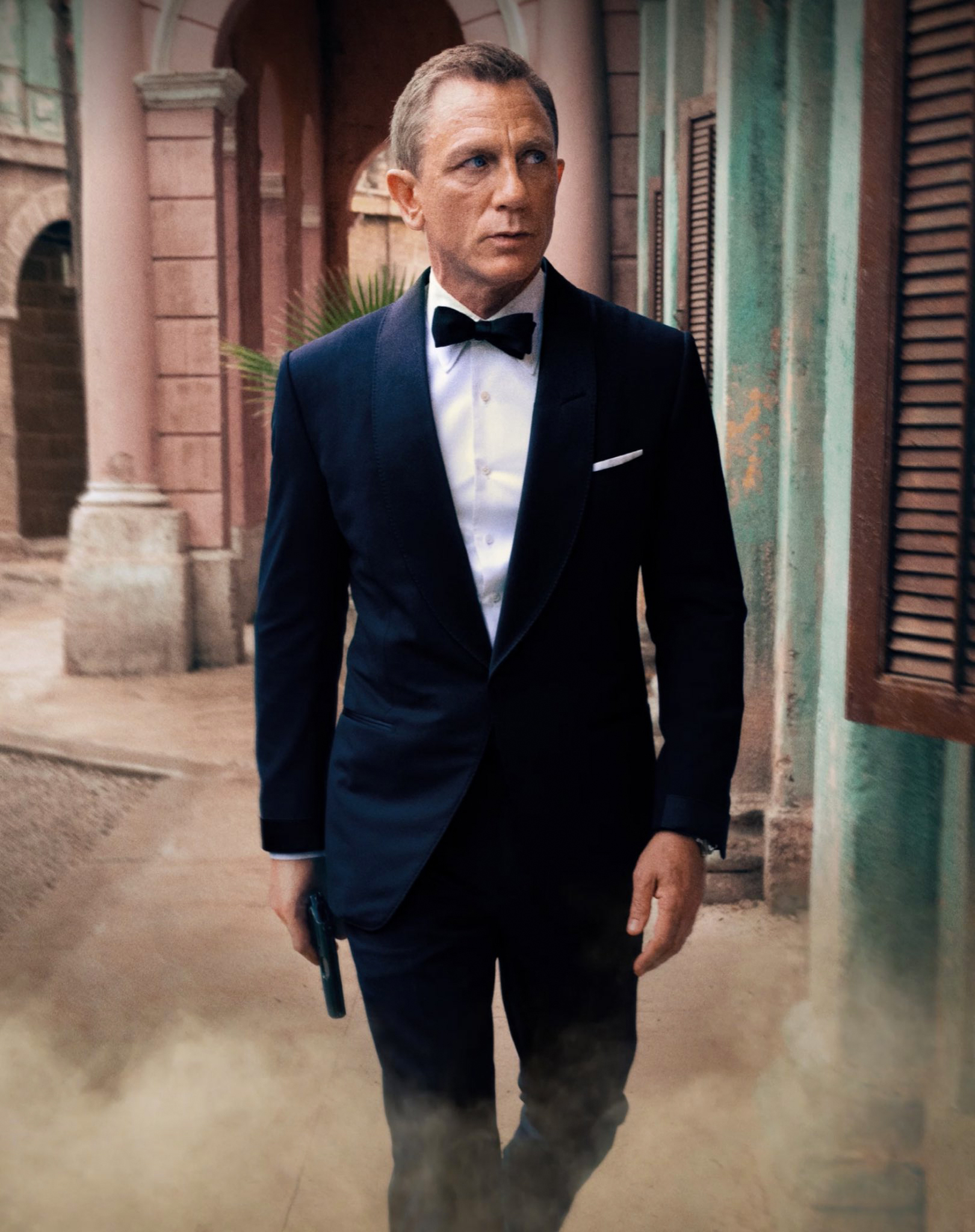 These tuxedos would be excellent choices for weddings, prom, or black-tie events.
The Three-Piece Black Suit from Spectre
James Bond chooses this Tom Ford suit from the Windsor collection when he attends a gangster's funeral.
It's not a traditional look for the spy; the only other all-black suit 007 has worn was with Sean Connery in Diamonds are Forever, again at a funeral.
This one offers a somewhat retro look; the lapels are wider than standard and are peaked. It's constructed from fine herringbone wool and has three flap pockets, including a ticket pocket.
This suit may be a bit too much for the average funeral (you aren't a world-class spy, after all). However, you can wear this suit to your most important business meetings. It's also a great suit for a formal wedding!
James Bond in Navy Suits
You can find the international spy in a navy suit at some point in nearly all his films, precisely as author Ian Fleming intended him to wear.
Bond's modern navy suits are typically designed by, you guessed it, Tom Ford or Brioni.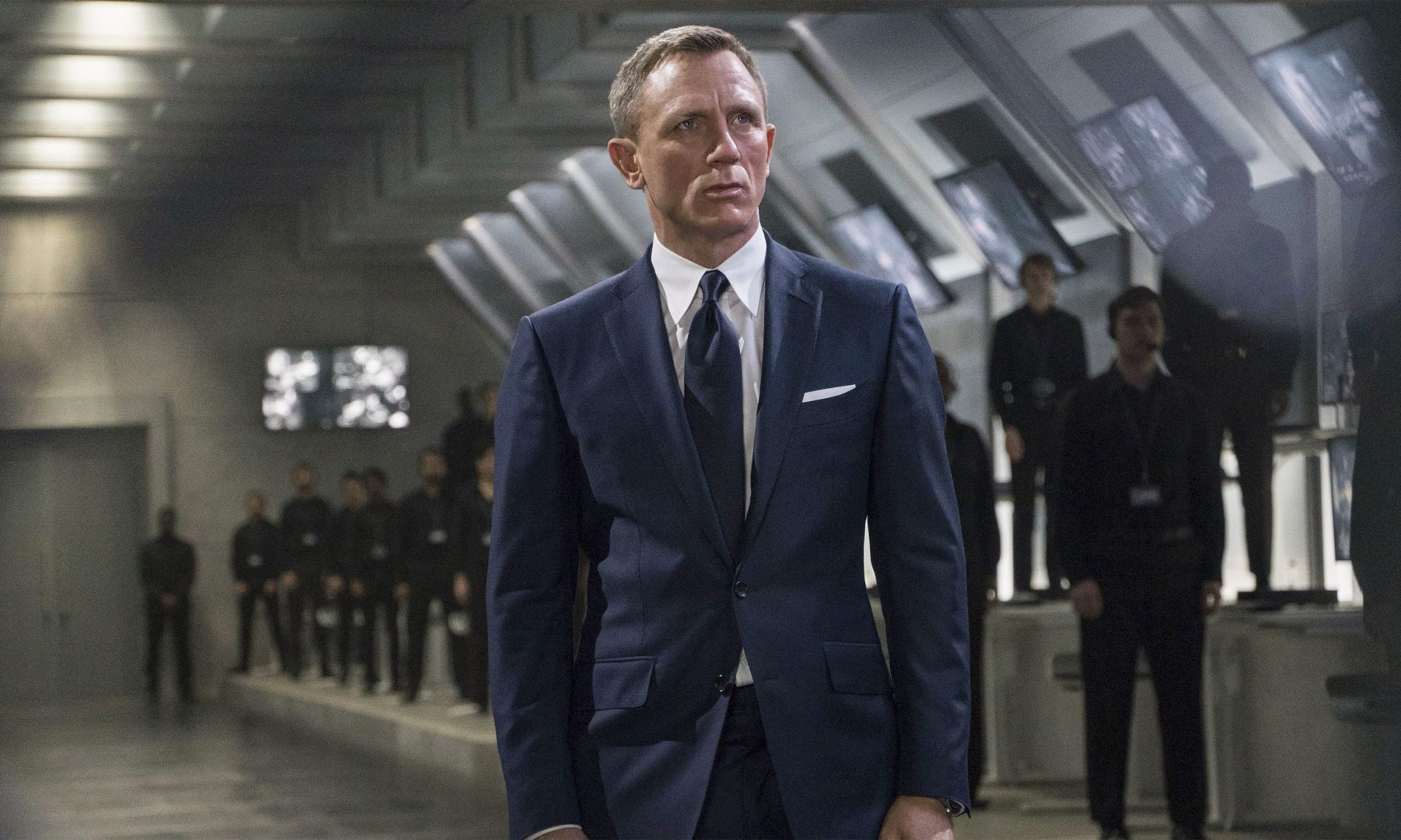 These suits are often his go-to garments. They are usually single-breasted with two buttons, flap pockets, and a notch lapel. But, on 007, their most distinguishing feature is usually how terrifically they fit him.
You can wear this same look for your daily work meetings, too. Hopefully, your workdays aren't as perilous and bloody as Bond's are.
Charcoal Grey James Bond Suits
Charcoal grey is a very professional color, even for secret agents. It radiates seriousness and a cool sense of authority.
Bond gravitates toward suits in this neutral shade in films like Casino Royale, Quantum of Solace, and others.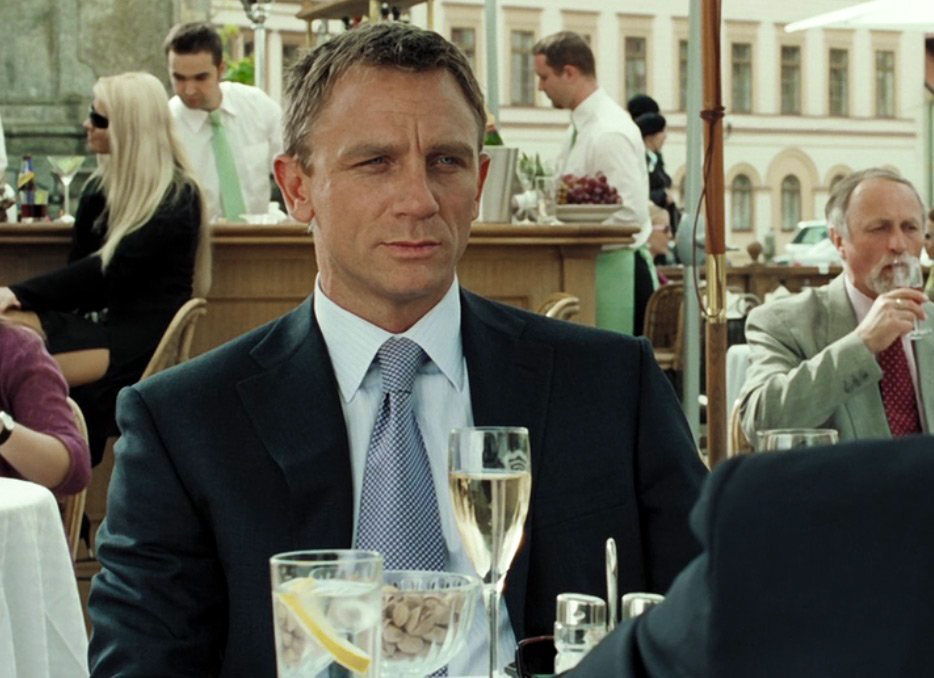 Bond's charcoal suits can vary slightly in style between each suit, of course, but look for a notch lapel, a three-button enclosure, and flapped pockets with a ticket pocket.
In addition, the suit jacket should be double vented in the back.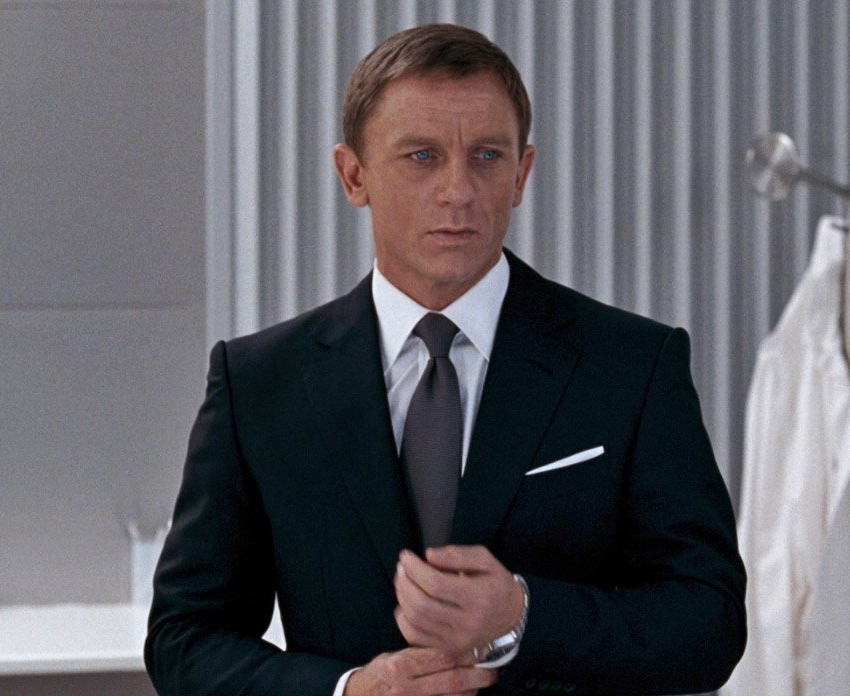 Although Bond's suits are usually solid, he wears a pinstriped charcoal suit in Skyfall while running around London. It's similar to his other charcoal suits but lacks the ticket pocket.
If you have an important business or board meeting, definitely consider a charcoal suit.
The Grey Suit is a Usual Choice for James Bond
Once you've watched a few of Daniel Craig's James Bond films, you'll notice that he has a penchant for grey suits.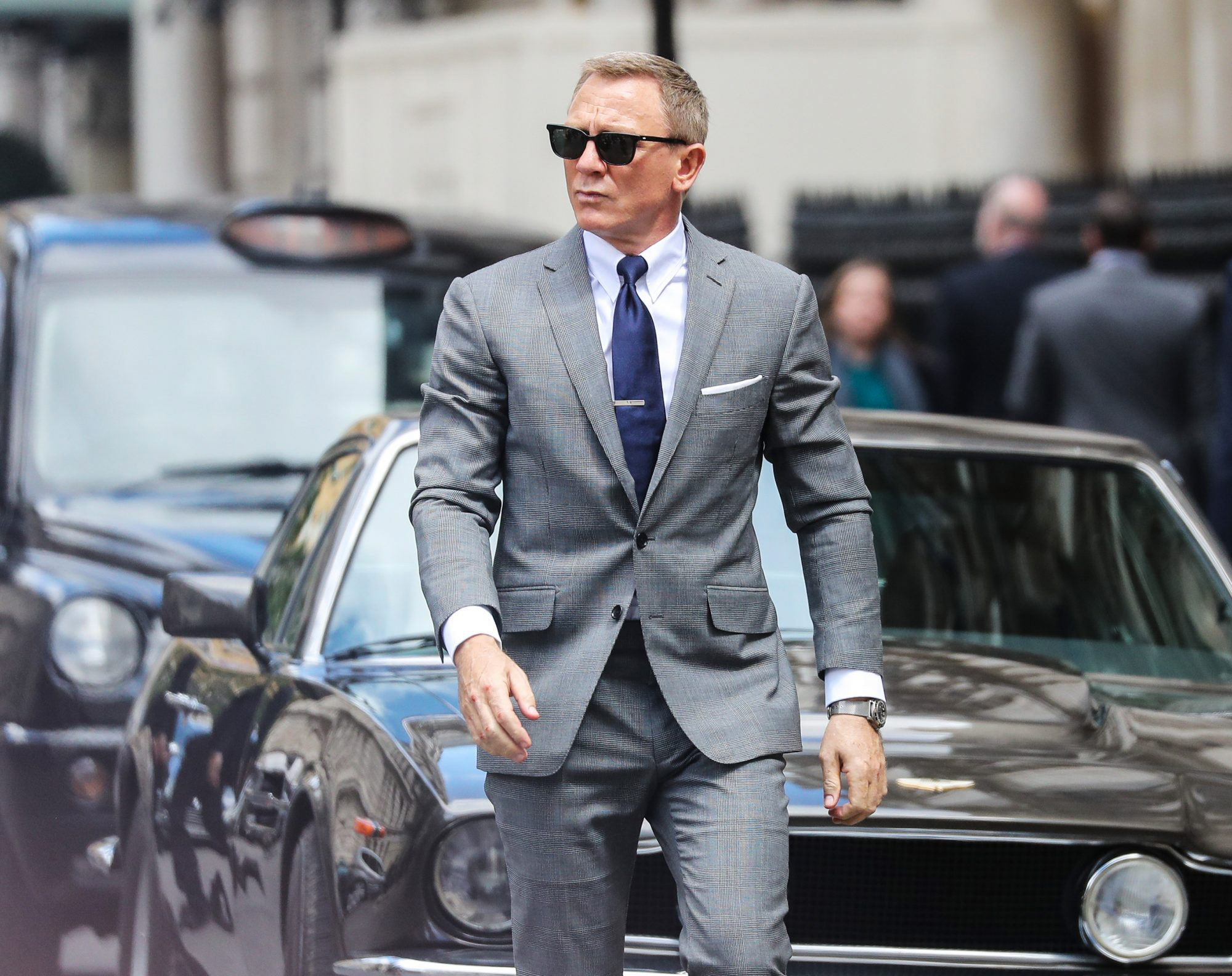 This popular choice is spotted in Casino Royale, Quantum of Solace, Skyfall, and No Time to Die. Lighter grey even makes an appearance in the form of a casual grey linen suit in Casino Royale.
You can absolutely make grey your usual choice, too. It's not a very formal color, but it can look very suave for most offices or a nice dinner out.
James Bond Wearing a Navy Windowpane Suit
Bond loves his navy suits quite a bit, and he even experiments with some less formal versions with prints.
For example, he wears an epic windowpane patterned suit in the opening scene of Spectre and a pinstriped navy suit in Casino Royale.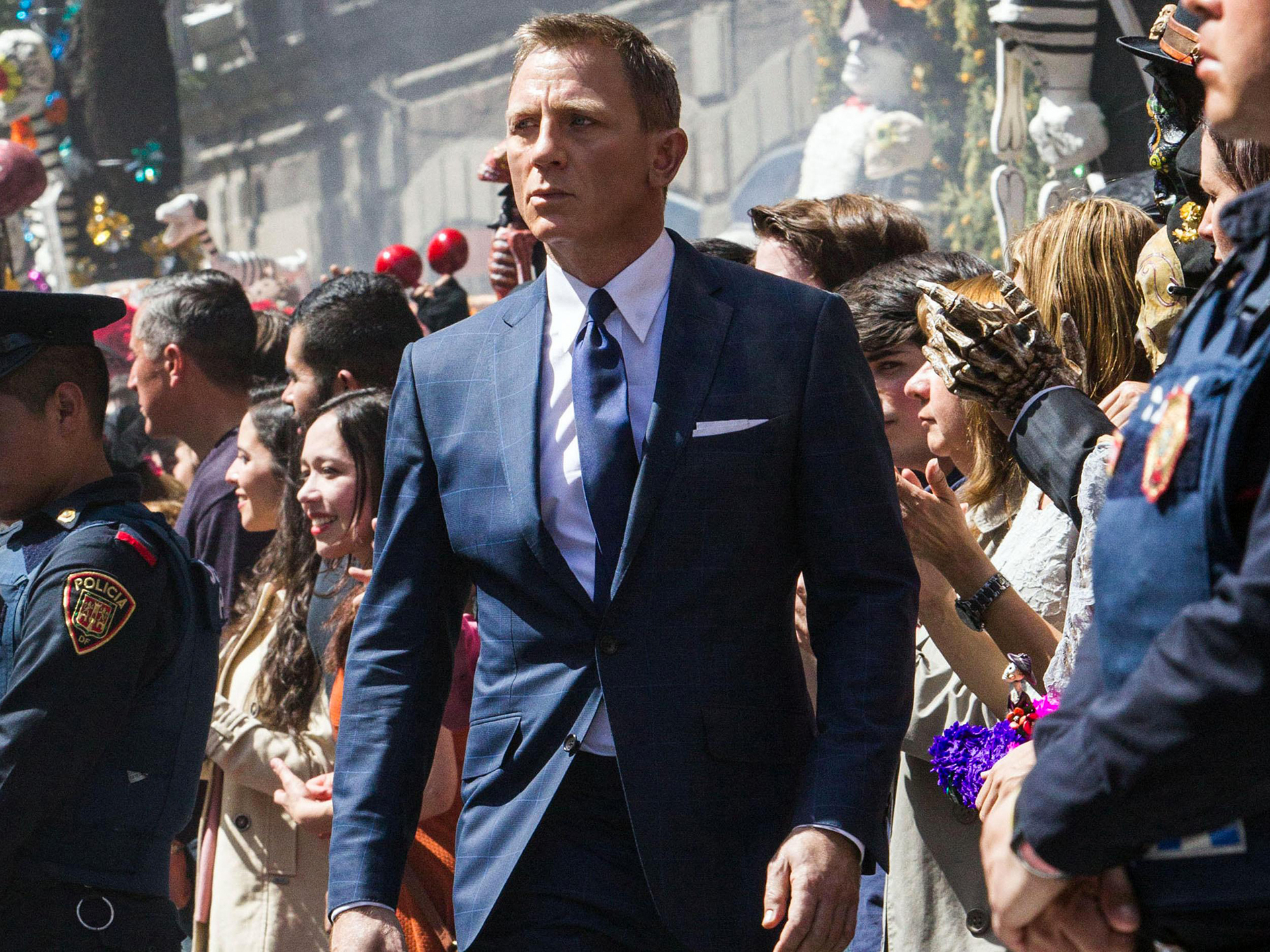 These follow a similar design as the rest of his usual suits. They are all a close fit with notch lapels. In addition, the suit jackets have flap pockets and two-button enclosures.
However, his navy windowpane suit does not have the ticket pocket Bond often favors.
A navy windowpane suit would be perfect for a more relaxed afternoon at the office or a cocktail party. You could also wear one to an afternoon wedding and look very sophisticated.
James Bond Casualwear
Sure, James Bond is known for his classy and cultured way of dressing. You might say he's usually Dressed to Kill.
However, Bond really knows how to wear clothes, so even his casual style is stunning. It takes a certain sophistication to look well put together, no matter what you're wearing.
Tailored-fit T-Shirt
Even 007 needs to unwind and spend some leisure time once in a while. Since it isn't exactly reasonable to wear a suit for sailing and fishing, Bond dons the rare t-shirt instead.
So naturally, he skips the unflattering, baggy t-shirt in favor of a worn but tight-fitting T. It's perfectly cut to show off his physique without looking too small.
You can pull this look off with well-fitted blue jeans and a casual jacket.
007 Combat Trousers
Bond sports these military-style pants in No Time to Die, and they are the ultimate in-function meets style.
Designer N. Peal collaborated with the film's costumer to make these trousers, and they included lots of detailing fit for an international spy.
But, of course, somebody in Bond's line of work will need many pockets and zippers and straps for his gear.
These trousers sit low on the hops and have a tapered leg. The design is intended to make movement easier than in traditional trousers, but the consequence is a very tailored, flattering military look.
Army Sweater
Every man should own one of these sweaters. It's ribbed, so it clings to your torso instead of hanging loosely the way most other sweaters do. It has a drawstring cord neck with military-looking shoulder and elbow patches.
Details like this make this sweater, along with the rest of Bond's wardrobe, a notch above other casual clothing.
Bond wears this army sweater with combat trousers, but you can pair it with nice khakis for a slightly less aggressive style.
Corduroy Suit Jacket & Trousers
Bond wears this Sloop suit by Massimo Alba in No Time to Die during a high-velocity action sequence. Fortunately, you don't need to have your own car chase moment to justify wearing a suit like this.
The fabric and its light brown color make this a casual suit. It's designed with flap pockets as well as a flap ticket pocket. It sports dark buttons, two for the jacket enclosure and four on each sleeve.
If you aren't chasing down any villains, you can instead wear this suit for a family party or work in a casual office setting.
James Bond Detail – Attention to Suit Cuts
James Bond doesn't ever grab a regular suit off the rack and call it good enough. He knows that a standard suit cut isn't likely to flatter, so he finds suit cuts that play up his assets.
Getting a perfect fitting cut that compliments your body is the key to a great-looking suit.
Suit Jacket Details
Daniel Craig's Bond suit jackets are usually slim-fit. On the other hand, older Bonds preferred the standard British cut.
Slim-fit cuts sit close to the body; they provide less room than a traditional cut suit jacket but look very modern.
They usually have the first enclosure button situated at the slimmest spot of his torso, accentuating his narrow waist and broader shoulders.
They're always made from a good material, usually wool since it's so versatile. A medium thickness is best, so it's durable but not too hot.
Bond's jackets are high-quality but never flashy. They are often casually double vented and feature the British style of straight flap pockets, not angled.
Pants Detail
James Bond wears a more relaxed British suit pants cut, adhering to a business-style dress code.
He may wear a slim-fit suit jacket, but he goes for a classic cut. Could you imagine 007 pulling all those stunts in a pair of skinny jeans?
Instead, his pants often feature a straight leg, with little to no tapering at the ankle. He likes a little bit of length on his trousers and usually includes a partial break.
A full break would probably be too much fabric that would only get in his way when running after the latest villain.
Classic Dress Shirt & Tuxedo Shirt Choices
Although he likes to break the rules from time to time, James Bond is often a traditionalist. So, it's no surprise that he's a white dress shirt kind of guy.
A white button-up dress shirt is always an elegant choice and looks terrific with any color suit. If Bond ever does mix things up with a colored dress shirt, it's with a light blue button-up.
Bond would never, ever be caught dead wearing a button-down collar dress shirt. It's not sophisticated enough for his style.
Accessories James Bond Wears
Bond is an understated guy, but he understands the importance of details.
He knows when to play up some aspects of his outfit and when to let the clothing speak for itself. There's a reason the ladies all flock to him.
Conservative Ties
James Bond goes for muted solid colors with his ties because he doesn't want to draw too much attention to himself.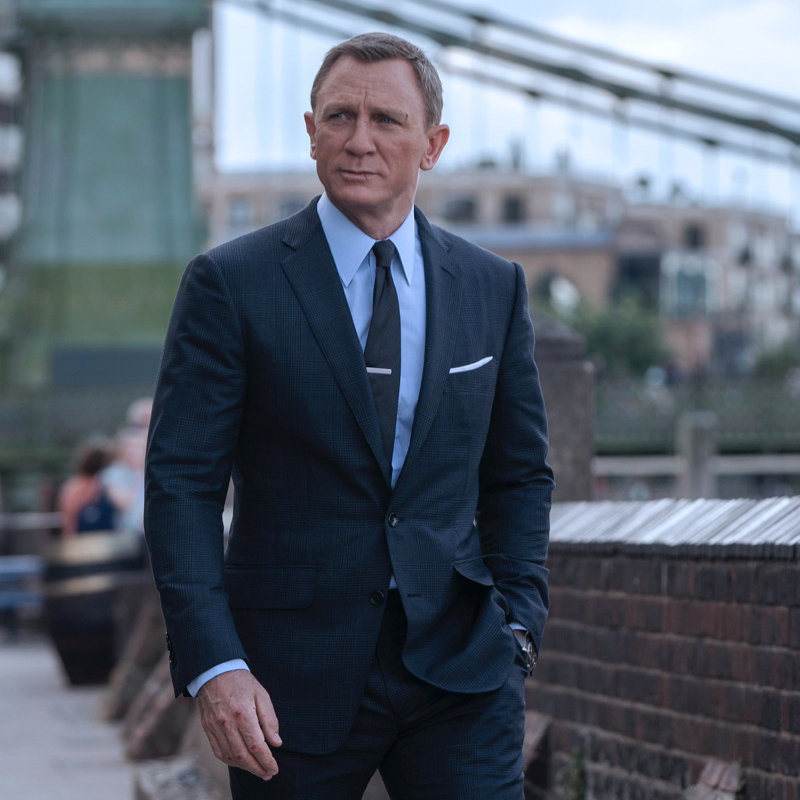 His creator Ian Flemming often put him in a black silk tie, and today he's equally likely to be seen wearing a matte blue or grey tie. He's not afraid to sport a monochromatic style, so his ties sometimes match his suits.
While Bond doesn't wear modern skinny ties, he avoids wide ones.
Black Leather Oxford Shoes
James Bond doesn't wear anything that isn't quality, so of course, his shoes will be of quality leather. He favors dark Oxford shoes, which are formal, so they'll elevate any outfit he pairs them with.
Oxfords are also very versatile; they can transform from formal to smart casual and look just as fitting for each style.
Bond probably needs to pack light for all his travels, so one pair of first-rate shoes are essential. We could learn a lot from that lesson.
The Omega Seamaster
Only 007 could get away with wearing a diver watch with the most elegant tuxedos.
A formal outfit typically requires a dress watch with a leather band. But Bond consistently breaks this rule and can get away with it because of his unbridled confidence.
Instead of a leather watch strap, Bond usually wears a diver watch accented by a metal bracelet. Bond has worn an Omega Seamaster in every film since Pierce Brosnan's portrayal in the mid-90s.
And it makes sense that he wants to wear such a durable, waterproof watch. It needs to be able to take a beating and the occasional plunge. And, of course, he needs it to look good while doing so.
Other High-Quality Dress Watches Approved by James Bond
Bond didn't always favor a diver watch. However, he's been known to follow tradition at times and has previously worn leather-band watches with his most formal suits.
He first donned a Gruen Precision dress watch in Dr. No before turning his attention to Rolex watches.
This shows that even James Bond acknowledges the beauty and appropriateness of wearing a dress watch for the right occasions.
Matching Square Sunglasses
Nothing conveys cool or gives a bit of extra mystery, like a pair of sunglasses. They can serve so many purposes; they shield your eyes, help you stay incognito, and always look chic.
Bond apparently agrees that sunglasses are indispensable; he wears four different styles alone in No Time to Die!
He heavily favors Barton Perreira shades while waltzing around London in limited edition, square "Joe" frames.
Stylish Cufflinks
James Bond never passes up an opportunity to add this sophisticated touch to a formal outfit. He owns a pair of beautiful silver cufflinks with his initials embossed on them and shows them off in Spectre.
Naturally, they are Tom Ford cufflinks.
Bond doesn't wait to only wear cufflinks with a tuxedo. He isn't afraid to dress up in a formal suit with a pair for everyday business.
Author: Alexander Stoicoff
Hi, I'm Alex, and I've studied and specialized in styling in Rome. Through my writing, I want to help men dress well and learn the purpose and significance of suits and other formal attire. My final goal is to make men more confident in their wardrobe choice and life in general.