Double-breasted suits are back as an unimpeachable piece of art and are here to stay as such.
Their new modern designs bring suit wearers to new heights when it comes to stylistic expression.
As a result, many men have turned this suit into something that serves as their signature piece.
But, behind the sophisticated look, there's a manifold of stylistic rules that you have to be familiar with before deciding to buy one.
What is a Double-Breasted Suit?
The double-breasted suit has two parallel button lines and overlapping front flaps.
In addition, most double-breasted suit jackets have between one and three button rows, but only one or two are actually used.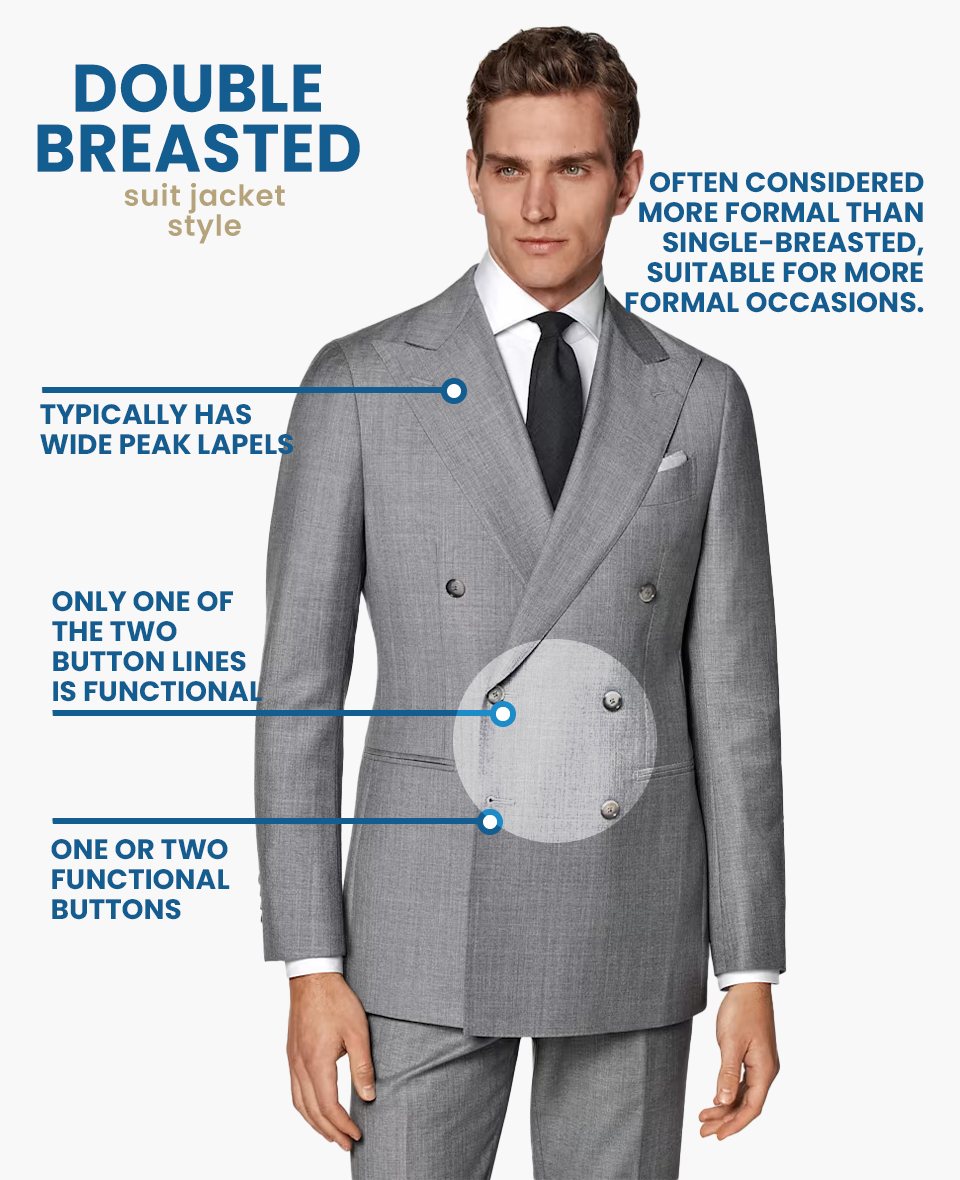 Higher armholes and trimmer sleeves characterize the modern version of the double-breasted suit. Also, the left lapel generally folds over the right lapel.
Double-breasted suits have a slimmer fit, creating a modern, subtler silhouette. The suits' broad peak lapels also create an impression of having a wider chest while giving the illusion of height.
It's a great power suit to give attention to your physique, thus making a bold fashion statement.
They became popular between the mid-1930s and the late 1950s and experienced a revival from the mid-1980s until the beginning of 2000.
Today, the double-breasted look is considered by some experts to be the ultimate refined taste in gentleman's apparel.
Single-Breasted vs. Double-Breasted Suits
A double-breasted suit is naturally dressier compared to its single-breasted sibling.
One significant difference between the double-breasted and the single-breasted suit is the level of formality.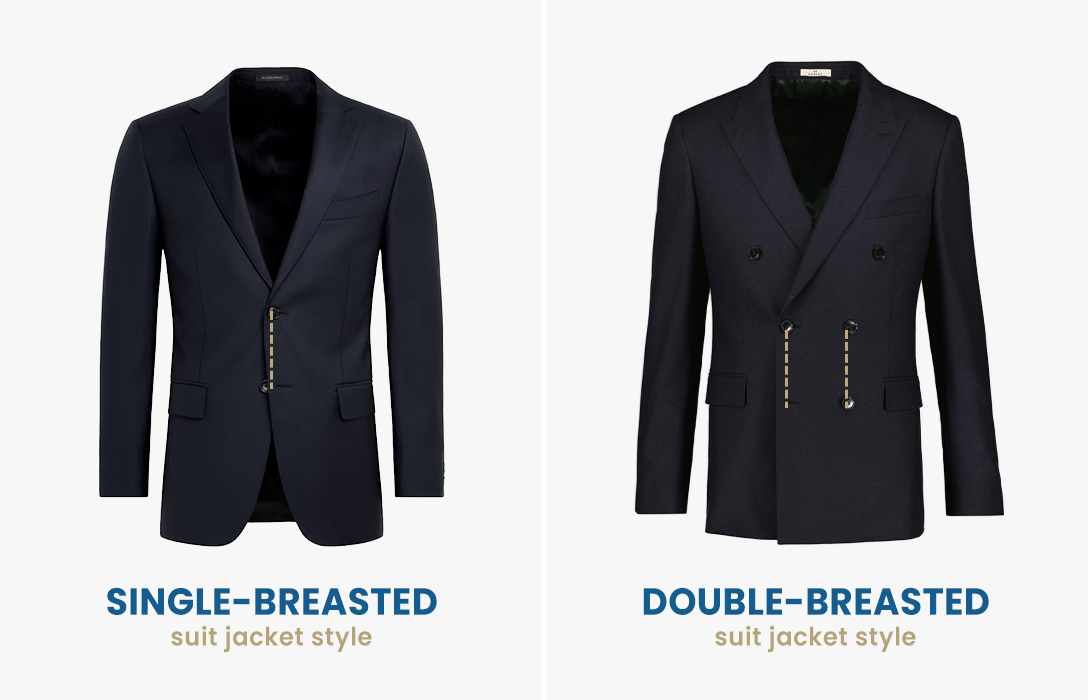 The double-breasted suit is generally more formal than the single-breasted suit.
The most striking characteristic of the double-breasted suit is two columns of buttons. It also has wide panels of fabric at the front of the jacket.
In contrast, the single-breasted suit has between one and three buttons at the front of the blazer. A double-breasted suit can come with anywhere between four to eight buttons.
The single-breasted suit can have a shawl, notch, or peaked lapel.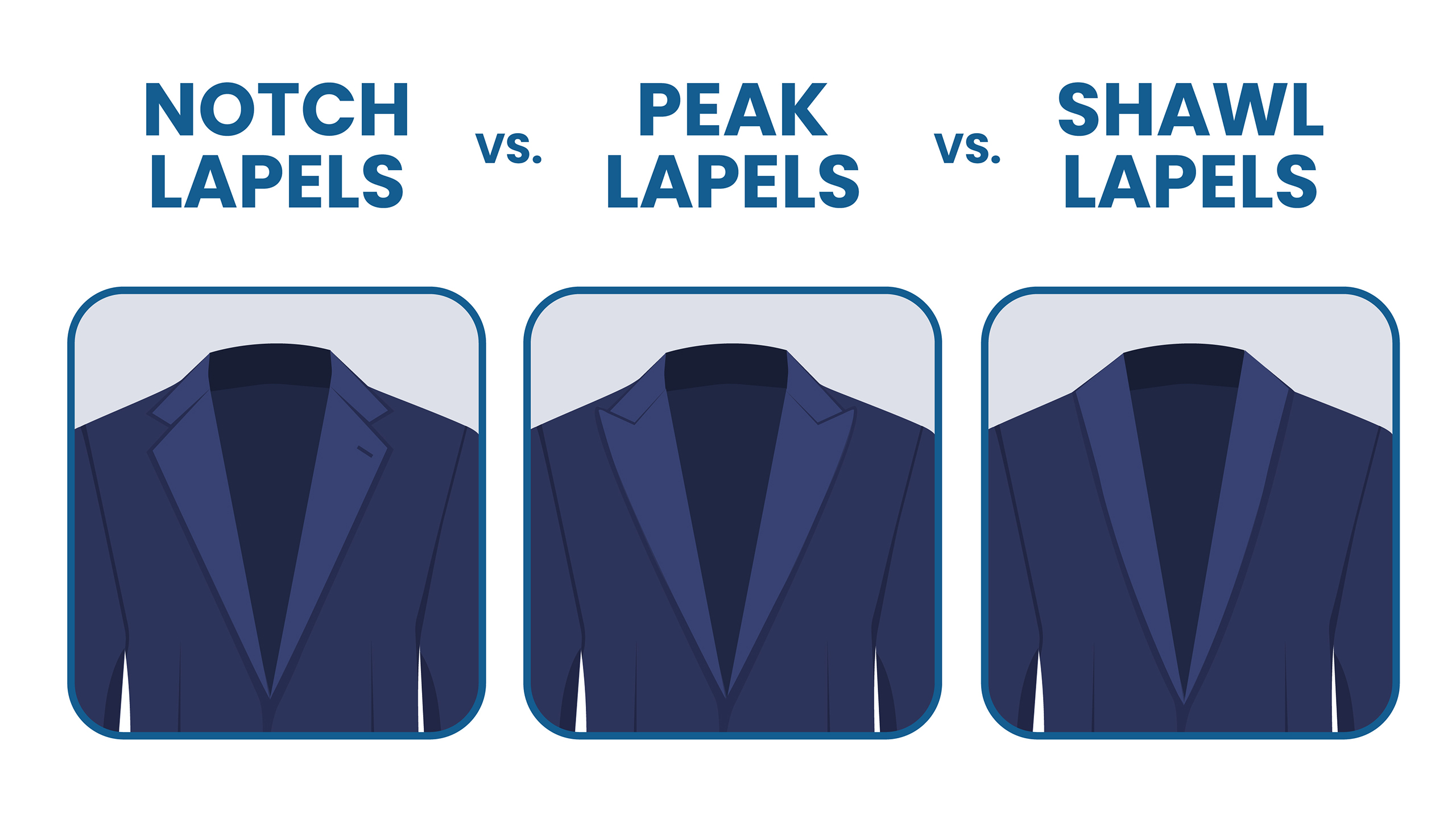 The double-breasted suit, on the other hand, can only be found with shawl or peak lapels. The peak lapel is by far the norm.
How to Wear the Double-Breasted Suit
The double-breasted suit is extremely versatile. It can be worn as a wedding suit, a business meeting, a job interview, a date night, a church, or a theater.
The trick is to match the right suit color and style.
Double-Breasted Suit Colors
The navy blue double-breasted suit is a staple and can be paired with almost any color. It makes it easy to mix and match different shirt and tie options.
That said, a navy suit and white shirt match perfectly. It's a combo that looks great with a solid-colored tie.
Navy suits are also frequently paired with light blue shirts and eye-catching ties.
The white shirt is again an absolute classic for a grey double-breasted suit. This combination is extremely versatile and can pair well with a wide variety of tie colors.
Think of James Bond, and you'll have the perfect example of a man who can pull off this elegant look.
Black double-breasted suits are often paired with white shirts and black or other dark-colored ties.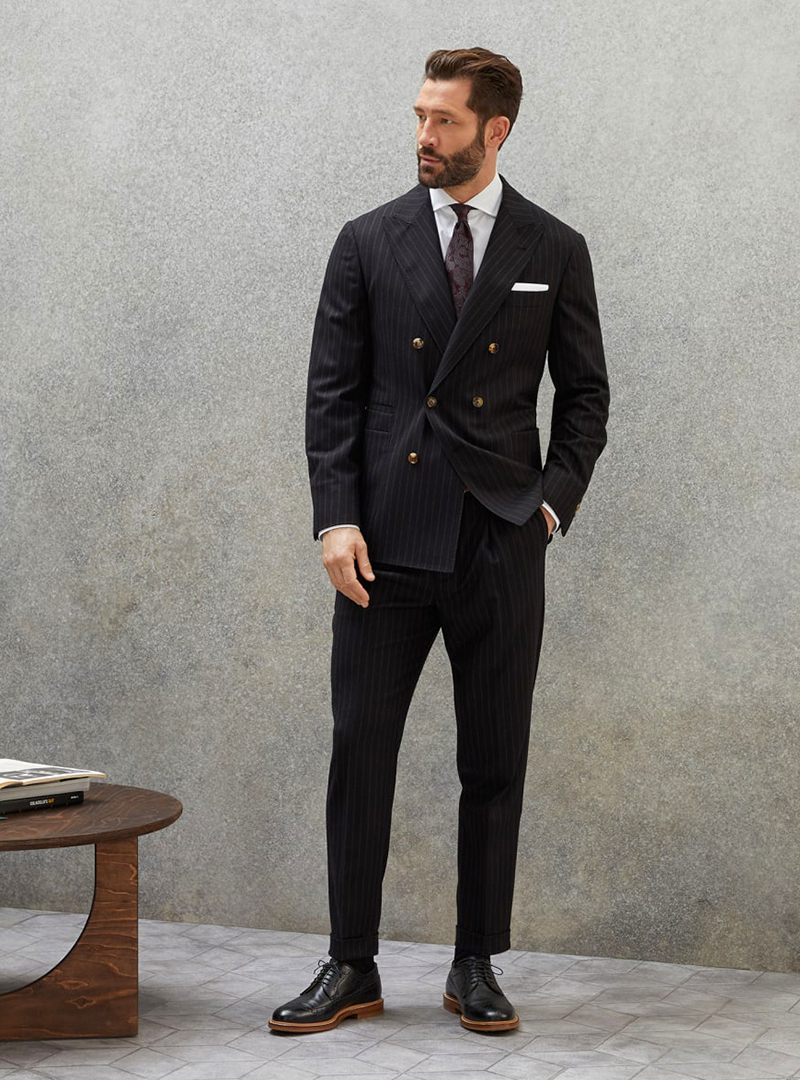 This neutral combination will be appropriate for any event, whether it is a wedding or a business meeting.
While unusual, a brown suit can easily match a light blue shirt. This is a tricky combination to find a tie for, as the shade of brown is paramount.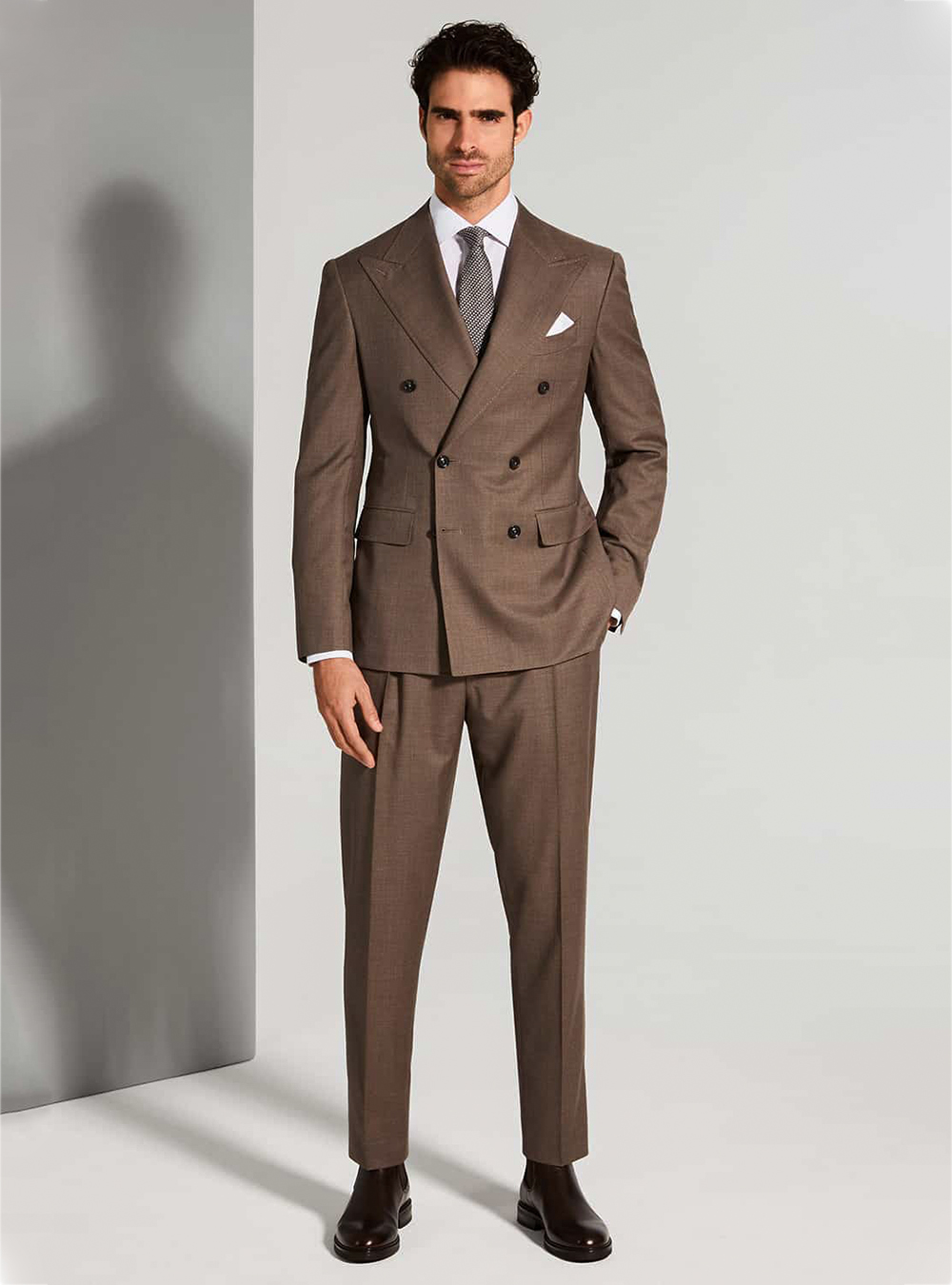 When in doubt, a navy tie is generally a reliable option.
Different Color Combinations
A black or navy blue pinstripe double-breasted suit is the perfect way to be taken seriously in a business meeting. A red or blue tie and brown loafers complete this powerful look.
A grey double-breasted suit jacket with matching pants is the ideal way to dress for a professional interview.
Wear this with a clean Oxford shirt. It will leave you feeling classy and professional.
For a date night, a slightly casual double-breasted jacket is a good choice. It can be worn to most date venues, whether it is a fancy restaurant or a cocktail bar.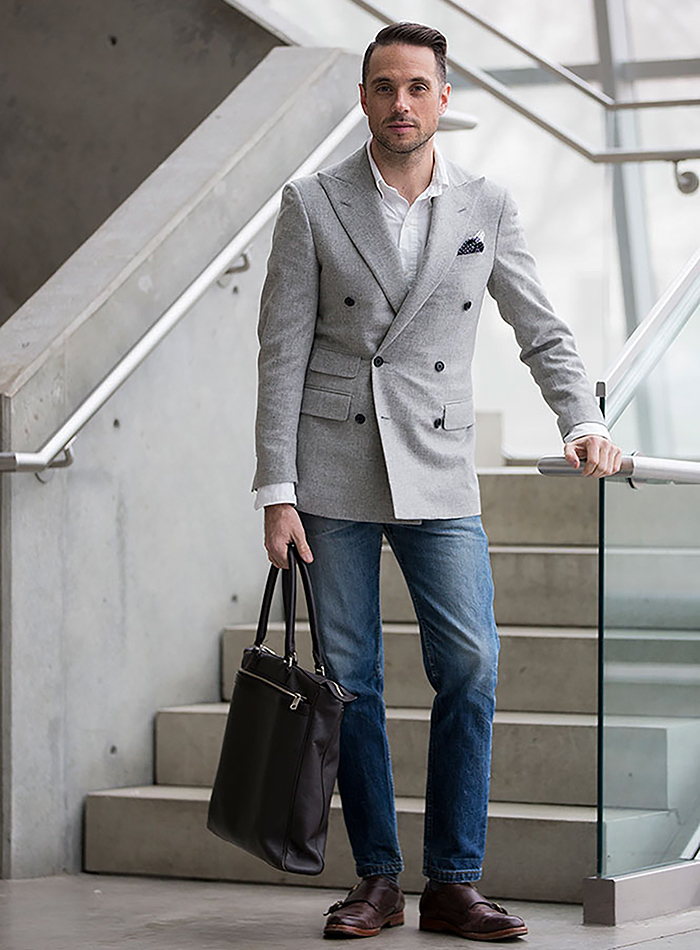 A double-breasted tux is ideal as your wedding attire. It is one of the most formal ways the double-breasted suit can be worn.
Match with a black bow tie and Oxfords to leave you looking classy and polished.
A white double-breasted suit is a bold choice that works well for many formal occasions, too.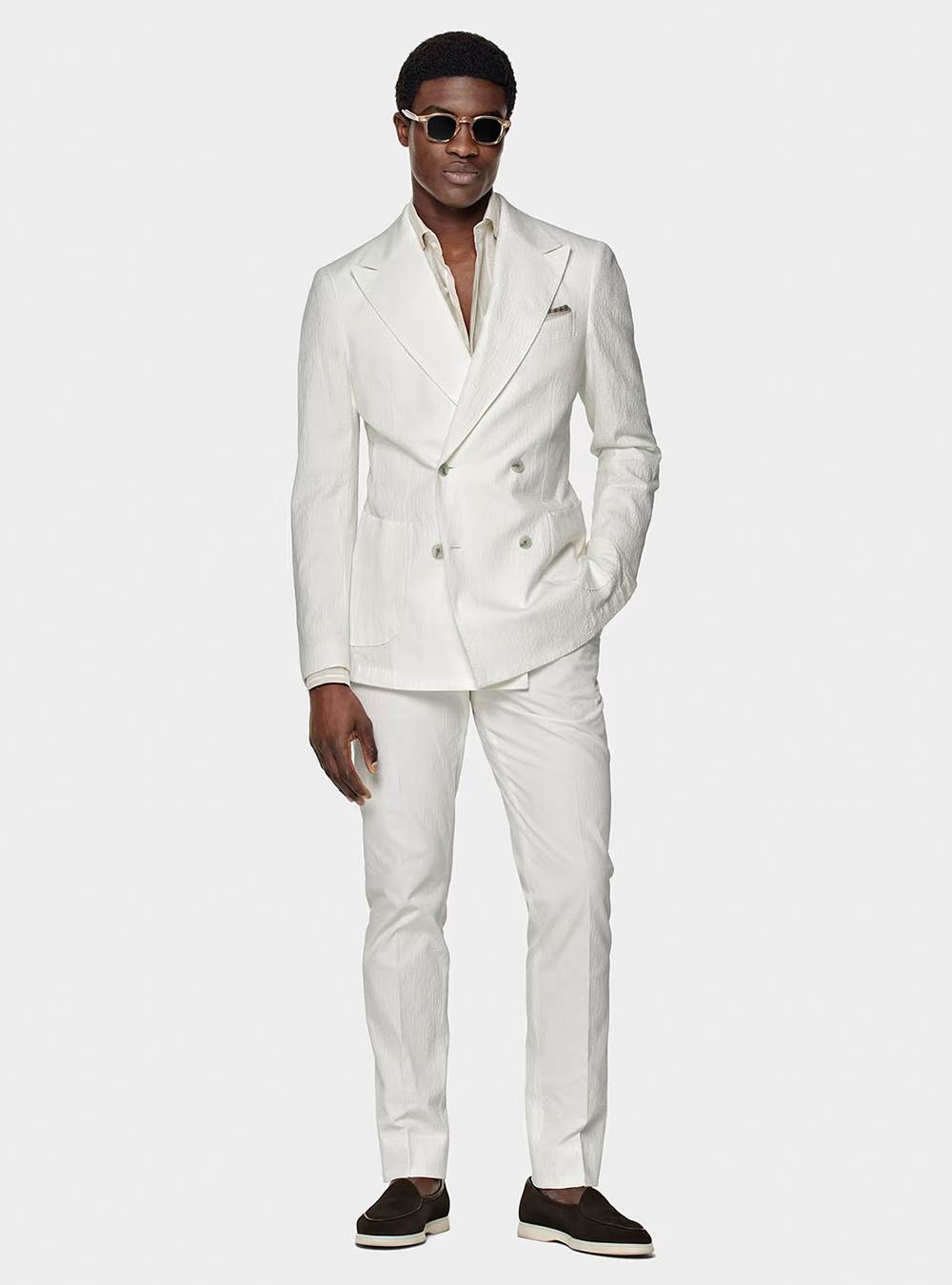 Dark loafers and a black handkerchief will complete your look and leave you feeling sophisticated and ultra-classy.
Pinstriped Double-Breasted Suit
Once traditionally worn by bankers and perhaps corporate lawyers. Now, pinstripe suits have become "en vogue" for a whole array of occupations, occasions, and events.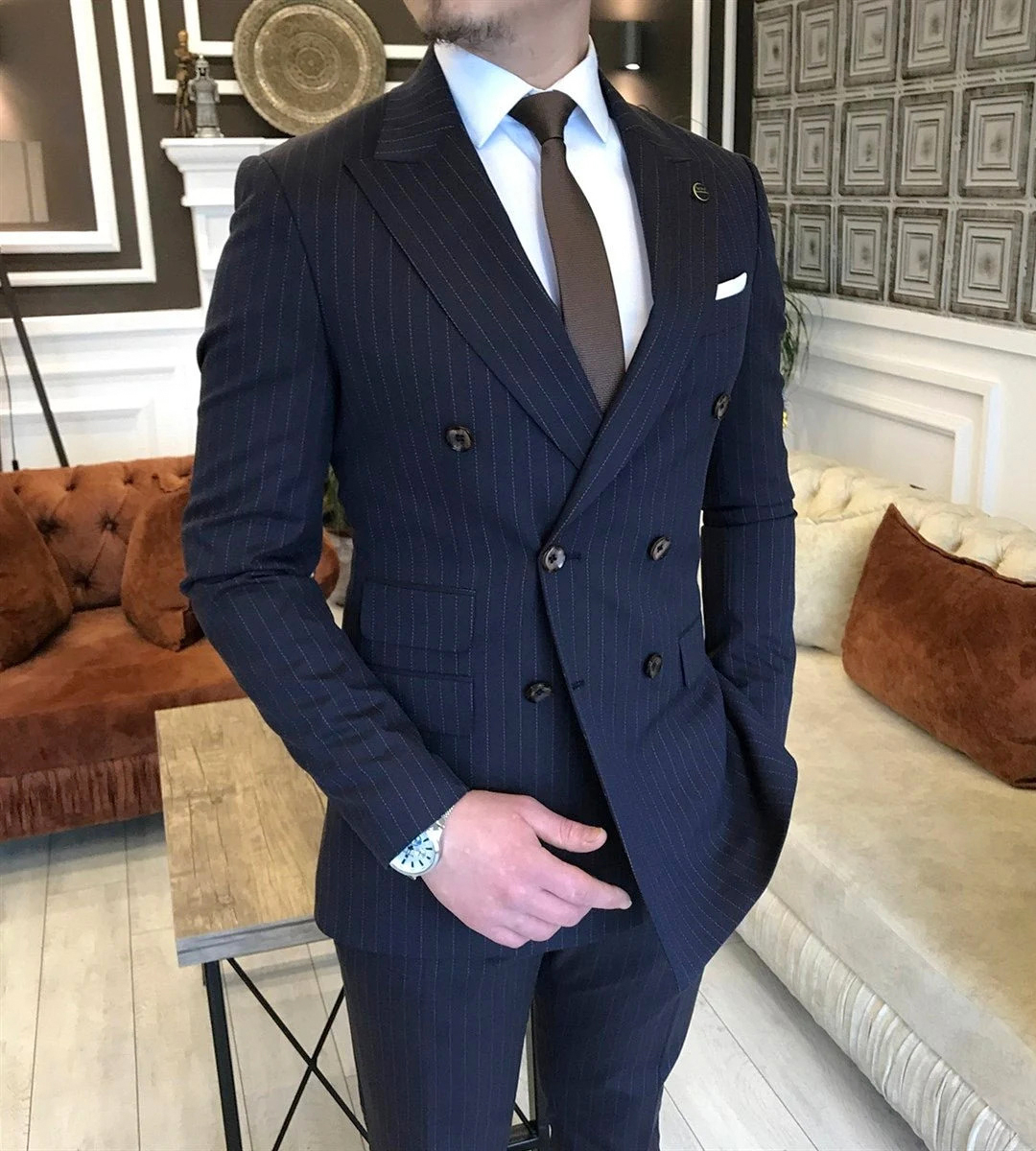 The width of the pinstripe affects how narrow or wide you appear.
Tight pinstripes can create the illusion of height. On the other hand, pinstripes that are far apart give the appearance of more width.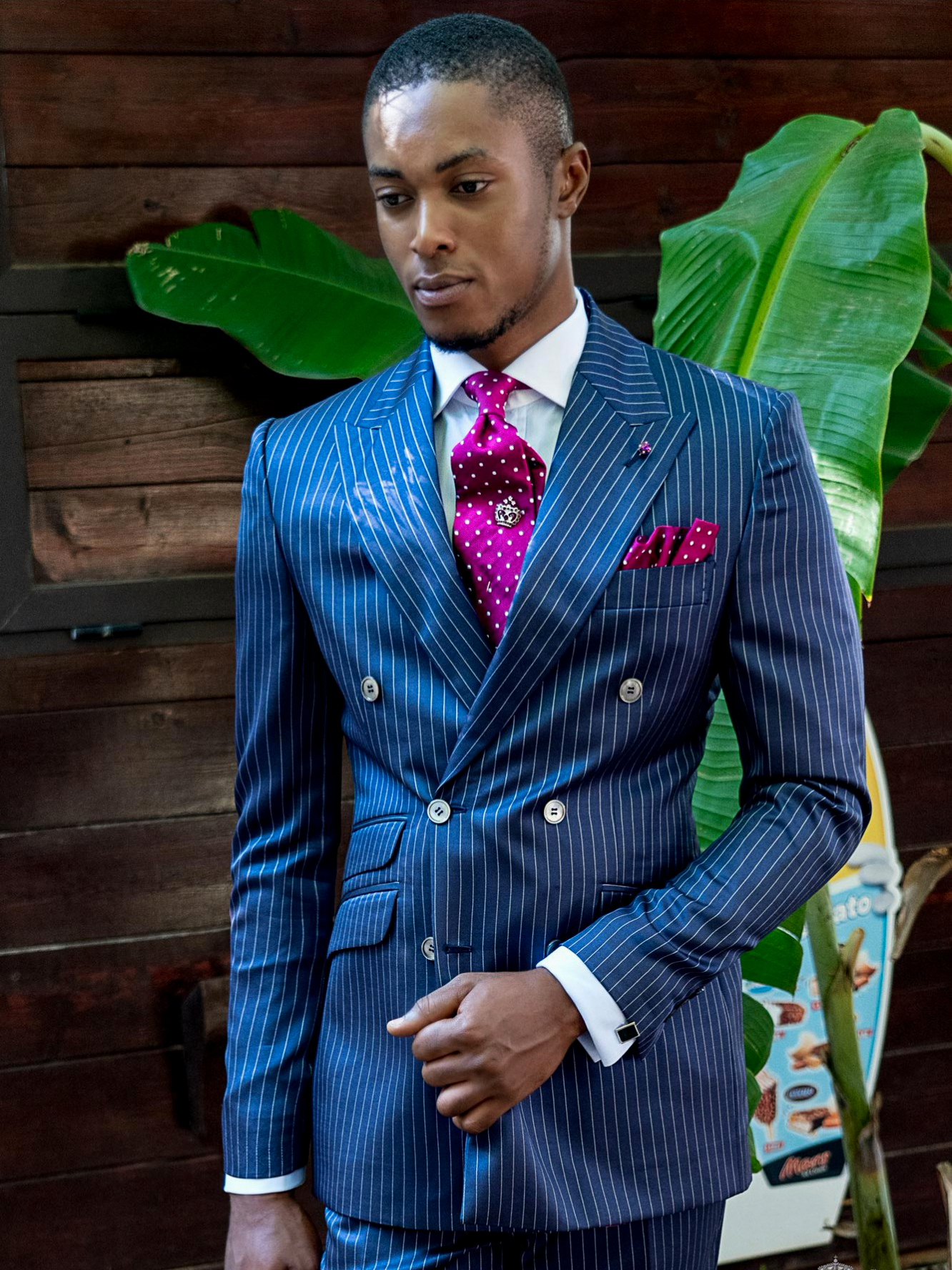 A double-breasted pinstripe suit is already dressy and classy. So you don't have to go overboard with accessories or embellishments.
If you're unsure, check out some well-known suit brands. How their models handle the look can go a long way to inspiring your wardrobe.
It can also give you a better idea of the kind of style you will feel most comfortable with.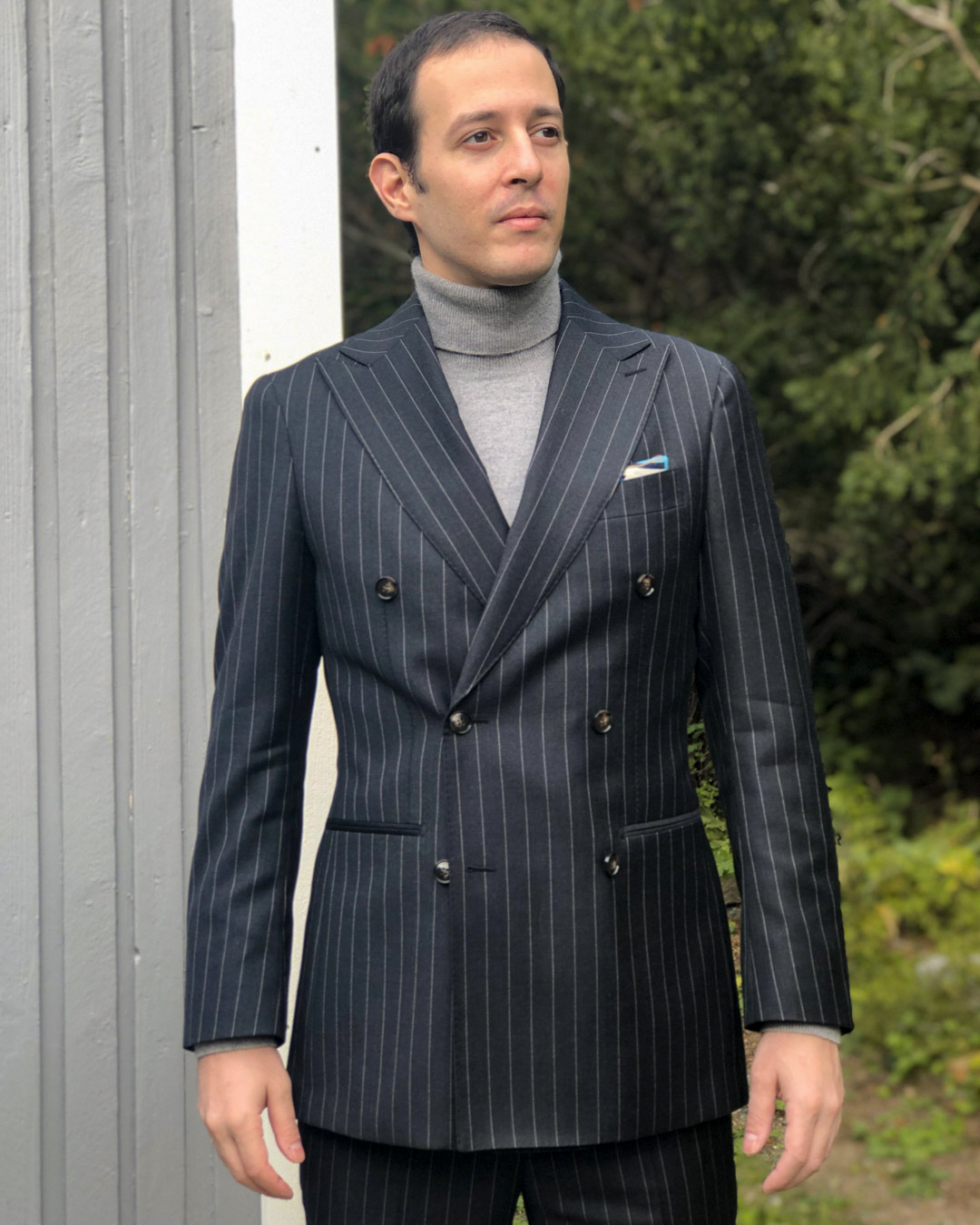 Besides, you can loosen the formality of the pinstripe suit a bit by wearing it over a plain t-shirt or turtleneck.
Just make sure you're at the kind of event where breaking the rules is considered appropriate.
Achieving the Correct Fit
The trick to pulling off wearing any double-breasted suit is the correct fit.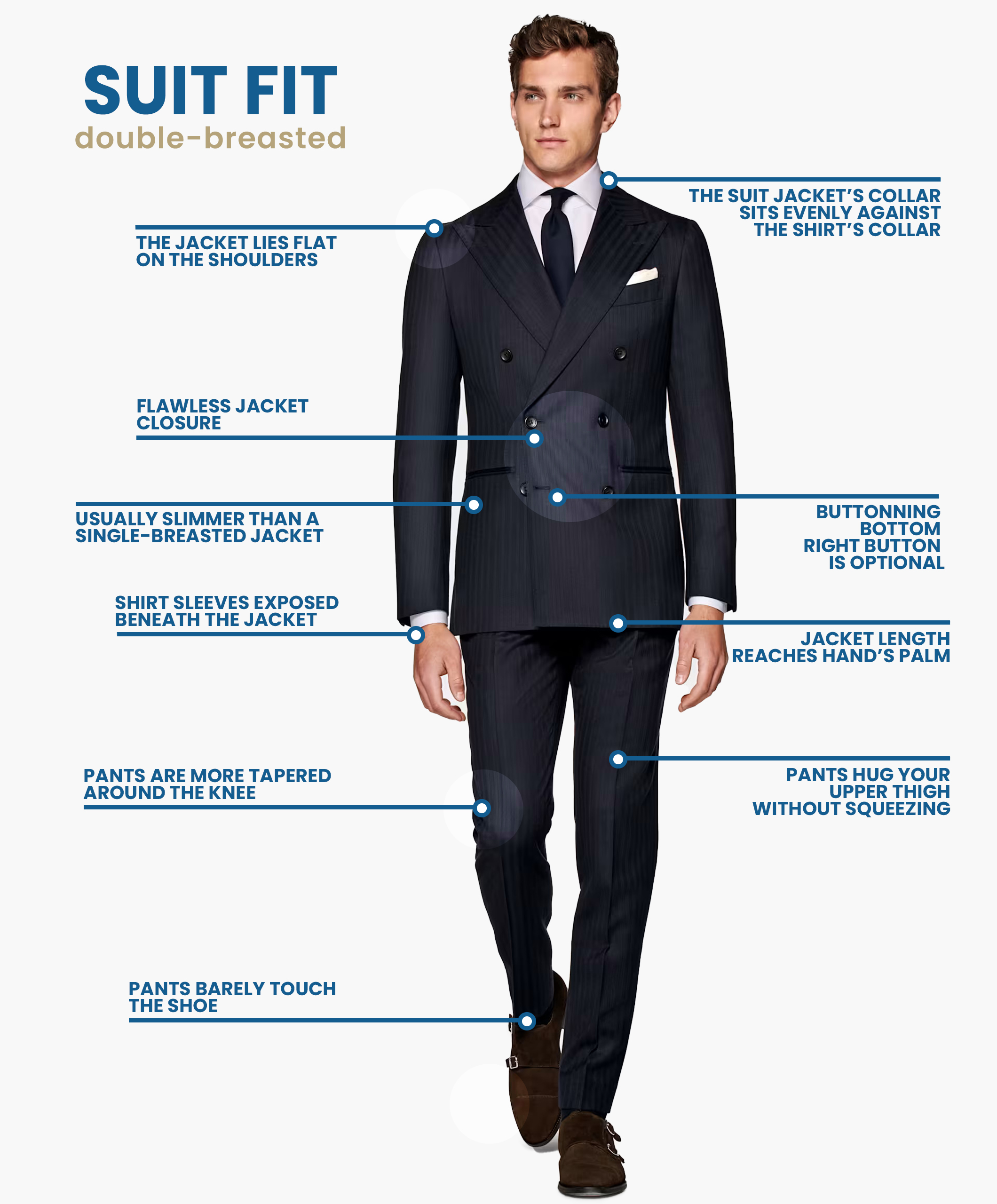 Old-school double-breasted suits had a boxy fit and long, wide panels.
Modern double-breasted suit jackets are far more form-fitting, with high armholes and fitted sleeves. This creates shoulders that look natural rather than bulky.
The proper fit should have more than a fist-width of extra space at the front of the jacket. The bottom hemline should end at your hip.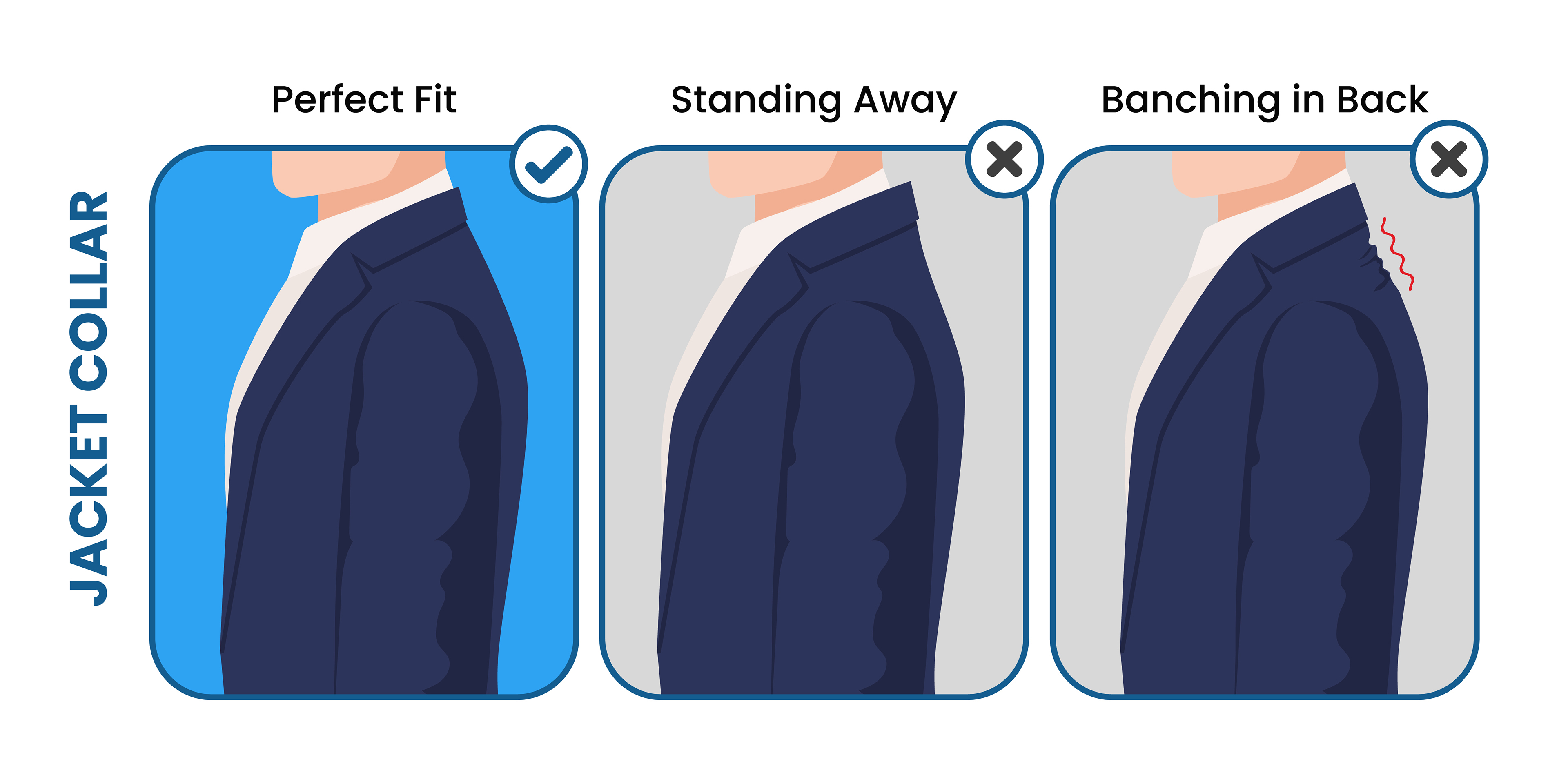 A general rule for ensuring the correct fit is that the suit should be comfortable and not feel restrictive. It should feel comfortable when you bend your legs or arms.
However, it shouldn't feel too baggy either, with no loose fabric hanging around your body and collar.
The double-breasted suit pants are also simpler and more streamlined. It makes them a better match for the slim-cut jacket.
Your trousers should not cover your shoes but shouldn't expose your whole ankle.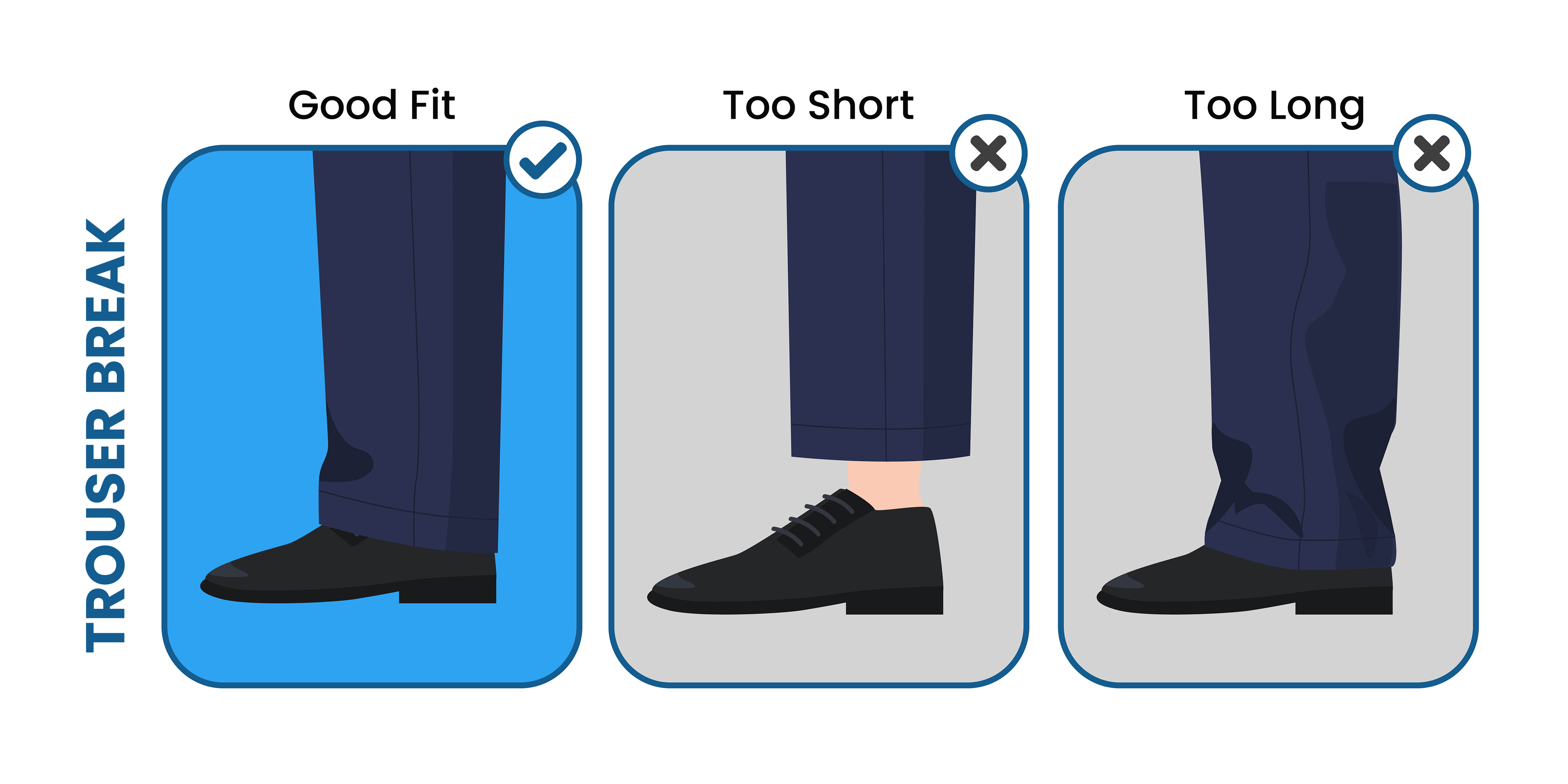 Keep in mind that most double-breasted suits come with trousers without pleats and cuffs.
Types of Double-Breasted Suits by Number of Buttons
Double-breasted suits can be differentiated by the number of buttons they have.
There is a 6×1 suit, a 6×2 suit, a 4×1 suit, and a 4×2 suit. The first numeral shows the number of buttons on the jacket, and the second numeral indicates how many buttons can be buttoned up.
The 6×2 suit is traditional and goes well with more conventional fabrics and accessories. It's considered more conservative, which makes it perfect as business attire.
I love this option. It's clean, straightforward, and makes a powerful statement. The only thing to be aware of is that these types of suits can sometimes appear bulky.
The 6×1 suit, in contrast, fastens on the bottom row. This way, the jacket opens more across the chest, which makes it slimmer. The result is a wider lapel and greater freedom of movement.
It still comes with six buttons, though, just like the 6×2 suit. Buttons are placed slightly higher on the jacket so that the lowest button is in horizontal alignment with the pockets.
The 4×2 suit is rare. It has fewer buttons, which gives it a cleaner, less bulky appearance than suits with six buttons.
This button option is newer than the others. Many Italian-style double-breasted suits are produced as such- an excellent option for data nights and non-business occasions.
The 4×1 suit has top buttons spaced further apart, and the lapel is usually longer. This further decreases the bulkiness of the suit.
Just like the 6×1, double-breasted 4×1 suits fasten on the bottom row. The top-row buttons are slightly apart, but the bottom row should be perfectly aligned with the jacket pockets.
Mastering the Double-Breasted Suits Look
Buying your first double-breasted suit can be a challenge, especially if you're taking the first plunge into the fascinating world of refined men's apparel.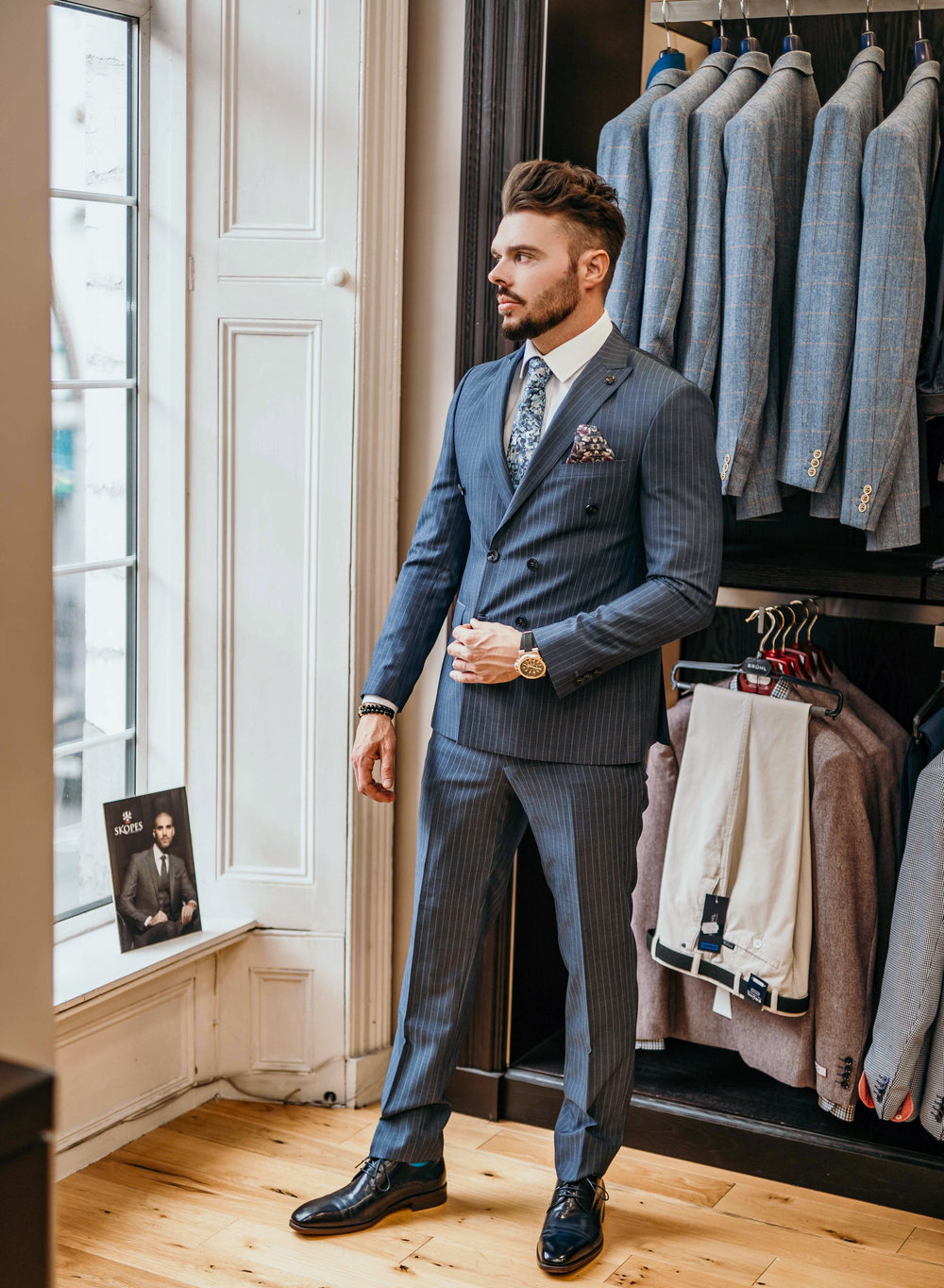 Good quality material and fit are indeed keys to choosing any first suit.
But with the double-breasted, there is a lot to watch out for if you want to master the style.
Tips for Wearing Double-Breasted Suits
The double-breasted suit should never be left unbuttoned, or you'll forfeit the slim, sleek look.
The only exception is the bottom button on your right side. You can either button it or leave it unbuttoned.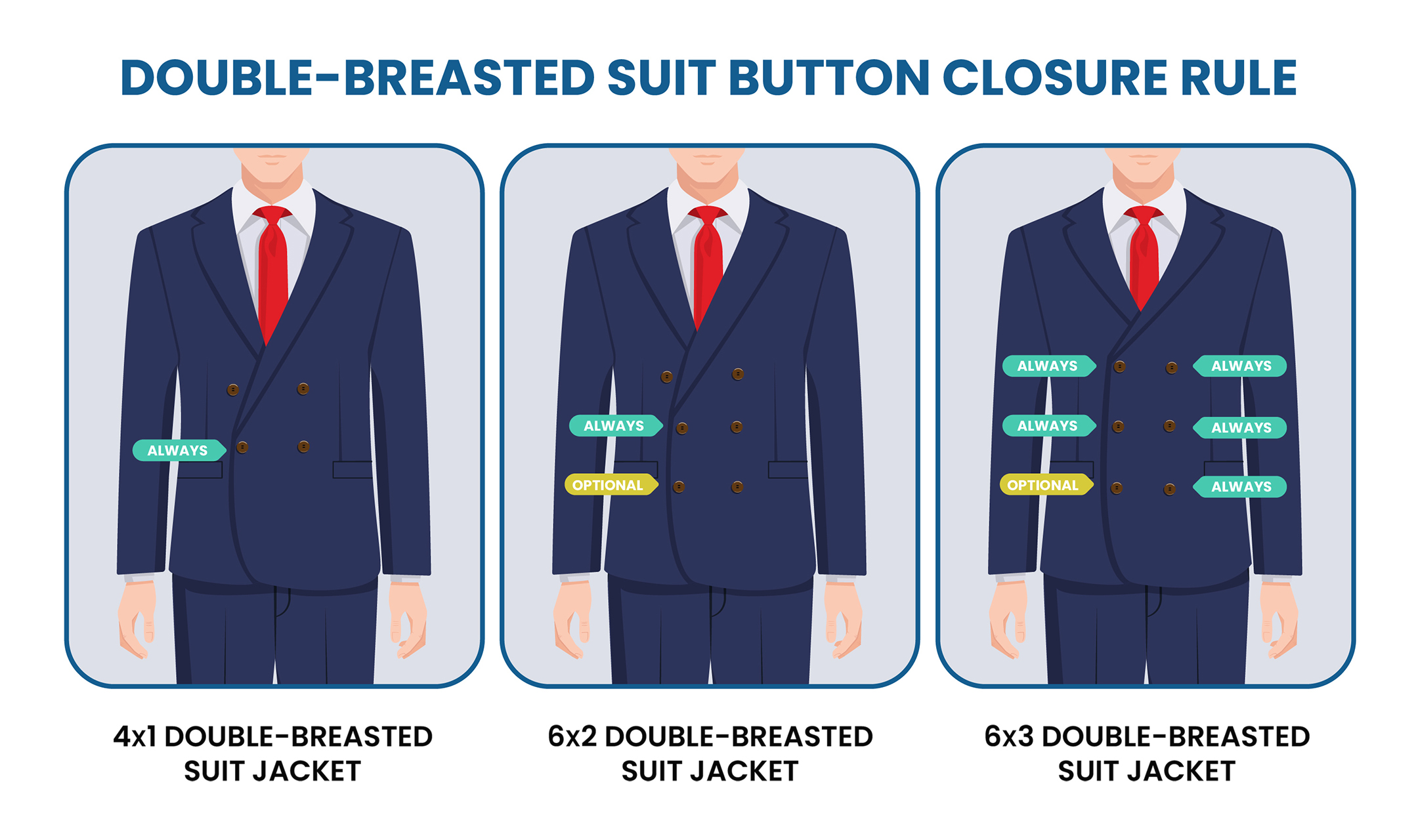 The same rules apply when sitting down. So, keep your double-breasted jacket buttoned when seated.
Avoid shiny buttons and extravagant trimmings. They can make you look more like an admiral rather than a sophisticated businessman.
An additional factor to watch out for is the size of the lapels. Oversized lapels can look a bit old-fashioned. For a modern look, smaller and more humble lapels are preferable.
Also, choose accessories sparingly, and don't try to be too brash from the get-go. Style is a matter of taste and personal preference. And, like in many areas of life, less is often more.
Remember, your double-breasted suit is already making a statement. It's usually enough to pair it with a neutral, simple shirt and tie.
Advantages of the Double-Breasted Suit
One of the main benefits of the look is that it makes your shoulders appear wider. This is due to the peaked lapels, which create the illusion of broader shoulders.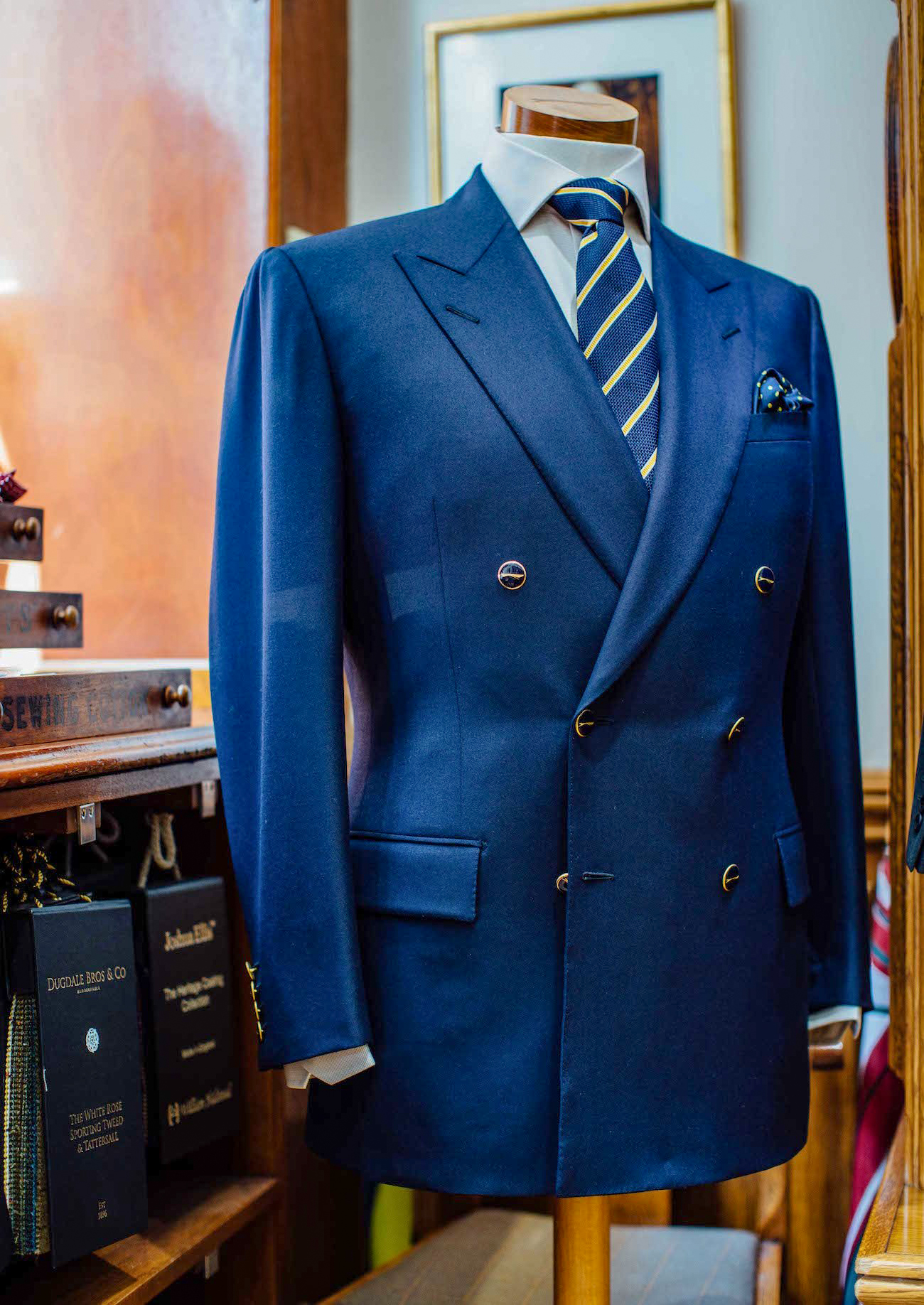 The buttons also create horizontal lines, which adds to the effect. Big men who have broad shoulders can diminish the wide impact by altering the buttons' position.
Author: Alexander Stoicoff
Hi, I'm Alex, and I've studied and specialized in styling in Rome. Through my writing, I want to help men dress well and learn the purpose and significance of suits and other formal attire. My final goal is to make men more confident in their wardrobe choice and life in general.