Ah, how well I remember buying my first suit; it was magical and a bit overwhelming.
I also remember how stressful it was. There were so many choices that narrowing down all the details seemed nearly impossible.
And as expensive as suits can be, it's a lot of pressure to get everything just right.
But don't worry; in this article, I'll help you turn down all that noise and focus on what you should look for when buying your first suit.
Define the Purpose for Buying Your First Suit
Not all situations that call for a suit are equal, meaning they will call for different suit needs.
Knowing how you'll be wearing your suit is critical to getting just the right suit.
There are many angles to consider when buying a suit:
How frequently will you wear it?
Is this for social, festive, or professional events?
Will you need the suit for just a particular season or for use all year long?
It's helpful to factor in all these details to make the ideal match between you and a suit!
Understand the Occasion
Are you buying a suit for a new job with a professional dress code, or perhaps for your cousin's wedding?
A dress code for a wedding is often slightly different than a dress code for your office.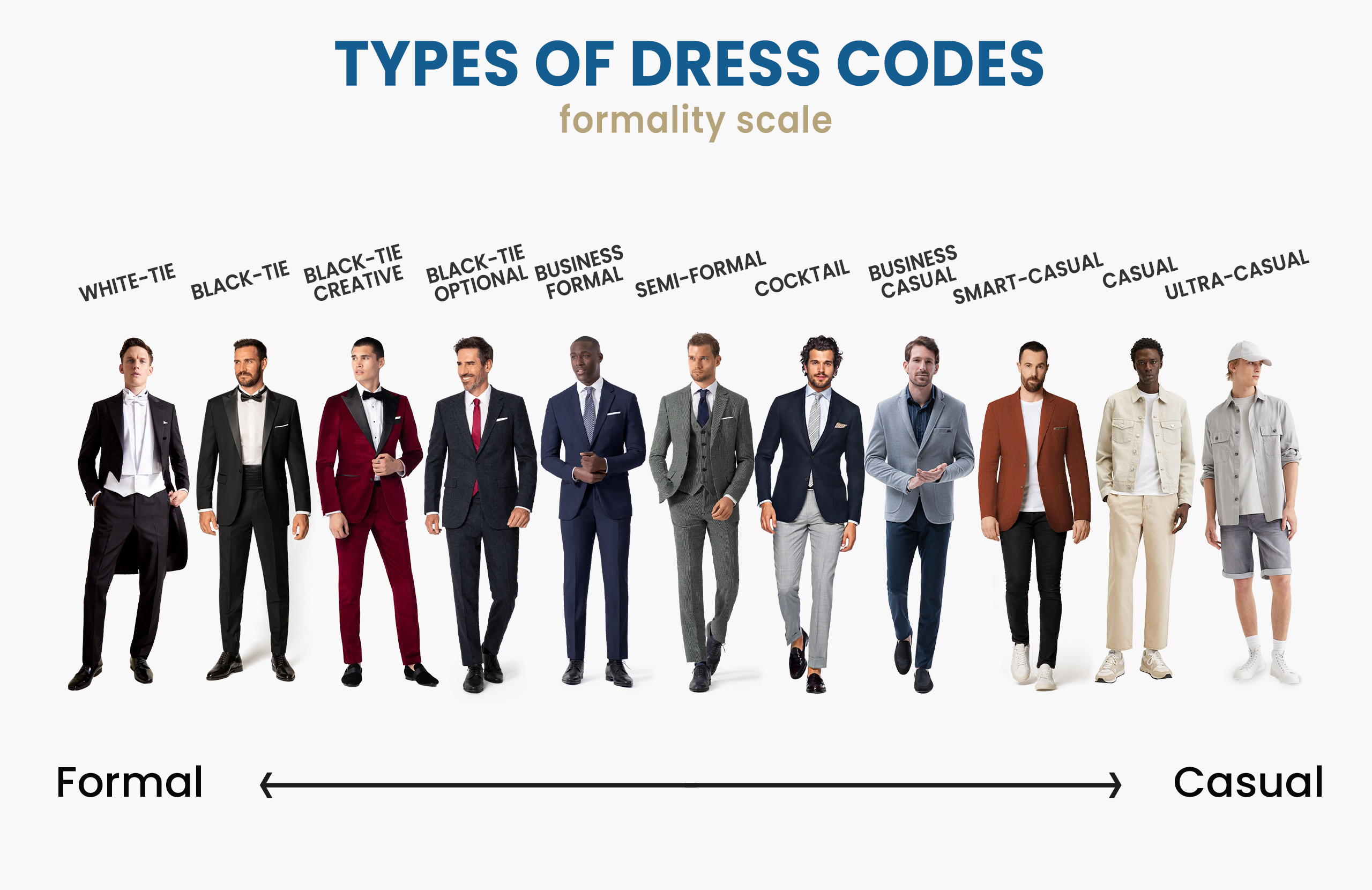 These two different events could result in two different suits. They may have varied colors, cuts, and fashion details.
When you understand the event you're dressing for, you'll find it's much easier to determine the features of your suit.
Your First Suit has to be Versatile
Seriously, who wants to drop a chink of change on an outfit that's only going to be worn once?
Suits generally aren't cheap, and most people can only afford to buy one at a time.
Selecting very inexpensive suits so you can afford to purchase more than one may backfire; they aren't likely to be durable.
That's why it's essential to ensure you opt for a suit that can see to all your suit occasions.
Going too far in a fashionable or conservative direction will limit your opportunities to wear your suit.
Setting Up a Budget
Speaking of cost, researching suits and their prices ahead of time can help you be better prepared when you begin your suit search.
It will help you get a feel for the varying price range of suits and what that money will get you.
This will help give you a sense of what you should be prepared to spend on your first suit. It will also give you a realistic picture of what you'll get for that money.
There's a suit for every price range; however, you should aim for the upper end of what you can realistically afford.
While more money doesn't always mean a better product, it generally gets you a better-quality suit.
How Price Affects Your First Suit
Your suit will cost more or less based on specific features.
Things such as canvassing and lining are likely to increase the price tag of your suit. They require more materials to construct the suit.
But adding canvassing or a lining also means that the suit takes more labor to put it together, especially if you want it well done. These features especially need to be done by hand, so they call for skill and extra time.
Neither of these comes cheap. If you need to save money, consider either a half-canvas construction or lining, or skip altogether.
Your budget may also dictate what fabric your suit is made from. Natural fibers like wool or cotton cost more than synthetics.
This may be an area you don't want to skimp on; manufactured fibers aren't as sturdy and can feel uncomfortable.
A decent compromise may be to choose a blend of synthetic and wool.
Expensive Does Not Mean High Quality
Sure, some of those really fancy brand names look suave. But that doesn't mean they're worth the hefty price tag.
Sometimes, you are only paying for the name on the label, not for quality craftsmanship or design.
Don't let a brand name turn your head and distract you from what's really important for your suit.
Read more about the differences between cheap and expensive suits here.
Avoid Going Too Cheap
On the other hand, that doesn't mean you should only pay the bare minimum. The least expensive suits on the market are often built from low-quality fabrics.
If you up your budget a little bit, you should at least be able to afford a wool blend, which will last longer and look better.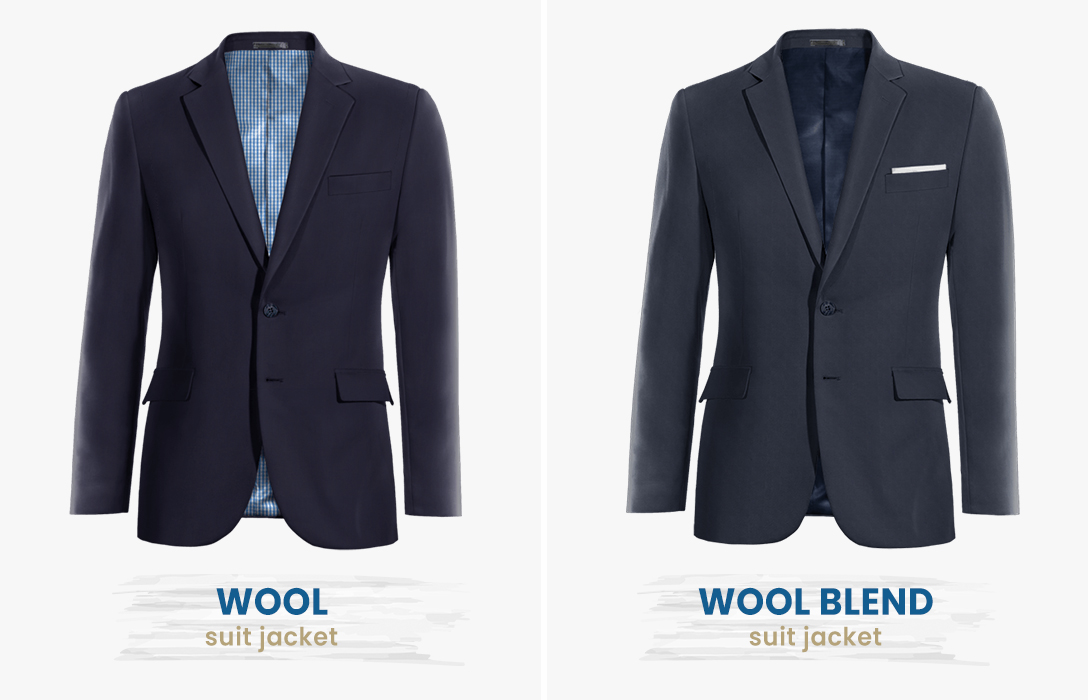 For a first suit, I recommend spending somewhere in the range of $250 – $700.
You can find a suit that will last more than just a couple of wearings and is versatile enough for several occasions.
Get the Right Measures
A perfect fit is the most critical feature of a great suit. Even if your suit isn't the most stylish or expensive, it will look way better if it fits well.
It is best to head to a tailor for professional measurements, ensuring exact measurements for your suit.
However, if you can't get to a tailor or don't want to take that extra step, here is how you can do it yourself.
Taking the Measurement Yourself
Most off-the-rack brands only require you to know your chest measurement and height to find your jacket size. These measurements will help determine how snugly your suit jacket fits and its length.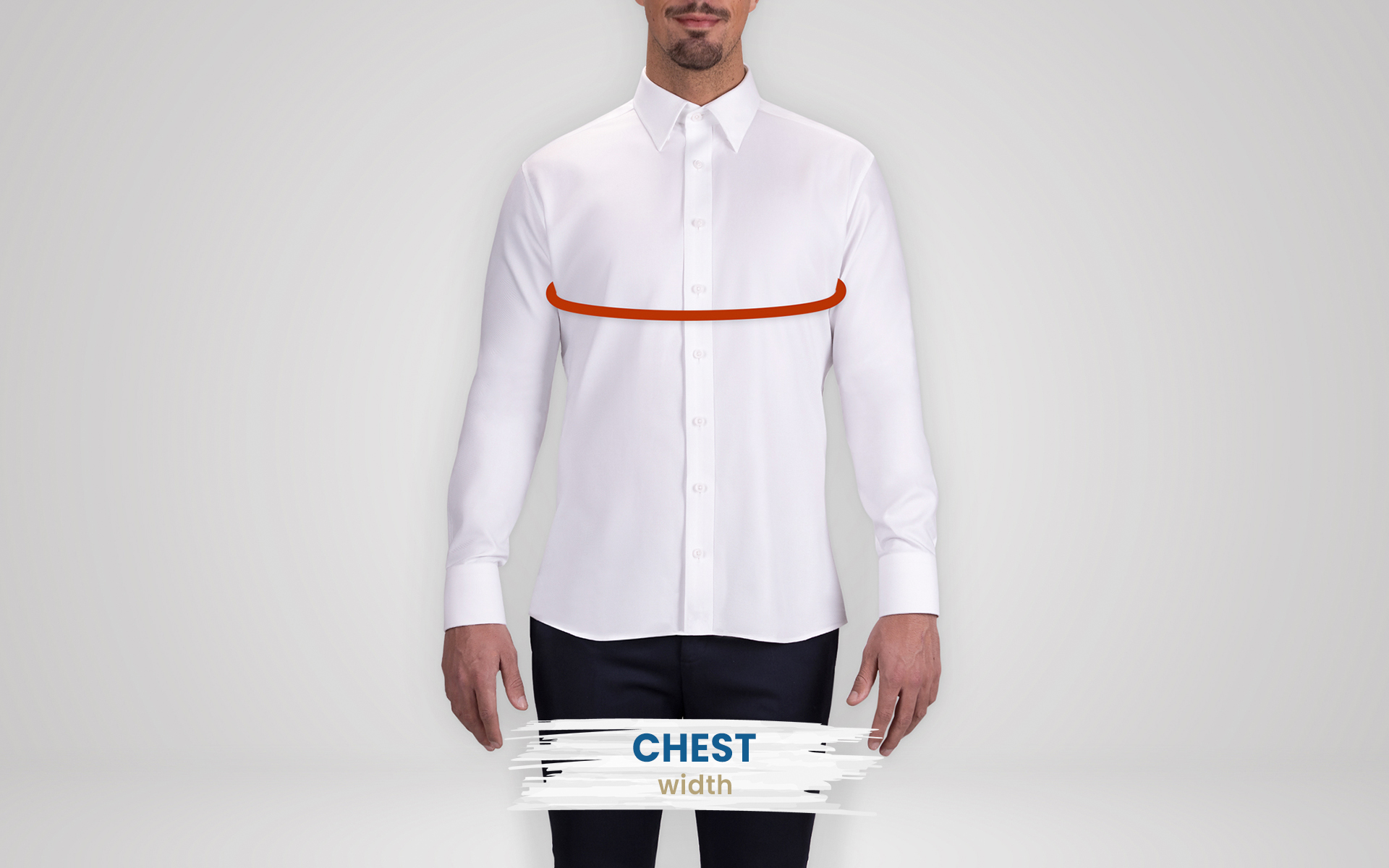 However, knowing several other measures can also ensure other areas fit well.
For example, knowing your sleeve length, shoulder width, and neck width can significantly impact how your suit jacket sits on you.
Your pants usually only call for your waist and leg length. But measuring your inseam and your seat can be helpful, too.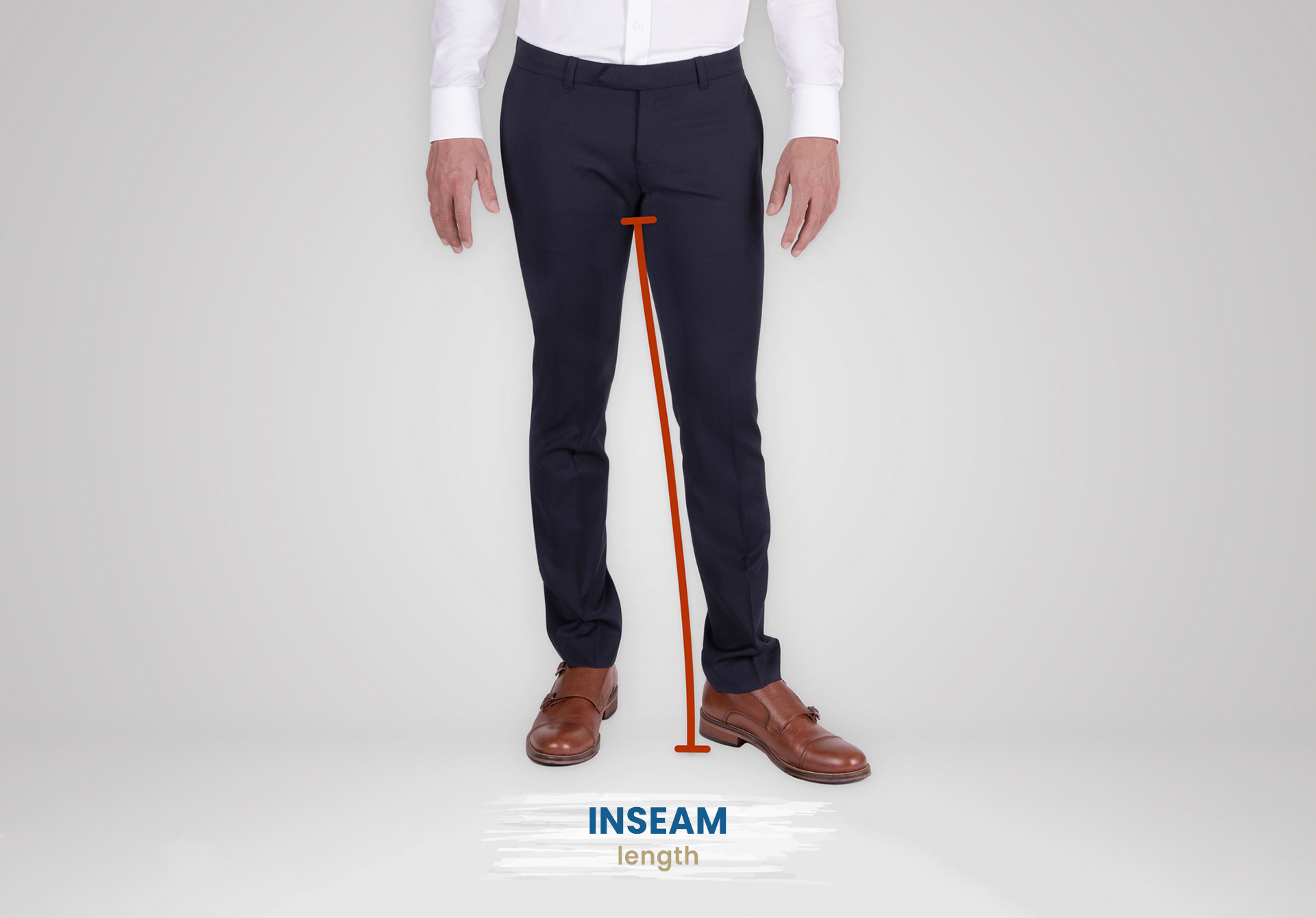 If you get an accurate measurement for these areas, you are more likely to find a suit that fits you beautifully.
How Should a Suit Fit
Have I mentioned that how a suit fits is its most important feature? It's so important that I'm willing to repeat myself!
Starting with your suit jacket, its shoulder seams must align with your actual shoulder bones. The goal is to avoid the fabric scrunching or hanging loosely along the tops of your shoulders.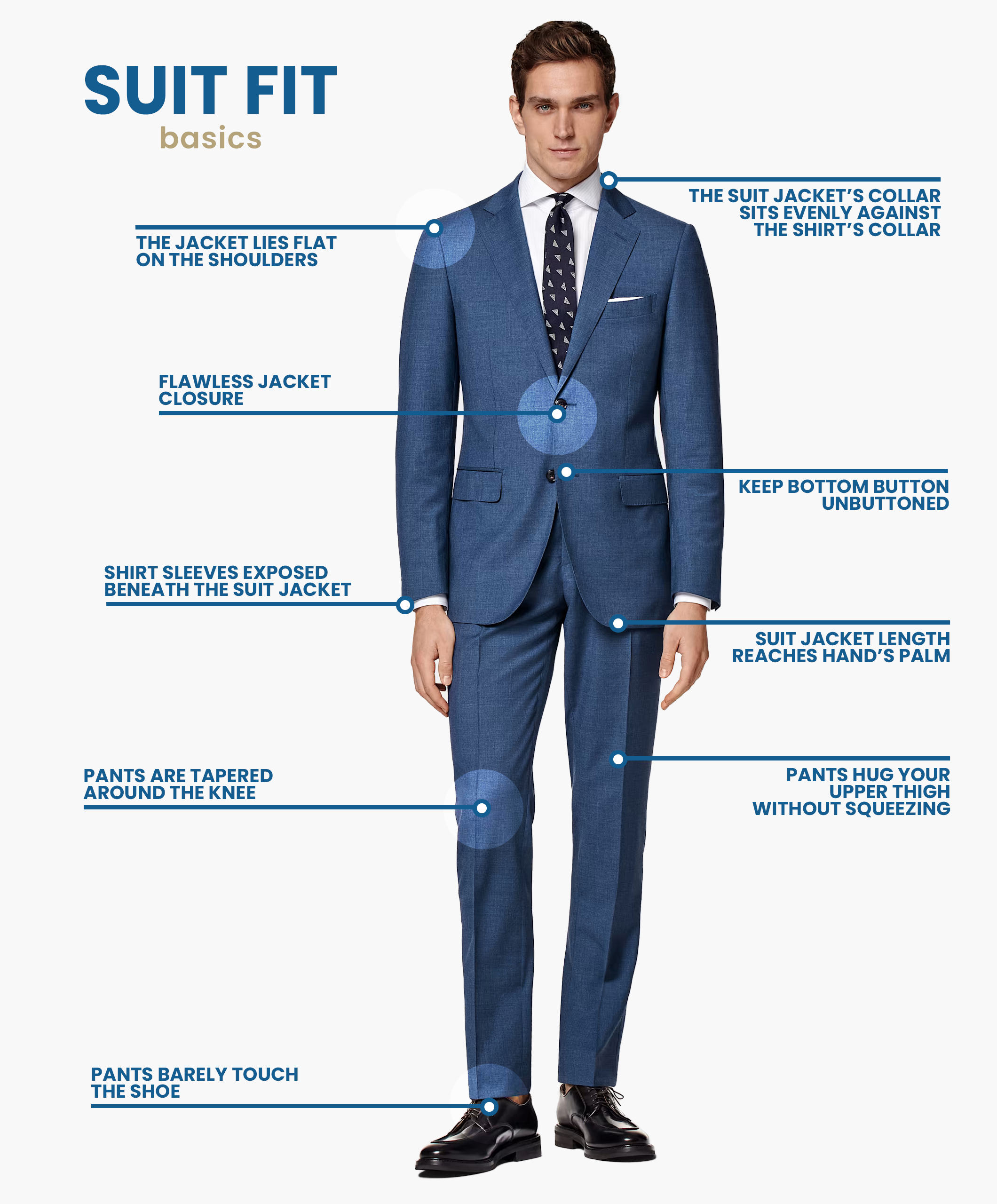 Ensure the jacket hugs your torso, but not so snugly that you feel squashed or squeezed.
The same should go for your jacket's collar. Check to be sure the back of the neck sits right up against the back of your neck and doesn't pull or gap.
Your jacket's length may not be the first thing you think of when it comes to fit, but it is essential to keep in mind. The jacket's hem should fall around the middle of your crotch.
Sleeve length is also critical; ensure it ends just past your wrist.
There are fewer areas to worry about with your trousers, but they are just as vital for a good fit.
Look at your seat in the mirror and make sure it isn't saggy or pulling tightly across your rear.
Your suit pant's waist should sit just above your hips. It should be loose enough to feel comfortable but not so much that you require a belt to hold your pants up.
Finally, pay attention to the length. Obviously, your hem shouldn't drag on the ground, but it should at least brush along the top of your shoe.
Your First Suit Should be Dark-Colored
In the spirit of keeping your suit versatile, it helps to have a color that can be both professional and dressy.
Navy is the ideal color for a first suit, but I can also recommend charcoal grey.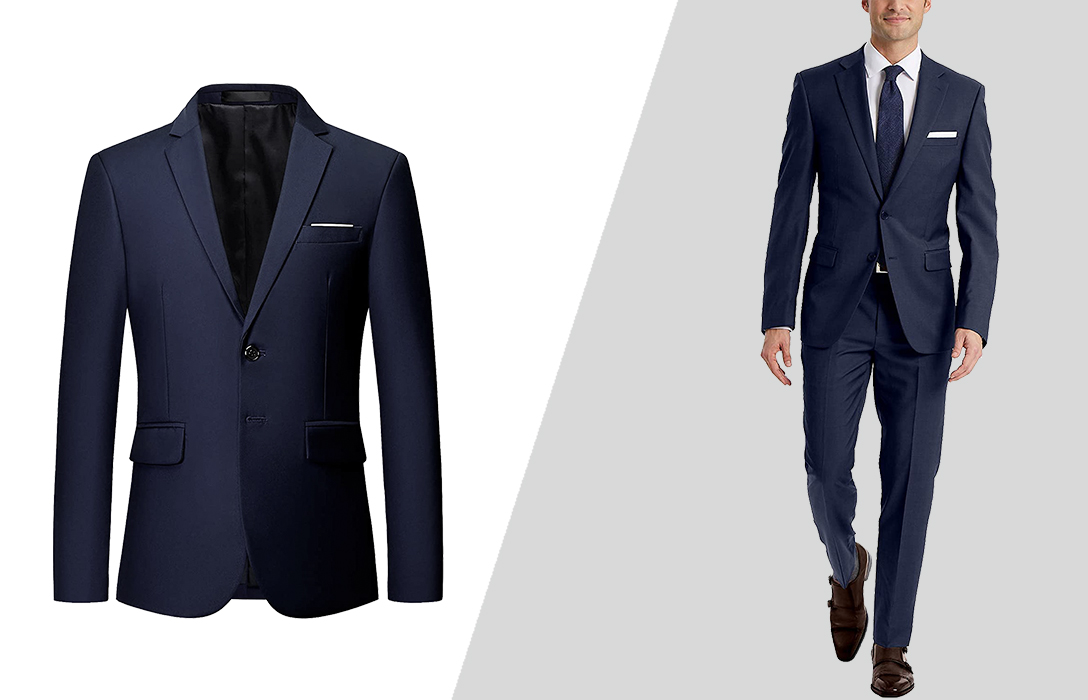 Each of these colors keeps you dressy when needed but are able to be toned down with a bit of effort.
You can make navy and charcoal suits more casual through your choice of dress shirt and accessories.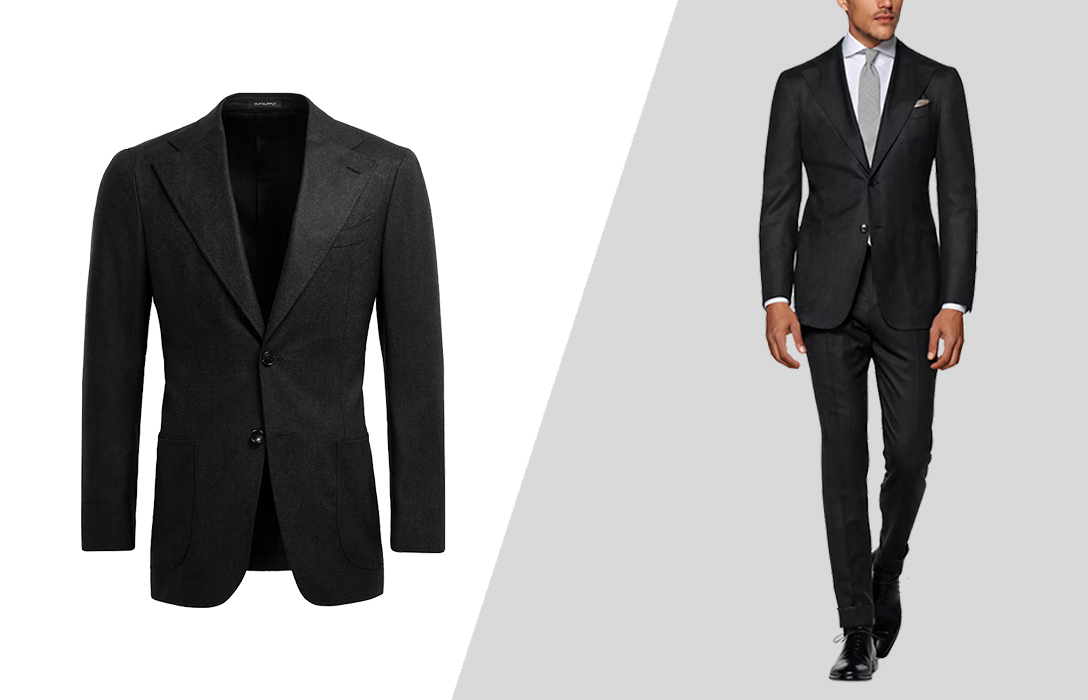 The wonderful thing about these dark colors is that they never go out of style; they're timeless. And as a bonus, these shades don't look bad on any coloring.
Choosing the Right Suit Style Elements
Keeping the design simple for your first suit is generally a good idea.
Anything too flashy or modern may be a bit excessive for your first suit and likely won't serve you well in many settings.
However, this won't be the same every time you buy a suit. You'll explore other style choices as you age or your suit use changes.
Go for a Slim-Fit Suit
A slim-fit suit sits closer to your body than a traditional cut. The effect is usually quite flattering and makes for a versatile suit.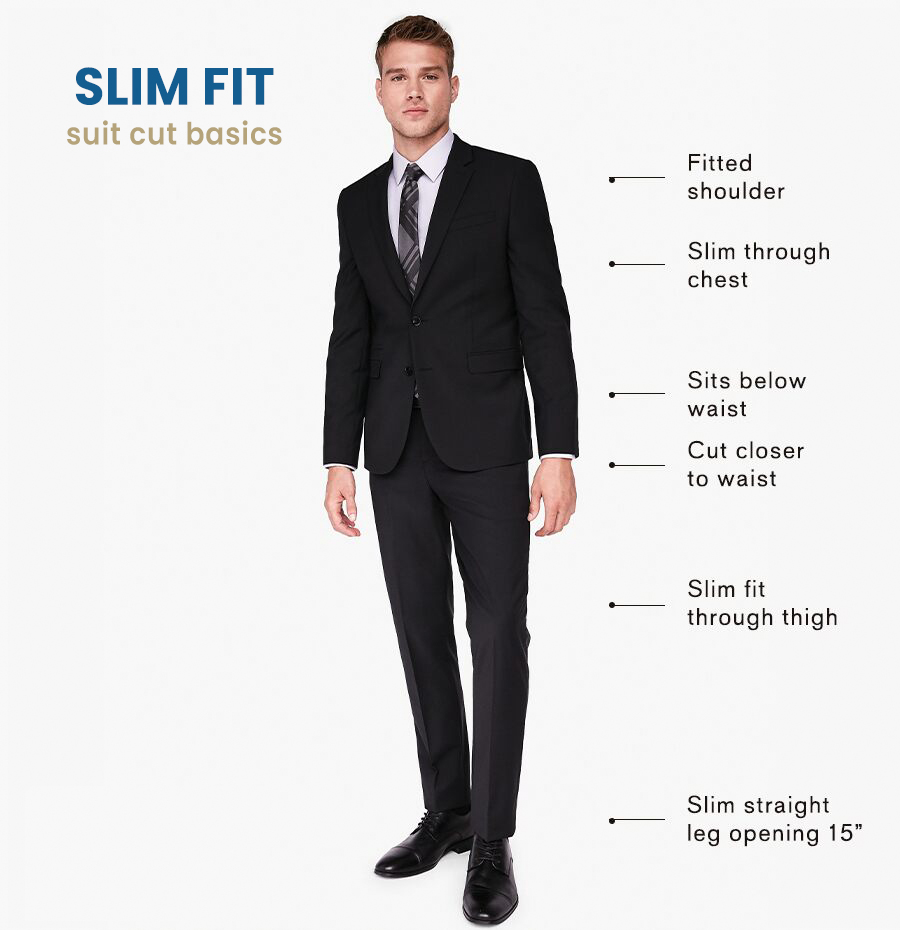 This fit gives you the flexibility to wear your suit for a job interview and also for social events.
The suit jacket is more tapered at the waist than regular fit jackets, creating a very sleek, slight hourglass effect.
The trousers are also gently tapered along the leg, making the entire suit feel streamlined.
Suit Jacket Style Details
Pay attention to a few specifics to ensure your suit jacket follows the rules for most settings.
For example, you'll have your choice of lapels, but notch is the only style you'll need for your first suit. The other two options are far too formal.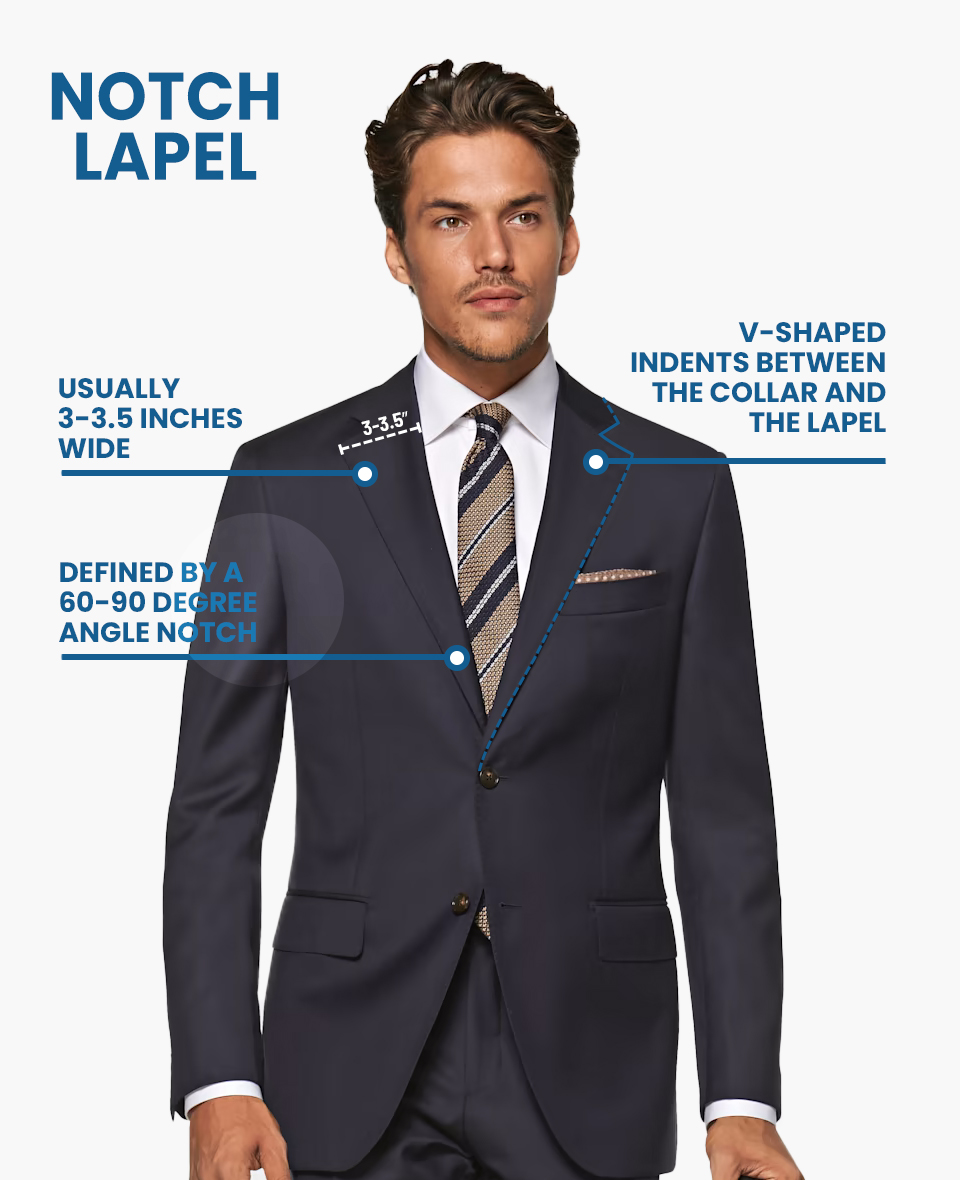 A single-breasted design with two buttons is the ideal design for maximum flexibility. One button is too casual, and three buttons are unnecessary.
Remember to button only the top while standing and completely open when sitting.
Choose flap pockets. Jetted pockets are very formal, and patch pockets are very informal.
And check the jacket vents. Two side vents are the recommended option for your first suit jacket. And don't forget to unstitch them.
Flat-Front Suit Pants Only
Pleated pants have their appropriate place, but it's not here. They're rather old-fashioned, so leave them for the older crowd.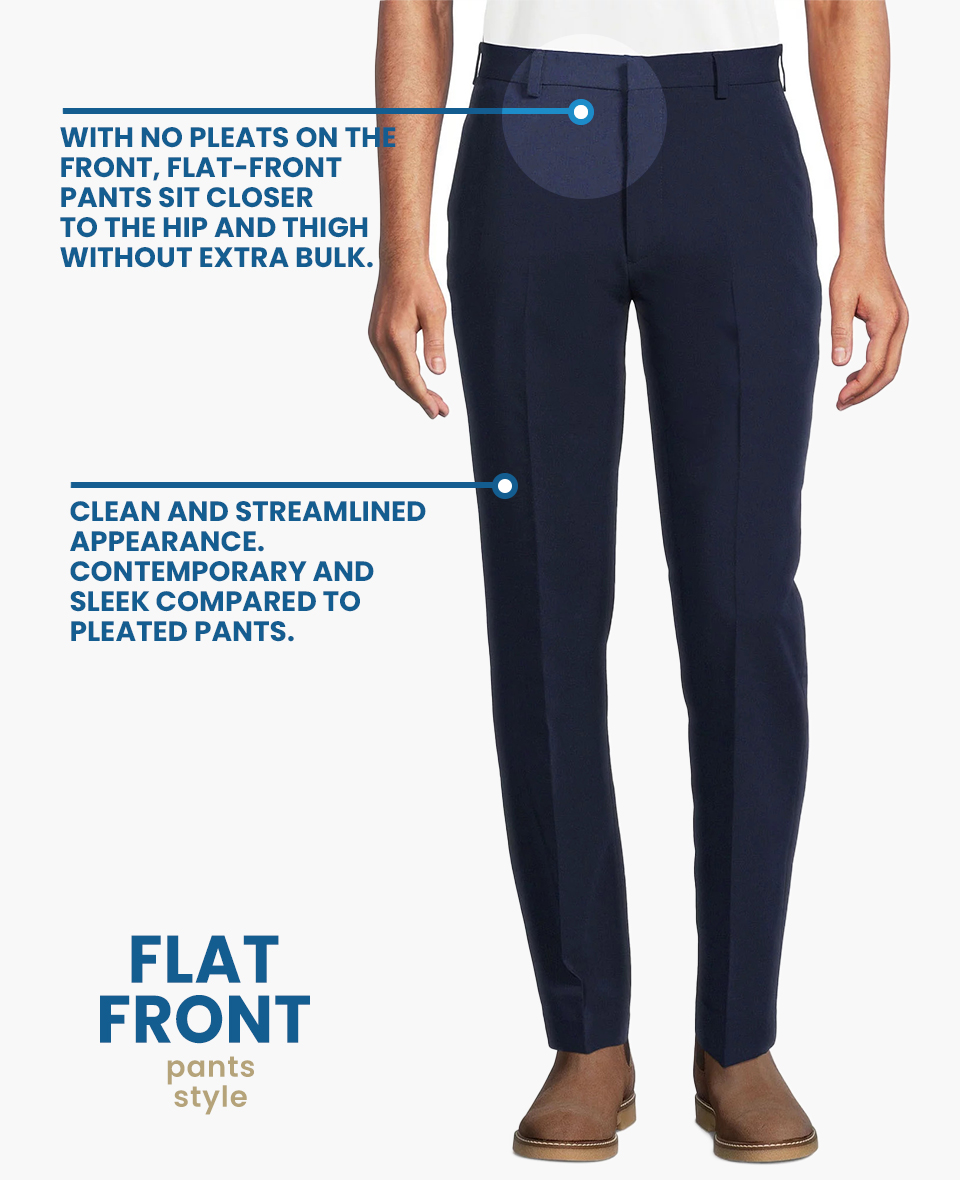 Instead, opt for flat-front suit pants. They're a more modern trouser design and are also more flattering.
Your pants should also have a straight leg or some slight tapering. The key is avoiding any unnecessary fabric in your suit pants; it can make you look frumpy.
Choosing The Brand
With so many suit brands, it's understandable if you're questioning which ones are worth the money. Before you settle on an unknown, untested suit name, here is some direction for reliable brands.
Suitsupply – Suits are all they do, and they do it well. With 13 basic designs to get you started, ordering in-person or online is easy.
Hugo Boss – You can get a designer name without the designer price. You'll surely find something appropriate for your first suit among their conservative and traditional styles.
Banana Republic – Storefronts all over the country make buying their contemporary suit styles easy. They offer standard sizing with multiple fit options.
Calvin Klein – You can always rely on this brand name as a trustworthy source for chic suits with clean lines. They may be costly, but they are also long-lasting.
Brooks Brothers – When a company has been around as long as Brooks Brothers, you know they're at the top of their game. You'll find a huge selection of professional offerings, including many separates, at a wide range of prices.
Zara – If you're looking for contemporary suits at affordable prices, here's a great place to start.
Indochino – Their suits are made-to-measure, so you can completely customize your fit.
Hockerty – Here's another custom fit option. You can choose every last little detail on your suit.
Buying Your First Suit
Now that you understand design details and how they are as important as choosing your suit color, you are ready to start shopping for your first suit.
Considering these essential aspects, it's also an excellent time to set your budget. It can be easy to rack up an enormous suit bill.
However, it's vital to understand ahead of time what you can realistically afford to spend.
Try At Least Three Suits
Don't jump at the first suit you like. Compare it to at least three to five others.
If you are shopping in person, try them all on to get an idea of how they sit on you.
Shopping online can be more challenging, but not impossible. The key is to be sure the supplier allows you to try the suit on and return it if it isn't right.
If they don't provide this option, avoid that seller for your first suit.
Purchase Your First Suit
By this point, you have learned how a suit should fit. You've researched online and seen how a suit should look on a man, and you've even tried on three to five suits.
Once you find the style and color you like, and it looks great on you, now's the time to go for it.
And don't feel bad for spending money on a good suit. Believe me, suits are worth it!
Make Alterations
To make the most of your off-the-rack and made-to-measure suits, get your suit altered to ensure that it's unique to your body. This step can take your suit from "fine" to "wow".
Length is one area that is easy to alter. You can play with the length of your pants, sleeves, and even jacket length.
A tailor can further adjust your pants by getting a better fit in the waist or tapering the trouser legs.
If your suit jacket isn't ideal, your tailor can take in the waist for some shaping or even rotate the sleeves if they don't sit quite right on your body.
Accessories That Match Your First Suit
The perfect suit is only the start of creating a flawless look. Knowing how to accessorize is another secret weapon in dressing well.
Matching the right components to your suit will enhance your entire ensemble, elevating it and setting it apart from other similar suits.
As important as the right accessories are, it's just as crucial to be reserved when accessorizing.
Yes, it's a complete cliché to say "less is more," yet it's absolutely true!
Add a few special touches to your outfit, but don't force them to compete with each other for attention.
Solid-Colored Dress Shirt
For the most classic (and dressy) way to wear your suit, stick with a white dress shirt.
White goes with all suits and is always the most formal option. It's so clean and crisp that it makes every suit look sharp.
If you prefer a more laid-back look, you can opt for a light blue button-up and still look elegant.
You'll notice that dress shirts are a bit like suits with all the detailing options you can choose. To keep it simple, go with a spread or point collar.
Most dress shirts have barrel cuffs, which are perfectly appropriate. But you can choose French cuffs for your dressier or professional settings.
Avoid breast pockets since those are too casual to have with a suit.
Tie and Pocket Square
A tie goes with a suit like cheese goes with macaroni. Is it required? No, but it's a great fit.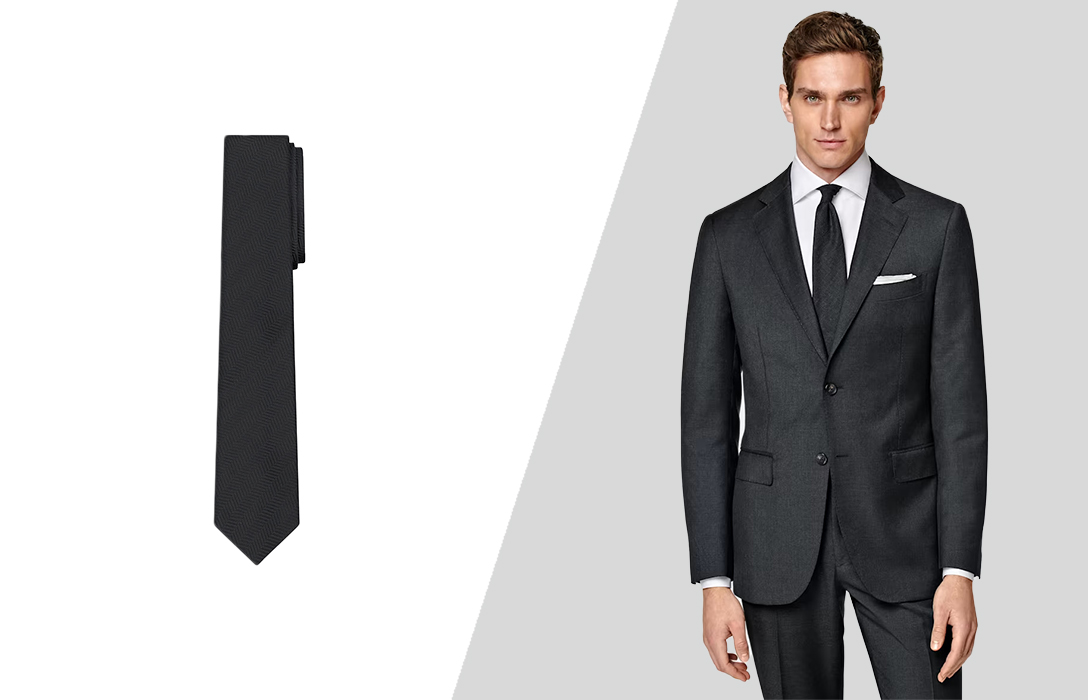 Match your tie with your shirt and suit. You can play up color with your tie by opting for a bold contrast; this works well for more informal occasions.
You can also keep your colors muted by choosing a tie that complements your suit colors or even take a monochromatic approach with the same color.
A pocket square is a sophisticated touch if done well. It's best to avoid matching your pocket square to your tie.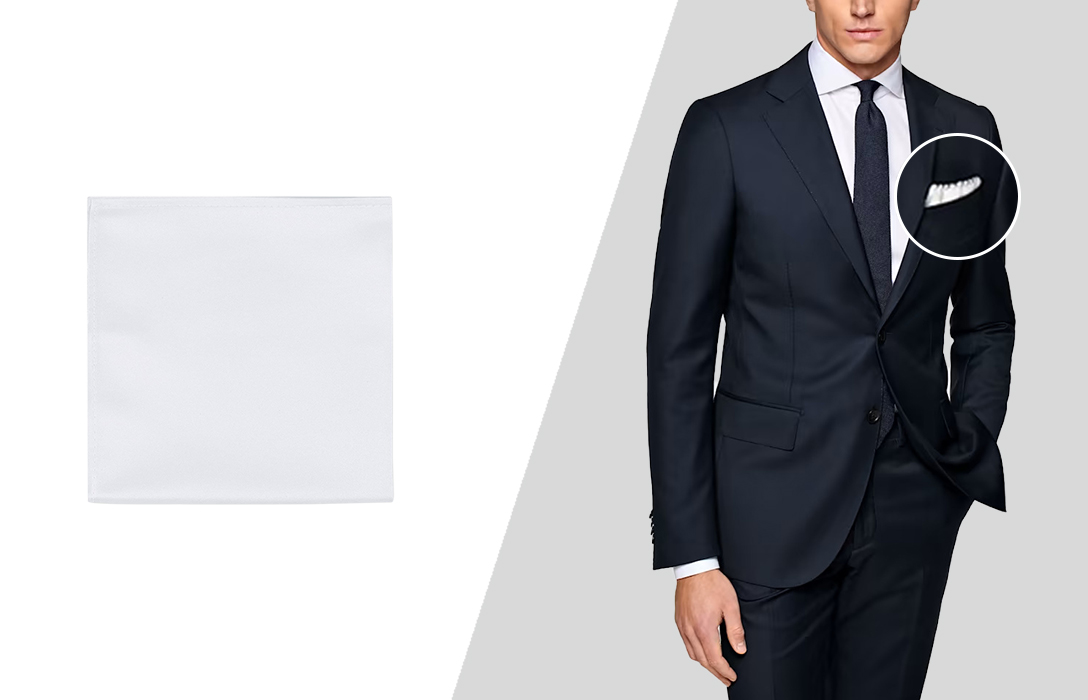 Keep your pocket square a complementary color for a more mature take on the style. Even plain white is a perfect choice for start.
Same Color Shoes and Belt
A sign of genuinely understanding fashion is knowing to match the color of your leather belt and shoes.
The safest and most traditional approach is to go with a black formal belt and black dress shoes.
Brown shoes with a black belt aren't a comfortable match; they will each make the other color stand out in sharp contrast.
Instead, be sure you get not just the color right but also the shade if you're wearing brown.
Be sure you've got a formal dress belt made of thin leather with a small metal buckle.
A conservative dress shoe style is also ideal for styling your first suit; stick with a traditional Oxford shoe.
Complementing Watch
It's a small detail, but a matching watch can make a huge difference in your suit.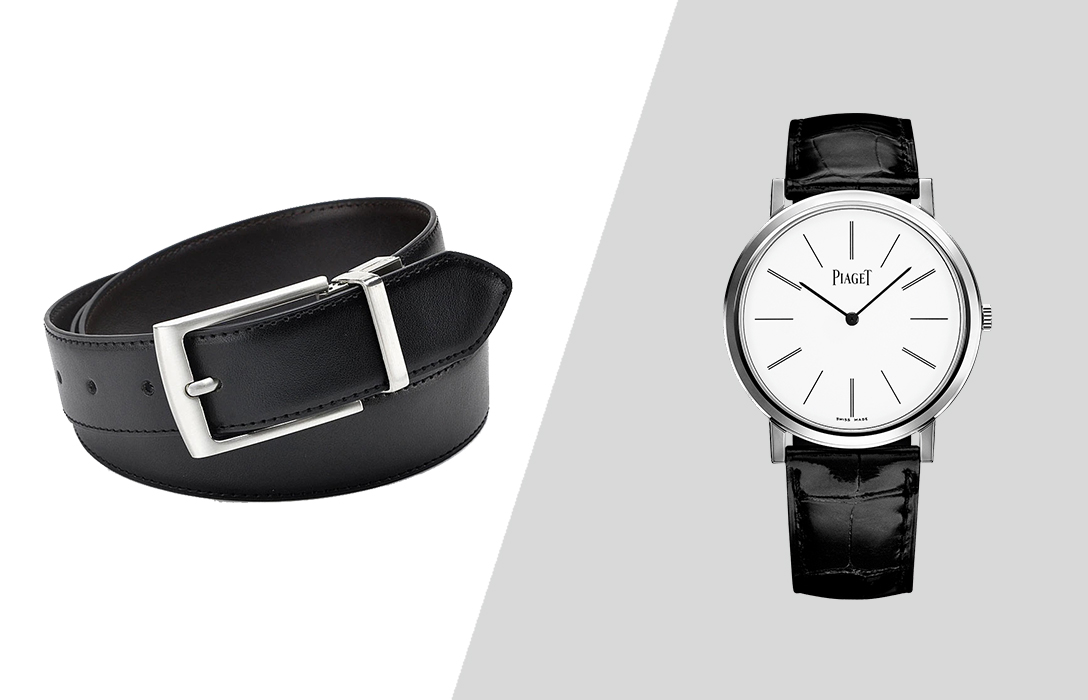 Choose something with a leather band and a simple, unadorned face. Don't forget to match the leather band to the leather in your belt and shoes.
Adding a simple dress watch shows that you are concerned with your appearance down to the last detail.
Matching Socks
Socks can be a really fun way to incorporate your personality into an outfit. However, this isn't the place for that.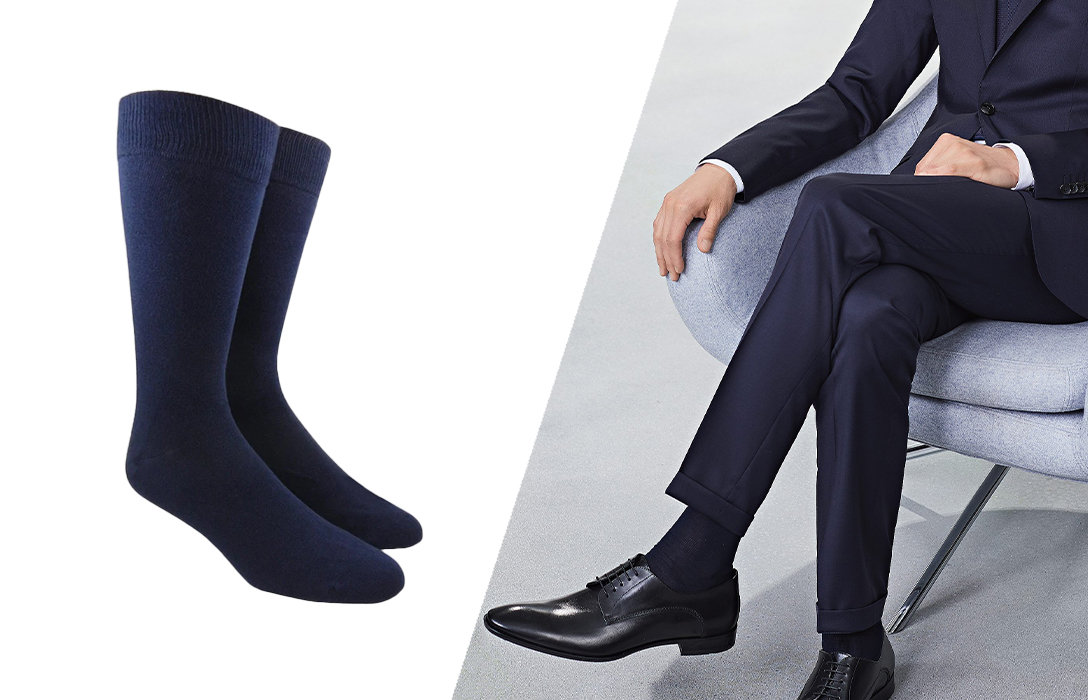 Avoid bold colors and patterns that will distract from the elegance of your sophisticated suit. Instead, aim for dress socks that blend in and are unnoticeable.
Thin, black dress socks are preferable; you can also wear socks the same color as your pants.
They must be long enough that you don't expose any of your skin when you sit. Socks that go up to your calf or knee tend to work best.
Author: Alexander Stoicoff
Hi, I'm Alex, and I've studied and specialized in styling in Rome. Through my writing, I want to help men dress well and learn the purpose and significance of suits and other formal attire. My final goal is to make men more confident in their wardrobe choice and life in general.