With all the rules surrounding dressing in a suit, it's natural to wonder if and how you should wear a belt.
Thankfully, it isn't too complex of an issue, although there are some rules and exceptions to understand.
They say the devil is in the details, and that even includes your belt!
Why You Should Wear a Belt with a Suit
Belts are both practical and fashionable, so they come with multiple benefits.
Aside from its cut and color, a suit only provides a few opportunities for self-expression.
Seeing how choices tend to be limited there, adding a belt is simply another way to enhance your ensemble.
Important: To get yourself familiar with the belt anatomy, check out this guide.
Keeps Pants at Waist Level
A perfectly fitted suit is ideal, but unfortunately, it won't always be one hundred percent perfect.
In those instances where your pants are slightly loose-fitting (perhaps you lost some weight), a belt will prevent them from slipping too low.
That could be very embarrassing, especially in a professional setting.
Belt Loops Without Belt Look Odd
The belt loops on suit trousers are there for a reason. They are inviting you to add a belt!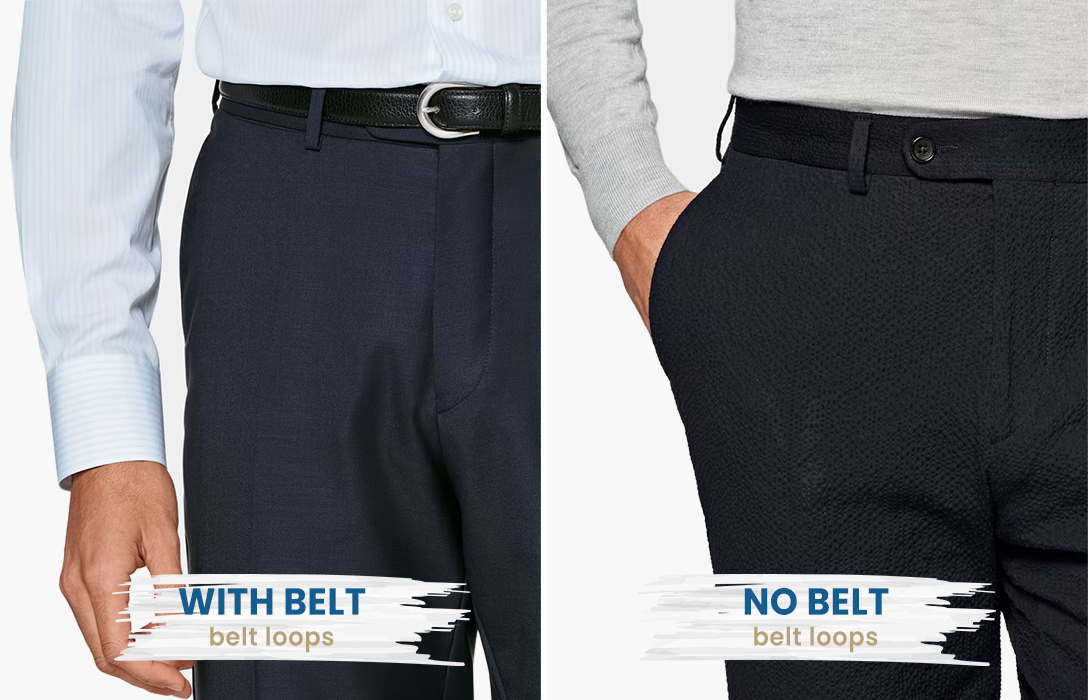 When you don't make use of them, you can end up looking like you didn't finish getting dressed before you left the house or that you forgot to put your belt on.
Great-Looking Accessory
A belt can be a nice match with other suit accessories. It can pull various parts of your outfit to help create an overall thematic effect.
For example, it can tie your shoes and your watch all together, emphasizing your eye for detail.
It also adds polish to your outfit, helping you look put together. The inclusion of a belt shows that you pay attention to details.
7 Tips on How to Properly Wear a Belt with a Suit
Wearing a belt involves more than just slapping a strip of leather around your waist. Did you think there wouldn't be rules?
You can't just slap on any old belt you have on hand; it needs to enhance your suit. However, so many style options, including size, color, and buckle design, can make a man's head spin!
So let's break it down so you barely even need to think twice when you grab your belt.
Wear a Dress Belt with a Suit
Your belt should match the formality of your outfit. In the case of a suit, this means specifically wearing a dress belt. The main feature of a dress belt is that it's constructed from leather.
Don't choose a wide belt; that is a more casual style. It should be thin and subtle.
Likewise, the belt buckle should match the size of the belt. It needs to be small and unassuming. It should also be metal.
Match the Right Belt Size
It may surprise you that belts are not one size fits all.
That's why you should measure your waist before you purchase a belt. Then, when you pick out your belt, you can find the appropriate range size for your measurements.
This can prevent you from ending up with a belt so long that you must tuck it into itself. This isn't a very suave look.
Opt for a Real Leather Belt
Dress belts are always leather. They can be full grain, top grain, or split grain, so long as they are genuine leather.
Full-grain leather is the highest quality. It's also the most costly. Top-grain leather is also an outstanding quality, but it has gone through a refining process.
Split-grain leather is acceptable but should be your last choice. It's relatively low quality.
Faux leather won't last long before it begins to crack; it doesn't typically hold up well.
The Belt Color Matches the Shoes
One of the most prominent rules of wearing leather is that all the leather you wear should match.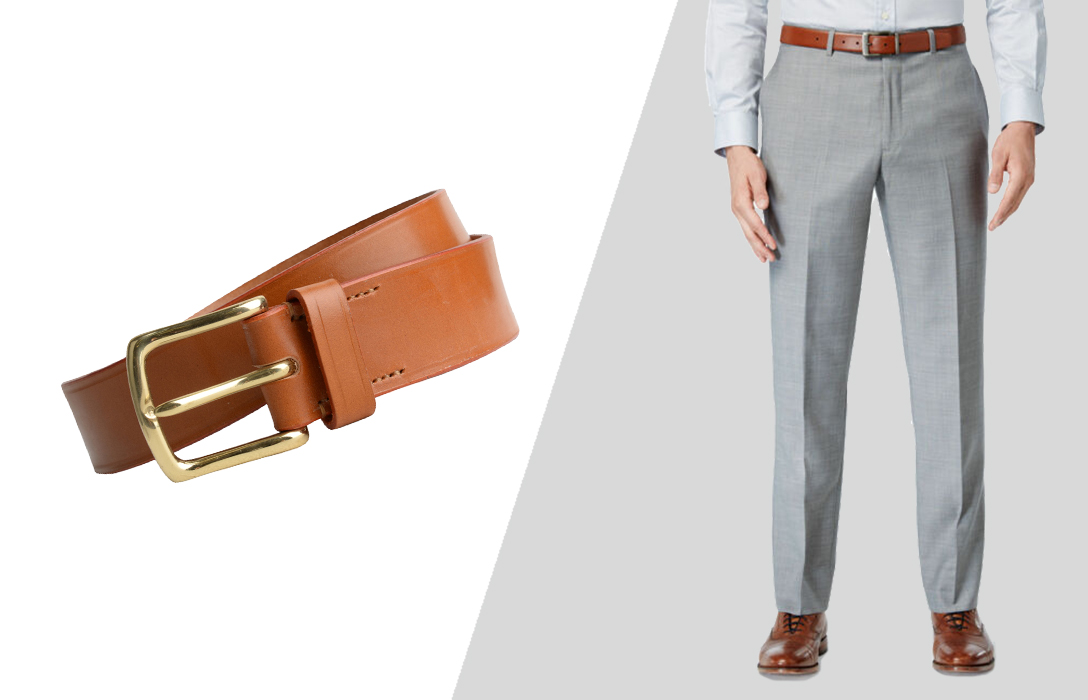 So, for example, if you are wearing dark brown derby shoes, your belt should also be dark brown.
This creates a cohesive element for your suit, conveying how much thought you put into dressing.
Leather Accessories Should Match the Belt's Leather Color
You've successfully matched your shoe and belt colors, but now isn't the time to drop the ball! If you wear any leather accessories, they should be the same color.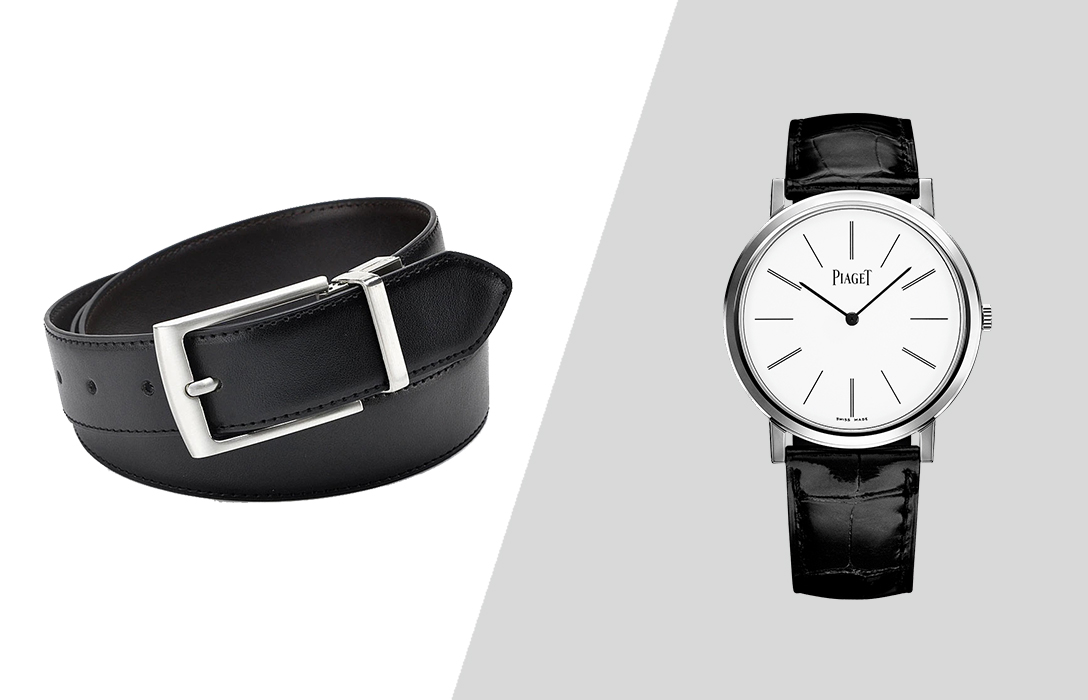 So, if you include a dress watch with your suit, your watch strap should also be dark brown to match your derby shoes and belt.
Metal Accessories Should Match the Belt's Metal Buckle
Check out your belt buckle. If it's brushed silver, don't wear gold cufflinks or a golden tie clip, and vice versa. All your metals should match each other.
Many men understand this rule, but it can be easy to forget to double-check the color of your belt buckle. Don't overlook this detail!
Keep Shirt Tucked In
You should never forget to tuck in your shirt when wearing a suit for many reasons. For starters, it keeps your appearance neat and tidy.
But an untucked shirt will cover up your belt. Why hide this terrific accessory?
Keep the shirt out of the way so others can admire your excellent job matching it to the rest of your suit.
When NOT to Wear a Belt with a Suit
Remember earlier when I said to wear a belt with a suit? Here's the part where we cover the exceptions to the rule. In most cases, yes, include a dress belt.
However, there are some circumstances where a belt will detract from your outfit or, worse, degrade your style.
Thankfully, these situations are pretty clear-cut, so you won't need to think too hard or stress out wondering whether to belt or not to belt.
If You're Wearing a Vest
A vest or a waistcoat elevates your suit's formality, so it would be reasonable to assume that you must also include a belt for formality. However, this is not a great idea.
When you include a vest, it adds an extra layer of fabric around your middle. Putting a belt in that area will make your waist even more layered, which can look awkward.
Rather than creating a thick center across your waistline, just leave off the belt.
When Wearing Suspenders
Suspenders are much like belts: fashionable and functional. Since both are tools used to hold your pants up, you don't need to use both. That's considered overkill.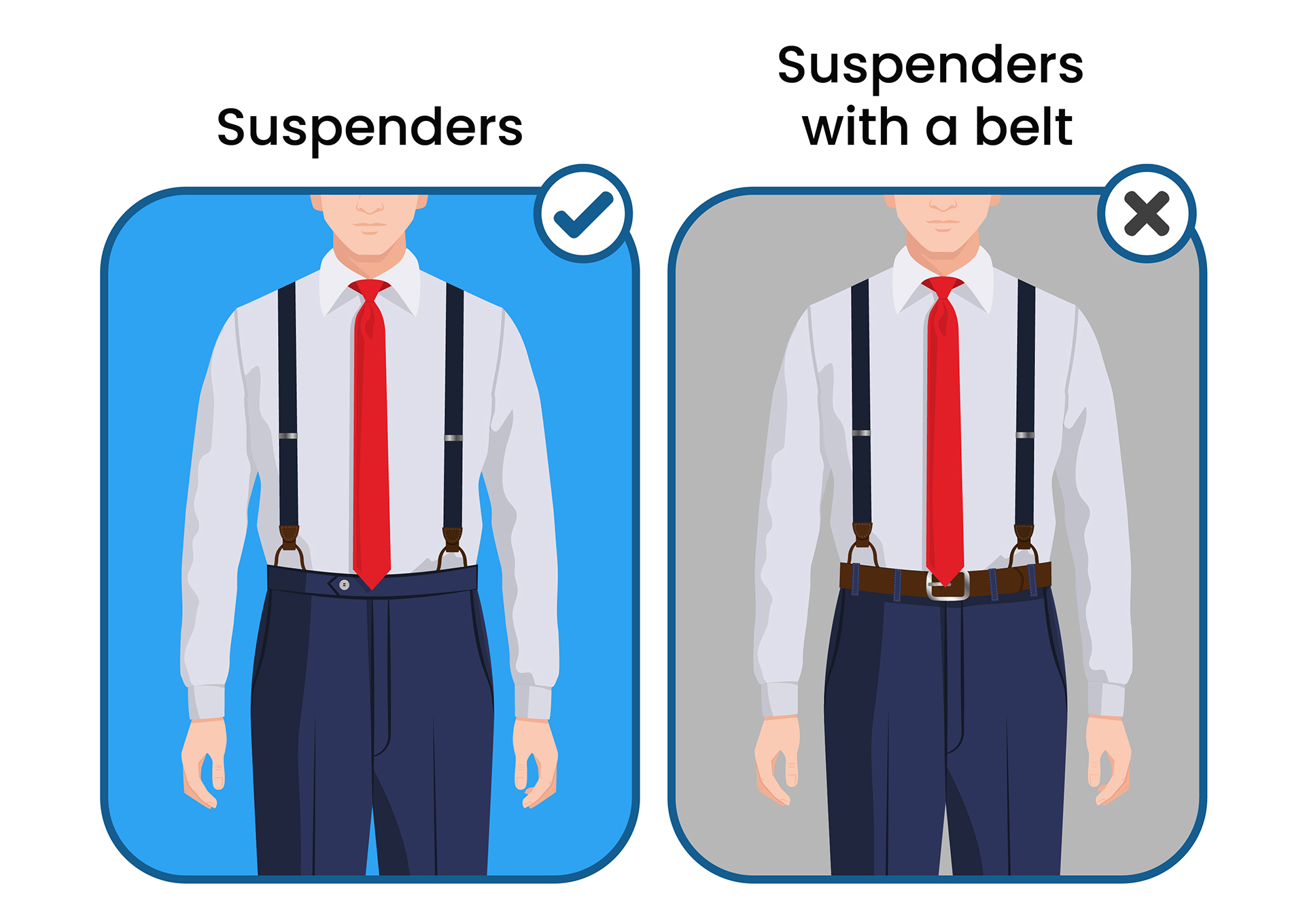 Instead, opt for only one; it will help keep your style clean.
Pants Without Belt Loops
Tuxedo pants are the prime example of pants that don't include belt loops. Instead, they have adjustable side tabs.
You can slide them to fit your waist and keep your trousers in place. Because of these handy tabs, you don't need a belt to do that job.
Also, without loops to hold your belt in place, you risk your belt creeping up over your pants waist.
Author: Alexander Stoicoff
Hi, I'm Alex, and I've studied and specialized in styling in Rome. Through my writing, I want to help men dress well and learn the purpose and significance of suits and other formal attire. My final goal is to make men more confident in their wardrobe choice and life in general.