Wearing a tuxedo is a huge thing. But does wearing an affordable tuxedo make any difference in your overall appearance?
Tuxedos are intended for life's "serious" occasions. A man is already nervous about the event; why add extra stress over clothing?
Rather than worrying about renting a tux every time a significant event pops up, buy your own. That will remove all questions and anxiety about what to wear to formal events in the future.
Did you think you couldn't possibly afford to do that? Think again!
Affordable Tuxedos Price Range & What to Expect
There is an affordable tuxedo for every budget. You just need to know where to look and remember to keep your expectations in check.
Basic: Below $150
You would be amazed by what you can get without shelling out big bucks. Finding quality names that offer tuxedos with simple, clean lines without breaking the bank is possible.
These tuxes won't be perfect, but they will generally do for a couple of events. It is easy to justify spending the money on a tuxedo that you may only wear only once or twice at this pricing.
Keep in mind, though, that you may not have much of a choice about wearing this affordable tuxedo for years and years. This price point may find sub-quality offerings that won't last a lifetime.
In general, you'll find polyester (or polyester blends) instead of wool or velvet tuxedos. The fit may be less than perfect and require some extra tailoring.
Sizing choices may be limited, so give yourself plenty of time to search around.
Intermediate: $150-$300
When you spend a little more dough, you'll be upping the quality of your tuxedo by a notch or two. You can find a practically perfect classic tuxedo at this price point.
More options now open up as far as fit and style go. You also find more amazing color choices: blues, greys, and even prints!
Most tuxedo fabrics in this price range will still be some sort of blend. Usually, you will find polyester and rayon blends, but you can also find wool and polyester blends.
These tuxedos will last you longer than lower-priced tuxedos. If you care for them well, they will likely last you years and get you through the bulk of your formal needs.
Advanced: $300-500
If you know that you will need to wear a tuxedo more than a handful of times in the coming years, I recommend paying closer attention to the tuxedos in this price range.
These tuxedos are more durable and lasting than lower-priced ones and will last you a lifetime. Consider them a good option for black tie weddings or other formal events.
These more highly-priced tuxedos are typically 100% wool or at least a wool blend with mohair or twill.
They also have more attention found in their details. From their buttons to their silk linings to their fine stitching, you will know that you are getting your money's worth.
Top 10 Best Affordable Tuxedo Options
Knowing that there are budget-friendly tuxedos out there that you can own is a relief.
Before you run out and buy the first affordable tuxedo you see, remember that not all tuxes are created equal. Some of these tuxedos stand out above the rest.
Italian Wool Tuxedo by Tomasso Black
This tuxedo looks luxurious and ultra-formal while managing to feel super comfortable when it's on. The fabric feels fairly lightweight for a wool tuxedo, too.
If you are looking for both a trendy and affordable tuxedo, this is a good one for you. It does not have a stripe down the pant leg and comes in both slim and modern fits.
You can find more than just your standard black formal outfit, too. Navy offerings are available for when you feel like some extra fun.
The brand offers these tuxedo jackets with either peak or shawl lapels. Both come with a two-button closure and are fully lined with double back vents on the sides.
The pants come unhemmed and have a split waist construction, which makes alterations a breeze.
Modern Fit Tuxedo by Calvin Klein
The quality of this stunning black tuxedo is immediately apparent. Made from 100% superfine wool, it is only offered in black.
The jacket has a notch lapel, a two-button closure, and side vents. It sports two flap pockets as well as a breast pocket.
The pants are traditional tuxedo pants; they have a satin side braid along the outer seam. There are pockets on the side.
Suspender buttons are sewn inside the waistband if they are a little roomy around the waist.
Classic Tuxedo by Tommy Hilfiger
Calling all dancing "fools": you will love this durable stretch fabric that moves with you while showing off your moves. It's also terribly comfortable.
This black tuxedo's construction is a wool, polyester, and spandex blend. However, it only comes in black.
The only option for the jacket collar is a notch lapel. It is closed by two buttons and has two side vents on the back.
The pants sport a side braid and suspender buttons. They also come unhemmed, so you can be sure to get them the exact length you need.
Modern Fit Tuxedo by Giorgio Fiorelli
If you are looking for a departure from your classic tuxedo, here's a good place to start. Not only can you choose between a shawl or peak lapel, but between several colors.
Blue, burgundy, navy, white, and grey are all on the table. Of course, so is traditional black.
The material is a polyester and viscose blend. The jacket design is standard: two-button closure and double side-back vents.
The pants do not have the formal satin stripe along the outside. They do, however, have an adjustable waist, which is very helpful.
Three-Piece Tuxedo by Adam Baker
Adam Baker offers a staggering range of tuxedo choices. Burgundy, sapphire, cream, white, or black tuxedos are not the only combinations you can browse.
You can also opt for only a colored jacket; indigo, burgundy, cream, and white are paired with black pants, vest, and trim. And since they are made from 100% wool, they are just divine.
The jacket sports a shawl collar and has a single-button closure. Also, vents are again double-sided.
This is one of the few affordable tuxedo options to come with its own vest. It is single-breasted with five buttons. It also has an adjustable back strap for a better fit.
There is no braid or side striping on the pants and no suspender buttons. They come unhemmed, so be sure to have your tailor look at the waist while there.
Slim Fit Tuxedo by Ferrecci
If you are looking for a great-fitting slim-fit black tuxedo, you will want to consider this one. Because the material is 100% polyester, you will pay very little to look this great.
Aside from standard black, you can also get a few other basic tuxedo colors for a less formal event.
A shawl collar is the only option for this tuxedo. The jacket has side vents and only one button.
To round out this slim-fit tuxedo's contemporary feel, the satin stripe has been left off the pants. They do have suspender buttons, so feel free to add a pair for an extra dapper touch.
Peak Lapel Tuxedo by Giorgio Napoli
When you need a tuxedo for a nighttime wedding, this option is ideal.
It is an upscale-looking black tuxedo with nice touches of formality, made of polyester and viscose fabric blend. Because it only comes in black, you are staying in classic tux territory.
The jacket features a single-button closure with peak lapels but flap pockets.
The trousers have both an adjustable waist and suspender buttons, so you have good odds they will fit. They also have the satin stripe down the side, completing the traditional look of a formal tuxedo.
Three-Piece Tuxedo by Braveman
Consider this affordable tuxedo for your next creative wedding event. The viscose and polyester blend is wrinkle-resistant, and heaven knows a tuxedo needs all the help it can get.
You have a solid array of color options, including grey, royal blue, or burgundy tuxedo.
The jacket is slim-fit, and features jetted pockets. You can also choose between a shawl or a peak lapel.
It also comes with a matching vest and unhemmed pants.
Slim Fit Tuxedo by Kenneth Cole Reaction
You have come to the right place for a truly unique black tuxedo. Other jacket color options include a full deep blue, a blue brocade, or grey paisley.
These rare prints for a tuxedo will truly make you stand out among the crowd. The details push this black tuxedo up into the more formal variations of evening wear.
The material is a polyester and viscose blend, so it is a light fabric. The jacket offers either a shawl or notch lapel, two buttons, and welt pockets. It is also fully lined with double side-back vents.
The pants have the standard satin stripe down the outer leg seam.
Two-Piece Slim Fit Tuxedo by P&L
Made from polyester and rayon, this is a very straightforward tuxedo offering. There are a few color options: full burgundy or navy, or a white jacket. A shawl collar is the only lapel option.
This tux includes very few bells and whistles and still manages to look sharp. The jacket is single-closure and has side vents.
The pants are flat-front trousers. They come unhemmed so that you can adjust them to your exact height. You will be dressed perfectly for any formal occasion that comes up!
Best Affordable Tuxedo Brands
With so many tuxedo choices on the market, it isn't easy to know where to focus. Not all brands are created equal.
To be sure that you are on top of your game in both fashion and affordability, make sure you check out these affordable tuxedo brands first.
Hugo Boss
Hugo Boss is a label known for impeccable tailoring and exquisite attention to detail. Your tuxedo will be a perfect cut and fit and luxurious satin trim. You can choose your fit: regular, slim, or extra slim.
Calvin Klein
Calvin Klein tuxedos are very elegant and are of high quality. They are as timeless as they are modern, with high notch lapels. You can also purchase tuxedo pieces as separates.
Tommy Hilfiger
You can't find a more uniquely American brand than Tommy Hilfiger. You will find tuxedo options with either a two-button closure and a peak lapel or a single-button shawl collar. Their tuxedos are a true example of craftsmanship.
Topman
Topman consistently makes it onto "best of" lists for budget-friendly clothing. There are several affordable options in a variety of colors and fabrics. This is one of the few places you will also find a double-breasted tuxedo jacket offering.
Crew
For a pure Italian wool tuxedo, be sure to check out your nearest J. Crew. It is surprisingly well-tailored. You can choose between peak and shawl lapels or between slim fit or classic fit.
Express
A tuxedo from Express is not bad at all for a mall tux! They offer amazing colors, prints, and even fabrics. A velvet tuxedo? Sign me up!
Perry Ellis
Consider a tuxedo from Perry Ellis if you are attending a destination wedding; it's wrinkle-resistant. Their polyester-blend tuxedos look totally sleek and smart.
Tomasso Black
Find options on just about every tuxedo aspect: polyester blend or pure Italian wool, for example. You can then decide if the fabric should be navy or black. You will also even have a choice between a satin stripe or no stripe on the pants.
Kenneth Cole
Kenneth Cole is another label that offers a wide range of tuxedo choices. Here, you will find elegant colors for your formal wear, such as blues, greys, and blacks. This is a good purchase for weddings and proms.
Bonobos
Their signature Italian Wool tuxedo is offered in black and navy and also comes in extended sizes. You can shop online or visit their Guideshop for help with getting your measurements just right. If cash is a little tight, Bonobos will allow you to purchase your tuxedo in monthly payment installments.
Things to Consider When Buying an Affordable Tuxedo
There is no one all-around perfect tuxedo. Every occasion is different, and everybody is shaped differently. That's why we need choices in our formal wear.
You need to know what questions you should be asking when making such an important purchase as a tuxedo. If you keep these crucial points in mind when shopping around, you are bound to make the exact right decision.
Don't forget to bring your bow tie with you. It will have to match your tuxedo accordingly!
The Fit
The most important thing to be sure you do when buying an affordable tuxedo is to make sure it fits well.
It must be sleek. There should be no extra fabric hanging or dropping off your body. Also, the jacket should be snug but not pulled when buttoned.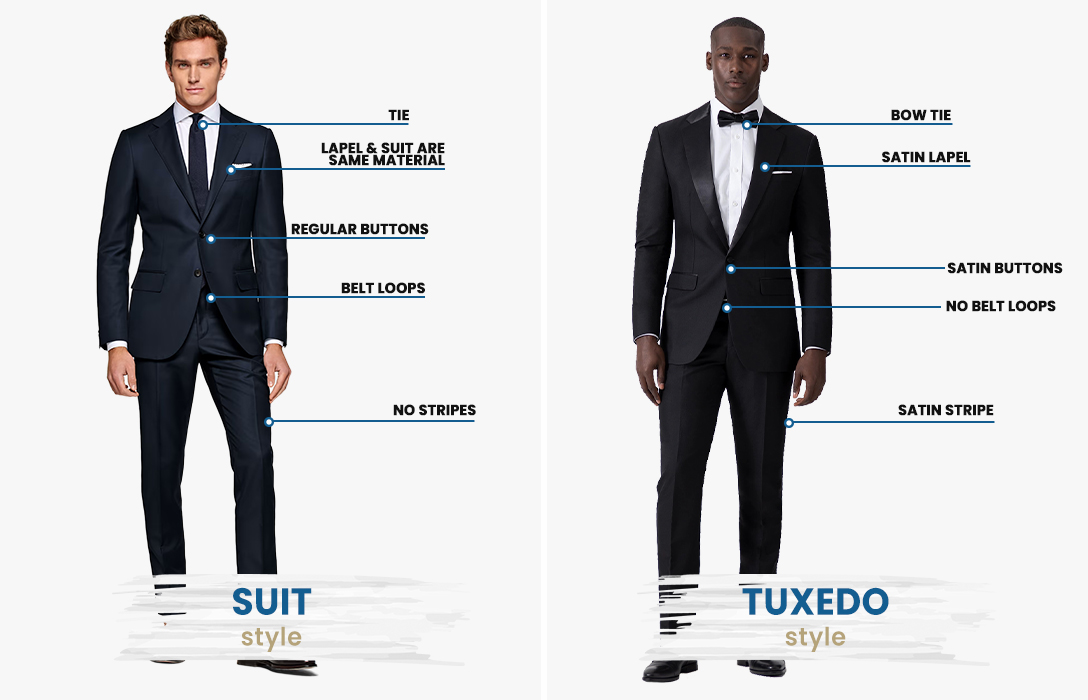 Tuxedos, just like regular suits, come in a few different cuts and styles. You can opt for a cut that will flatter your body shape and maximize the way your tuxedo fits.
A classic fit means that you have a bit of breathing room in the chest of your jacket. This is thanks to wide shoulders. The jacket also hangs a little bit lower. Overall, this is the most relaxed cut for tuxedos.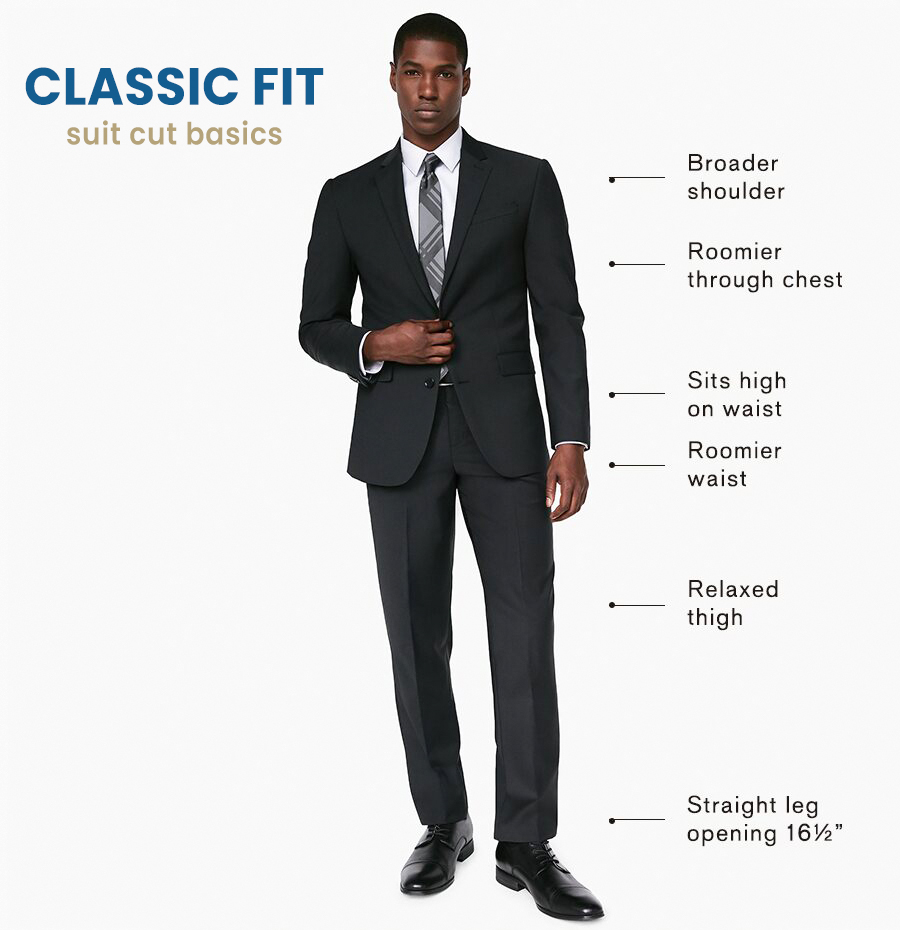 Slim fit is a trendier and more modern tuxedo fit. This is a more tailored option than a classic fit. It is tighter but not so tight to create difficulties in the movement.
Also, the bottom pieces of the jacket are tapered to create a wide-shoulders effect.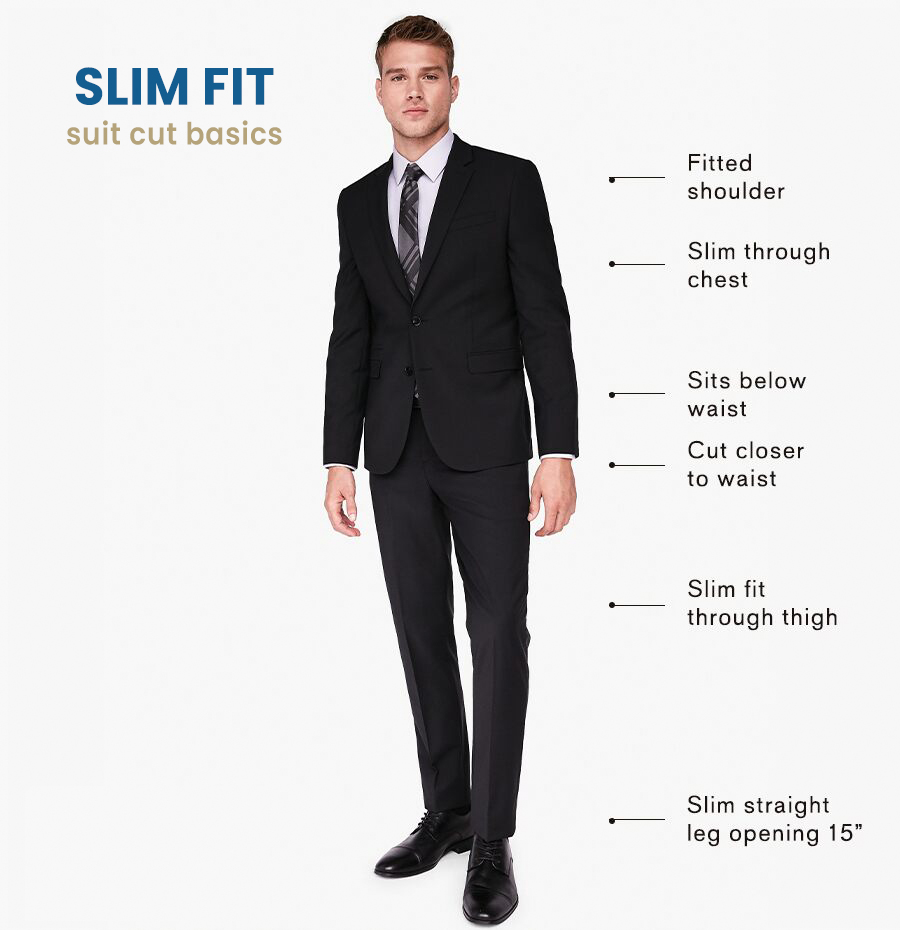 Designers sometimes offer extra slim fit. It is exactly like a slim fit, only…slimmer.
The Occasion
When deciding on a tuxedo to wear to a black tie event, weigh the importance and seriousness of it.
If it is a wedding, you will want to opt for the most formal tuxedo you can get. Especially when the invitation specifically states "Black Tie".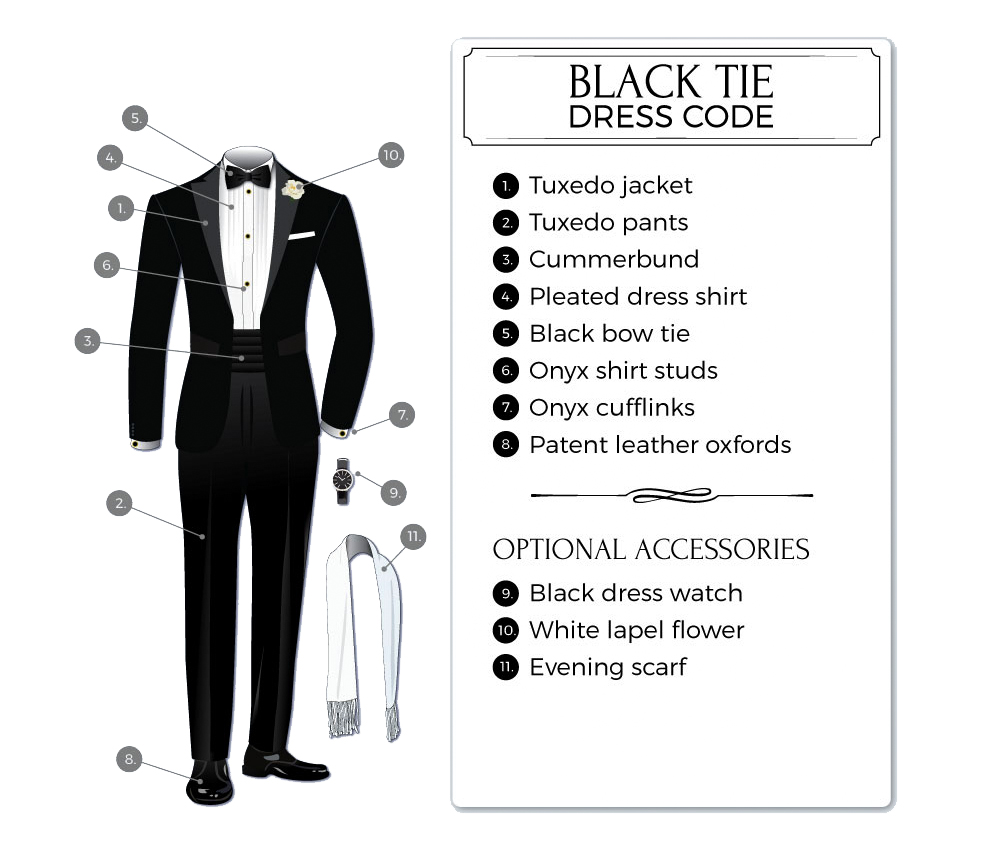 If you are going to a prom, a formal anniversary party, or a gala, you may be able to get more creative. Still, wearing a bow tie with your tuxedo might still be necessary.
If an invitation says "black tie creative" or black-tie optional, you have some room to play. These are great opportunities to try out some color or funky fabric.
The Fabric
A top-of-the-line tuxedo will be made from the finest 100% wool. Italian wool is considered one of the finest materials for affordable tuxedos under $500.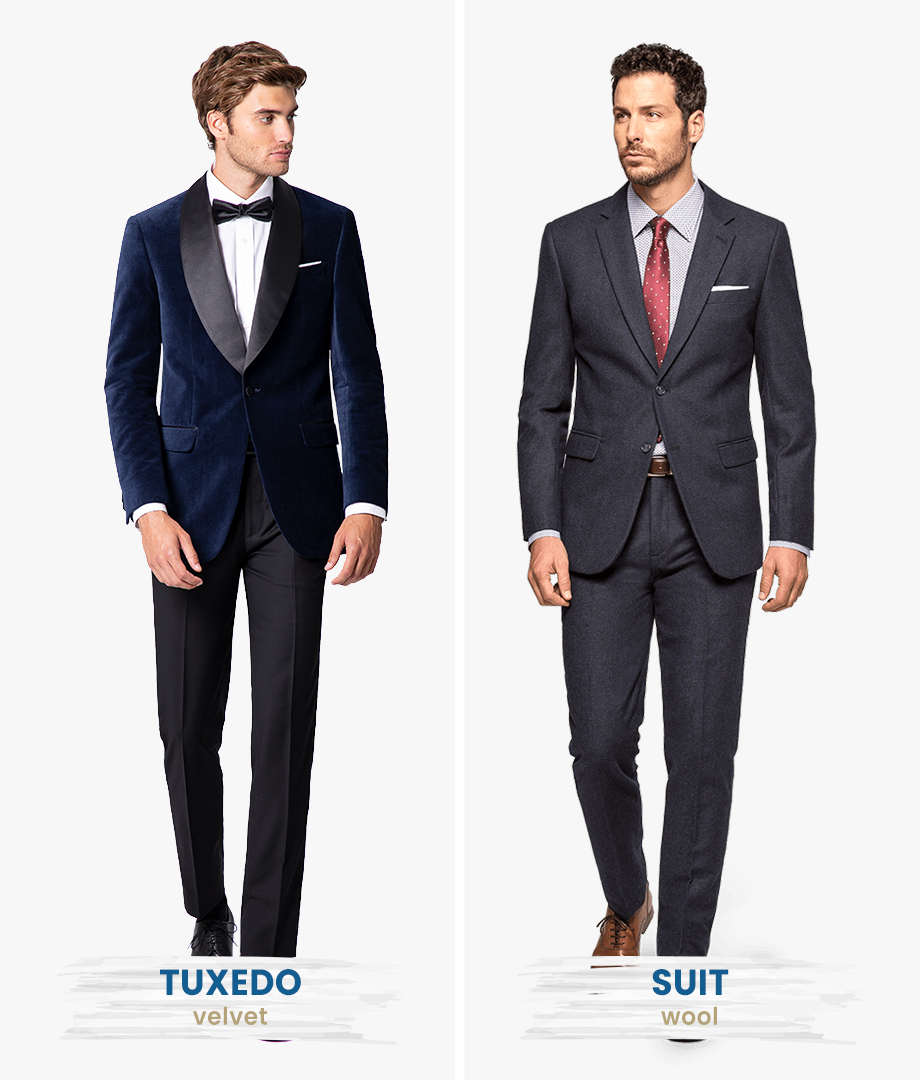 Depending on the time of year, you may want to find a light wool blend. Warm weather will be even more uncomfortable in heavy wool.
If the event is not super formal and the weather is cold, that is the perfect time to wear a velvet tuxedo!
The Lapel
There are three styles of tuxedo jacket lapel: notch, peak, and shawl.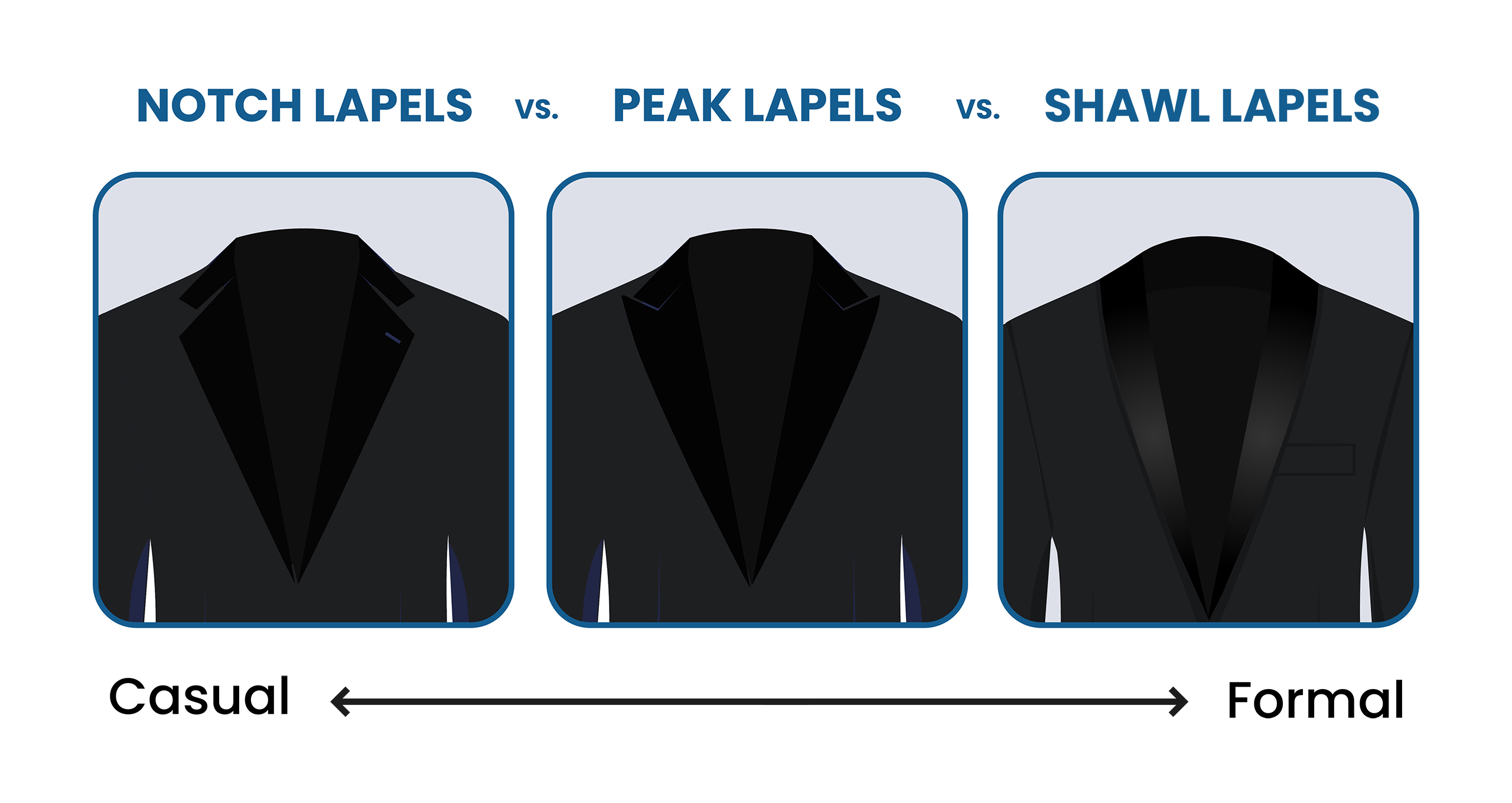 A peak lapel is the most formal style. It points out and up toward the collarbone. Thus, forming a peak.
A shawl collar is the most common type. The wider the shawl collar is, the more formal the style is. A trendier look these days is a thin collar.
Notch lapels are the least formal. This style is the traditional type of lapel on common suits. Because it is so ubiquitous, this lapel should be your last choice.
Pocket Style
Tuxedo jackets come in two common types of pockets: flap and jetted.
A jetted pocket hangs inside the jacket instead of on the outside. It is cut into the lining and is only accessible through a slit in the jacket. It is the most formal style of pocket.
Flap pockets are very similar to jetted pockets, except they are closed over the top with an extra piece of fabric.
Author: Alexander Stoicoff
Hi, I'm Alex, and I've studied and specialized in styling in Rome. Through my writing, I want to help men dress well and learn the purpose and significance of suits and other formal attire. My final goal is to make men more confident in their wardrobe choice and life in general.