It is easy to match your watch to your suit if you know where to start.
What you need first is an elegant suit that looks like a million bucks. You went to great pains to pick out the perfect pair of shoes for your suit. But one thing is still missing: the perfect watch.
The right watch can effortlessly pull together your entire look. Without it, your attire seems incomplete.
Although the term "right watch with a suit" has an ambiguous nature, the choices are pretty straightforward when it comes to suits.
In this guide, I will help you pick the ideal watch for your suit based on the occasion, color, and size. But first, you need to know some basic rules for accessorizing.
Watch Basics: Things You Need to Know
There are many factors to consider when buying a watch. Before you do, there are a few things you need to know.
Don't let all your options overwhelm you. We are here to help you make the best choice for your needs.
Best Watch Styles for Suits
When you wear a watch with a suit, it's easy to feel discomfort or a certain distaste for the choice.
That's because, just like with suits and shoes, there are different kinds of watches. There are several varieties and styles to choose from, and each one sends a message about its wearer.
Dress Watches
The right dress watch is a must-have for completing your formal outfit or your wedding attire. However, the best way to match your watch with a suit is to keep the design simple, with no flourishes.
A plain black leather strap and an unadorned face are understated and refined, just like your dress wardrobe should be. The idea is to have your watch complement your suit and not stand out, attracting attention.
The watch should have minimal adornments and no complications. A leather strap is a classic option for a dress watch. Besides, it looks nice when you pair a suit and leather.
Diving Watches
Diving watches are an adventurous timepieces. There is a reason that this is James Bond's choice to adorn his wrist.
Diving watches create a rugged look, a classic workman's choice for a watch with a suit. They are sporty and casual while still being stylish.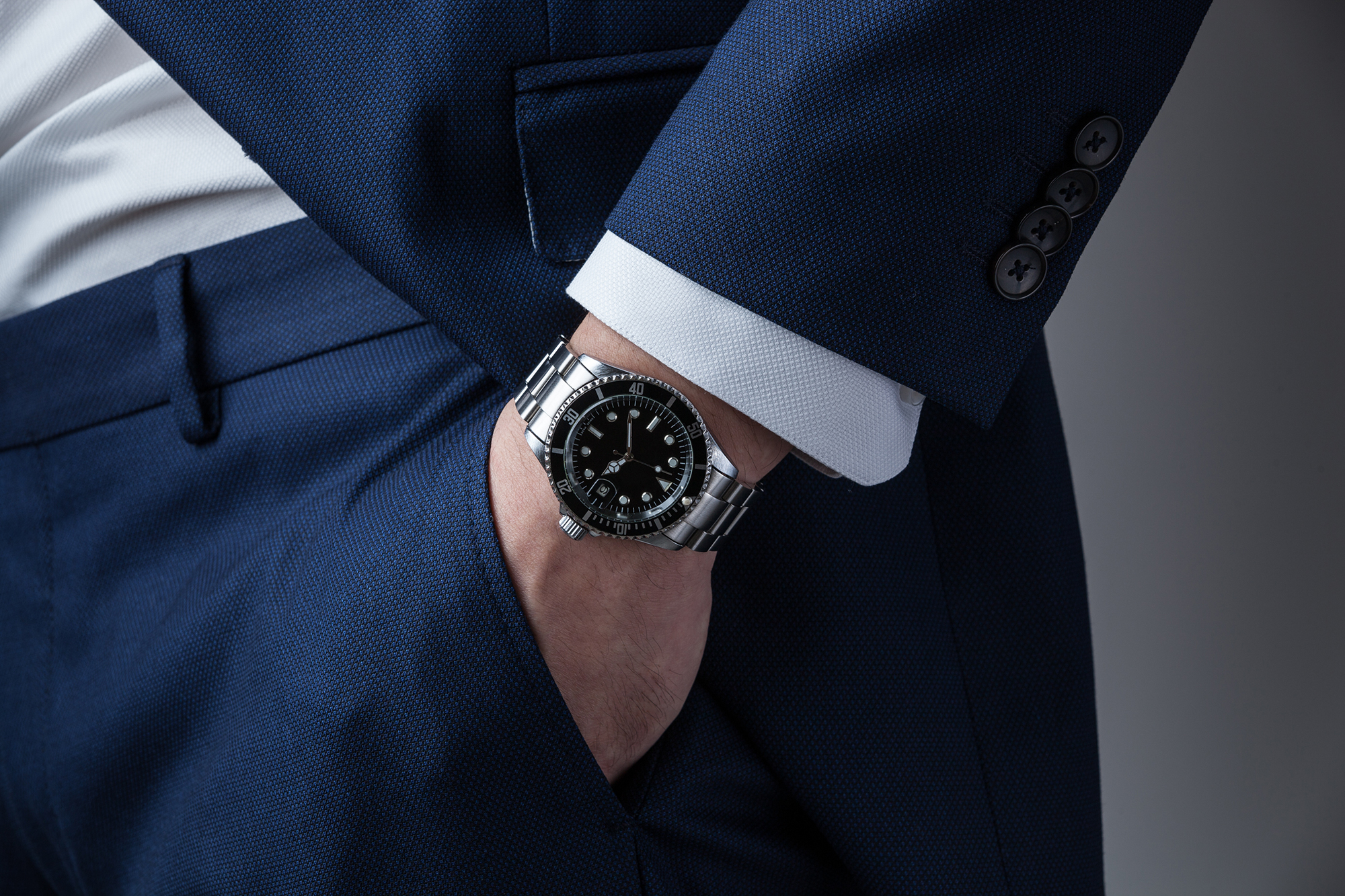 Diving watches are waterproof, so they are easily identified by their metal band. Their luminous hands and dial are standard feature.
Aviator Watches
Aviator watches, also called pilot watches, are classy-looking watches that will bring style to all your more casual outfits.
These types of watches usually do not have any complications other than perhaps a chronograph.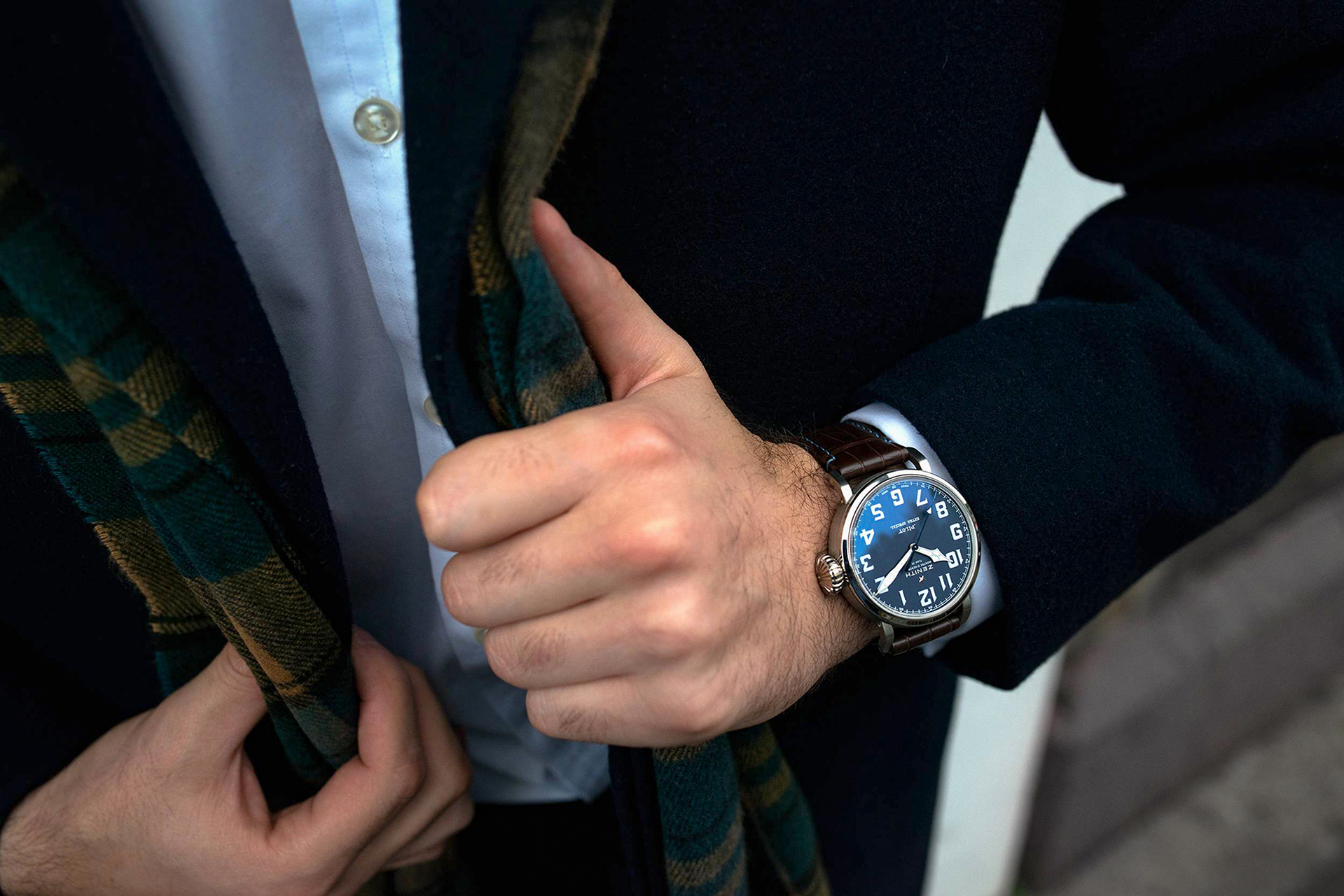 Designed with pilots in mind, they are meant to be easy to read, so they must have a large face. Aviator watches are intended to be worn over the pilot's jacket, so they tend to be medium to large-sized.
They are, in fact, casual watches. When wearing an aviator watch with a suit, you're purposely adding a casual element to your formal attire. However, aviator watches' look can vary with each watch; there is no one standard design.
Chronograph Watches
Leading an active lifestyle? A Chronograph watch is the right piece for the job. Chronographs are very durable watches, and they almost always include a stopwatch or some other functionalities.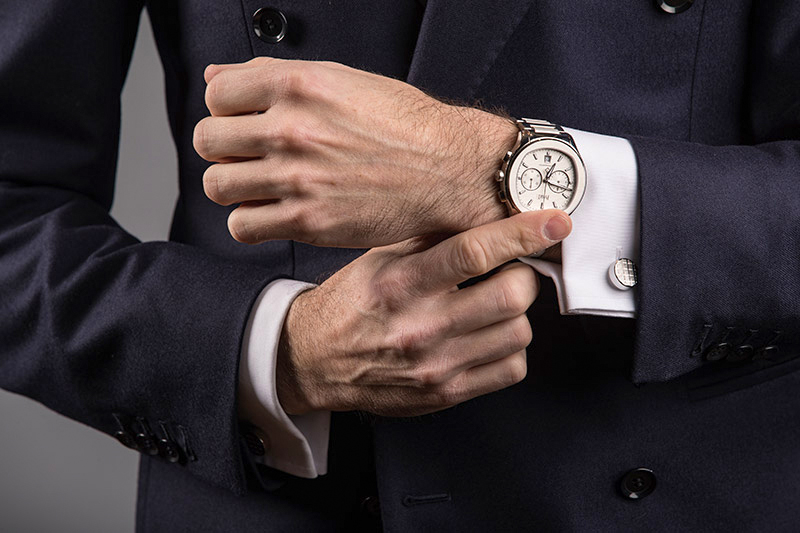 Chrono watches can have both leather or metal bands. Each of these offers some very sleek versions that can look rather dressy. Still, these are strictly for casual occasions.
When matching a Chrono watch with a suit, you instantly reduce the formality of your outfit. Will I do it? Probably yes. On a formal black-tie event or with a wedding suit? Never.
Smartwatches
This category of watches is the least dressy of all options. It is less of a watch and more of a high-functioning piece of technology that makes calls, sends texts, and has apps on it. Oh, right… it also tells time.
Smartwatches did initially not try to look stylish. They pretty much looked like the computer that they are, just sitting there on your wrist.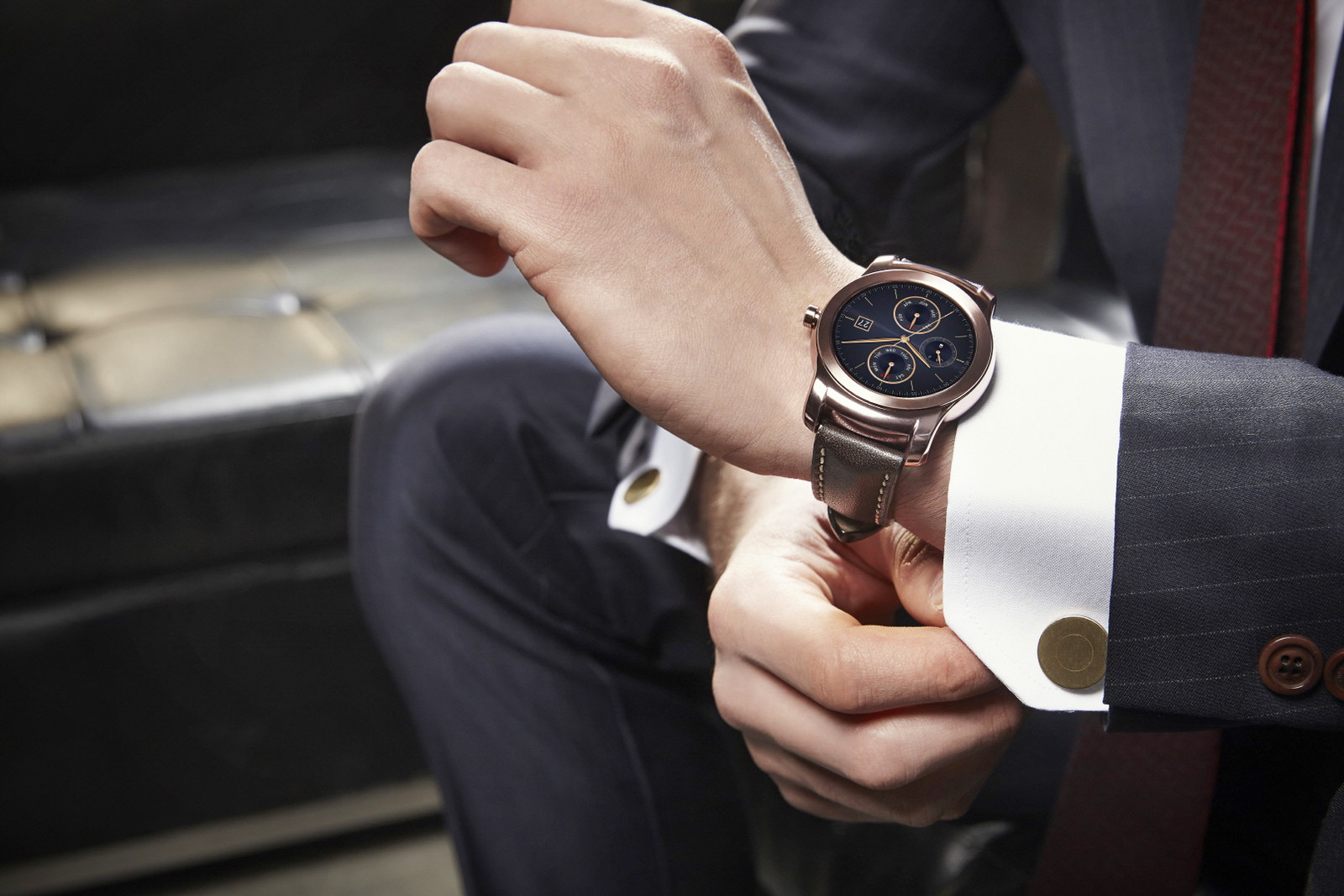 Now that they have been around for a while, they are becoming more advanced and more attractive. Some are very nice looking and totally appropriate to wear with your suit.
Different Types of Watchbands
Watchmakers have particular styles in mind when they design their products. They make precise decisions about what type of band to attach with expectations of how formal the watch should be.
Be sure your watchband suits your purposes.
Leather Watchband
Leather is the most formal type of watchband. It is sleek and simple yet versatile. Leather is suitable for dressy occasions but also works well for casual settings.
It is not a watchband that is meant to stand out and be noticed, but rather to quietly support the suit.
Metal Bracelet
A bit of shiny metal around your wrist can look pretty sleek. Silver or gold watchbands can be dressed up somewhat, but they're fine for a casual look.
A bit of gleam is a nice complement to a dark suit. As a bonus, the metal feels good against your skin.
Canvas Watchband
Canvas is a very durable material while being lightweight at the same time. This style was taken from the military, where durability is paramount. Canvas bands are great for function; they are utilitarian.
Wearing a watch with a canvas band is always casual, ideal for somebody who is very active. It cannot be dressed up and should be avoided with a suit.
Mesh Watchband
Mesh bracelets are tightly woven metal straps. The denseness of the construction can vary from extreme density to large links.
Although they are not the most durable ones, mesh watchbands are one of the most desirable ones nowadays. Wearing a mesh watchband watch with a suit can be a trendy option, especially for younger suit-wearers.
Sport Watchband
A sports watchband can be made from rubber, silicone, or nylon. It is made for rough wear, to do all kinds of sports and activities. This watchband can take a beating.
Keep in mind that this watch's style is only for the most casual wear and should not be worn with suits. But it's worth knowing it.
Match Your Watch By Dress Code
There are certain shoes that you would never dream of wearing with a tuxedo. Try imagining wearing flip-flops with your formal wear. Yuck, right?
Watches are the same way; certain watches would never go with a tux, either. In short, here's an infographic on how to match your watch with each dress code: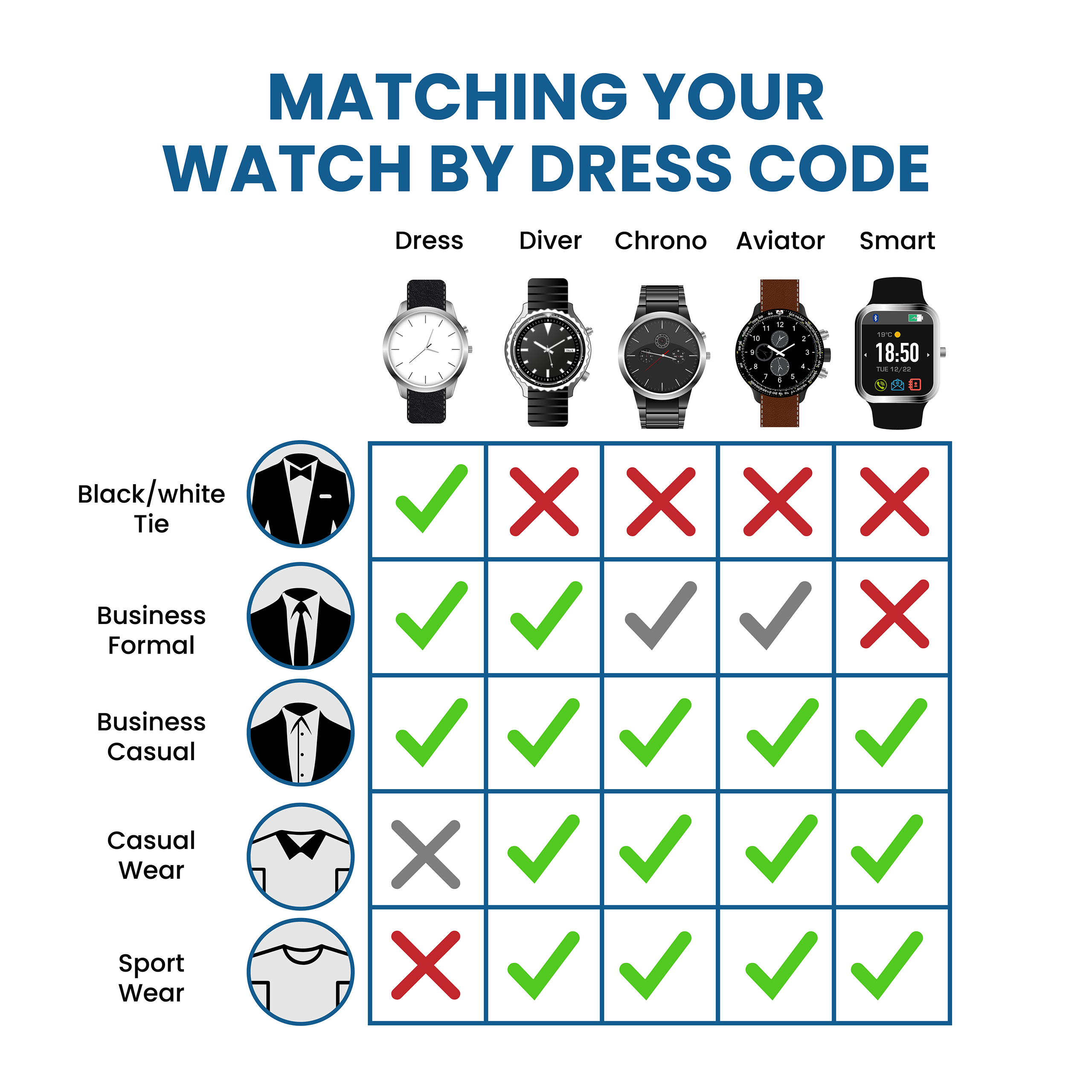 I know what you are thinking: "But James Bond looks smashing in a tux while wearing a diver watch!" Yes, he does. And you are correct to notice that his Diver watch can have a metal bracelet instead of a leather strap.
How can James Bond get away with failing to match his watch to his suit? It's because 007 has unbelievable confidence in everything he does.
If you think you can raise to the Bond's insane level of confidence while wearing a tux, then go for it! Wear that diver watch with a suit or tuxedo.
You can have diversity in which bands you choose and opt for more features. Not all styles match all dress codes, but there are watches for each level of formality. Let's review each one by one!
Black Tie and White Tie Events
Both black-tie and white-tie events are considered the most formal occasions one can attend. They require the highest of dress code formalities as well.
A leather band dress watch, ideally black, will best match your formal black-tie suit. A formal dress watch does not have a lot of work to do, so it should be straightforward.
It has to be very thin and sleek; anything bulky will only draw attention away from your impeccable clothing. It should be practically unnoticeable.
Business Professional Suits
A dress watch or a diver watch will match your suit in professional situations. Again, in this instance, simple is best. It doesn't need any complications.
Professional settings are not the time to advertise your adventurous personality. Your business attire has to be simple and clean.
The watch needs to sit smoothly under your dress shirt sleeves, so it must be thin. No bulky face here.
Semi-Formal Suits
A semi-formal dress code offers slightly more leeway in sartorial options. Just as your clothing has more room for interpretation and personality, it makes sense that your accessories do, too.
A casual watch would never do, but some more casual touches on a nice-looking watch are fine.
Both aviator and diving watches would easily match your suit while maintaining a sense of style. They can have either a leather or metal strap.
Business Casual Dress Code
Your business casual attire might not require a suit. However, a nice suit jacket or blazer can often be the preferred choice. Matching your watch with it is just as important.
With wide interpretations of what is acceptable for business casual, we have a wide variety of watches that will match.
You still want a good-looking, top-class watch with a suit jacket. Chrono, aviator, or diving watches are all excellent options.
This is an excellent opportunity to introduce a bit of personal flair to your look, and these look interesting. Metal, leather, or even canvas bands are all perfectly fine with a business casual outfit.
Watch Size
Determining the right size is one of the crucial elements in finding the perfect watch. It's dependent on your body type in a way that a larger arm frame requires a larger watch.
One of the most noticeable elements is the watch case. Usually, most men's watches vary from 34mm to 46mm.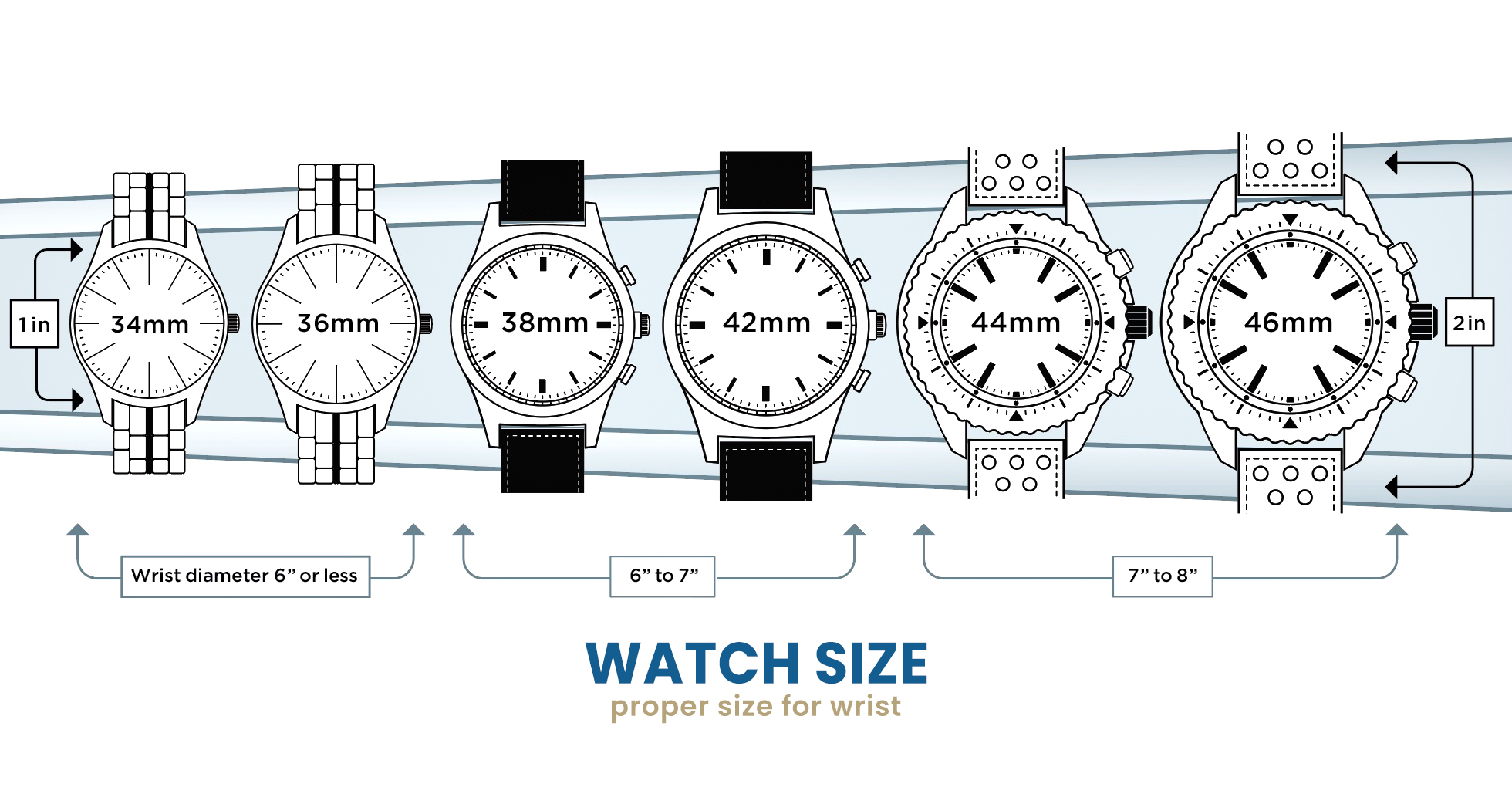 Most of the watches that are reserved for suits have a 40mm-44mm case diameter. However, some dress watches can be substantially smaller.
Most men's wrists fall between 6-8 inches. If you measure your wrist and it's 7 inches long, a 42mm case width might be perfect.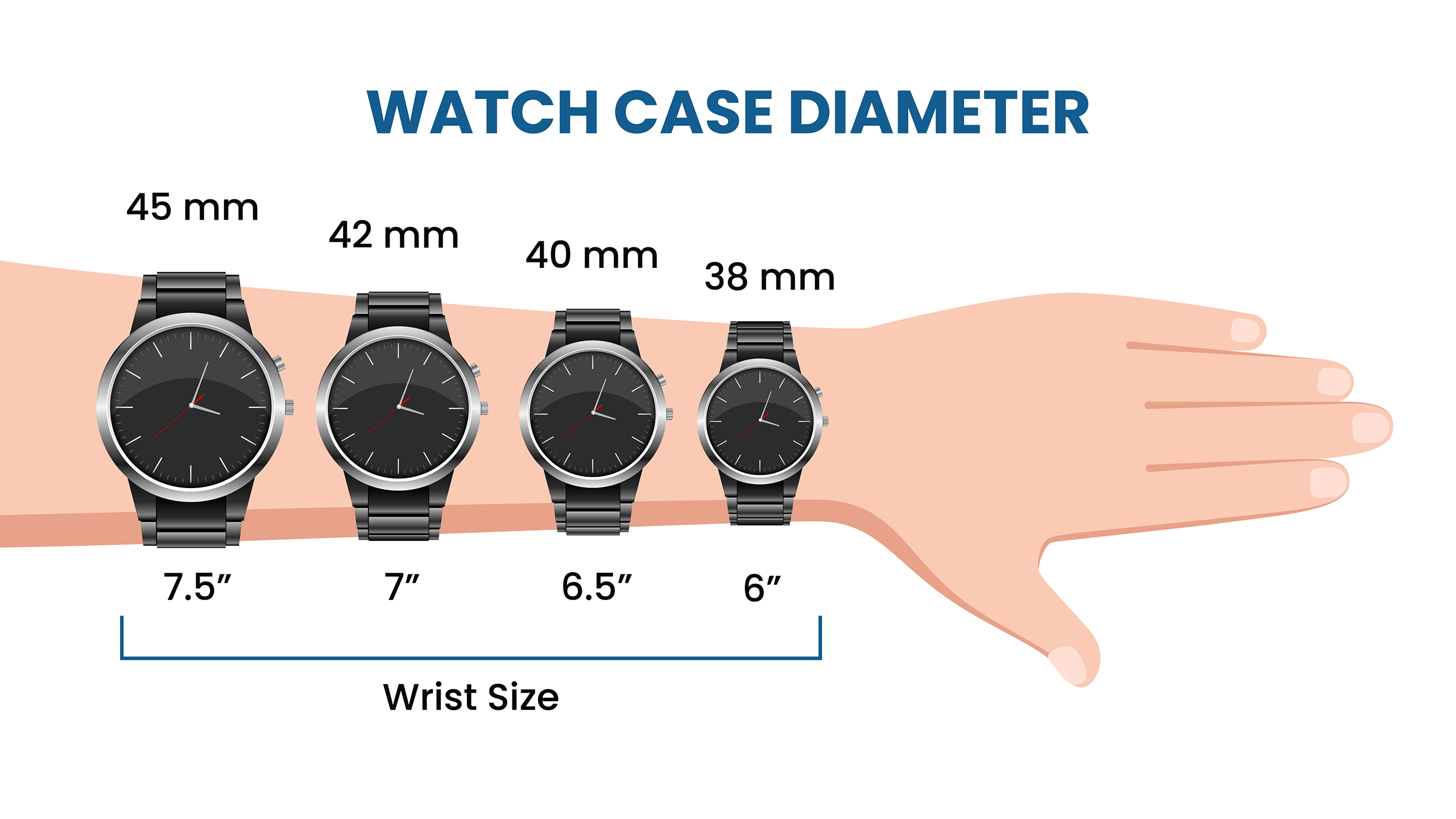 The strap width depends on the case width. In most cases, the strap's width is half of its case diameter, making this proportion a standard at most brands.
Watches to Wear with Different Suit Colors
The attention you put into the details is what will make your suit stand out. Matching your watch to your suit color is one of the most important details.
Black Suit
A black suit is the easiest to match your watch to. Your watch should be as classic and simple as this suit is. A black leather strap looks stunning next to your jacket.
And since your shoes and belt will be black, it pulls it all together. A silver metal bracelet dresses it down a bit, but if that is acceptable for the occasion, go for it. It looks dazzling next to the black.
Navy Suit
Navy is another tremendously popular suit color. It is elegant, so it needs a sleek watch to accessorize it. Silver would make a striking contrast with this warm shade.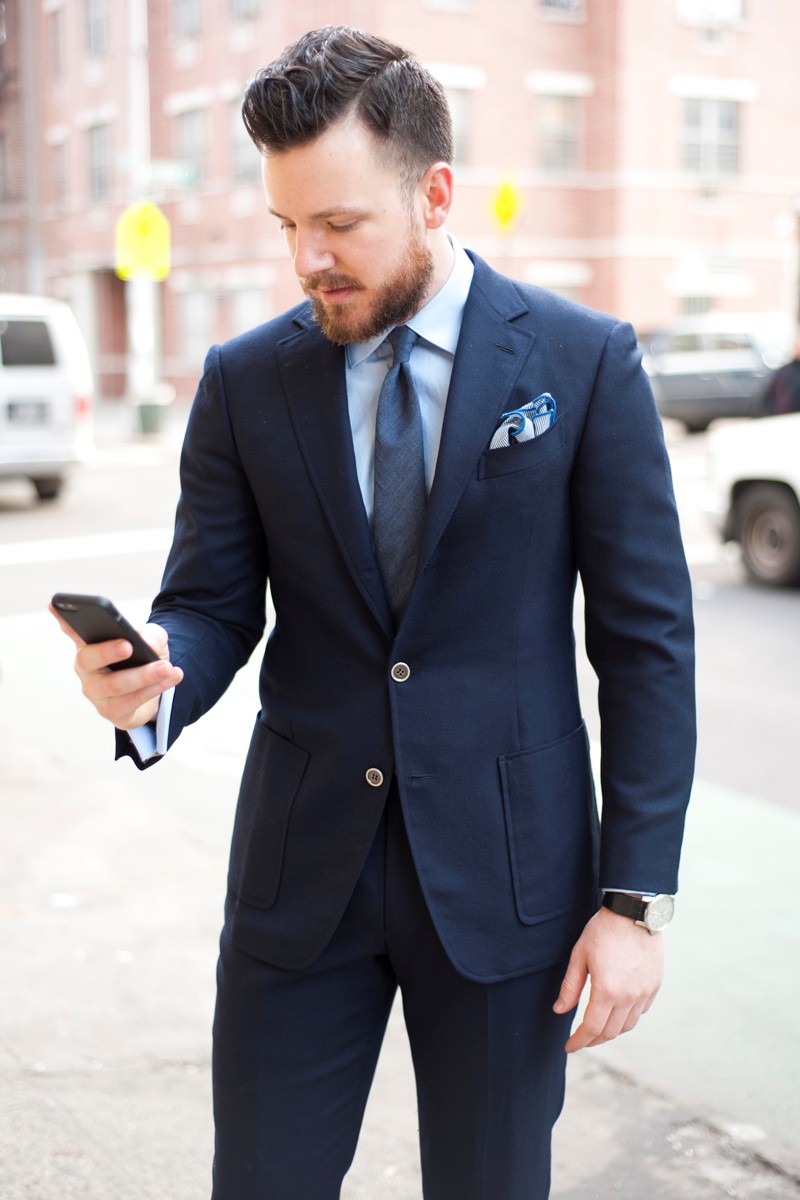 I suggest a watch with a navy face for a little pop of color on your wrist. Black leather would also pair well with a navy suit.
Blue Suit
Blue can be a slightly trickier color when matching your watch to the suit. First, you need to decide which accessories you will wear with the suit.
Depending on your shoes, either black or brown leather would be a fine choice.
I recommend avoiding a silver case with a black dial. It is too cold against the blue of the suit. However, you may find silver steel cases with blue dials quite appealing to these suits.
Grey Suit
Grey suits come in many hues. There is no one perfect piece of advice on how to match a watch to this suit. But if anything is working in all cases, it's this:
Choose lighter watches if your gray suit belongs to the lighter color spectrum. Preferably a white dial case with a light-brown leather strap.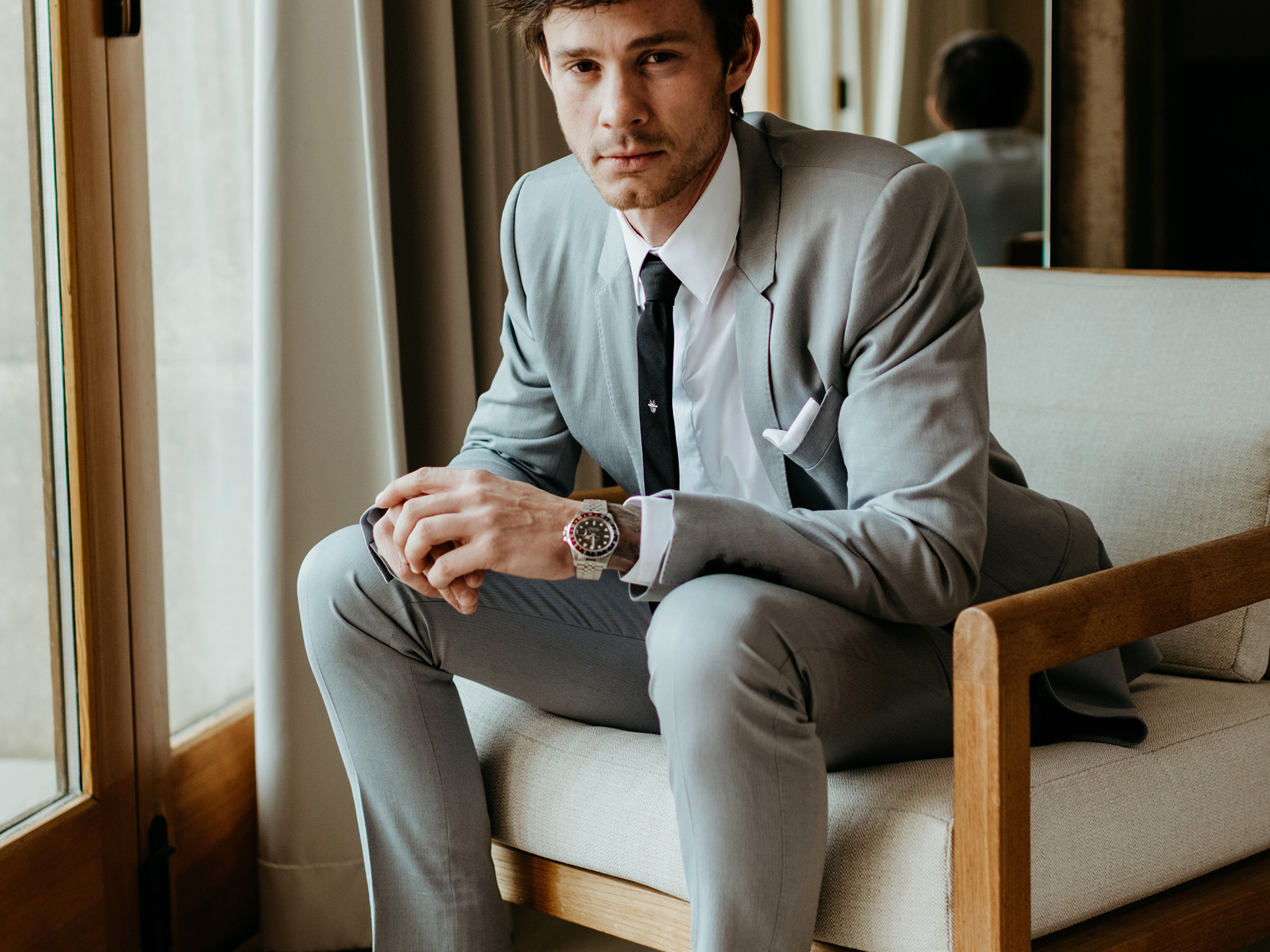 On the other hand, choose dark dial cases if the suit's shade is dark grey or charcoal. In case you prefer white, my warmest advice is to pick nothing but a white dress shirt.
Black leather and silver are timeless and are a good match no matter which tones your gray suit is. Don't forget to consider the metal in your belt buckle if you opt for a metal watch.
Brown Suit
Warm shades are best suited for a brown ensemble. Leather straps of brown create a beautiful monochromatic style. Gold bracelet bands are another warm-hued option that will nicely match a brown suit.
Beige/Cream Suit
It may seem daunting to try to match your watch to this rare suit color. Again, leather bands are good solid support for this suit color. Both black and brown look sleek with this suit.
Gold works, but rose gold would soften the tone a bit. It would be a very sophisticated, subtle complement.
Best Affordable Watches That Go Well With Suits
Building a stylish wardrobe is costly. Suits can be quite expensive. But they are the center of attention; it is only reasonable that you allot most of your wardrobe budget there.
It would be best if you still accessorize but can do so affordably. There are many stylish, affordable options out there. These watches will save your budget, all while looking good.
Here's my list of the top 10 affordable watches that go well with suits:
Watch

Image

Case

Case Width

Strap

Strap Width

Tissot Carson Premium




Check Price

Swiss quartz movement
Stainless steel
Sapphire crystal
Thickness: 7mm


40mm

Water resistance: 165 ft.

Leather
Optional: Metal

20mm

Seiko SUP880




Check Price

Japanese-quartz movement
Solar power source
Thickness: 6.1mm

28.5mm

Water resistance: 100 ft.

Leather

22mm

Nordgreen Native




Check Price

Japanese quartz movement
Stainless steel
Thickness: 7.2mm


36mm
40mm

Water resistance: 100 ft.

Leather

18mm/20mm

Fossil The Minimalist




Check Price

Quartz movement
Stainless steel
Thickness: 8mm

44mm

Water resistance: up to 165 ft.

Leather

22mm

Emporio Armani AR2457




Check Price

Quartz movement
Stainless steel
Mineral glass
Thickness: 9mm

43mm

Water resistance: up to 165 ft.

Stainless steel

22mm

Timex TW2R63900




Check Price

Seiko quartz movement
Brass steel
Sapphire mineral glass
Thickness: 8.5mm


41mm

Water resistance: 100 ft.

Leather

20mm

AX Armani Exchange




Check Price

Quartz movement
Rubber
Mineral cover glass
Thickness: 12mm

45mm

Water resistance: up to 165 ft.

Silicone

22mm

Michael Kors Layton 8781




Check Price

Quartz movement
Stainless steel
Mineral crystal glass
Thickness: 10mm

45mm

Water resistance: 165 ft.

Stainless steel

22mm

Citizen Eco-Drive




Check Price

Quartz movement
Stainless steel
Thickness: 12mm

44mm

Water resistance: 650 ft.

Super titanium

22mm

Daniel Wellington Durham




Check Price

Japanese quartz movement
Stainless steel
Thickness: 6mm

40mm

Water resistance: 100 ft.

Leather

20mm
Tips on How to Properly Match Your Watch to Your Suit
When all the style advice and rules are doled out, I need to highlight a few significant pointers.
Go for a Minimalist & Classic Watch when Wearing a Formal Suit
You do not want anything detracting from your gorgeous suit. Besides, this piece of finery is the focus of the evening. Do not draw the eye away with a flashy jewel on your wrist.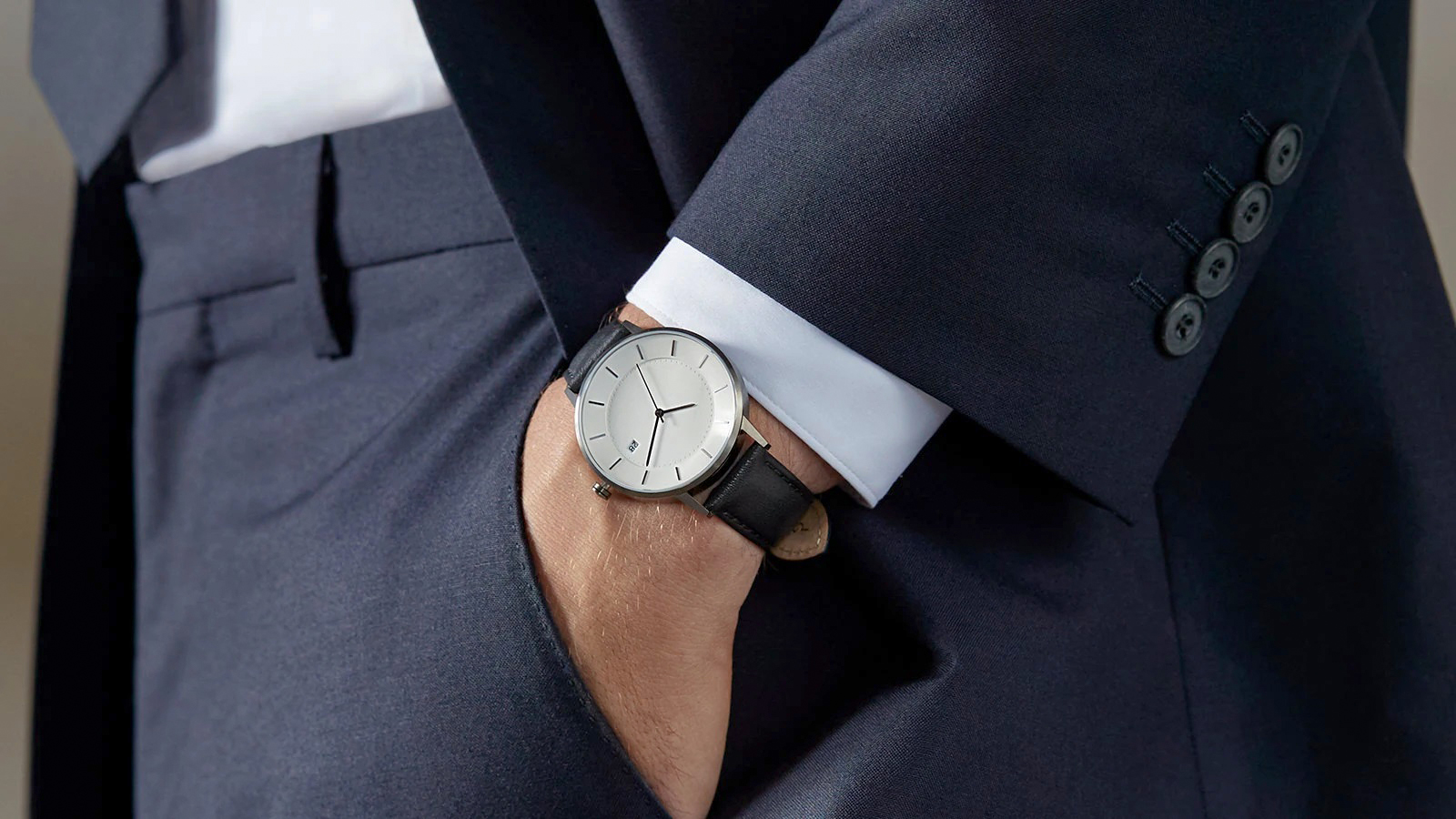 In fact, let the suit do all the work. A part of the formal look is knowing not to overdo it.
It Has to be Thin Enough to Fit Under the Cuff of Your Shirt
Imagine seeing a man in a sleek, well-fitting shirt only to notice a huge bulge under his cuff. It would be a terrible eyesore!
Keep your watch as flat against your body as possible so it remains unnoticeable. In fact, your watch should only be noticed when you want it to be!
Match the Leather Color with the Color of Your Shoes
Two different colors of leather are not acceptable in any fashion format. Besides, it would only make you look garish and careless. Or like a bad 1980s music video.
Your Watch Has to Look Beautiful
Your watch speaks volumes about who you are. You chose it, and people will get a glimpse into your personality when they see it on your wrist.
If you impress people with a beautiful watch, they will begin with a favorable insight into you.
Last but not least, a watch is a very personal choice. It should be a piece of jewelry that brings you joy. Know the look you need to create, stick with these guidelines, and go from there.
Author: Alexander Stoicoff
Hi, I'm Alex, and I've studied and specialized in styling in Rome. Through my writing, I want to help men dress well and learn the purpose and significance of suits and other formal attire. My final goal is to make men more confident in their wardrobe choice and life in general.