We've all been there: we open a wedding invitation to find those dreaded words "black-tie optional" engraved on the paper.
What does that even mean? This sweat-inducing phrase doesn't need to send you running for the hills.
Instead, relax and check out our guide for an easy approach to this dress code.
Understanding the Black-Tie Optional Dress Code
Black-tie optional is a formal way of dressing that slightly varies from a traditional black-tie dress code.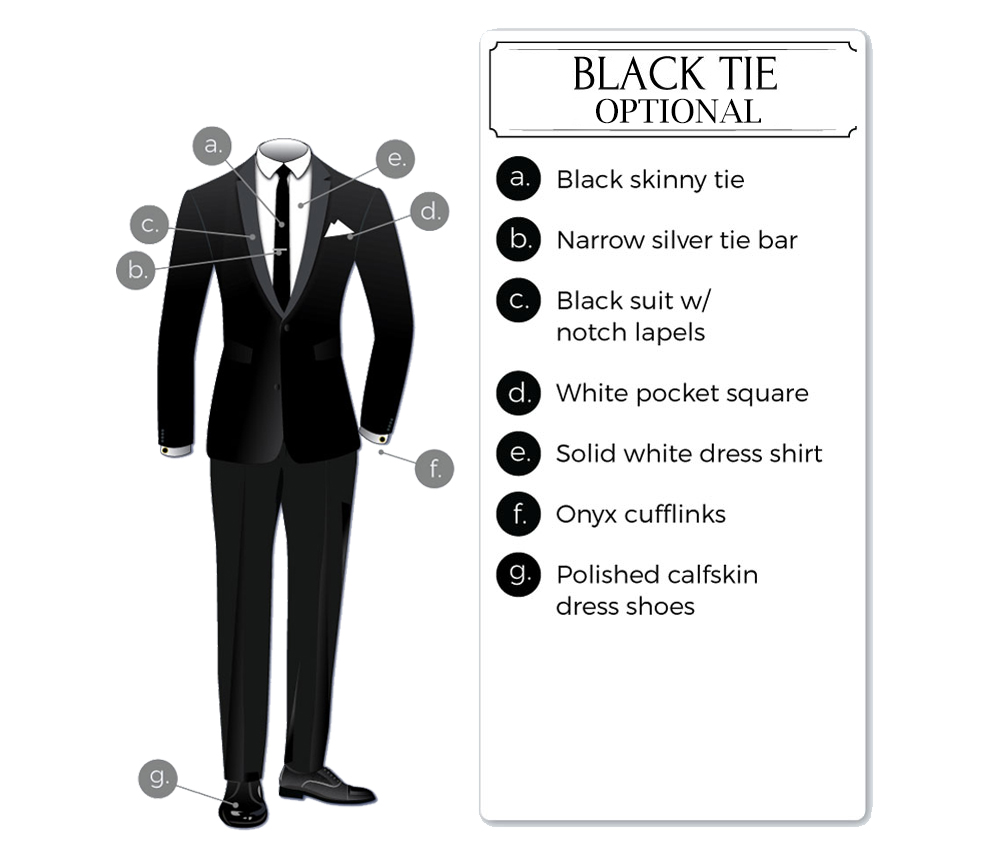 Seeing these words on the invitation doesn't mean you shouldn't wear your tuxedo; you still can.
But you can adjust it slightly so that your outfit is close to black-tie formal, but not exact.
Black tie optional is a terrific alternative for men who don't own a tuxedo. They still get to be very dressy and not look out of place.
Options Beyond Black
A black-tie optional dress code invites you to skip the black suit and bow tie. You may subtly alter your outfit to be less formal but still within bounds.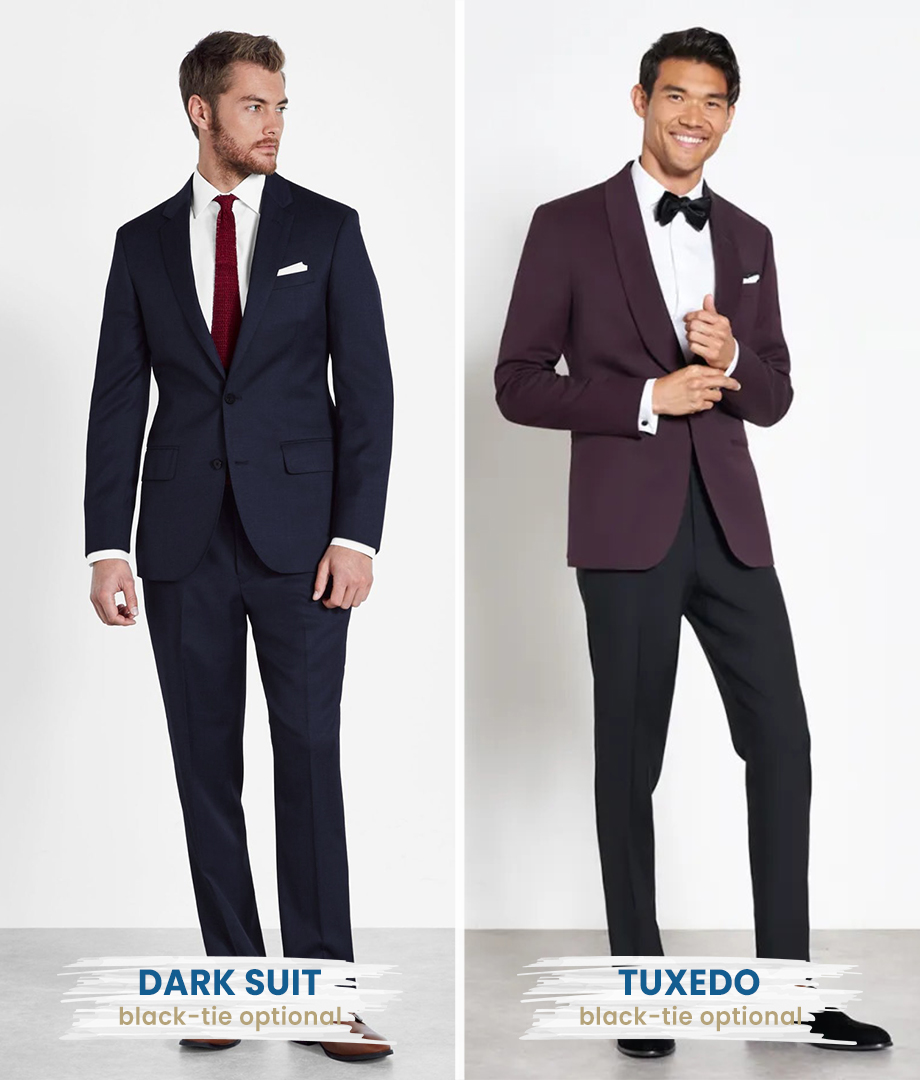 You can choose from any number of dark suits, opt between a bow tie and a necktie, or find a dark tie to ornament your suit.
This dress code differs most significantly from black-tie in the fact that there are unlimited options for putting your outfit together. Black-tie formalwear is much less flexible.
However, one essential item to remember is that there is no option to dress informally. This is still a very dressy dress code.
When is Black-Tie Optional Preferred?
Not every fashionable gentleman owns a tuxedo. This is understandable; they are costly and worn rarely.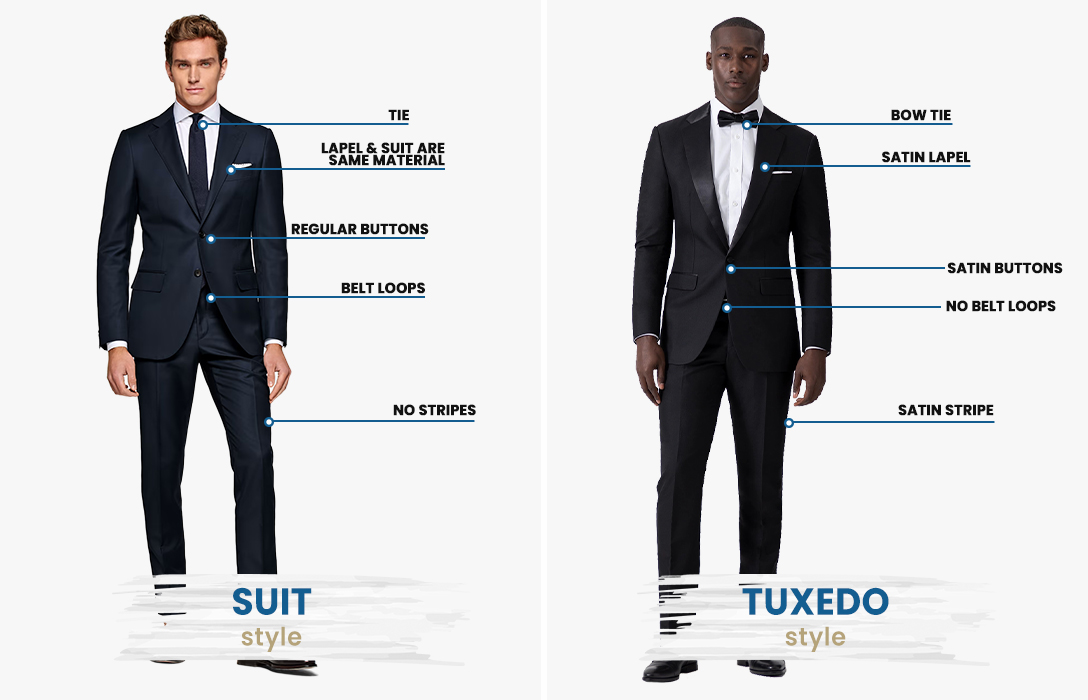 Offering a black-tie optional dress code for a formal event is a kind thing to do when you are hosting, as it recognizes that not everybody has the means to fit formal expectations.
It means that guests can choose between a suit or tuxedo, a dress shirt or tuxedo shirt, and tie or bow tie, etc.
Weddings are a popular setting for black-tie optional.
This dress code indicates that the planners would probably prefer a black-tie occasion but want to respect their guests' restrictions.
Standard Black-Tie Attire Works
If you receive an invitation to a black-tie optional event and have the means to wear a full tuxedo, you should.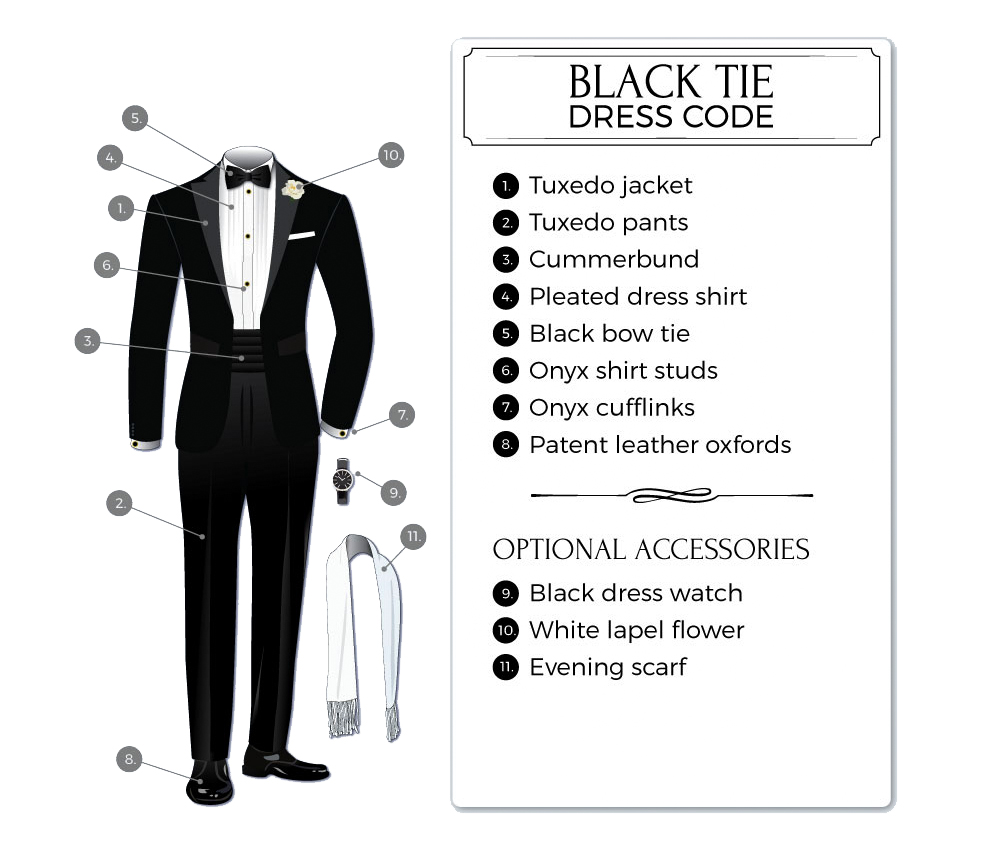 This means the complete formal outfit: black tuxedo, white tuxedo shirt, waistcoat or cummerbund, and a black bow tie. Black leather dress shoes are also part of this outfit.
If you are the host, be as clear in your language as possible about fashion expectations.
The words "black-tie optional" can cause stress for guests, so help them out as much as you can by saying what exactly you want.
Otherwise, you should assume that most people will not wear black-tie outfits.
Navigating the "Optional" in Black-Tie Optional Dress Code
Can't pull off the full tuxedo for the event? That's okay; here is your second alternative. With a bit of guidance, you can fall back on the "optional" portion with total flair.
When done correctly, most people likely won't even notice that you aren't in standard formal wear. You'll fit right in with the vibe of the event.
Dark Suit
When lacking a tuxedo, try to get as close to the feeling of one as possible. You can accomplish this with a dark suit, like navy, charcoal, or black.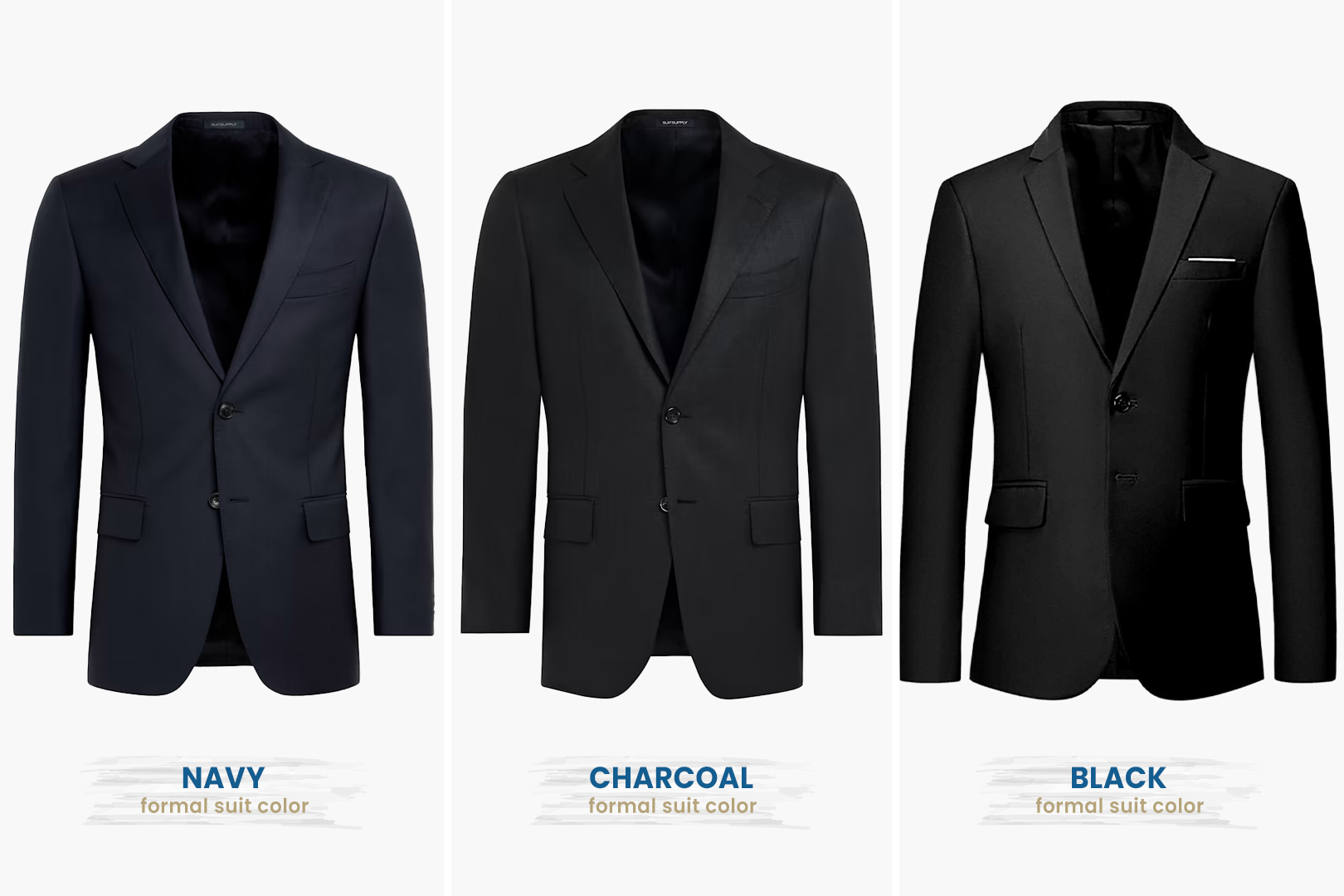 These are formal colors, so these suits are excellent substitutes. A light-colored suit is never acceptable in a formal setting since it's too casual.
You can pair your dark suit with a dark waistcoat or vest to elevate the style; a double-breasted suit is also an acceptable, suave choice.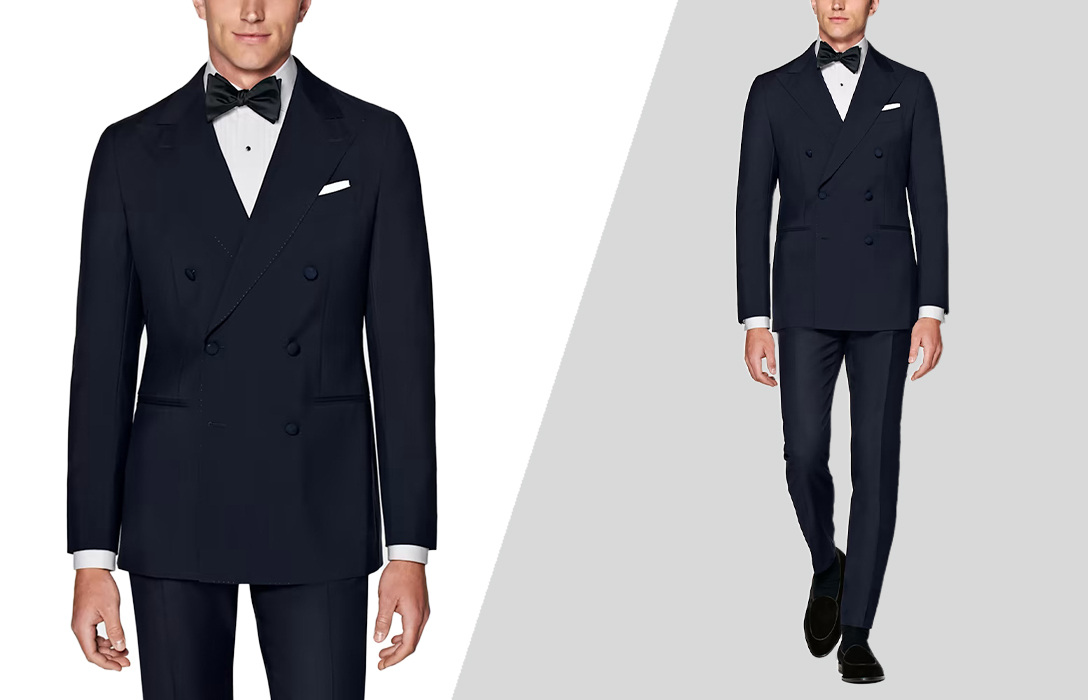 Your suit should not be patterned, though, since that brings down the level of formality. And never wear a blazer for a formal occasion.
White Dress Shirt
One of the best ways to adhere to the event's formality is with a white dress shirt. White is the dressiest color for dress shirts and is an easy addition to your dark suit.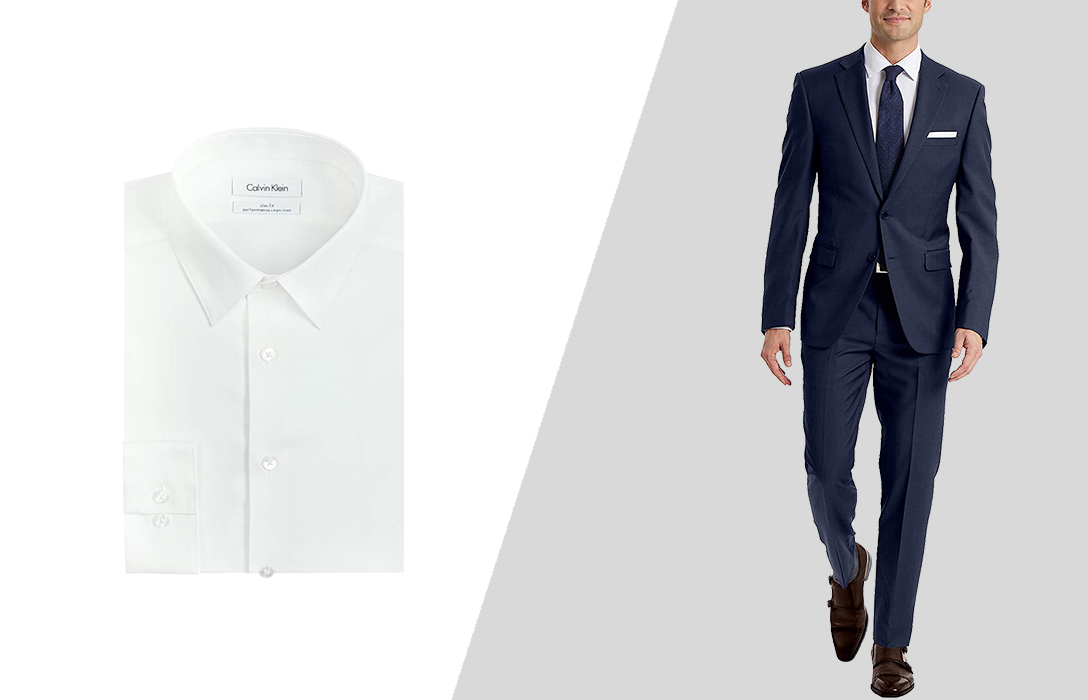 However, it must be solid; patterns lower your shirt's formality.
Avoid wearing a tuxedo shirt if you wear a regular suit since the two won't mix well.
However, consider sporting a shirt with French cuffs. These add a classy touch and are reminiscent of a tuxedo.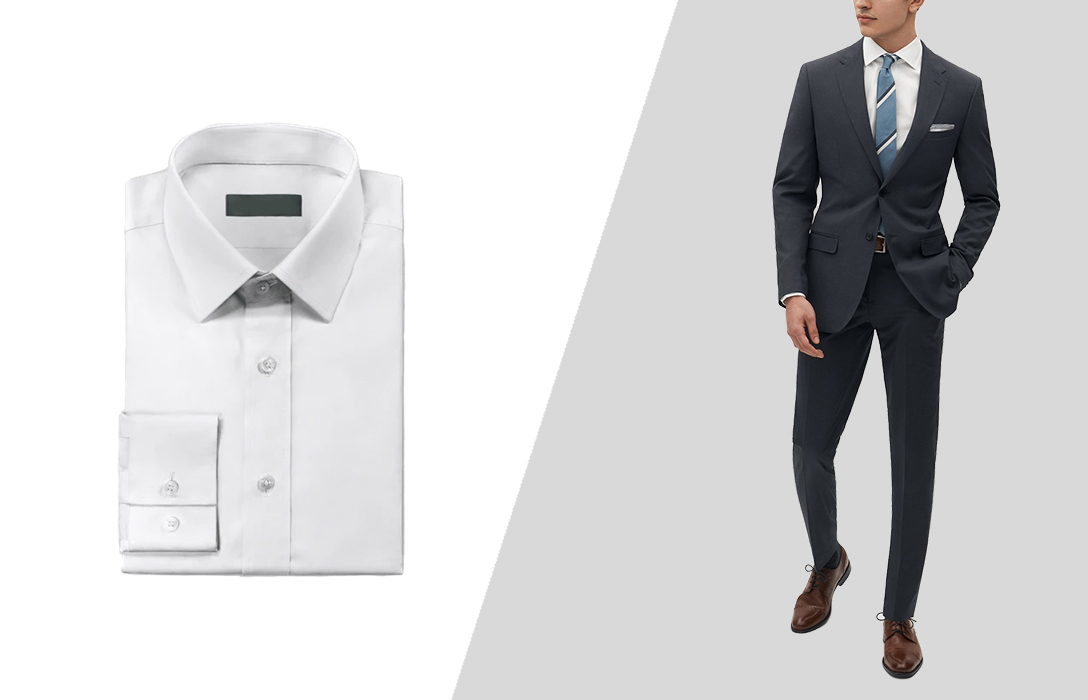 They also provide you with another accessorizing opportunity!
Dark Solid Tie
Formal events are usually very traditional, so choose a conservative tie for your suit.
A black necktie is perfectly fine, but other dark shades work wonderfully as well. You can also consider rich jewel tones to complement your suit.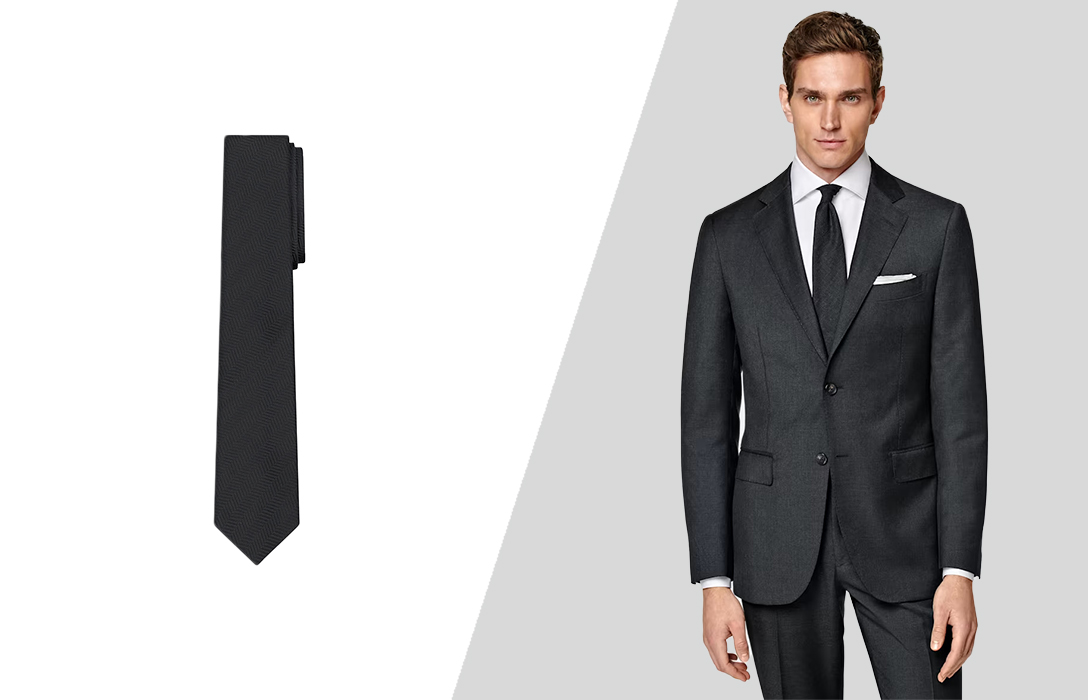 That doesn't mean you can't wear a bow tie. In fact, pairing a black bow tie with your suit is a fitting choice for black-tie optional events.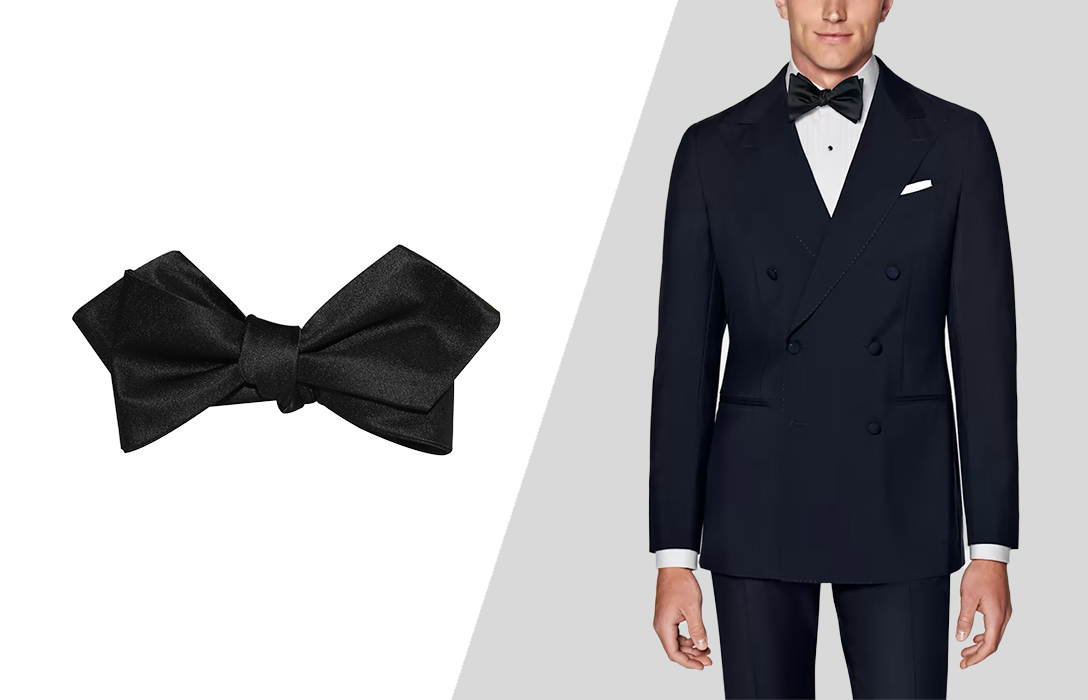 Another factor to consider, whether you're wearing a necktie or bow tie, is the fabric. Fine materials are ideal for a formal event, so steer toward silk ties.
Read more on how to match bow ties with a suit.
Black Dress Shoes
Your shoes for any formal event must always be black leather dress shoes. Your number one choice should be Oxfords, but dress loafers would also do.
Look for a simple, plain-toe shoe for a sleek silhouette. You can also incorporate a cap toe on your shoes if you like.
White Pocket Square
Including a pocket square in your breast pocket is a divine touch to elevate your sense of style.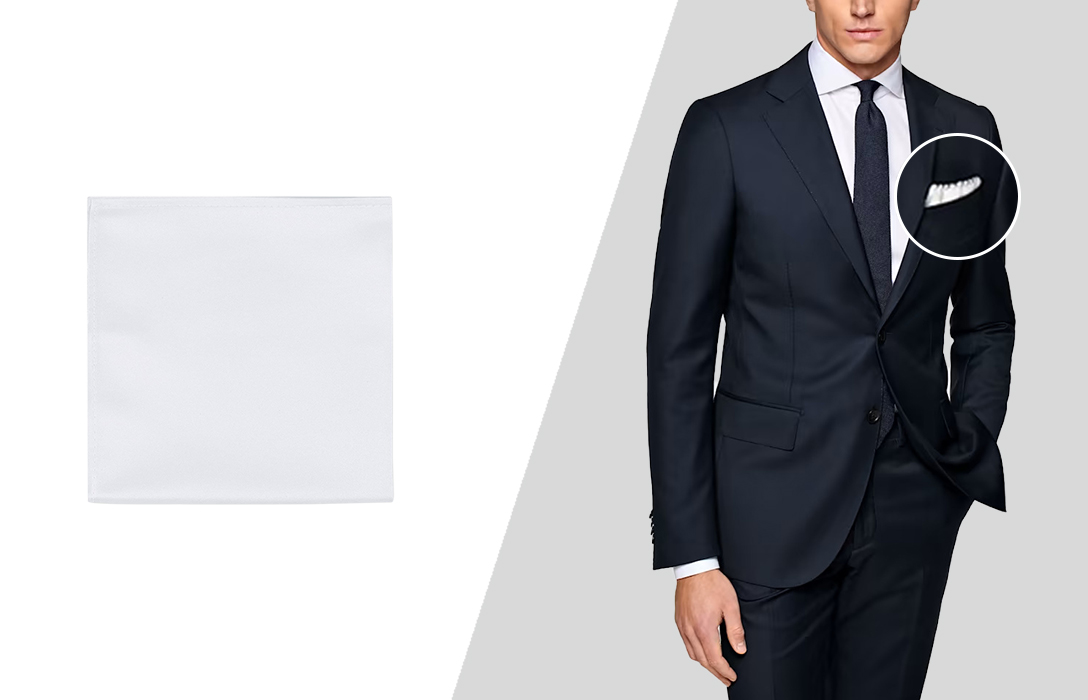 Keep it white to mirror your dress shirt, but some dark edging to complement your tie is a great touch.
An elegant white color is also handy for setting your pocket square apart from your tie; the two should never match.
If possible, stick to linen for your pocket square. It's understated and elegant, not flashy like silk.
Other Accessories
Keep your suit accessories to a minimum; formal dress is never about being flashy or loud. You can reflect this in your refined accessories.
For example, your dress socks should not be colorful. They should be solid and dark, ideally black or at least the same color as your suit.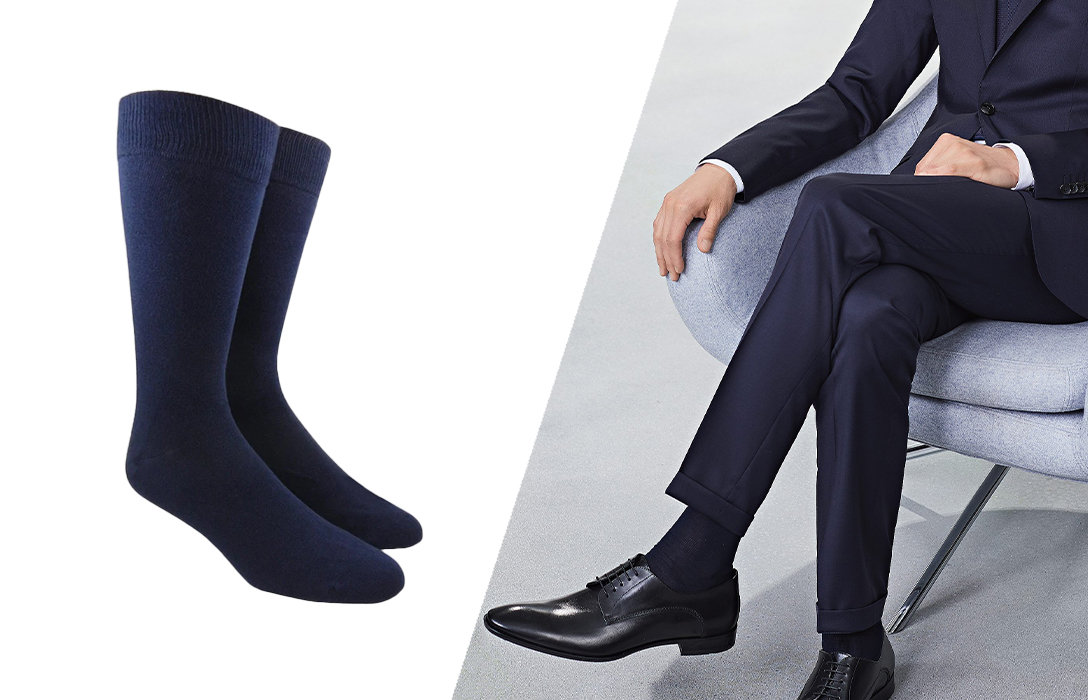 You can also match them to your tie for a bit of a color pop. Silk, or another thin fabric, works best with a formal suit, and they must completely cover your skin, even when sitting.
Select a pair of understated but beautiful cufflinks if you've opted for French cuffs on your dress shirt.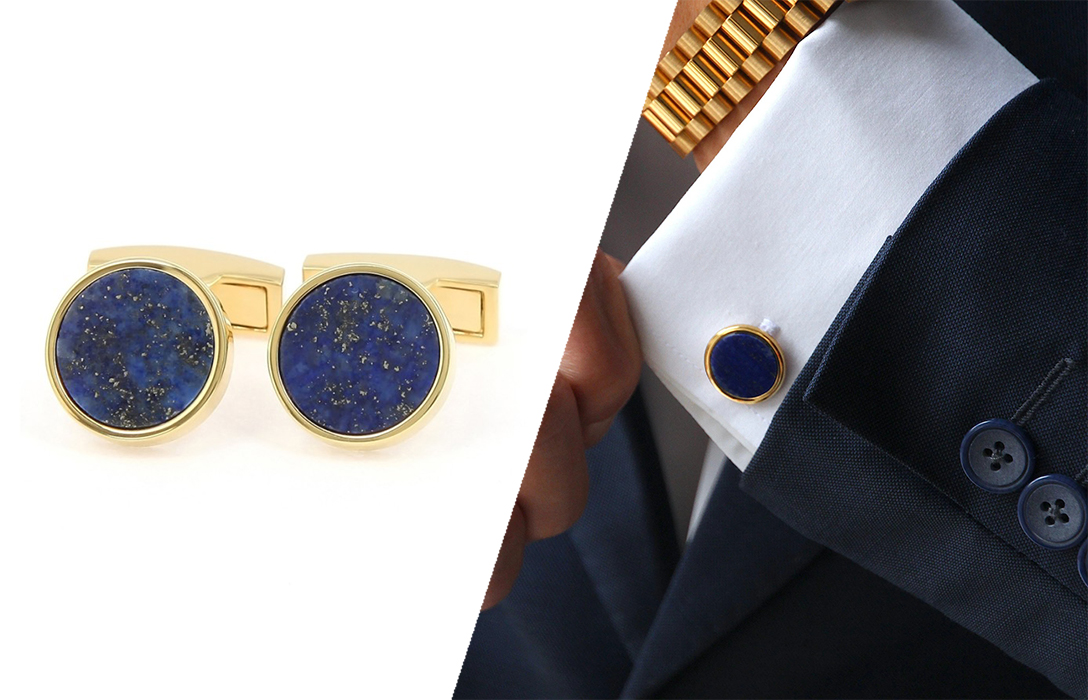 You can wear silk knots or a simple metal design. Don't be dazzled by cuff links with many gemstones; they will look too flashy.
You can also opt for a piece of jewelry, perhaps a dress watch or a tie bar, to keep your tie in place.
Black-Tie Optional Wedding Events
Black-tie optional weddings are a chance to break the mold and step outside the strict black-tie demands.
However, you should remember to keep your wedding suit subtle and sophisticated.
You are a supporting player on this day and not the star. Don't attempt to outshine the couple on the biggest day of their lives.
If you are unsure what a couple has in mind when they invite you to a black tie optional wedding, it's always safest to err on the side of caution and go with your more formal outfit.
It won't be the wrong choice, and being dressed more formally than others isn't bad.
What to Avoid Wearing for Black-Tie Optional Event
Most men still fall into unnecessary traps by wearing something inappropriate for these formal occasions.
So, if you're attending such an event, it would be wise to:
Steer clear of light suits when attending a black-tie optional occasion. They are far too casual, and you'll truly stick out.
Avoid blazers or sports jackets; both are too casual for black-tie optional events. These are laidback pieces, and they don't have matching pants.
Keep the tie. When you see the words "black-tie optional," that isn't a cue that the tie itself is optional. You always need to include a tie in any formal outfit. Although this is a loosening of the rules, they aren't thrown away entirely.
Don't try to pull off a sockless look, either. This is a style that's only suitable in certain situations.
Bold colors are also not part of a black-tie optional dress code.
Finally, avoid any patterns at all. Each should be a solid print, whether your suit, dress shirt, or tie.
Black-Tie Optional FAQs
What is Black-Tie Optional?
This formal dress code allows you to wear a dark, formal suit instead of requiring a tuxedo. Great care must still be put into planning a formal outfit.
What's the difference between Black-Tie and Black-Tie Optional?
Black-tie dress codes are not open to interpretation; they demand a tuxedo, a black bow tie, and the accessories that accompany this outfit. Black-tie optional relaxes these demands and allows for a dark suit instead.
Can I wear a tuxedo for Black-Tie Optional?
Yes, you can absolutely still wear a tuxedo if you have one! In fact, your hosts probably prefer that you wear one if you have the means.
What's the difference between Black-Tie Optional and Creative?
Creative black-tie dress codes allow you to dress more flashy than other formal dress codes. Bold colors and patterns are encouraged with creative black-tie, and there is much more flexibility.
What should I wear to a Black-tie Optional wedding?
If you don't have a tuxedo, your second-best option is a dark suit. Pair it with a white dress shirt, a solid, dark tie, and black leather dress shoes.
Can I wear a vest for Black-Tie Optional?
A dark vest or waistcoat is an excellent way to add sophistication to your black-tie optional suit. If you decide to elevate your outfit this way, remember that your vest should match your suit jacket.
Can I wear a double-breasted suit?
A double-breasted suit is another fashionable way to adhere to a black-tie optional dress code. Double-breasted suit jackets are not casual, so this can help cement your formal status.
Author: Alexander Stoicoff
Hi, I'm Alex, and I've studied and specialized in styling in Rome. Through my writing, I want to help men dress well and learn the purpose and significance of suits and other formal attire. My final goal is to make men more confident in their wardrobe choice and life in general.