You see many fashion models wearing a bow tie with a suit, but is that really a look the common man can pull off?
Or is this yet another style that looks good only in certain settings?
Let's take a look at bow ties and figure out if you can pull off this classic style and how it can be done.
Can You Wear a Bow Tie with a Suit?
Yes, you can wear a bow tie with a suit!
Adding this quirky accessory can completely alter your suit and help you stand out from all the necktie wearers.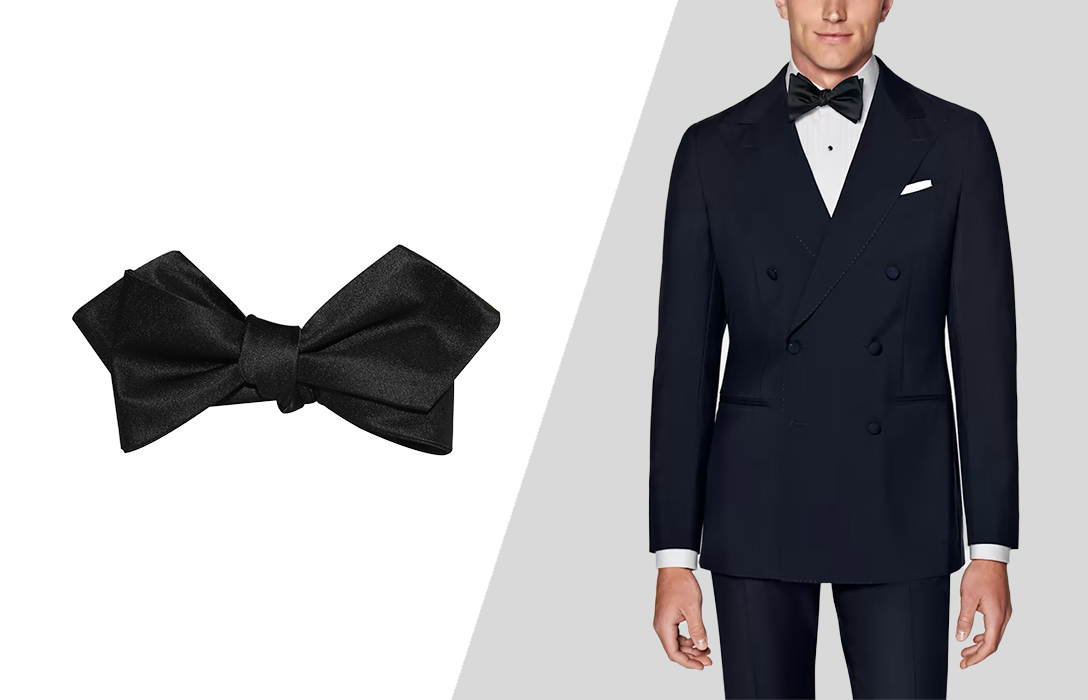 Hey, southern gents have understood this for decades!
In some situations, you can't avoid a bow tie; they are a required accessory at black tie events. However, a formal dress code isn't the only time you can put one on.
If you're wondering whether you can wear one informally, you bet you can! They can be a charming way to perk up your stodgy wedding suit.
Different Suit and Bow Tie Color Combinations
Adding a bow tie to your suit ensemble means stepping outside the standard fashion box.
With so many color options available, the right color pairing can make all the difference between an "okay" outfit and one that says, "Wow!"
Black Suit
Black suits are typically best fit for formal occasions. Wearing one generally means you're headed to a special event.
For these situations, a black bow tie works best. It keeps in tone with the formality of the setting.
However, there may be occasions when adding a dash of color is acceptable.
For example, if you wear your black suit as cocktail attire, a colorful bow tie can help tone down the severity and formality of the outfit.
A flashy, bold hue may feel too aggressive and shocking, however. Instead, focus on neutral or jewel tones.
Colors like charcoal, dark green, burgundy, red, or blue can make a lovely impression.
Navy Suit
Navy is another dressy color; it can be excellent for semi-formal occasions or professional settings.
It is a gorgeous canvas to work with; it can be dressed up or down. The color you add to it makes it a flexible suit.
Wearing a navy suit is a nice opportunity to start adding new shades of bow ties to your collection.
Dark ones help make your suit more formal, while lighter ones move it closer toward casual.
Shop The Look
Light blue, pale pink, black, charcoal, light green, and burgundy are all terrific matches with a navy suit.
Blue Suit
A blue suit feels more approachable than its darker counterpart. It's a bit more relaxed and a bit more fun. And it's still good for "business"!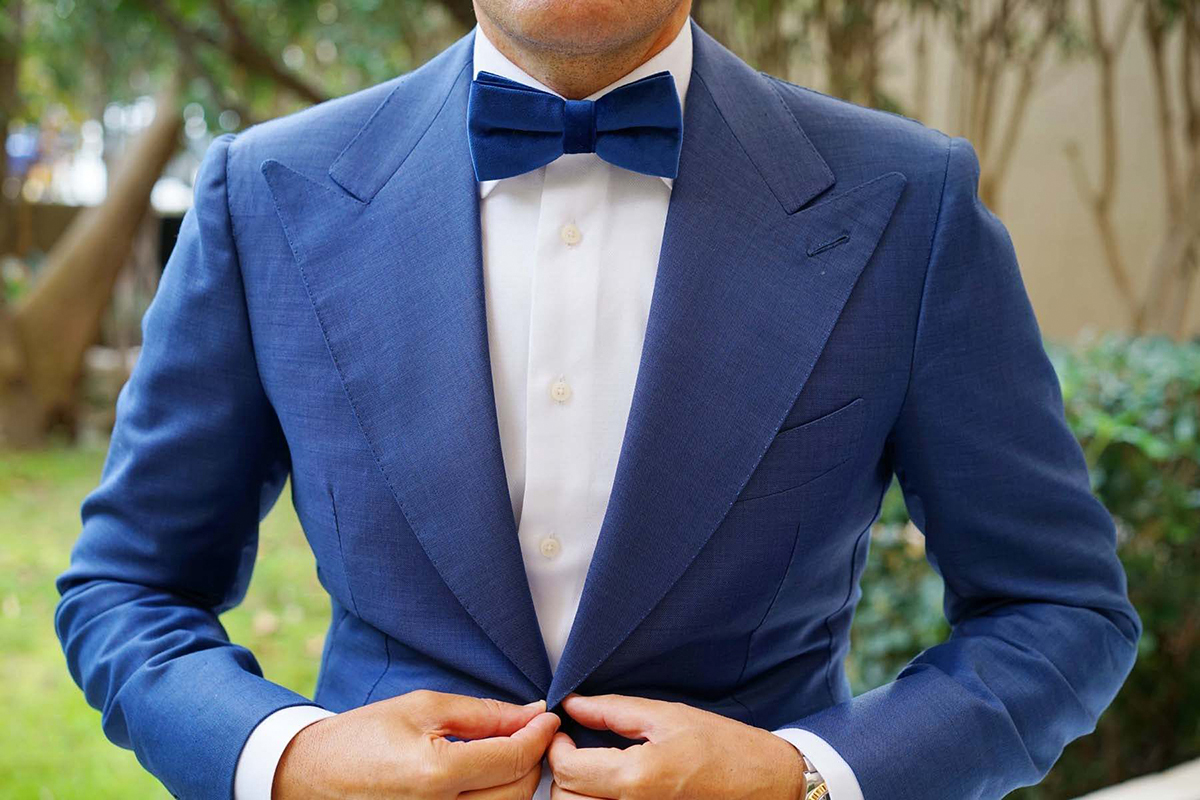 Again, incorporating a dark bow tie makes your suit more serious. This can help you differentiate between wearing your blue suit professionally or for fun.
It's best to avoid a black bow tie; it will feel too severe and possibly clash against certain shades of blue. Instead, work with complementary hues.
Gravitate toward yellow, a different shade of blue (lighter or darker), burgundy, a power red, or muted green.
Grey Suit
The best color choice for your bow tie depends on what shade your grey suit is.
Charcoal grey is a professional, dressy color; light or medium grey is more informal and suitable for social events.
Consider bow tie shades in black, navy, blue, or burgundy for a dark grey suit.
If your suit is light, have fun and play with the color! Black can work, but you can try dark pink, blue, brown, burgundy, or lavender as well.
Wearing a light blue shirt would also create an exciting color palette for your light grey suit.
Brown Suit
Brown suits are informal and can convey an intellectual air.
The color of your bow tie entirely changes how your suit looks, whether drab and dull or lively and exciting.
Brown looks beautiful against earth tones: green, gold, burgundy, or a darker brown all look stunning against a brown suit.
For something more festive, switch your bow tie to pink or blue.
Tan Suit
Tan suits are incredibly relaxed. They often convey a sense of leisure or somebody cutting loose.
In most cases, a tan suit looks best with a darker bow tie.
Black, dark brown, burgundy, and green can emphasize the pale shade of your suit. Blue and navy are also striking with a tan suit.
Burgundy Suit
Burgundy suits come ready to party. They aren't formal or professional, but they are fun.
However, matching colors to this unusual color suit may seem difficult.
Burgundy looks good when paired with black, tan, pink, or a navy bow tie. These can help temper the bold suit shade or play up its festiveness.
Bow Tie Styles and Fabrics to Choose with a Suit
If you wear a tuxedo, only the finest fabrics will suit your bow tie, like silk.
It should be a solid color with no pattern, but this isn't super strict except in the most formal events.
However, wearing a suit gives you more room to experiment with your bow tie. It can be textured fabric, like knit or tweed, although synthetic materials like polyester can be quite often used as well.
Prints and patterns are also fun to explore; check out some polka dots or herringbone for your tie!
The shape is another subtle choice that affects the bow tie style. The traditional style is butterfly, which is appropriate for all settings.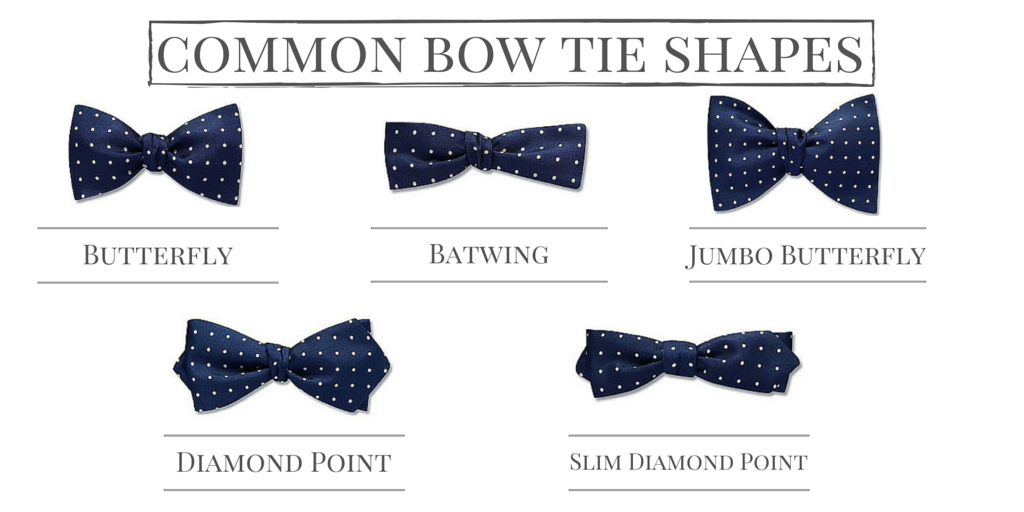 There is also a diamond shape, popularized by James Bond, and a narrow style called batwing, which is very modern.
Suit Charasterics That Best Match with a Bow Tie
Your suit style can influence how well a bow tie matches your ensemble.
Ideally, you should wear a suit with the least possible amount of your shirt visible. This means a double-breasted or three-piece suit looks best with a bow tie.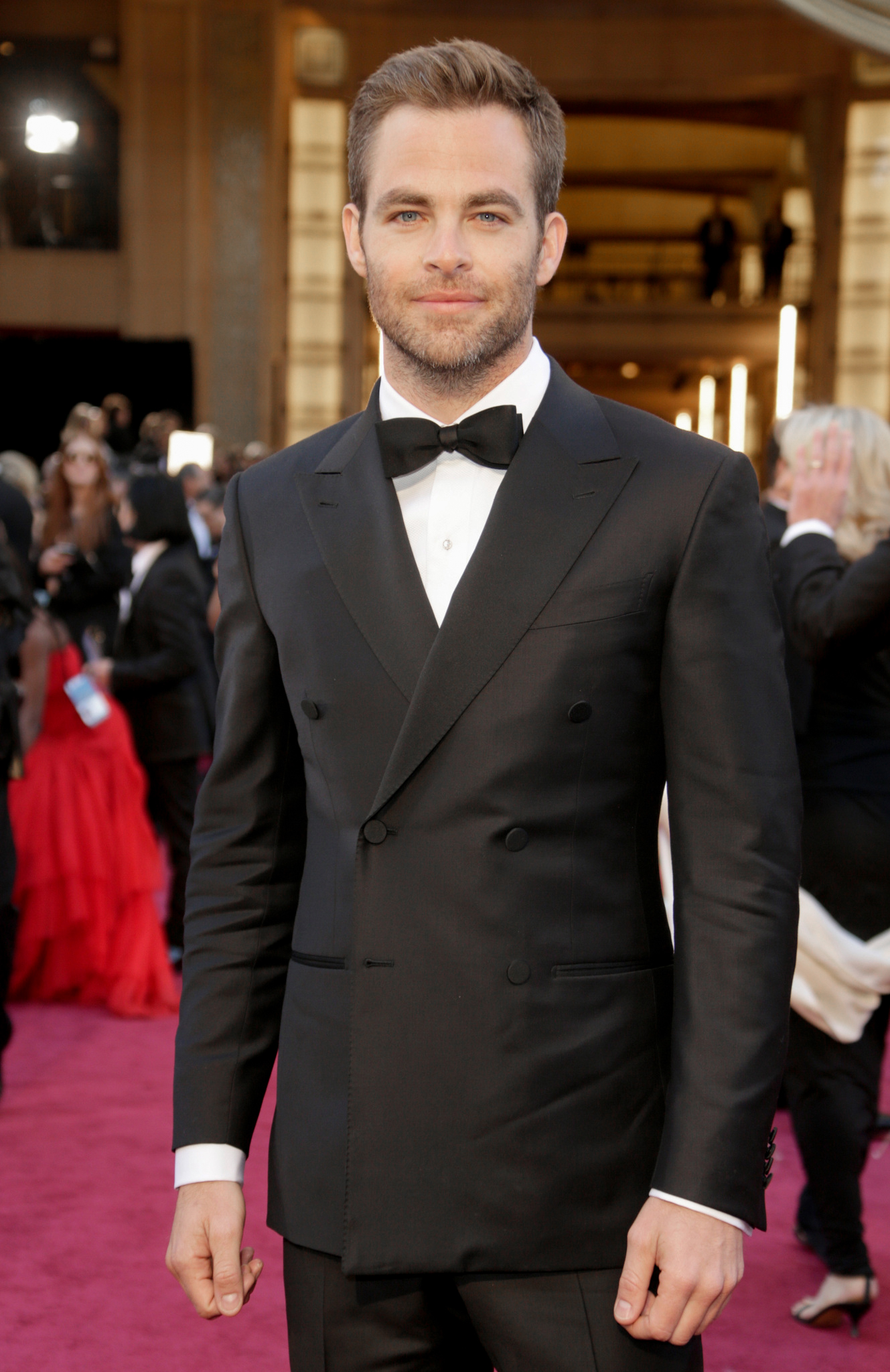 If your suit jacket leaves a lot of "white space," it can look slightly awkward with a bow tie. Typically, this empty space is covered up with a necktie.
A single-button suit may feel too off-balance with a bow tie; a two or three-button suit jacket may work better.
Things to Consider when Wearing a Bow Tie with a Suit
One of the most important factors to look at when wearing a bow tie and suit is whether your bow tie is proportional to the rest of your suit.
Suit jackets have varying widths of lapels, which should help guide the size of your tie.
If the lapel is wide, you should have a larger bow tie. A slim lapel directs you toward a more narrow bow tie.
The length of your lapel is another indicator for your bow tie. A longer lapel means more empty space visible under your suit jacket.
Be Mindful of the Shirt You Wear
A simple and plain dress shirt is the best choice to wear with a bow tie since the lack of a necktie will expose more of your shirt. A bold shirt may feel overwhelming with a bow tie.
A pattern on your shirt is acceptable as long as it is subtle. The print should complement the tie color but not match exactly.
Fortunately, bow ties go well with most types of dress shirt collars, but you should also use your collar as a guide for your tie.
That said, wingtip collar shirts are specifically made to accommodate bow ties.
If your shirt has a large collar with a wide spread, you'll need a more prominent bow tie to fill that space. Your tie should look like it belongs in the space the collar provides.
Places to Wear a Bow Tie with a Suit
It almost goes without saying that you can wear a bow tie to any formal event. But where else is appropriate?
Weddings are a welcome space for bow ties; they can add a level of fashion that isn't often introduced in wedding attire.
Other suitable settings are any place you would wear a smart-casual outfit. Outings with friends and family where you want to look stylish are all fair game!
The only hard "no" for bow ties would be at a funeral. You should stick with a traditional necktie for this somber occasion.
And don't wear one to a job interview. It may feel too quirky for the interview process.
Self-Tie vs. Pre-Tied
Learning to tie a bow tie is more challenging than tying a necktie. That's why pre-tied bow ties are acceptable for rookies.
If you are new to the world of bow ties, this is an easy introduction to them. They are also relatively common.
But once you feel ready to fully embrace bow ties into your wardrobe, learn to tie one by yourself! It adds an extra level of style and certainly gives you bragging rights.
How can one tell if you're wearing a pre-tied or self-tied bow tie?
It's a subtle distinction, but self-tied bow ties always end up ever so slightly asymmetrical. Pre-tied ties are just a little too perfect.
Complementary Accessories
You don't need many accessories to complement your bow tie. It gets most of the attention itself!
But you can finish off this look with one or two special touches.
For example, you can hardly go wrong with a pocket square. It seems a natural extension of wearing a bow tie!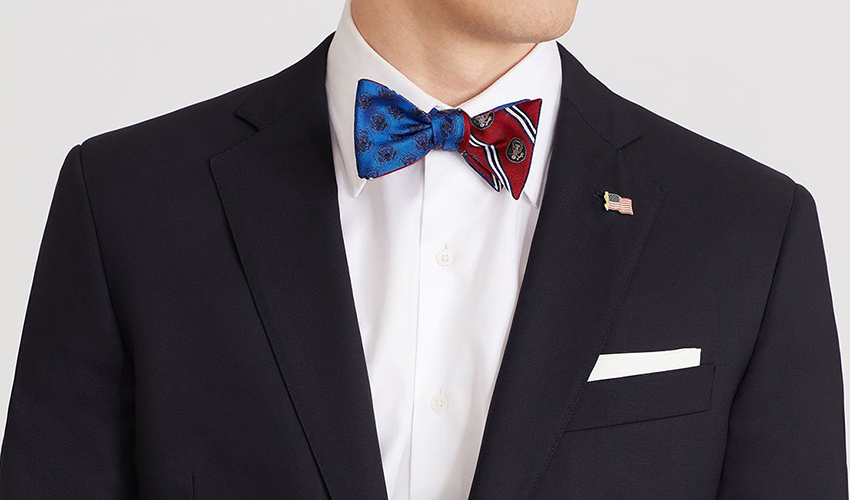 However, don't wear one that is an exact match to your bow tie. It needs to complement but not be the same.
If you really want to lean into the old-fashioned sense that a bow tie can convey, why not swap out your wristwatch for a pocket watch on a chain? It's a charming way to call back to simpler times.
Author: Alexander Stoicoff
Hi, I'm Alex, and I've studied and specialized in styling in Rome. Through my writing, I want to help men dress well and learn the purpose and significance of suits and other formal attire. My final goal is to make men more confident in their wardrobe choice and life in general.