A blue suit is an essential part of a man's wardrobe. That's because you can choose to wear a blue suit for various occasions.
But with so many different shades of blue to pick from, how can you know which one is right for you?
Surprisingly, there's a secret to knowing which type of blue suit you should wear, and it has nothing to do with your personal coloring or anything like that.
Instead, knowing the shade of blue, you should be wearing all boils down to where you'll be wearing it. And thankfully, it isn't a highly complex system to figure out.
Things to Consider When Wearing a Blue Suit
A blue suit of any shade can look amazing. But a few things need to be followed for your blue suit to look astonishing.
First, don't forget that your blue suit must fit perfectly.
Also, a little more attention is required when you wear a blue suit since matching colors is trickier. The level of formality you need will also influence what color choices are appropriate.
But the beauty of a blue suit is how very versatile it is. It can be dressed up or dressed down, although the level of formality will affect the shade you can choose for your blue suit.
The Shade of Your Blue Suit
Having so many different shades of blue to choose from opens up the possibilities when it comes to blue suits.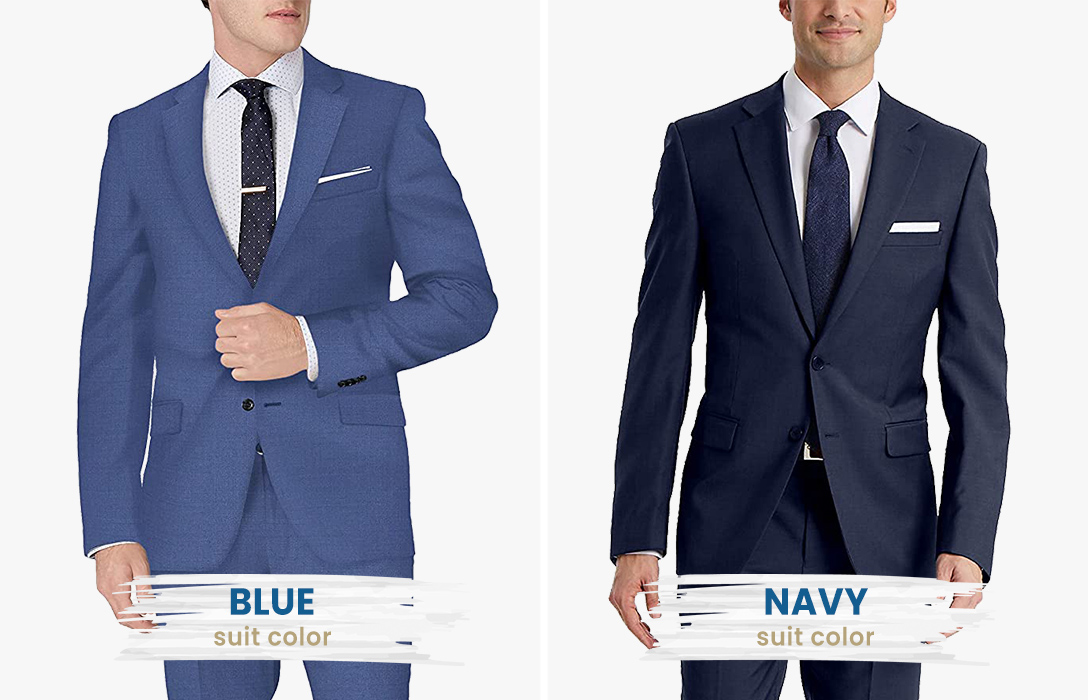 Navy blue is the darkest shade of blue you can go, and it's the most conservative blue suit you can get. As you go down in shades, you'll find that the suits become less conventional.
From navy, you can step down to royal blue, powder blue, electric blue, or baby blue. Midnight blue is also very popular with both suits and tuxedos.
You can even find a blue suit with a hint of green undertones, creating something similar to teal.
There's a shade of blue for every occasion. Of course, not all blues are suitable for all people, but each person can find the right shade for them.
The Color Wheel
Because blue is not a neutral color, it may feel like a challenge to match. That's when the color wheel can be your best friend.
Blue is a cool-toned color, so it's important to match it correctly. The good news is that the blue suit combinations for shirts and ties are plenty.
For an electric look, you can pair your blue suit with complementary colors. This refers to what color sits opposite on the color wheel.
In this case, orange would be a complementary color to the blue suit. These two together can be pretty bold.
So go for a subtle orange, incorporating it into your tie or pocket square. A burnt orange embellishment can really perk up a navy blue suit, for example.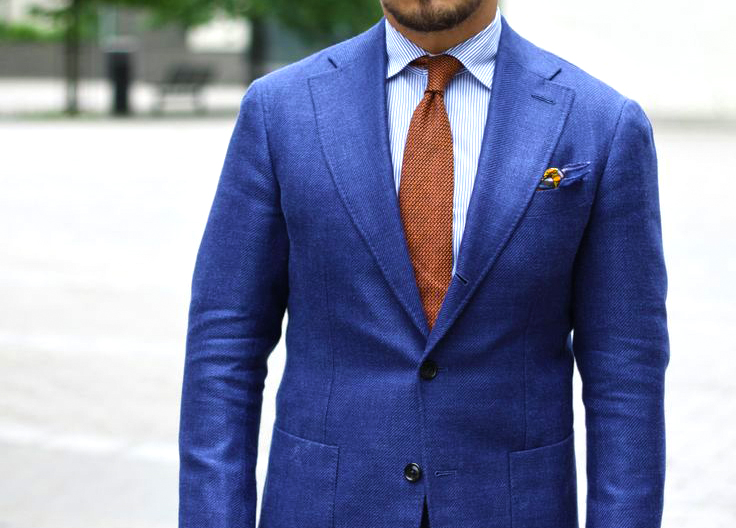 For a more muted color scheme, play around with analogous colors. These are colors that are next to each other on the color wheel.
For a real blue suit, this would be navy blue or green. You can use light shades of either for a very earthy tone.
The Formality
Darker is always more formal than lighter colors. When dealing with blue suits, navy is the most formal shade of blue.
Unless you are attending a black-tie event, you can wear a navy blue suit or even a navy tuxedo for most formal occasions.
Conversely, the lighter you go, the more casual you'll find the blue suit is.
So if you require a suit for a casual outing, a baby blue or powder blue will be ideal. These are the least dressy you can get, despite the rage of powder blue tuxedos decades ago.
How to Wear a Navy Blue Suit for Business-Formal Events
Navy blue is an insanely versatile color for your suit, making it suitable for many situations.
You can alter the look of your navy suit depending upon your business needs.
It can be perfect for that super important board meeting or dressed down slightly for your average day at the office.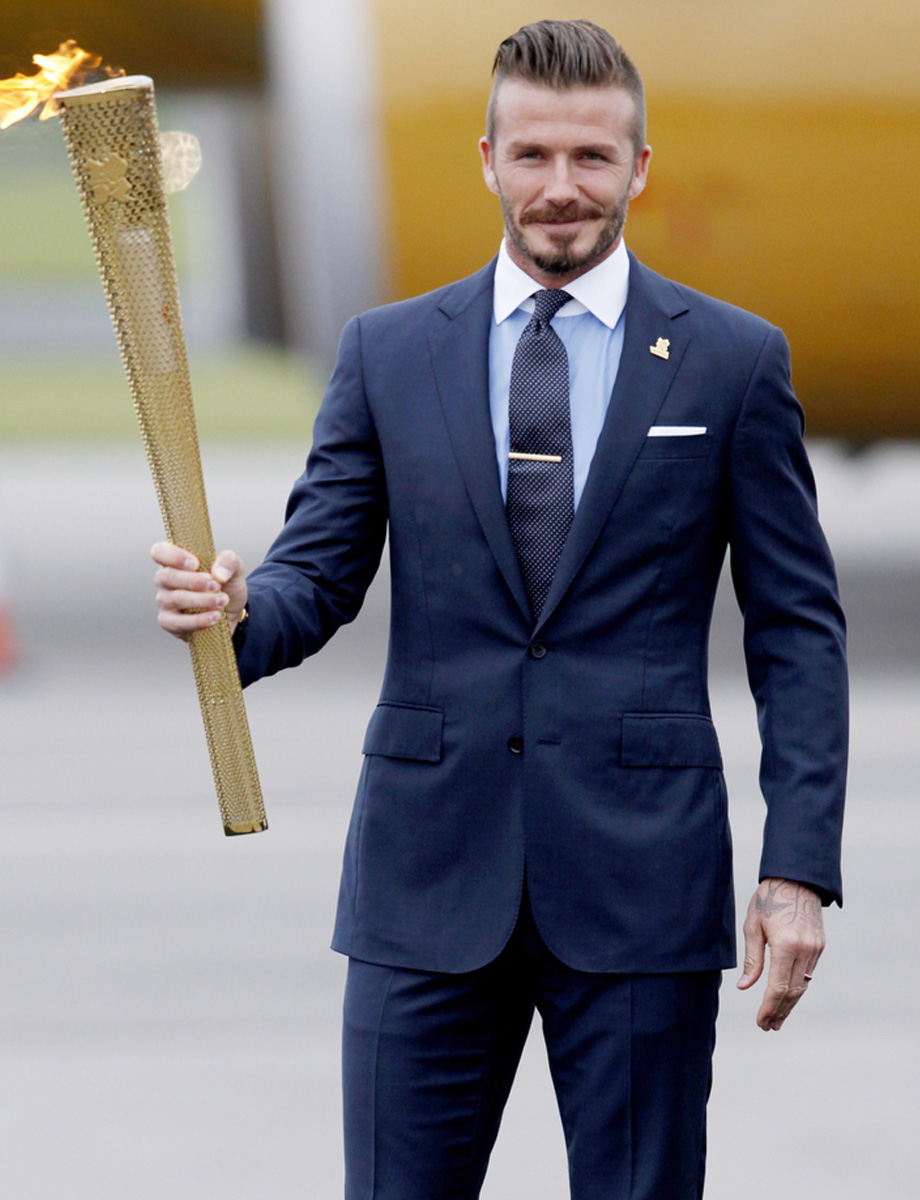 For example, a navy blue suit with thin pinstripes gives you a slightly more casual base for your suit. On the other hand, you can then dress up again by adding more formal accessories.
Navy is also simple to match other colors too since it's such a dark hue. You can stick to neutral colors and be just fine, but you can also jazz it up with brighter colors.
Wear a White or Pale Blue Shirt
A white button-down dress shirt is a very formal pairing with your navy suit. It's an excellent choice because it makes such a sharp contrast with the darkness of your blue suit.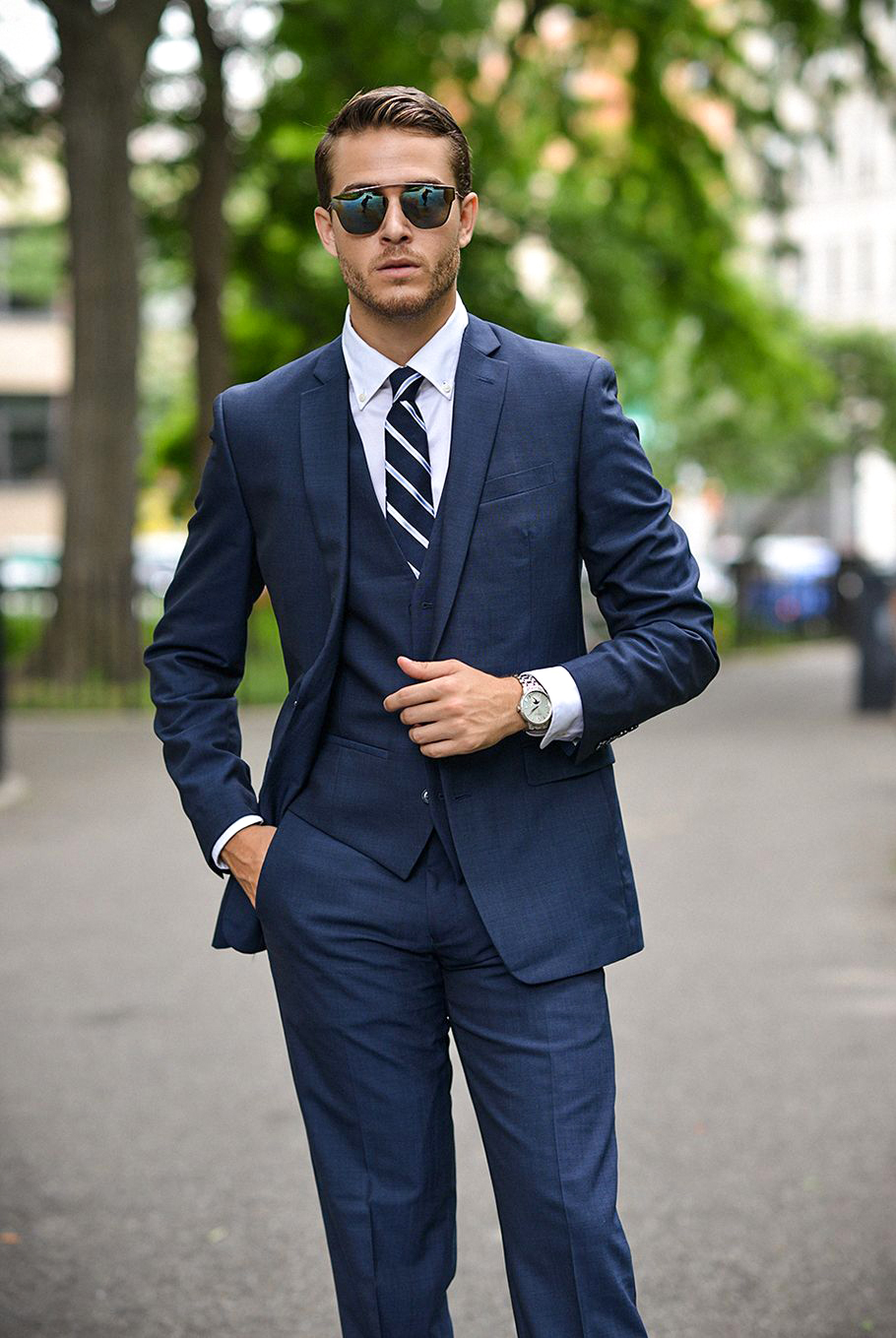 The white shirt is a traditional classic and will look the most professional with your navy suit. But for your white shirt to create the most significant effect, you need to be sure that it's immaculate and crisp.
Make sure it's ironed. It also needs to fit perfectly. A well-fitted shirt is looking extremely professional.
If you're looking for a change of pace from the usual white dress shirt, you can pair a pale blue shirt with it instead. Of course, a pink shirt would work great as well.
A slight blue shirt softens your look since it isn't as sharp a contrast as the white shirt is.
Light blue shirts against a navy blue background are a fascinating combination because the colors are both different hues of blue.
It's also an unexpected addition to a very dressy suit.
Dark Brown Dress Shoes
Black or brown shoes are both good. But dark brown dress shoes are a modern addition to the business blue suit.
In the case of a dark blue suit, your shoes should be dark brown as well.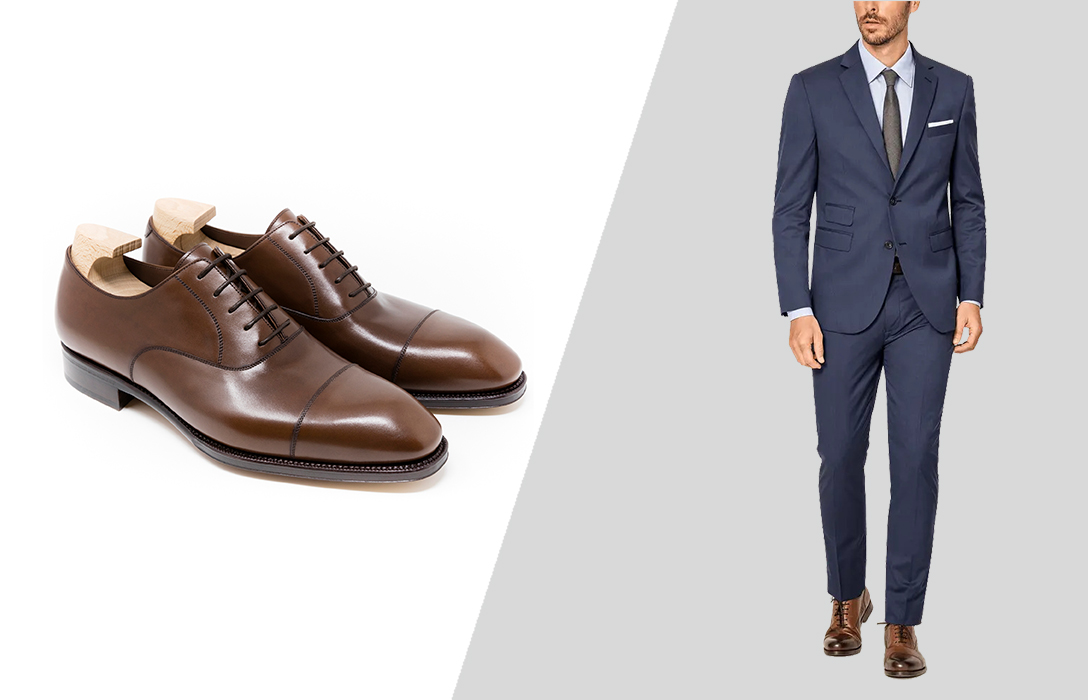 The darker shade is more in line with the hue of the dark navy of the suit. In addition, the warmth of the brown creates a nice balance of the cool shade of the blue.
Again, black shoes are also good with a navy blue suit. They are more formal than brown, so you'll want to stick to the traditional black dress shoe if that is important.
Match the Tie
Navy blue suits are great with a variety of colors. But a solid shade tie is the most dignified style for work.
A dark tie is your best friend for a dark blue suit in a business setting. It conveys seriousness and professionalism.
On the other hand, a light shade for your tie would come across as too experimental and trendy. It would call too much attention to your blue suit and not enough attention to your work ethic.
For example, a deep red would look intensely powerful and confident.
However, for a more subtle tie color, a brown that's approximately the same shade as your shoes looks stylish, as does a blue tie.
You can also try your hand at a monochromatic style with a navy tie to match your blue suit.
Accessorize the Suit
If you opt-in on a belt (which I highly suggest), make sure it's the correct style and color. More so, it has to be a well-chosen dress belt.
Dress belts are very thin and have a metal frame buckle. It needs to be the same color as your dress shoes. If you don't have the right color for your belt, definitely go without it.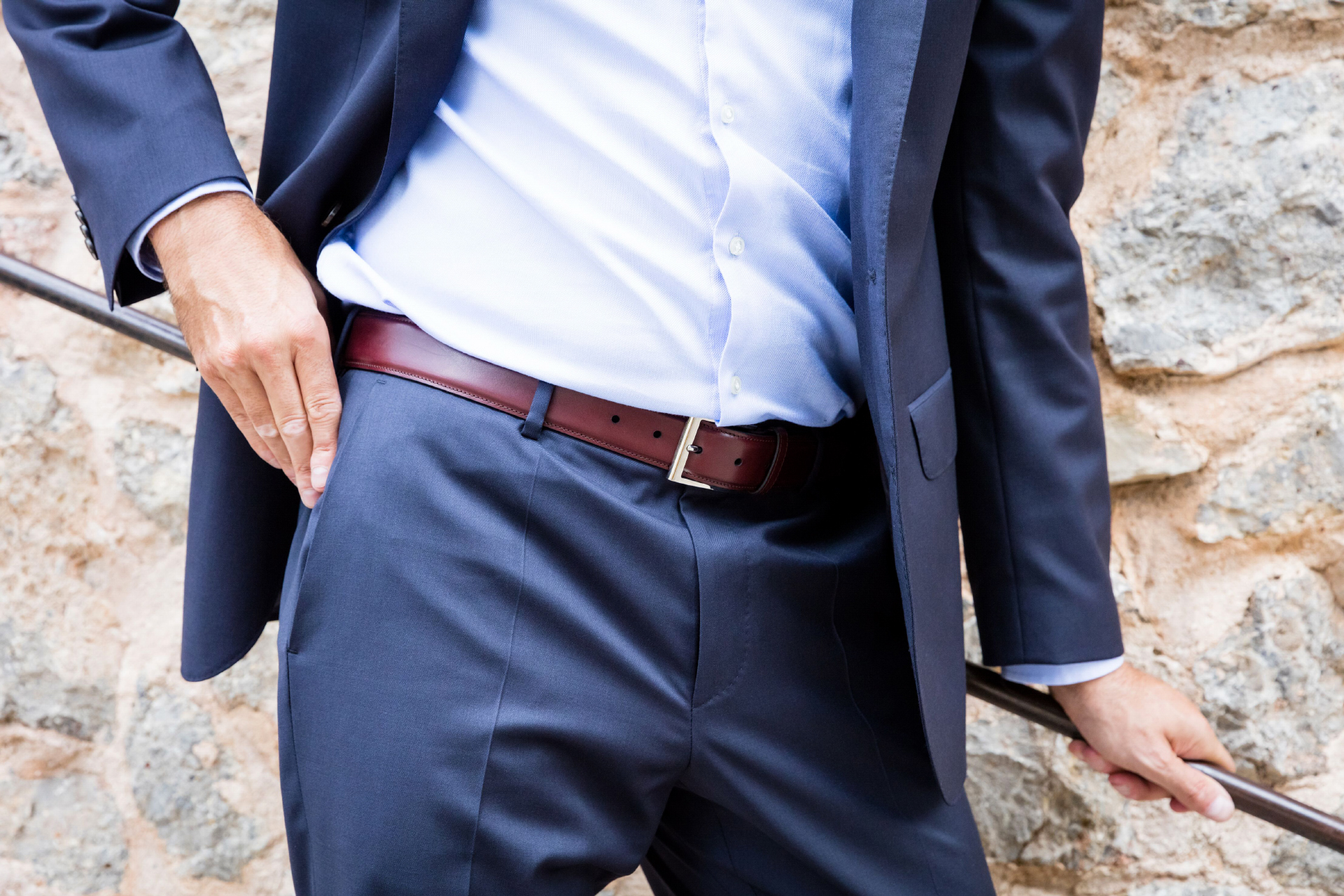 If you decide to leave the belt at home, make sure that your suit pants are a perfect fit around the waist.
Your dress pants may even have adjustable tabs at the hips, although not many suit pants do. You could also wear a pair of suspenders for a classy touch to your blue suit.
A pocket square is a perfect addition to your blue suit if you're looking to add some elegance.
Your pocket square can have a very subtle print on it, but be sure the color complements your tie. It should not, however, be the same color as your tie.
Wearing a Blue Suit at Weddings & Formal Events
A navy or midnight blue tuxedo is an ideal way to wear blue to a formal event or formal wedding.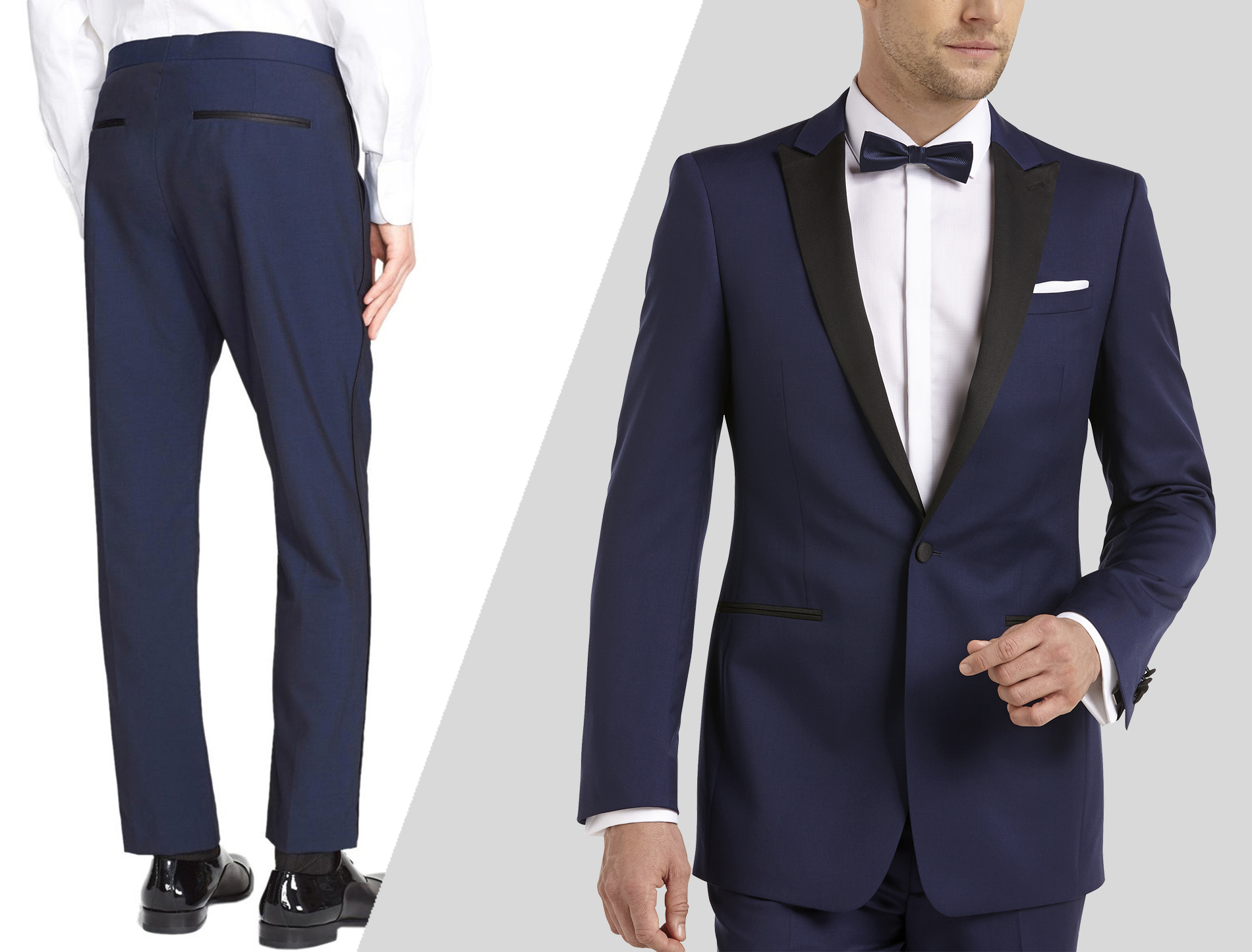 Navy and midnight blue are similar to black but slightly more nuanced. In fact, they're perfect to infuse a bit of color into an otherwise black and white evening.
Keep these color variations looking classy when you add your tie and other accessories. Don't mix your dark blue suit with pastels or other bright colors.
Your elegant wedding suit will only seem cheaper for it. If you want to up the ante in terms of sophistication, you can add a dark waistcoat, as well.
White Dress Shirt for Formality
A white shirt is the easiest to match with a navy or midnight blue formal suit. It's the most traditional pairing, keeping this look at its most formal.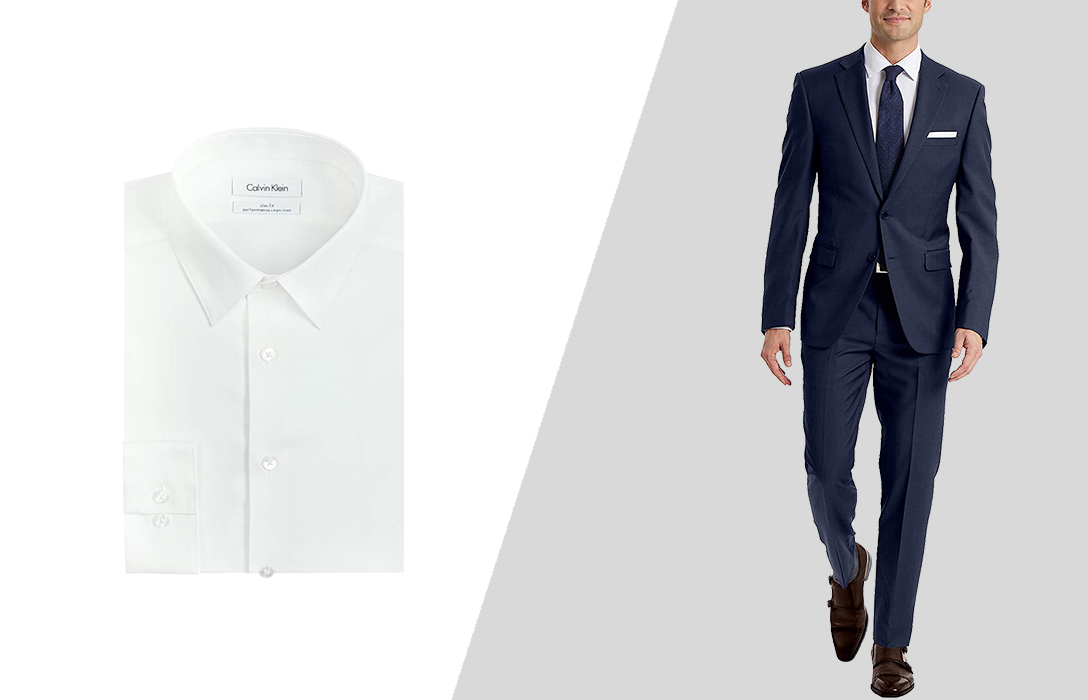 Your dress shirt needs to be a solid white, with no patterns or prints, in keeping with the dress code.
Because you are aiming for a high level of dressiness, you would be allowed to wear a French cuffed tuxedo shirt as well.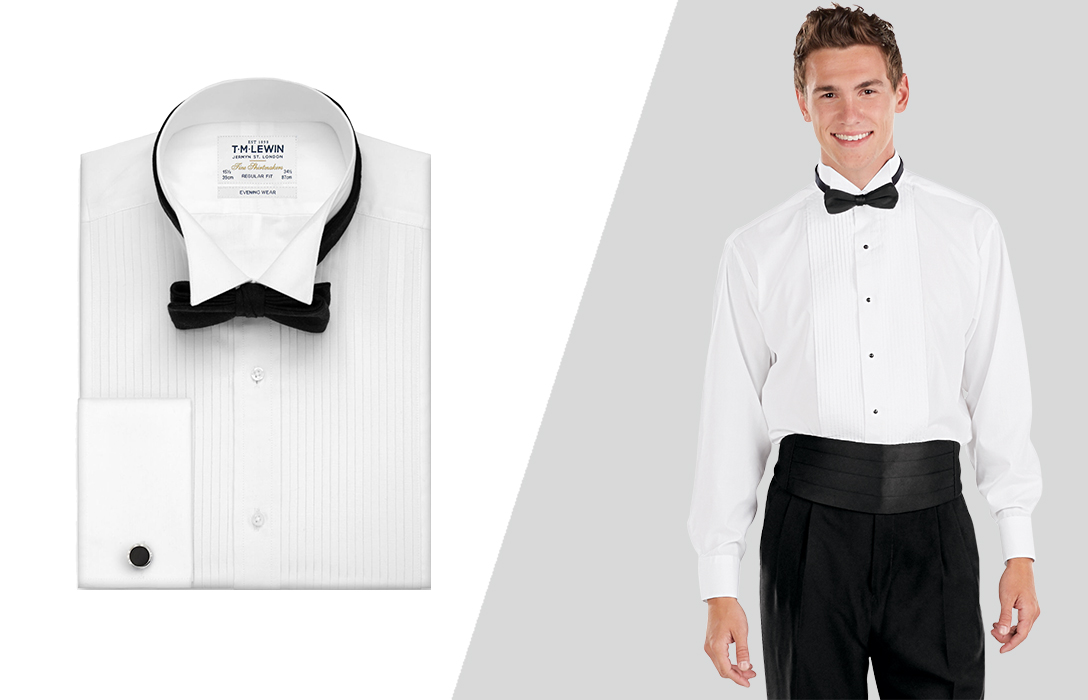 French cuffs are very sophisticated and aren't seen with everyday suits. They lend a feeling of culture to your ensemble.
French cuffs also give you the opportunity to add a unique accessory to your outfit: cufflinks.
Cufflinks are fantastic because they are another way you can infuse a little of your personal taste into your outfit, helping you stand out a bit from the crowd.
When every other man is also in a dark suit, every special accent helps.
Black Dress Shoes
When choosing your outfit for a formal event or wedding, every detail is essential for keeping your blue suit look traditional.
That's why it's best if you stick to black Oxford dress shoes or another formal style when wearing a navy or a dark blue suit.
Oxford dress shoes are the most common type of dress shoe for a blue suit; they are the most dressy and versatile.
Your dress shoes can be regular leather or patent leather. Patent leather is slightly more dressy than traditional leather because of its shiny surface coated in plastic or lacquer.
You certainly wouldn't wear patent leather shoes to the office, though!
Wear a Tie
A formal event always requires a tie, although it doesn't necessarily need a bow tie.
You may wear a necktie for many formal occasions, but make sure first that it isn't specifically a black-tie event. If that's the case, you can't avoid a black bow tie.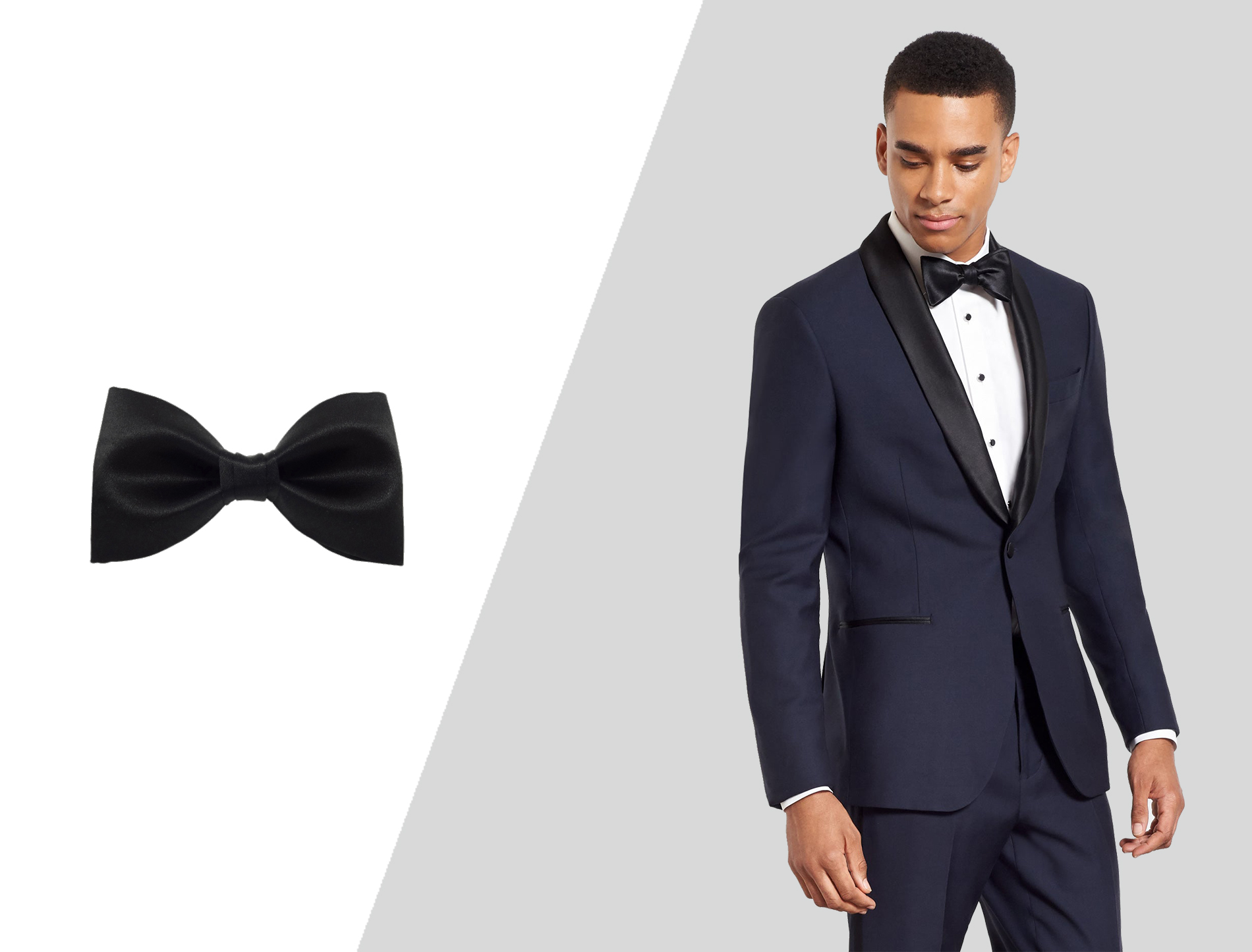 Otherwise, a formal blue suit presents an excellent opportunity to build contrast with your tie.
A deep and dark red tie would make a powerful impact. You could also create an exciting look with a blue tie.
Remember that it should be a dark blue, close in hue to the color of your suit. Of course, you can never go wrong with a black tie, even with a dark blue suit.
Accessories to Complete the Look
If you are wearing a tuxedo, you should not wear a belt. In fact, your tuxedo pants should not even have belt loops. That's the number one sign that you should not have a belt on.
You are welcome to add suspenders to your blue suit or tuxedo outfit, although it's not required.
If, however, you are wearing just a regular blue suit, you may add a belt.
But, again, remember that it's critical that it matches your shoes and isn't decorative. It should be very discreet and hardly noticeable.
Go with a pocket square for a classy detail to your suit. It would be best if you didn't match your tie precisely but complement it. Of course, a plain white pocket square is charming.
How to Wear a Blue Suit for Semi-Formal Events
True blue is the best shade of blue to wear to a semi-formal event. This shade of blue will help you stand out because it's so different.
But, unfortunately, not many people are bold enough to wear this beautiful color.
A genuine blue suit is incredibly vibrant, so wear it sparingly. People will notice your suit easily, so you don't want others to think that's all you wear.
Also, it isn't very versatile since it isn't appropriate for many settings.
Pick a Light Blue or Pink Shirt
Because this shade of blue is so playful and fun, you can have fun with your dress shirt, as well.
A paler shade of blue shirt is a fascinating monochromatic look. It makes your blue suit seem a little less flashy and tones down the vibrant hue.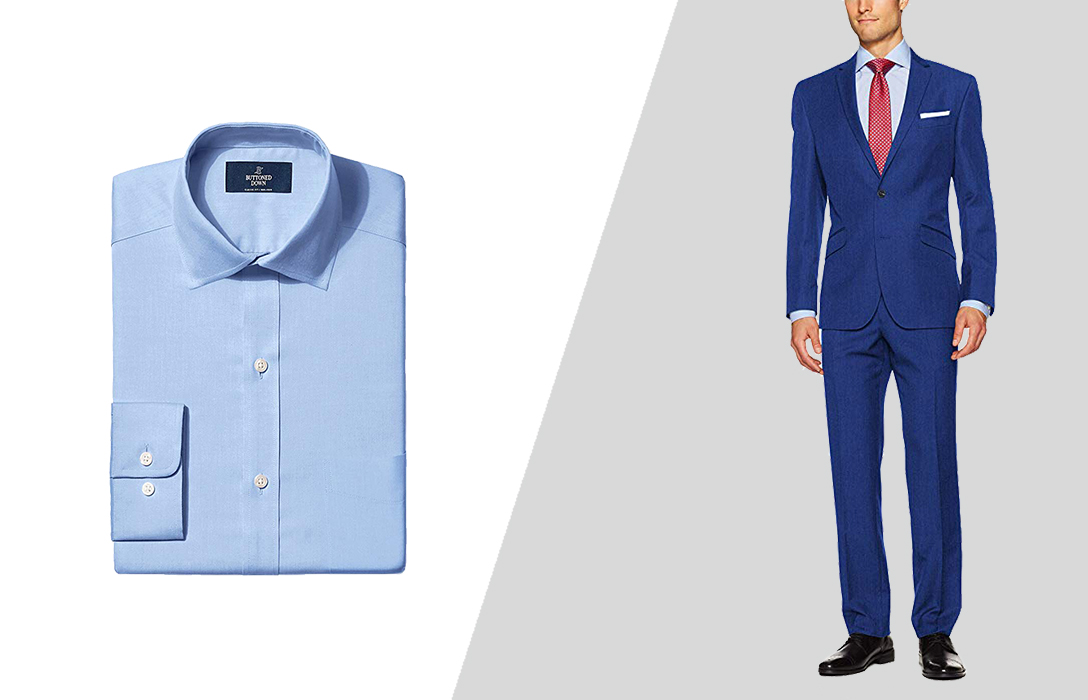 A pink shirt is another amazing color to wear with this blue suit. You can wear a very pale pink shirt for a subtle effect.
A brighter pink shirt would work, creating a very different result.
Dark pink shirts against the true blue will make both colors pop and will be terribly eye-catching.
Striped or Checkered Shirts for Semi-Formal Events
An authentic blue suit is already a bit of a statement suit. However, you can take it one step further by pairing it with a light blue or pink shirt with a print.
However, if you decide to go this route for a semi-formal occasion, keep the patterning very subtle.
The pattern will become the focal point of our outfit, which is already competing with the suit color.
Choosing the shirt colors gets even more tricky when matching it with a true blue suit. So it's best to stick with a white base and a light color for the print.
Brown Shoes That Match
Black shoes would be too harsh against this shade of blue. They are also more formal than the blue suit needs, so brown shoes are an ideal choice.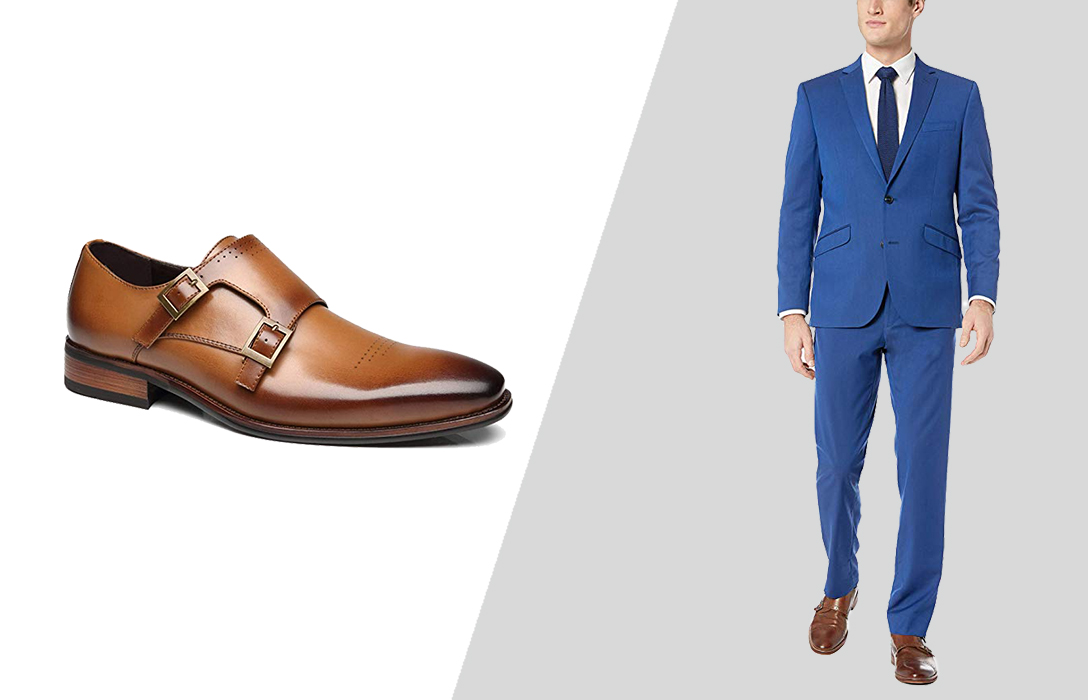 Your brown shoes should match the shade of your suit. Therefore, the lighter your suit is, the lighter your shoes should be.
For example, a blue suit looks best with medium brown shoes. It isn't a dark shade, like navy, and it's not pale, like powder blue. It's right in the middle.
Both Solid and Patterned Ties are Good
A solid tie conveys a dressier look, and it doesn't try to draw attention away from your blue suit.
Red is a perfect match you can wear with a blue suit; it's bold without being overpowering. Blue is another color that can't go wrong with when you match your tie and shirt.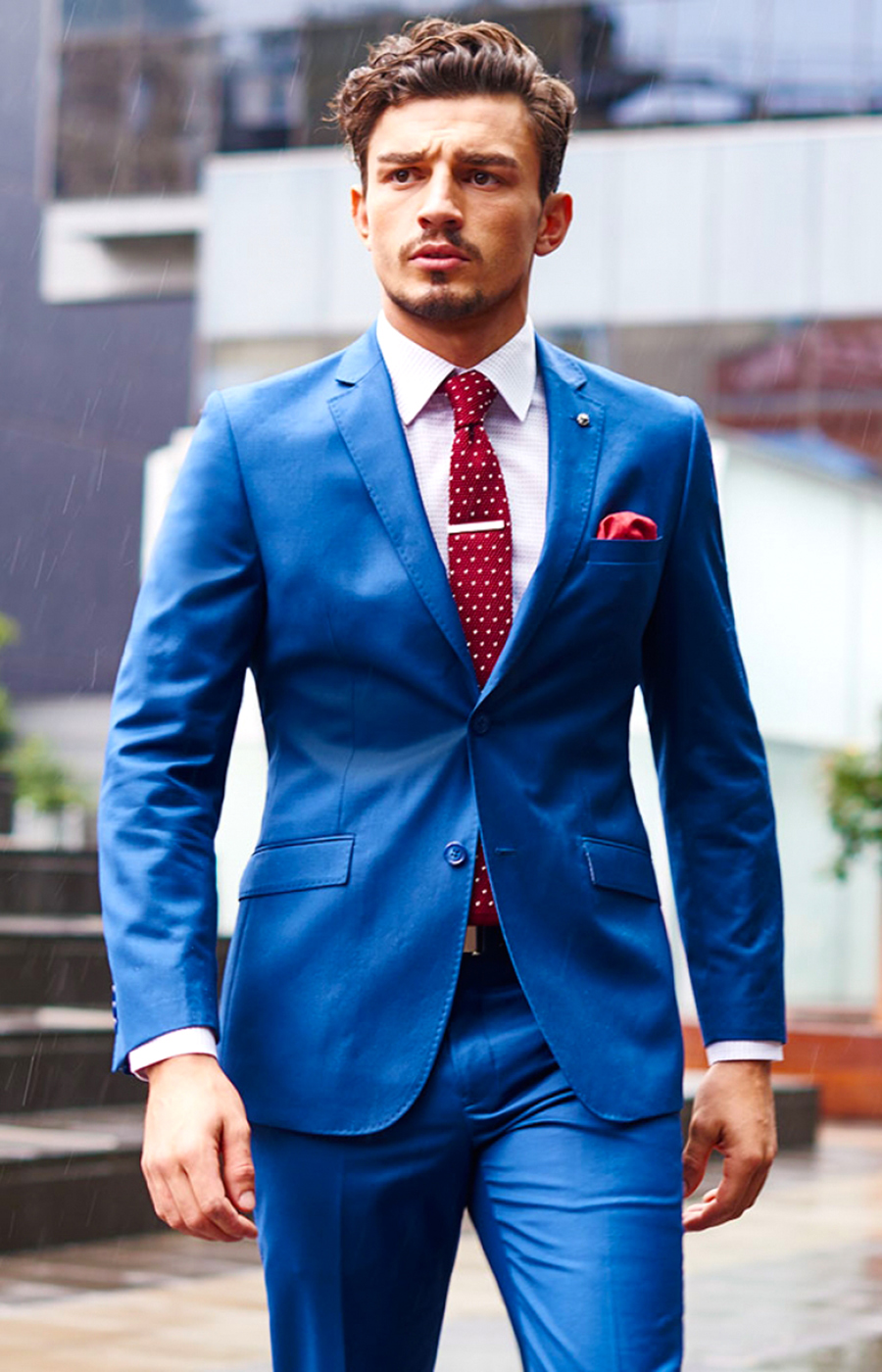 If you are trying to make your blue suit more relaxed, a patterned tie is an excellent way to dress it down. The pattern will really stand out against your bold suit color, so be sure to keep the design simple.
Focus on the colors, as well. Lighter colors for a print tie are best. If the colors are too bold, you risk looking garish.
Accessories for Semi-Formal Look
You'll definitely want to wear a belt with your semi-formal blue suit. First, however, follow the rules for wearing a dressy belt to ensure that your outfit looks appropriate.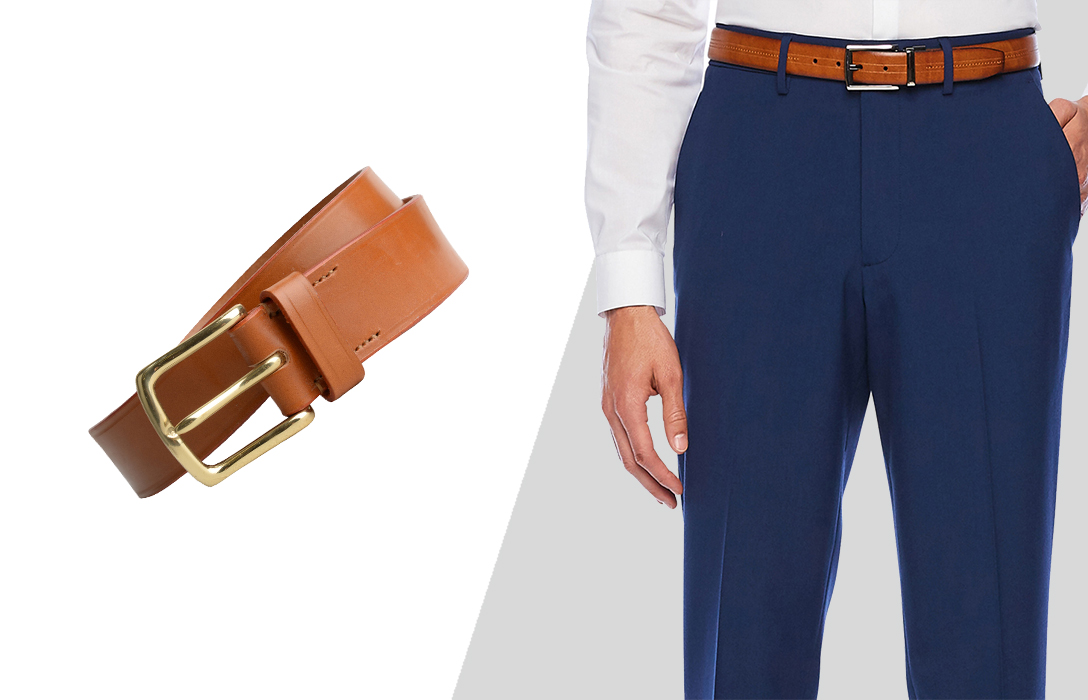 It must be thin leather with a frame buckle that's made of metal. As always, the color of the belt must match the color of your shoes.
A blue semi-formal suit is an excellent time to sport a pocket square. It can match the color of your dress shirt or be plain white.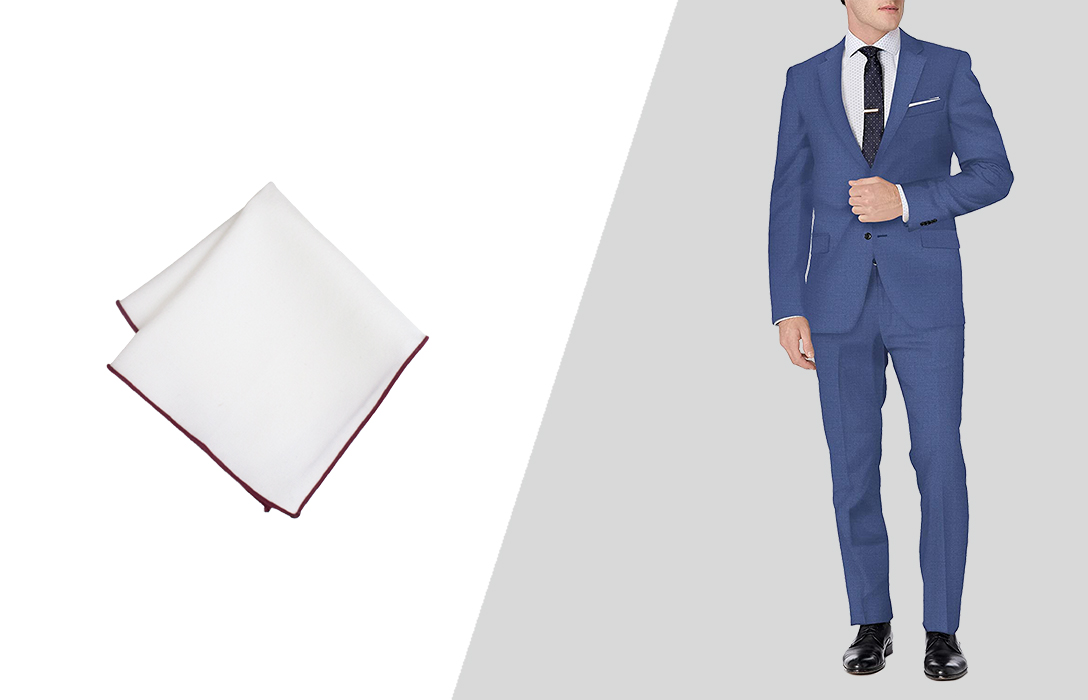 If you opt for a design on your pocket square, don't match it precisely to your tie. Instead, have one minor color in the print match the color of your tie.
However, both your tie and pocket square cannot be patterned.
Wear a Light Blue Suit for Casual Events
Light blue suits are perfect for casual events and absolutely ideal for summertime. The lightest shades of blue are the most casual shades.
There are a couple of different shades of pale blue; you could go with a sky blue, a baby blue, or the very palest shade of powder blue.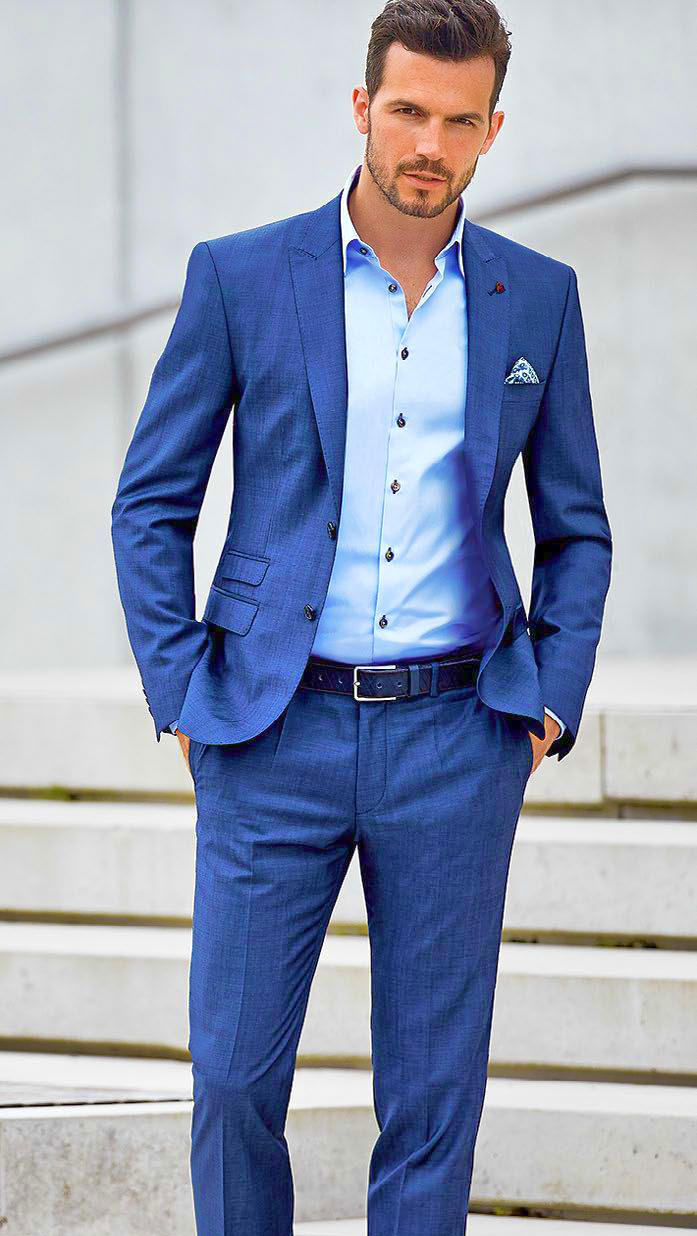 Each of these colors has more white tones than other blues, making them excellent for ditching many of the trappings of a more formal suit ensemble.
You'll love wearing your light blue suit for daytime outings, casual dinner dates, or cocktail parties with friends. And if you're wearing a summer suit, you'll appreciate its lightweight material.
Possible Shirt Choices
Light blue suits are wide open to almost any style of dress shirt you fancy, whether solid, striped, or checkered.
If you decide you want a colored dress shirt instead of a white shirt, pale shades (like a powder pink shirt) will work best. They create a contrast with the blue.
Nearly any pastel would be appropriate, except for a light blue shirt. It would be too monochromatic, and you would look washed out.
So save the pale blue shirts for your dark suits.
Light Brown Shoes
Again, you need to match your shades of blue and brown to each other.
Light blue suits require light brown shoes; any dark shades would feel very clunky and out of place.
Loafers without socks on a summer's day look fantastic and very leisurely. You could also wear dressy (but not formal) shoes like monk straps or brogues for a very modern feel.
For a highly laid-back outfit, wear a pair of clean, white sneakers. The very casual shoe with a simple suit is very trendy.
Skip the Tie
With an outfit this contemporary and relaxed, you don't need to wear a tie.
Instead, you can leave it off for the day and enjoy the free feeling of this comfortable suit. This will help plant your outfit firmly in the casual category.
The tie-less approach looks especially fine with a white shirt because all your focus will be on the crisp shirt.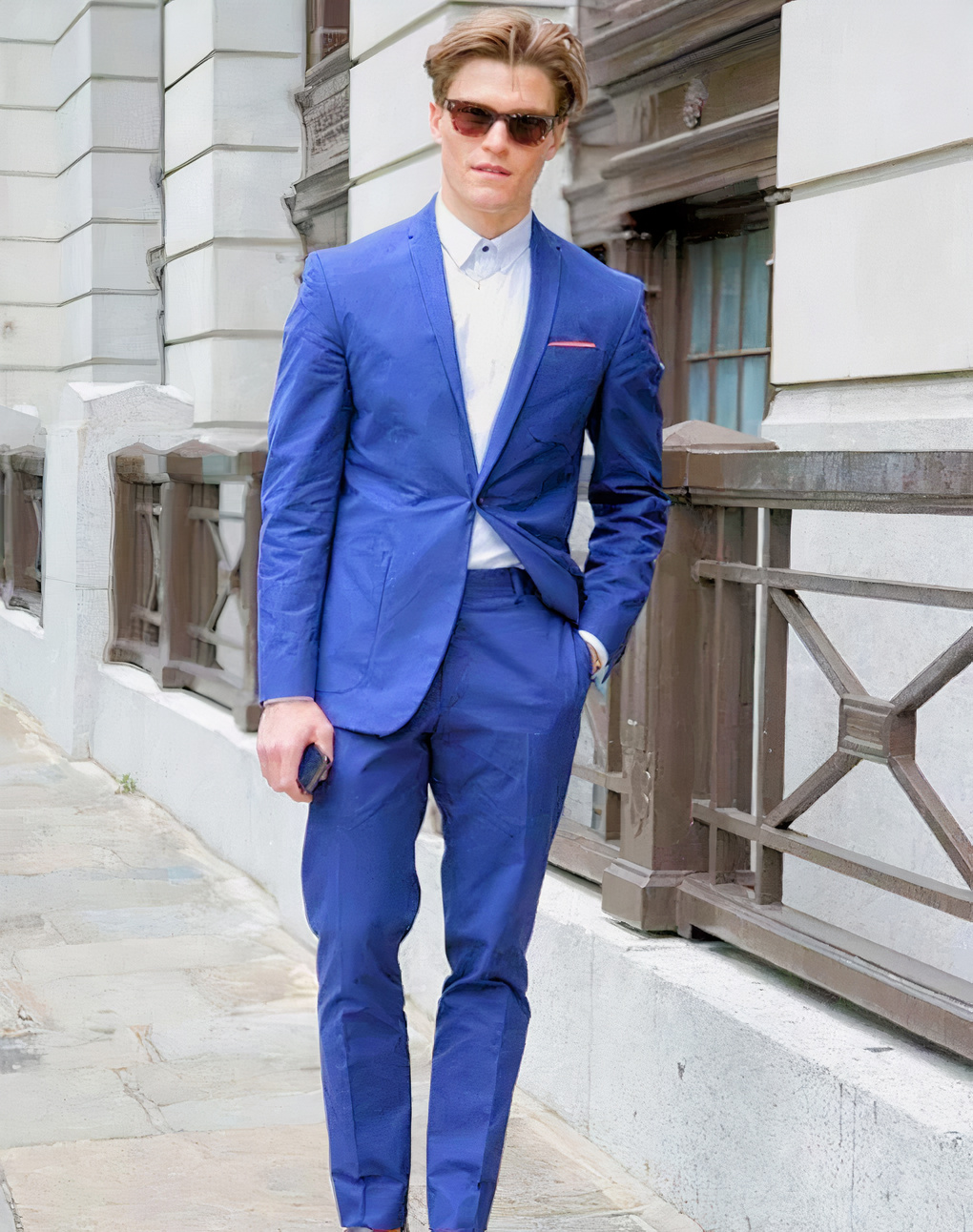 If you want to spice up your suit a bit and add a tie, that's also a welcome look. Red, brown, navy, and blue are all acceptable colors, depending on the effect you want to create with your tie.
You can go with a patterned tie for a more exciting ensemble. A floral print, for example, is brilliant for a summer suit.
Accessories You Can Wear
You can wear a belt with a casual, light blue suit, but it doesn't need to be strictly dressy.
Depending on the shoes you will wear with a blue suit, you might want to add a canvas belt for an unexpected style twist.
If you are going with the suit and sneaker look, you should either opt for the canvas belt or skip the belt altogether.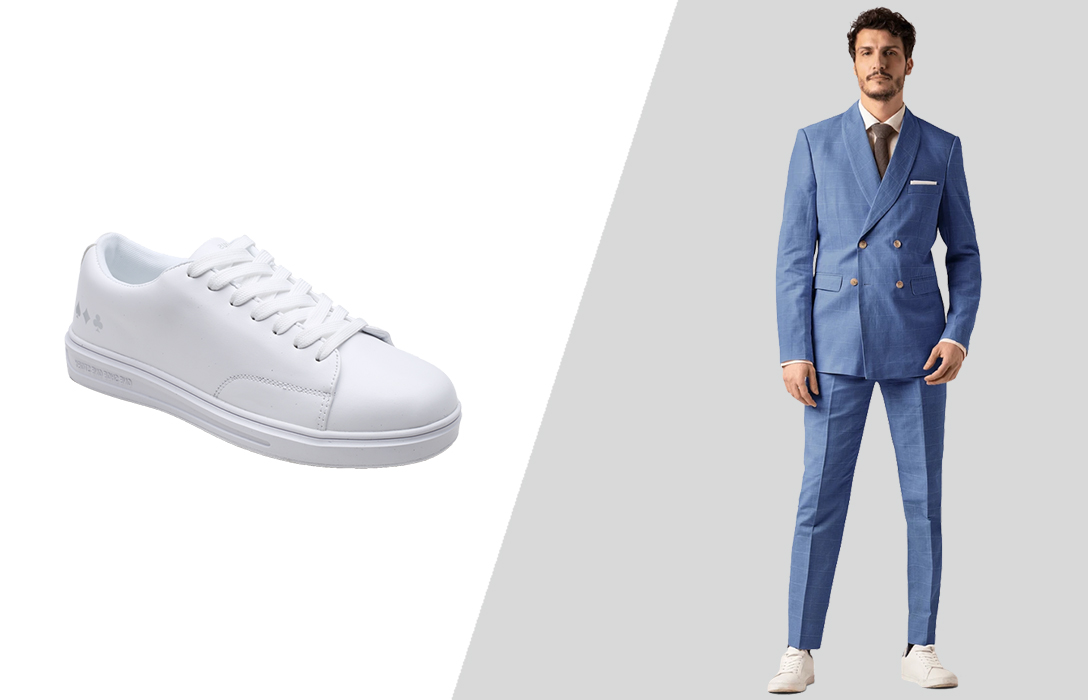 Adding a pocket square looks especially cheeky with a light blue suit. Your pale blue suit already conveys a sense of fun and leisure; adding it is a nod to a higher, more formal style.
Skipping accessories completely keeps you firmly on the casual side of the dress code.
How to Separate the Blue Suit Jacket & Pants
Since blue is a wholly versatile color, it's simple to wear your blue suit as separates. Naturally, this opens up your wardrobe exponentially.
Wear your blue suit jacket with denim pants or some other dark dress pants. You can stick with neutral shades like black or grey or something more daring like maroon pants.
If you decide to go casual with denim, make sure that the jeans are dark, clean, and in excellent shape. They should also fit you perfectly, without any bagginess.
Jeans are difficult to dress up properly, but it is easier if the jeans are in excellent condition.
With denim, khaki, or other casual dress pants and your blue suit jacket, you could pair them with an excellently fitted t-shirt. This is a perfect way to achieve a smart-casual style.
Of course, a white shirt is best if you wear a blue suit to the office. However, if you are wearing it for a social event, try a great print to add some nuance to your outfit.
You could even toss on a blazer to create a whole new effect.
Wrapping it Up
There's a lot that you can wear with a blue suit. You just have to follow some simple rules when wearing a suit that should keep you on the right track!
Every man needs at least one navy blue suit in his closet. But after that, why not start expanding your range of blue suits?
That will keep you covered for all situations, whether you need the ultimate business suit, a formal outfit for a wedding, or a casually elegant suit for a summer picnic.
And when you invest in a blue suit, you're getting your money's worth since it's so versatile. Also, you can dress the blue suit up or down easily, depending on the occasion.
It's almost like getting two suits for the price of one.
Author: Alexander Stoicoff
Hi, I'm Alex, and I've studied and specialized in styling in Rome. Through my writing, I want to help men dress well and learn the purpose and significance of suits and other formal attire. My final goal is to make men more confident in their wardrobe choice and life in general.