Summer is a time to slow down and loosen up those restrictions that are in place the rest of the year. That applies to your summer suits, as well!
Embrace a laidback style without sacrificing your personal flair; the correct suit will help you sail through summer without breaking a sweat. Or at least, not much of one.
Suit Supply
A light and breezy suit will get you through the most dog days of summer like a champ. And the lighter the color of your suit, the cooler you'll stay.
A sand-colored suit acts as a sun reflector and is ideal for a versatile approach to summer suiting. You can dress it up or bring it to a completely casual level.
A half-canvas structure brings the best of both worlds for summer wear; it offers formal structuring but remains breathable. And consider what your fabric conveys, too.
Pure linen is quite casual, so incorporating a cotton blend elevates the suit since it adds some structure.
Fabric: Linen cotton blend
Suit Features: Jetted pockets; half-canvas construction; 2.5 buttons
Buy Now: $698
Hugo Boss
Add a splash of cheery color with a light blue suit; it keeps you looking breezy and refreshed. Oh, and did I mention it's sophisticated, too?
This suit proves you don't need to give up wool in summer, either. You can maintain your standard formality without jeopardizing your comfort.
It's constructed from virgin wool, so it allows airflow through the fabric. It also has moisture-wicking properties.
Fabric: 100% virgin wool
Suit Features: Lined; classic fit cut; subtle check design
Buy Now: $895
Canali
Summer is all about unwinding; that doesn't mean you need to ditch your quiet luxury. With the proper cut, structure, and fabric, your style can still thrive in the heat.
Blend together a few luxury fibers to craft a unique deluxe suit that stands above the standard summer suit. This blend of natural materials means a suit with structure, movement, and airflow.
Keeping your suit jacket unlined helps your suit, and by extension, you, breathe better.
The lack of lining allows the air to flow through your lightweight fabric and around your skin rather than trapping in heat.
Fabric: silk, cotton, wool
Suit Features: Unlined, flap pockets, flat-front trousers
Buy Now: $2,950
Boglioli
When you don't want to give the impression that you're lounging around on vacation, it helps to opt for a darker hue of beige.
It's still light enough to keep you cool but darker for a more serious vibe. It's the ultimate in summer suit flexibility.
Keep this darker shade utterly relaxed with a deconstructed and unlined suit jacket. It keeps the suit firmly summer casual.
Fabric: 100% linen
Suit Features: patch pockets; unlined; tab fasten pants
Buy Now: $1,505
J.Crew
Not all summer suits need to be a neutral pale color. Sometimes you want a dark color, perhaps for the office or evening events. Skip the wool, though, and land on this unique blend.
A dark chino suit doesn't risk getting too formal since the fabric and the right details can keep you looking breezy.
Chino suits have a texture that adds flair and casual elegance in summer. This one offers a generous cut that keeps you comfortable during the hot weather.
Fabric: Cotton/linen blend
Suit Features: Partially lined; patch pockets
Buy Now: $89 (suit jacket only)
Zara
You can't beat a linen suit jacket for a casual and carefree summer style. This affordable option will preserve your swagger and keep you looking suave during the hottest months.
Layer that breathable fabric with a light beige, and you'll signal that you're ready to kick back and relax but aren't throwing in the towel on style. Opting for a neutral shade is good sense; it can blend with nearly any shade.
Ensure a polished jacket interior and ease of movement when you incorporate a lining, but keep in mind that a polyester construction isn't breathable and takes away from the linen's airiness.
Fabric: 100% linen exterior, polyester lining
Suit Features: Welt chest pocket, flap pockets, interior pocket
Buy Now: $169 (suit jacket only)
Nordstrom
A sport coat can be an excellent alternative to a full suit when the sun is burning bright. Look work-ready in navy, but keep the warm weather aesthetic with a lightweight fabric and simple, clean lines.
A linen sport coat is a terrific way to incorporate the casual vibe without going full linen suit informal. Pair it with khaki chinos for the perfect business casual effect.
Fabric: 100% linen
Suit Features: Fully lined; patch pockets
Buy Now: $299
Ralph Lauren
Upgrade your standard summer denim with a chambray suit. The unstructured blazer comes in the palest blue, creating a casual, cool, modern style.
Chambray is a departure from your typical summer outfits of linen. It's just as light and breathable, but it's also rugged and has a singular style.
Fabric: Chambray
Suit Features: Patch pockets; half-canvased; partly lined
Buy Now: $498 (jacket only)
Moss
Make a smash entrance at your formal summer event with a three-piece dusty blue linen suit. It will set you apart and keep you cool in every which way.
The inclusion of a vest raises the stakes on your average summer suit, showing that you don't need to drop all style when the mercury rises.
Some light texturing will enhance your suit's elegance. When most other guests will be matching each other in their khaki linen suits this summer, you'll impress even the most hardened fashion critic.
Fabric: 100% linen, 100% recycled polyester lining
Suit Features: Classic fit; flap pockets
Buy Now: $358 (jacket); $200 (pants); $180 (vest)
Indochino
Every summer wardrobe must include a suit that's more than breathable but also moves well. That's why adding a little stretch to your day and your suit is a great idea.
Whether you're shaking it on the dance floor or just getting up and down from your desk seat frequently, you'll appreciate this suit's elasticity.
Khaki is also a beautifully versatile summer color. It's easily one of the most flattering suit colors for most men and can pass for casual or formal settings.
Fabric: 97% cotton, 3% spandex
Suit Features: patch pockets, single vent
Buy Now: $499
Things to Consider when Buying a Summer Suit
If only suit shopping were as simple as choosing the one you think looks nicest. However, you need to have a list of essential boxes your summer suit should check.
For example, what's your suit budget? Spending your annual salary on a single summer suit would be a terrible mistake.
Therefore, only begin your search for summer suits you can reasonably afford.
Maintenance is another vital question. Your suit's got to last you at least a few years, so pay attention to how you'll need to care for it.
If it's super high maintenance, and you know yourself well enough to realize you can't abide by those instructions, keep looking.
The Suit Style
Most rules get relaxed in summer, probably because it's too darn hot to care about much.
Thankfully, fashion rules are loosened during these months, so you can lean toward a more casual and comfortable dressing.
Let your suit do much of the hard work of signaling your casual approach to suiting up. Look for suit jackets with patch pockets and notch lapels; these suit features are as simple as a suit jacket can get.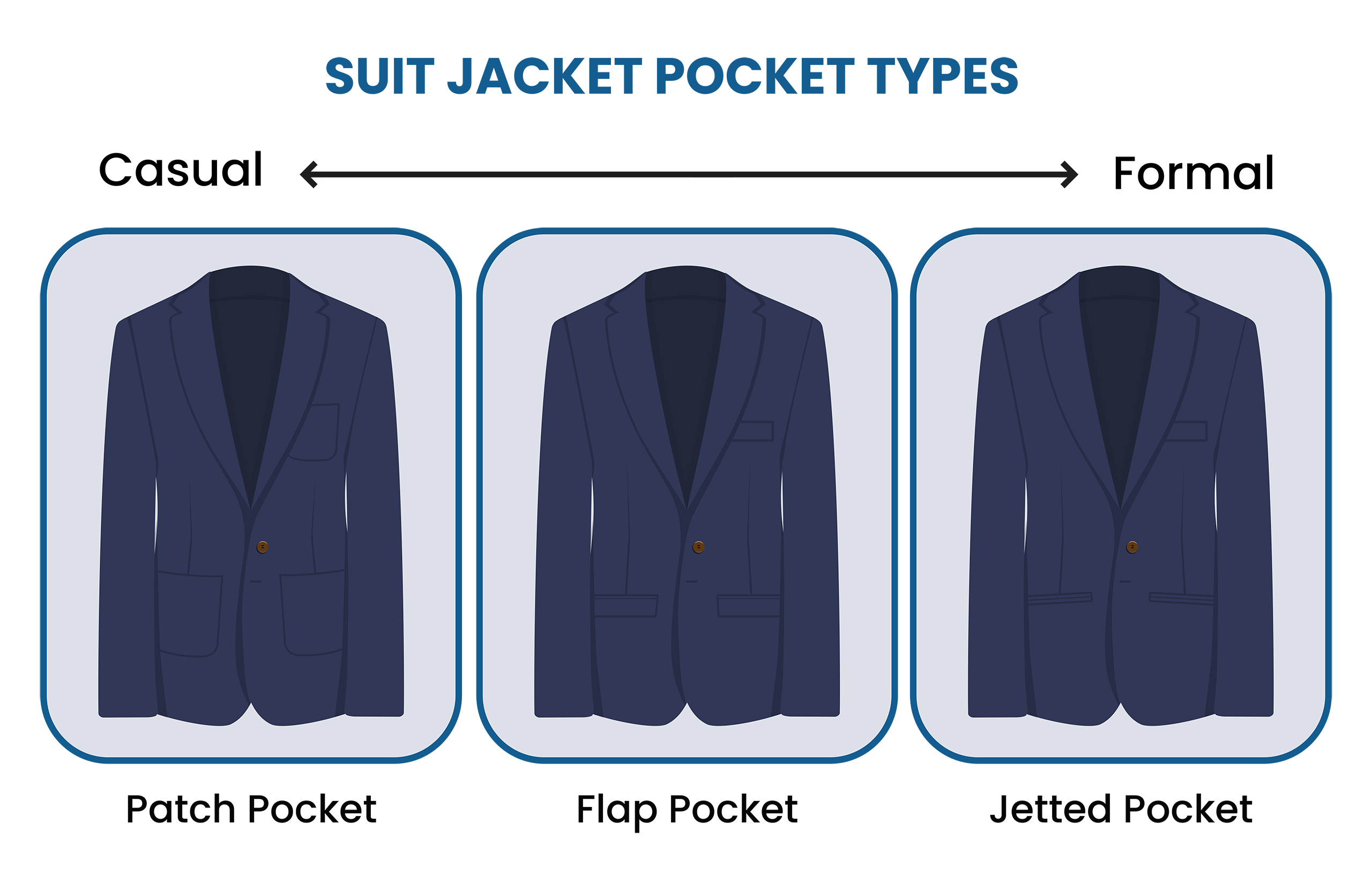 You'll also want to ensure that your suit incorporates elements preventing you from overheating. So, check out the suit's lining and canvassing.
The less of each of these, the better. Little or no lining and canvas will keep you cooler and give your suit jacket a more relaxed silhouette.
Lightweight Fabrics
Face it – the summer heat will make you sweat. Don't make it worse by wearing a heavy material, like corduroy! (I'm sweating just thinking about it.)
Instead, seek out suit fabrics that have a loose weave and are lightweight. Linen, light cotton weaves, and seersucker are all designed to be a relief to heavier wool suits.
They let the airflow and your skin breath. They also have a naturally relaxed structure.
Suit That Fits Perfectly
Remember when I said that summer was a time for bending fashion rules? While that's true, here's one area that doesn't change just because the weather changes.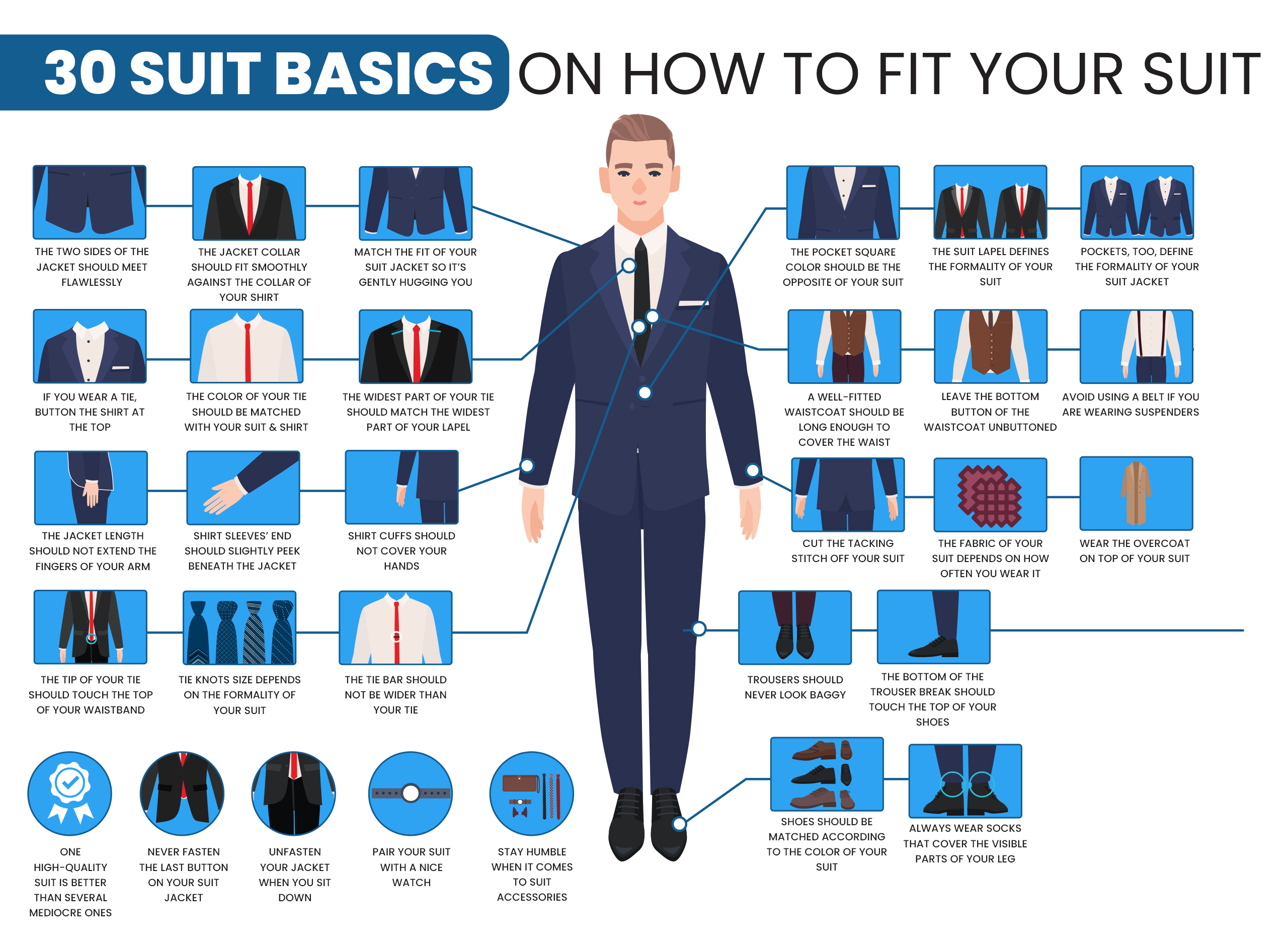 You must always have a beautifully fitting suit, no matter the time of year. Comfort is king when it's hot, but that doesn't mean you can just chuck the fit and go with a baggy style.
Be sure that your suit provides gentle tapering at the waist of your jacket and that the shoulders align with your natural shoulders.
Your jacket's sleeves should end just at your wrist, and the hem of your pants should fall just to the top of your shoe.
Suit Color Choices
By now, you've probably gathered that light suits are the ideal choice for summer. Dark suits may look fetching, but they absorb the sun's rays and make you much hotter.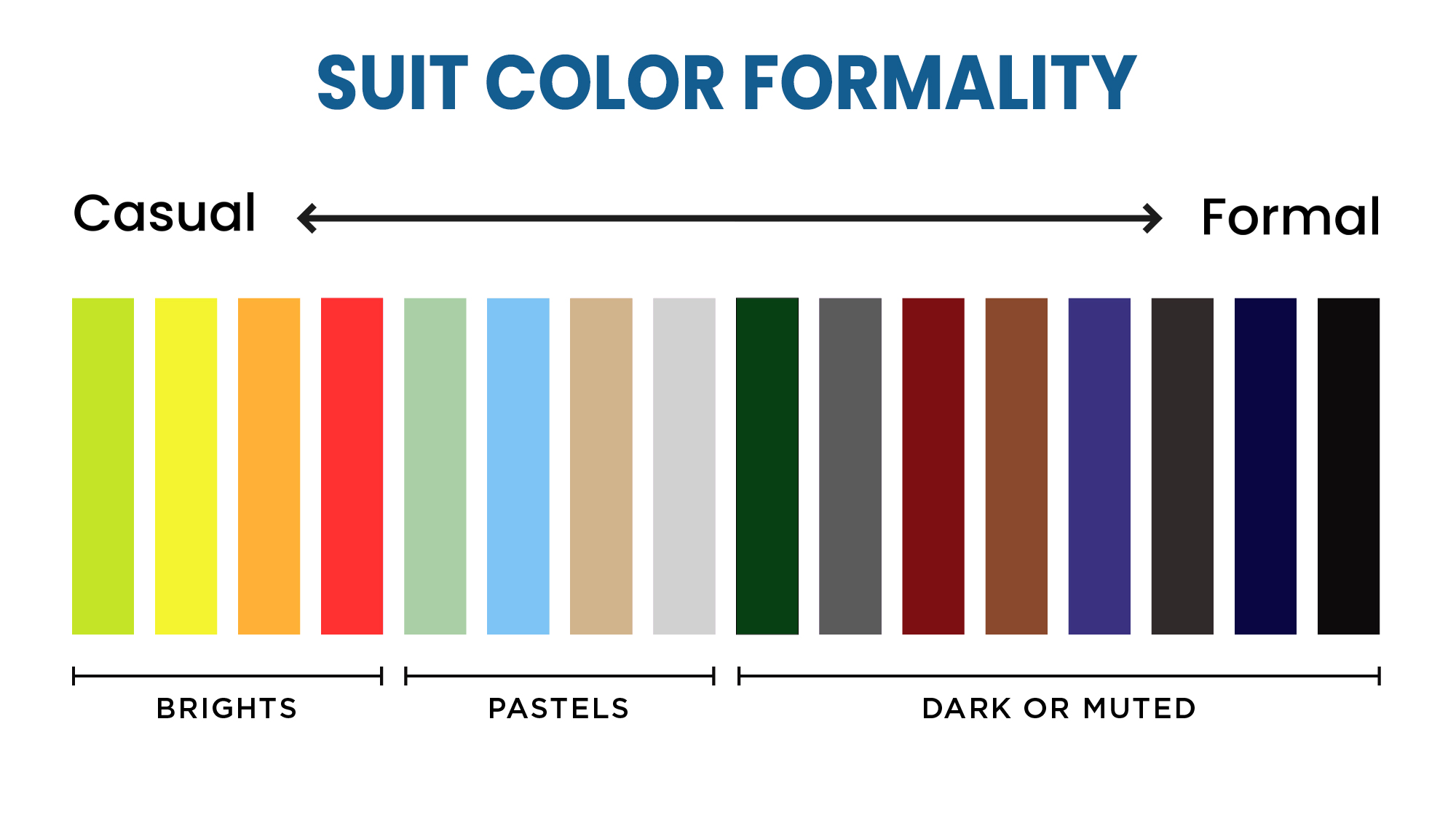 There's a reason you'll see that men in tropical and desert countries typically dress in light, neutral shades. They understand well that they need to reflect the sunlight.
Your most comfortable bets for dressing to beat the heat are khaki, tan, beige, and even white.
Want to shake up the summer suit color scheme? Opt for a pale blue or light grey. You'll stand out and won't risk burning up.
Author: Alexander Stoicoff
Hi, I'm Alex, and I've studied and specialized in styling in Rome. Through my writing, I want to help men dress well and learn the purpose and significance of suits and other formal attire. My final goal is to make men more confident in their wardrobe choice and life in general.