Summer season heralds the arrival of sun-soaked days. And with it, the perfect opportunity for the fashion-forward man to don a white suit.
This chic ensemble is a classic blend of elegance and style, setting the stage for an array of remarkable outfits.
So let's escape the ordinary and dive into the world of white suits, where simplicity meets sophistication.
Charleston Charm
Immerse yourself in the Southern charm and timeless elegance of a white suit styled to perfection.
Featuring a yellowish-white suit, white suit vest, and a crisp white dress shirt, it is reminiscent of the golden age of menswear. Paired with sophisticated brown loafers, it exudes a sense of classic refinement.
This combination is a clear nod to the stylish gentlemen who once graced the streets of Charleston, a city known for its impeccable style and grace.
It's the Ideal summer outfit for a garden party or daytime wedding, a testament to the allure of a well-tailored white suit.
The Charleston Charm – for the man who values tradition and isn't afraid to make a strong, monochromatic statement.
Coastal Breeze
Stepping out in style doesn't mean compromising on comfort, and this outfit proves it.
A combo of a suave white suit and a laid-back black crochet polo strikes a harmonious balance between elegance and ease.
Ideal for a warm summer day by the sea, this look comes to life with the laid-back luxury of black sliders.
Just imagine the gentle coastal breeze, the saltwater scent filling the air, and a casual gathering under the radiant sun. It's the perfect ensemble for an afternoon yacht party or a beachside soirée.
Metropolitan Sophisticate
Nothing spells city-style sophistication like a double-breasted white suit paired with a light-colored shirt and brown loafers.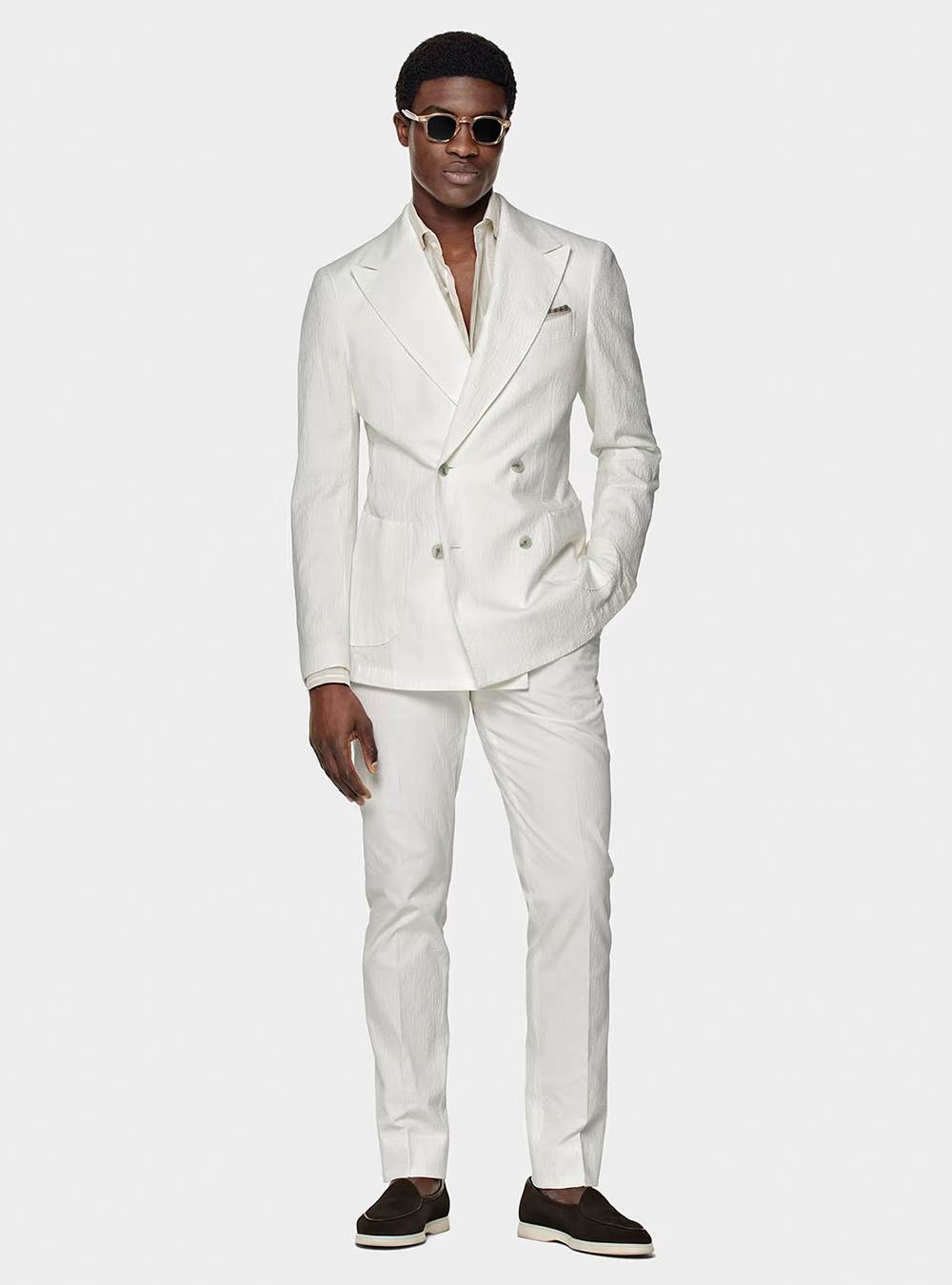 This ensemble, aptly titled "Metropolitan Sophisticate," harmoniously melds the formality of the double-breasted suit with the laid-back appeal of loafers.
The crisp white of the suit against the understated black of the loafers creates a sleek, streamlined look that's perfect for high-profile meetings or downtown dinner dates.
With this outfit, you'll not only navigate the urban jungle with ease, but you'll do it with a class that's hard to match.
Sunset Boulevard Ease
When the city's pulse syncs with the fading daylight, this urban elegance ensemble takes the stage.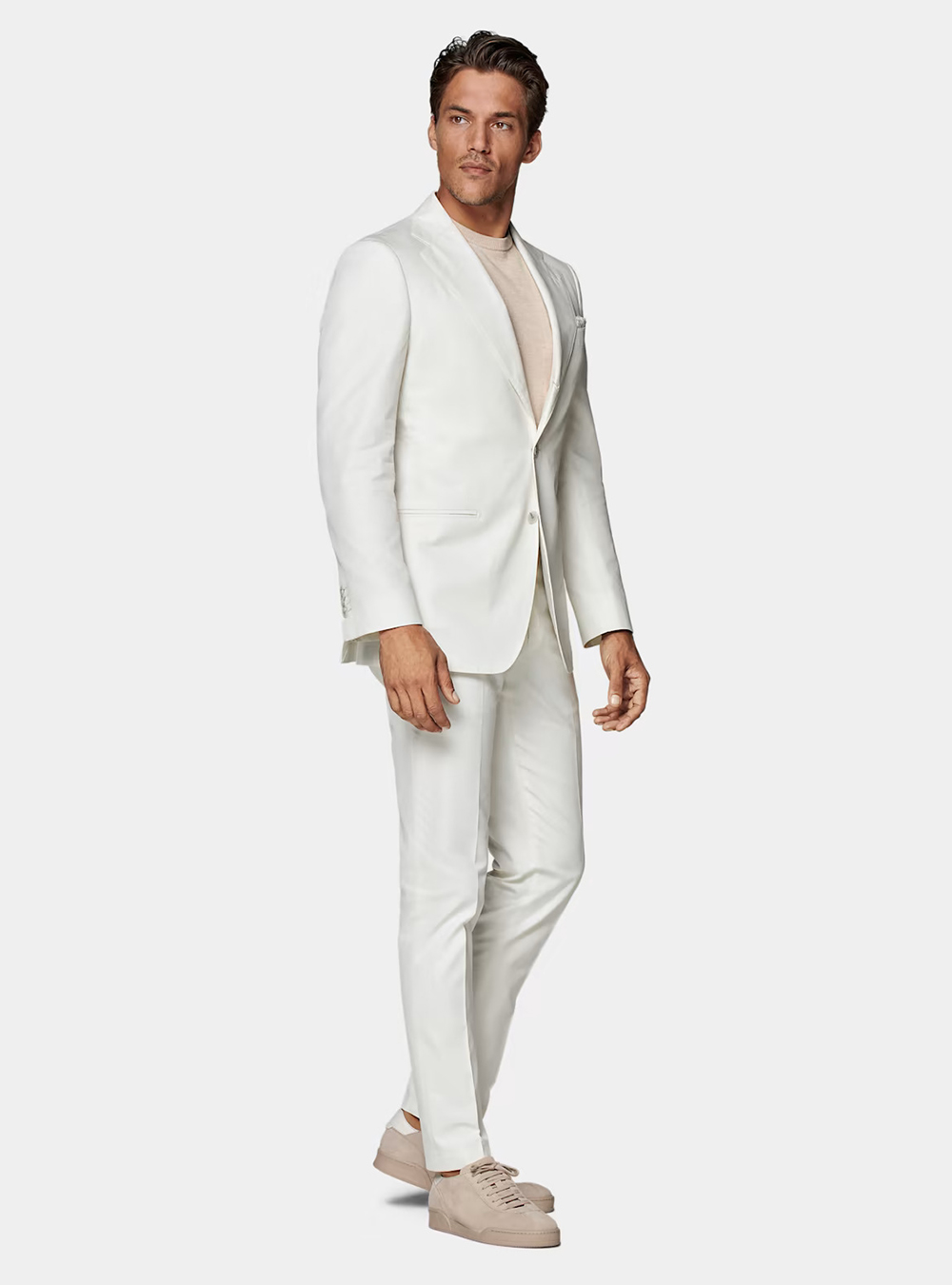 This ensemble melds an excellent linen suit with a laid-back tan t-shirt, perfectly topped off with complementary tan sneakers. It's an unrivaled blend of style and comfort, emanating an aura of nonchalant charm.
The choice of tan contrasts brilliantly against the immaculate white suit, conjuring an inviting, sun-kissed ambiance.
With its understated elegance, this look says 'style maven' in the most hushed of tones. Also, it's a perfect testament that high-end fashion and relaxed comfort are not mutually exclusive.
Urban Espresso Elegance
This concoction of style is your go-to look for a late-night gathering or an artsy event downtown.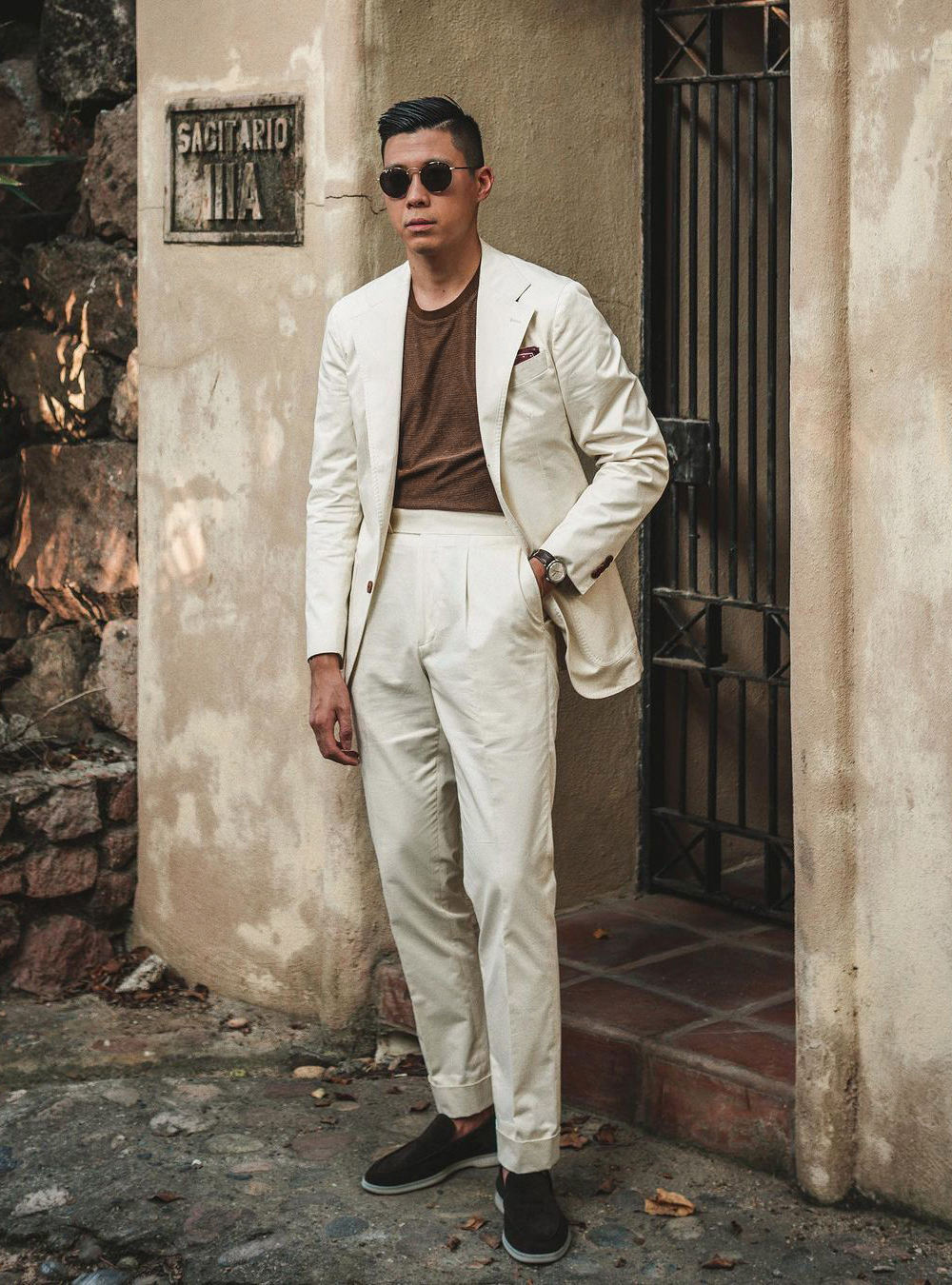 The brown t-shirt adds an earthy contrast to the pristine white suit, while the black loafers contribute to the ensemble's urban sophistication.
This outfit is for those who aren't afraid to push boundaries while keeping their style rooted in timeless elegance.
Twilight Boardwalk Stroll
There's an echo of old money aesthetic in this getup. A classic white suit paired with a soothing blue long-sleeve shirt – the color reminiscent of the sky just after sunset.
The suit jacket casually slung over the shoulder creates an image of carefree elegance. As do the black loafers, rounding out the outfit in a carefree yet polished way.
Whether you're taking a leisurely stroll along the boardwalk or heading out for an alfresco dinner, this outfit exudes an allure of laid-back luxury.
All-White Minimalist Majesty
This ensemble features a polished white suit harmonized with a sleek white turtleneck and grounded with minimalist white sneakers.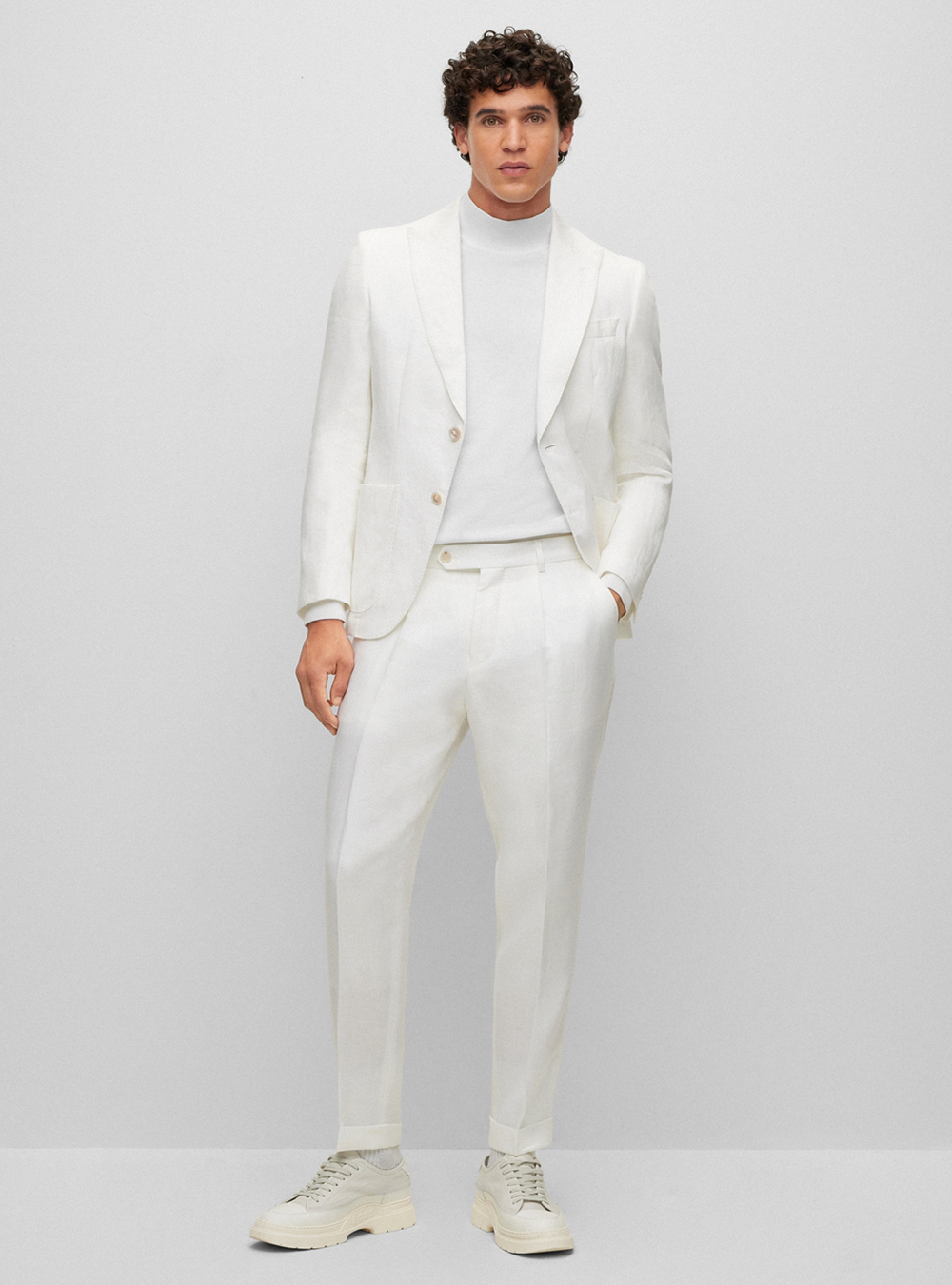 In its essence, it's a tribute to the minimalist movement, exuding a sense of calm elegance with an all-white ensemble that looks anything but simple.
The matching white sneakers add a touch of contemporary cool to the traditional elegance of a suit, making this outfit a modern-day classic.
Bask in the majesty of this all-white ensemble, a look that effortlessly bridges the gap between tradition and trend.
Lavender Field Luxe
Our next ensemble paints a vibrant picture of sophistication. The star of the show here is the unexpected violet floral shirt, a daring yet refreshing break from the more traditional choices.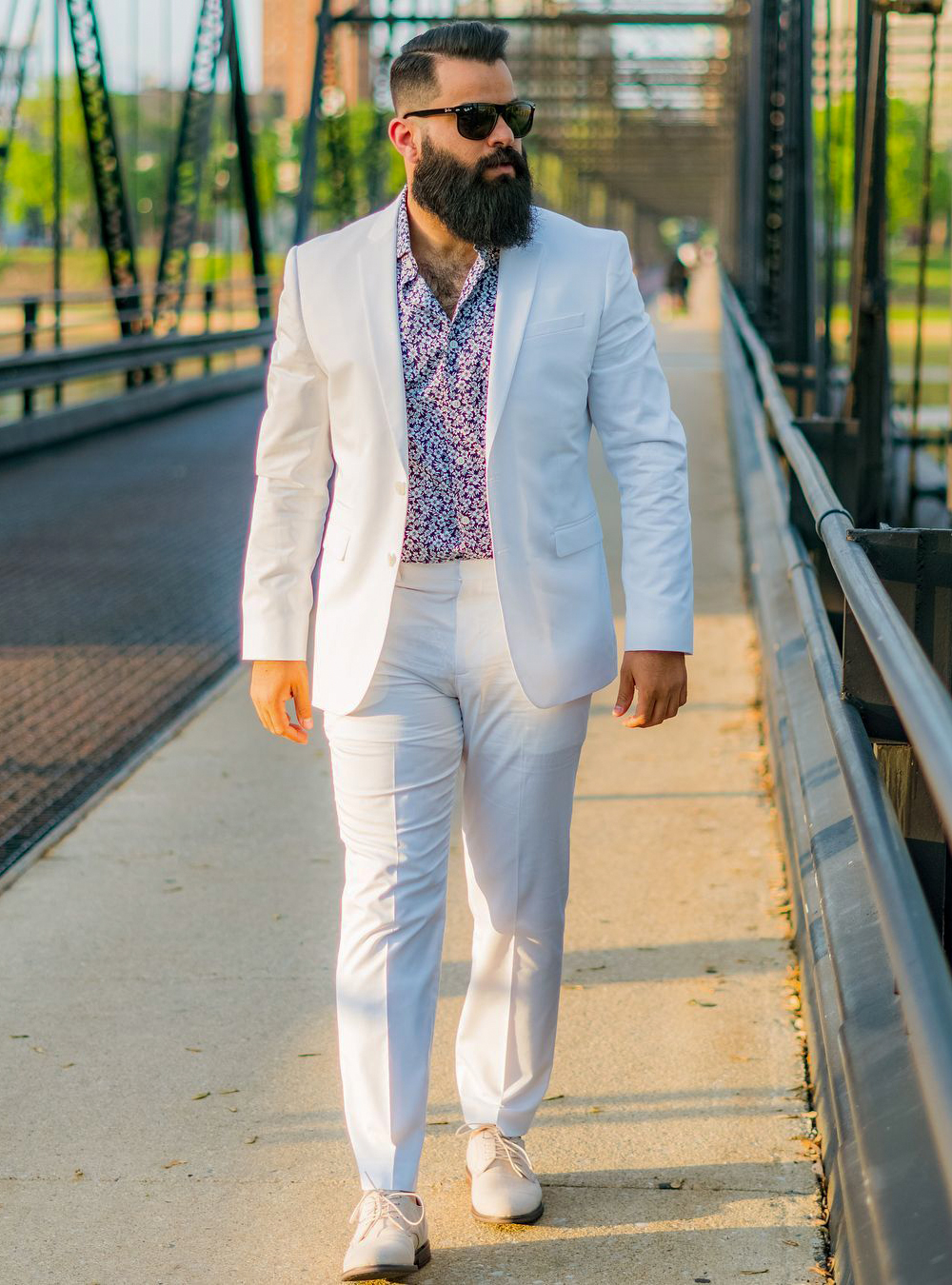 Nestled under the classic white suit, the violet shirt evokes images of beautiful lavender fields in full bloom, creating a luxuriously rich contrast.
To complete the outfit, tan derby shoes are added for a smooth transition and a touch of earthiness.
This ensemble is a unique twist on the classic white suit outfit and is perfect for standing out in the best way possible.
Riviera Regatta Refined
For a look that's straight out of a high-end summer yacht party, this outfit is your best bet. It pairs a timeless white suit with a classic blue dress shirt.
The blue dress shirt underneath is a relaxing callback to the pristine waters of the Riviera, and it adds a pop of color that makes this ensemble even more eye-catching.
We have classy brown derbies on the feet that effortlessly connect the marine blue and pristine white. Perfect for any high-end daytime event.
Noir Blanc Brilliance
This look combines an ivory white suit, a white dress shirt, and black derbies to create a look that's as suave as stylish.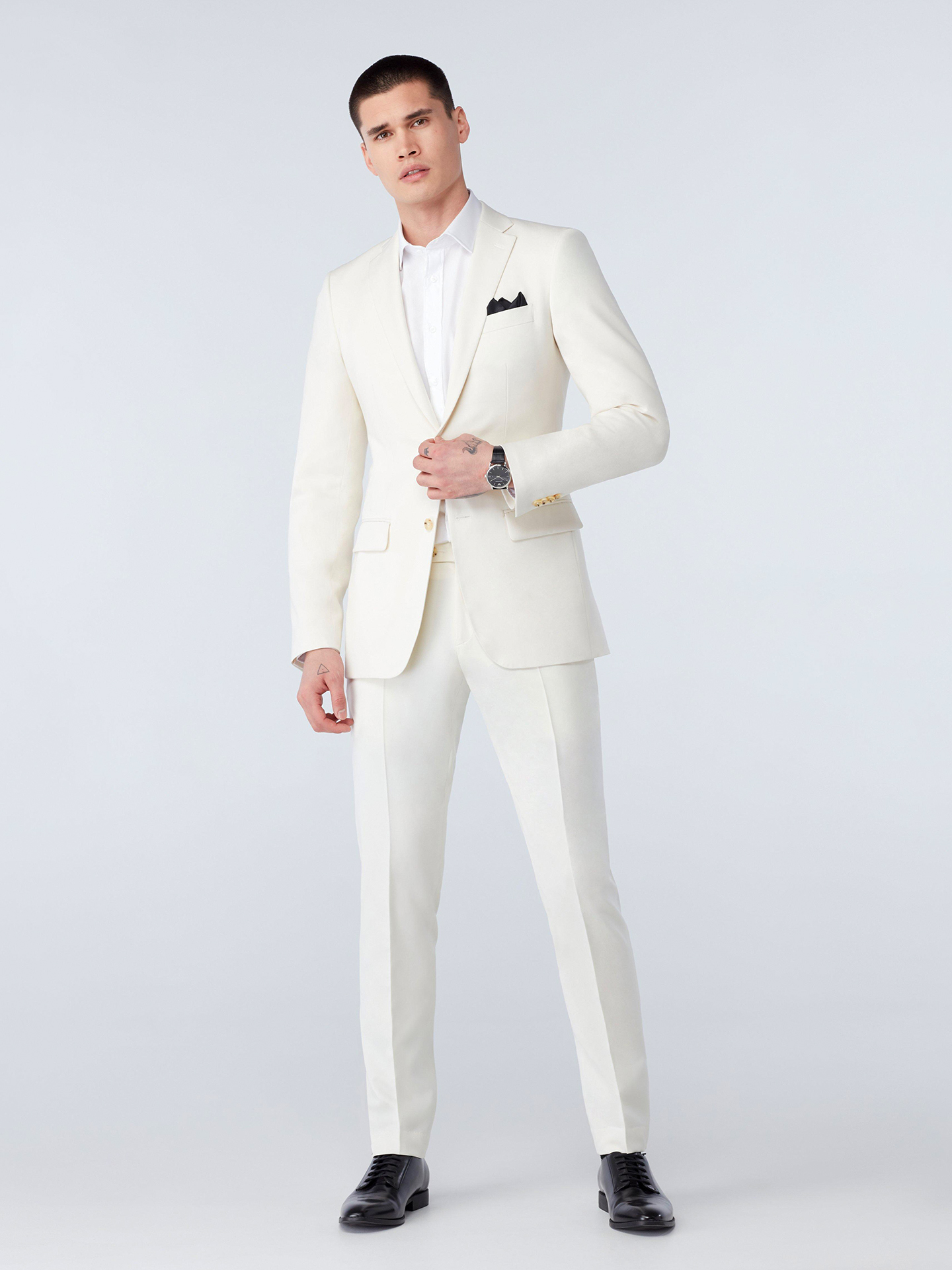 The beauty of this look is in its balance – the stark contrast between the all-white ensemble and the black derbies creates a visually stunning impression.
Perfect for those evening events when you want to look effortlessly chic. Despite its simplicity, it speaks volumes about your refined taste.
Things to Consider When Wearing a White Suit
You've seen how versatile a white suit can be.
Now, it's time to look at some key factors that you need to consider to make the most out of this fashion staple.
Fit and Cut
First and foremost, remember that a well-fitted suit is key to looking polished. Tailored suits often look the best since they hug your body in all the right places.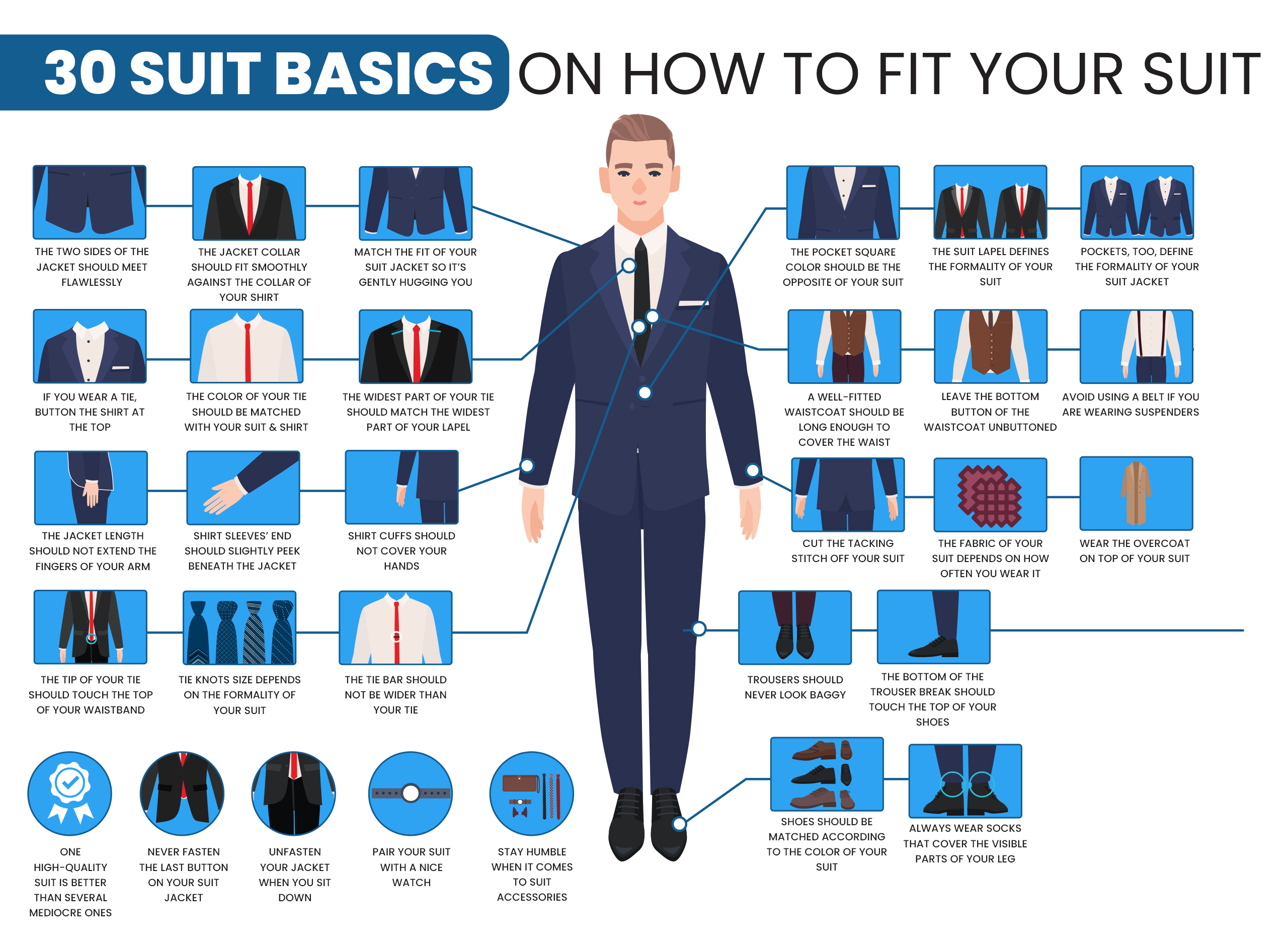 The cut of your suit can dramatically alter its overall look and feel, making it critical to consider when donning your white suit. There are slim-fit, modern-fit, and classic-fit options, each with its unique vibe.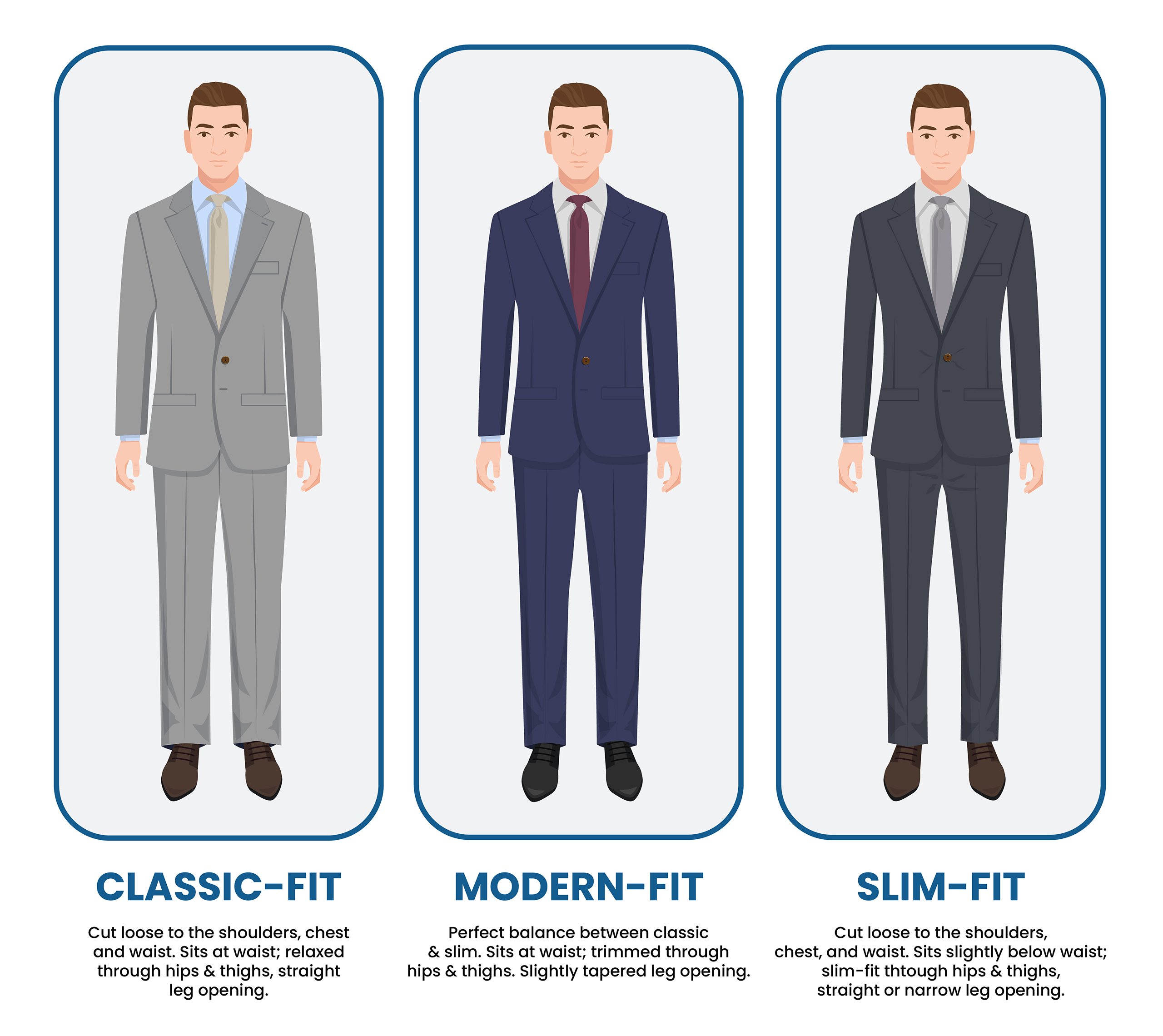 Opt for a cut that flatters your physique and boosts confidence.
Choosing the right suit style is also essential. Single-breasted suits offer a sleek look, while double-breasted suits add formality.
Read more: Differences between single and double-breasted suits.
Coordinating Colors
The beauty of a white suit is that it's a blank canvas. This means you can pair it with an array of shirt colors.
Consider pastels and light neutrals if you're going for a safe choice. These colors blend seamlessly with the white suit and give you a soft, summery look.
If you're after a bolder style, opt for vibrant shades for your accessories. A bright tie or a colorful pocket square can instantly elevate your look and make your white suit pop.
Footwear
Footwear is one of the critical elements that can make or break your outfit. For a traditional look, go for classic loafers or derbies.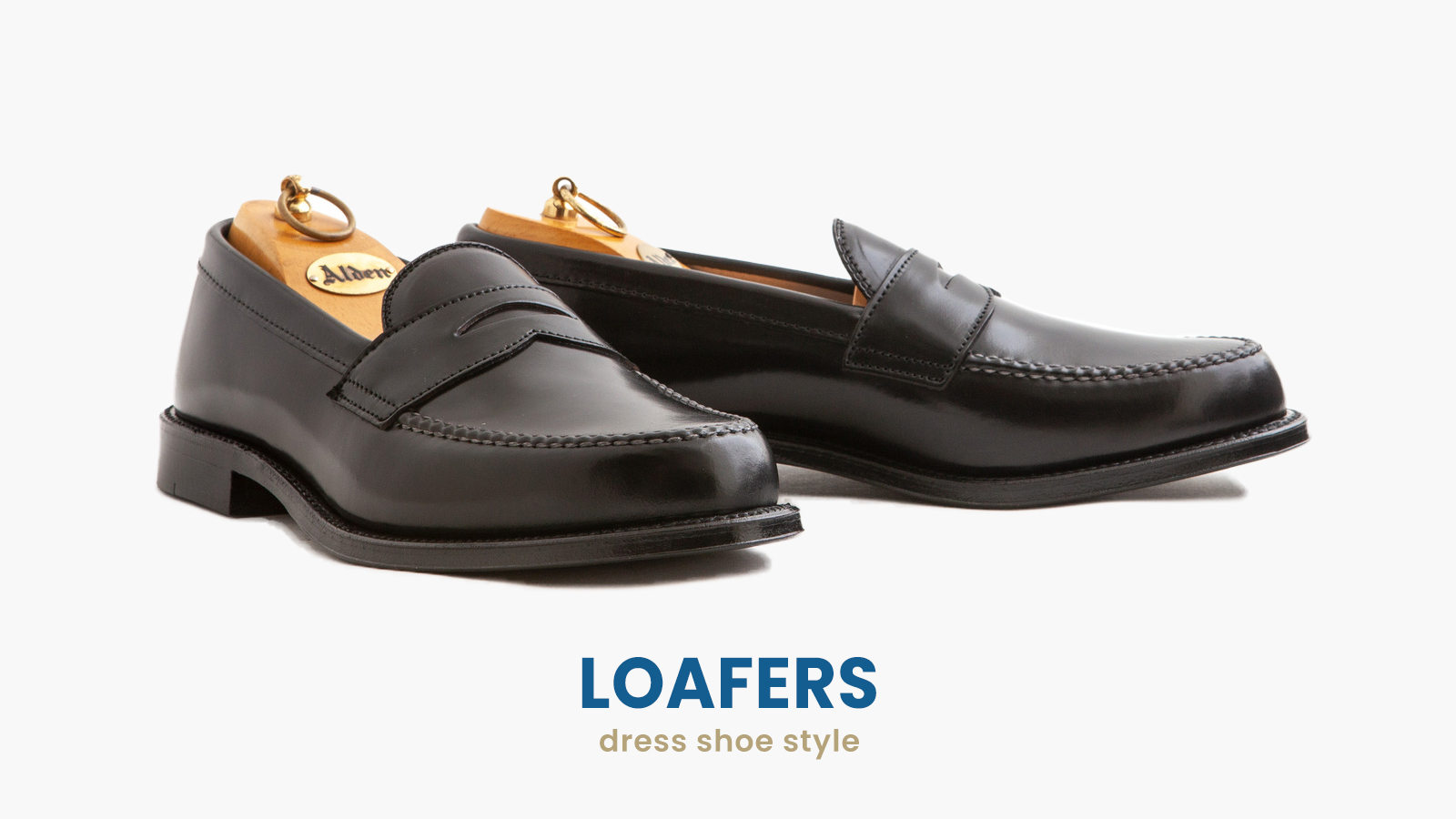 For example, a pair of brown loafers can give your white suit a warm, inviting touch.
In addition, brogues are a brilliant choice if you want to add a little edge to your look.
And for a more relaxed vibe, especially for occasions like a beach party or a day out with friends, a pair of clean sneakers works wonders.
Subtle Accessories
Less is more when it comes to accessorizing a suit.
A simple, elegant watch, cufflinks, tie, or even a sleek pocket square can add a dash of personality to your look without overpowering it.
Remember, your white suit is the star of the show, and the accessories are there to enhance its beauty, not steal its spotlight.
Time and Place
Lastly, the appropriateness of a white suit depends mainly on the occasion and the season. White suits work beautifully at summer parties, beach weddings, and casual social events, giving you a fresh and elegant look.
However, there are better choices for formal business settings or winter events. Consider the event's dress code and season before wearing a white suit.
It's all about dressing appropriately while letting your individual style shine.
Author: Alexander Stoicoff
Hi, I'm Alex, and I've studied and specialized in styling in Rome. Through my writing, I want to help men dress well and learn the purpose and significance of suits and other formal attire. My final goal is to make men more confident in their wardrobe choice and life in general.