When I utter the words "suit outfit," what's the first image that dances into your mind?
A sleek James Bond, perhaps? Or maybe a dapper Harvey Specter, ready to win another case.
Whatever it is, there's no denying the transformative power of a well-fitted suit. This iconic piece of menswear doesn't just redefine style; it redefines the man.
And folks, today, I'm diving deep into some suit renditions that you absolutely can't miss!
Banker's Delight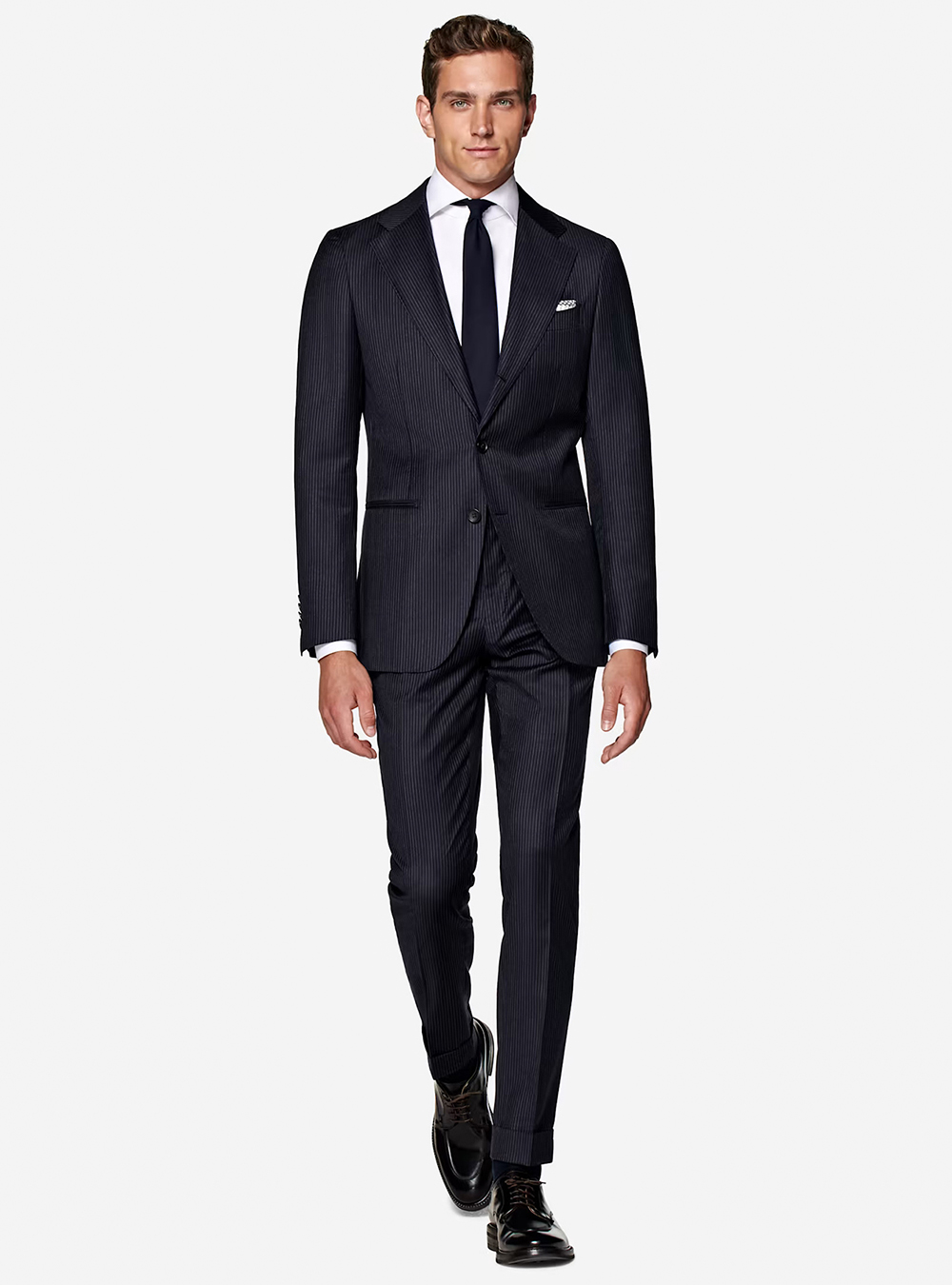 Ah, pinstripe suits! Popular now more than ever, but did you know they were the proud emblem of British bankers?
The width and color of those stripes are subtly hinted at where those bankers were rolling their dough.
Dressed in this navy pinstriped number, you're not just donning a suit; you're wearing history!
Regal in Royal Blue
There are classics, and then there's THIS. This rich dark blue ensemble with its ever-so-subtle tonal stripes is what I call timeless.
The suit cut? Regular. The feel? Exquisite, thanks to a canvassed construction that drapes naturally and effortlessly.
Ever wondered what would make heads turn at that executive meeting? Here's your answer.
Turtleneck Triumph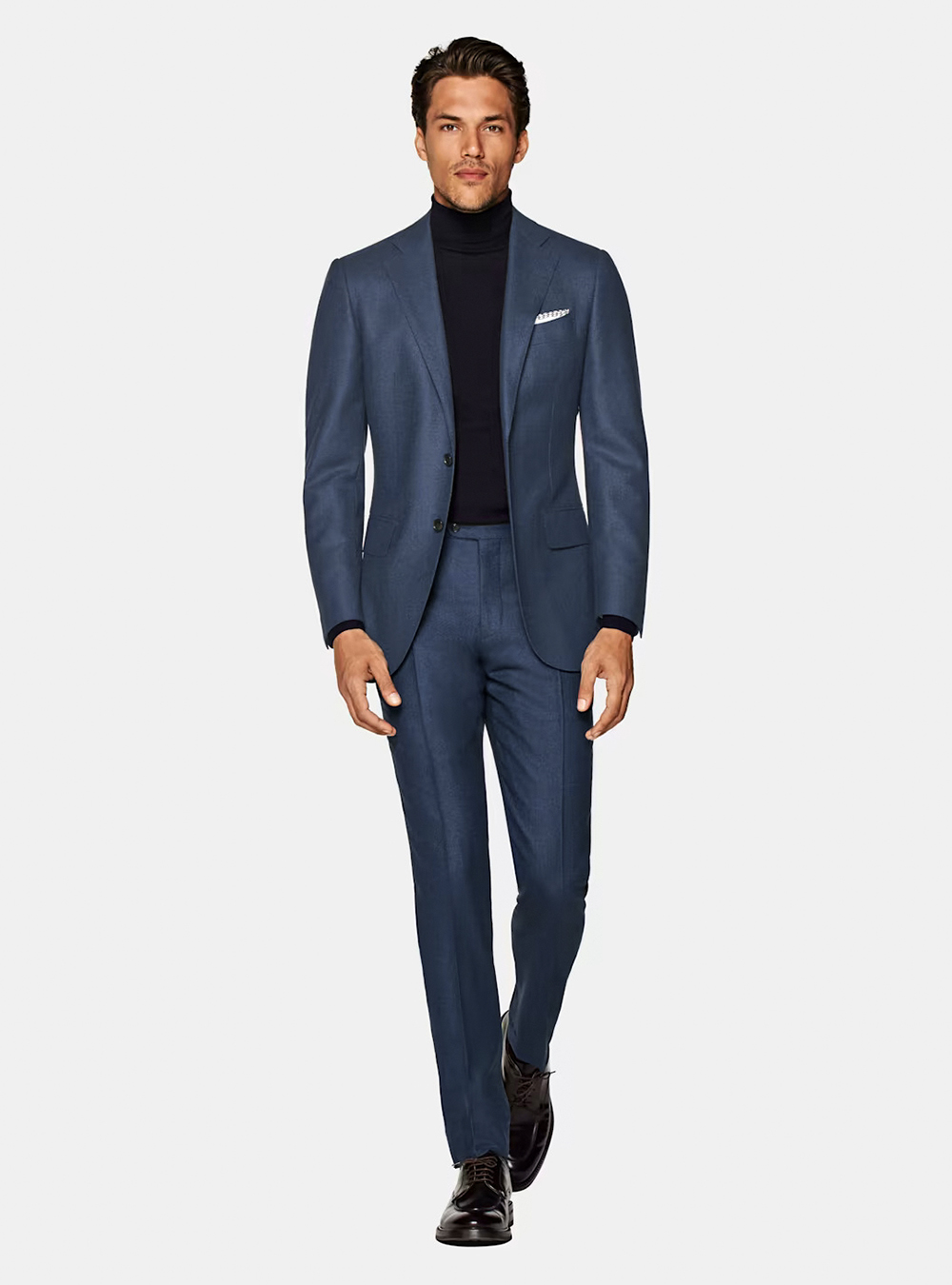 Who said suits always scream business? Pair that navy blue with a snug black turtleneck, and you're ready for anything – from a chilly outdoor soirée to a trendy gallery opening.
Dare to be different? I say, dare to be you!
Metro Marvel
Why go single when you can up? The double-breasted suit style lends a strong fashion statement.
And this navy piece? It's dynamite waiting to explode on the style scene.
Wear it and instantly feel like you can conquer… well, anything, honestly.
Top G
Dress like Tristan Tate by wearing a navy suit paired with a light blue shirt like a real G. And those black Chelsea boots? C'mon!
Break the monochromatic navy blue look with a patterned pocket square.
Ready for Autumn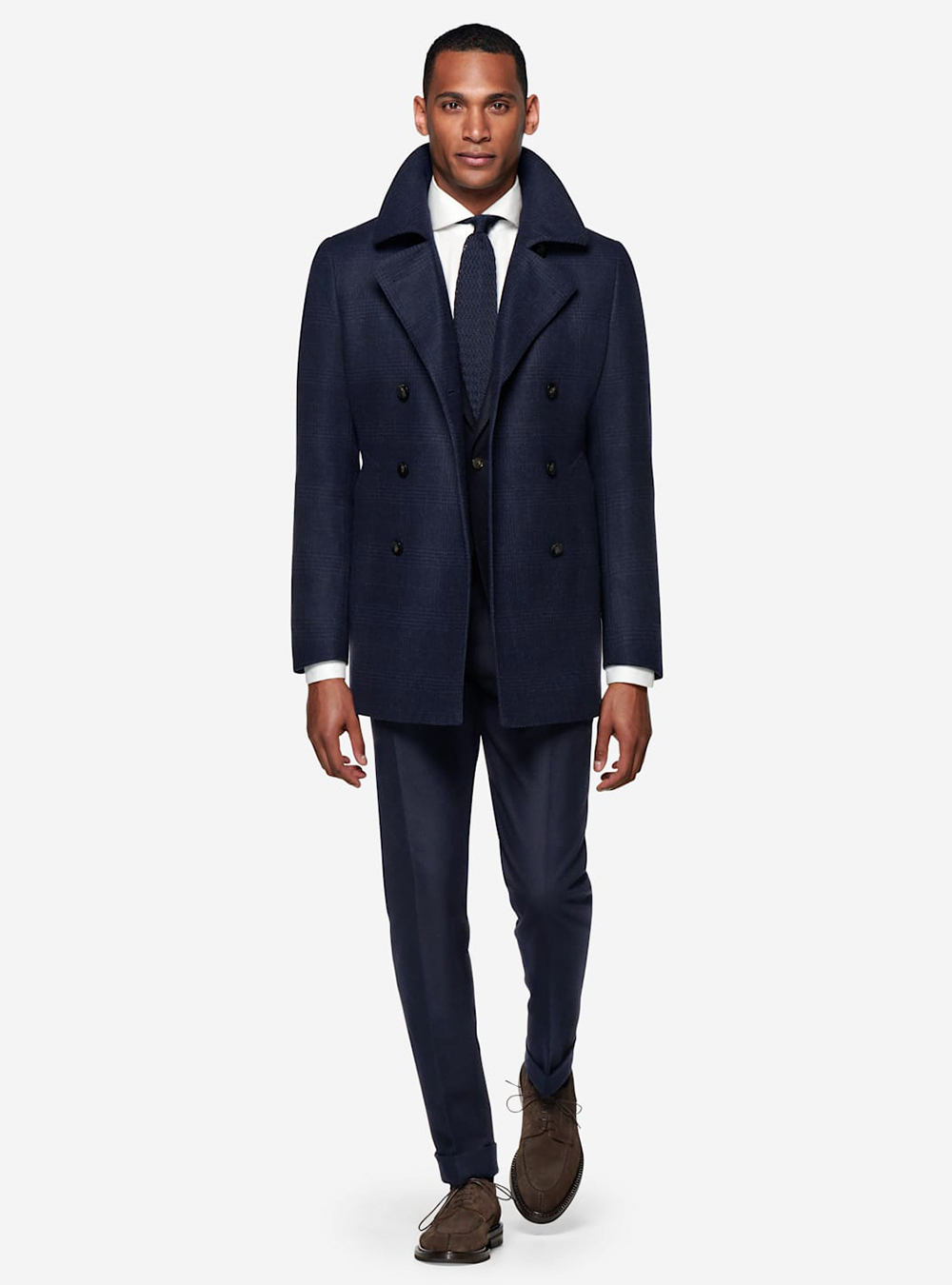 Imagine walking along a New England beach in autumn, waves crashing, wind playing with your tie.
This navy peacoat layered over a navy suit and a white shirt is that mood captured. Trust me, you'll want this combo in your arsenal next time it gets blustery out.
Business, But Make It Stylish
Some combinations are just… chef's kiss. This navy suit paired with a grey tie is all business but with an edge.
Perfect for board meetings or sealing those big deals. And guess what? The black Oxford shoes add that finishing touch of poise.
Next time you want to show you mean business and style, you know what to wear.
High-End Business Formal
In the realm of high-end business-formal attire, the navy suit stands as an emblem of authority. Especially when paired with a calming light blue dress shirt.
The bold red tie, a symbol of leadership and determination, introduces a vibrant contrast. Complementing the suit, brown Oxford shoes infuse warmth and timeless elegance.
Meanwhile, a matching brown leather professional suitcase, essential for toting critical documents, underscores a meticulous eye for luxury and detail.
Windowpane Wonders
Let's talk windowpane. The suit pattern, not the glass!
This three-piece navy number boasts a check pattern that's bold yet subtle. Paired with a light blue dress shirt and a navy tie.
The final touch? Dark brown Oxford dress shoes. Perfect for those moments when you want to stand out, but with an air of understatement.
Dare the Double-Breasted
Double-breasted suits are often neglected by men nowadays. Take advantage of them if you have the chance to showcase a bold and powerful vibe.
Pair with a classic dress shirt, tie, and dress shoes, and move your way to victory!
Sharkskin Allure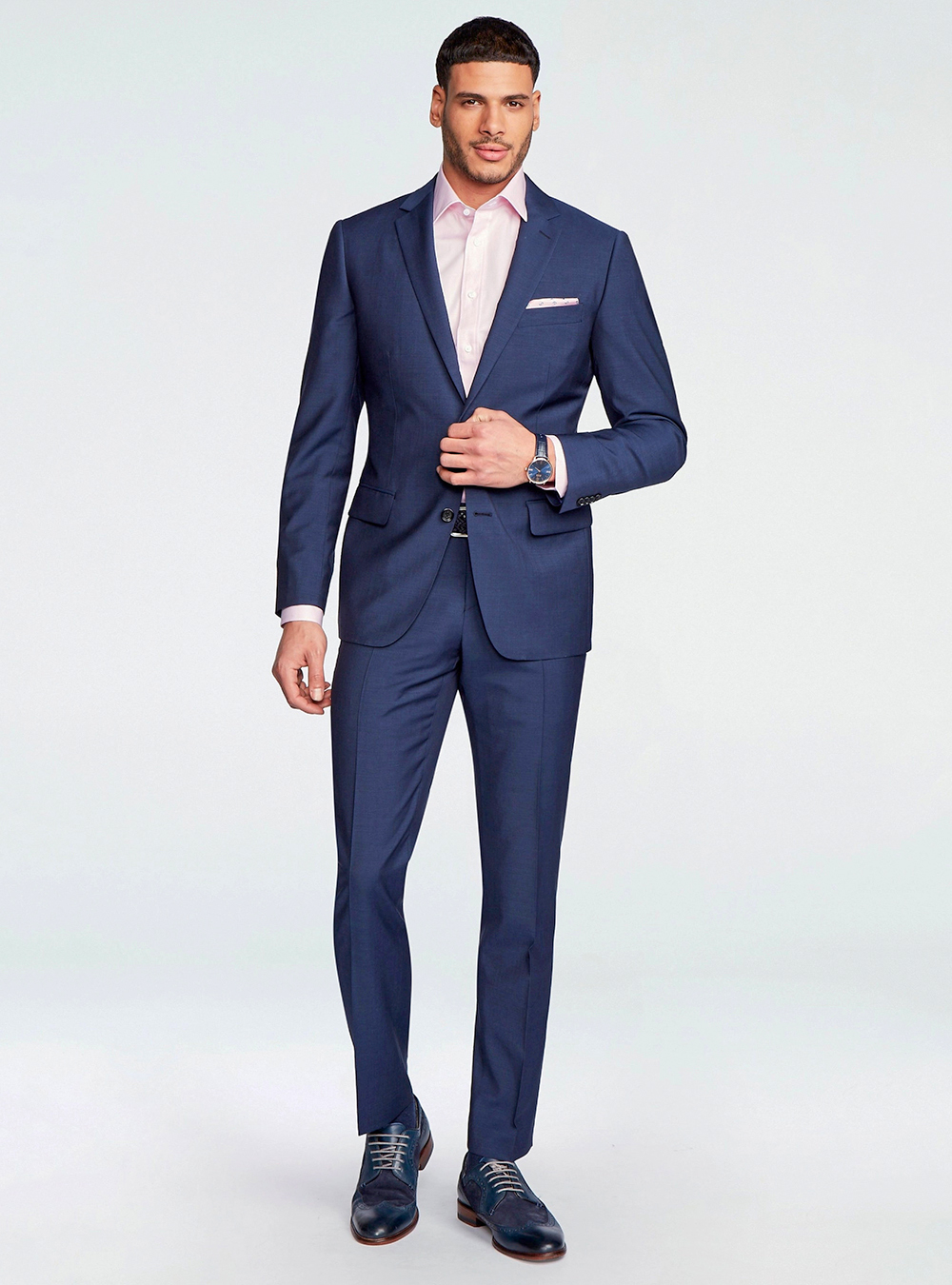 A Sharkskin suit isn't your everyday wear. No, this one has depth, shimmer, and a hint of mischief.
Paired with a pink dress shirt, it's a heady mix of playful and polished. I always say if you're going to make a statement, go big or go home!
Dapper Dots
From calm waters, we dive into a playful realm. The combination of blue with a spunky purple-dotted tie adds an element of surprise.
Rounded off with sleek black derby shoes, this outfit spells both business and pleasure. Go on, be the talk of any wedding (without upstaging the groom, of course!)
Checked Charisma
Harnessing the power of pattern, checks effortlessly create a visual statement that stands out. They present a balance of refinement and audacious flair when executed just right.
The fusion of the shirt and suit here is a masterclass – deceptively detailed yet strikingly impactful.
Step Ahead in Style
In a world where movement is the norm, style shouldn't take a back seat.
From the daily commute to high-octane missions, it's super easy to get dressed to the nines with this blue suit. Pair it with a pristine white dress shirt and a coordinating blue tie for a dash of modern flair.
For the finishing touch, ground the ensemble with polished brown cap-toe Oxfords.
Earth and Sky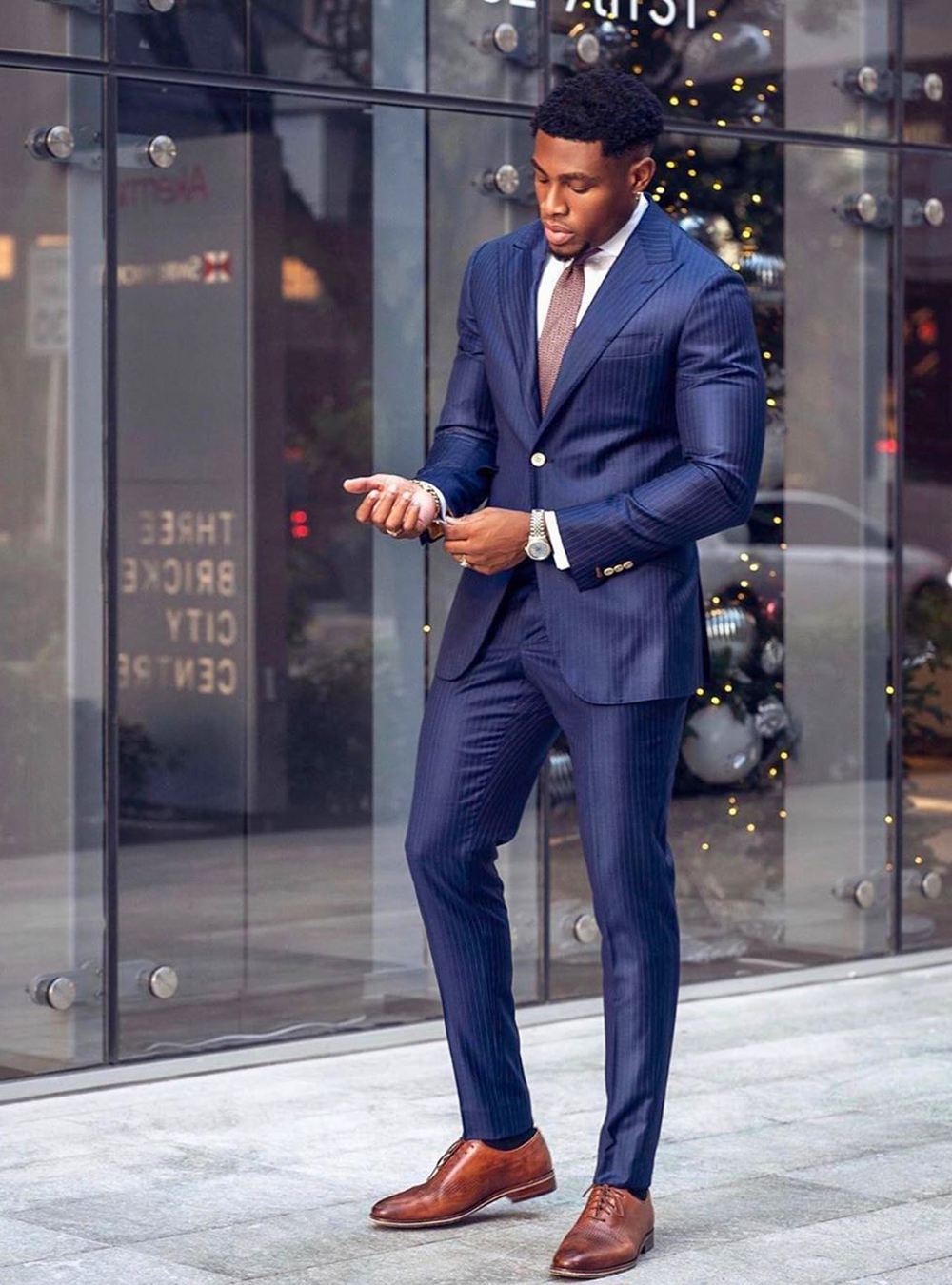 A deep dive into the cool blue of the suit is instantly elevated with the crispness of the white shirt.
The earthly brown tie serves as a bridge, connecting the serene oceanic vibe with the grounded richness of the brown Oxford shoes.
This ensemble is a blend of contrasts, playing between the vastness of the sea and the earth's solidity.
Rosy Reverie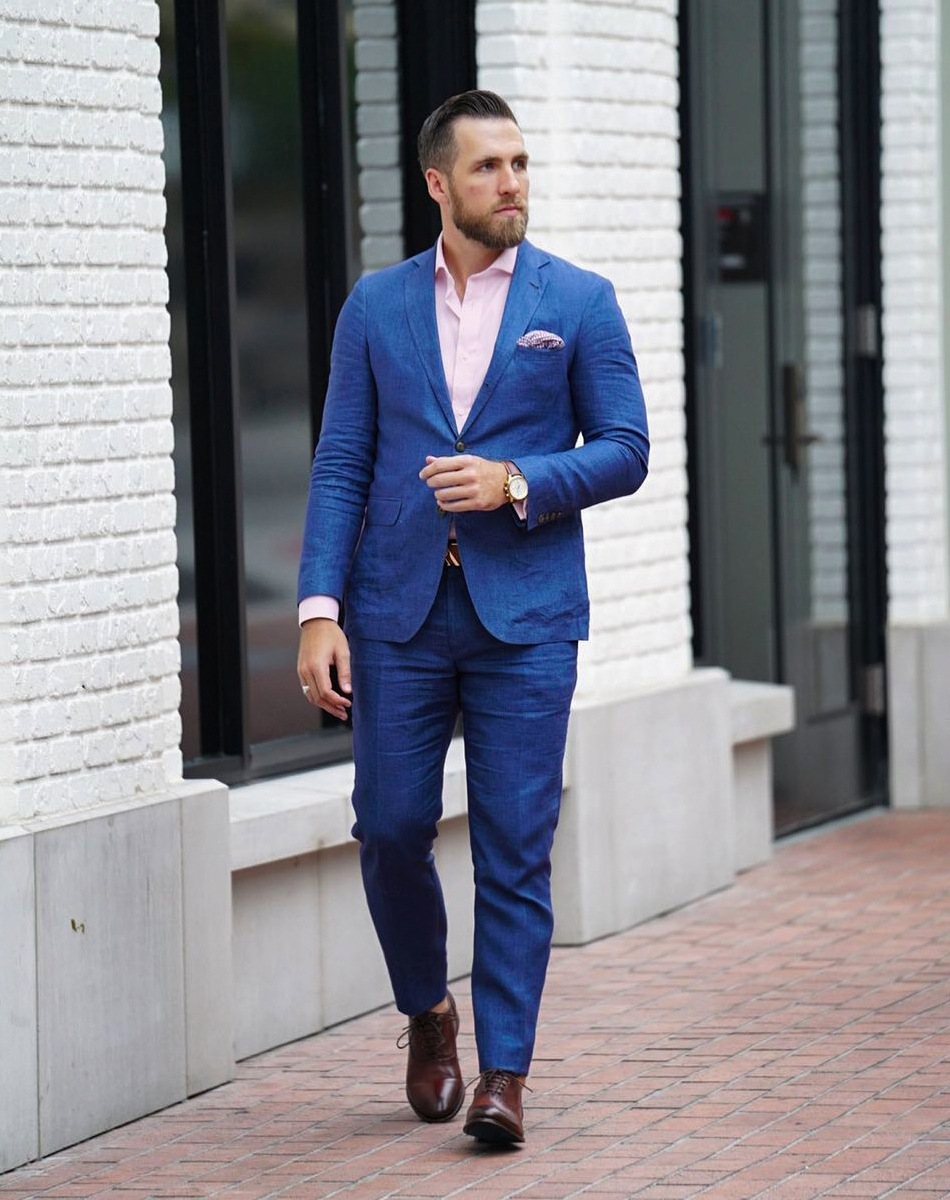 A slight detour from our blues, introducing a hint of pink to break the monotony.
The pink dress shirt breathes life into the ensemble, while the brown Oxfords maintain the grounded feel we've cherished throughout.
Blue Breeze
This ensemble merges the coolness of blue shades with the warmth of brown loafers. Perfect for those summer days at work when simplicity speaks volumes.
The Gucci loafer style is the standout piece guaranteed to turn heads.
Mellow Skies
Drifting into a softer shade, this three-piece whispers of clear skies and calm waters. Its muted palette, highlighted by a white dress shirt and earth-toned accessories, oozes elegance.
Imagine wearing this to a summer wedding or a soirée.
Casual Cadence
Returning to casual roots, this outfit sings a familiar yet refreshing song.
Adding a white dress shirt and a blue suit to your list of wardrobe staples is definitely worthwhile. It's also wise to not skip on a pair of brown derby shoes because they can integrate with a variety of outfits.
Lookin' Sleek in Dark Slate Grey Suit
Pairing a grey suit with a crisp white dress shirt is an impeccable combo. The muted grey tie and brown derby shoes add a harmonious touch, making this look apt for business meetings and evening dinners.
And while style icons like Mark Vanderloo make it look easy, this polished look is within reach for every gentleman ready to make a statement. Step into your moment.
Layering Done Right
The timeless elegance of grey meets the charm of blue.
Layered with a light grey V-neck sweater over a shirt and grounded by brown derby shoes. It's a casual pivot from the conventional suit look, perfect for cooler days.
From Concrete Grey to Sandy Steps
Embodying a sense of neutral elegance, this grey suit and white shirt combo is elevated by beige suede derby shoes. It is an effortless way to make a statement without trying hard.
Perfect for semi-formal gatherings, this attire speaks of a person who appreciates subtlety but isn't afraid to make a statement.
Earthy Tones Meet Grey
The earthiness of brown juxtaposed against a classic charcoal suit creates a grounding effect. A look that resonates with those who appreciate a touch of nature in their ensemble.
It's not very common to don a brown dress shirt; however, it's very stylish and contemporary.
Subtle Spectacle
Sometimes, it's the details that captivate. A light grey dotted tie pattern adds a sprinkle of intrigue to this classic grey suit.
It's a "Subtle Spectacle," an ode to those who know that sometimes, the quietest statements can be the loudest.
Starlit Elegance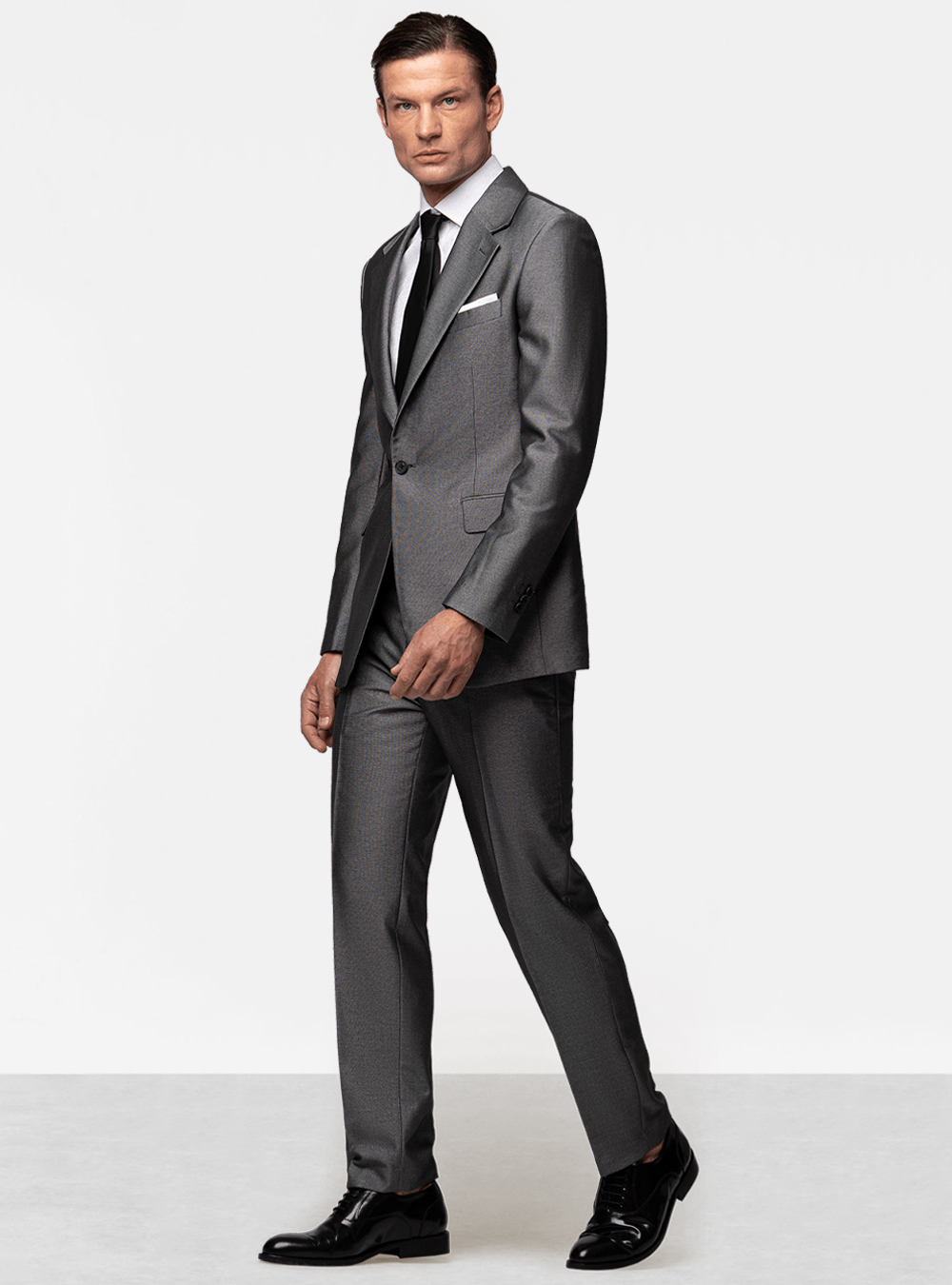 Envision the grace of a classic Hollywood film star reminiscent of the iconic George Clooney or the contemporary charm of Tom Hardy.
The deep, rich shade of charcoal provides a canvas, which, when paired with the pristine white shirt, creates a sharp and elegant contrast. The black tie, a symbol of timeless formality, adds the perfect touch.
While the black Oxford shoes complete the look with an understated finesse.
Burgundy Tie Brilliance
A light grey suit paired with a white shirt provides a fresh canvas, and the burgundy dotted tie is the artist's stroke.
Paired with brown suede loafers, this outfit is a testament to refined taste.
Houndstooth Harmony
This grey houndstooth suit speaks to the discerning gentleman who values nuance.
The white shirt and blue tie infuse a lively flair, and the black suede tassel loafers are just the cherry on top.
Cool Tones, Cozy Vibes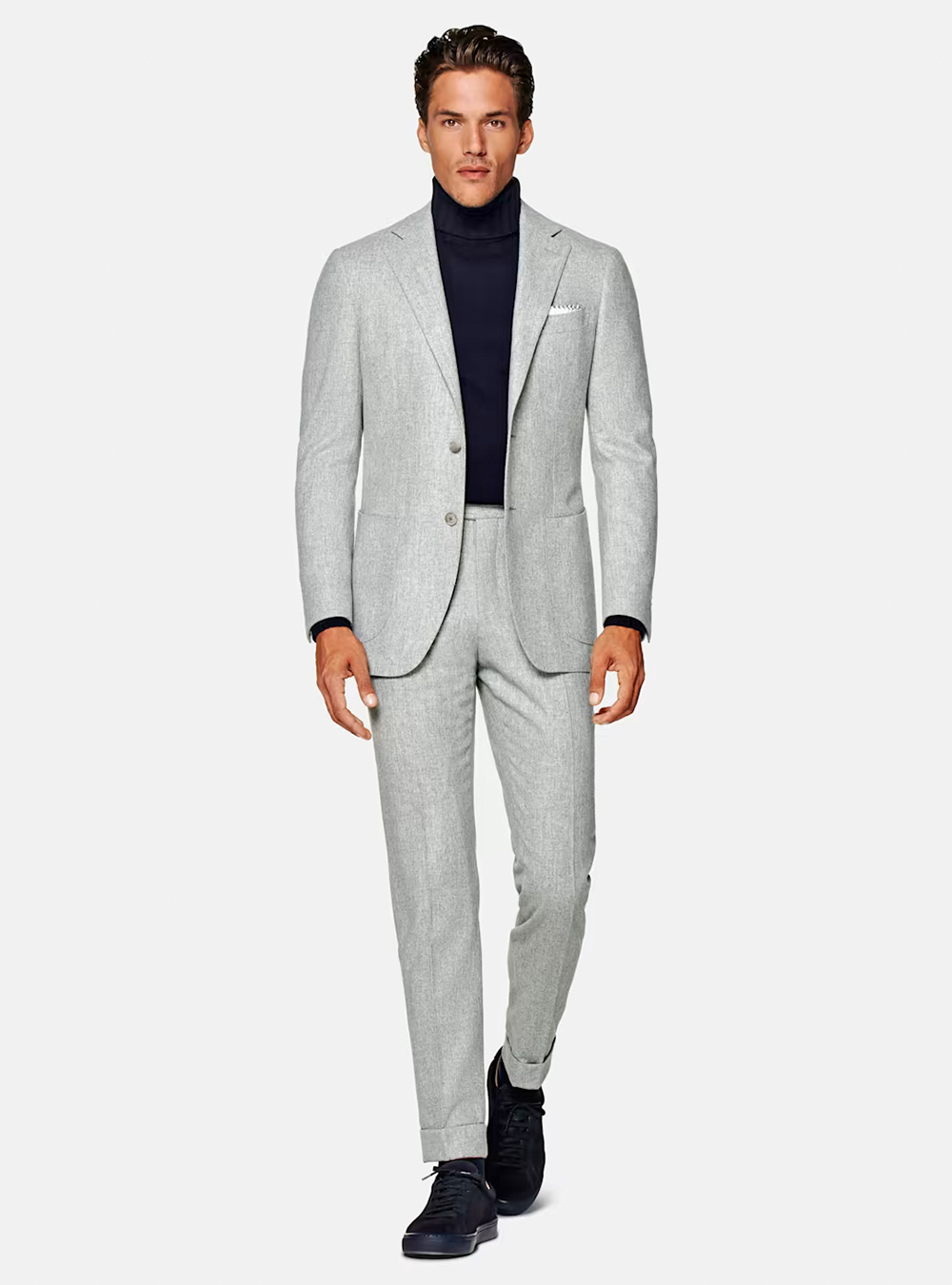 A suit for laid-back days. The navy turtleneck and sneakers transform this light grey suit into a relaxed, chic outfit.
You will definitely stand out, but not like a sore thumb. You will look like someone who knows style and understands the delicate balance between making an effort and looking effortless.
Dapper Deserted
An ensemble where desert hues meet urbanity. The camel overcoat wraps the grey suit beautifully, while the blue shirt and brown tie ground the outfit.
Go with a classic in the shoe department and wear dark brown derbies.
Read more on how to match grey suits and brown shoes here.
Bond-Worthy Ensemble
Celebrating the monochrome palette, this ensemble showcases how contrasting shades of a grey suit and black shirt can make a striking impact.
In my opinion, this looks way too dapper. Black Chelsea boots seal the deal.
Read more on how to match grey suits and black shirts here.
Monk's Serenade
The checks bring forth a playful dance of grey plaid suit, while the blue tie accentuates the hue, serving as a harmonious bridge between the patterns.
Now, let your gaze drop to those brown double-monk straps – a grounded choice reminiscent of old-world charm meeting contemporary flair. Wear this ensemble to an afternoon wedding or a boardroom presentation.
Grey Suit Textures
This patterned ensemble delicately treads the line between a plaid suit and a striped tie, offering a bold statement without compromising on sophistication.
And for those with an astute eye, hidden beneath are understated blue stripes, adding another layer to its sartorial depth.
Simply Suave
At times, simplicity reigns supreme. This grey suit, a white shirt, and black derby shoes are a distinguished choice for any business setting.
Mastering the Black Suit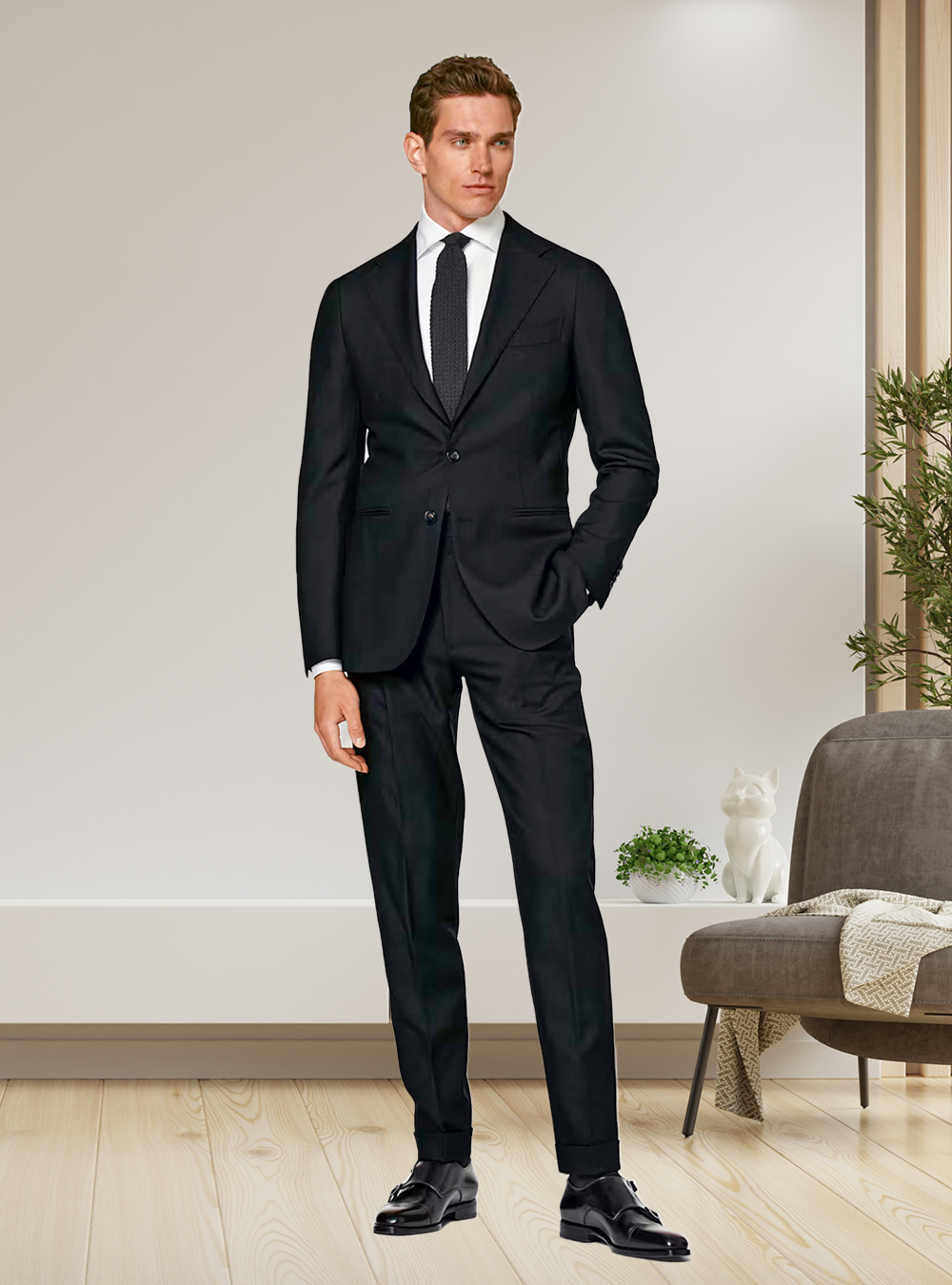 This look underscores the timeless merit of foundational pieces like a polished black suit and a matching tie. Want to add a hint of flair without straying from sophistication?
A pair of black leather monk straps does the trick seamlessly.
Stripes Meet Scottish Elegance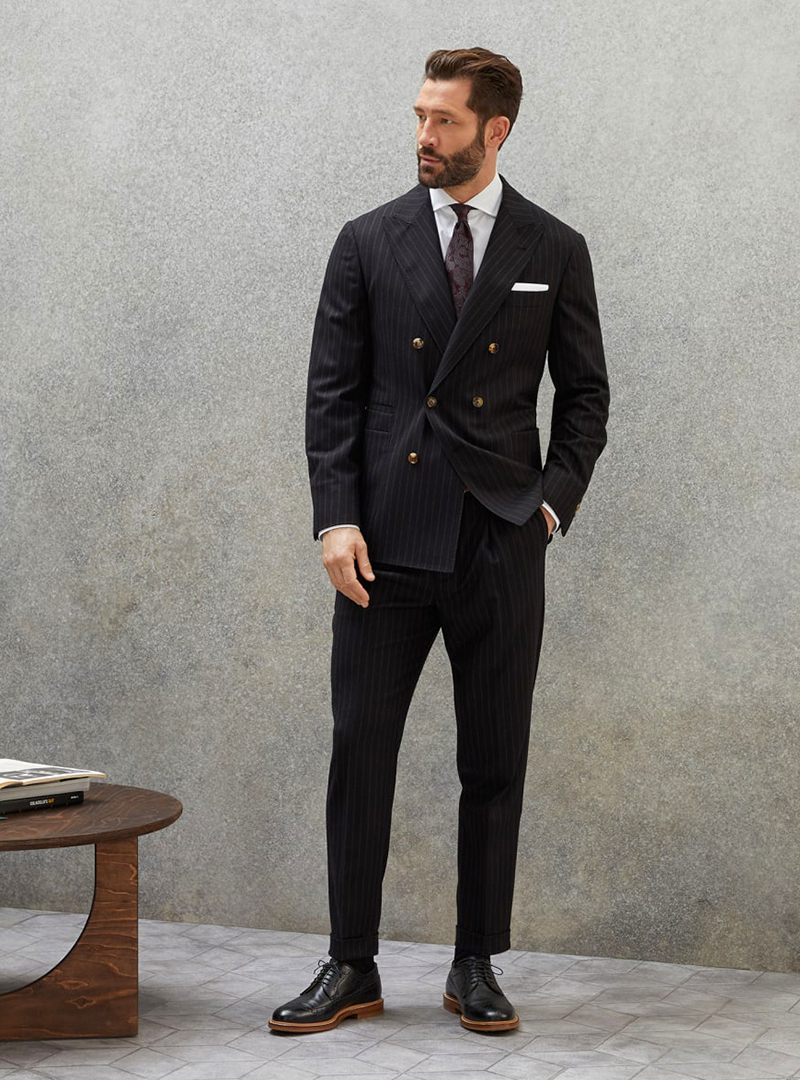 While paisley ties can swing from subtle to daring, this burgundy tie sits beautifully in between, offering a refined yet vibrant touch.
It's the centerpiece against the backdrop of a boldly striped double-breasted black suit.
Paired with sleek black derby shoes, the whole look is a blend of historical charm and modern sophistication.
All-Black Moment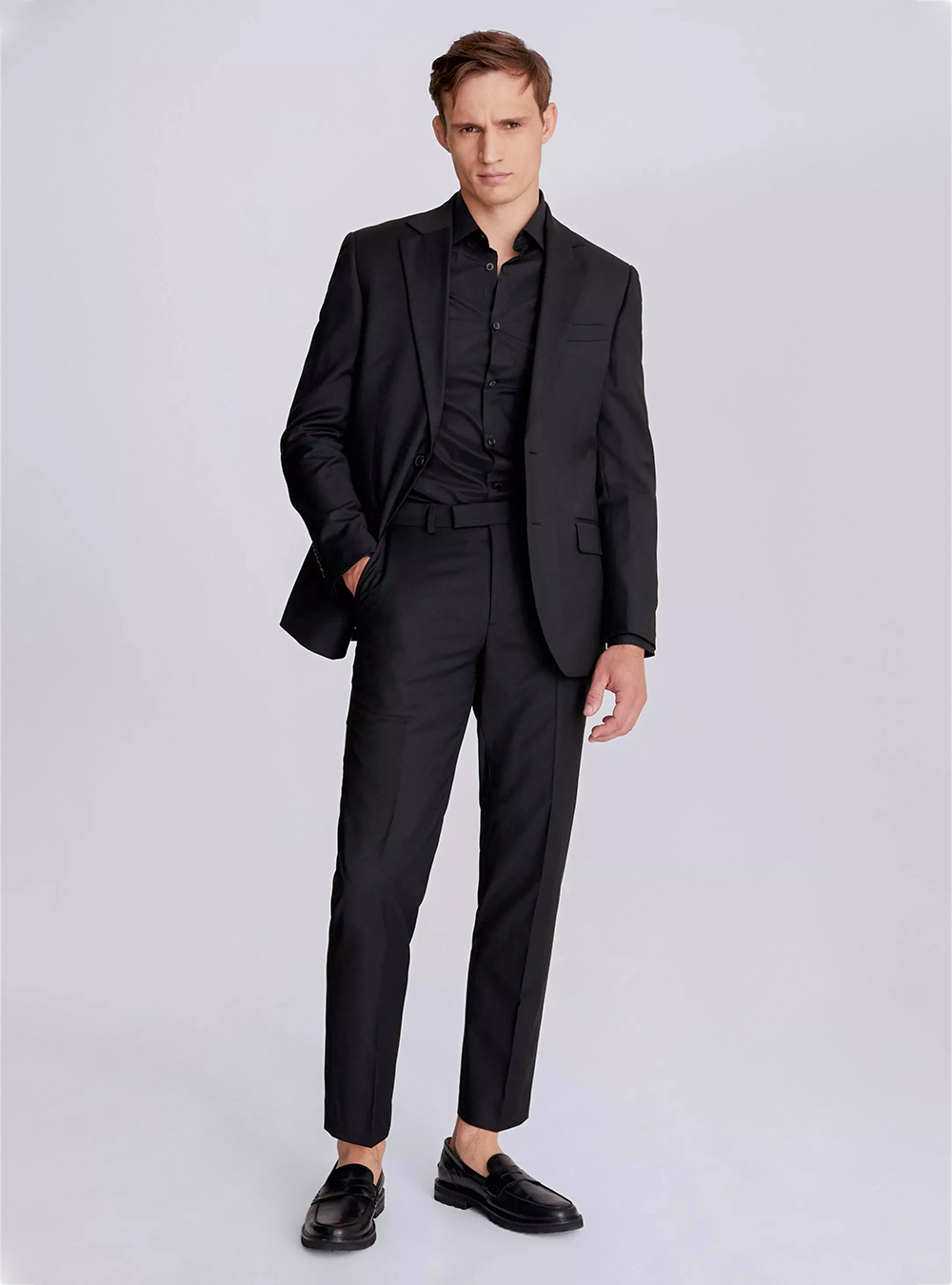 Whether sipping cocktails on a rooftop or dancing the night away at a high-end party, this all-black suit outfit guarantees a sophisticated presence amidst the nocturnal glitz.
Let the simplicity of monochrome enhance your charisma, ensuring you stand out, even in the most dazzling nightscapes.
Crimson Contrast
Here's the thing: a black suit paired with a red tie is simply dashing, a combo that modern gents can't resist.
Throw in some black leather Oxford brogues, and you've got that touch of fun flair to round it all out.
Effortlessly Elevated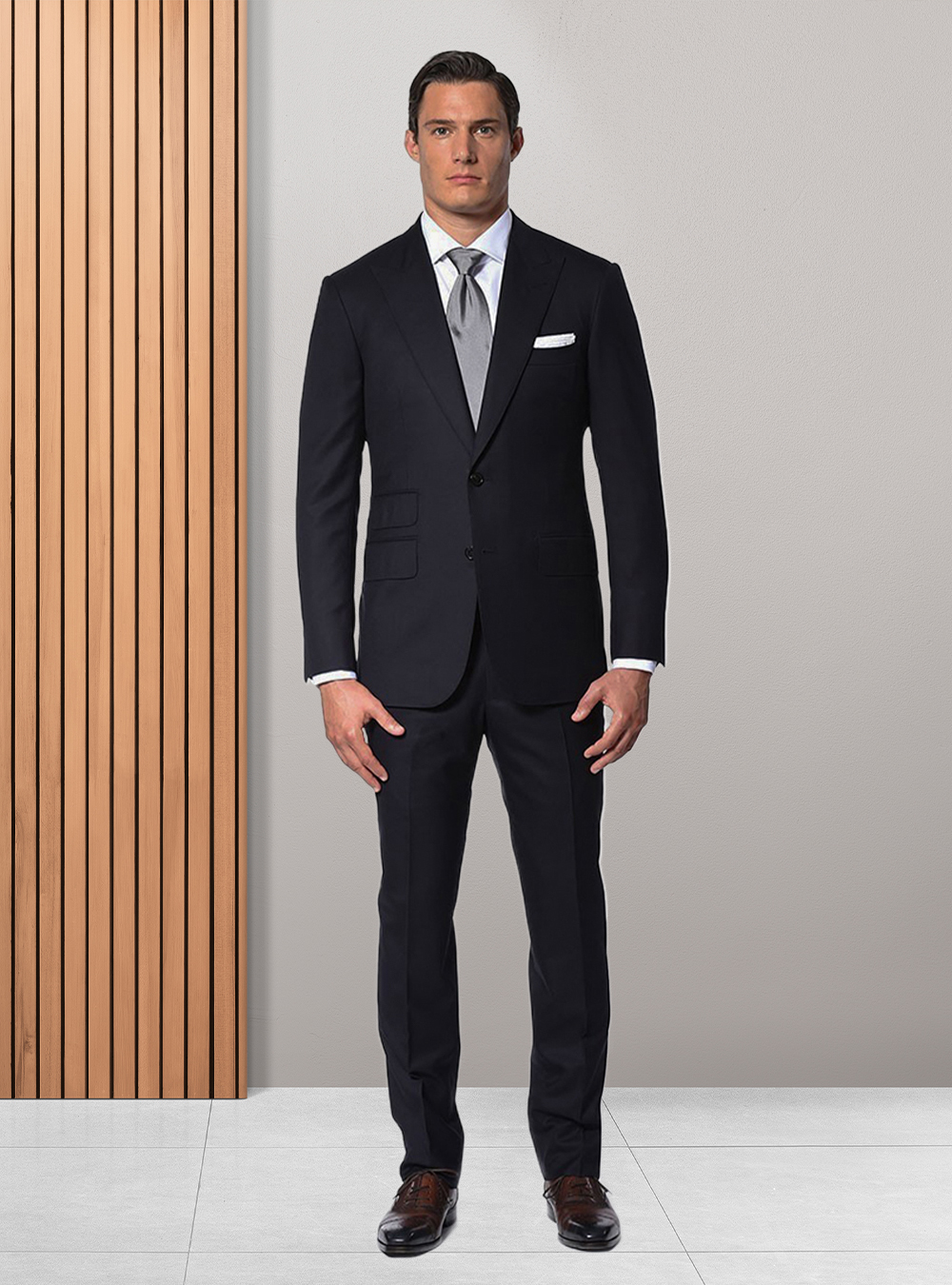 Rocking a black suit with a grey tie? That's how you nail rugged sophistication.
Throw in dark brown dress shoes, and you've dialed down the ensemble, striking a balance between polished and approachable.
Chocolate Chic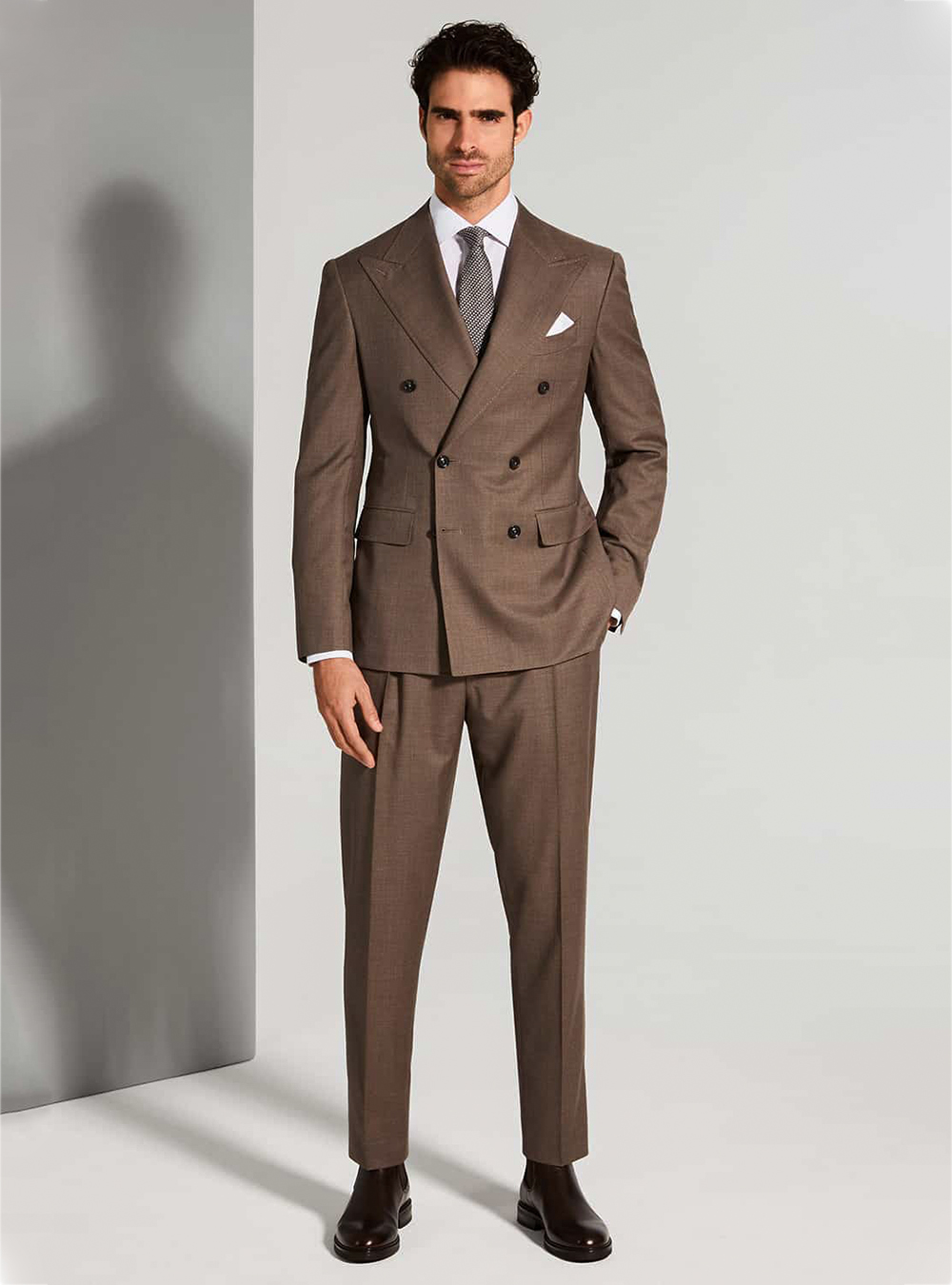 I'm truly taken by the synergy of the brown double-breasted suit paired with those sleek brown leather Chelsea boots.
Topping it off with a crisp white dress shirt and a grey-dotted tie only amplifies the outfit's refined edge.
Corduroy Comfort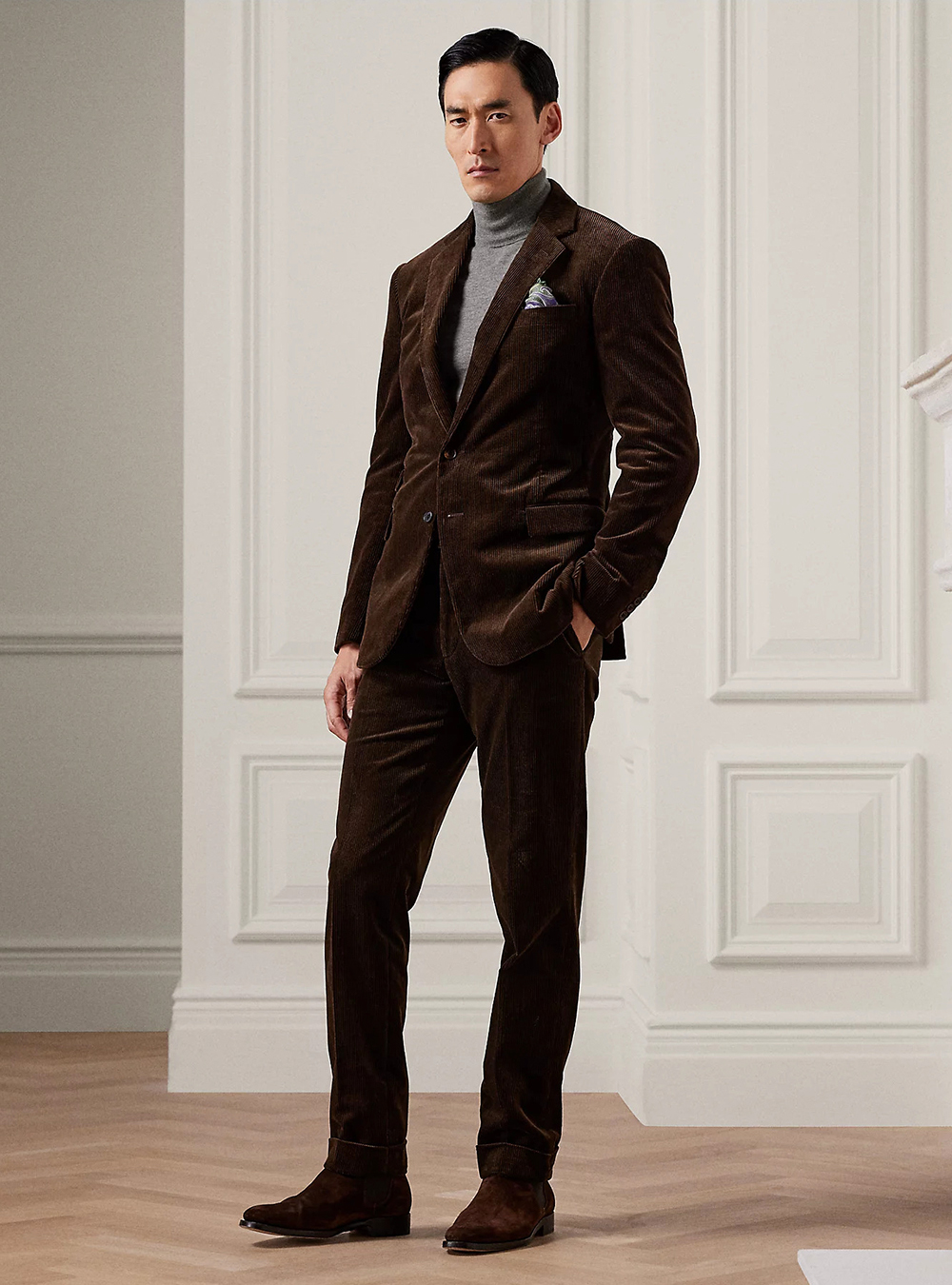 Bringing texture to the forefront, this brown corduroy suit pairs delightfully with a grey turtleneck.
Brown suede Chelsea boots complete this cozy yet modern look, perfectly finishing this autumnal outfit.
Triple Treat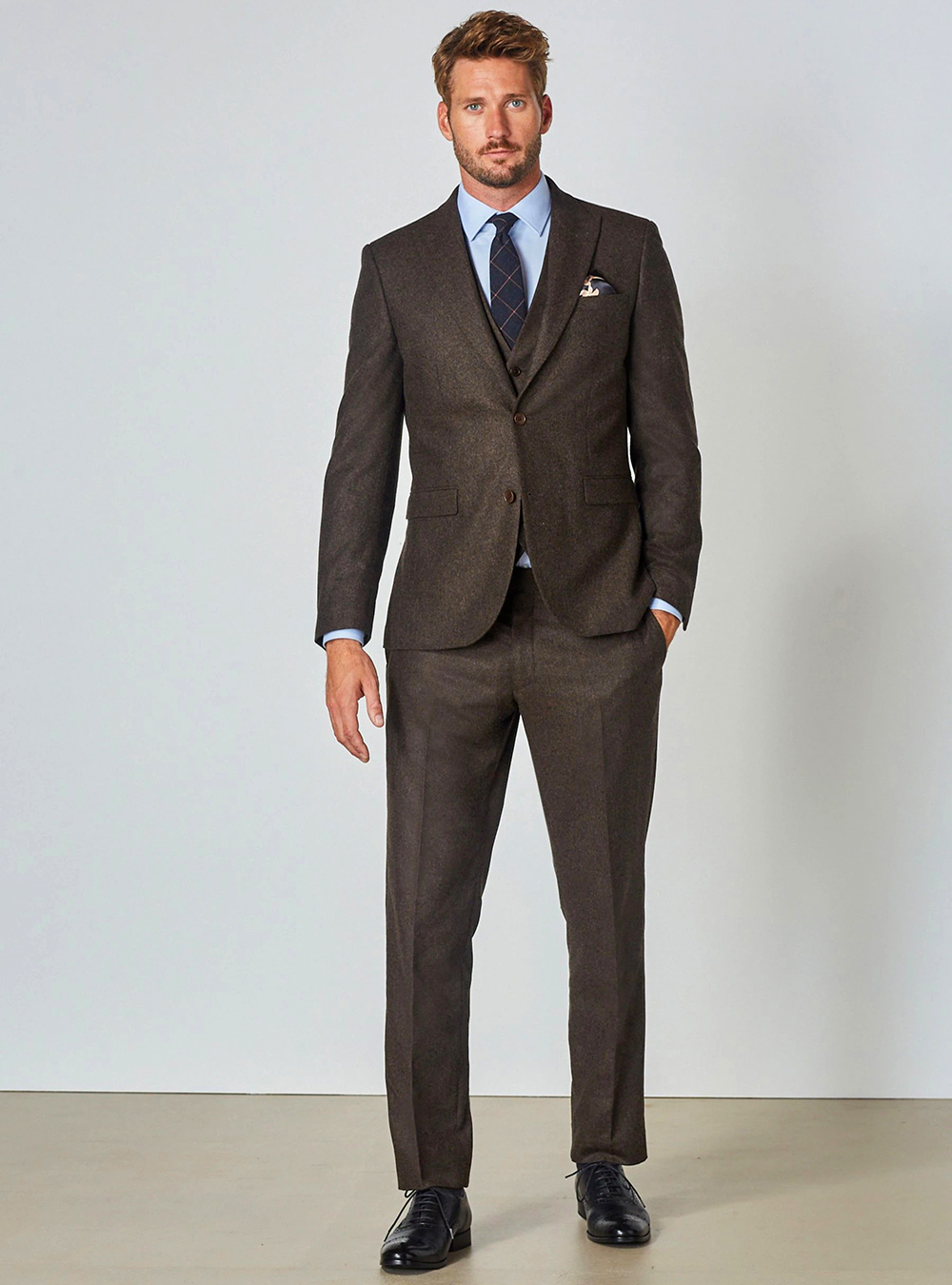 A brown three-piece suit sets a rich canvas for the crisp blue dress shirt and deep navy tie.
Black brogue shoes tie the ensemble together, making it a perfect fit for business and pleasure.
Tan Touch to a Brown Suit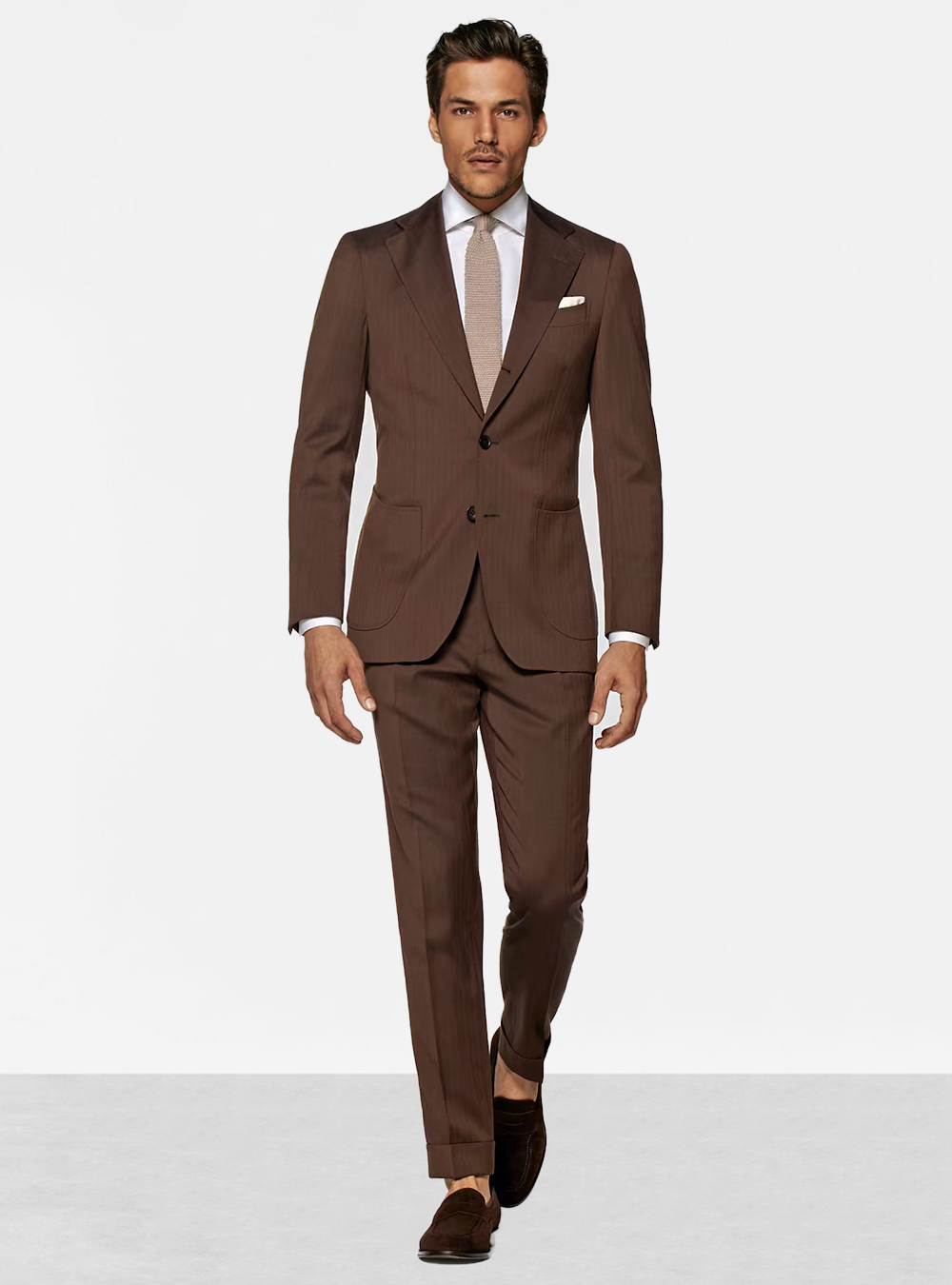 The brown suit and white shirt duo are given a fresh lift with a tan tie.
Brown loafers complete the ensemble, ensuring a look that's both cohesive and charming.
Burgundy Bliss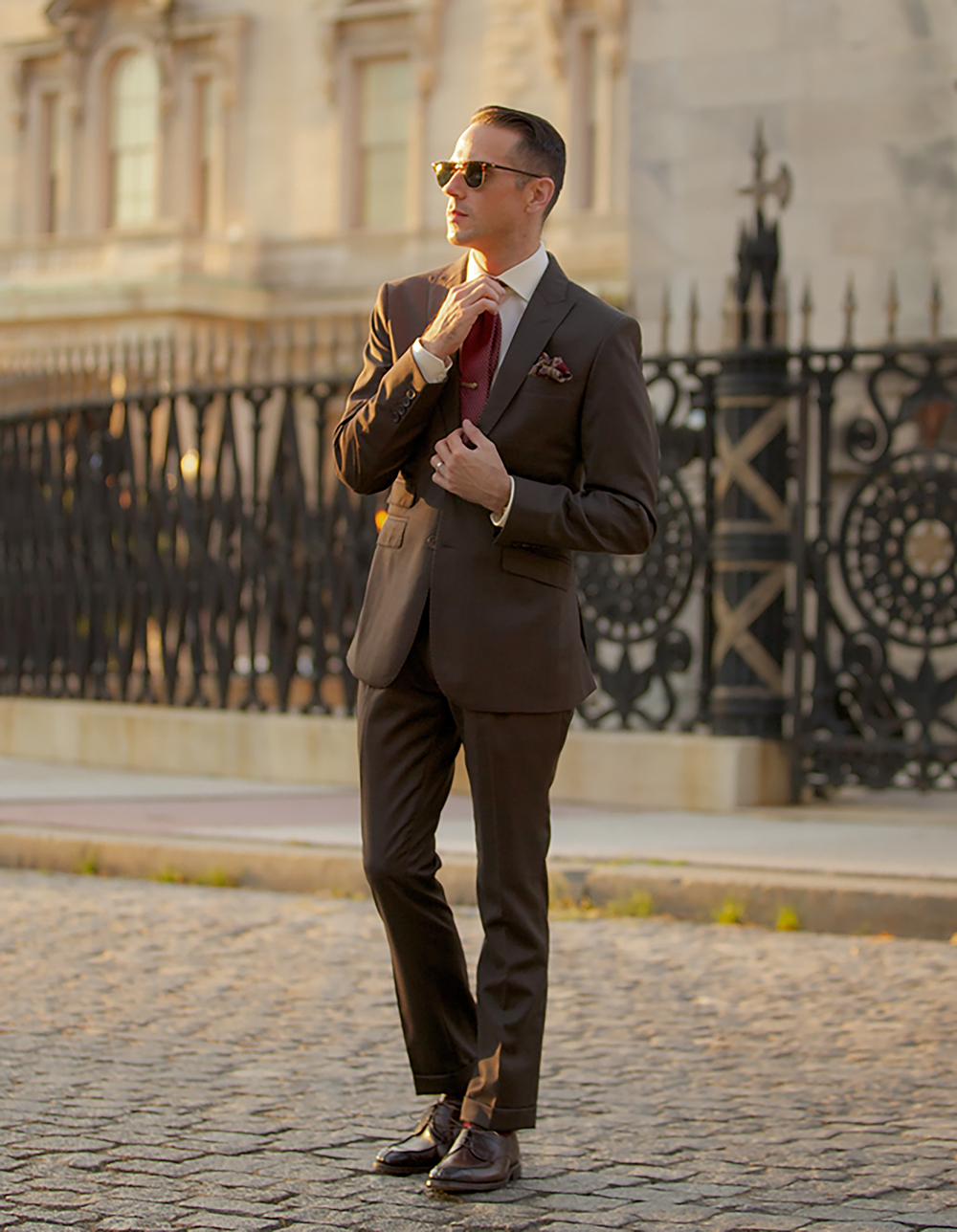 This brown suit finds its perfect match with burgundy accents.
The burgundy dress shoes and tie give the outfit a nod to royalty and class.
Mocha Mingle
This brown suit is classic and resilient with a pure premium wool foundation. Beyond its inherent versatility, it adds a layer of complexity that adapts effortlessly to the rhythm of your day.
Pairing it with a blue-striped shirt creates a playful contrast. The tan derby shoes add a final touch, making this look vibrant.
Khaki and Blue Fusion
There's an undeniable charm when one melds the earthy allure of a khaki suit with the subtle celestial of a blue tie.
The look achieves a harmonious balance when paired with a white dress shirt and burgundy or brown shoes.
Tan Elegance
Drawing from a palette of muted tones, this ensemble is the epitome of understated grace. The nuanced hues blend seamlessly, crafting a look that speaks volumes without shouting.
It's the perfect choice for those who believe that sometimes, less is truly more.
Tassel Temptation
The tan suit and white dress shirt combination is a no-brainer.
Brown tassel loafers introduce a touch of vintage charm, making it perfect for cocktail parties.
Floral Flourish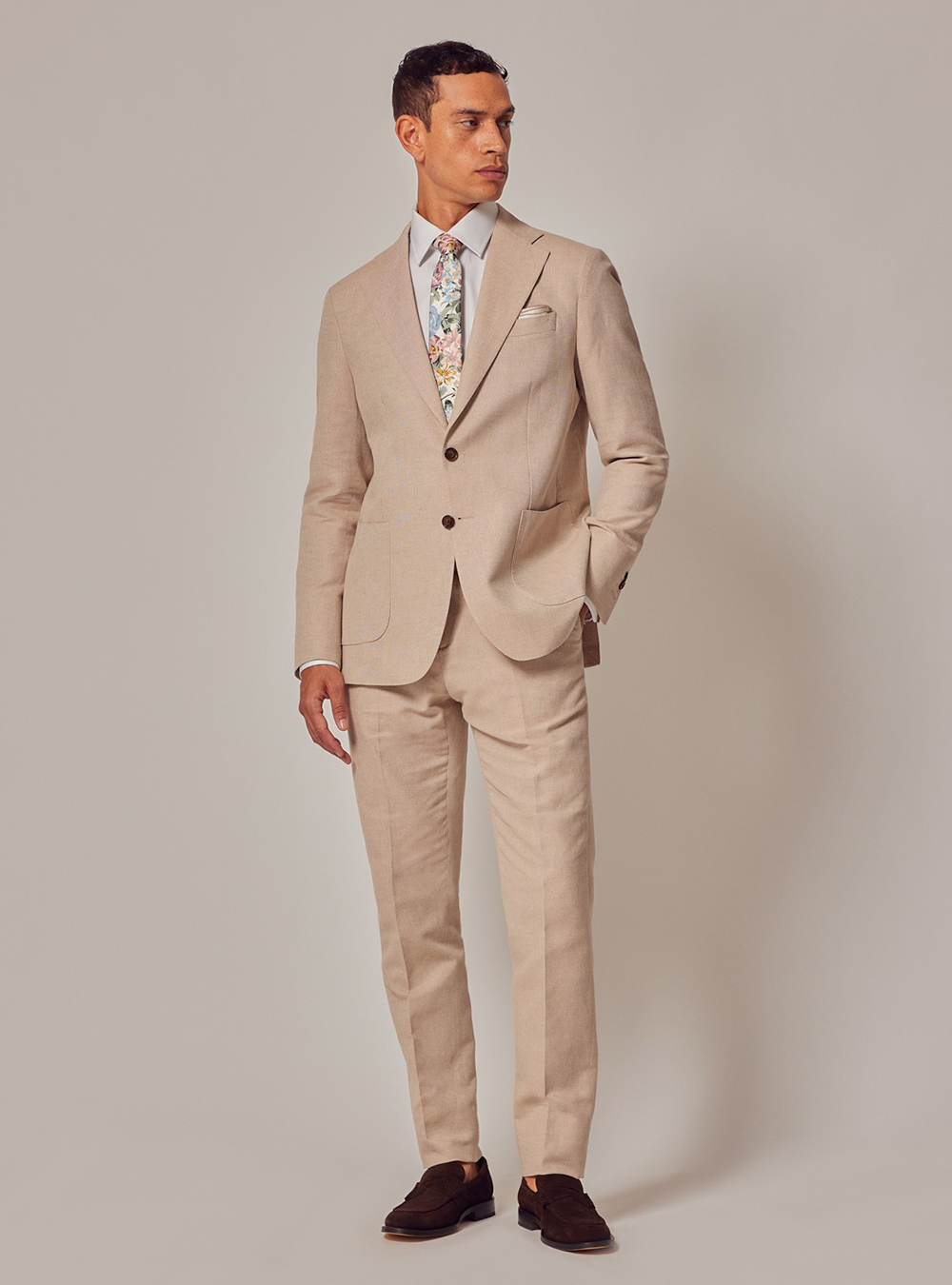 This tan suit ensemble gets a dash of intrigue with a vibrant floral tie. Paired with soft brown suede loafers, the look is both sophisticated and spirited.
Designed for the discerning wedding guest, its fresh and airy aesthetic perfectly complements sun-drenched ceremonies.
Desert Dusk
The tan suit paired with a contrasting blue tie is both crisp and captivating.
The brown monk strap shoes add a dash of refinement, bringing the outfit together beautifully.
Rosy Radiance
With a gentle touch of pink from the tie, this tan suit look becomes tenderly inviting.
Dark brown derby shoes ground the outfit, ensuring it remains smart.
Burst of Blooms
This beige three-piece suit sets a sophisticated stage for the lively floral dress shirt. Burgundy tassel loafers introduce a rich contrast, making the ensemble pop with panache.
Let this outfit be your sartorial yin and yang, delivering poise and panache in equal measure.
Tonal Tailoring
With tonal harmony at its best, the beige suit, white dress shirt, and beige tie create a harmonious blend. The brown suede loafers add texture to the mix.
Embracing a monochrome ensemble effortlessly marries elegance with edge, allowing a single hue to command the spotlight.
Sunset Serenity
Man, there's something about a tan suit that just screams summer vibes, doesn't it? Pair it up with a light blue dress shirt, and it's like a breath of fresh air.
Throw in those brown Gucci loafers – now we're talking class without even trying.
And that patterned black pocket square is like the cherry on top, just the right dash of contrast.
Perfect for a chill daytime event or even catching up with friends in the evening.
Simplicity at Its Finest
This ensemble, featuring a beige suit and a pristine white dress shirt, exudes a clean and polished look. Brown derbies complete the attire, ensuring a touch of classic charm.
The subtle pairing creates a look that's as comfortable in a coffee shop as it is in a boardroom. Whether you're brunching or brainstorming, it's got your back.
Crisp 'n' Clean
The off-white suit, reminiscent of sun-drenched sands, offers a versatile palette that's both relaxed and formal. Paired with a crisp white dress shirt, it brightens the overall look, making it fresh and airy.
The brown suede tassel loafers lend a hint of playful luxury. Ideal for daytime events or sunlit evening affairs, this combination is a masterclass in understated elegance.
Pristine Precision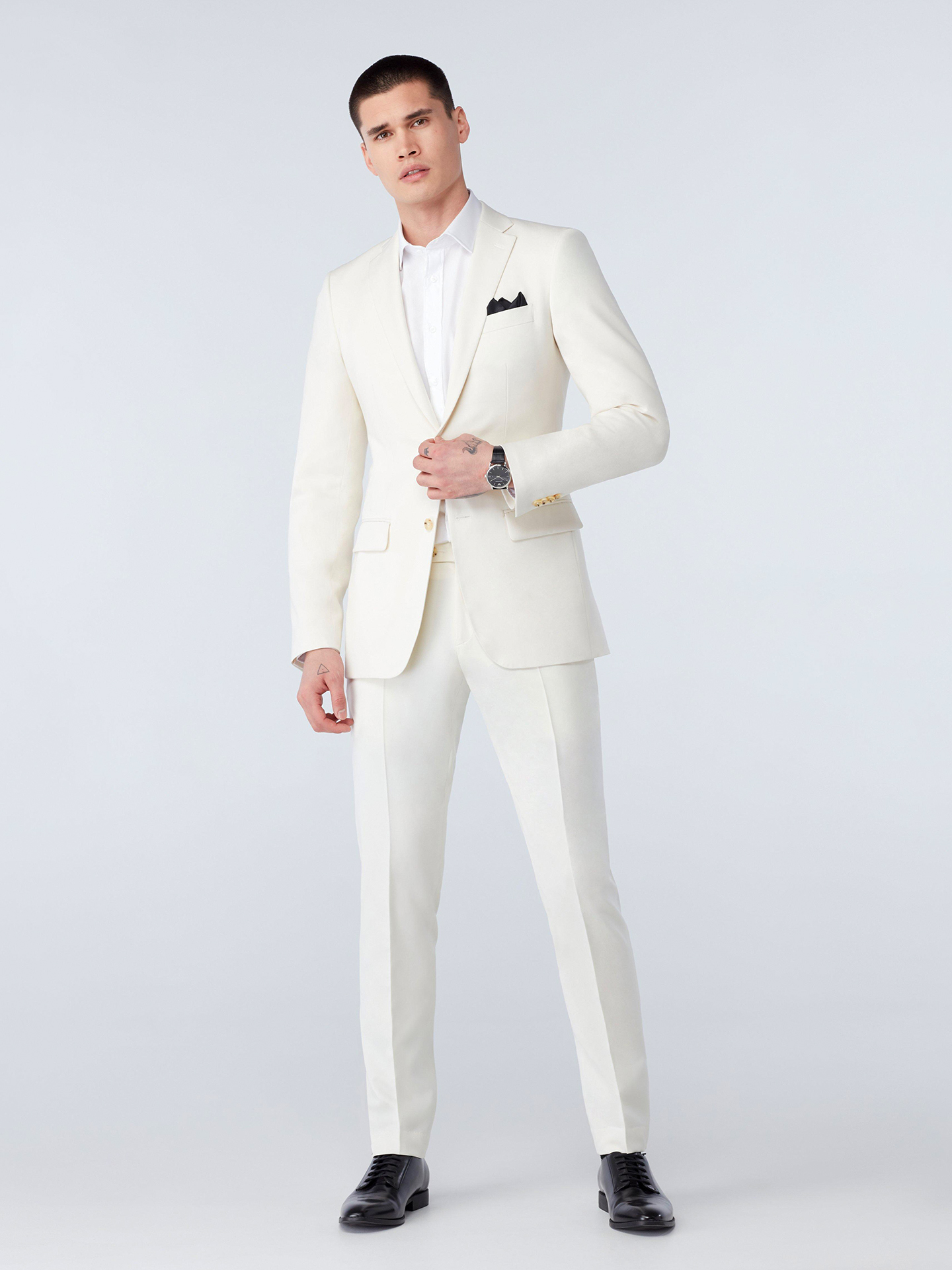 The ivory white suit paired with a crisp white dress shirt creates a refined and radiant appearance.
The shoes and pocket square introduce delightful contrasts, turning heads and drawing appreciative glances.
Together, they transform the ensemble from simply stylish to distinctly memorable.
Tailored Tapestry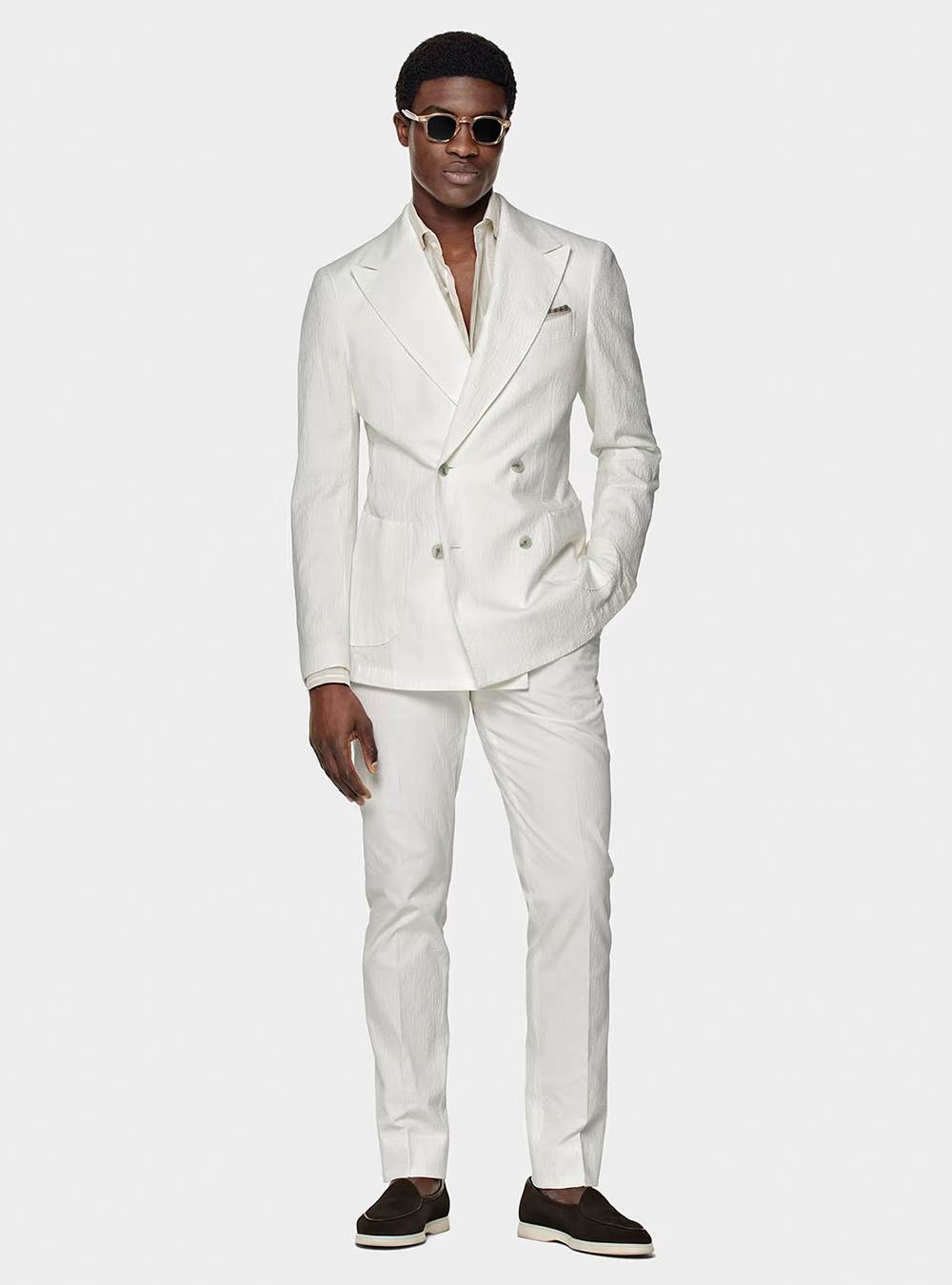 Are you a fan of both white and double-breasted suits? Its button stance draws the eye, complemented by clean lines and a fit that speaks volumes.
Elevate your appearance with a complementary tan shirt. Finish this polished ensemble with brown suede loafers and embrace the chic sockless trend for that added flair.
Olive Oasis
I absolutely love how this deep hue of the dark green suit creates a rich backdrop for the pristine white dress shirt.
Beige paisley tie and suede double monks ground the ensemble, toning it down a notch on the formality scale.
Verdant Vintage
This classy dark green suit commands attention, with its slender fit and notch-style lapel radiating luxury. Paired with a crisp white dress shirt, it blends modern finesse and timeless elegance.
And for that touch of casualness? Brown derby shoes do the trick effortlessly.
Moleskin Magic
Embracing the lush hue of the green suit crafted from exquisite moleskin fabric, this ensemble juxtaposes its vintage-inspired patch pockets with the modern allure of a sleek black turtleneck.
The soft, suede-like feel of the breathable cotton material elevates the overall texture, while black leather Chelsea boots tie the look together.
Green Elegance
A vibrant green suit is a must if you plan for a sharp closet.
Beautifully contrast it with a crisp white dress shirt and black monk straps. Ditch the tie for a hint of modern flair.
Loafer Luxe
A double-breasted green suit sets a commanding tone, while the white dress shirt adds a touch of classic appeal.
Brown loafers complete the look with a dose of laid-back luxury.
Bordeaux Brilliance
The deep, rich hue of the burgundy suit paired with a classic white dress shirt radiates fashion prowess.
The stark contrast of the black derby shoes anchors the look, blending traditional charm with contemporary flair.
Dotted Distinction
Harnessing the playful charm of a dotted tie, this outfit strikes the perfect balance between creative flair and formal finesse.
Paired with the right suit accessories, it's an ensemble that showcases personality while remaining grounded in classic style.
Ideal for those moments when you want to make a statement without saying a word.
Blue Accent
The burgundy suit takes on a refreshed demeanor when paired with a soft blue dress shirt.
The black derby shoes maintain the balance, resulting in a harmonious blend of colors perfect for the style-conscious gentleman.
Tonal Triumph
Mastering the art of monochromatic style, this burgundy suit, worn with a tie, exudes cohesive elegance.
The crisp white dress shirt offers contrast, while the brown loafers lend a refined finish.
Contemporary Outfits – The New Sartorial Spirit
The modern suit has embraced fluidity and adaptability. Gone are the days when a suit was confined to business meetings or formal occasions.
Today's man wears his suit with a flair for individual expression and creativity. A contemporary suit outfit often pivots around non-traditional pairings, blending the boundaries between casual and formal.
Think Cuban-collar shirts, turtlenecks, polo t-shirts, or even Henley shirts worn under suits. Additionally, footwear has taken a relaxed stride, with dress boots, loafers, and, most notably, sneakers becoming the go-to choices.
Slick Stripes
Many view black suits as merely an entry point to the world of tailored fashion, often associating them with initial job interviews, graduations, or family occasions.
However, such ubiquity doesn't have to translate to monotony.
Complemented with a pink polo t-shirt, the ensemble gets a chic twist with those brown loafers.
Laid-Back Linen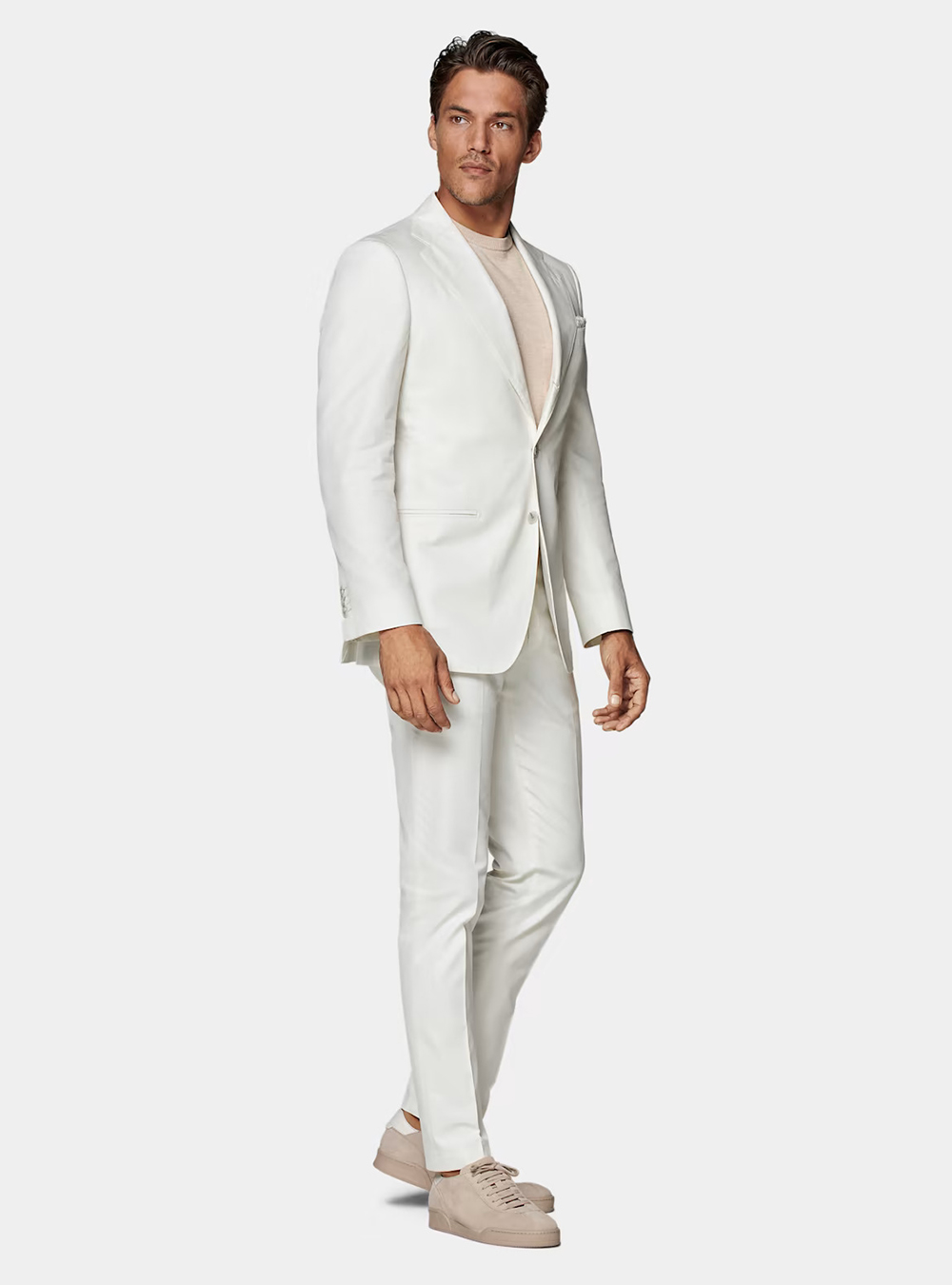 This white linen suit has a relaxed summer vibe, especially with a tan t-shirt.
The coordinated tan sneakers make it an effortlessly chic choice for sun-drenched days.
Sporty Stripes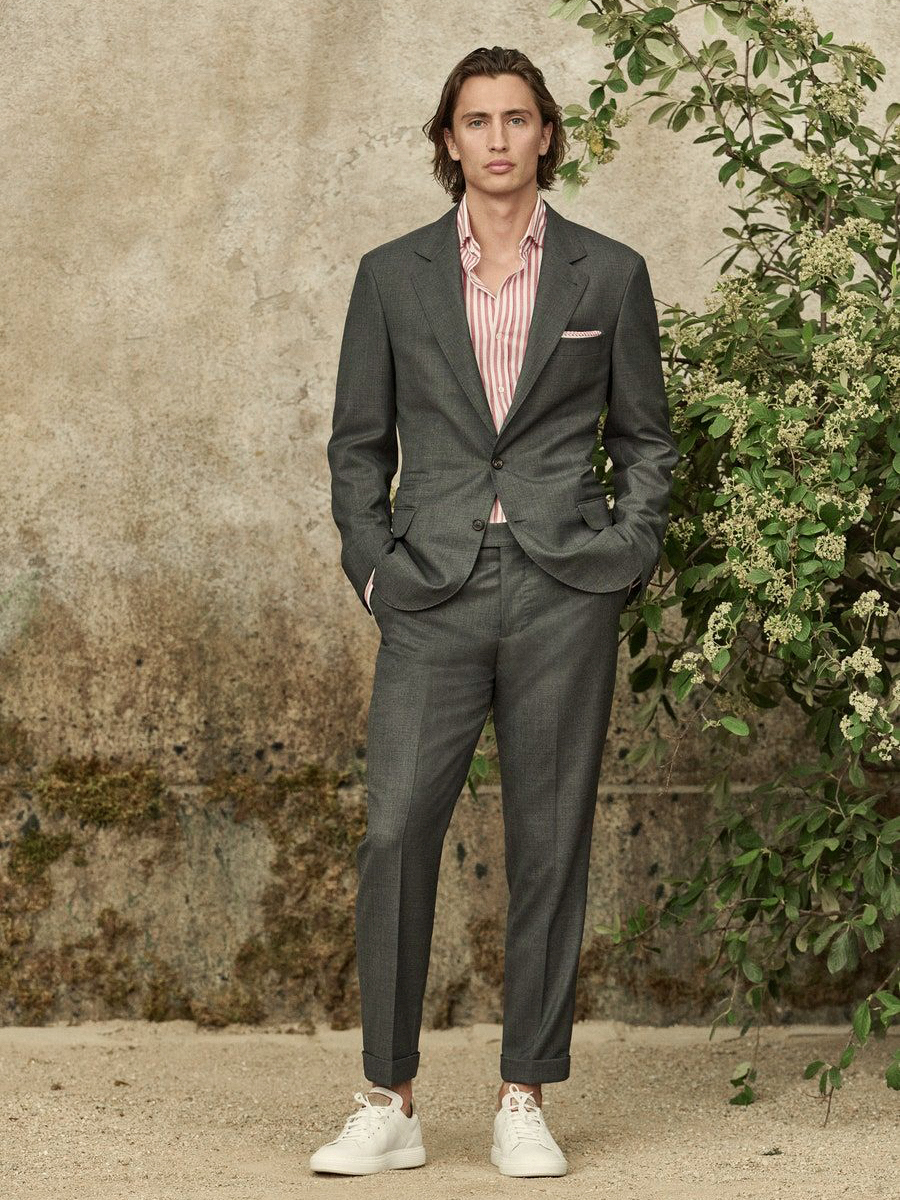 Taking the traditional grey suit to a playful terrain.
The pink-striped shirt and white sneakers add a dash of casual flair, blending formal with fun.
Casual Greenery
With the green suit as a foundation, the beige crew-neck sweater introduces a relaxed layer.
Tan loafers complete the outfit, ensuring an approachable yet stylish look.
City Adventurer
This grey suit, paired with a black t-shirt, is reminiscent of quiet luxury.
The black Oxford shoes complete the look, adding a touch of classic sophistication.
Nautical Nuance
With its sharp tailoring, this ensemble showcases the power of navy-on-navy.
The suit is harmoniously paired with a laid-back polo t-shirt of the same hue, giving it a contemporary edge.
Incorporating boots with your suit? Those brown ones seamlessly anchor the ensemble, adding a rich, earthy touch.
It is perfect for a sophisticated weekend outing or a stylish casual Friday at work.
Crochet Polo Chic
A striking black crochet polo shirt sets a contrasting tone against the crisp white suit.
Black sliders add a modern twist, making this ensemble perfect for casual affairs.
Minimalistic Mastery
The light grey suit and white t-shirt combination screams minimalism.
Paired with beige suede Oxford shoes, this outfit screams the fashion narrative that resonates with the old-money style.
Desert Dreamer
The beige suit paired with a matching Cuban collar shirt offers a breezy feel. Brown loafers ground this summer outfit, giving it a relaxed yet refined edge.
The sandy hues of the attire conjure images of vast deserts, offering a serene yet confident vibe.
Sporty Elite
A classic grey double-breasted suit gets a modern twist with pristine white sneakers.
The look seamlessly bridges the gap between formal and sporty.
Urban Escapade
Embracing tonal dressing, the light blue suit and shirt combination is a breath of fresh air. Paired with white sneakers, it's an excellent outfit for a day out in the city.
Ideal when you want to stand tall and make a subtle statement, echoing the serenity of a skyline at dusk.
Green Getup
The dark green suit offers a versatile canvas, here given a casual twist with a black crew-neck t-shirt.
Black leather Chelsea boots add a dapper finish.
Cool & Collected
The rich blue suit paired with a light blue turtleneck emanates the essence of modern minimalism.
This ensemble is complemented by white leather sneakers and speaks to the contemporary, style-conscious individual.
Patterned Precision
The bold windowpane pattern of the suit is softened by the casual blue polo, creating a smart-casual look that is both assertive and laid-back.
Paired with white and beige sneakers, this outfit melds tradition with modernity.
Neutral Nomad
Stepping into the realm of sartorial finesse, this ensemble paints a canvas of muted brilliance.
Playing with subtle hues, it offers an invitation into the world of refined dressing without overstepping.
Sweater Serendipity
Pairing a classic blue suit with a grey sweater is a testament to the versatility of contemporary fashion.
Finished with beige loafers, it's a look that transitions smoothly from work to a night out.
Fresh & Fern
The green-on-green pairing of this double-breasted suit and shirt combo brings a fresh perspective to suit styling.
White sneakers offer a playful touch, making them a stand-out spring ensemble.
Casual Cruiser
The textured navy hopsack suit paired with a relaxed denim shirt perfectly blends into the business-casual spectrum.
Brown loafers add a touch of warmth, anchoring the ensemble.
Winter White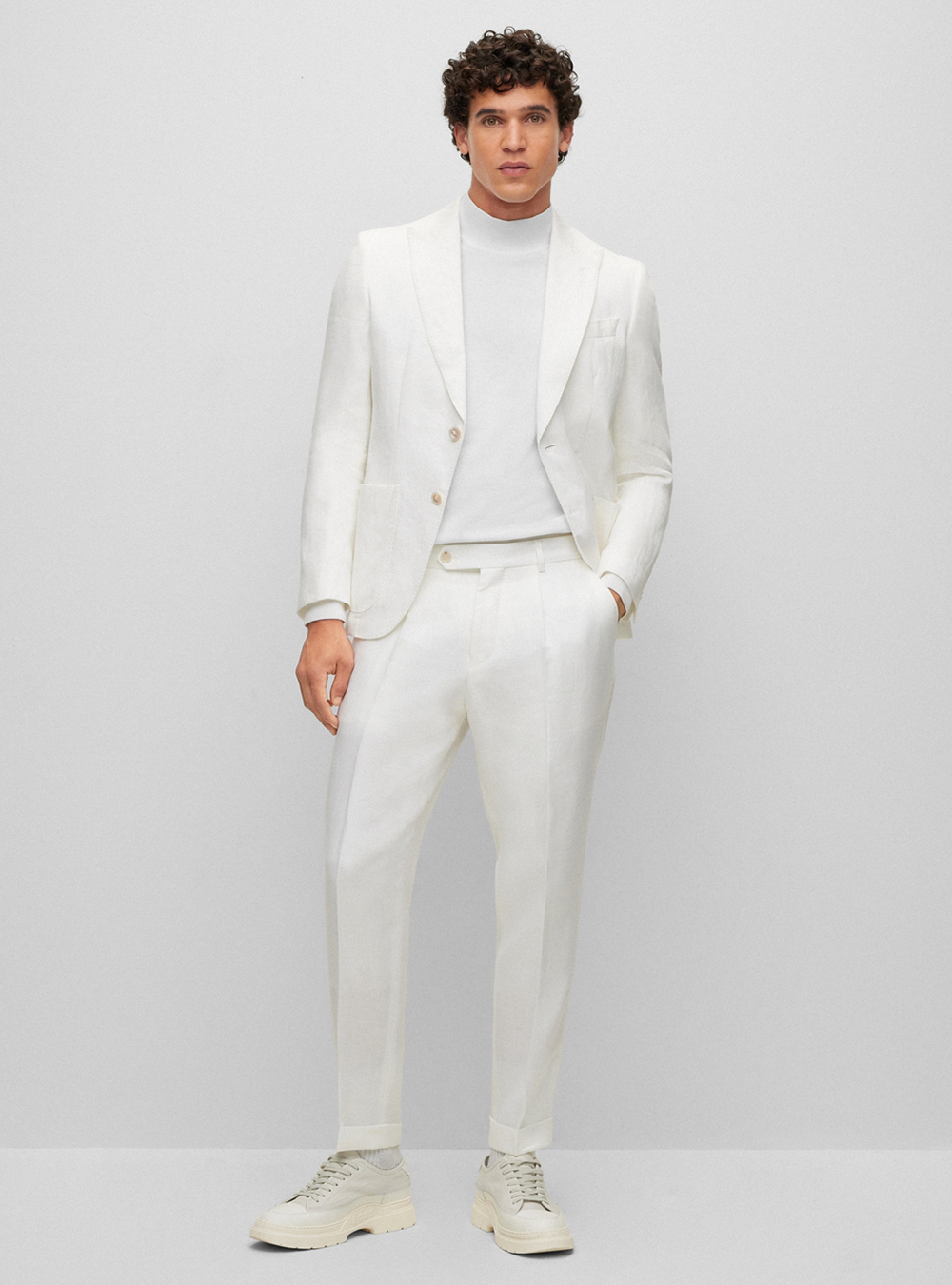 This all-white ensemble, featuring a suit and turtleneck, embodies a clean, streamlined look.
White sneakers keep the aesthetic fresh and on-trend, ideal for the style-savvy individual.
Harbor Hues
The navy suit and white Henley t-shirt combo is breezy and comfortable and offers a relaxed maritime vibe.
Blue sneakers provide a pop of color, accentuating the ensemble's relaxed charm.
Denim Delight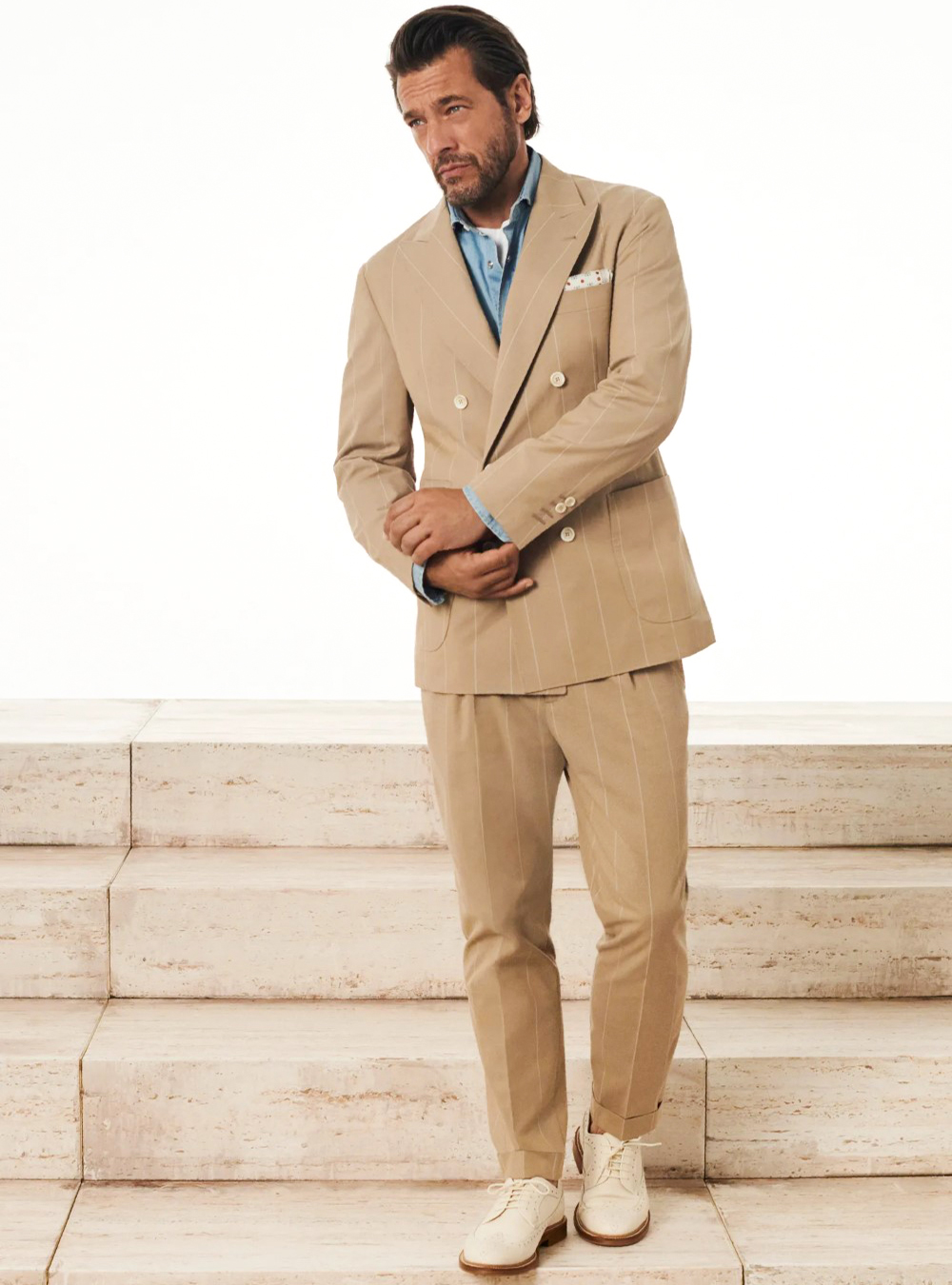 Mixing textures and styles, the tan double-breasted suit finds an unexpected match in a blue denim shirt.
The beige suede derby shoes add the finishing touch to this eclectic pairing.
Street Chic
Layering a beige peacoat over a casual grey suit gives this outfit a street-smart edge. The striped button-down shirt adds a pattern, while white sneakers keep it grounded and urban-ready.
Perfect for both daytime dashes and evening escapades.
Author: Alexander Stoicoff
Hi, I'm Alex, and I've studied and specialized in styling in Rome. Through my writing, I want to help men dress well and learn the purpose and significance of suits and other formal attire. My final goal is to make men more confident in their wardrobe choice and life in general.