If you feel stifled by the traditional suit and dress shoe combination, shake things up with a pair of Chelsea boots.
You can instantly upgrade a boring suit to a modern, chic ensemble by ditching the Oxfords in favor of these classic ankle boots.
Don't believe me? Just keep reading!
Can You Wear Chelsea Boots with a Suit?
You absolutely can wear Chelsea boots with your suit! This can be a superb way to change your entire ensemble's tone.
However, which Chelsea boots should you choose? There are several variations, so getting the exact right ones for your suit is crucial.
Here are the sorts of things to keep in mind as you dive into the world of pairing boots and suits:
Chelsea Boots Key Features
Standard Chelsea boots, fairly plain and rise to just about ankle height, with low heels work best with a suit.
Look for a slim, tapered design and a semi-pointed toe. This gives your suit a beautiful, streamlined effect, especially when paired with slim-fit suit pants.
Their iconic elastic panels on the sides and tab at the back, which helps you pull them on, set them apart from all other styles.
Both can match the shoe color. But for a more formal match with your suit, these features should be black.
Color Matching
As with any men's dress shoe, your Chelsea boots must complement your suit.
Most suits work best with either brown or black dress shoes, depending on the color of the suit. This extends to your Chelsea boots.
If you typically wear black shoes with your charcoal suit, you can count on black for your Chelsea boots.
But if you have never tried oxblood shoes, this might be a great time to incorporate this stunning shade into your wardrobe.
Good Choices
Matching Chelsea Boots & Suit Colors
The style of Chelsea boots easily lends itself to a smart suit because they are sleek with nice, clean lines.
But getting the silhouettes of your suit and your shoes to align is only the first step in putting together the perfect modern outfit.
Another vital piece to building this look is getting the colors right. Use this cheat sheet to get the best color scheme with every suit.
Black Suit
Black is the number one option for your Chelsea boots when wearing a black suit.
You can go full-on formal in black leather Chelsea boots paired with a black suit. Wear a white button-up dress shirt and a black tie to complete the look.
This winning combination will ensure you're as dressy as those Chelsea boots allow.
The boots may not be black-tie worthy, but they will keep you out of bland territory and look more hip than most other dress shoe wearers.
You could loosen up your black suit by substituting black leather for black suede boots. If that doesn't work, you can always swap the dress shirt for a turtleneck.
Keep the garments under your jacket lighter, and replace your tie with a bright pocket square instead. This makes excellent cocktail attire!
Navy Blue Suits
Navy is practically the perfect suit color. You can dress it up for all your professional requirements by pairing it with black Chelsea boots.
Or, convert that suit into a smart casual outfit with brown Chelsea boots and a sweater or turtleneck.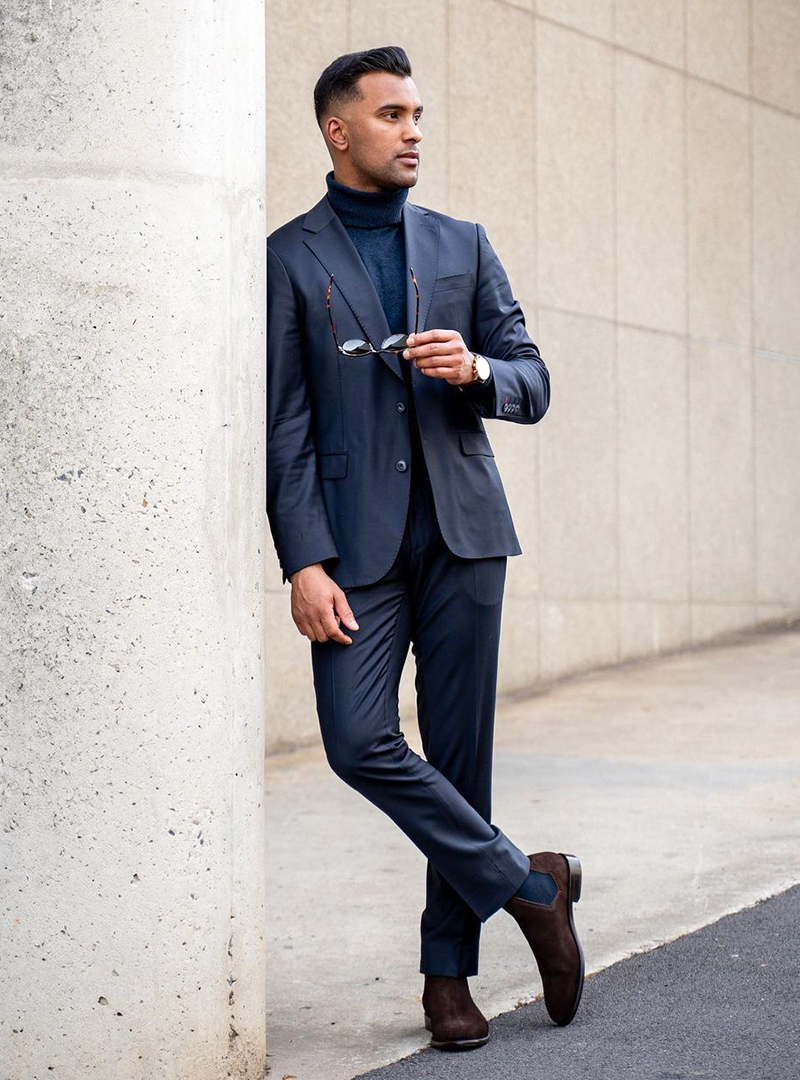 A medium blue suit is also an excellent match for Chelsea boots. Because this is a more casual blue than navy, you can go softer for this look with lighter brown boots.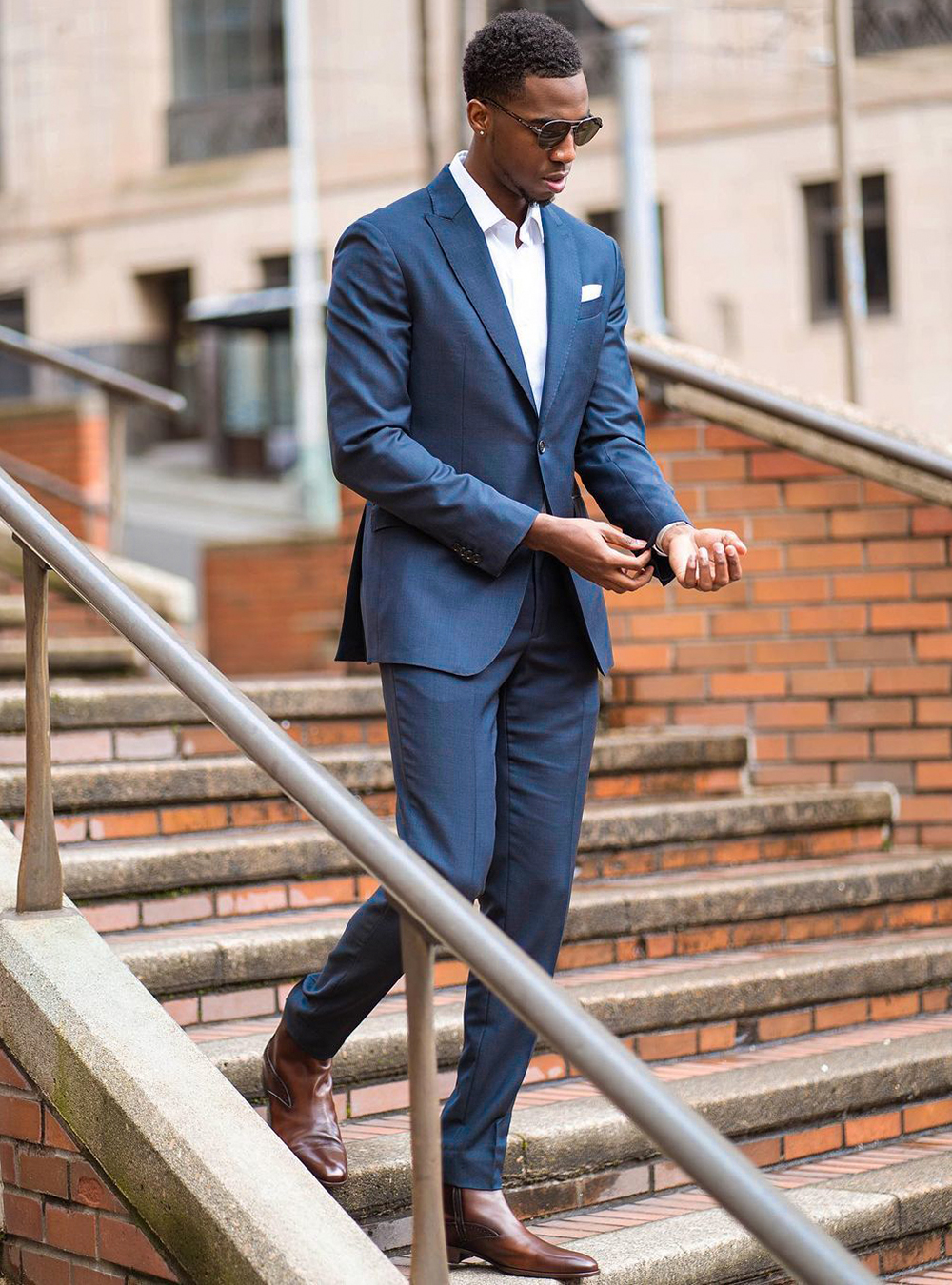 However, dark brown is still a highly complementary shade.
Brown Suit
Brown can be a tricky color to work with because of its many tones.
If it's possible, aim for Chelsea boots that are a darker shade than your suit. If your suit is a very dark brown, at least be sure your boots are the same color.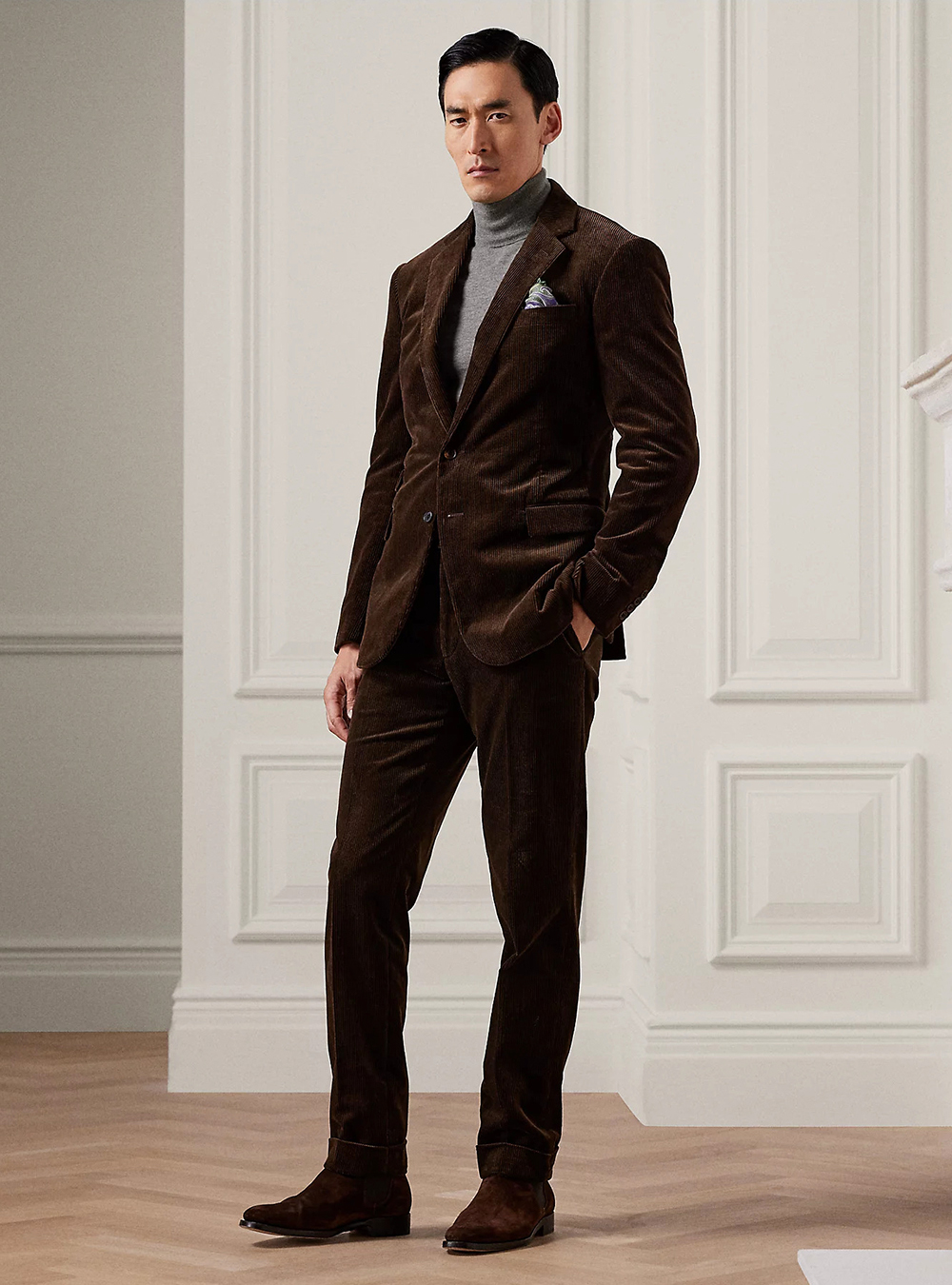 The number one rule is never to wear shoes that are a lighter brown than your brown suit.
Sometimes brown suits quickly feel stale, but that isn't likely when you add Chelsea boots into the mix.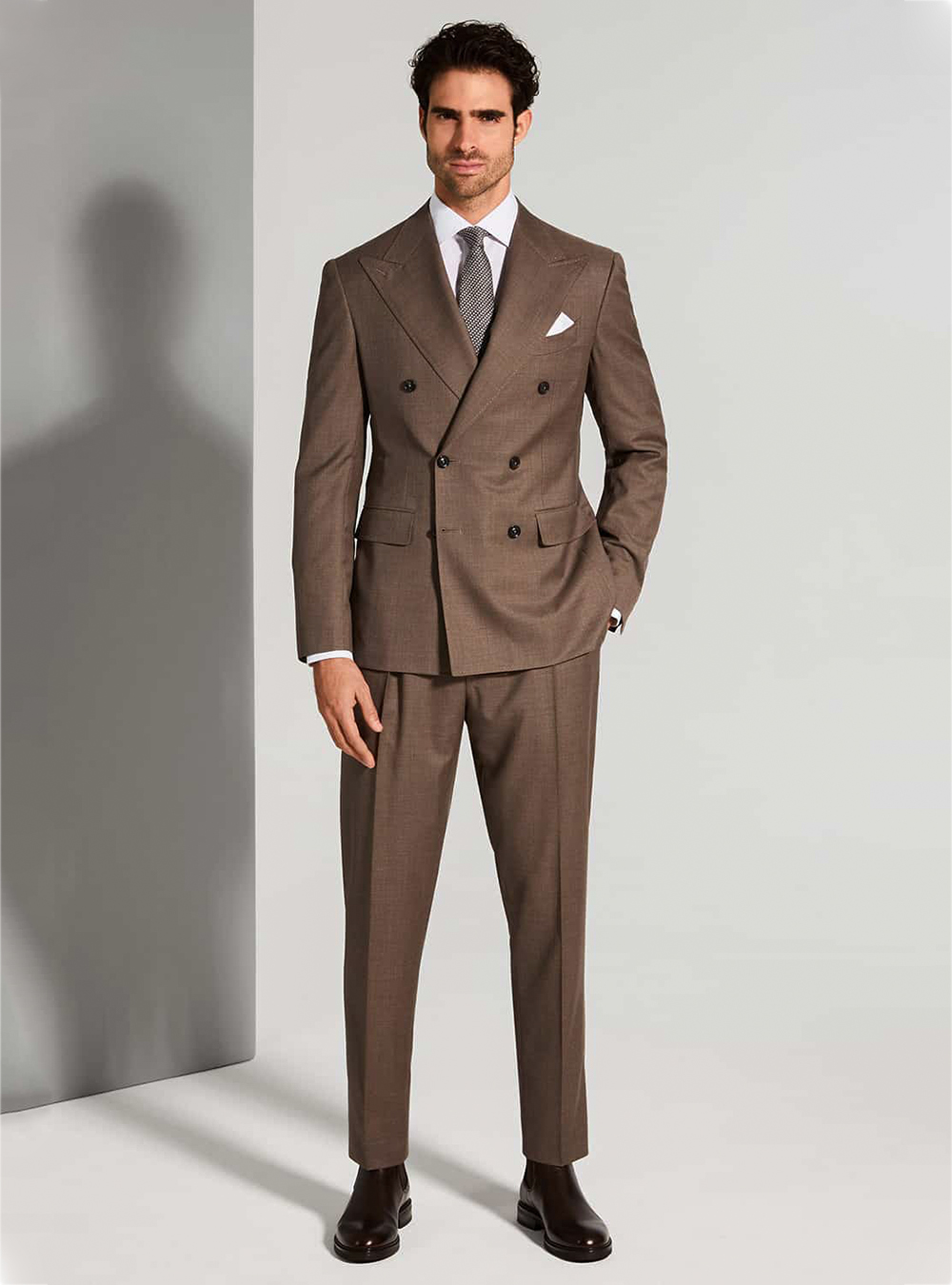 It helps to have a perky tie color, too. You can also use texture to jazz up this neutral shade.
Charcoal Suit
Charcoal suits are similar to navy ones in that they are both super professional colors. Incorporate black leather Chelsea boots if you want to keep this suit work-friendly.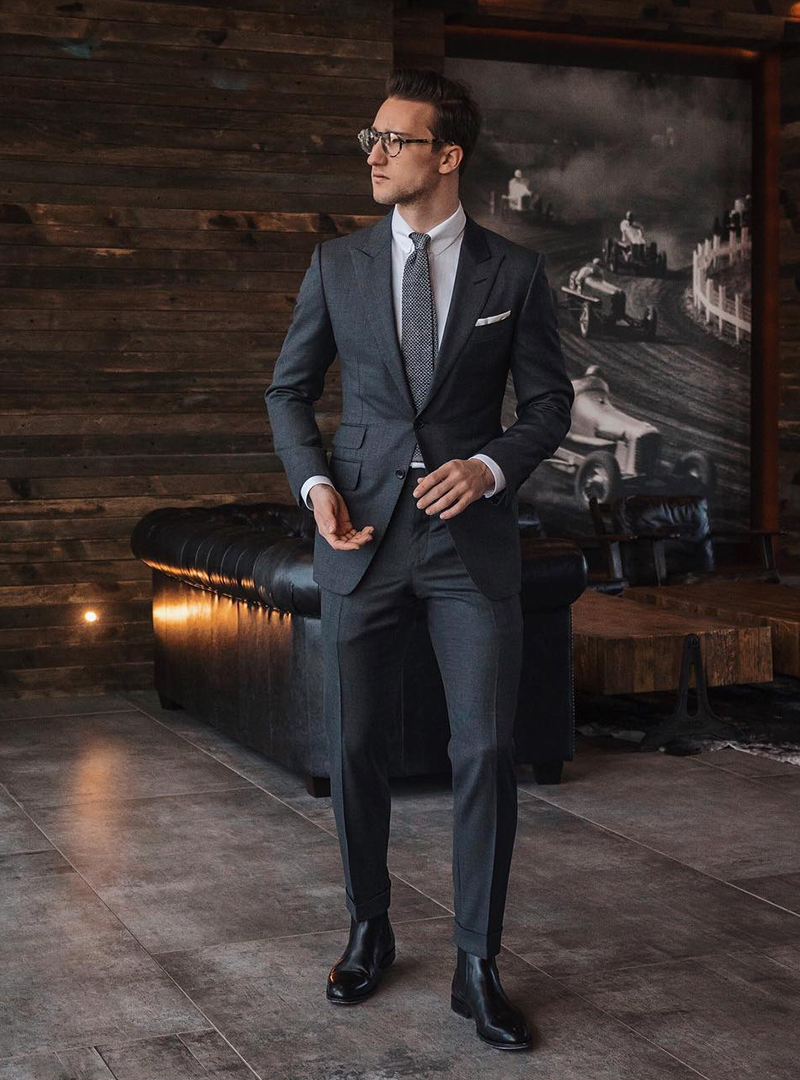 However, you can play with color and texture for a social event.
Since a cocktail event isn't formal, this is a great time to play with brown Chelsea boots or perhaps even suede.
Maybe an even more daring choice would appeal to you, in which case, you can't go wrong with oxblood Chelsea boots.
Sure, they're more casual, but they're incredibly stylish.
Grey Suits
Sometimes, you need a less severe grey than charcoal, so you turn to medium or light grey suits.
Since these feel so different from charcoal, matching your Chelsea boots to these lighter tones may be more difficult. Black never fails when it comes to grey suits.
However, the lighter your suit is, the more casual it feels. So don't shy away from softer, more golden browns to play up the relaxed nature of your suit.
Burgundy is another beautiful way to play up the elegance of your suit.
Burgundy Suits
This rarely-seen suit color is surprisingly versatile! However, finding the exact right shade for your Chelsea boots is slightly challenging.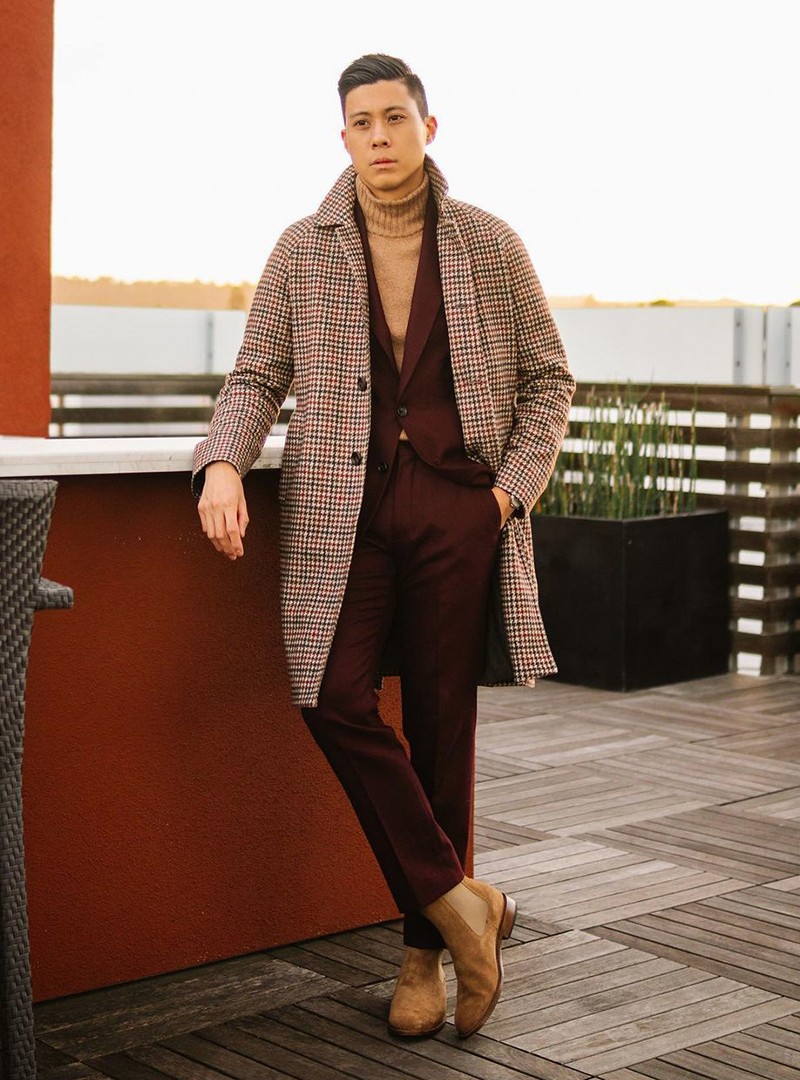 Consider the town of your burgundy. If it has brownish undertones, aim for a lighter brown shoe.
But if your suit leans more red or purple, you'd do well with black Chelsea boots.
Remember to use your accessories wisely with burgundy suits! This is a flashy suit color, so you don't want to add too much, creating an effect that's overly busy.
Olive & Dark Green Suits
Here is another case where tone matters. Green suits can be stunning, and the right pair of shoes can take your outfit even further.
Black Chelsea boots can be a fantastic fit, but sometimes brown is better.
More natural shades often have brown undertones to them; these look best with brown or burgundy shoes.
But brighter, more pure greens shine bright with black Chelsea boots.
Additional Styling Tips
Swapping out your traditional men's dress shoes for Chelsea boots is a bold move, but it pays enormous benefits.
A stale, bland suit suddenly becomes fresh and modern. Heck, Chelsea boots can even make your suit feel more urban and youthful.
So here are the final points for polishing off this killer look.
Leather is More Formal Than Suede
Chelsea boots may not be suitable for black-tie events, but they can still be very dressy when styled appropriately.
Just as with any style of men's shoe, leather is always more formal than suede.
So, consider how dressy you need to be when pairing your boots and suit.
Rubber Soles are More Casual Than Leather Ones
Texture is a huge part of so many elements of our clothing, including the soles of our feet.
That's right, even the material at the bottom of your shoe can make a difference in how dressy you are.
Rubber soles tend to feel a bit chunkier, making them a casual addition to your Chelsea boots.
But leather soles are very sleek, creating a more sophisticated profile.
Go for Slight Suit Trouser Break
Your shoe's silhouette can significantly influence other aspects of your suit.
For example, the height of your Chelsea boots can interfere with the hemline of your suit pants.
You need to be sure that your pants have a slight break. Without one, your pants could look too short and expose too much of your boot shaft.
But any longer, and your boot risks looking swallowed up by your pants.
When Can You Wear Chelsea Boots with Your Suit?
As I stated earlier, black-tie events are never an appropriate setting for Chelsea boots.
They don't mix well with your tuxedo, giving off a clunky and informal feeling.
However, you can undoubtedly incorporate Chelsea boots into plenty of other settings, including semi-formal and formal business occasions.
A sleek pair of leather Chelsea boots keeps the sophistication that a suit requires for these events but adds just the perfect level of polish and sass to an outfit.
Author: Alexander Stoicoff
Hi, I'm Alex, and I've studied and specialized in styling in Rome. Through my writing, I want to help men dress well and learn the purpose and significance of suits and other formal attire. My final goal is to make men more confident in their wardrobe choice and life in general.