Boots are everybody's favorite go-to footwear when the weather turns cold. But what about wearing boots with a suit?
Dress shoes don't do very much to protect your feet in bad weather conditions, so why continue to wear them?
Instead, pop on a pair of boots that will turn your suit's style into something completely new. As a result, your feet can stay dry and warm while you turn a few heads.
Why Wear Boots with a Suit
Boots are excellent for keeping your feet warm during winter or when the temperature has dropped outside.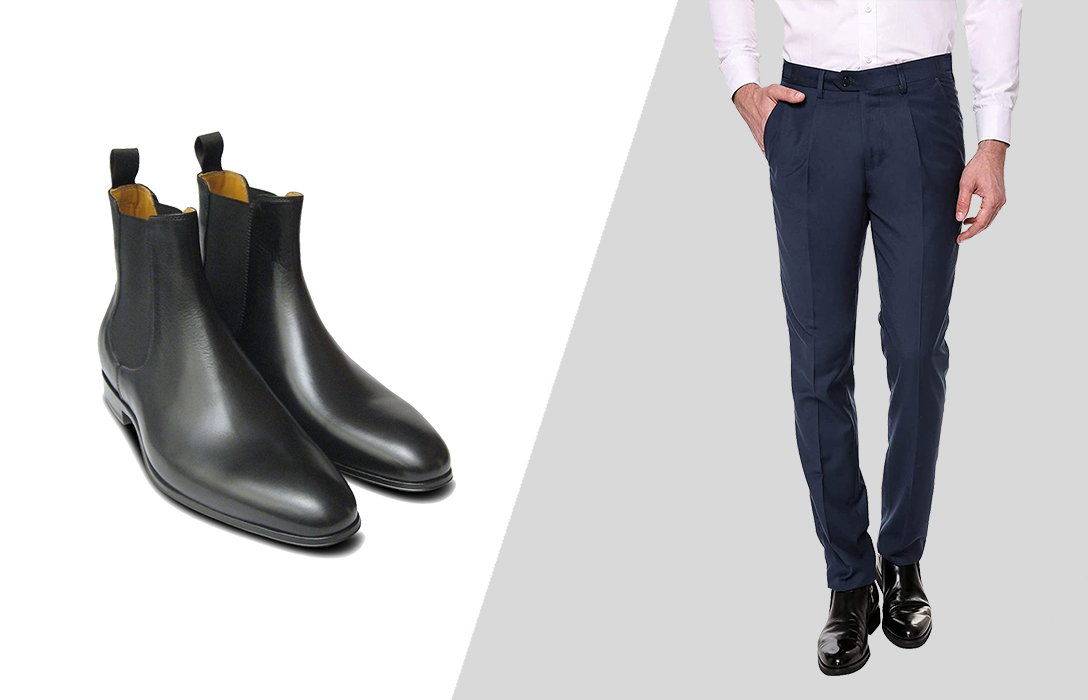 They're also roomier, providing space to comfort your toes with thick, cozy socks. (You can't get away with heavy socks with dress shoes!)
And as a major bonus, they electrify your winter suit.
How Suede vs. Leather Boots Match with a Suit
Suede is a type of leather that differs from the smooth, sleek leather from which most shoes are constructed.
Instead, suede is soft and inviting; it's more casual than its slick counterpart. However, don't discount how chic suede can be.
Leather is the go-to shoe material for formal footwear, so suede isn't appropriate for most conservative office spaces.
However, it's ideal for all sorts of urban adventures and weekend shenanigans.
You can also sport suede boots on casual Fridays at your office or in many business casual office settings.
Different Types of Boots You Can Wear with a Suit
It should be no surprise that not all men's boots are the same.
There are many types of boots, each conveying a different tone and creating a different effect with your suit.
Some boot styles will keep your suit feeling dressy and classy.
Others will tone your suit down a few levels of formality, but still pretty formal. And some will turn your suit into a bold punk statement.
Pick your boot style depending on the fashion you want to emulate and the feeling you hope to convey.
For example, even the nicest snow boots in the world aren't going to bring an air of professionalism to your best business suit, but dress boots can.
Chelsea Boots
Chelsea boots can feel somewhat dressy, thanks to their sophisticated silhouette.
They ditched the laces in favor of elastic sides for an easy slip-on experience. In addition, their smooth tops create a sleek line from toe to trouser.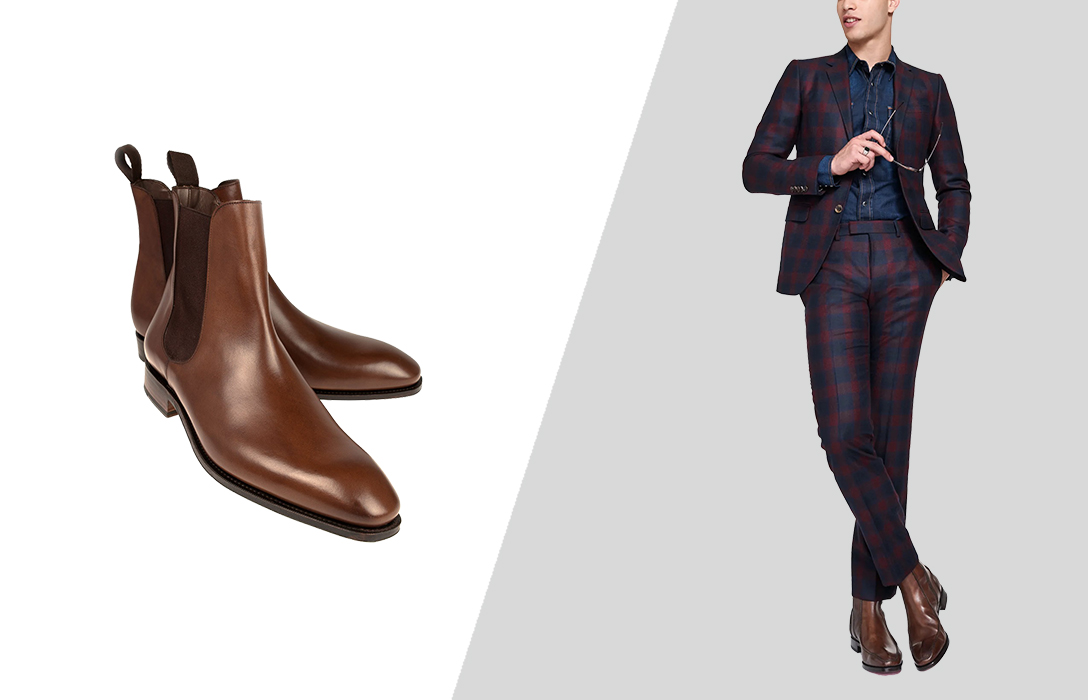 Wear these boots with a suit for a cocktail party or office gathering.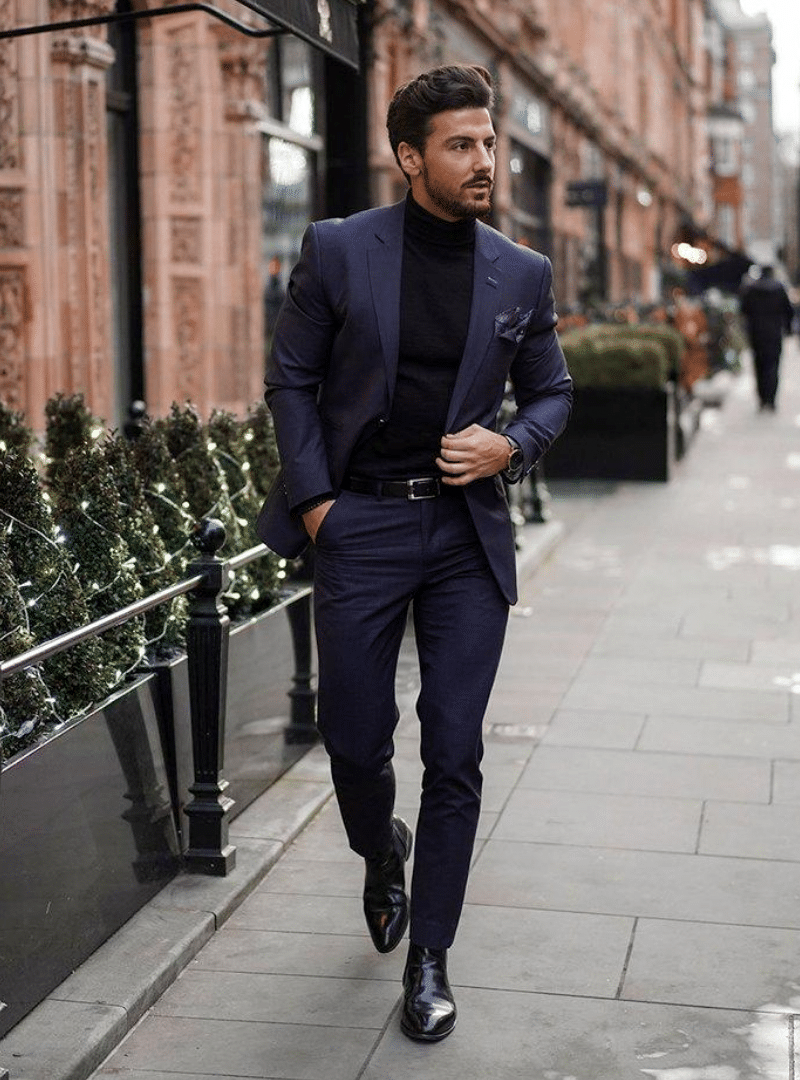 If your work has a business casual dress code, Chelsea boots are an excellent way to stay comfortable at work all day. You could also don these sleek boots for an elegant dinner out.
Chelsea boots look best with slim-fit suit pants because this combination plays up that smooth silhouette.
You can dress up a pair of black Chelsea boots with a charcoal slim-fit suit and a white button-up dress shirt.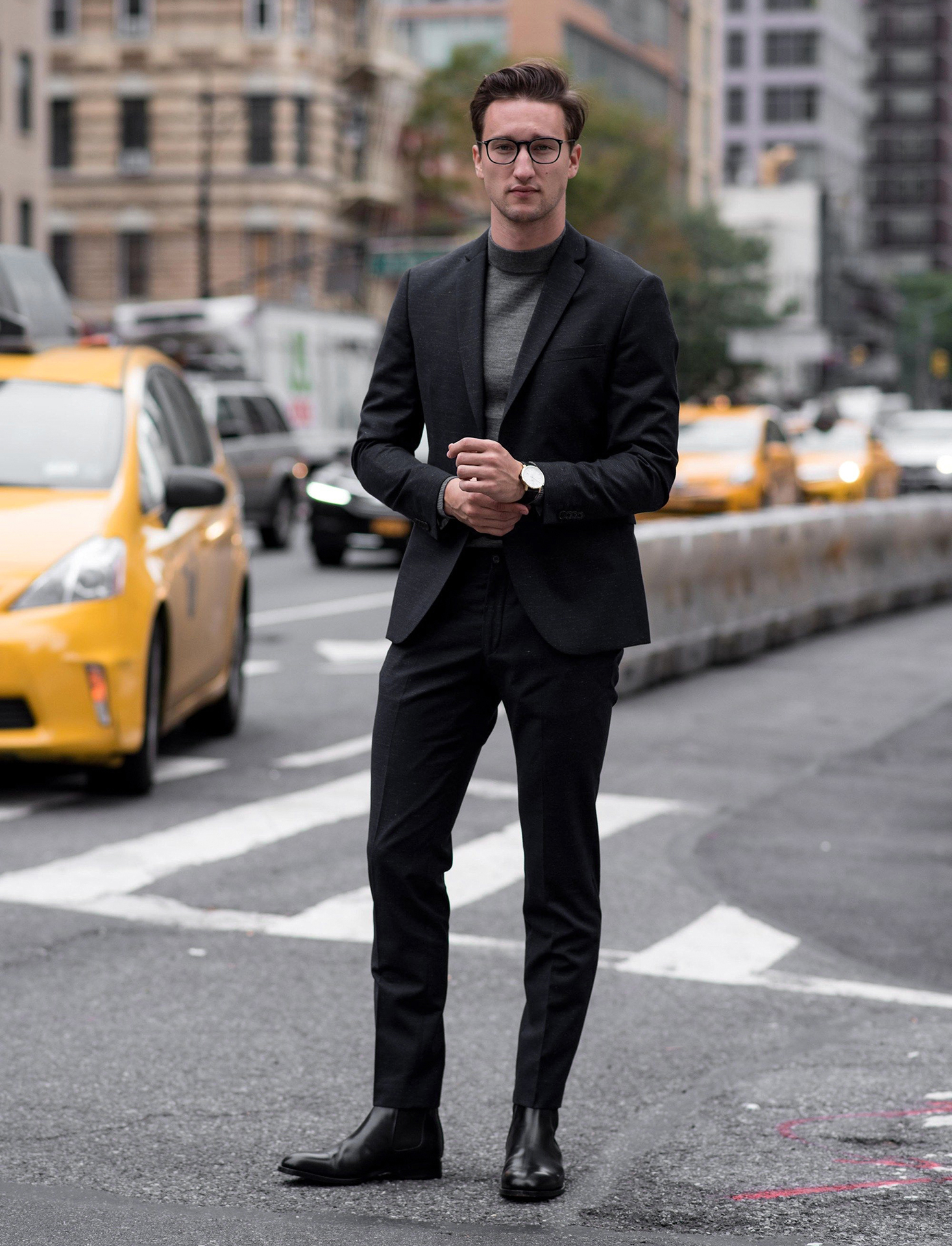 A black tie is a perfect way to tie in your boots; polish it off with a white pocket square.
A slightly more relaxed way to wear them would be to pair dark brown Chelsea boots with a navy suit.
A pale pink button-up or button-down shirt infuses your ensemble with some cheer.
Dress Boots
Dress boots differ from Chelsea boots because they have laces. Consider them as Oxfords in the world of boots, although they can come with open-lacings as well.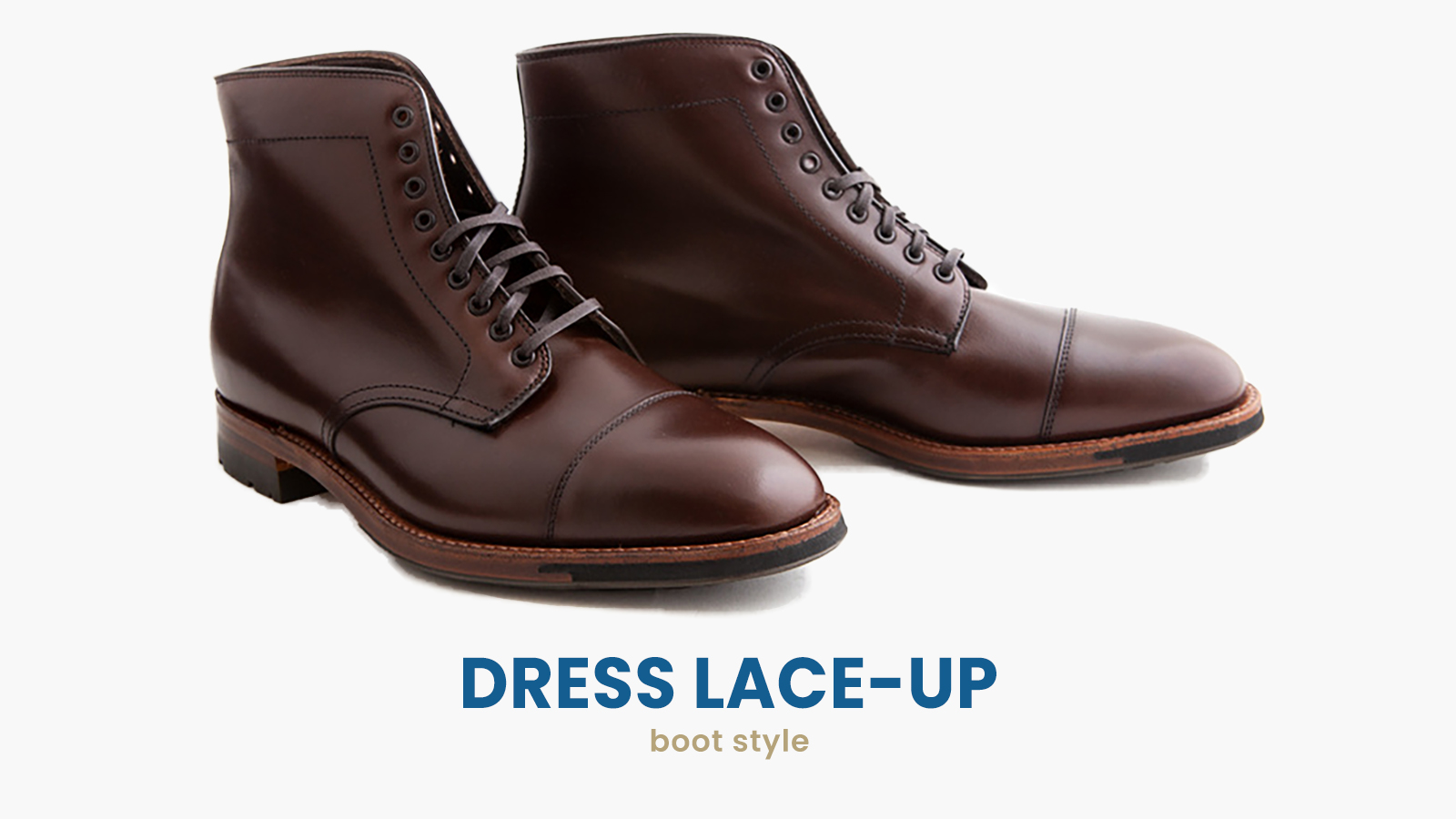 In addition, dress boots can have embellishments such as broguing or two-toned vamps, unlike Chelsea boots.
However, they aren't to be confused with Chukka boots, which have only three eyelets; dress boots have more.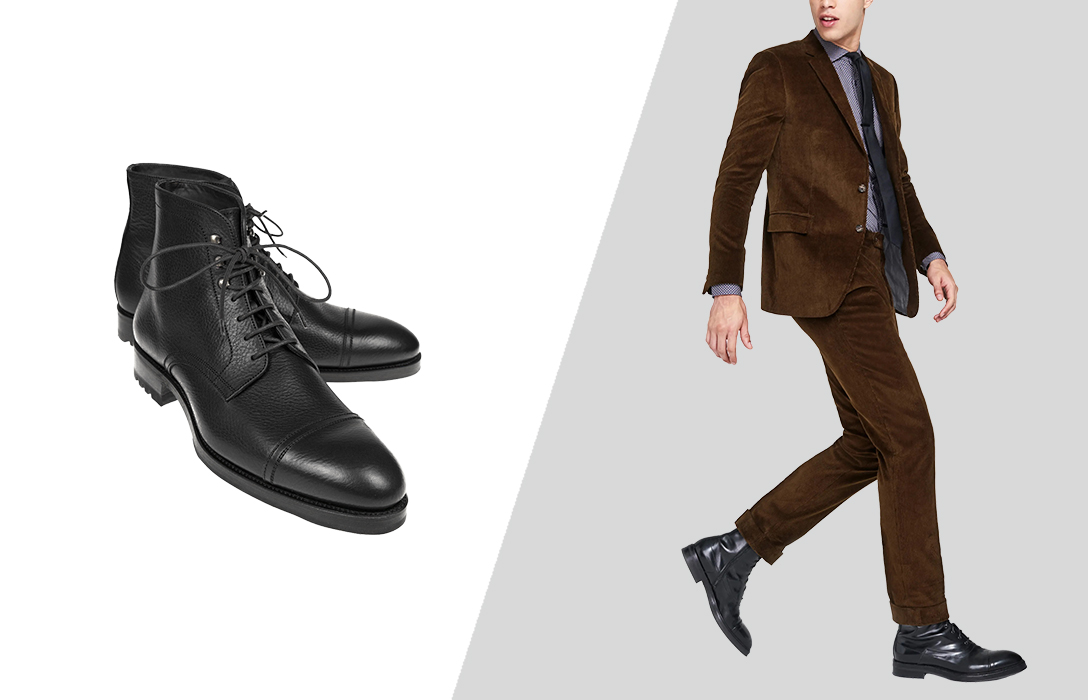 If you're aiming for a dressy aesthetic with these dress boots, they need to be dark. The suit you wear should be very tailored and well-fitted.
You want to continue the modern, sleek lines. You can play with a double-breasted suit jacket for an extra dash of flair.
Black dress boots look fantastic when worn with a charcoal or navy suit.
Although black suits are usually only found in formal settings, adding dress boots to your outfit lowers the severity of the color. This is especially true if you opt for a light blue dress shirt.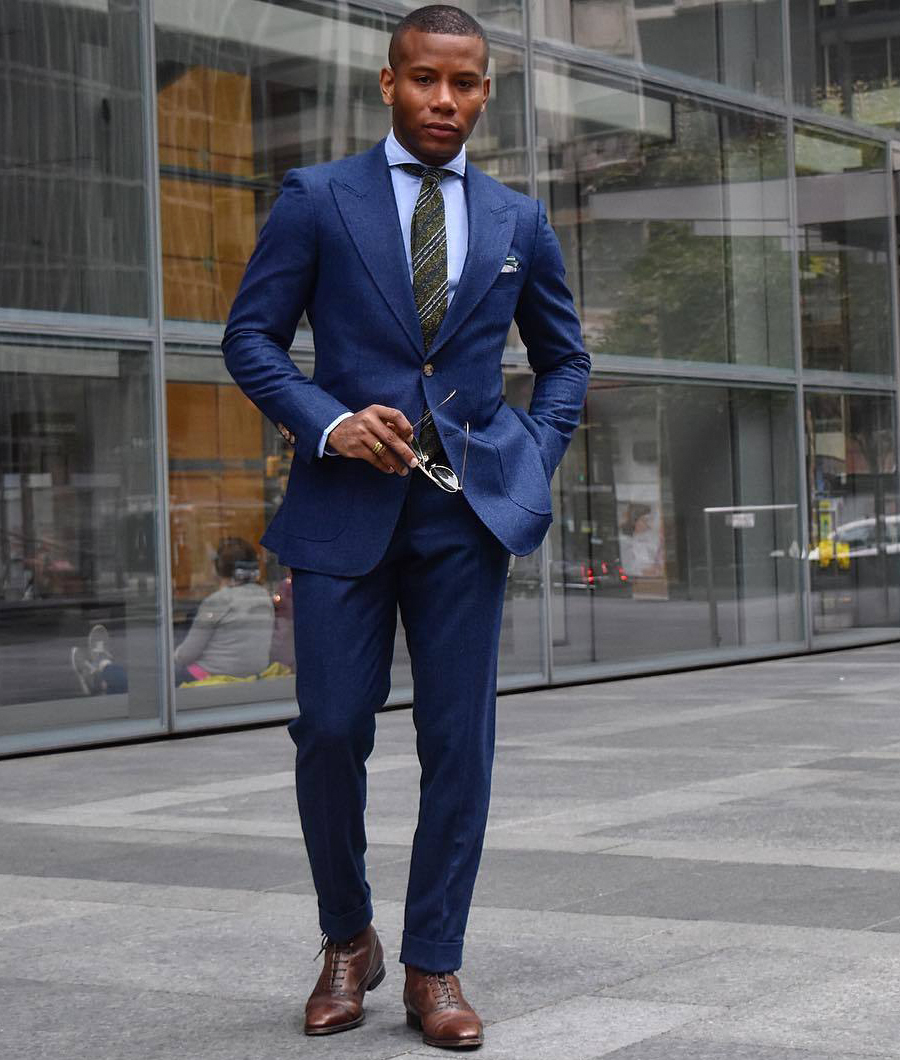 A contemporary combination suitable for a wedding or a modern business office is a navy suit with burgundy dress boots.
Stick with a white dress shirt for a crisp touch.
Chukka Boots
Chukka boots are similar to dress boots but have fewer eyelets and may not rise as high up the ankle.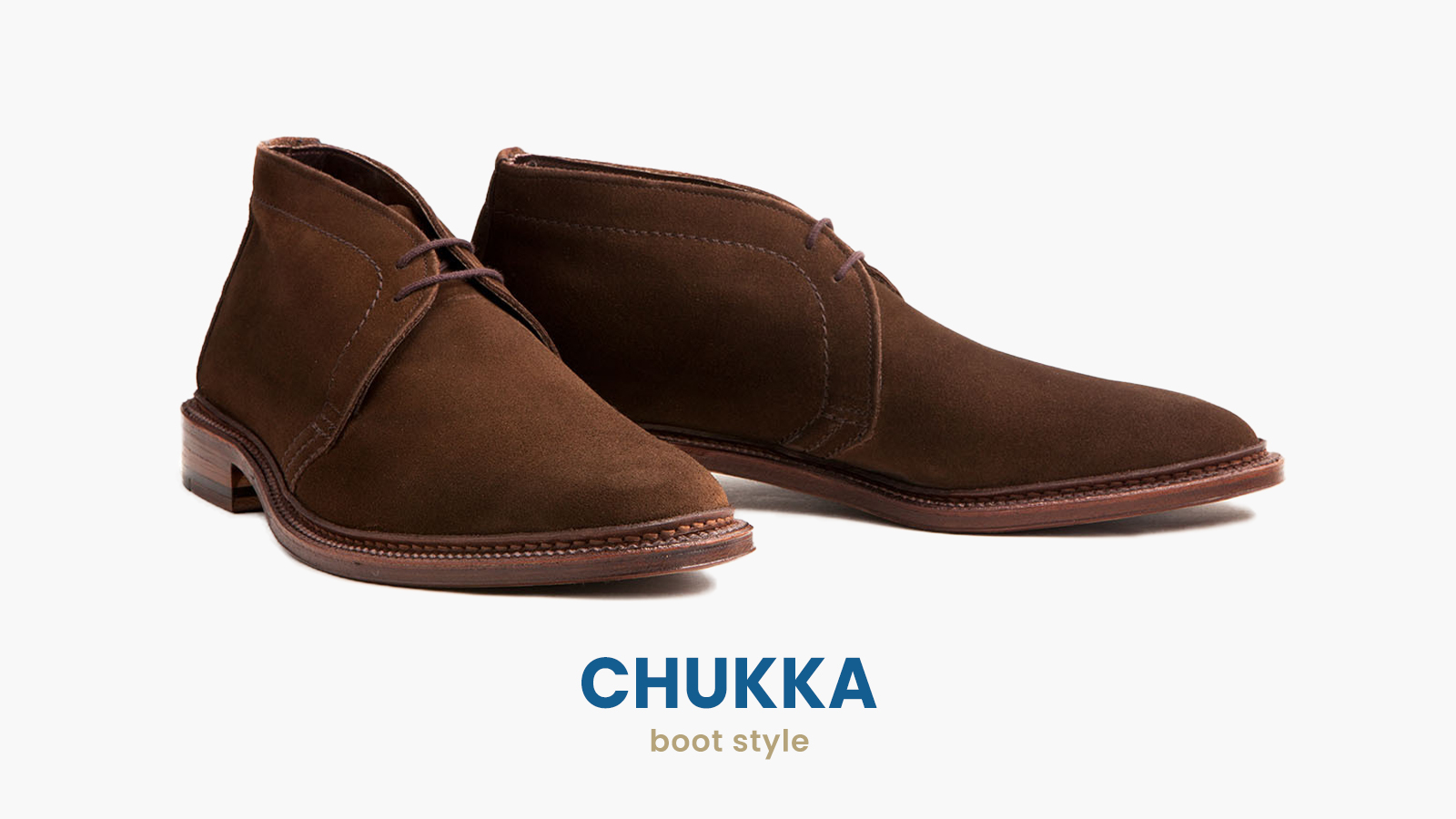 Their toes are more rounded, too, and the lacing is open.
As a result, Chukka boots are more casual, lowering your suit's dressiness a notch or two. They are also frequently suede.
These versatile boots are good in many settings. They are ideal for a day at work with a start-up company or an informal meeting.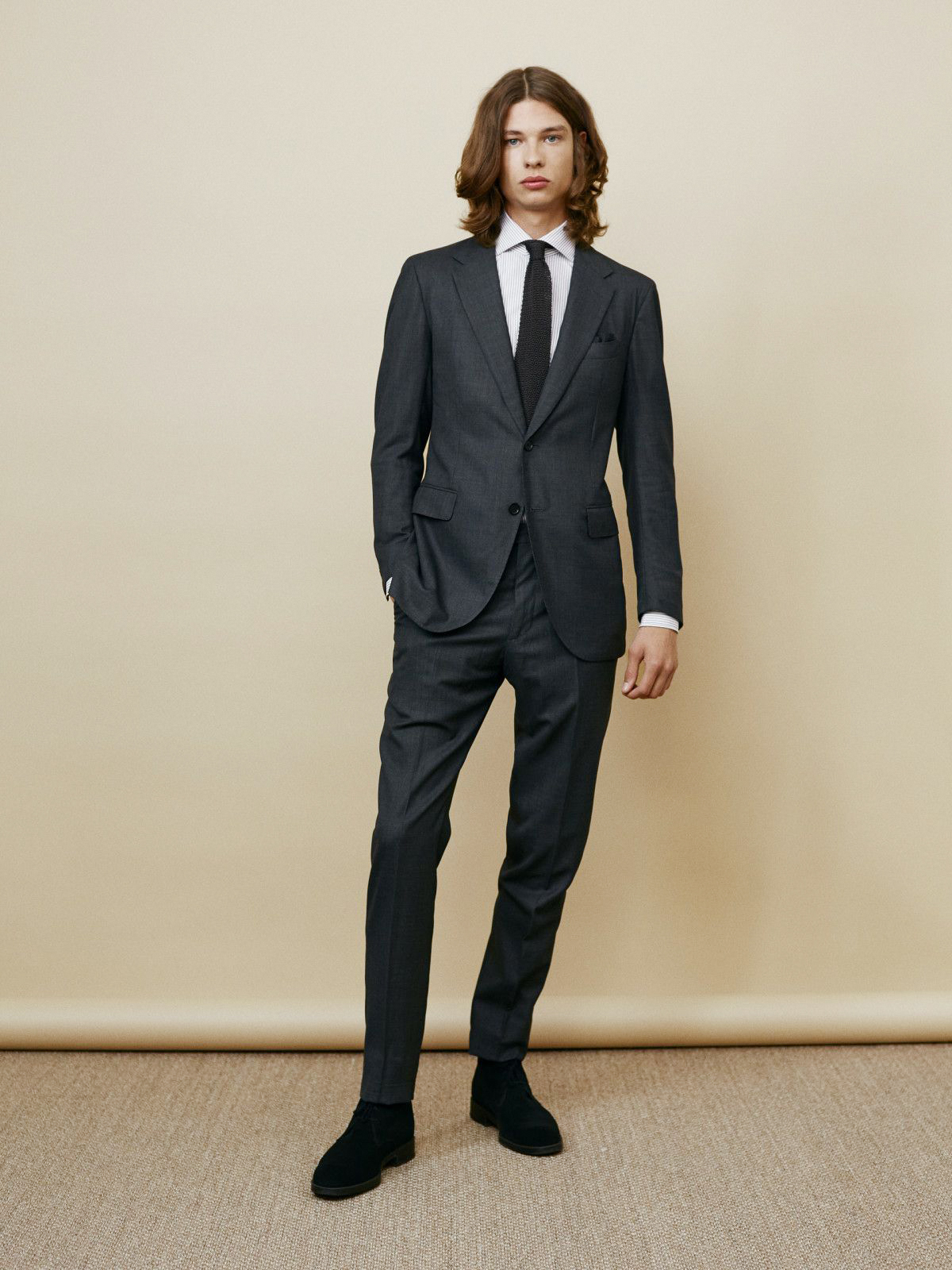 Chukkas are also suitable for any smart-casual event; they show that you put effort into your appearance but aren't trying too hard.
Impress folks with your sartorial sense when wearing a pair of brown Chukka boots with a royal blue suit.
You can also avoid the white shirt and opt for light blue or pale pink instead.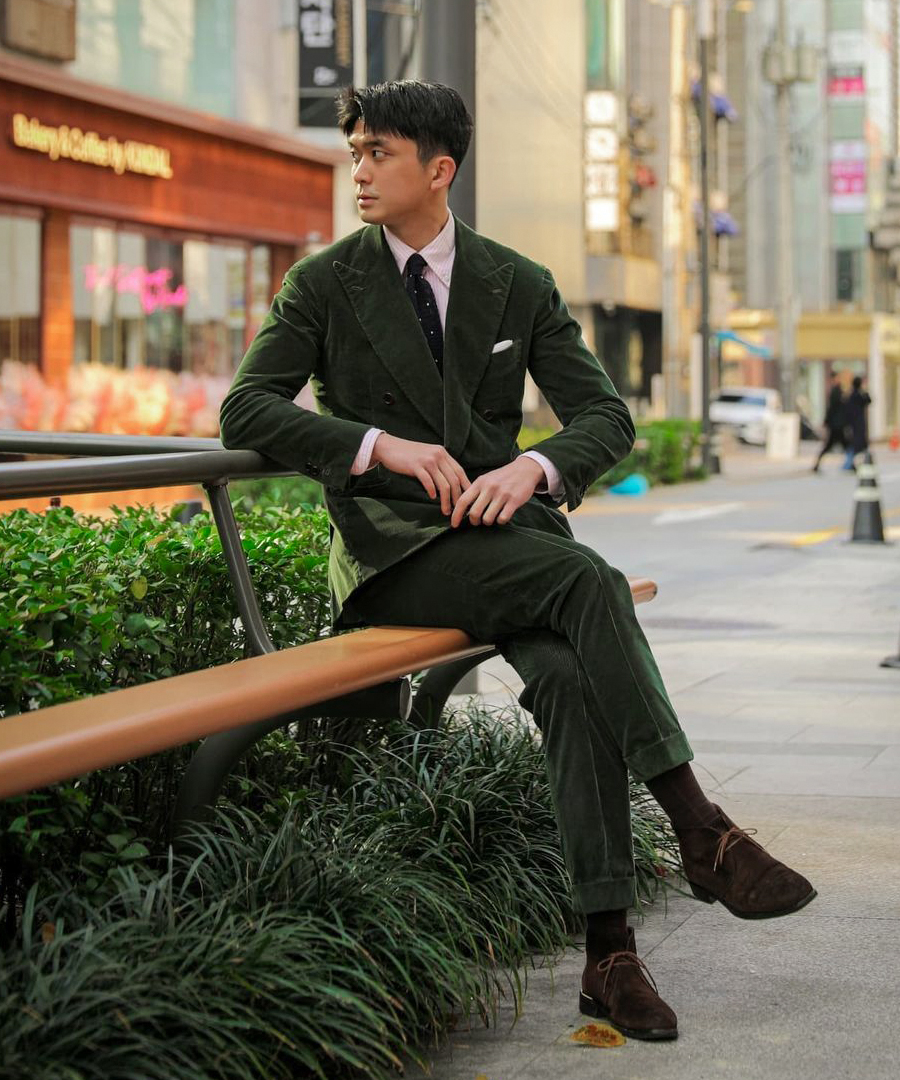 For a bold change-up, swap out the dark brown Chukka boots for light brown ones. The contrast will be startling.
Monk Strap & Jodhpur Boots
Ankle strap dress boots are sort of like the boot version of monk strap shoes. They can be either monk straps or jodhpur boots.
So instead of side elastics or laces, the ankle on this boot has (you guessed it) straps.
The only difference between monks and jodhpur is that monks' quarters are sewn on top of the vamp. Contrastingly, the jodhpur's vamp is sewn on top of the quarters.
The top of the shoe is smooth; it may or may not have a toe cap.
These are an excellent choice for pairing with a suit since they're on the dressier side of footwear.
You can wear this stylish and modern boot for semi-formal events.
They wouldn't quite look appropriate with a pair of casual trousers, so reserve strap dress boots for your more formal needs.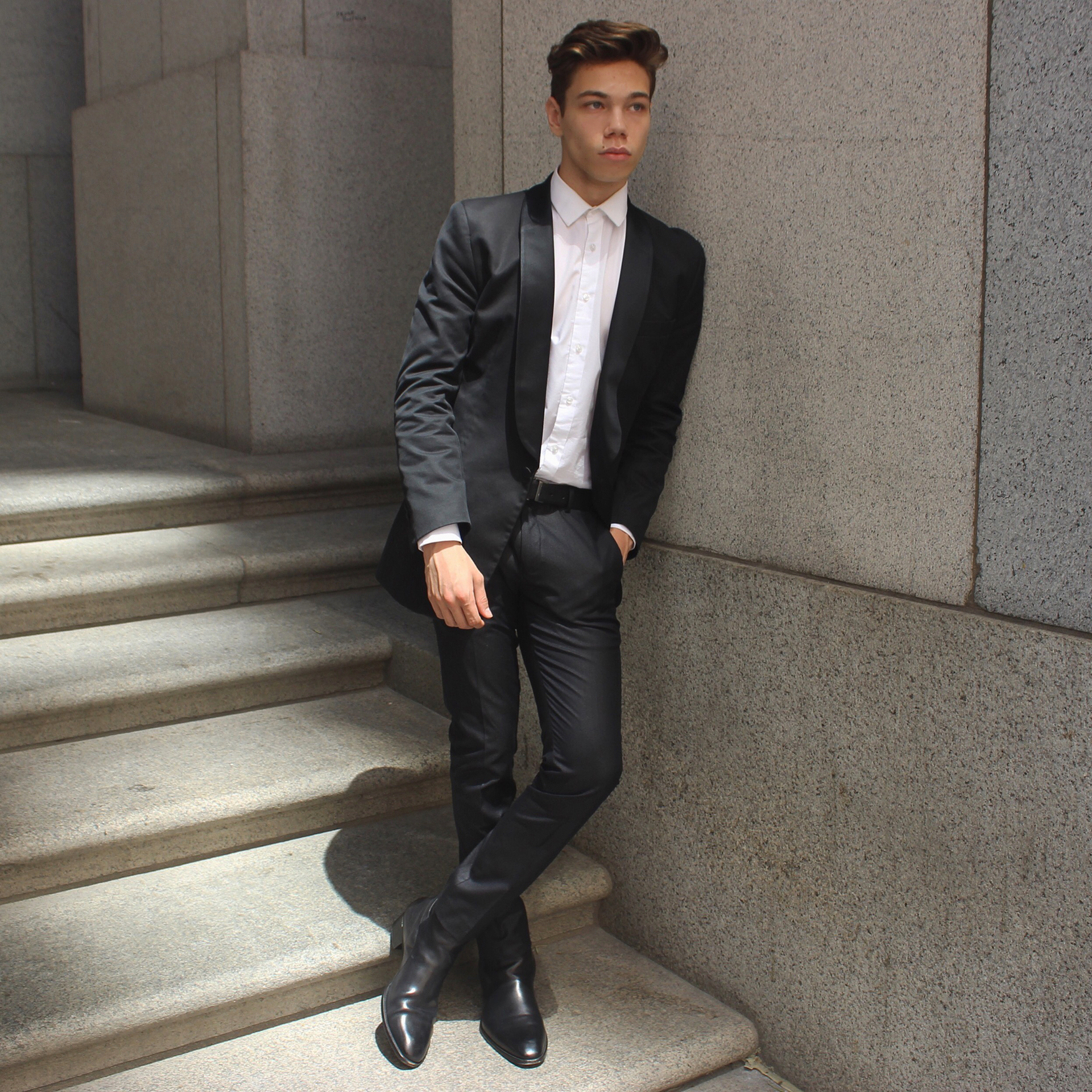 If you're looking to spice up your navy suit, ankle strap dress boots are a surefire way to modernize that look. Dark brown leather would look more natural with the navy.
They would also make a grey suit seem less stuffy.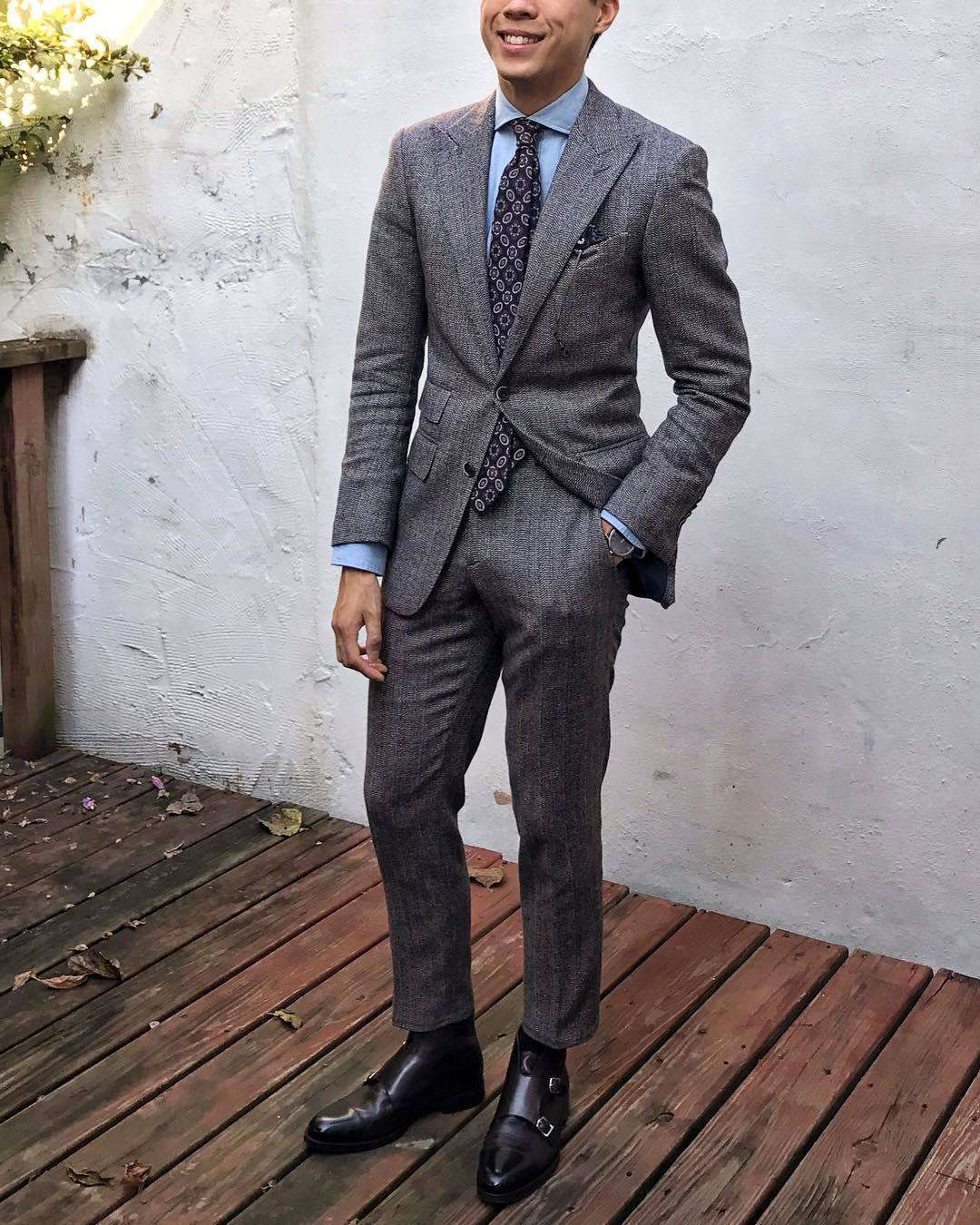 Brown suits can be tricky to style, so they feel crisp, but a pair of light brown ankle strap dress boots are one way to pull it off.
Combat Boots
Ready for a complete change of pace? Add some rough and tough boots to alter your suit into something more hardcore.
These not-fit-for-work boots are not as heavy as army regulation boots; these are refined combat boots.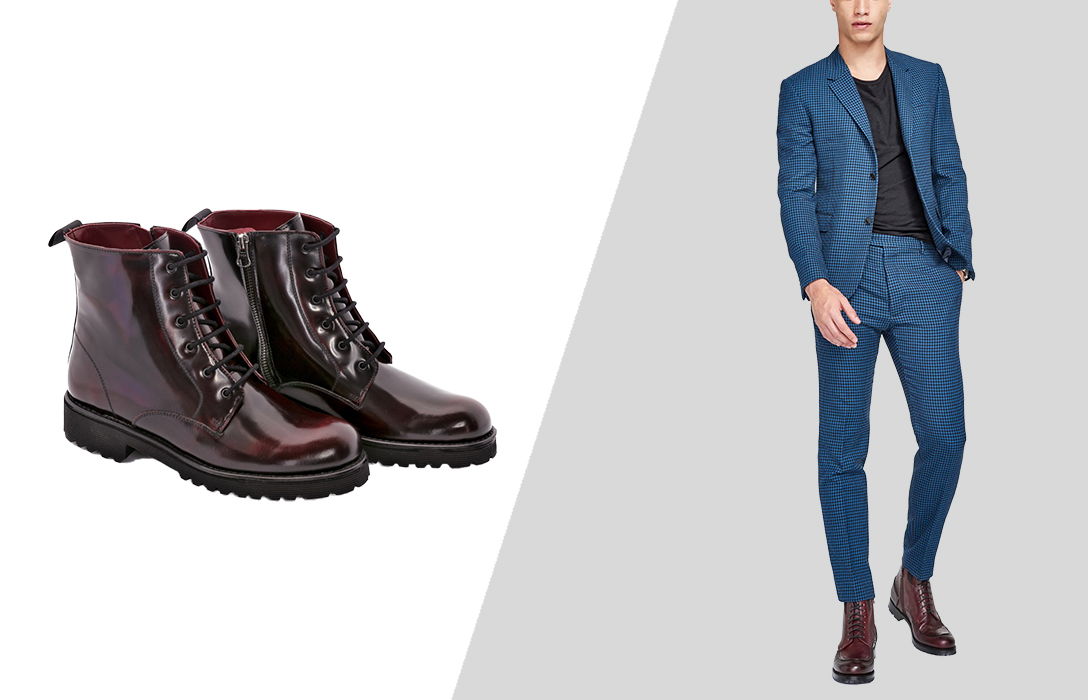 Footwear as bold as this needs a stand-out suit. This is the ideal time to play around with patterns; try a plaid suit or a tweed for an exciting contrast.
You can also play up the boldness with a daring colored suit, such as green, with burgundy combat boots. It will help your outfit if you can create a balance between the heavy boots and your suit.
Since combat boots tend to be heavier than other boots, they make a great choice for colder days. Stick with a slim-fit cut for a nice juxtaposition.
You should also consider cropped cuffs with no trouser break so your boots are visible and you don't wind up awkwardly tucking in your trouser leg.
Cowboy Boots with a Suit
Cowboy boots aren't common in most areas of the world, so they will create quite an effect no matter how you wear them.
These boots will undoubtedly add confidence to your step.
But unlike many other boots, you should not wear cowboy boots with slim-fit pants.
Your suit trousers must be wide enough to go over your boot shaft, yet you need to be careful that they aren't overly wide.
Cowboy boots should match your suit color. Lighter shades are the best way to go, so try wearing a pair of tan or light brown cowboy boots with a tan suit.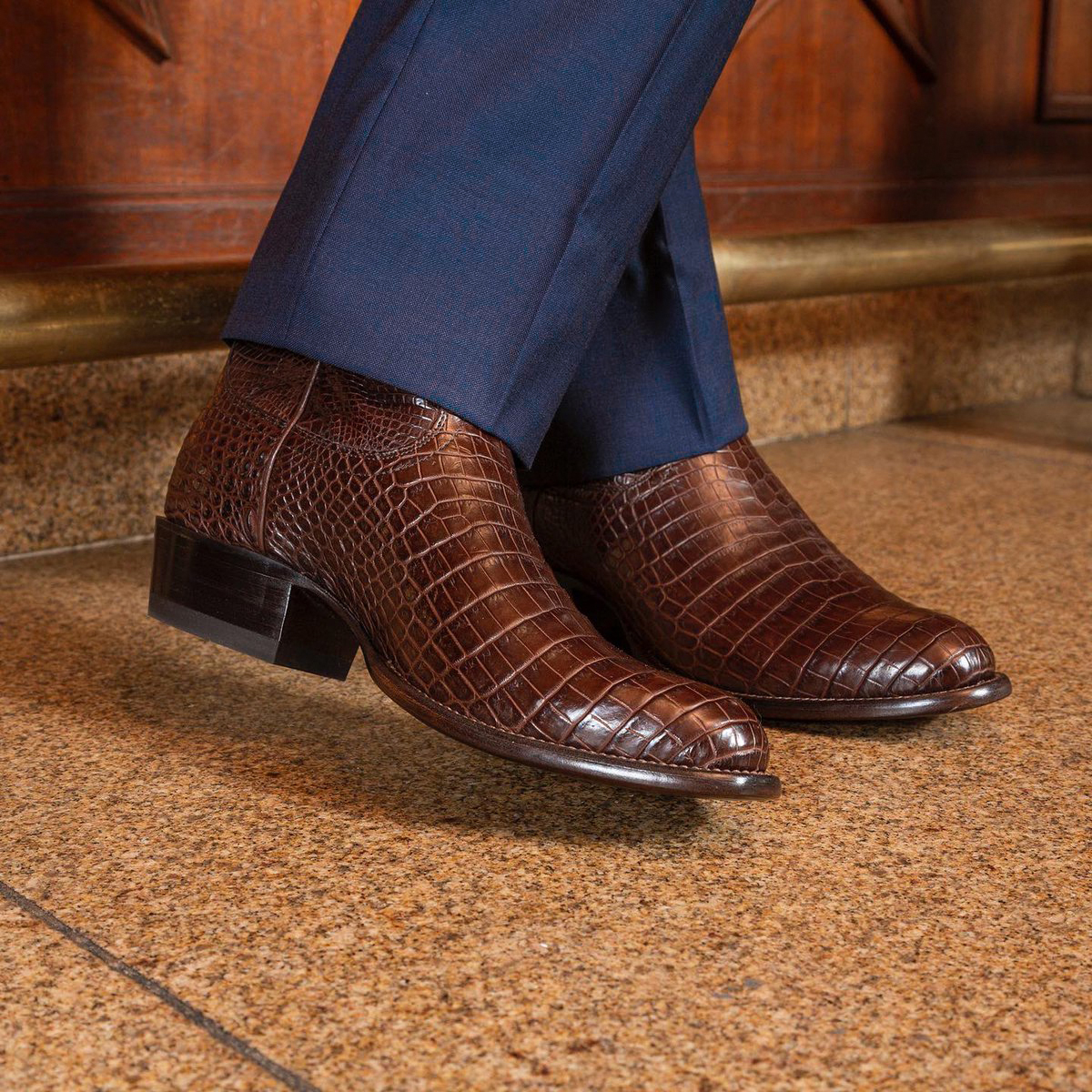 You can add a dash of style with a brightly colored tie and pocket square. This would be a perfect outfit for an evening out dancing with friends or a family party.
Author: Alexander Stoicoff
Hi, I'm Alex, and I've studied and specialized in styling in Rome. Through my writing, I want to help men dress well and learn the purpose and significance of suits and other formal attire. My final goal is to make men more confident in their wardrobe choice and life in general.