You may think that a cotton suit is only appropriate for summer, and you're half right.
While cotton is a fantastic choice for a summer suit, it doesn't need to be relegated to only the hottest months of the year.
With the right weight, blend, and color, you can enjoy the comforts of one of the most beloved fabrics any time of year.
Wearing a Cotton Suit: The Basics
Cotton suits are an excellent addition to any wardrobe.
They'll set you apart from the traditional stuffy wool suits and send the message that you can look completely carefree and elegant at the same time.
The Advantages of Cotton
There isn't much that you can say about cotton that's bad. On the contrary, it has so many benefits that you can tell why brands boast about being one hundred percent cotton.
For one thing, it's wonderfully absorbent. Cotton soaks up moisture, so you can count on it to wick away your perspiration.
It's also breathable, so air can circulate freely around your body, ensuring you won't overheat.
Cotton is also such a popular clothing choice because it's super tough. Garments made from this suiting fabric won't easily fall apart, and you will have them for a long time if you care for them properly.
But the best part of cotton is how soft and cozy it feels!
Best Cotton Suit Colors
Cotton doesn't take dye as easily as most other fibers do, so you can count on the color of your suit to fade.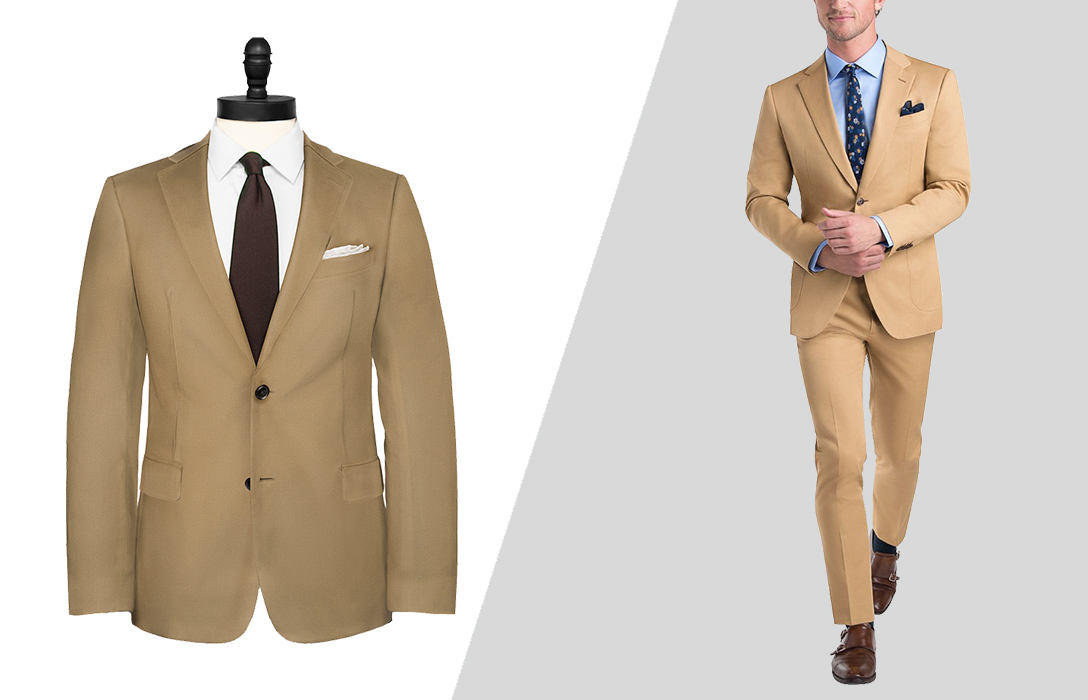 However, manufacturers anticipate this and pre-wash the fabric beforehand. That ensures that the color you get is mostly how the color will stay. So the colors don't tend to be vibrant.
Khaki looks very classy on a cotton suit. Because cotton is a more laid-back fabric, casual colors are an excellent pairing.
Blue and olive green are two other colors that really stand out for cotton suits. Of course, navy looks beautiful and mature on nearly all suit fabrics.
Different Cotton Suit Styles You Can Wear
Aside from formal, there isn't any suit style you can't pull off in cotton! Cotton is so versatile that you have many options for designing your look.
You can wear your cotton suit as a complete ensemble or as separates to make it even more leisurely. A single-breasted jacket with notch lapels would be the perfect approach for this dressed-down suit.
However, you can also wear peak lapels to heighten the dressiness of your cotton suit. You can even try out a double-breasted cotton suit jacket if you feel especially suave.
Finally, of course, don't overlook the sophistication of a three-piece suit.
Most importantly, consider your personal style. Don't try to dress in a manner that simply isn't you.
Matching the Cotton Suit with Other Attire
In general, cotton suits look best with solid, light dress shirt colors.
White is always the top choice of a dress shirt with any suit, no matter the color or material. It automatically makes any suit slightly more elegant.
After white, light blue and light pink are very complementary to cotton suits.
Wear your suit with brown dress shoes to stick with the more casual vibe from cotton suits.
However, if you are dressing more formally, make sure your shoes are Oxfords. Derby shoes are an acceptable second shoe style choice.
For a more casual outfit, brown loafers or monk straps are perfect. Go for the sockless look, and you'll appear very relaxed.
Skip wearing black shoes with a cotton suit if you can. They are too formal and will seem out of place.
How to Wear a Cotton Suit for Summer
Cotton is a terrific material for summer suits. It's very lightweight, so it's excellent at keeping us cool, even when suits are the last thing you want to be wearing.
You can get heavier-weight cotton for year-round use, so be sure you're getting the proper weight for your suit if you plan to wear it in hot weather.
Blend Cotton with Linen
One of the best perks of wearing cotton is how soft and inviting it feels, but it can be rather flimsy. It doesn't retain its shape terribly well.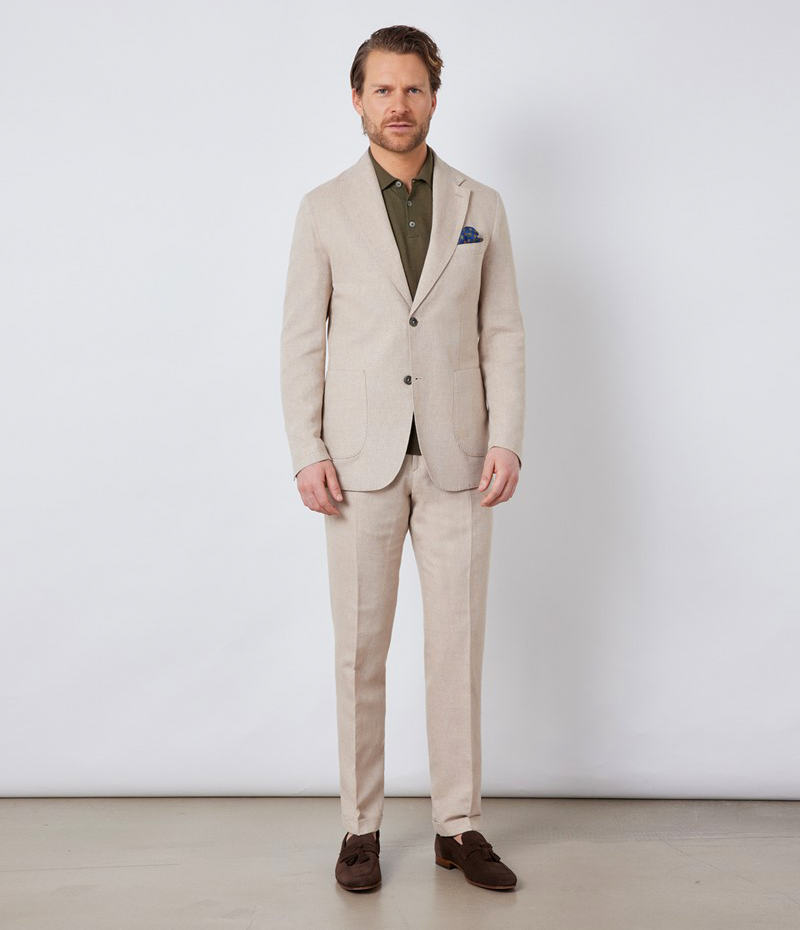 But a cotton/linen blend gives you the best of both worlds; the cozy feel of cotton and the stiffer drape of linen.
You can blend cotton with any lightweight material for a perfect summer garment.
Different blends will achieve various effects; they may change the feel or performance of the fabric. This can make for some exciting new suit styles.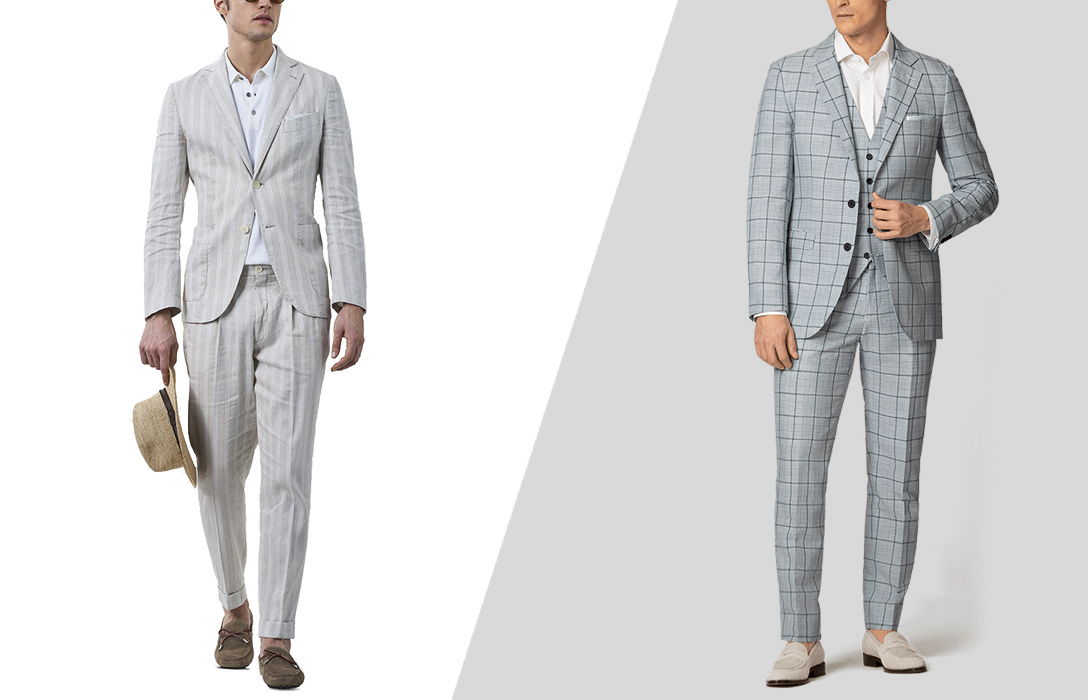 For example, if you add silk in with cotton, you'll wind up with a cotton that has some shine to it, making it seem more glamorous than standard cotton.
Choose Lighter Colors
Khaki is the ideal suit color for summer. It has many of the same qualities as cotton; it's casual, and everybody looks good in it.
Light colors are best for summer since they help keep you cooler. However, that isn't the only reason to wear a light-colored cotton suit in the summer. Lighter colors are typically informal, just like cotton is.
Just be warned: light colors aren't as good at hiding stains as dark suits are. You'll look dirty much quicker in a light suit.
Best Cotton Suits for Men to Wear
There are plenty of great cotton suits to choose from. It is not easy to narrow down the best ones, but here's a selection of some favorites.
Navy Slim-Fit Suit Havana by Suitsupply
Suitsupply offers this unique take on a cotton suit by combining some stretch and seersucker.
The dark color camouflages the unusual texture of this suit until you're close up when you can see the detailing of the seersucker structure.
It's super lightweight, so you'll be cool and relaxed all day. But the dark navy shade makes this suit feel dressed up.
Tom Ford Shelton Tan Cotton Suit
Silk is one of the most elegant fabrics, so you create a stylish new material when you combine it with cotton.
Tom Ford played up the elegance of the silk/cotton blend by adding peak lapels to this suit and side tabs to adjust the trousers' waist.
However, this suit hasn't gone entirely formal, as the tan shading keeps it firmly laid-back, making it best for summer or daytime outings.
Grey Cotton Suit by Hockerty
This suit is mostly cotton, with a touch of spandex to add a slight stretch for comfort. This suit may be traditional, but it's very sharp.
The jacket is single-breasted with a notch lapel, ensuring that you'll fit in at the office. And since it's charcoal, the dark shade will help make it formal enough for most offices.
This year-round suit is sure to fit you perfectly because all Hockerty suits are made to measure.
Boglioli Beige Cotton Suit
This suit is a blend of cotton and polyester, creating a casual, highly durable suit that's very versatile. The breathability of cotton enhances the lasting powers of polyester, so this is a terrific suit to wear all day long.
Because this suit is unlined, it will be even more comfortable in warm weather. And you can appreciate that the suit pants include some elastic in the waistline, giving you a little extra room when you need it.
Brown Havana Suit by Suitsupply
This classic suit offering by Lazio works year-round, thanks to its warm overtones. Its light brown shade carries it through autumn and winter months, but it's lightweight enough to keep around in spring and summer.
Its single-breasted suit jacket with two buttons and a notch lapel makes it a perfectly traditional suit. However, it is casual due to its patch pockets; of course, the taupe color ensures its place in a non-formal wardrobe.
Author: Alexander Stoicoff
Hi, I'm Alex, and I've studied and specialized in styling in Rome. Through my writing, I want to help men dress well and learn the purpose and significance of suits and other formal attire. My final goal is to make men more confident in their wardrobe choice and life in general.