Have you ever noticed that the most dapper-looking men all wear a pocket square?
If you've been wondering whether you can also pull one off, I have news for you: anybody can wear a pocket square.
The best part is that you don't even need to wait for the perfect occasion; you can wear one with any suit.
You just need to know the basics of wearing a pocket square.
Things to Know When You Wear a Pocket Square
A pocket square is a superb way to personalize what may otherwise be an average ensemble. It can either add a dash of sophistication and elegance or a fun pop of color to a neutral suit.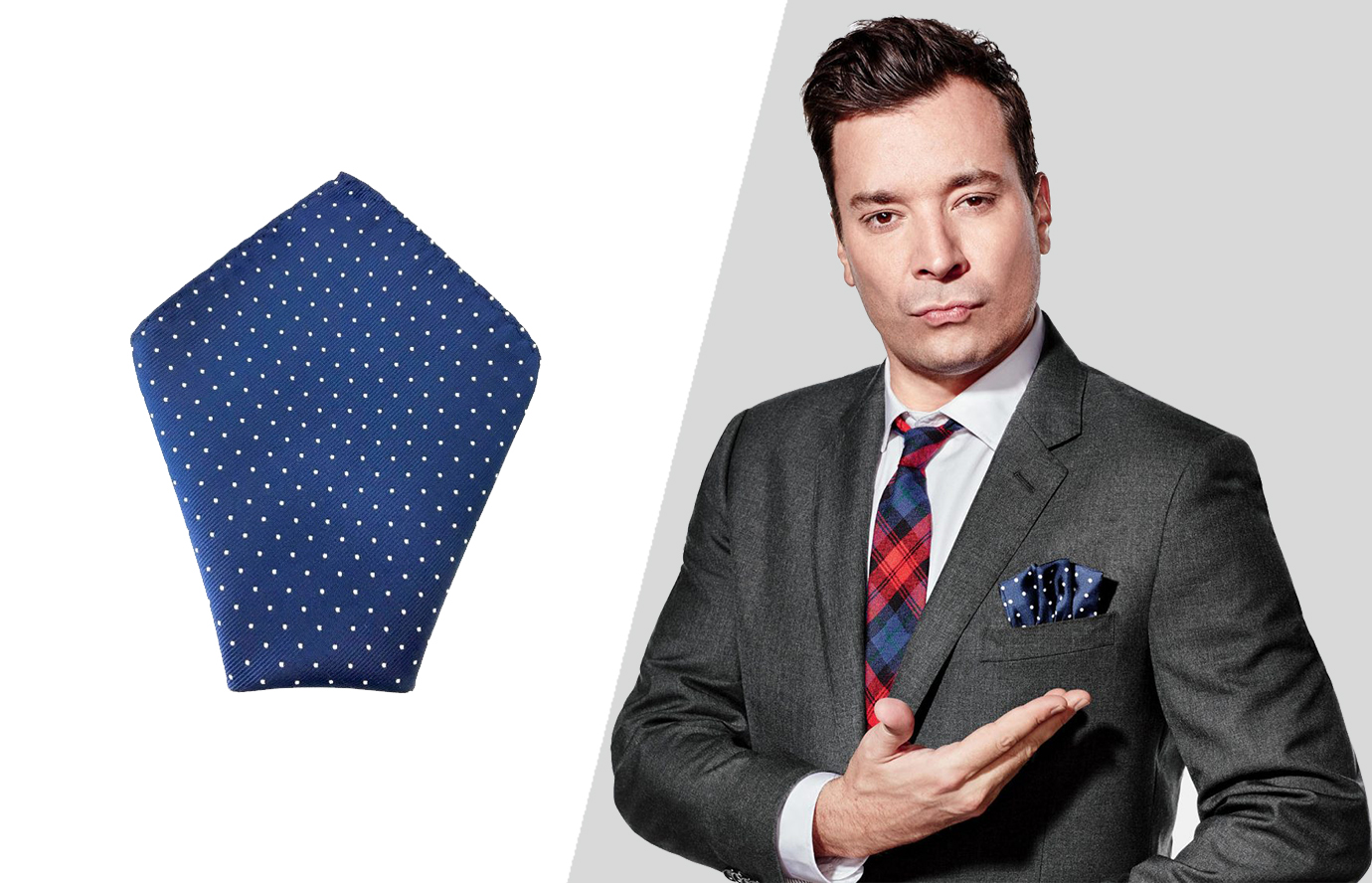 If you know how to accessorize your pocket square properly, there's nothing this little piece of fabric can't do.
So keep a few colors and prints on hand so you can be sure to have the perfect pocket square for every suit!
For starters, your pocket square should always be worn in the breast pocket of your suit jacket, never inside the pocket of your dress shirt.
Of course, you can put it in the pocket of any jacket, from tuxedo to blazer, but remember that it is only intended for jacket breast pockets.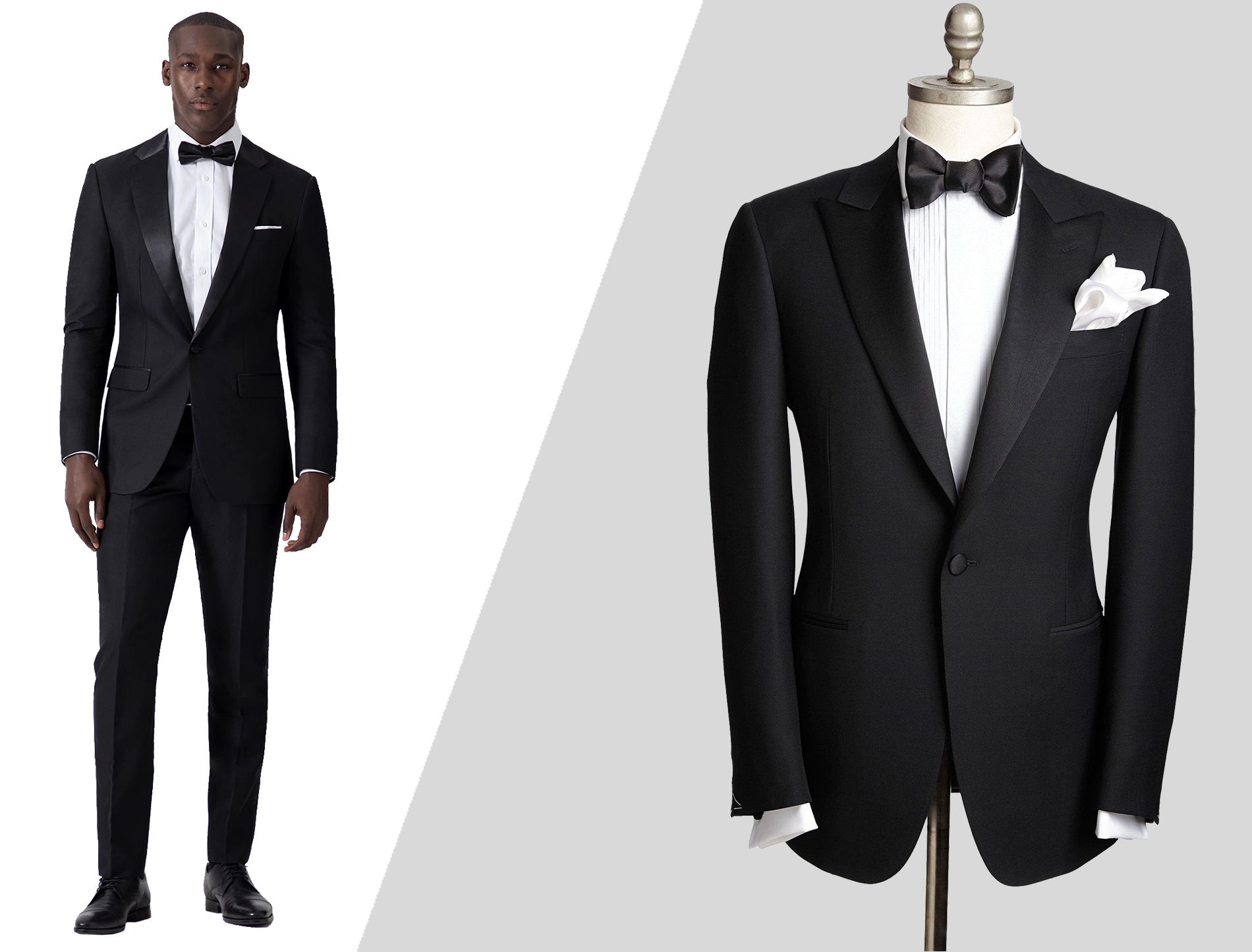 A pocket square is intended to pull all the pieces of your outfit together, like the cherry on a sundae. What it should never do is become the focus of your entire suit.
Your pocket square is an accent, not a centerpiece. It is acceptable for it to be bold and flashy, but once it becomes the only noticeable part of your suit, it's time to remove it.
I know you probably dread ironing as much as I do, but your pocket square must be pressed at all times.
If you have a creased or wrinkled piece of fabric peeking out of your pocket, it may easily be mistaken for a used hankey. Believe me, that won't impress anybody.
Choosing the Pocket Square Style
Most of the time, choosing which pocket square to pair with your suit requires a little thought.
Unfortunately, there is no playbook you can follow that will tell you definitively which colors and fabrics to wear with each suit, so you'll need to learn what works best for your style.
The only hard-and-fast rule that you need to remember is that you don't always want to wear a pocket square that is an exact match to your tie.
True, some boxed sets sell matching ties and pocket squares, but those look way too simple.
White Pocket Square
If you are new to the world of wearing pocket squares, a simple white one would be your best choice.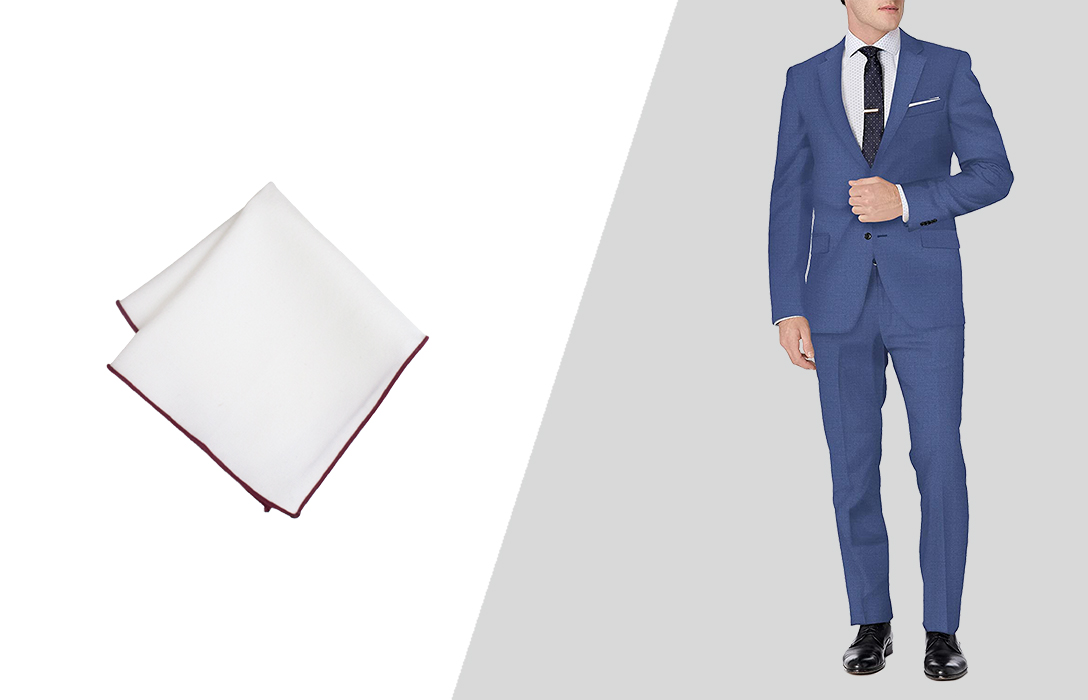 You can never go wrong with white because it is simple, elegant, and matches everything.
That's precisely why a white dress shirt is always your ideal match for any suit. White is never boring.
A white pocket square is not as noticeable as a colored one; Subtlety is ideal for wearing pocket squares. You may be most comfortable easing into this new accessory.
Do you want a bit more of a pop to your pocket square? Try one with colored edging.
A border with a hint of color is a fun way to introduce a little bit of excitement into your wardrobe.
Solid Color Pocket Square
A pocket square with solid color is more flashy than a plain white one, but it is still classy. It can be pale or bold, whichever tone and color work with the rest of your outfit.
Solid colors are a conservative option, as opposed to prints.
However, you can use color to create fun or elegance, depending on the shade you choose. You can even opt for a surprising color that seems to give your suit a little kick.
Again, try not to match your pocket square to the exact color of your tie or dress shirt.
Instead, use your color wheel knowledge (more on that later) to help you decide what colors would create your desired effect.
Pattern Pocket Squares
Once you have your sea legs in the world of pocket squares, it's time to branch out into prints and patterns.
Wearing pocket squares with patterns takes a little matching know-how since there are usually multiple colors in play.
Incorporating a pattern is more of a challenge than solid colors; you need to juggle the various colors and balance the patterns with the suit, tie, and shirt.
If you have a pattern elsewhere, such as a pinstripe suit or a patterned tie, your pocket square may still have a print, but it should not be the same style.
Common prints are polka dots, plaid, and stripes; they may be large or small, repeating or non-repeating.
Smaller patterns are more formal, while large ones lean more casual. Be sure to pick a fold that will display your pattern well!
Paisley Pocket Square
Paisley pocket squares are complicated, beautiful designs that have been around for centuries.
You will get your best effect when you pair paisley with solids; that will draw the focus to this beautiful pattern.
Paisley designs can add panache to even your most boring suits, no matter what color they are.
You can also use this design to put an unexpected twist on your formalwear.
Floral Pocket Square
Floral patterns are wildly popular and look very refined. They are pretty versatile, too; they come in a great many designs and just about every color you can think of.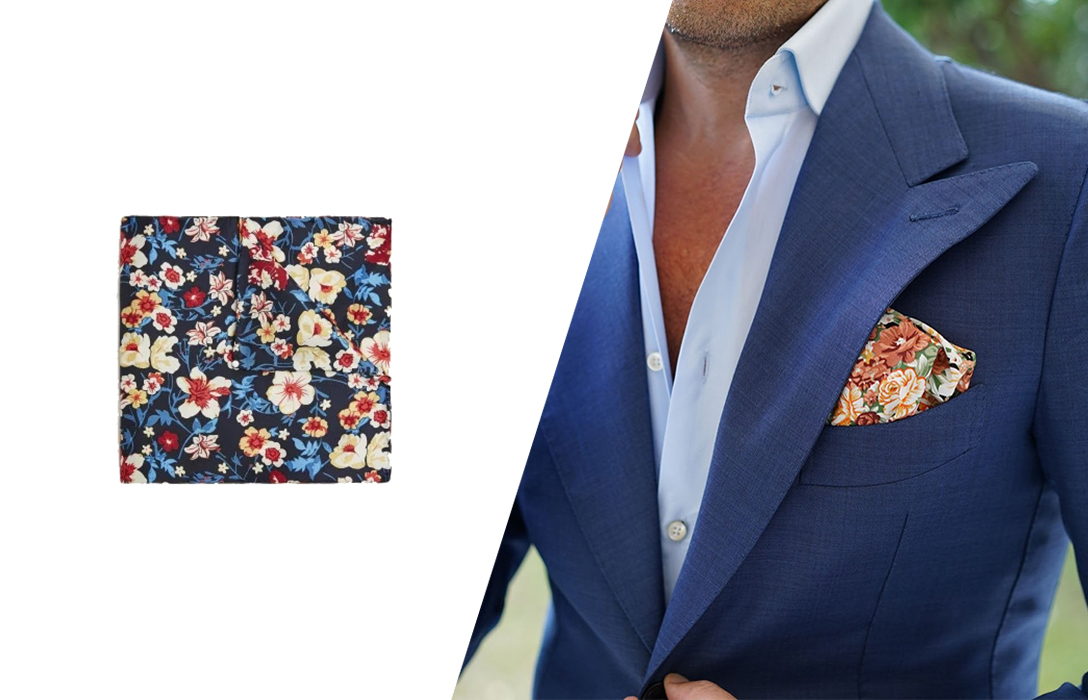 Floral patterns can come with very large print on the casual end of the spectrum, while smaller floral prints are better for a formal touch.
These are excellent for spring weddings and also for adding some cheer during the dreary, grey winter months.
How to Choose the Pocket Square Color
When you decide to add a pocket square to your suit collection, that's also an excellent time to brush up on your color wheel basics.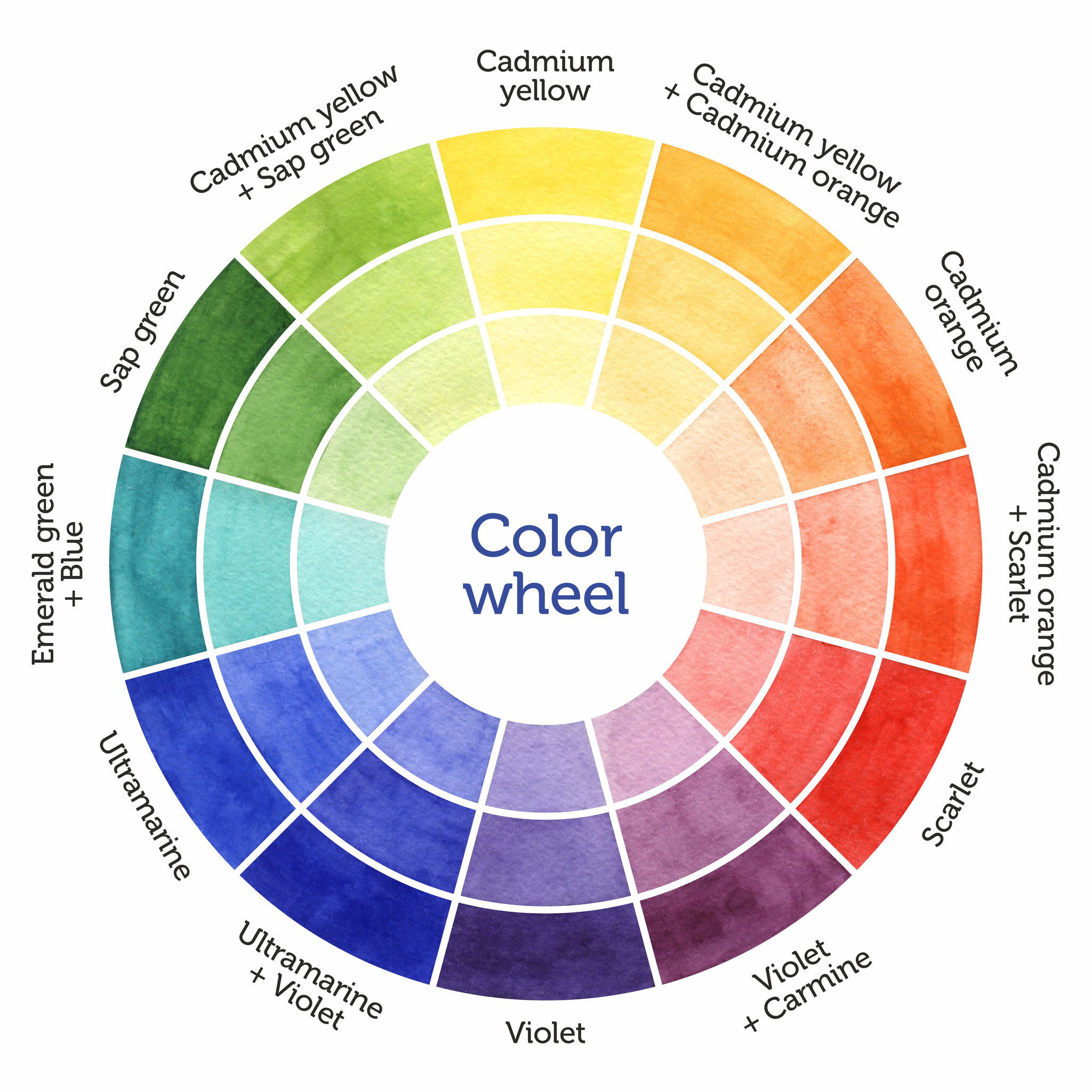 Using this guideline can help you avoid some terrible color blunders but may also help you find some surprising combinations that elevate your entire look.
I mentioned earlier that you should try not to match your pocket square to your tie.
However, you can create a monochromatic effect with the same color but in a different shade or you can include patterns. That creates some visual depth while not looking too uniform.
Matching triadic colors are my personal favorite. These are colors that are three slots apart on the color wheel.
So, for instance, one fantastic pairing would be a red pocket square against a navy blue suit or tie.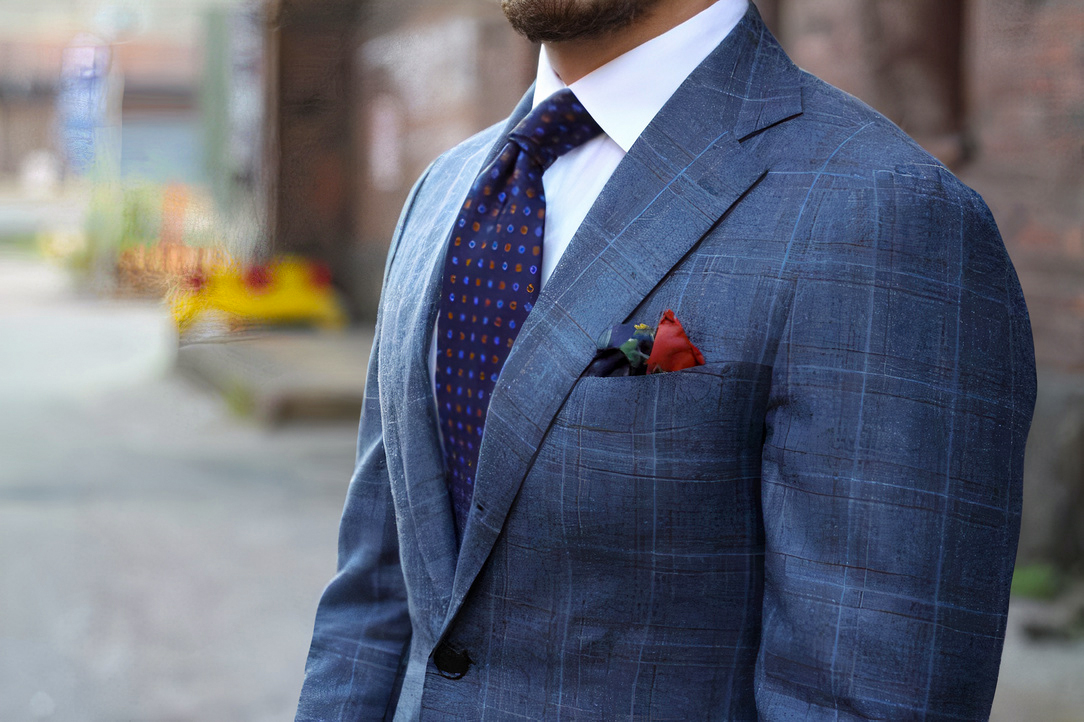 Another way to combine colors is using analogous colors, meaning they sit next to each other on the color wheel.
For example, if you are sporting a red power tie, a red pocket square may feel too aggressive, but a burnt orange would make a tremendous impression.
Finally, complementary colors on the color wheel are opposite to each other. Use it to choose pocket squares that are the opposite color of your suit.
Same as the Shirt Color
What article of clothing should you focus on when coordinating your pocket square? Some people like to base their choice on their dress shirt.
This works exceptionally well with white. A white dress shirt is your go-to for the most dressy occasions; pairing a white pocket square with it enhances how crisp your clothing looks.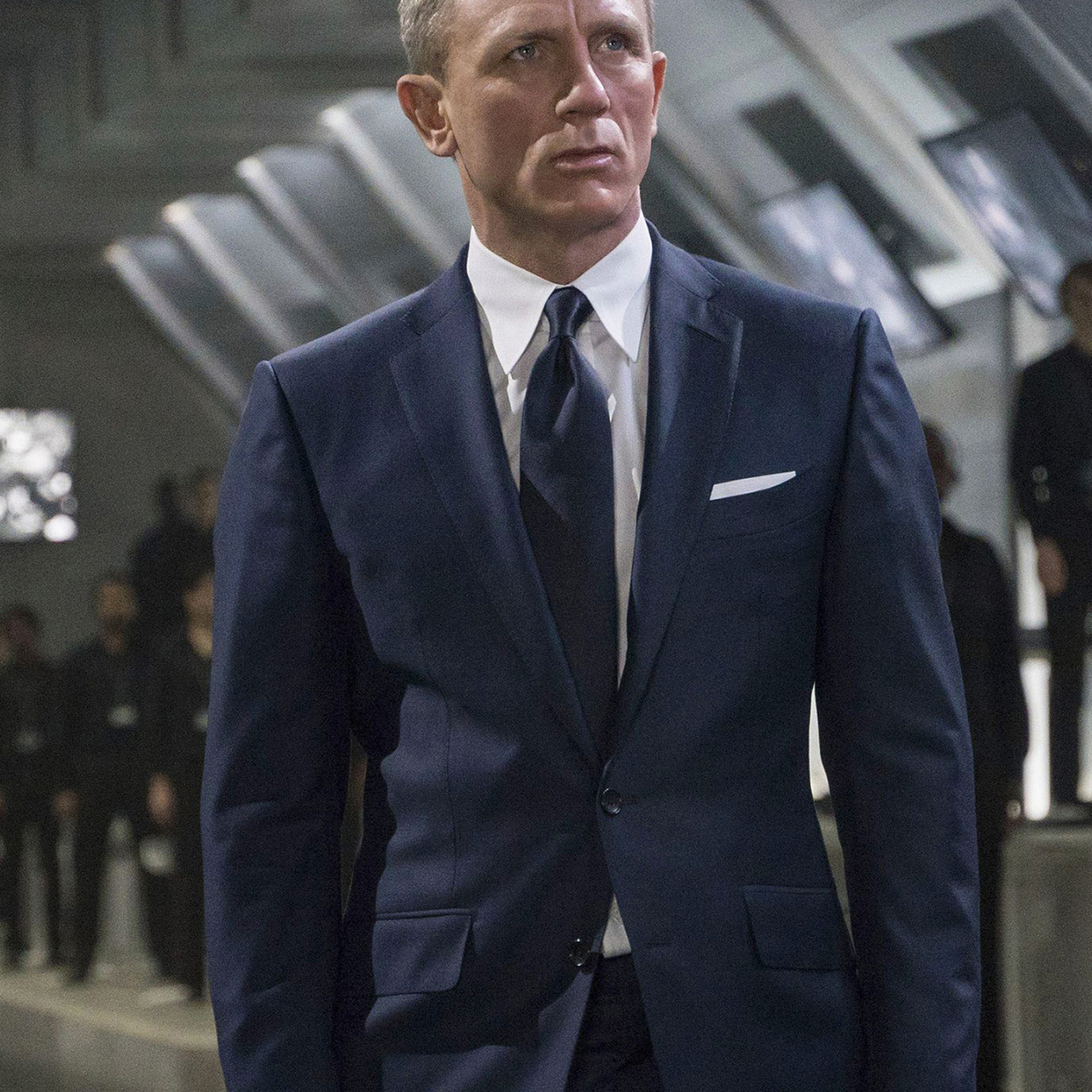 Your pocket square may include a couple of different colors in it if you have a pattern.
You can easily match one of its colors to your dress shirt, especially if the color you choose is not very prominent in the design. The color of your dress shirt will pull that shade out of your pocket square.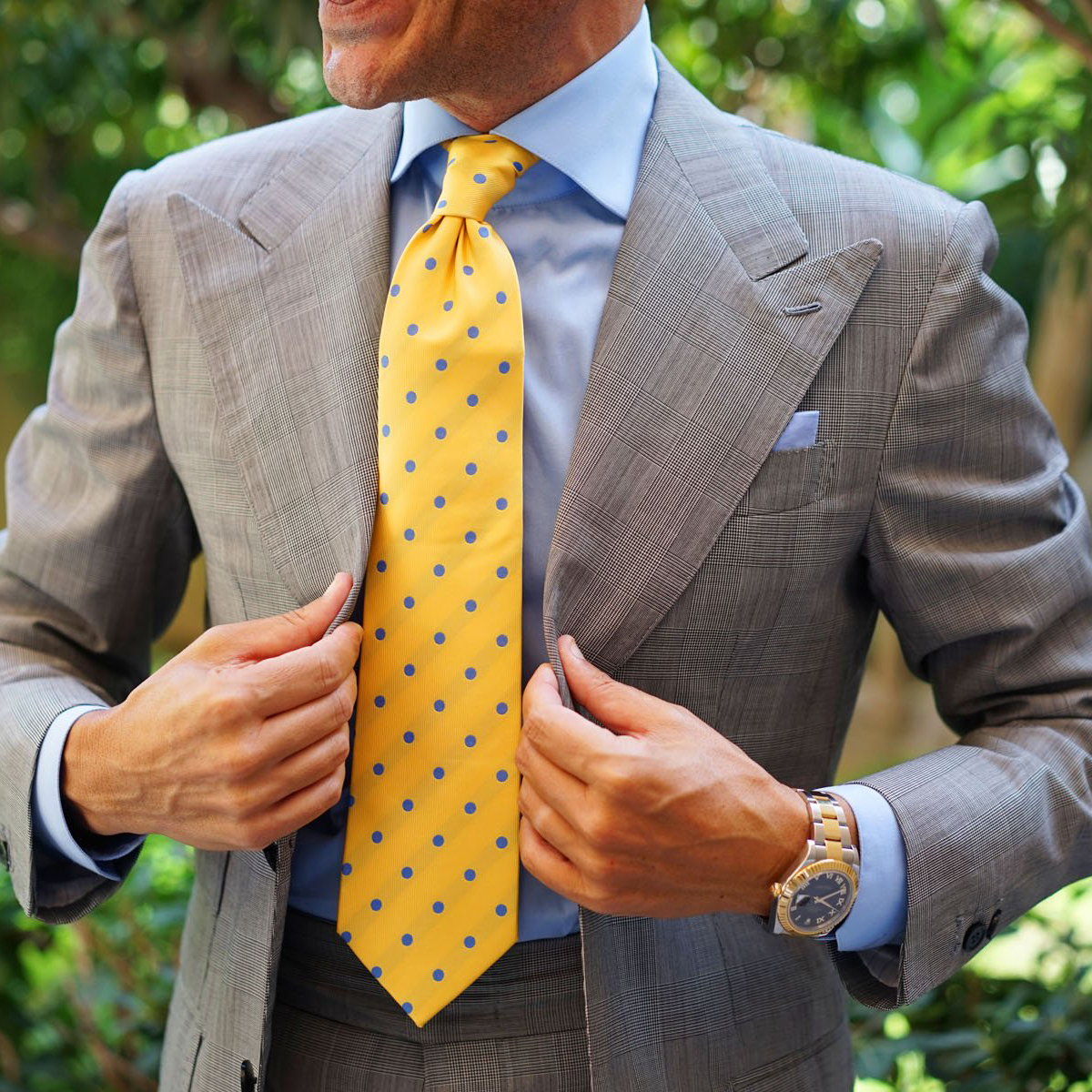 Even if you aren't basing your color choice on your dress shirt, you still want the two pieces to work together in harmony. So be sure they don't clash!
When to Match the Pocket Square with the Tie
When your pocket square has a pattern, the best way to ensure it looks appropriate next to your solid tie is using monochromatic or analogous color combinations.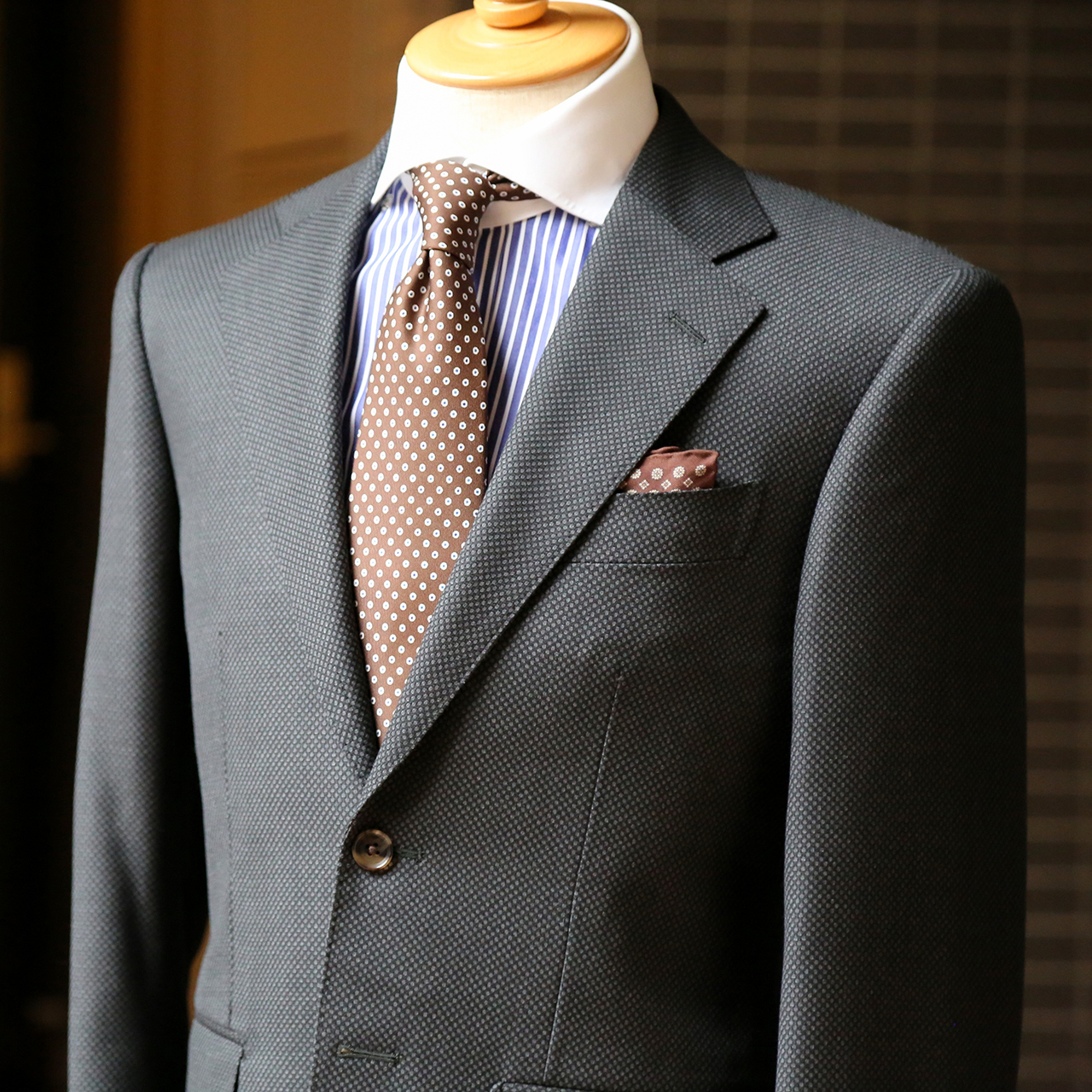 If your tie has a pattern, pick a color from the tie used in the smallest amount; a pocket square with that color would work very well.
If you would like to wear the same color tie and pocket square, an outright matching of colors is considered too simple. But playing with the same color in different hues is perfectly fine.
Again, I have nothing against using the same pocket square and tie color as a set. In fact, I sometimes prefer this look myself as it can look pleasing and eye-catching.
But sometimes, remember to try something different from tie/pocket square sets.
Try Wearing Contrasting Colors
Contrasting colors, opposite to each other on the color wheel, can often create a bold contrast, adding an exciting element of depth to your suit.
You most commonly see this approach used with navy and blue suits. You can pair these shades with either gold or yellow pocket squares, and the results are eye-popping!
Using gold against either navy or blue looks sophisticated and refined; yellow with these colors looks very cheery.
Don't be afraid to experiment with this way of pairing colors. You'll know when the shades aren't a good fit!
For example, a true red and true green would be far too Christmas-y. However, a muted burgundy and sage green look out of this world together.
Different Pocket Square Materials
Pocket squares come in many different fabrics. Your choice to go with cotton, silk, wool, or linen will mean you'll wind up with different weights, sheens, and textures.
Playing with each of these will give you different effects and looks.
In general, heavy materials are best for cold temperatures, and lighter fabrics suit warm climates best. This applies to suits and ties as well as pocket squares.
Of course, you always want to make sure that your textures go together. So if you are wearing a linen suit, you may want to avoid wearing a silk pocket square.
Cotton
Cotton is always an affordable option. It is super durable, meaning it won't fall apart after several washings.
It is also a terrific choice because it folds easily and holds its shape very well.
On the other hand, cotton may give off more of a hanky vibe than a sophisticated pocket square. It sure isn't fancy, although it is passable.
If you are wearing a cotton suit jacket, that's a no-brainer! A cotton pocket square would be the ideal choice.
Silk
Silk is so much more versatile than you might think since it's usually considered the height of luxury.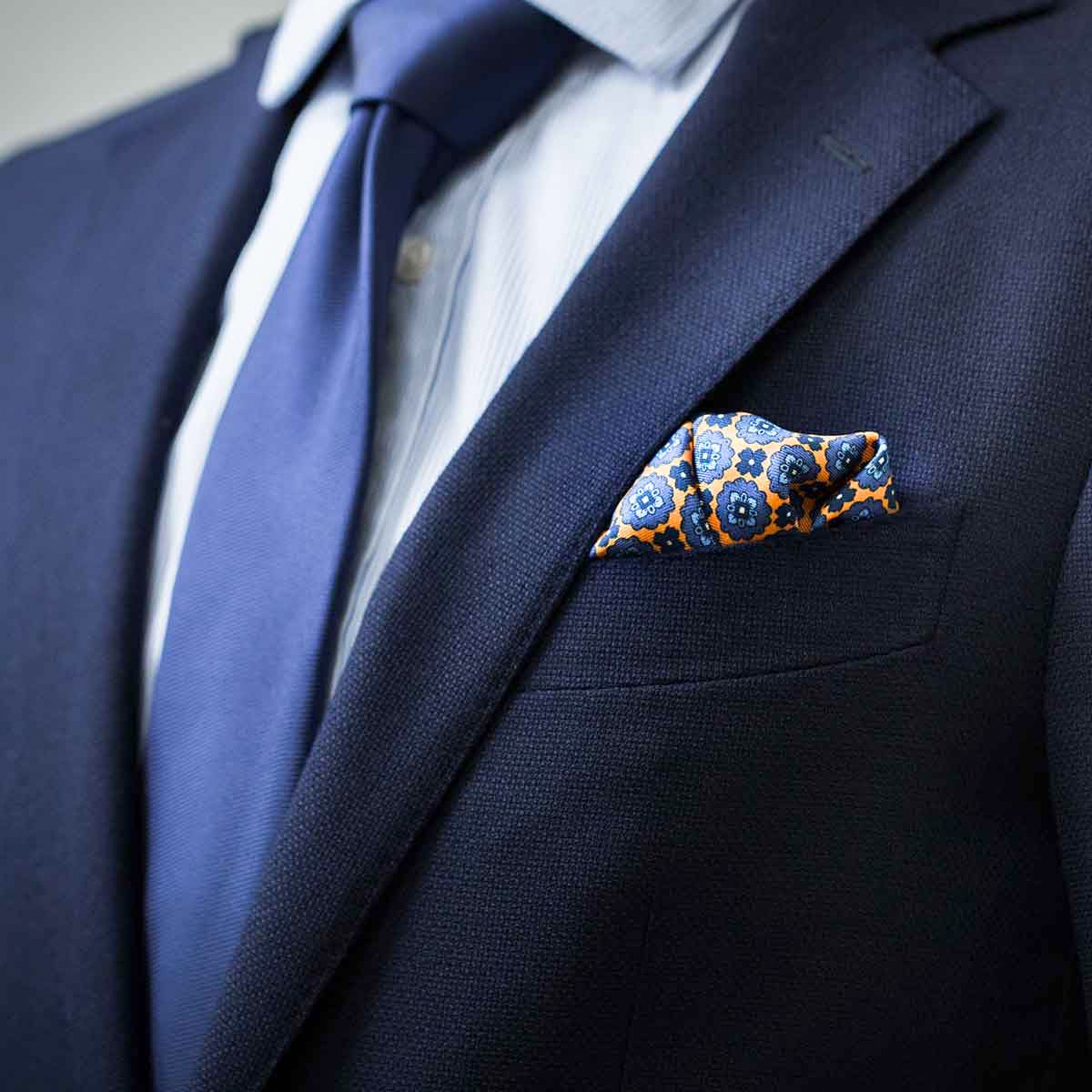 It is appropriate with almost any suit. It is super lush and instantly elevates your ensemble.
Silk is, hands down, the only choice for formal suits, but it can look just as natural in a casual blazer.
Silk adds a unique element to your outfit. The material reflects light, and because of the way the light shines on it, it can look different from different angles.
One major drawback? It is a challenge to fold because it's so slippery.
Wool
Wool is wonderful for colder weather and suits made from heavier materials. It looks very lovely with heavy fabrics.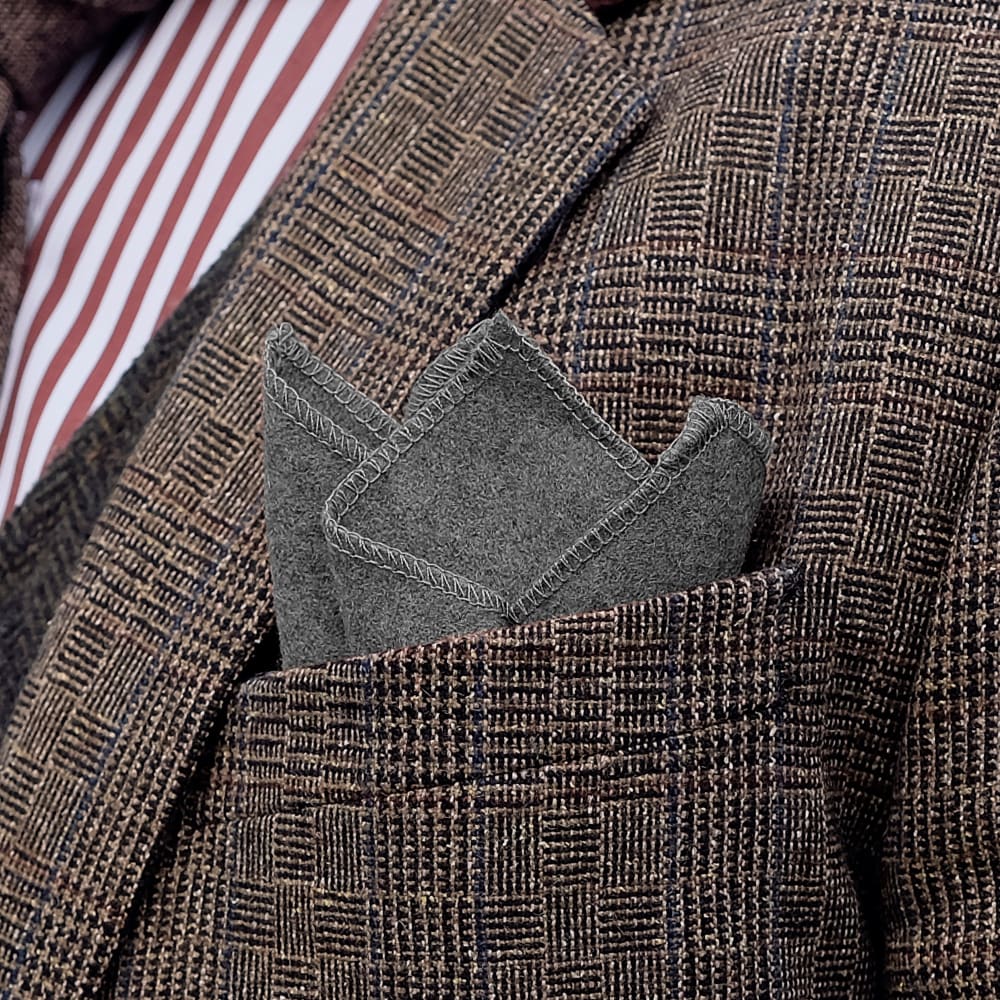 You can get a wool pocket square with a touch of silk blended in for a superb year-round pocket square.
You'll rejoice at how user-friendly wool pocket squares are. They don't wrinkle easily, and they hold a fold very well.
However, they may be too thick for smaller breast pockets or to pull off specific intricate folds.
Linen
Linen is a very lightweight and surprisingly durable fabric. It is typically a summer fabric because it is so airy.
You'll love the feel of linen pocket squares, especially when visiting tropical climates.
You also have excellent versatility with linen pocket squares because they can be formal or casual.
They also pair easily with silk or wool ties, so you aren't constrained much by fabric choices.
Although, just like with linen suits, linen pocket squares can wrinkle very easily. You'll definitely need to keep your iron handy.
Choosing the Appropriate Way to Fold the Pocket Square
Not all pocket square folds are created equal. Just like some suits are appropriate for particular dress codes, the same goes for how you fold your pocket square.
That being said, some situations call for one type of fold over another.
You shouldn't automatically go right for the flashiest fold. While it may be appropriate sometimes, it would be a distraction at other times and look out of place.
Instead, think about the effect you are going for with your dress and match your fold to that.
Start with the Presidential Fold
Can you fold a rectangle? Then you can do the presidential fold. The most traditional fold also happens to be the easiest fold you can do.
It's awfully elegant and simple, never showy. You can wear a pocket square in this style for formal events or conservative business settings.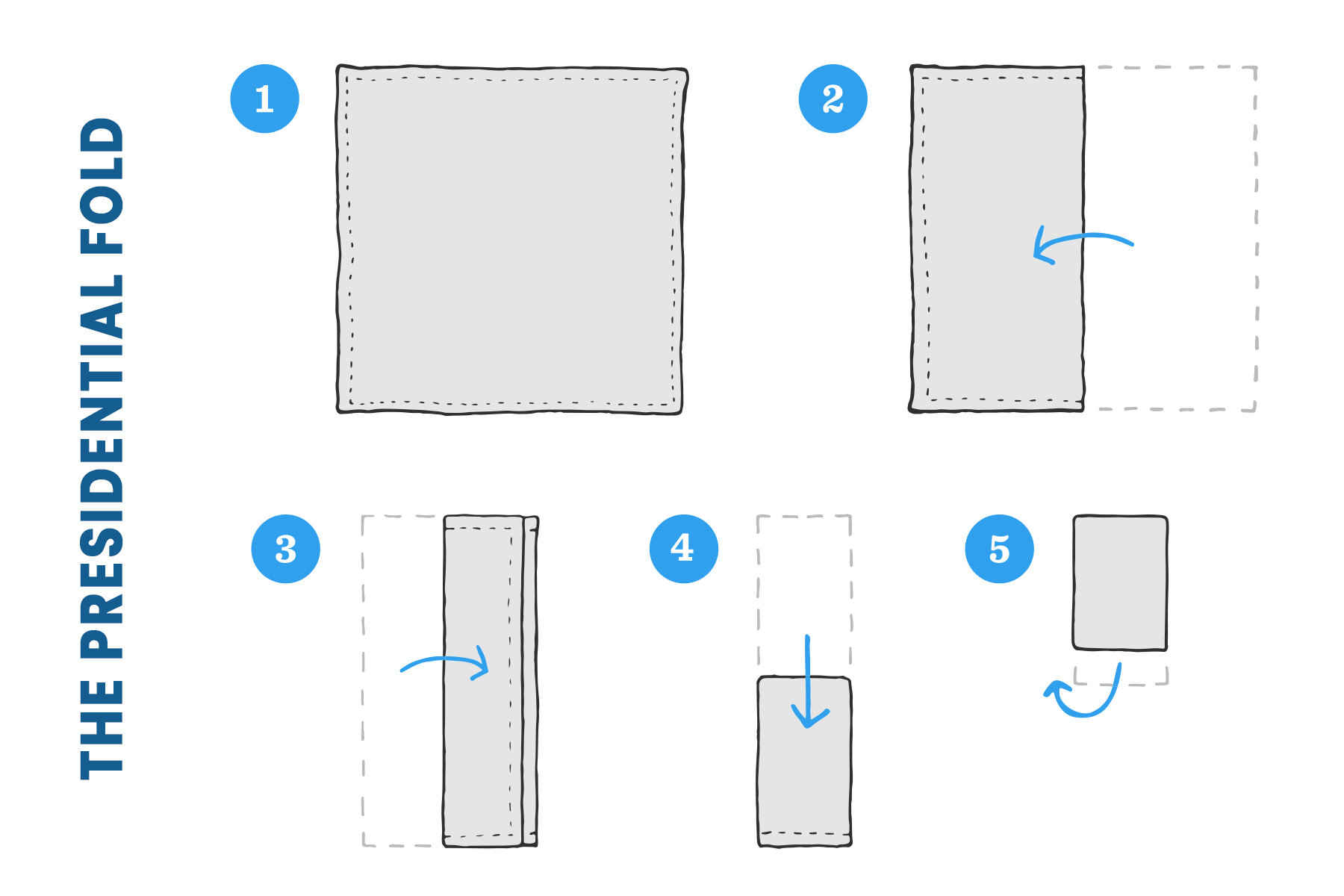 Lay the pocket square flat in front of you.
Folt it in half to make a rectangle.
Fold it in half again to make a square.
Fold it down the middle again; you'll have another rectangle.
Insert the pocket square with the open edges facing down.
The Puff Fold for Casual Occasions
This is yet another easy fold to achieve, even though it looks very complex.
The puff fold is terrific because it allows beautiful prints to be showcased and is great for silk fabrics.
This style is best for casual events because it avoids clean lines; it doesn't look prim and proper but rather wild.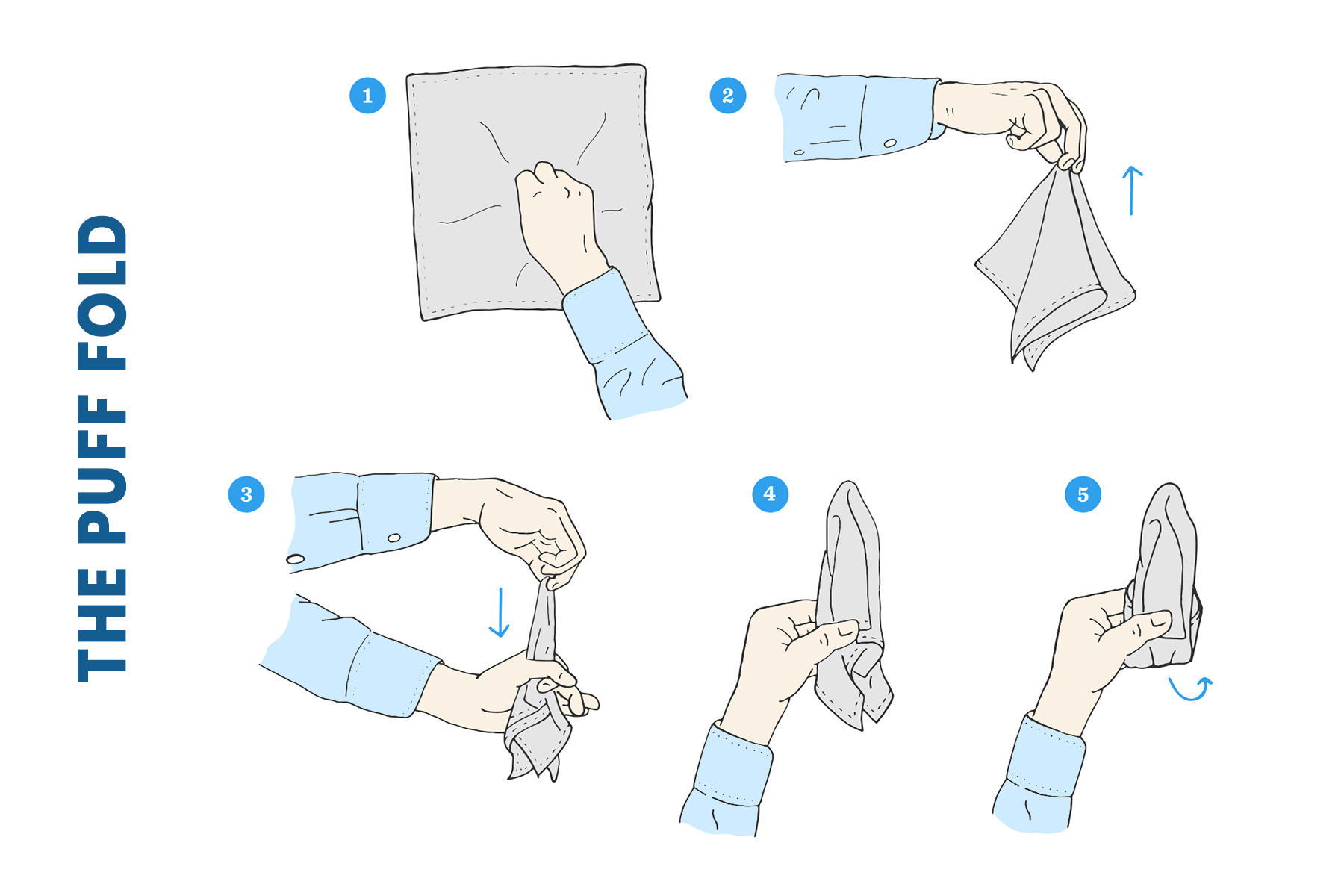 Lay the pocket square flat in front of you.
Pinch the fabric in the center and lift it. This will form the puff.
Fold in the sides toward the center. This part doesn't need to be neat.
Tuck the bottom half under.
Try the One-Point Fold Next
This style is sometimes also called the Triangle fold. It is a beautiful choice for business offices and meetings.
Silk won't hold this form well at all, but linen and cotton take this fold exceptionally well.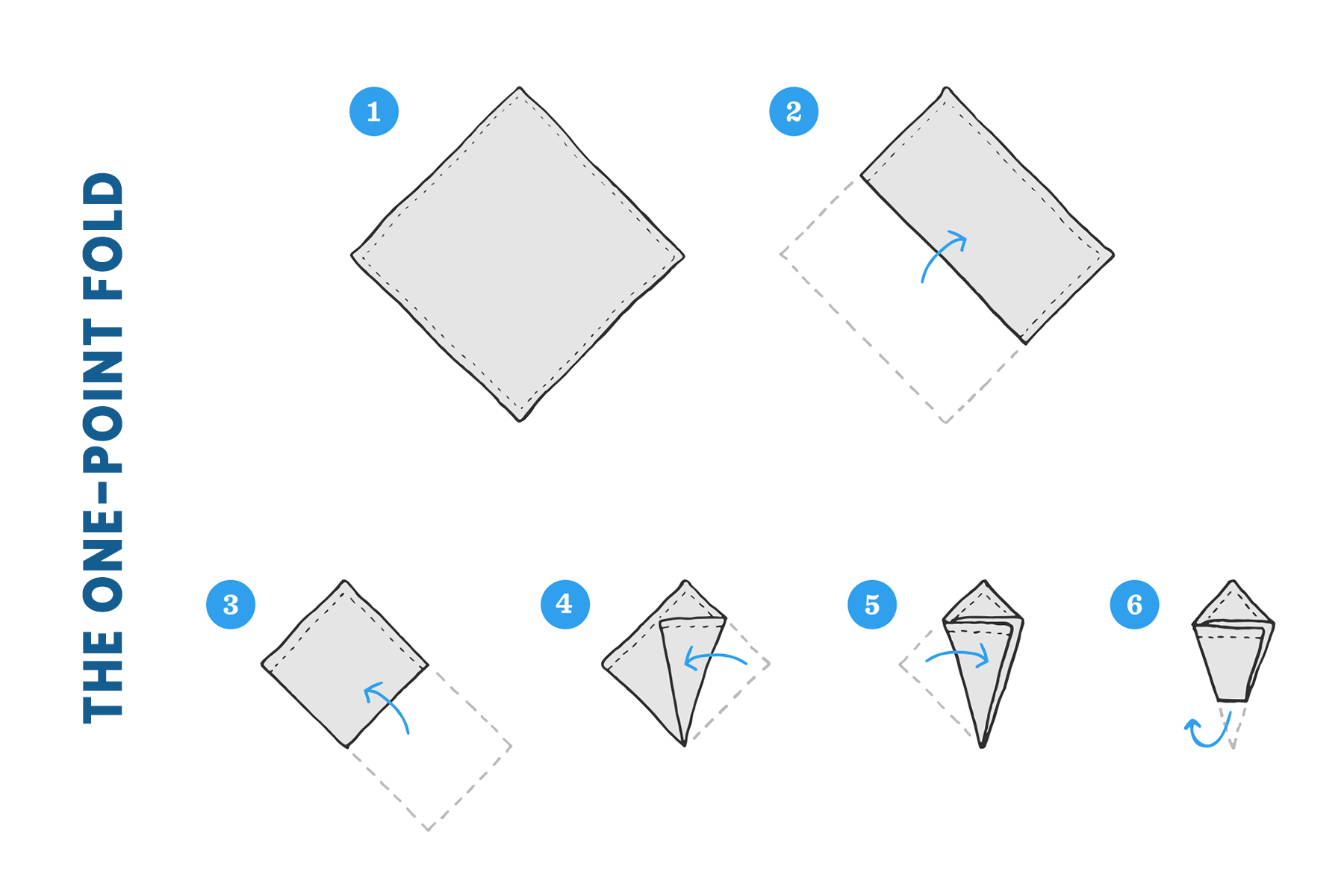 Lay the pocket square flat in front of you at an angle, making a diamond.
Fold the fabric in half, making a triangle. The point will be at the top.
Fold both sides toward the center; tuck any extra fabric around in the back.
Fold up the bottom toward the back so you can slip it into your pocket.
The Two-Point Fold for Style
This fold is almost precisely like the one-point fold, only you form two peaks by slightly altering how you fold it.
This style is a little more challenging to fold, but a little practice should make you an expert. The results are worth the extra investment of your time.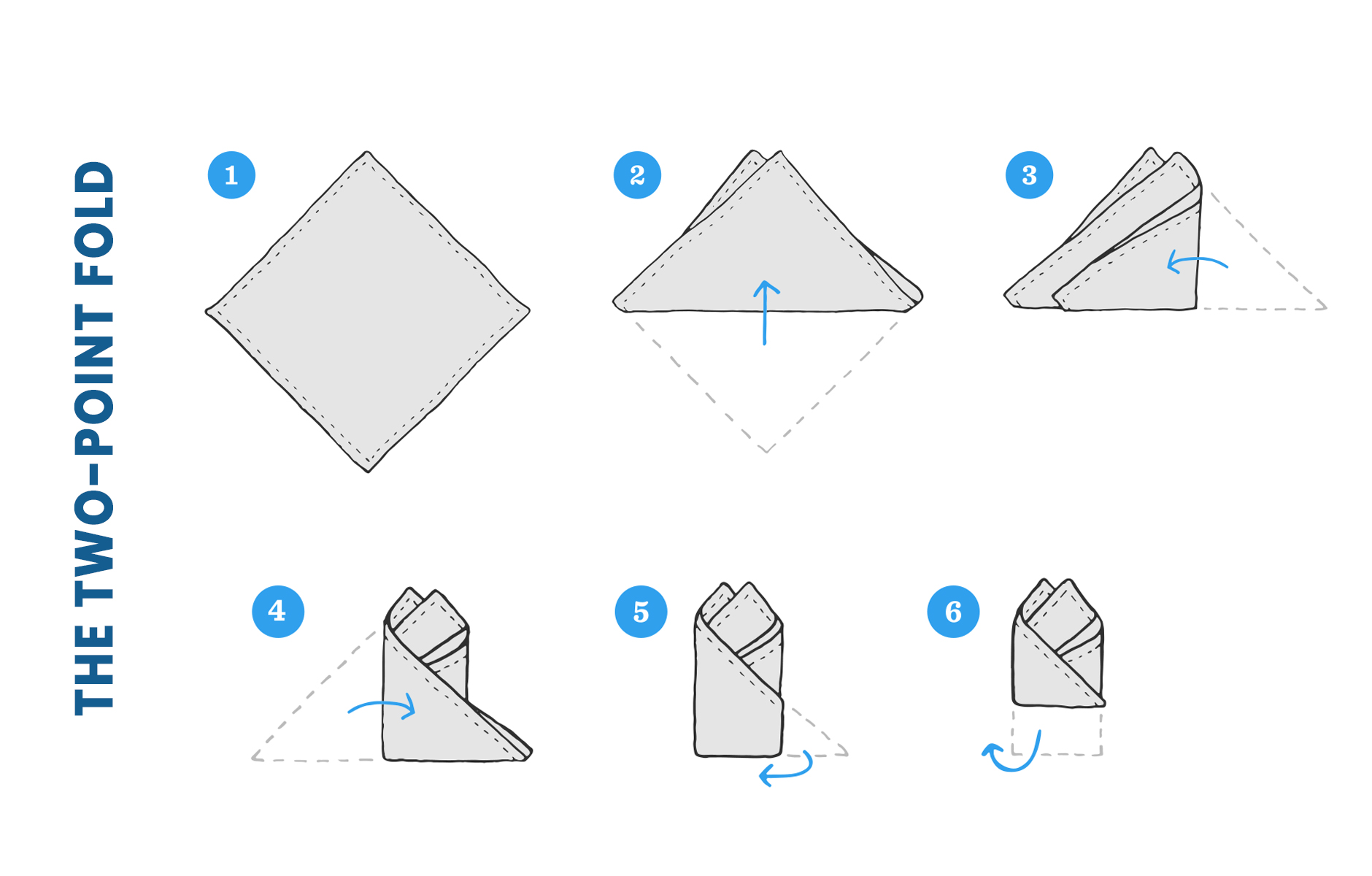 Lay the pocket square flat in front of you at an angle, making a diamond.
Fold the fabric in half, almost making a triangle, but put the point just slightly to the side of the original peak. The points will be at the top.
Fold both sides toward the center; tuck any extra fabric around in the back.
Fold up the bottom toward the back so you can slip it into your pocket.
How to Wear a Pocket Square with Different Attire
Pocket squares aren't only for your fanciest occasions, although they do feel very elegant. They are also outstanding for business or casual attire.
Wearing a pocket square works best if you use the proper fold, fabric, and even the right color.
But, when it's done the right way, a pocket square will look natural on any type of outfit.
Pocket Squares to Wear with a Suit
Suits allow plenty of flexibility on what you can do with a pocket square. For example, you have the freedom to choose between solids and patterns, cotton or fine silk.
If you are dressing for traditional business, your most conservative choice for a pocket square would be a solid color, or a very simple print, folded presidential style.
However, if your suit has a pattern, the pocket square must be plain.
The addition of a pocket square looks very professional; it telegraphs maturity and a sense of responsibility when you're wearing a suit.
Therefore, you don't want to look flamboyant in a serious business meeting. The wrong pocket square color or fold will undermine your authority.
So, keep it simple for business, and save the extravagant folds and prints for casual outings.
Pocket Square with a Tuxedo
You must wear your tuxedo with a white tuxedo shirt for the most formal events, and your pocket square must also be white.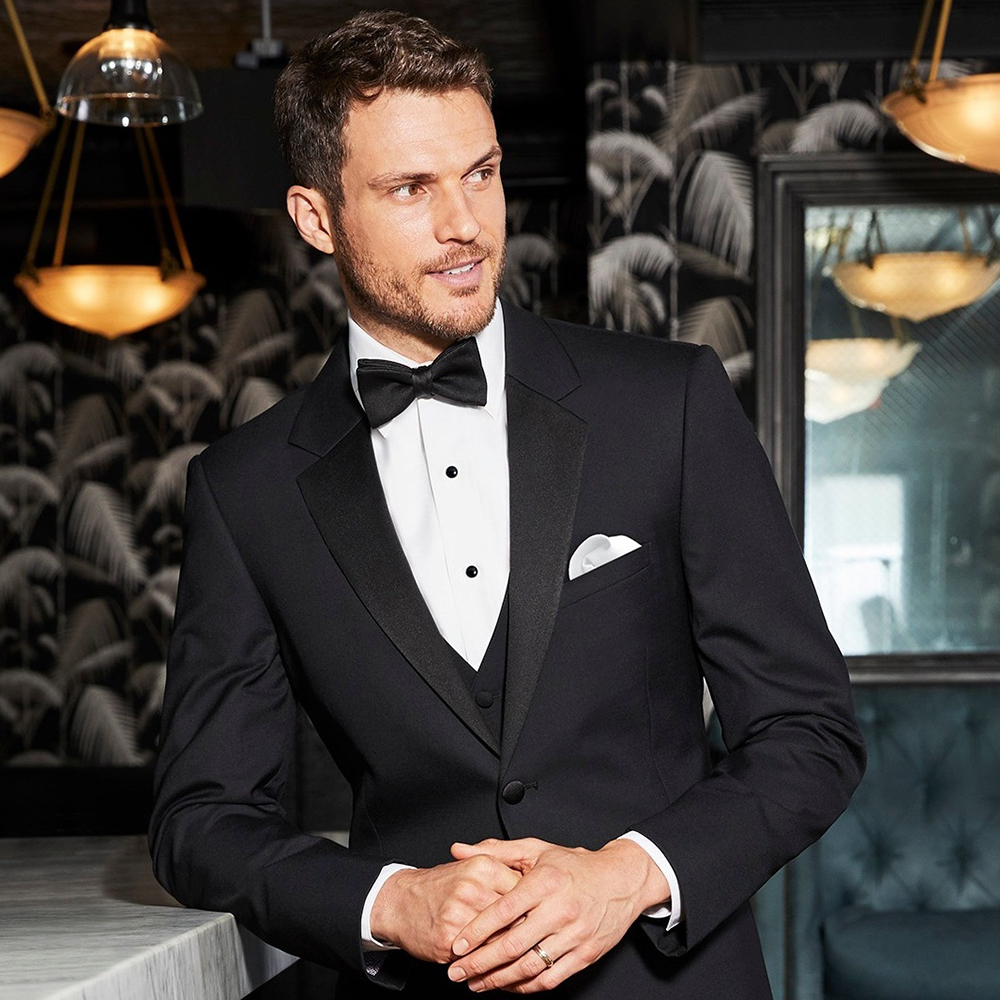 Opt for a presidential fold if you are aiming for a conservative approach to your formal event, but you also have leeway to go a little more flashy with your fold.
You are also free to add a splash of color to your pocket square for a tuxedo, but be aware that it makes your suit less formal.
If that's acceptable for your event, then play with a lovely jewel tone or a small, discreet print.
No matter what, you must iron your pocket square and be sure that it's super crisp. Silk will elevate the feeling of elegance, no matter what color you choose.
Finally, remember that a pocket square is a must to complete your tuxedo!
Wearing a Pocket Square at Weddings
Weddings are the perfect occasion to be elegant and creative at the same time with your wedding suit.
You can wear your most beautiful suit or tuxedo and find the playfulness of the event through your accessories.
You might want to stick to more traditional wedding attire if you're the groom. That goes for pocket square styles and colors as well, especially if the wedding is more formal.
For example, if you decide to stick with a tuxedo and white shirt, perhaps a white pocket square is the best choice to add sophistication to your attire.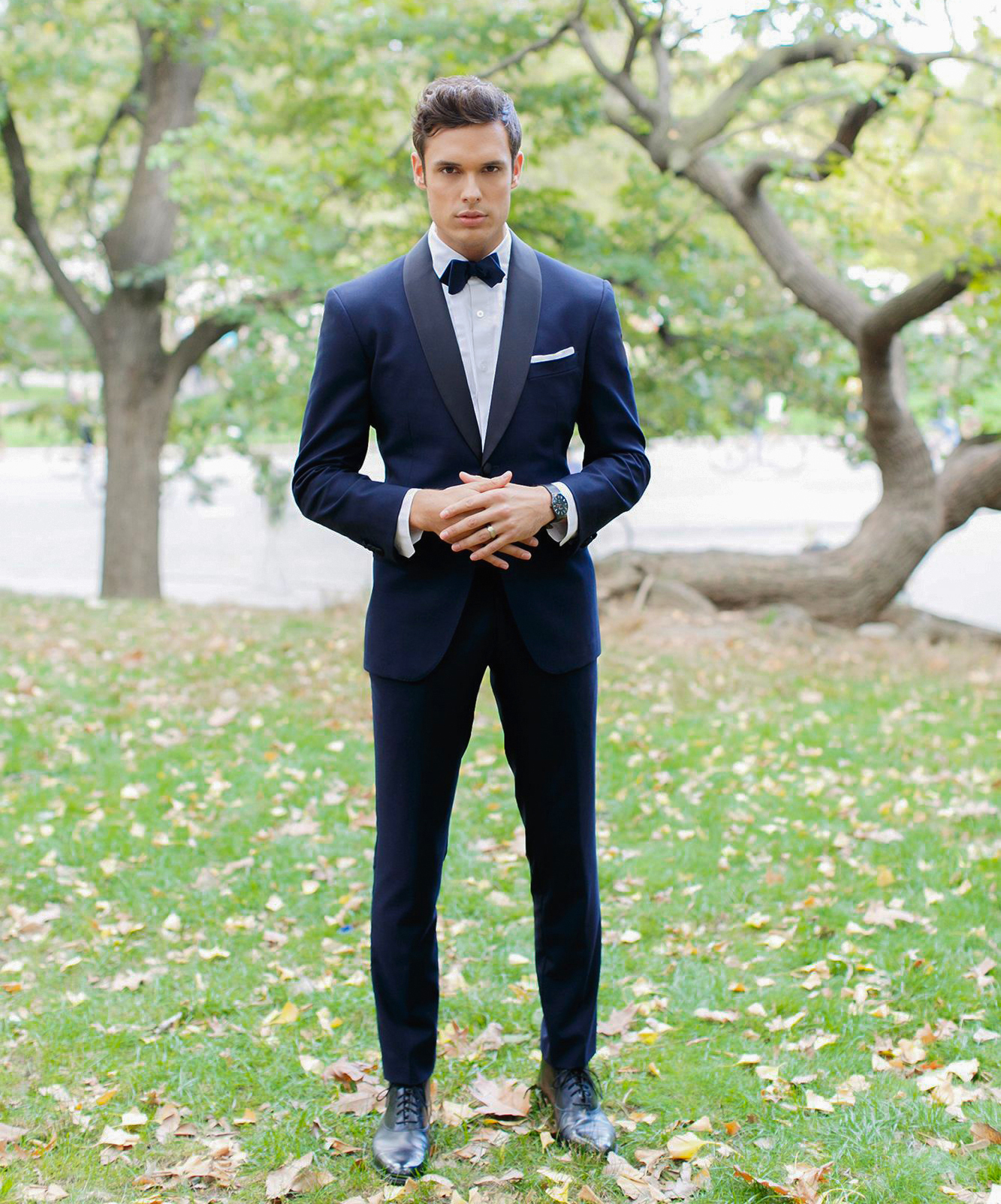 If celebrating a friend's wedding, it's the perfect time to experiment with patterns and folding styles and loosen up your conservative styles.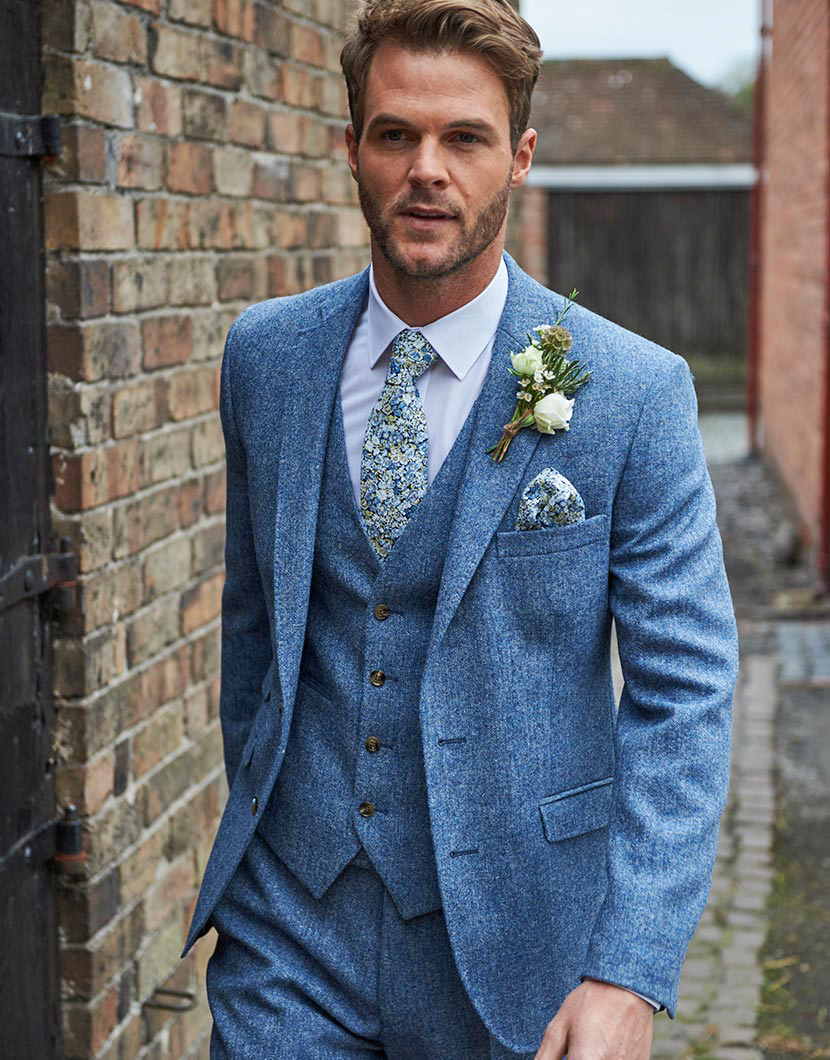 This is the time to be as bold as you feel comfortable going, so long as you don't steal center stage from the bride and groom.
Wearing a Pocket Square Casually
Adding a pocket square to a casual blazer for an evening out with friends or a date looks very sharp.
Something as simple as this extra piece of fabric in your breast pocket will help you stand out from the crowd. It's the perfect way to enhance your casual style.
You have a lot of wiggle room for fun when wearing a pocket square casually. You can experiment with colors, dabble in eccentric folds, and be as bold as you want to be.
Remember, though, that you still need to stick to the basic matching rules of fashion so that you don't end up clashing horribly.
How to Wear a Pocket Square FAQs
You still aren't ready to run out and buy all the pocket squares? Brush up on these quick reminders, and then get folding!
Does the pocket square have to match the tie?
Your pocket square can be similar to your tie, but it should never be exactly the same. It should complement it, not mirror it. Instead, play with colors to create an interesting palate.
What's the best pocket square pattern to wear with a bow tie?
Your best pocket square with a bow tie is a plain white one. This is because the bow tie attracts a lot of notice; a pattern or bright color would compete for attention and might be overwhelming to take in together—just one unique item at a time.
What's the difference between a pocket square and a handkerchief?
A pocket square is aesthetic only. It is only intended to decorate the breast pocket of your suit jacket. On the other hand, a handkerchief is typically cotton and is functional. You use it to wipe sweat or dirt off or blow your nose.
Can I wear a pocket square the same color as the suit?
No. It would blend in against the background of the suit jacket, and nobody would know you were wearing one. So what would be the point?
Author: Alexander Stoicoff
Hi, I'm Alex, and I've studied and specialized in styling in Rome. Through my writing, I want to help men dress well and learn the purpose and significance of suits and other formal attire. My final goal is to make men more confident in their wardrobe choice and life in general.