Did you know that suits don't have to be boring? No, really! As snazzy as a charcoal grey or black suit can be, they are just so…common. For a real kick in the pants, think outside the box. Try a burgundy suit.
Dark Red vs. Burgundy and Maroon
How is one supposed to intuitively know what somebody is referring to when they say burgundy, dark red, or maroon?
Dark red is an intensified tone of pure red. Both maroon and burgundy are a variant of dark red, but neither is a simple, pure red tone.
Maroon contains a slight brown hue, while burgundy contains some purple hue. They are very similar, but not identical.
The Formality of the Burgundy Suit
Burgundy is a royal shade, very dark and rich. The dark nature of this color makes it formal. As a rule of thumb, the darker the suit, the more formal it is.
While it is a little unorthodox, you can even wear a burgundy suit to a black-tie event. The burgundy suit looks very sleek and stands out from the crowd of black jackets without being flashy. A maroon or burgundy suit looks regal without even trying.
Burgundy suits are amazing for eveningwear. There is no better time to introduce this bold suit into your rotation than at a black-tie creative event. It is the ideal occasion for this stunning ensemble.
It can be a versatile suit, too. Don't let its richness frighten you away from trying to take it for a casual spin. The right color shirt and accessories (or lack of) can make an eye-catching casualwear suit.
Choose the Burgundy Suit by Cut
No doubt that the color of your suit is an incredibly important part of looking good. But did you know that the cut of your suit is just as important?
Flatter your body by finding the right fit. You won't go wrong with the right combination for fit and color.
Classic-Fit Burgundy Suit
A classic fit is a traditional cut for men's suits. It is comfortable because it leaves plenty of room in the chest and waist for movement. There is minimal shaping.
When wearing a classic-fit burgundy suit, the wearer still maintains a sleek silhouette; it isn't boxy.
Top Choices
#1: Two-piece classic fit burgundy suit by CHAMA.
#2: Two-piece modern-fit burgundy suit by Nick Graham.
#3: Three-piece modern-fit burgundy suit by Azzuro.
#4: Two-piece single-breasted classic-fit burgundy suit by P&L.
Slim-Fit Burgundy Suit
A slim fit suit is tighter than a classic fit. The cut is designed to be stylish and sleek while maintaining comfort. A slim-fit should still allow the wearer to move freely.
A slim-fit burgundy suit can be a wonderful cut-style for formal events, bringing youth and elegance to the stage.
Top Choices
#1: Slim fit burgundy suit by Ferrecci.
#2: Two-piece slim-fit burgundy suit by Kenneth Cole Reaction.
#3: Slim-fit burgundy suit by Billy London.
#4: Three-piece slim-fit burgundy suit by Adam Baker.
Burgundy Tuxedo
Want a stunning wedding ensemble for the fall? I recommend a burgundy tuxedo. Any shade of deep red is an autumn color, of course, so you could never go wrong with this seasonally appropriate hue.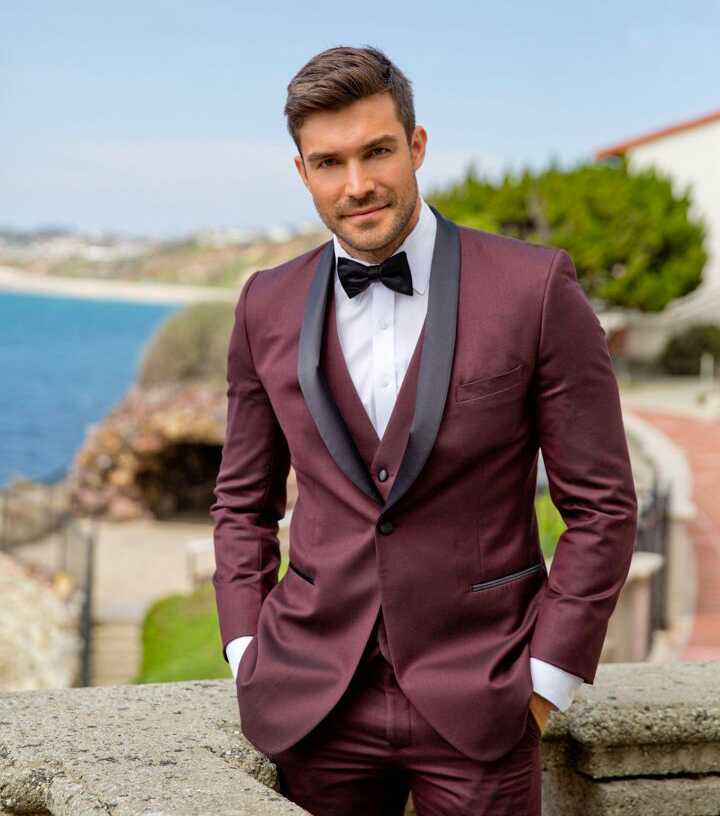 It is a refreshing break from the standard black tux; it mixes things up while still being a classic.
You have the option to either wear a black bow tie or a bow tie with the same shade as your tuxedo.
Even though bow tie colors are flexible at a creative black-tie event, this is one time you may want to go with the traditional black bow tie. It will ground your burgundy tuxedo prevent you from looking too kitschy.
To maximize your tuxedo's formality level, be sure to pick a jacket with a peak lapel. That is traditionally the look of the most formal of all tuxedo jackets.
A tuxedo that is burgundy or maroon is not your standard black-tie clothing. However, the dark shade of this color gives you a little wiggle room.
Top Choices
#1: Modern-fit three-piece burgundy tuxedo by Adam Baker.
#2: Slim-fit royal burgundy tuxedo by Perry Ellis.
#3: Slim-fit burgundy tuxedo with shawl lapel by Ferrecci.
#4: Modern-fit, peak lapel burgundy tuxedo by Giorgio Fiorelli.
Burgundy Matching Colors
Burgundy is an incredibly rich color. It may be tempting to simply pair it with an old standby, such as black or white, but there is a wealth of other options. Don't be intimidated by the complexity of this color!
Any neutral shade, including grey, will pair well with this dark red. Peach is a neutral color that makes an unexpectedly lovely match with burgundy.
In a similar vein, pink makes a smooth color transition with burgundy. Since both have a red base, they look natural together.
Burgundy and maroon are fall colors and are complemented by other fall shades. Navy blue paired with one of these hues makes a vibrant and rustic combination.
Different shades of green can bring burgundy into different seasons. Sage green is a lovely fall pairing, while a pure and dark green is perfect for winter.
Burgundy Suit and White Shirt Color Combinations
There is no denying that burgundy is a dramatic color that may be a little outside your comfort zone. Try easing into this bold suit with a nice, safe white dress shirt.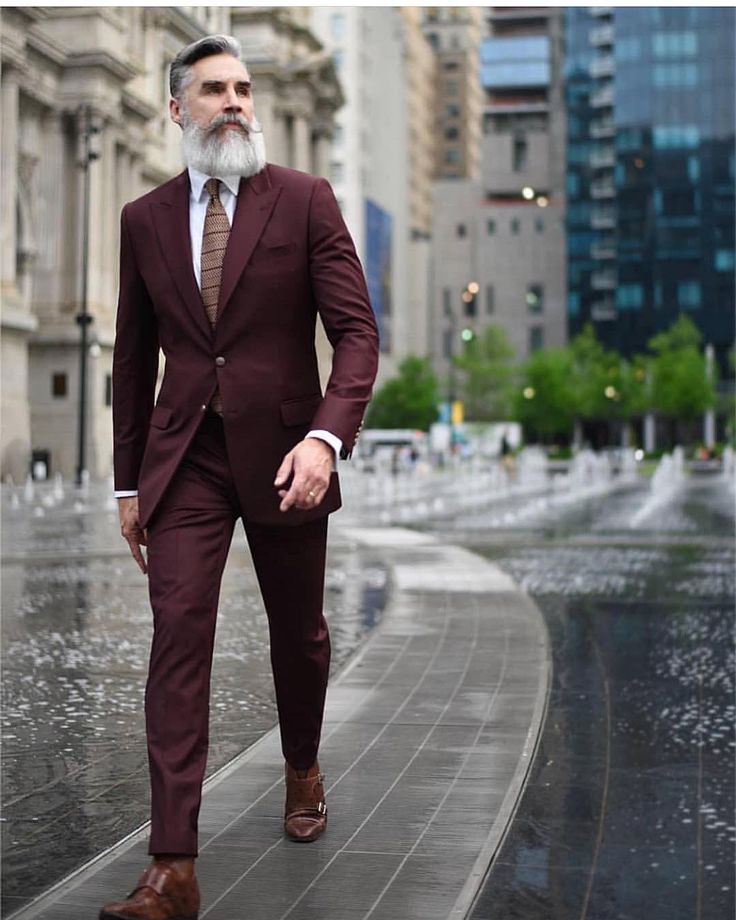 A white shirt always looks appealing; it is crisp and fresh. As a bonus, white makes the maroon tones really pop.
Best Choices
#1: Slim fit white shirt by Amazon Essentials.
#2: Regular fit white shirt by Van Hausen.
#3: Slim fit shirt in white color by Kenneth Cole.
#4: Slim fit white shirt by Calvin Klein.
Black Tie
Want your burgundy color suit to be at the pinnacle of elegance? A black tie is your definite go-to. Not only is a white shirt/black tie a classic color combination, but it is also your safest pairing.
You can seldom fail with a black tie. It is the standard for a reason.
Brown Tie
Your burgundy suit has brown undertones, making the brown tie a natural fit. It will soften the bold suit color. It might appear as an unexpected color pairing, for sure, but one that should never be overlooked.
Burgundy/Maroon Tie
If you are into the monochromatic look, this might be an excellent time to experiment. The white shirt will prevent your outfit from feeling too loud.
A tie with the same shade as your burgundy suit will look very cool, while a darker or lighter shade adds an attractive appeal.
Navy Tie
Navy is always a top-notch choice in men's fashion. It warms up any look. Adding a navy tie to a maroon or burgundy suit appeals to a sense of warmth. It is close to a black tie but less harsh. It is subtle and sophisticated.
Light Blue Tie
Make a splash with a light blue tie next to your earthy suit. It's an unusual pairing that brings a dark red suit into a more playful light.
A sunny tone softens up the darkness of the suit and makes it more casual. This is perfect for an afternoon outing.
Floral Tie
Keeping with the playful and fun theme, try a floral tie. Keep the base tie color complementary to the suit or even a shade of the same color. A few bright flowers will look delightful nestled in such a rich-colored suit.
Burgundy Suit and Pale Blue Shirt Color Combinations
A surprisingly popular pairing with a burgundy suit is a pale blue shirt. The contrasting hues of the blue and the red are a fascinating color combination.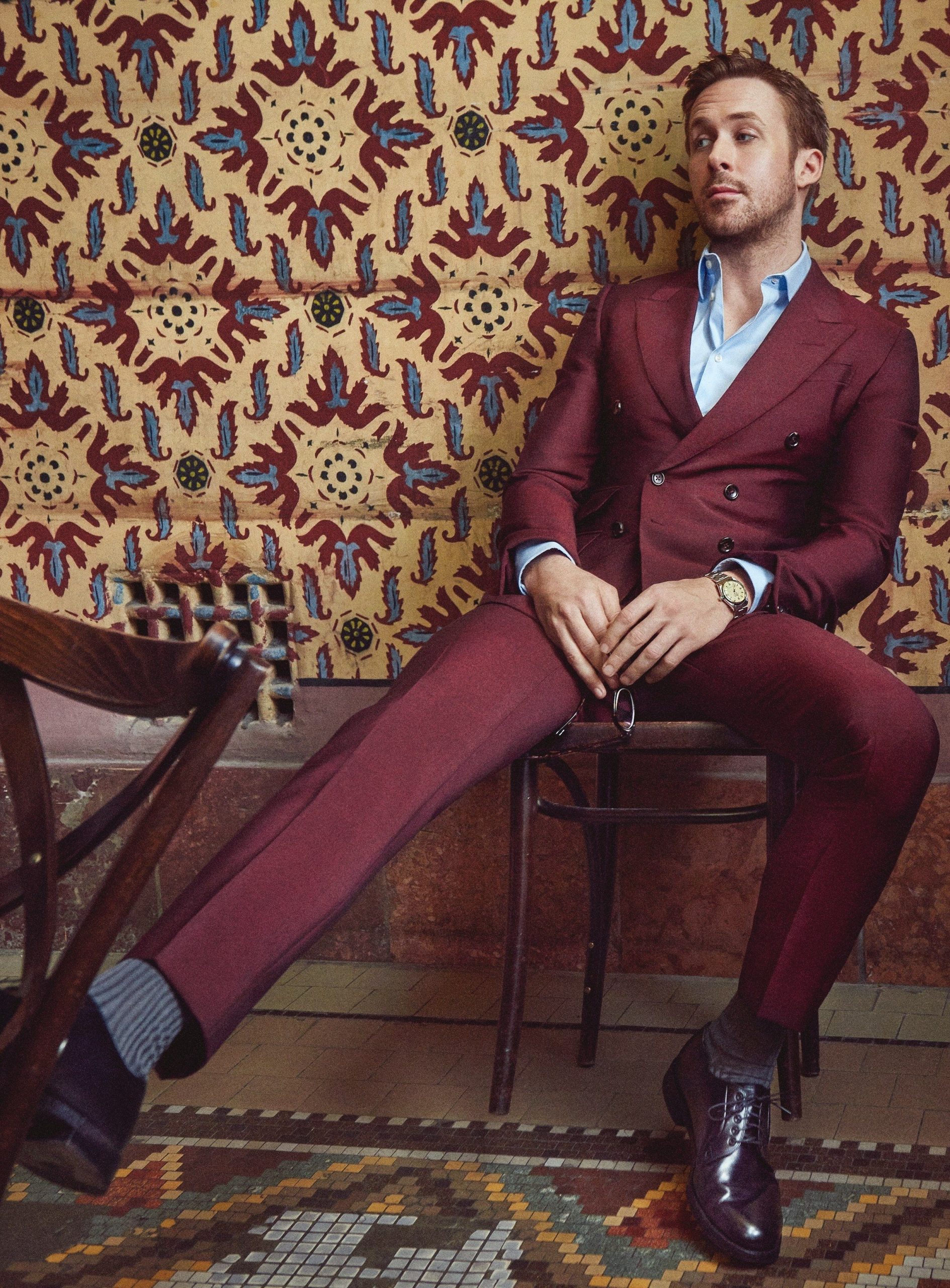 Typically, a red and a blue together would look very childish. Not so in this case, however, where each color is tweaked into an original hue.
Putting the two together results in a very sharp, sophisticated style. If you are looking for a modern suit color and shirt combination, this is it.
Light blue dress shirts do dress down any suit they are paired with. This pairing is generally best for daytime wear.
Best Choices
#1: Slim fit light blue slim fit shirt by Amazon Essentials.
#2: Slim fit light blue shirt by Kenneth Cole.
#3: Slim fit blue shirt by Tommy Hilfiger.
#4: Classic fit blue shirt by Buttoned Down.
Blue/Navy Tie
A blue-toned tie would be a nice tie-in with your shirt. (Sorry, couldn't resist.)
A navy tie gives you the lovely richness you get with navy and maroon together. It is a stately combination. A lighter blue needs to be slightly contrasted from the shirt.
Burgundy/Maroon Tie
A maroon suit and maroon tie while wearing a pale blue dress is a splendid way to break up a monochromatic look. The light blue softens up the harshness of the darker colors. The result is a soothing, comforting style.
Burgundy Suit and Pink Shirt Color Combinations
A pink shirt is considered edgy in men's fashion. Add that to a burgundy suit, and you are beyond edgy. These two unusual sartorial color choices are bound to be attention-grabbing when putting them together.
Both colors are shades of the same base color – red. Though they may be different hues of the color wheel, keep in mind that red is traditionally the authority color.
Pink is a sadly underrated color of choice in men's fashion, but the reality is that it is an MVP. This versatile color can carry nearly any suit.
Best Choices
#1: Classic-fit pink shirt w/ metal cufflink by J.Ver.
#2: Pink slim-fit shirt by Calvin Klein.
#3: Tailored-fit light-pink shirt by Buttoned Down.
#4: Pink classic-fit shirt by Kenneth Cole Unlisted.
Floral Tie
A floral tie would look very elegant, yet playful, with this suit. Find a tie that incorporates both the suit and shirt colors and has a dark green and/or navy touch. It will create a warm and inviting look and a very romantic ensemble.
Burgundy/Maroon Tie
This tie will bring your look full circle. The layering of maroon and pink shades creates a unique twist on a monochrome look. Ensure that your tie is the same tone as the suit; otherwise, the colors may feel too busy.
Burgundy Suit and Black Shirt Color Combinations
Want a genuinely sophisticated and daring style? Wear your burgundy suit with a black shirt.
The black and the dark red colors complement each other amazingly well. They bring out the deep hues in each other and hit a perfect balance of tone.
Leave off the tie, and voila! You have created the ultimate suit of casual sophistication. Your date night will be on the next level with this suit.
Best Choices
#1: Slim fit black shirt by Kenneth Cole.
#2: Slim fit black shirt by Calvin Klein.
#3: Regular fit black shirt by Van Hausen.
Black Tie/Bow Tie
A black tie is top-notch if you are looking to dress up your black shirt and burgundy or maroon suit.
Whether you opt for a necktie or a bow tie, there is nothing suaver than a black tie on a black shirt. It is one of the sleekest styles out there.
Burgundy/Maroon Tie/Bow Tie
Like the pink shirt, a burgundy suit with the same color tie is layering your colors. Double-check that your tie is the same shade as your suit.
One shade lighter or darker risk looking like a mistake. Get the hues right, and you look like royalty.
Burgundy Suit and Striped/Patterned Shirts Color Combinations
Patterned shirts make an exciting scheme with nearly every suit. When that suit is already fascinating on its own, we are breaking new ground by combining the two.
A maroon or burgundy suit paired with a striped or patterned shirt is a super way to sport an ultra-chic yet casual look. Match your shirt by picking the correct colors, and you have a winning outfit.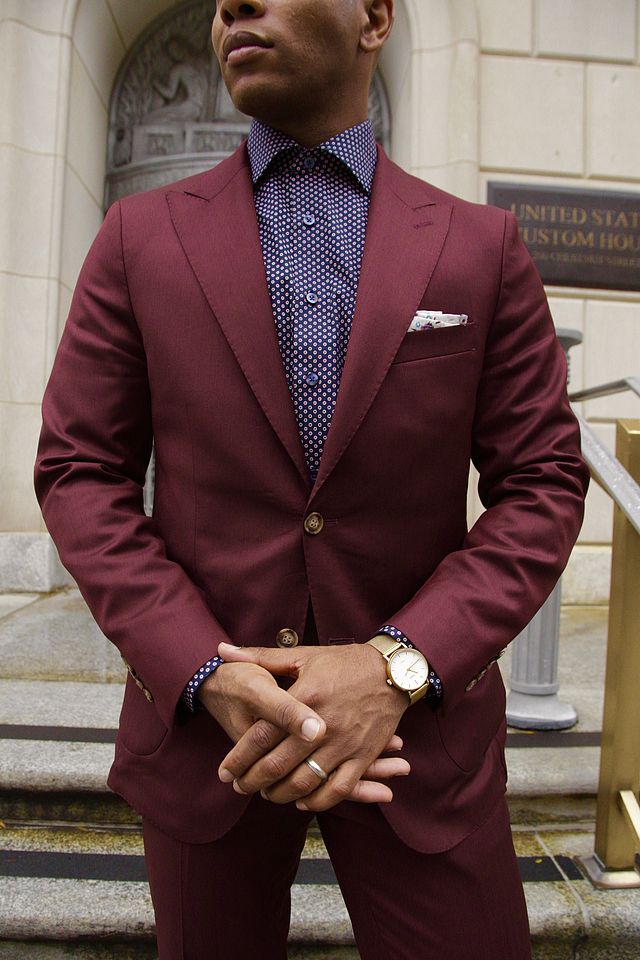 A shirt with mostly navy and some lighter colors is a sublime choice for a night out. Make the shirt much lighter by sticking with pink shades, and you might have the best suit at brunch.
Or a sage green printed shirt is bound to impress your date. Oh, and you can never go wrong with old-fashioned black and white prints.
Shoes for Burgundy Suits
Black shoes will go with almost any suit choice. They will never fail you.
Black is a classic, neutral shoe that goes with nearly every option, including burgundy suits. If you are wearing a black tie or dress shirt with your suit, stick with black shoes.
There are a few instances where a brown shoe might be better suited. If you are wearing earth tones, such as sage green, be sure to try a pair of brown shoes with it before you grab your black ones.
Black can be a sharp contrast, which a suit ensemble often benefits from. Sometimes your style will benefit from a little softening up, which a brown shoe can do nicely.
In most cases, it is not advisable to wear burgundy leather shoes with your burgundy suit.
Author: Alexander Stoicoff
Hi, I'm Alex, and I've studied and specialized in styling in Rome. Through my writing, I want to help men dress well and learn the purpose and significance of suits and other formal attire. My final goal is to make men more confident in their wardrobe choice and life in general.