When the air gets crisp and the leaves turn golden, it's not just Mother Nature flaunting her fall style.
Men, too, have the chance to step up their game, and let's be honest, who doesn't love a well-layered gentleman strolling through the autumnal breeze?
From cozy to classy, fall outfits are where it's at. Let me walk you through some stellar combinations that make you look sharp and feel snug.
Boardroom to Broadway
From closing deals to catching the latest show, you deserve a formal business outfit that works as hard as you do.
The elegant camel overcoat shelters a perfectly tailored grey suit. Beneath, a blue dress shirt contrasted by a grey tie showcases a flair for detail.
Brown brogues lend the finishing touch, blending function with finesse. Are you ready to conquer the world?
Burgundy Vibes
Fall's rich palette and flavors harmonize with the wine's hues and profiles.
Enhance autumnal dishes and festivities with this burgundy suit and matching waistcoat, offering a luscious sheen and unmatched comfort.
A white dress shirt has a neutral base, while black monk straps bring contemporary flair to a rich, traditional texture.
Indulgence never looked so good.
True Blue Classic
The beauty of a classic blue suit? It never goes out of style.
Paired with a light blue dress shirt, it offers a refreshing monochromatic look. Black loafers introduce a contrasting touch, giving your ensemble a modern twist.
It's a testament to how, sometimes, the simplest combinations can be the most effective. I mean, who doesn't love a good blue moment?
Double-Breasted Dominance
Command attention with the timeless elegance of a navy double-breasted suit. A crisp white shirt provides a clean backdrop, allowing even a light-colored tie to truly pop.
As for those burgundy dress shoes? They're not just a bold choice; they're the right choice.
From board meetings to upscale brunches, this look says you mean business.
Tweed Twist
Transporting us back in time, tweed is synonymous with timeless elegance.
This brown three-piece suit paired with a classic white dress shirt is gentlemanly grace personified. A matching brown tie and loafers?
Now, that's a commitment to the theme! You'll fit right in at a vintage car show or a rustic autumn wedding.
Old Money Elegance
Embodying the old money aesthetic is all about tapping into a legacy of class and distinction.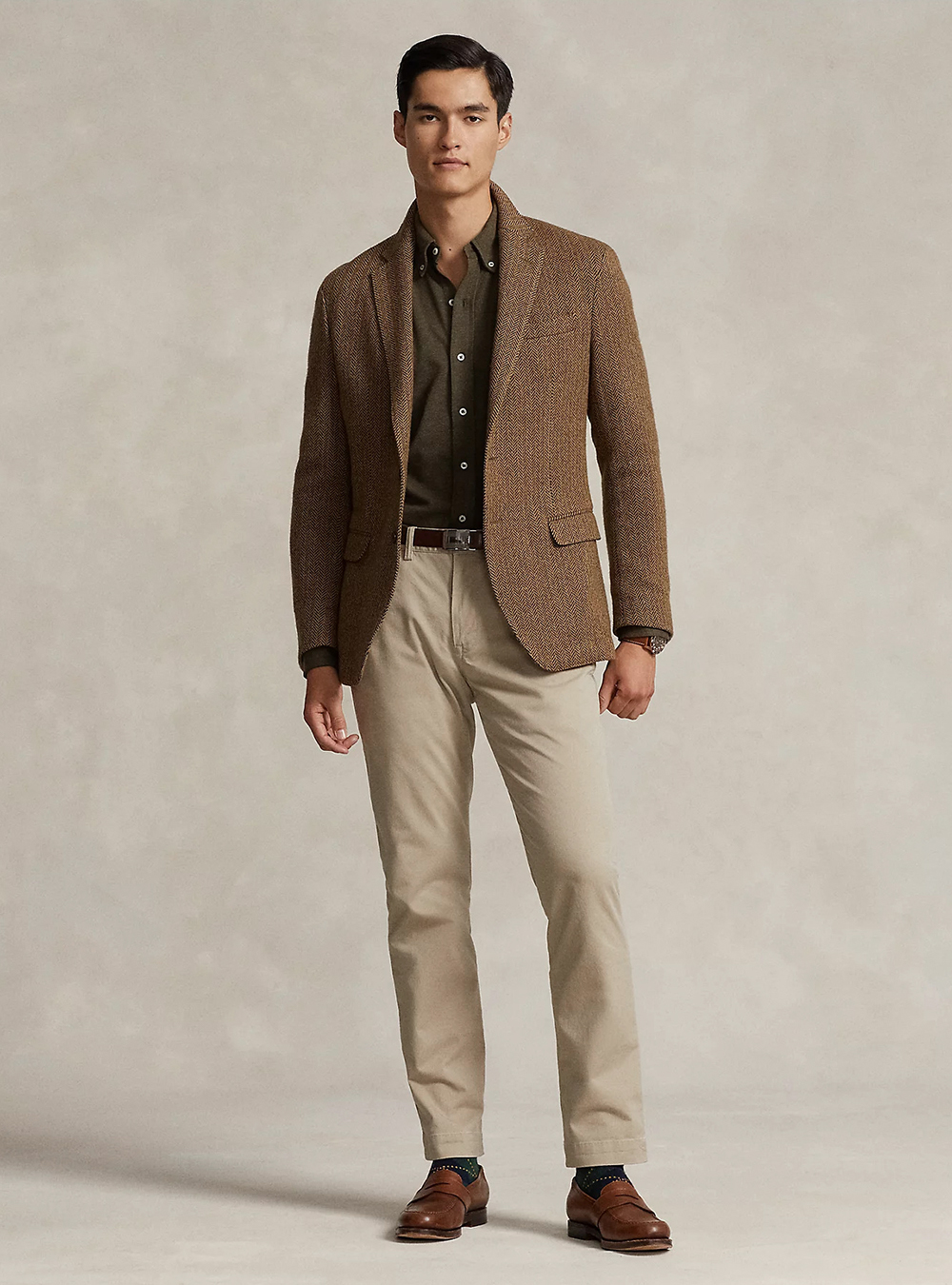 The rich brown blazer paired with an olive button-down shirt echoes the timeless charm of an era gone by, reminiscent of private lounges and grand estate gatherings.
Complemented by tan chinos, the outfit offers a blend of casual and cultured vibes.
Finish the look with brown loafers. Can you listen to the leaves crunching beneath your feet?
Corduroy Texture Classic
Ah, corduroy – the texture of fall!
Embrace its unique charm in a full brown suit. A navy sweater underneath, peeping over a white dress shirt, offers layers of warmth and style.
Brown derby shoes play along with the theme. It's a blend of richness and comfort – exactly what fall ordered!
Vintage Vibes with a Twist
The rich warmth of a corduroy suit juxtaposed with a sleek turtleneck creates a harmonious blend, perfect for those chilly city evenings or an upscale countryside brunch.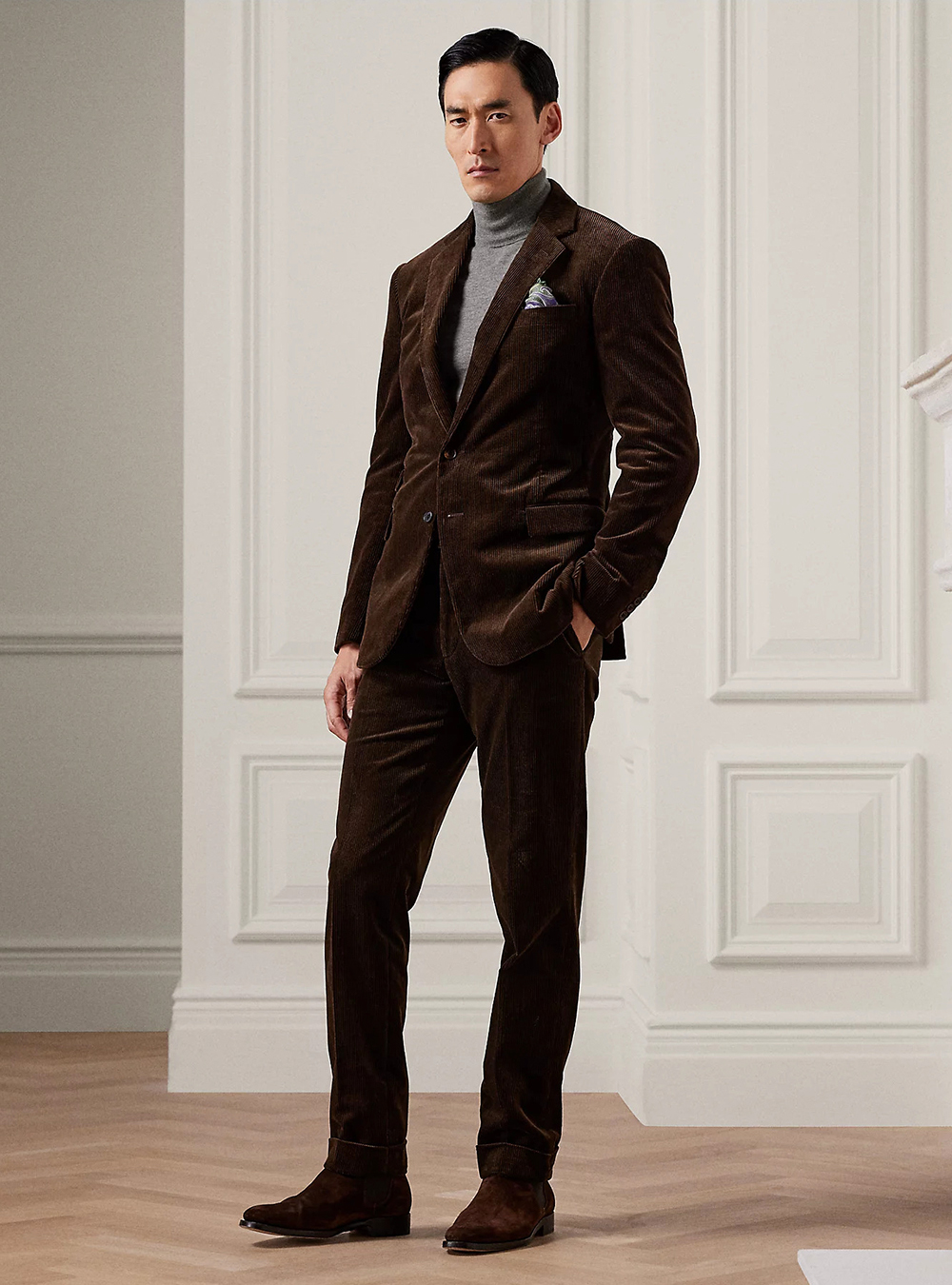 And let's not forget those boots, adding the finishing touch of refined ruggedness to the ensemble.
Dapper in the Drizzle
Rain or shine, a gentleman knows how to make an entrance.
A navy trench coat protects you from unexpected showers while radiating unparalleled class.
Paired with a white shirt, a bold burgundy tie, and complementing blue dress pants – this outfit is a sartorial triumph.
Derby shoes finalize the look. Don't be surprised if heads turn, even on the gloomiest days.
Elevated Everyday Wear
Who said everyday wear has to be boring?
Toss on a light grey cardigan over your trusty white tee. Pair it with some sharp charcoal dress pants, and voila!
And those white sneakers? The perfect balance of form and function.
This outfit is ideal for a coffee date or even an evening networking event.
Sophisticated Sips at the Café
Ever wanted to command attention without saying a word?
A green turtleneck for that subtle pop of color, combined with charcoal dress pants, defines understated elegance.
The black loafers? They are just in style, wear them.
And hey, why not enjoy that latte with an extra shot of confidence?
Moodier Fall Tints
Embracing the moodier tones of fall, this ensemble is perfect for those chillier nights.
Layering a dark grey cardigan over a black turtleneck? Genius. Black dress pants and loafers seal the deal for a cohesive look.
It's moody, stylish, and, dare I say, a bit mysterious?
The All-American Classic
Sometimes, a little pattern play can do wonders. The blue striped shirt, peeking through a tan cardigan, is a subtle yet striking choice.
Dive into style with this flight-inspired jacket, crafted from sustainable suede and elegantly punctuated by the iconic Polo Pony. It's the cherry on top of this stylish sundae.
Read more: How to match loafers with jeans.
Denim Jacket Chic
Who knew mixing casual with a touch of prep could look this good?
Starting with a simple white shirt, layer on that argyle charcoal sleeveless jumper. It's retro yet timeless.
Throw on that denim jacket for a laid-back vibe, and those brown loafers? Oh, they just take it up a notch!
Hitting the country club or just out and about? This look is totally ace!
Sailing Through Fall
Inspired by nautical vibes, this outfit seamlessly blends casual with refined.
A blue shirt tucked beneath a cozy grey sweater captures the essence of fall. Navy dress pants anchor the look, and brown suede loafers are the perfect finishing touch.
Feeling the sea breeze yet? No? Well, at least you'll look like you are.
Back to Basics
Sometimes, going back to basics is the best route.
A brown suede trucker jacket layered over a snug black turtleneck spells comfort and style. The navy chinos add a touch of formality, while those brown dress shoes offer the polish you need.
A classic ensemble for a man who knows his roots!
Cozy Up in а Duffle
Cold days demand warmer attire. The stylish duffle coat style is not just a coat but a statement.
This dark grey piece paired with a matching grey crew neck and dress pants is monochrome magic.
Finally, the brown suede Chelsea boots add warmth and a rustic touch.
Twist on the Traditional
Ditch the norms and embrace a modern twist.
A black turtleneck beneath a grey twill shirt? Bold yet so right.
Charcoal dress pants maintain the muted palette and those brown boots? They add a necessary earthy element.
Tradition meets the trend, and it's a match made in fashion heaven.
Adventure in Neutrals
Adventurous souls, this one's for you!
A khaki field jacket screams ruggedness, while a taupe hoodie adds a soft touch. Tan jeans keep the neutral narrative going, and those suede chukka boots?
Adventure awaits, and you're dressed for the part!
Sharp Morning Walks
If you've got those relaxed morning walks but want to retain a touch of elegance, here's your go-to.
Elevate your fashion style with a touch of suede. Start with a sleek grey suede jacket that instantly adds a luxe feel.
Let a rich blue sweater pop underneath, offering warmth and color. Complement this with navy dress pants.
Finally, step out in beige sneakers that effortlessly meld comfort with class.
Flannel Fun
The checked flannel overshirt screams cozy autumn afternoons. Taupe checks blend effortlessly with a basic white tee, exuding casual charm.
Charcoal dress pants elevate the attire, and the choice of grey and khaki trainers is just… unexpected enough to work.
This outfit is for those days you want to mix business with leisure.
Sweater Weather Supreme
The moment we've all been waiting for: sweater weather!
Wrap yourself in a dark sweater, a perfect contrast against those light grey jeans. The black parka is practical yet stylish, while the black casual boots are ready for whatever the day throws at you.
An outfit made for those "grab a book and a cup of cocoa" kind of days.
Quilted Quest
Quilted jackets are the unsung heroes of fall. This black garment, paired with a matching mock neck sweater, creates a sleek silhouette.
The classic blue denim jeans provide a pop of color, and black sneakers round off this urban explorer look. Perfect for a spontaneous road trip or a coffee run on chilly mornings.
Dark, Rich, and Refined
There's something undeniably smooth about donning a dark brown jacket with a matching polo t-shirt.
Add a pair of similarly hued dress pants to the mix, and it's a monochromatic dream.
Finally, slip into those brown monk strap shoes, and you're good to go, looking every bit the elegant gentleman.
Crisp and Casual
This cool overshirt is your ticket to an effortlessly cool day out.
Throw it over a white crew neck for a fresh contrast, and let those grey pants subtly ground the look.
The brown suede Chelsea boots? They're just the cherry on this fashion-forward sundae.
Autumnal Elegance
Embrace the season with a deep burgundy zip-neck sweater as the leaves fall. Its rich hue pairs flawlessly with white chinos, offering a bold, understated look.
And those black suede loafers? They effortlessly slide in, completing the ensemble with a touch of luxe.
All-Black Night Out
Channeling your inner rockstar? Look no further.
This all-black ensemble is the epitome of sleek and sultry. A black leather jacket paired with a crew-neck tee and jeans offers a seamless, monochromatic look.
Slide into those black sneakers, and you're ready to hit the town. Remember, sometimes simplicity speaks volumes.
Relaxed Weekend Vibes
Weekends are about relaxation and rejuvenation, but who said you can't look good doing it?
The tan shirt jacket over a white tee brings a soft contrast, perfectly complemented by khaki chinos. The black sneakers add a contemporary touch.
So whether it's a coffee run or a casual outing with friends, this outfit has got you covered.
The Casual Day Out
When casual meets cool, this is what you get.
The green shirt jacket layered over a classic white tee paired with blue jeans? It's the perfection of a laid-back style.
Finish it with those white and black sneakers, and you're ready for a relaxed weekend brunch or a stroll in the park. Did I mention how comfortable this combo is?
City Sleek Meets Comfort
Bracing for a chilly day out? Wrap up in that navy overcoat. Beneath, let a soft blue sweater peek through, complemented by cream chinos for a light, airy feel.
And for the final touch? White sneakers for that contemporary kick, blending comfort with urban style.
Style Tips for Fall
Fashion, at its core, isn't just about clothing. It's about the attitude, the knowledge, and the flair you bring to the table. This fall, let's focus on more than just the ensemble.
Layering
Layering is the unsung genius of fall fashion. Not only does it ensure you're ready for the temperature's whims, but it also introduces complexity and depth to your outfits.
Start simple: a crisp shirt, a cozy sweater, and perhaps a lightweight jacket. This approach isn't just practical – it allows for dynamic style combinations you wouldn't achieve with single, thicker items.
Remember, the key is balance. Too many layers and you risk looking bulky; too few and you might be shivering by sunset.
Mix different materials and weights, adjusting as the day goes on.
That wool vest? It'll look dapper over a chambray shirt and under a trench coat.
Play with Textures
Fall is a playground of textures. From tweed's ruggedness to cashmere's soft allure, this season's fabrics are begging to be touched.
Think of texture as a visual language that communicates warmth, luxury, ruggedness, or sophistication. Pairing a soft, knitted sweater with matte corduroy trousers, for instance, can create a delightful contrast.
Don't shy away from mixing multiple textures in one outfit. It adds depth and makes your ensemble more interesting.
A suede boot, denim jeans, and a cable knit sweater? It's a tactile trifecta!
Color Palette
Autumn is all about warm, earthy tones – think deep reds, burnt oranges, and rich browns. However, don't feel pigeonholed.
While these colors are seasonally appropriate, adding splashes of brighter or contrasting hues can make your outfit pop.
Ever thought of pairing that camel overcoat with a deep teal scarf? Now's your chance.
Balance is crucial. If you're rocking a bold sweater, consider muting down the rest of your outfit. Alternatively, let neutral tones dominate and choose one standout piece to act as your outfit's centerpiece.
Accessorize Thoughtfully
Accessories are often overlooked, but they certainly can make or break an outfit. In fall, they also serve a practical purpose.
Scarves, hats, and gloves are not just to keep you warm; they're an opportunity to showcase your style. When choosing accessories, consider how they'll interact with your outfit.
A bold, patterned scarf can bring life to a neutral ensemble, while a minimalist leather glove can lend elegance to a more rustic look.
Consider function and form. Those aviator sunglasses might look cool, but are they providing the protection you need from the glaring autumn sun?
Equally, that wooly beanie might be warm, but is it throwing off the balance of your outfit? Choose wisely and let your accessories be both purposeful and stylish.
Author: Alexander Stoicoff
Hi, I'm Alex, and I've studied and specialized in styling in Rome. Through my writing, I want to help men dress well and learn the purpose and significance of suits and other formal attire. My final goal is to make men more confident in their wardrobe choice and life in general.