With so many different coat types available for men, it's nearly impossible to know which style to choose for each outfit.
Don't stress out about making the wrong choice; thankfully, there are so many formal and casual possibilities for jackets that you're likely to get your coat choice right.
However, if you really want to nail your outerwear, read up on these top men's coat styles.
Overcoat
An overcoat is a graceful and classic long coat designed to wear over a suit. They usually fall to approximately the knee area, although some are as long as the calf.
Overcoats are meant to be quite warm; they're typically made from wool, so they can be very heavy. However, some overcoats are made from merino wool or cashmere, making them much lighter.
The beauty of the overcoat is that it has a very simple style. It has a clean line with slight tailoring that adds some shaping.
Its torso is slightly tapered thanks to a couple of darts in the front. The result is a timeless and flattering shape.
You have the choice between single- or double-breasted. It's helpful to remember that double-breasted overcoats are more formal, so consider how you'll be wearing your coat.
Darker shades are also more formal, so they are the most popular since they usually are paired with suits.
However, camel is a trendy shade, though more informal.
Peacoat
This super recognizable coat may have Navy roots but has become mainstream today. Peacoats are versatile; they can be used with suits but are also excellent for casual outfits.
If you're stepping out in bad weather, you can't go wrong with a peacoat. They are traditionally made from heavy wool, so they're astonishingly warm.
The oversized collar is also perfect for turning up for protection against frigid winds.
Peacoats are double-breasted and fall on the short side, ending around the top of the thigh.
The wide lapels and large buttons are iconic on this coat.
Peacoats are commonly navy-colored, but black is a popular second choice. Whichever color you choose, peacoats are always hip.
Duffel Coat
Looking for another very warm coat that's a touch more casual? Consider the duffel coat (duffle for my British fellows). It's constructed from super-insulating duffel fabric.
Sailors at sea first used these warm coats, which have since become popularized. However, you might recognize this style as the same one worn by Paddington Bear.
The duffel coat is classic, with wooden toggle buttons and looped rope fasteners; these large buttons are very glove friendly.
The oversized hood is another recognizable feature of the duffel coat.
This casual coat only comes single-breasted with patch pockets. It isn't very long, falling only at the middle of the thigh.
Duffel coats also have a button tab at the collar, under the large hood, to help keep out the elements. They're typically navy, but camel has become a very popular color.
Trench Coat
Wow, here's yet another military coat. Who knew soldiers and sailors were so fashionable?
Army officers first wore the trench coat in World War I; perhaps the coat's epaulets are a bit of a giveaway to its military roots.
Trench coats were explicitly designed to be incredibly waterproof and are made from a gabardine fabric that is successful at keeping water out.
They are also durable coats, so they can withstand severe weather and last years.
These iconic coats are long, usually falling below the knee, although shorter styles are available.
Trench coats are double-breasted and have a belt at the waist. They also have buckled straps at the cuff.
Their broad lapels are good for turning up against the wet weather. It's classic and romantic, but it never looks old-fashioned.
The stereotypical color for trench coats is beige, and most people stick to that color. Unfortunately, trench coats are not designed for warmth, so they aren't ideal year-round.
Chesterfield Coat
The Chesterfield coat is the height of outerwear elegance, similar to an overcoat but more formal.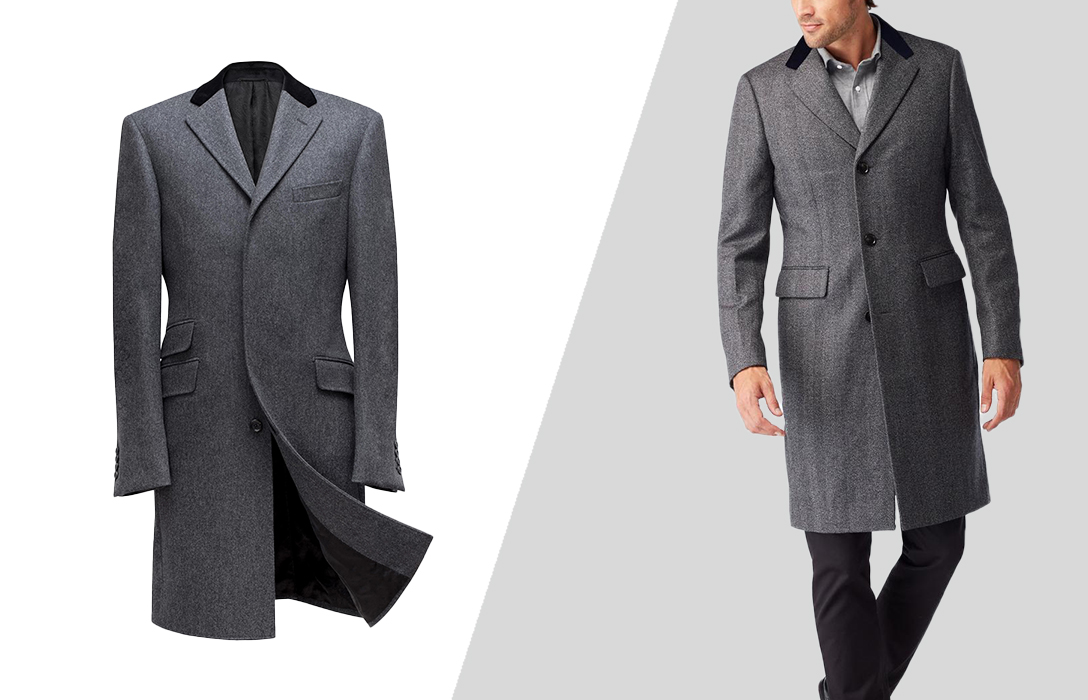 The Chesterfield is impeccably sleek, forming a sleek figure. It has no waist seam or darts along the waist, so it's one uninterrupted line.
The most popular design choice for Chesterfield coats is single-breasted but does come in double-breasted styles. In addition, their sense of formality is increased by their velvet collar and notch lapels.
Chesterfield coats are often navy or gray and are constructed from cashmere or a wool/cashmere blend.
Car Coat
Fashion needed to change with the rise of the automobile. Long, fitted coats wouldn't work with driving, so the car coat was designed for taking a drive in newfangled autos.
Not only are these designed to be a good length for sitting behind the wheel, but they also won't restrict movement.
The result is an A-line silhouette with wide cuffs to accommodate turning the wheel and working the gear shift.
A car coat is often made from warm wool to keep you toasty while driving in the winter.
To further keep out the weather, it has a panel over the enclosure (often buttons) that adds an extra protection layer.
Car coats have a simple, straightforward design. They are single-breasted with a straight collar and almost always have welt pockets set on a diagonal.
They aren't super formal, but they'll do if you need to toss one on over a suit.
Mackintosh Coat
You might be very familiar with the more popular boots with the same name, but a mackintosh coat is a waterproof miracle!
It's made using a form of liquified rubber, so you are guaranteed to stay dry, even in the worst rainstorms.
And you know they must be good coats; they were invented by a scientist, Scottish chemist Charles Macintosh.
Mackintosh coats are more about the fabric than style. That's why you can find these coats in almost any design!
They often closely resemble trench coats or railway coats worn by (you guessed it) railway workers.
Covert Coat
A covert coat is formal, making it a superb choice for pairing with your suit. Covert coats are traditionally made from tweed and are greenish- or reddish-brown.
But modern styles can be dark neutral shades or navy and are also made from wool. They are lightweight but have a tight weave, making them warm.
Covert coats are stylish. They are single-breasted with notch lapels and usually sport a contrasting collar, often velvet.
They stand out from other coats by the cuff's 4-5 decorative buttons. In addition, they have flap pockets and a poacher's pocket, which is a large pocket initially intended for holding a catch from hunting.
They are only slightly longer than a suit jacket.
Duster Coat
If you've ever seen a cowboy in a long coat, you've seen a duster coat. This style is a defining image for cowboys but is also popular amongst non-cowboys.
These loose and baggy coats are designed for riding horses and keeping you clean and dry.
Duster coats are made of linen or canvas and often include waxed cotton. They aren't warm, but they will protect you from rain, dust, and other dangers.
The full-length style looks dramatic but includes a vent in the back that runs up to the hip, making these coats easier to sit in. They are much more casual than the standard trench coat.
Parka Coat
You will instantly recognize a parka coat when you spot its fur-lined hood. Parkas are designed for warmth, not style. Therefore, they are purely casual.
On the positive side, they are your warmest coat option out there. They are also waterproof, making them perfect for rain or snow.
Parka coats are stuffed with down or other fillers, giving them that puffy look they're known for.
In addition, the length of a parka varies so that it can be short or long.
Another feature they are known for is their drawstring at the chin, chest, and/or bottom, allowing you to close your coat really tight.
Raincoat
The entire goal of a raincoat is to keep you dry. They aren't warm or dressy but can be stylish thanks to their versatile designs.
Most raincoats have a nice, oversized hood and cover all openings with flaps to ensure you don't get wet.
Long styles are very popular in another effort to stay as dry as possible.
If you want to wear your raincoat with suits, neutral shades are best for staying formal. However, bright and fun colors are excellent for more casual styles.
Puffer Jacket Coat
These coats originated in the mountains as a way to stay warm in high winds but have since become a popular urban style.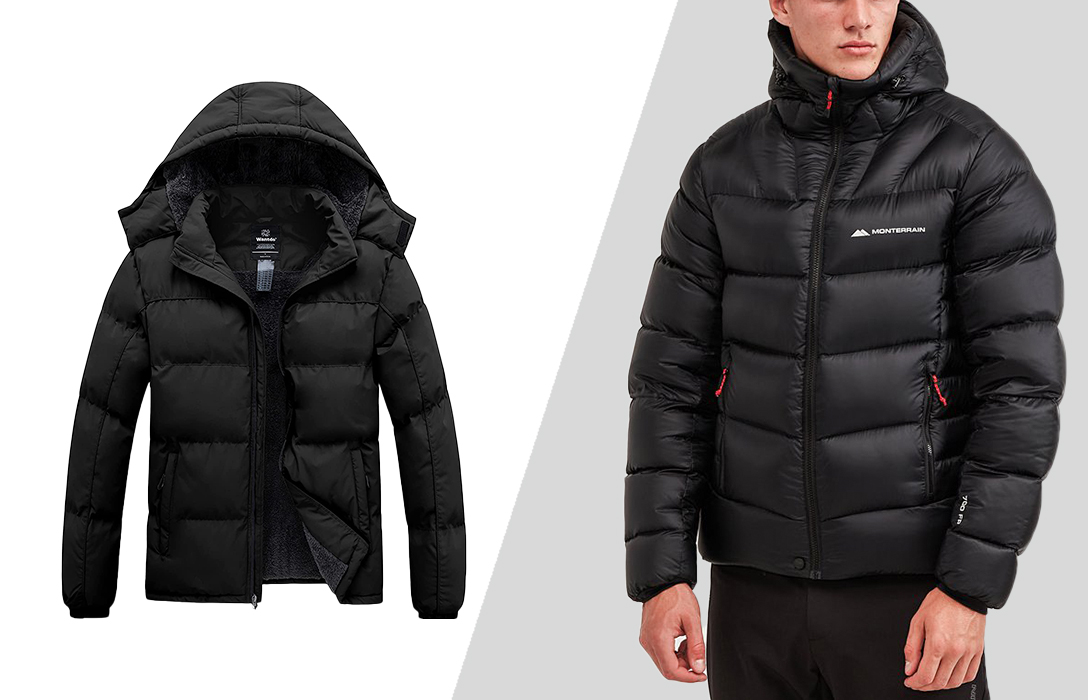 They are stuffed with down or other synthetic materials, so they have a large, puffy look. This stuffing does an excellent job of blocking the cold and the wind.
Puffer coats may be thick and bulky, but they aren't heavy. They feel super lightweight. You'll find puffer coats are usually pretty oversized on you, so they are ideal for layering up in the cold weather.
Although a puffer jacket can be fashionable, it isn't a dressy look. Skip this jacket if you're wearing a suit.
Tuxedo Jacket
Forget warmth; let's talk about style. And a tuxedo jacket is devastatingly fashionable.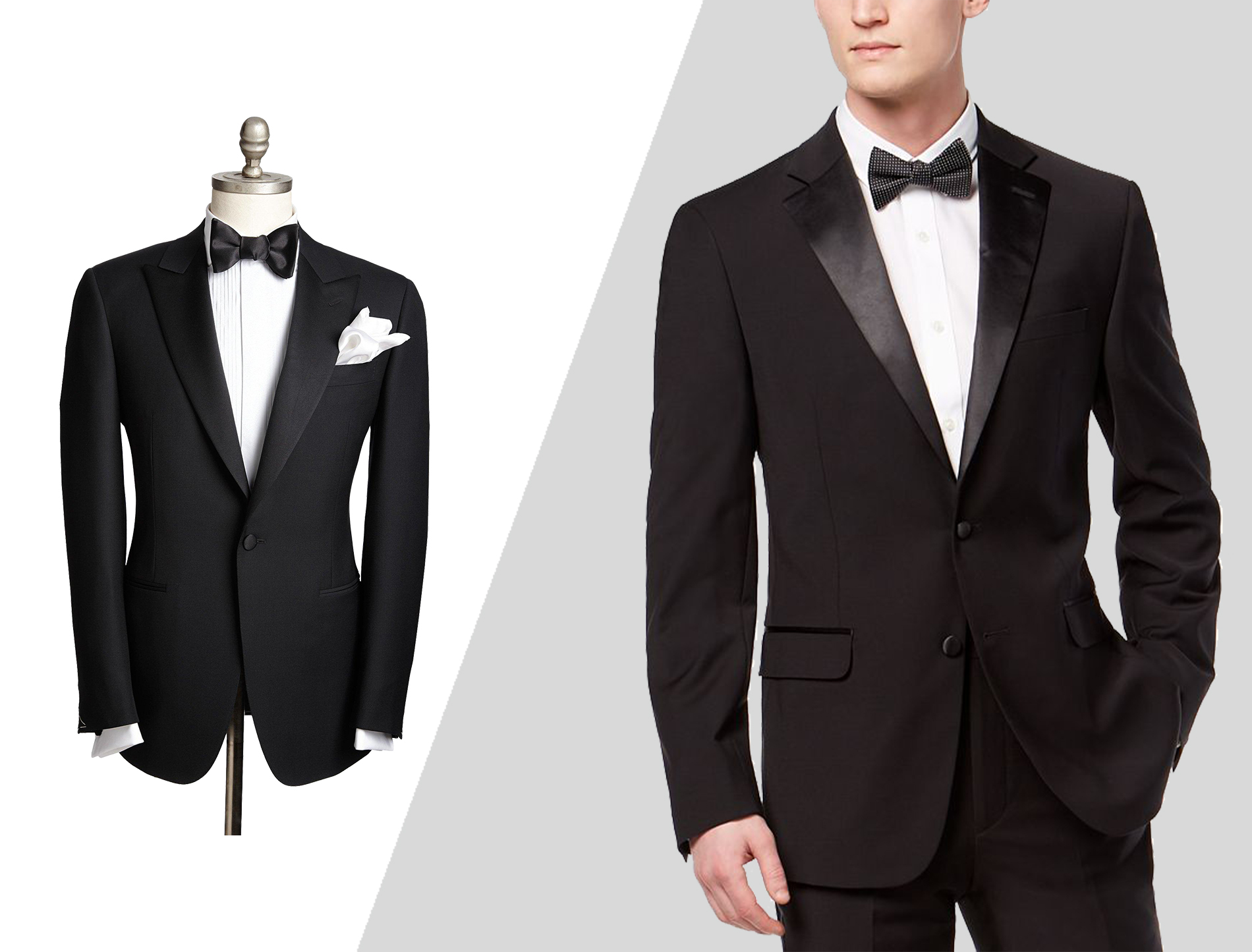 It is the most formal jacket style, worn only for the fanciest events. Who needs warmth when you look this good?
Despite the inflexibility of the rules in formal dressing, tuxedo jackets can vary a bit.
Although they are traditionally black, other colors like navy or burgundy are available for slightly less formal occasions.
The lapels of a tuxedo jacket are usually made of satin and can be either shawl or peaked.
Suit Jacket
Suit jackets are not designed with the weather in mind. Instead, they are a part of a complete outfit and are meant to be worn with matching trousers.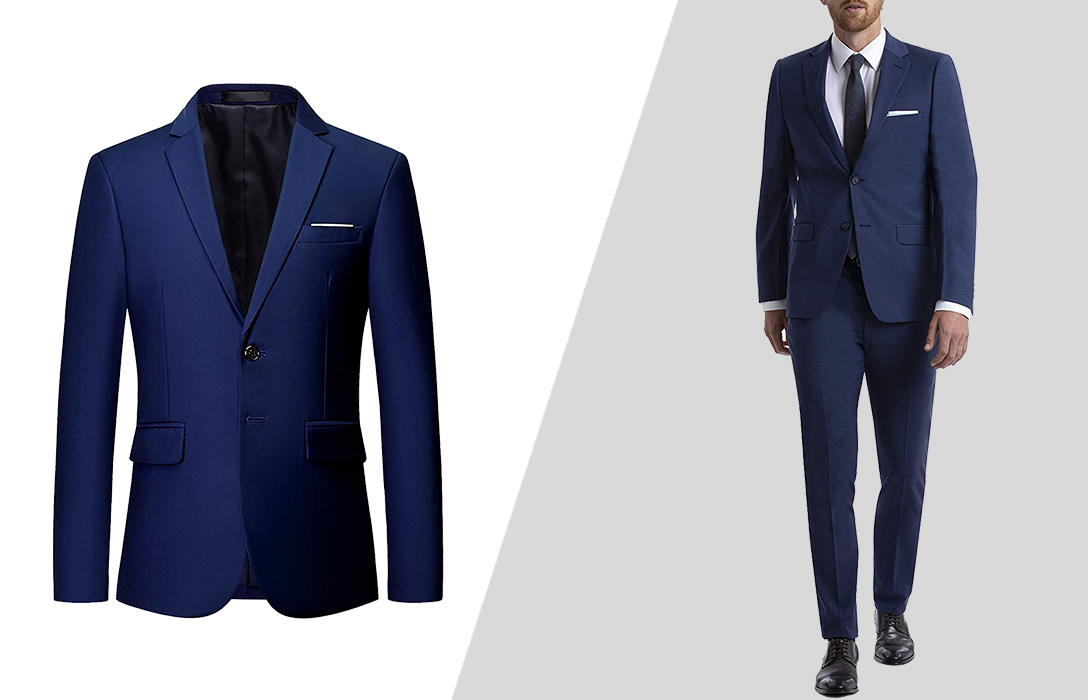 However, you can have a weather-appropriate suit jacket. For example, heavy, worsted-weight wool is appropriate for cold climates.
But during summer or in tropical destinations, you can opt for lighter materials like cotton or linen. You don't need to sacrifice style when dressing weather appropriately.
Cut, style, and design are also open for interpretation. For example, you can choose between single- and double-breasted styles and between notch, peak, or shawl lapels.
Sports Coat
You can turn to the sports coat when you need something more casual than a suit jacket. These are the least formal type of outfit jackets.
They are usually patterned, which is the first sign that they are less dressy.
Sports coats have matching dress pants, but the pants aren't the same print or even necessarily the same fabric.
You can toss on a sports coat with a smart casual outfit on a cool day as a way to add a bit of warmth and style.
Blazer
You can choose a blazer for a look that's slightly elevated from a sports coat but still less dressy than a full suit jacket.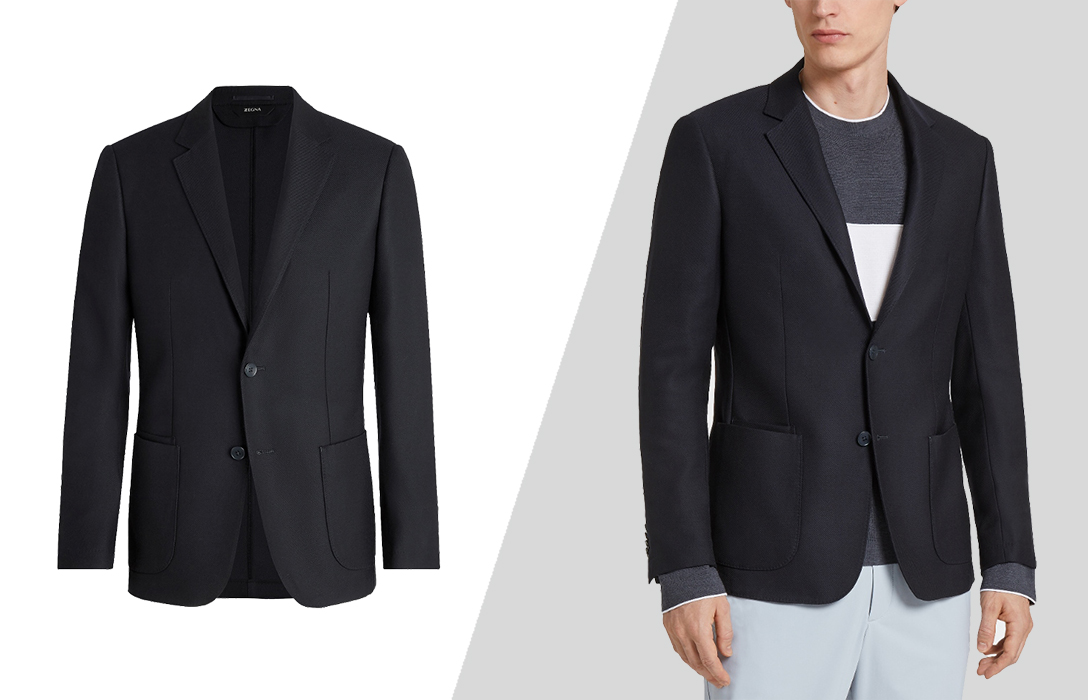 Blazers are wonderfully versatile; you can dress them up or down, and they still look like the perfect fit.
Blazers aren't part of a matched set and are worn as separates. Try a solid navy blazer and khakis for a laid-back, snazzy ensemble.
Bomber Jacket
Since we've shown love to Army and Navy jackets, it's time to honor the Air Force. Meet the popular bomber jacket.
Aviators originally wore these durable flight jackets while flying to stay warm and unencumbered since they are lightweight.
These jackets are initially leather; some variations are nylon or wool.
Whatever material they are made from, they are all short, falling just to the hips. They have ribbed knit elastic at the hem and cuffs.
You can't dress up a bomber jacket, but these relaxed and cool jackets always look fresh with casual outfits.
Shearling Jacket
If you're in the market for a very heavy and warm casual jacket, check out a shearling jacket.
These jackets are unbelievably soft and made from lambskin and fleece.
Modern versions of the shearling jacket can be made from leather and have a sheepskin collar. Of course, synthetic versions are also an option.
You won't find an extensive range of color options in shearling; most are either brown or beige. This style is firmly relaxed and can't be dressed up.
Biker Jacket
You don't need to be a punk rocker to pull off this timelessly cool jacket. A biker jacket is a black leather jacket with attitude.
Biker jackets are cropped, ending just above the hips, and are often fairly fitted.
Most of the time, they are adorned with buckles or studs.
Trucker Jacket
You don't hear these called by this name often, but you'll recognize them as a basic denim jacket. They are almost always blue but can be different colors.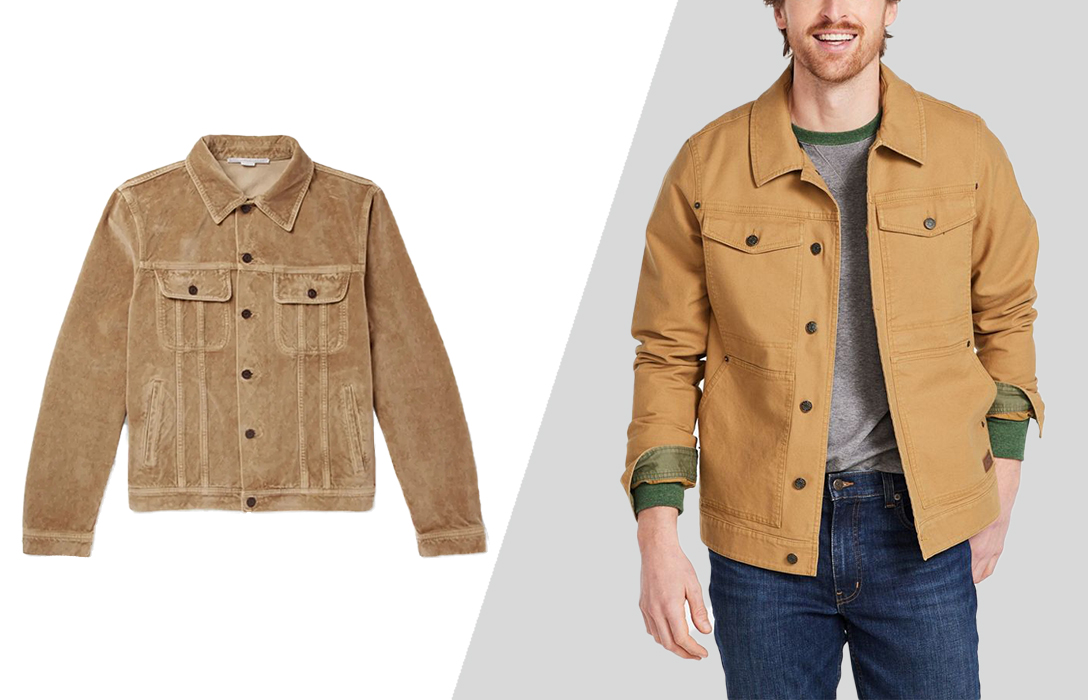 Trucker jackets are short and close-fitting, similar to biker jackets, but much less heavy.
They have buttons up the center of the front and a pocket on either side of the chest.
These jackets are strictly casual.
Author: Alexander Stoicoff
Hi, I'm Alex, and I've studied and specialized in styling in Rome. Through my writing, I want to help men dress well and learn the purpose and significance of suits and other formal attire. My final goal is to make men more confident in their wardrobe choice and life in general.