Cracking the code to men's fashion calls for a mix of classic and contemporary. The blend of a timeless grey suit and the earthy elegance of brown shoes might just be your winning ticket.
This duo casts a sartorial spell that transcends typical style boundaries, granting you the power to command attention.
Yet, the magic doesn't lie solely in donning these pieces. But in understanding the subtle art of wielding their combined charm to their fullest potential.
Corporate Elegance
The first rule of corporate elegance? Never underestimate the power of a well-tailored suit.
Try a grey double-breasted suit with a blue striped shirt and brown Oxford shoes for ultimate business formality. A brown tie will add up to the look perfectly.
If double-breasted is a bit too much, a charcoal grey suit, crisply tailored to your figure, paired with a white dress shirt, can also set a powerful statement.
This look, balancing a traditional color palette with modern sophistication, can make you stand out without making you look like you're trying too hard.
A darker shade of grey, like charcoal, carries an air of authority, while brown leather shoes add a warm touch.
Summer Office-Approved
Summer calls for a breezier, more laid-back approach to traditional office wear. This is where a light grey suit, a white shirt, and brown loafers step in.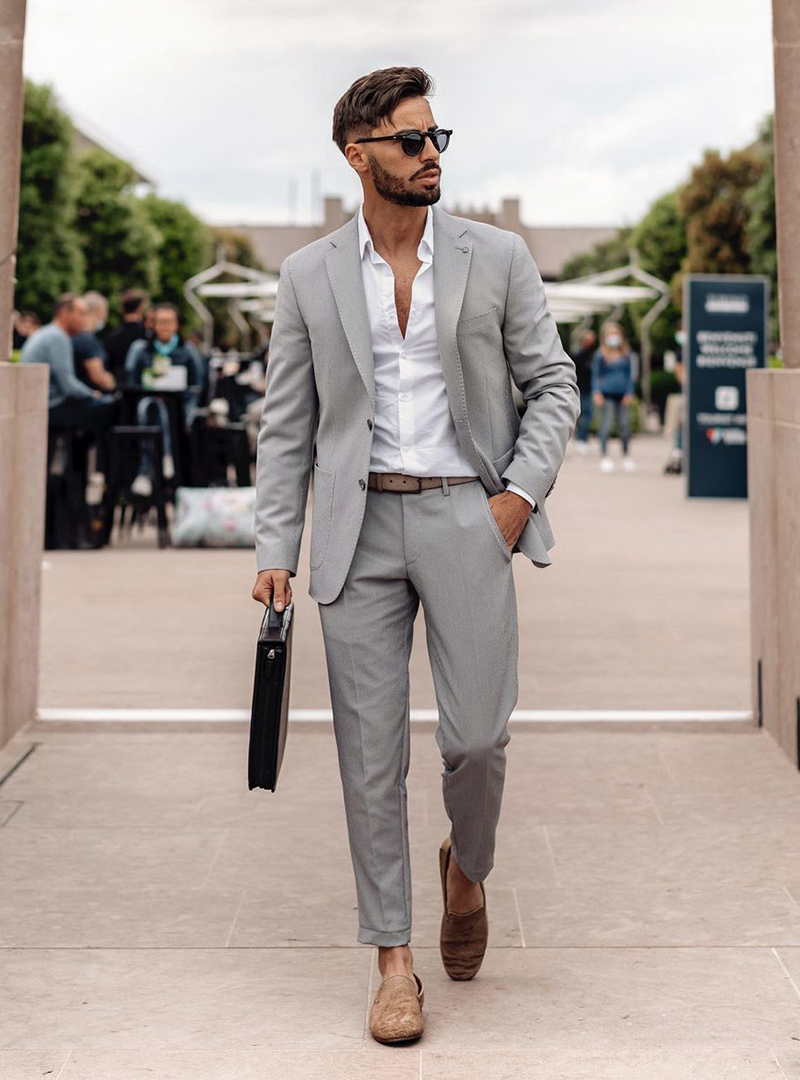 It's a fresh twist on everyday office wear, providing comfort and style. Light grey is a cooler color, perfect for summer, while brown loafers offer a relaxed yet refined vibe.
This outfit still respects the formal business dress code while letting you beat the summer heat in style. Just remember to wear socks that match or complement the color of your suit.
Job Interview
Walking into a job interview, you want to project trust and professionalism.
A brown tie naturally evokes feelings of practicality and trustworthiness. When paired with a grey suit and brown shoes, it creates a subtle contrast that is both appealing and professional.
Of course, pair the look with brown Oxford shoes. Oxfords are often the preferred choice for interviews due to their manifestation of professionalism and neatness.
Dress to impress, but remember you're there to sell your skills, not just your outfit.
Conference/Seminars
Conferences and seminars often demand a business-appropriate look yet comfortable for all-day wear.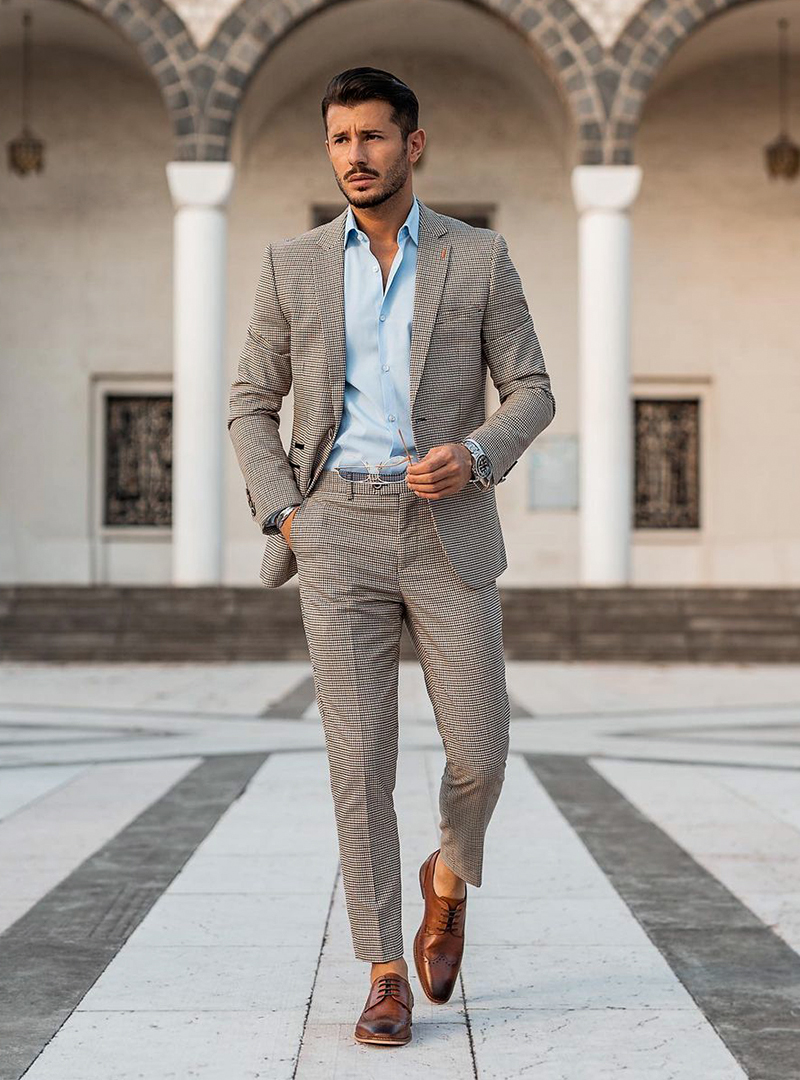 The grey check suit adds a touch of character to your look, while the light blue dress shirt adds a soft touch of color.
Brown brogues, an iconic footwear choice, provide a perfect blend of comfort and elegance.
This outfit can help you make a great impression without compromising on comfort during a long day of networking and learning.
Sophisticated Glamour
You must be up to the task when the occasion demands a little more glamour.
A sleek, minimalist grey suit and white shirt aesthetic provide a perfect canvas for adding more unique elements, like the stylish double monk strap shoes.
Add a layer of detail with a repp striped tie, and pull the look together with a complementary pocket square.
This outfit is ideal for a summer wedding as it lets your style stand out.
Date Night
You'll want an outfit that communicates effort and interest while reflecting your style for date nights.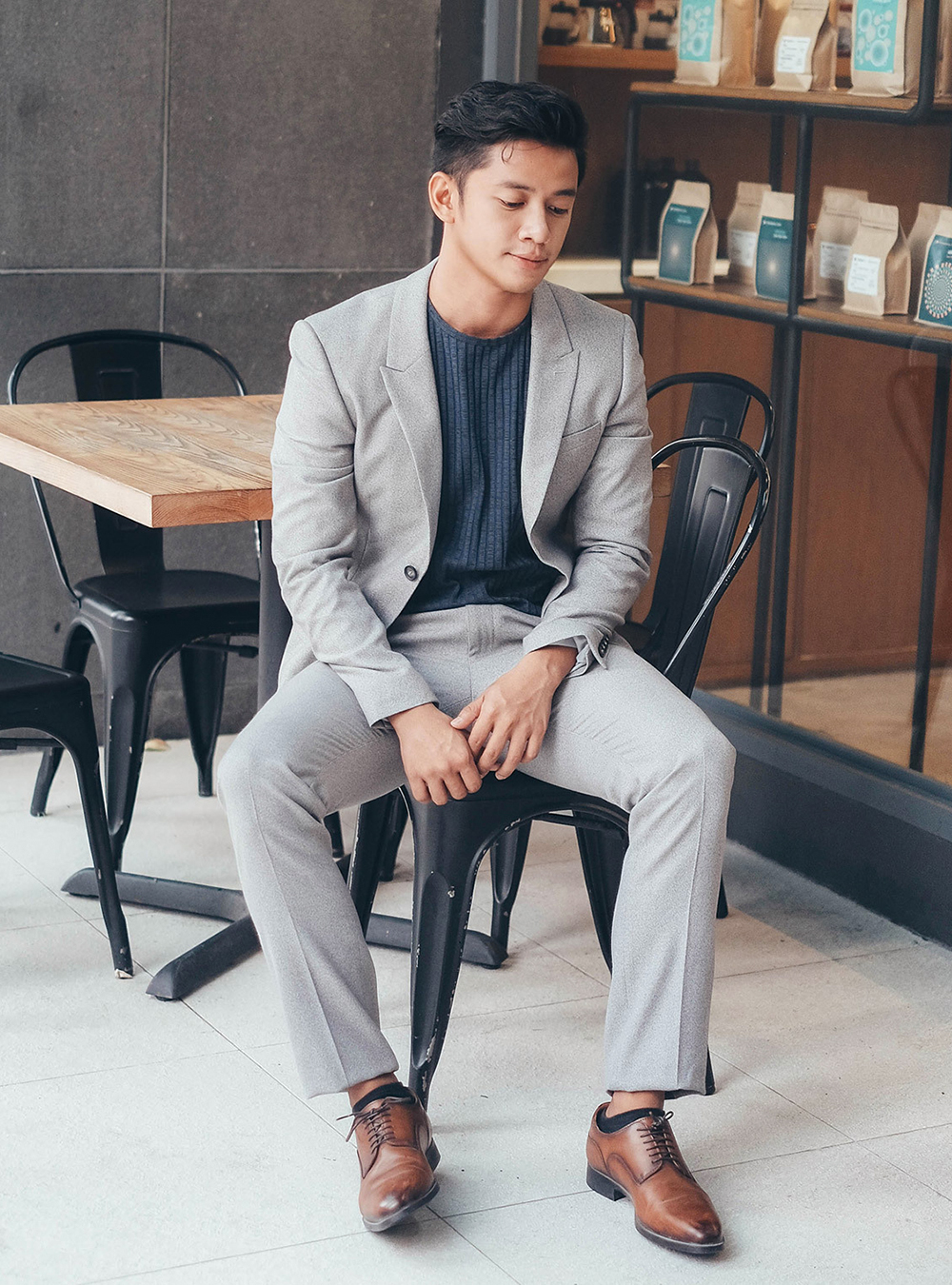 A grey suit, navy crew-neck sweater, and brown derby shoes make for a fantastic date night ensemble. A sweater under a suit is a fashion-forward move that provides a chic and slightly casual vibe.
This outfit shows your date that you've put thought into your look without appearing overly formal or stuffy. Perfect for a romantic evening out.
Cocktail Style
Dressing for a cocktail requires a balance between style, comfort, and individuality.
The black-on-grey provides a sleek, modern feel, and the turtleneck adds a layer of refinement to your cocktail attire.
The Chelsea boots, meanwhile, give the nod to classic menswear while keeping the outfit slightly edgy and winter-friendly.
This ensemble is a statement that you're not only there to appreciate fashion – you're part of it.
Polo Match Vibes
A polo match is a great occasion to sport a look that's smart yet has a touch of playfulness.
A light-grey suit paired with a navy polo T-shirt and brown loafer shoes is a fitting choice. The navy shirt brings a pop of color and adds a sense of gravity to the outfit.
The lightweight grey seersucker suit and brown suede loafers keep it smart and appropriate for the event. As a spectator at a polo match, you'll want to feel comfortable while still looking your best.
Wedding Guest
Attending a wedding demands attire that balances the joy of celebration and the sophistication of formality.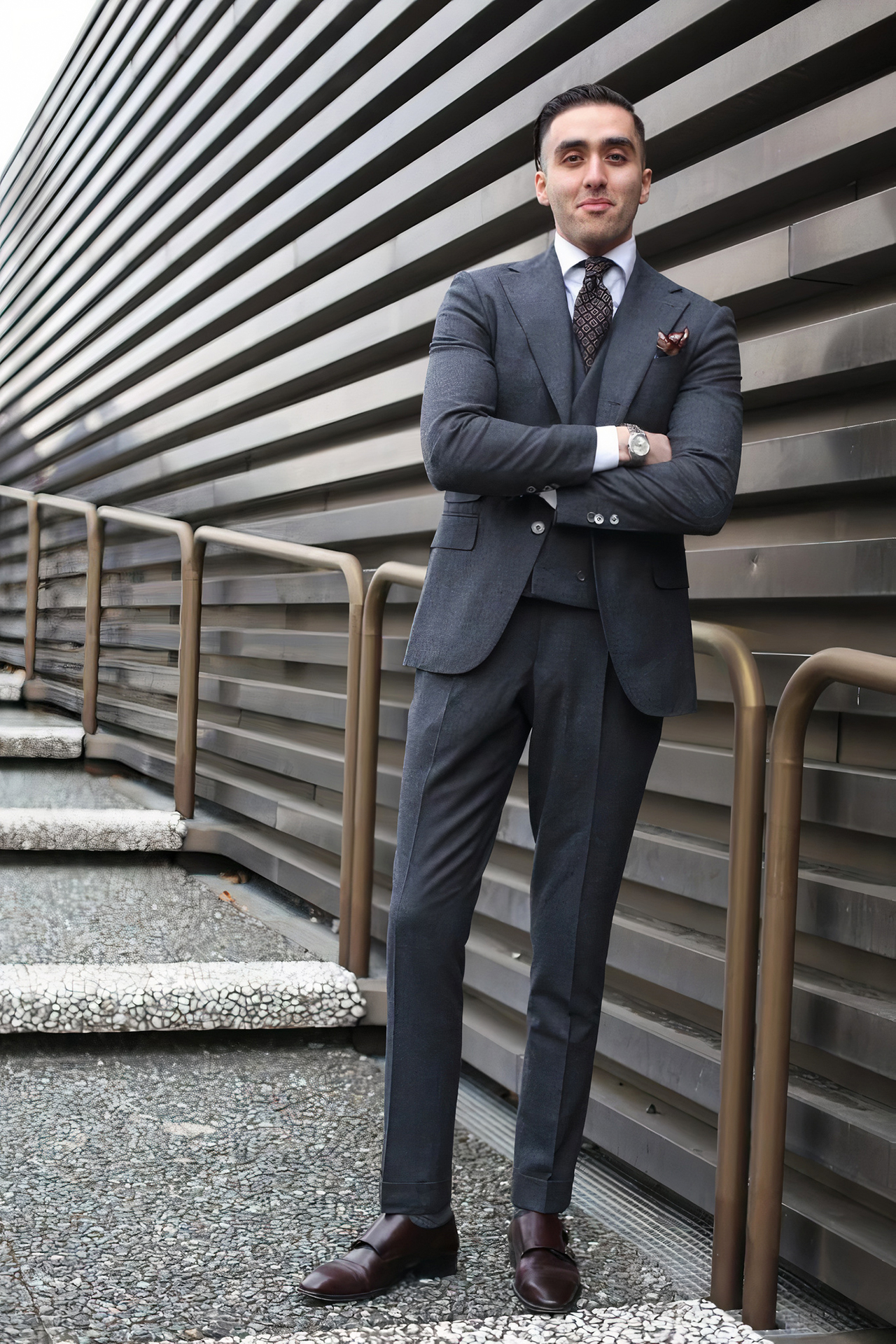 Your three-piece suit is the epitome of this ethos, exuding an air of elegance that the occasion calls for. Its grey hue pairs delightfully with a clean white shirt, radiating a neat and refined aura.
Brown monk straps or Oxford shoes serve as the perfect accompaniment while contributing to the timeless appeal of the outfit.
This ensemble certifies your stylish presence, which resonates with respect, polish, and an unwavering readiness to partake in the jubilations.
After-Work Espresso Elegance
When the work bell tolls its end, and you find yourself unwinding at your favorite coffee bar, it's crucial to remember that style never takes a break.
Draped in a luxurious grey overcoat, your sartorial elegance continues to shine post-office hours. Beneath the coat, the charcoal suit holds the fort, preserving your professional persona even as you relax.
Add the earthy charm of brown penny loafers – a perfect fusion of comfort and panache.
Nocturnal Natty
Night-outs call for an outfit that's both sleek and comfortable. A suit with a t-shirt is the fashion aficionado combo choice for bar hopping or clubbing.
The charcoal suit creates a slimming, stylish silhouette. At the same time, a neutral-colored T-shirt like grey creates a more relaxed and contemporary look.
Keep up with the relaxed vibe with brown suede loafers.
Urban Comfort
Running errands doesn't mean you have to compromise on style. Give this smart casual a go for your city adventures.
The grey suit adds a touch of class, while the T-shirt keeps the look casual and comfortable. Paired with sneakers, this outfit offers a trendy twist to your everyday errand-running look.
Comfort and style can indeed go hand in hand.
Things to Consider
Looking dapper in a grey suit and brown shoes isn't just about picking out these two items and throwing them on.
While it may seem straightforward, particular subtleties can either enhance or diminish your overall look.
The Grey Suit's Fit
No matter how expensive or stylish your suit is, it won't look good if it doesn't fit well. So, when investing in a grey suit, pay close attention to the fit.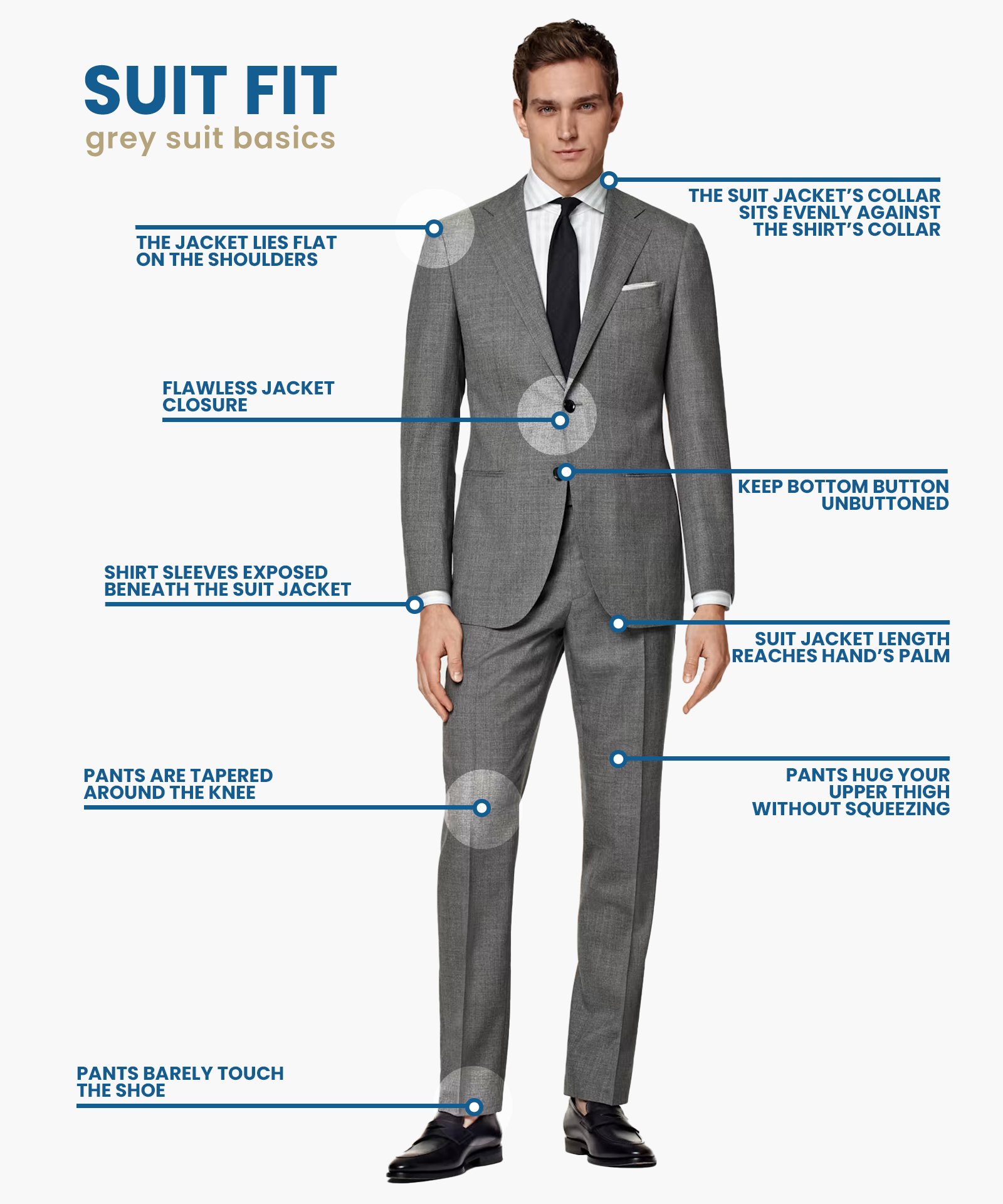 It should hug your body without feeling tight or restrictive. If possible, opt for tailored pieces that are designed to fit your body type and size perfectly.
If not, get off-the-rack and bring it to your local tailor to adjust it perfectly. An impeccably tailored suit can make a huge difference in your overall appearance.
Brown Shoe Style
The style of your brown shoes can dramatically impact the overall vibe of your outfit.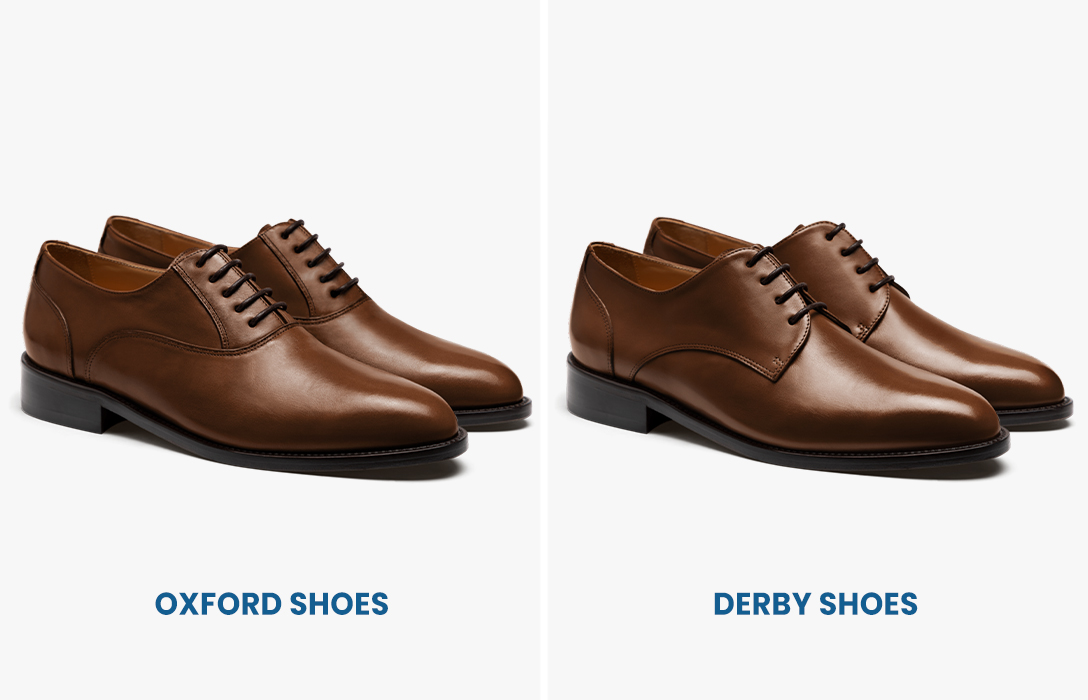 For more formal occasions, choose more formal shoes like Oxfords or Derbies.
Loafers, monk straps, or brogue shoes can be more appropriate for casual or business casual events. Remember, your shoes should complement your suit and not overshadow it.
Consider the event, the rest of your outfit, and your personal style when choosing your brown dress shoes.
Brown and Grey Shade Matching
Not all grey suits and brown shoes are created equal. The shade of the suit and shoes can make a significant difference in your overall look.
Darker brown shoes typically match well with darker grey suits. Lighter brown or tan shoes can pair well with a lighter grey or medium grey suit.
It's all about creating a balanced look where one element does not overpower the other. To learn more about matching grey and brown shades, read this post.
Spice It Up with Accessories
Adding the right accessories can elevate your grey suit and brown shoe ensemble from good to great. However, it's crucial to not overdo it.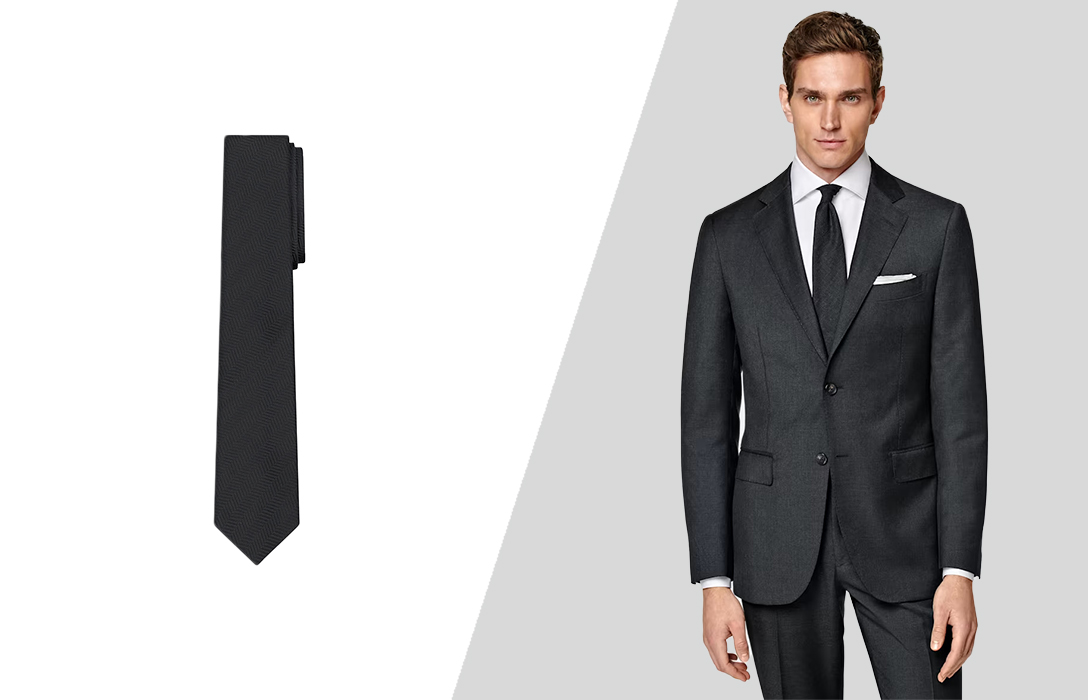 A few well-chosen accessories can add personality and flair to your outfit without making it look busy. Consider coordinating your tie or pocket square with your suit or shoes.
They can introduce color and pattern to your outfit, adding depth and interest.
Choosing the right socks is yet another small but lovely detail. They should complement your suit and shoes and not stand out in a jarring way.
You can match your dress socks to your suit or shoes or opt for a fun pattern or pop of color if you're feeling adventurous.
Watches, cufflinks, and sunglasses can be in the mix too. Opt for pieces that reflect your style and match your outfit and the occasion's overall vibe.
Want to see more? Explore these alternative outfits:
Author: Alexander Stoicoff
Hi, I'm Alex, and I've studied and specialized in styling in Rome. Through my writing, I want to help men dress well and learn the purpose and significance of suits and other formal attire. My final goal is to make men more confident in their wardrobe choice and life in general.