You've landed on the coveted grey suit and black shirt treasure trove, where fashion-forward possibilities reign supreme.
Are we getting ready for a glitzy night out, a semi-formal wedding, or just looking to up your sartorial game?
Whatever the occasion, these outfits will make heads turn and maybe even snag a few envious glances. Dive in, won't you?
The Elba Enchantment
Idris Elba, the suave British actor who's not just content with stealing scenes but now trademarks beauty ranges too, knows a thing or two about a strong contrast.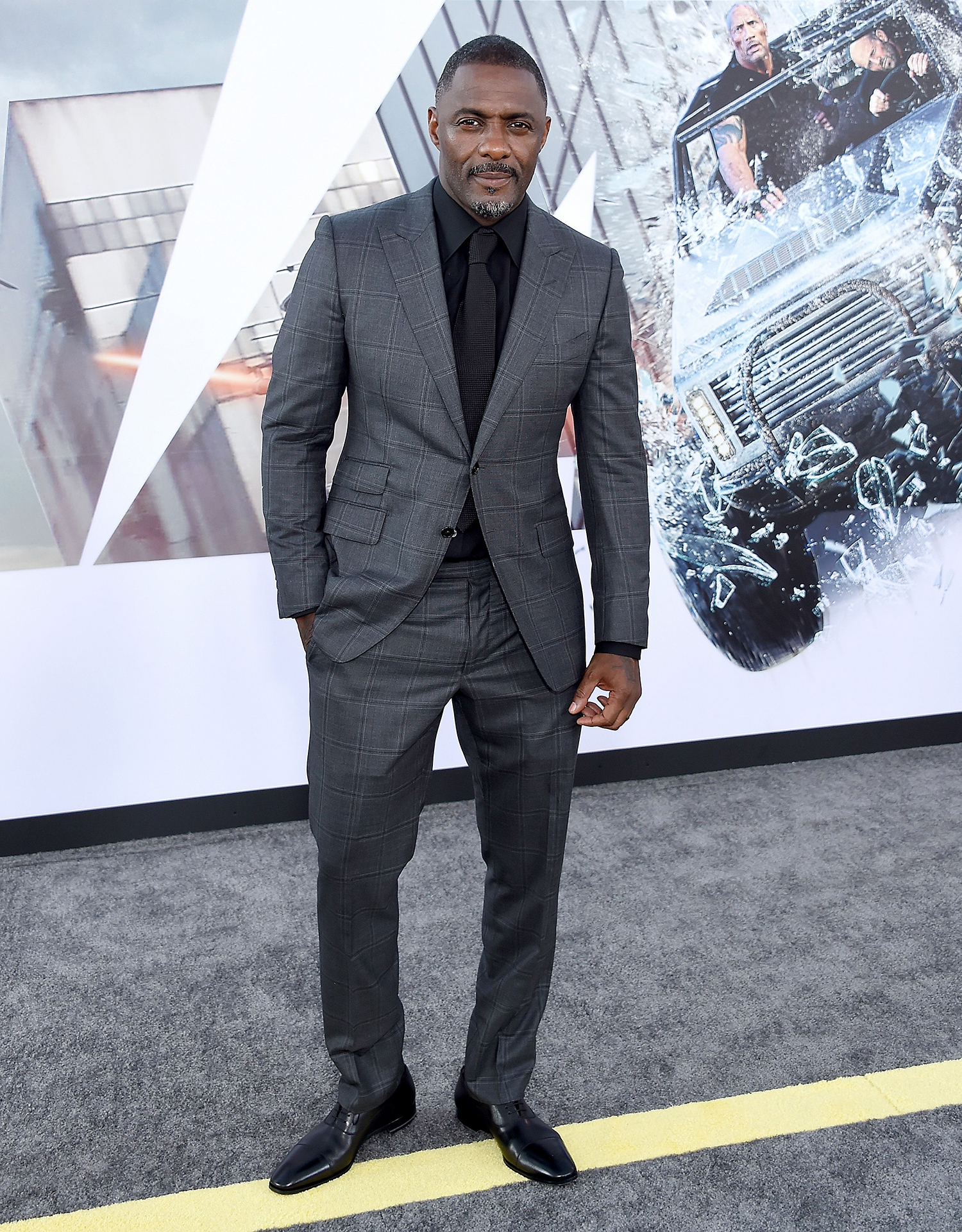 Channeling his inner 007, a grey suit combined with a black dress shirt, black tie, and black dress shoes strikes the right balance between authoritative and alluring.
The black tie against the charcoal grey of the suit amplifies the masculinity of the look. Paired with polished Oxford shoes, it screams confidence.
Ready to walk the red carpet or any formal occasion? This outfit has got your back.
Checkmate
A checkered pattern on a light grey suit? That's bold in itself.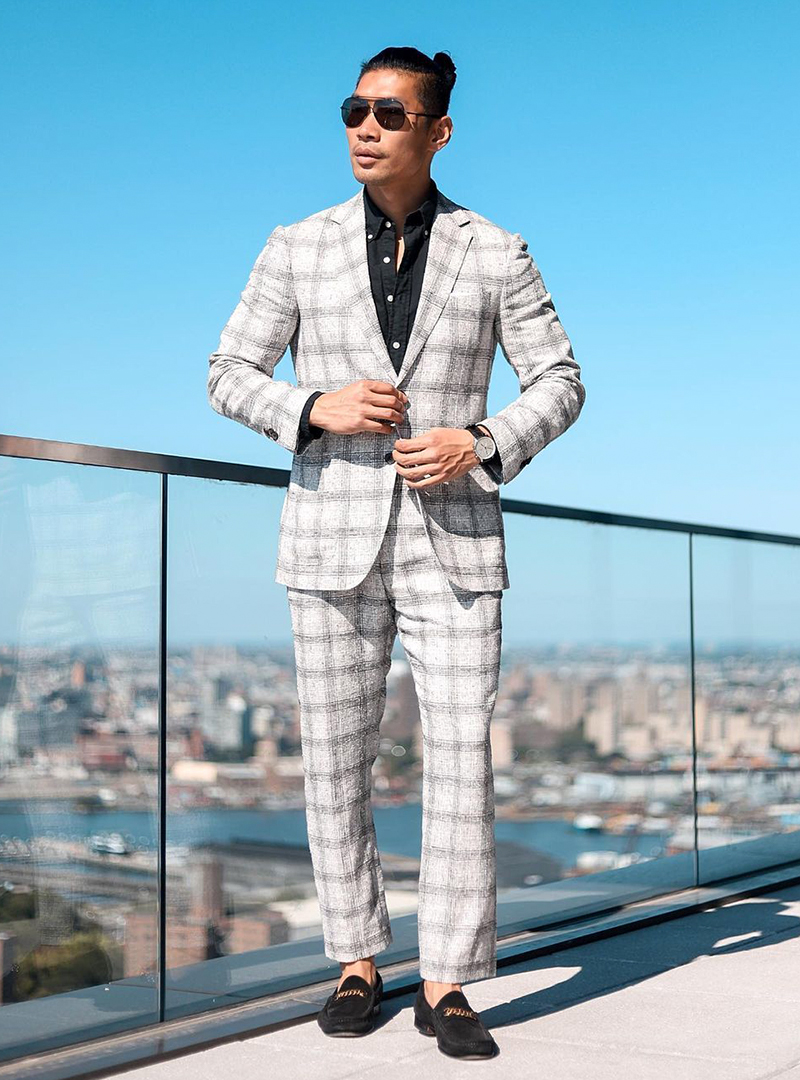 When paired with the commanding presence of a black dress shirt, it's like a chess game where every move is designed to impress.
Add the black loafers to this ensemble, and you've mastered the balance of sophistication and spontaneity.
Despite the dark shades involved, the light grey in the plaid suit ensures depth and texture.
Triple Threat
Three-piece suits have this undeniable charm, don't they? It's like every layer adds another dimension to your fashion narrative.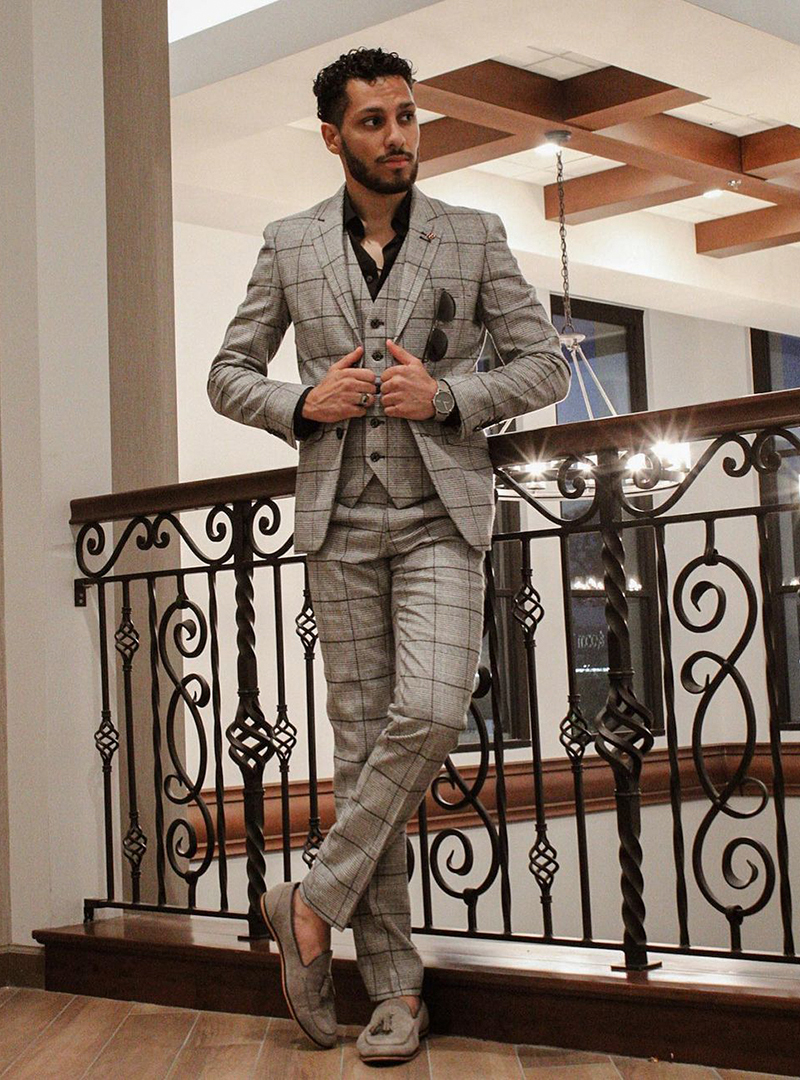 Drawing inspiration from timeless Hollywood movies, this grey plaid pays homage to the icons of yesteryears, confidently making its mark in today's fashion-forward world.
The grey waistcoat nested beneath the suit jacket creates a cohesive look, and this strong contrast with the black dress shirt sets the outfit apart. But wait, there's more!
The tassel loafers make you feel like you've stepped right out of a classic film scene. They're a nod to tradition while still keeping things fresh and contemporary.
Classy Derby Days
Now, here's a suit combination that'll make you feel like the main character of a sophisticated drama set in the heart of New York City.
The undeniable allure of the grey plaid three-piece suit paired with a black dress shirt follows in the footsteps of timeless refinement.
The finishing touch? Those sleek black Derby shoes add a touch of old-school charm to the ensemble.
This outfit can be adjusted for various dress codes, from boardroom meetings to high-end cocktail parties.
Light and Breezy
You get "effortlessly stylish" when you wear a light grey suit with a black dress shirt and black Oxford shoes.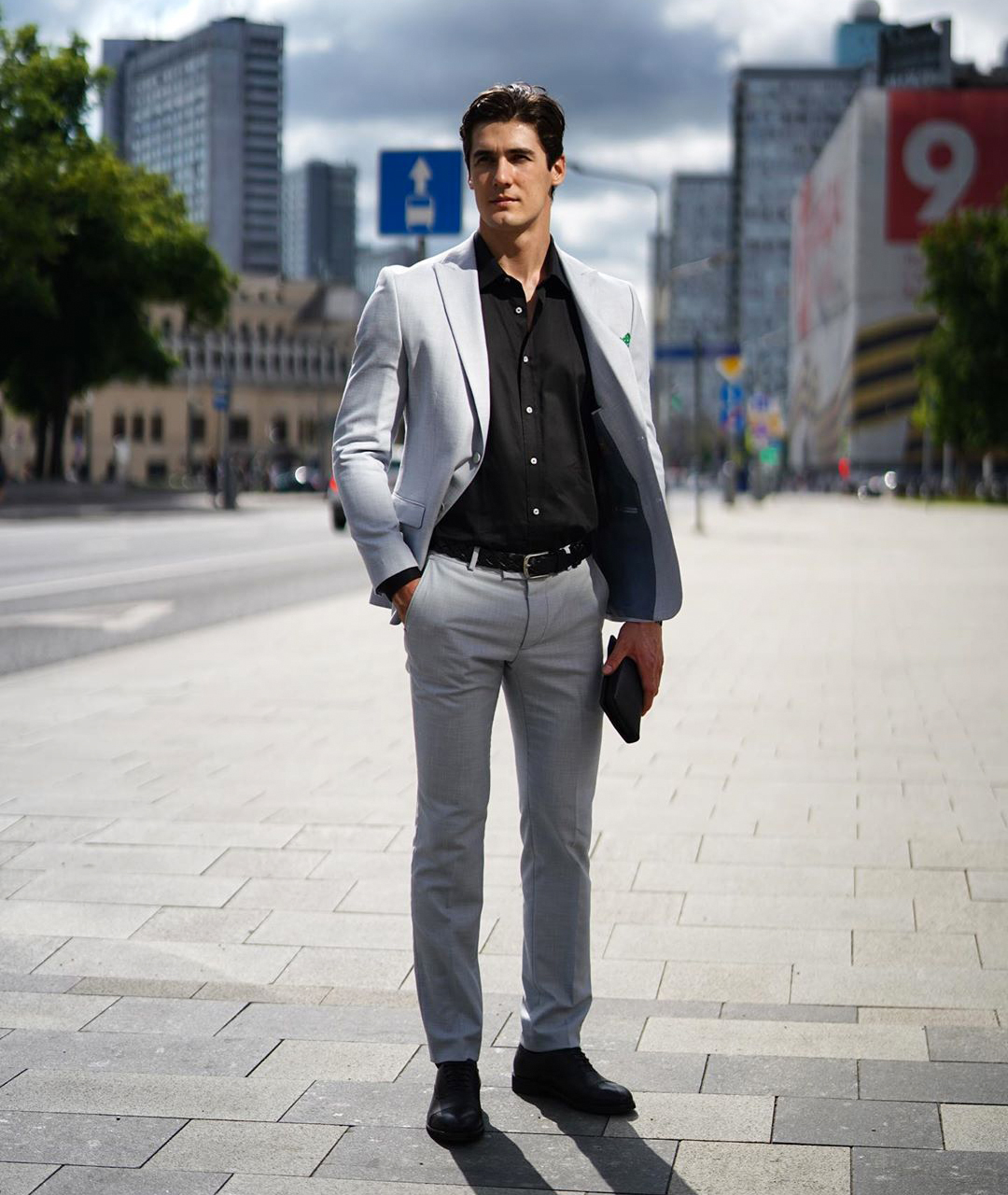 A lighter shade of grey brings out the vividness of the black shirt, giving you a crisp yet relaxed appearance.
Suitable for business casual events or even smart casual outings, this ensemble balances sophistication with just the right touch of casualness.
Oh, and those black dress shoes? The cherry on top of this dapper cake.
Chelsea Charm
Slide into sophistication with the Chelsea boot's streamlined elegance.
The outfit immediately takes on a modern vibe when combined with a light grey suit and black dress shirt.
It's smart, it's sassy, and it definitely stands out from the crowd.
Chelsea boots, with their ankle-hugging design and absence of laces, give this ensemble an edge. It's a match made in fashion heaven.
Loafer Luxury
For those who enjoy a dash of pizzazz in their wardrobe, this grey suit combination with the black dress shirt is for you.
The loafers, a wink to the more playful side of fashion, give the outfit its unique character. The grey suit is a neutral canvas, allowing the black dress shirt to shine.
And those black tassel loafers? They're more than just shoes; they're a conversation starter.
Whether you're gracing a business casual event or out for a smart casual evening, this ensemble screams, "I know my fashion, and I'm here to have fun".
Polo Warrior
Ditching the traditional dress shirt, this outfit pairs a light grey suit with a more laid-back black polo shirt.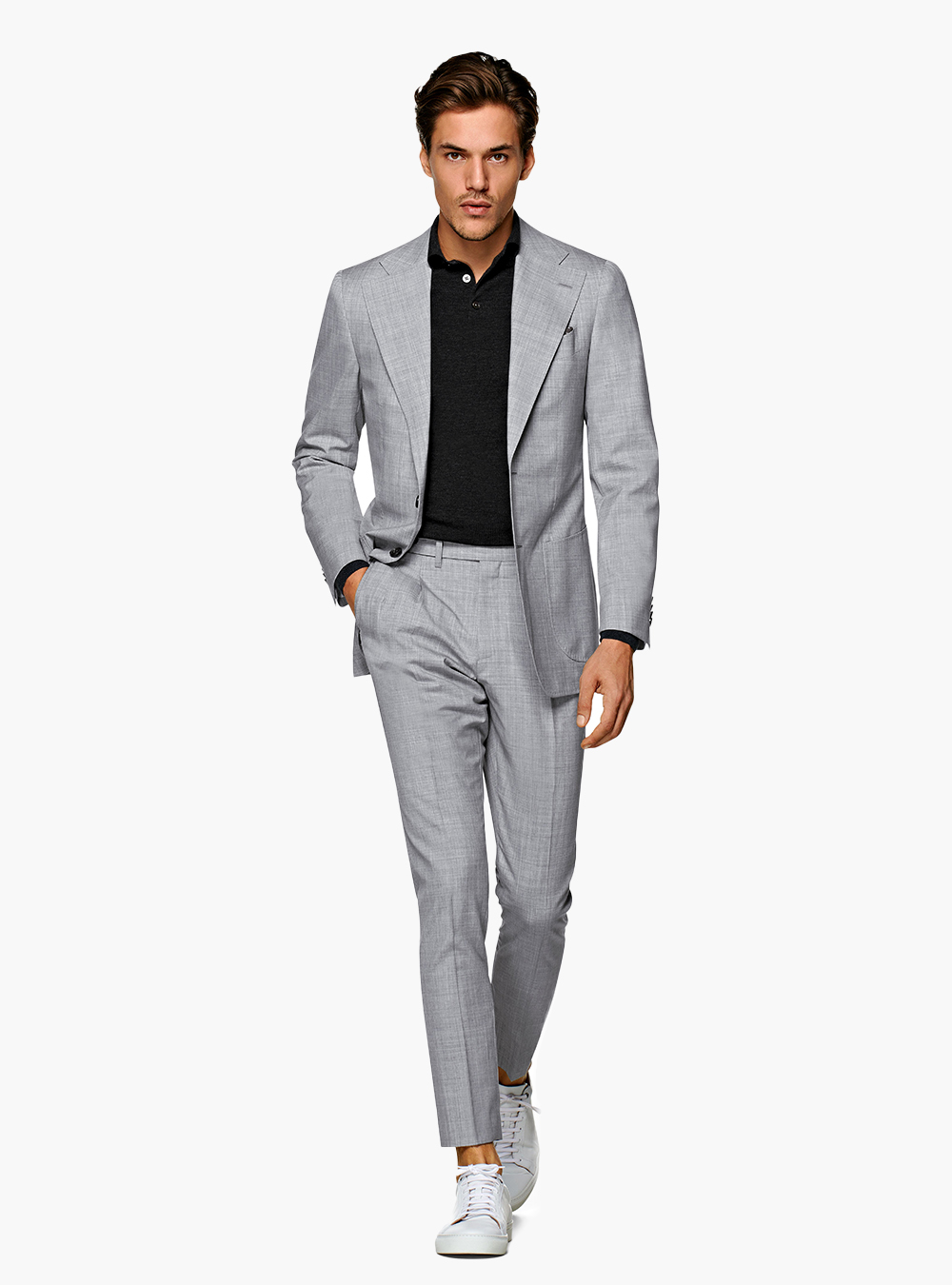 And those white sneakers? They take the ensemble from "office hours" to "happy hours" in no time.
The lighter shade of the suit complements the informality of the polo shirt and sneakers, making you look effortlessly chic.
If fashion had a "casual Friday," this would be it!
Dapper Downtown Drift
Daring to rewrite the dress code? Try a classic grey suit with a black short-sleeve shirt.
To anchor the look, in come the black Oxford shoes.
With their sleek and polished design, these shoes add the required gravitas to the fun playfulness of the short-sleeved shirt.
Perfect for summer events or those hot office days when rolling up long sleeves just doesn't cut it.
This ensemble says you know the rules but aren't afraid to bend them a tad.
Boulevard Boldness
Ready for a twist in the plot? How about introducing a black and white long-sleeve shirt into the mix?
This pairing gives the timeless grey suit a refreshing vibe, adding layers of visual interest.
It plays around the shades of black, white, and grey, creating an outfit that's symphonic in its cohesion.
White sneakers? Oh, they're the unexpected encore.
They bring a relaxed, street-style edge to the ensemble. It's fashion-forward, functional, and utterly fabulous.
Grey Suit & Black Shirt Style Tips
Dive into the depths of the grey suit and black shirt ensemble with these essential style tidbits. You didn't think we'd leave you hanging, did you?
When to Wear
Ah, the age-old question: daytime dazzle or nighttime nuance? While the grey suit and black shirt combo can flex its muscles anytime, it truly shines after sunset.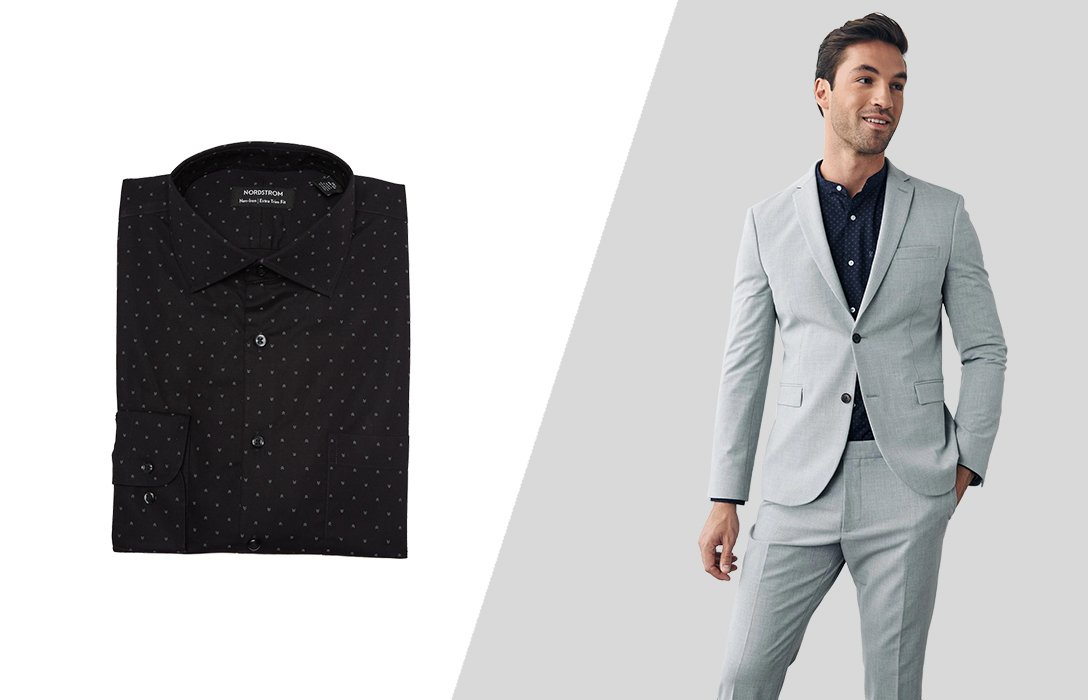 The darker tones of the outfit stand out beautifully under the city lights, making you the focal point in a sea of evening outfits. Think semi-formal dress codes, rooftop parties, or a sophisticated night out on the town.
Night owl or not, this outfit is your ticket to nocturnal elegance.
The Shade of the Grey Suit
To grayscale or not to grayscale, that is the question. Choosing the shade of grey for your suit is vital.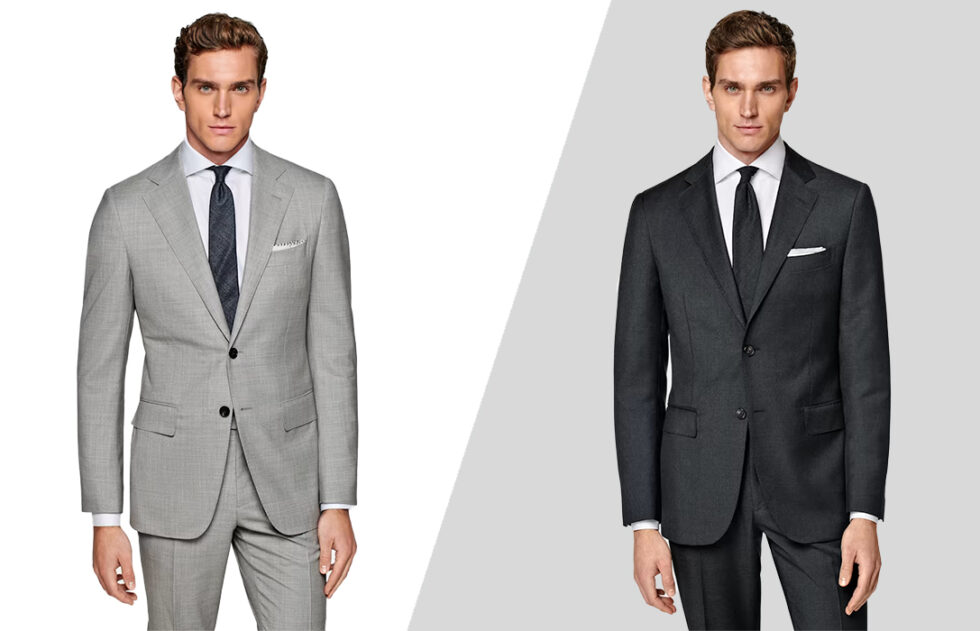 A charcoal suit can be too dark and might clash with the black shirt, making the ensemble appear visually flat or, even worse, downright dull.
A mid-grey to light grey is your safest bet, creating a lovely gradient that highlights the shirt and gives depth to your outfit.
Don't forget that contrast is key. Let each piece have its moment in the spotlight.
Tie Selection
Wearing a tie with this combo? Think neutral.
While bold colors can be fun, with this ensemble, subtlety is the name of the game. If you decide to make a statement, opt for deeper, muted shades.
To play it safe, a black tie could be your best ally, adding just the right pop without overshadowing the main players.
Footwear
Whether you're team black or team brown, both shoe colors flawlessly complement the grey suit. But hey, who said you can't venture out?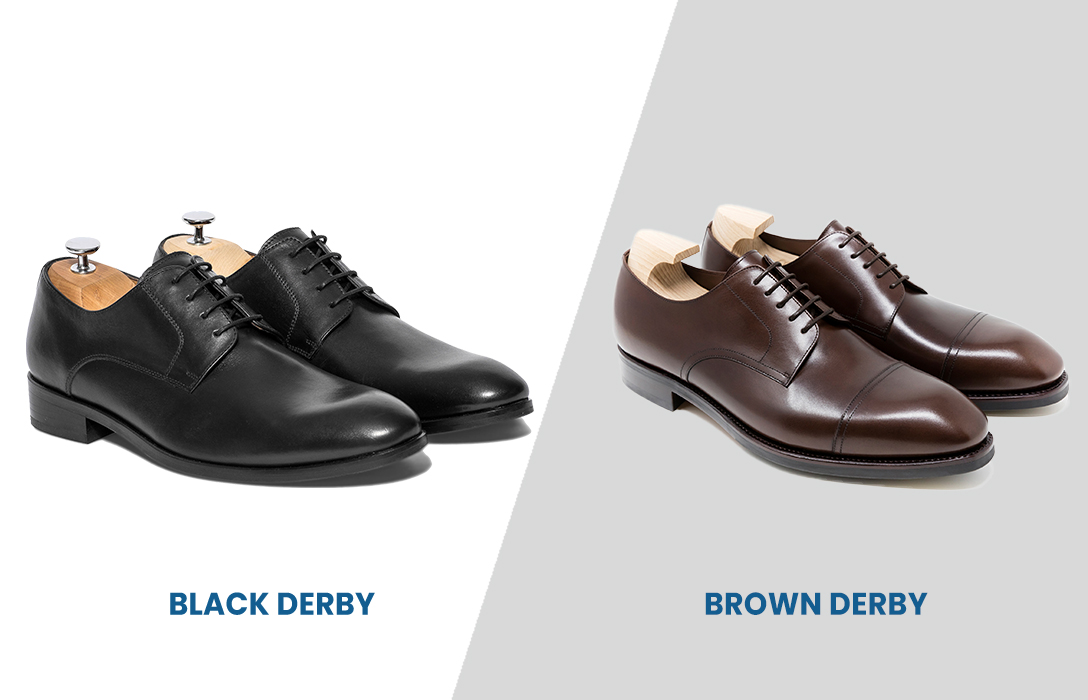 Feel free to experiment with other shoe shades for a more casual twist. Just keep the occasion in mind.
Black dress shoes for formal events, brown dress shoes for semi-formal, and if you're feeling adventurous, those colored loafers for a more relaxed vibe.
Read more: grey suit & brown shoes outfits for men.
Whatever you choose, ensure it's a step in the style-forward direction.
Author: Alexander Stoicoff
Hi, I'm Alex, and I've studied and specialized in styling in Rome. Through my writing, I want to help men dress well and learn the purpose and significance of suits and other formal attire. My final goal is to make men more confident in their wardrobe choice and life in general.