For men seeking to make an indelible impression, a blue suit paired with brown shoes is a true fashion trump card.
Uniting these two sartorial staples can result in ensembles that exude sophistication, elegance, and confidence in equal measure.
With the right hues and styles at your disposal, this color combination can be a game-changer in any gentleman's wardrobe.
Azure Ascendance
Stepping out in a light blue suit, crisp white dress shirt, and rich brown loafers – a look I fondly call "Azure Ascendance."
The light blue suit, reminiscent of a clear summer sky, offers a refreshing contrast to the robust, earthy tones of the brown loafers.
This ensemble strikes a harmonious balance between formality and casual chic, making it versatile enough for office hours and after-work cocktails.
Complement the suit with a silk pocket square or a minimalist silver watch, and you'll be the epitome of subtle, effortless elegance.
Breezy Blue Brilliance
The blue suit serves as the cornerstone of this ensemble, emanating timeless elegance and versatility. Its understated sophistication allows for a myriad of styling options.
It's paired with a light blue dress shirt that subtly mirrors the color of a robin's egg, adding an undercurrent of vibrancy to the overall look.
The brown loafers are like the solid earth beneath, contrasting warm and grounded with the cool blues.
Whether it's a daytime wedding, a business function, or a summer luncheon, this look conveys a sense of ease and elegance that's difficult to rival.
Midnight Diplomat
The deep, rich navy suit speaks volumes about your style acumen, striking a balance between the serious business environment and a touch of personality.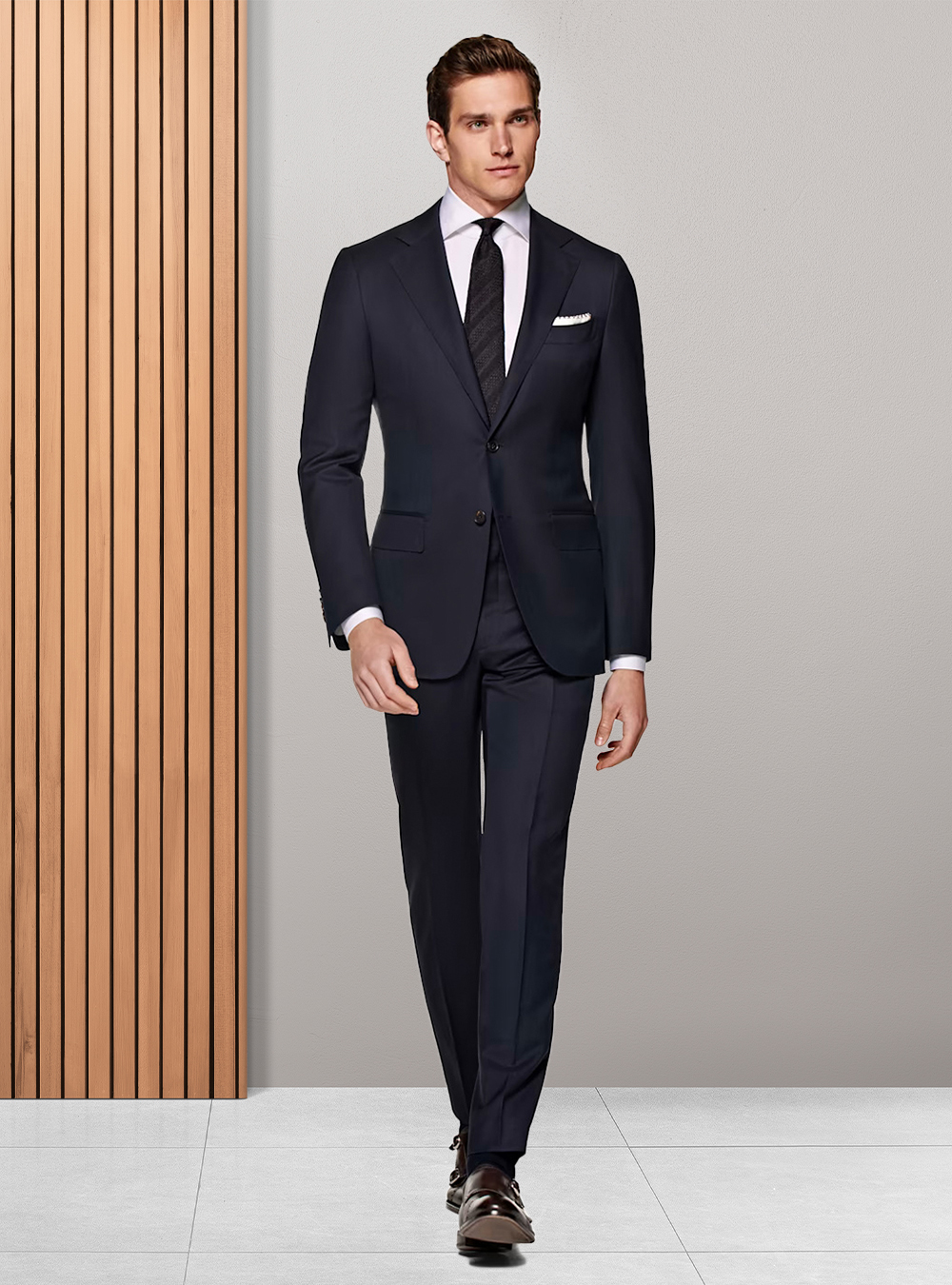 The addition of brown monk strap shoes lightens the look, providing a stark yet harmonious contrast to the navy.
Pair it with a dark grey striped tie that bridges the gap between the suit's darkness and the shoes' lightness.
This ensemble is perfect for those high-stake business meetings or formal events where you need to impress.
Urban Yacht Club
This outfit boasts a double-breasted navy suit with opulent golden buttons, a sleek white turtleneck, and brown loafers that exude refined charm.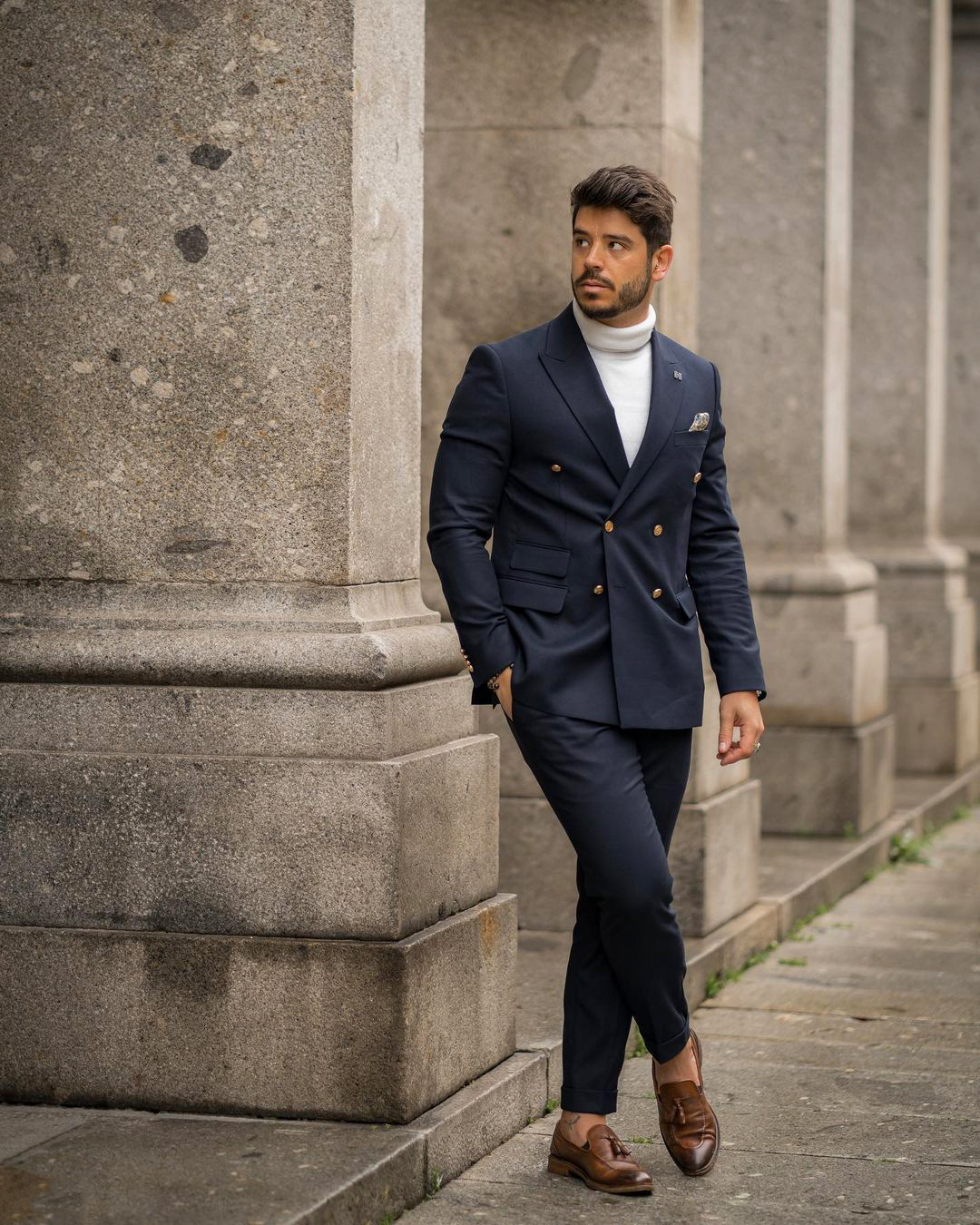 It's ideal for a semi-formal brunch or an afternoon yacht party.
Consider adding a paisley pocket square or a gold wristwatch to enhance the luxurious feel of the outfit.
Pink Panache
Unleash a wave of sartorial vivacity with a blue suit, pink dress shirt, and brown Oxford shoes combination.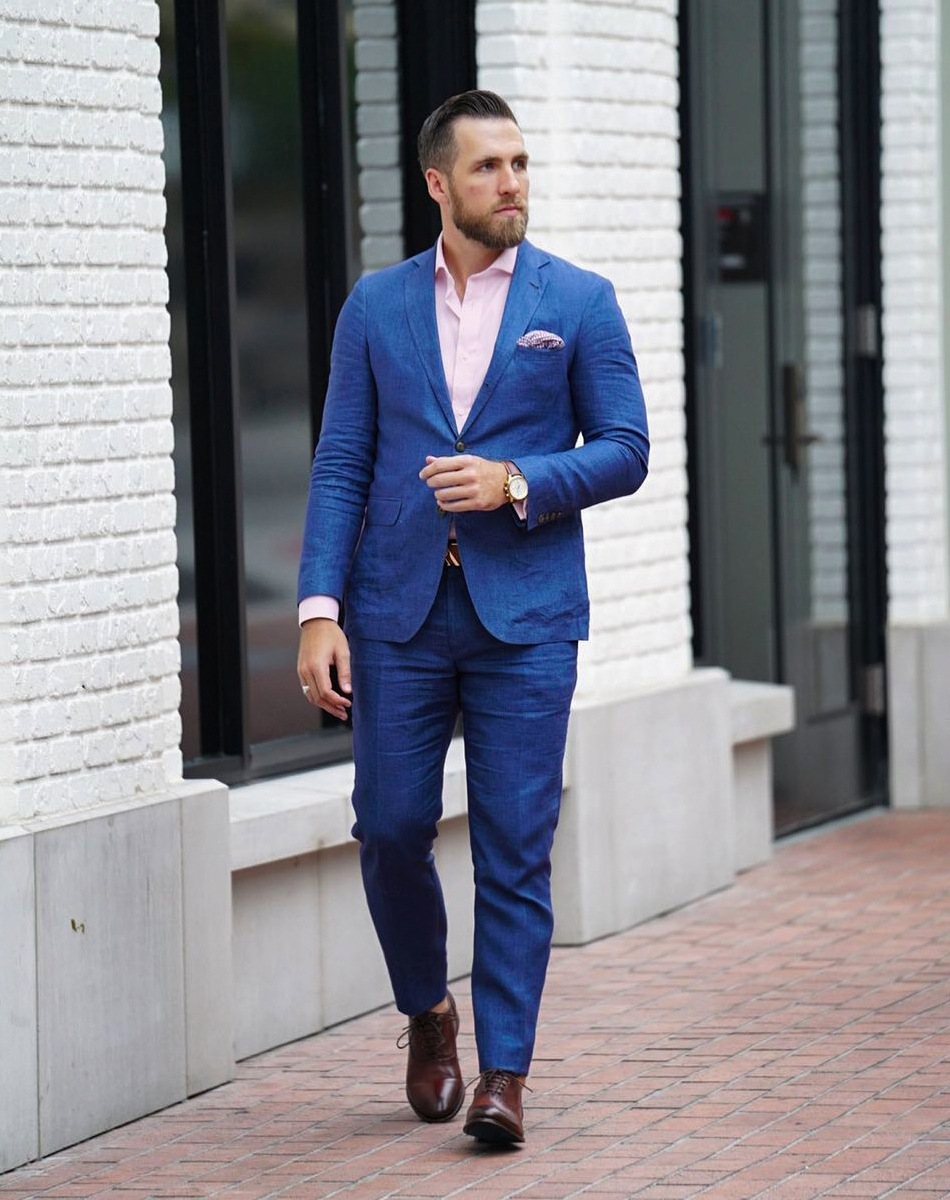 The underlying blue suit is a familiar anchor in men's fashion. It forms an eye-catching partnership with a lively pink dress shirt, breaking the monotony and turning heads.
The Oxford shoes elegantly bring the ensemble full circle, anchoring the vibrant colors above with a sense of cohesion and balance.
Whether you're attending a sunlit wedding or a lush garden soiree, this attire is bound to make you the cynosure of all eyes.
Preppy Prologue
Channel the ivy league style with a combination of a blue suit, a white dress shirt, and brown brogues.
This look exudes a sense of sophisticated academia, perfect for intellectual gatherings or high-profile business meetings.
The crisp white dress shirt provides a clean canvas, allowing the blue suit to take the spotlight. The brown brogues lend an earthy contrast to the cool blue, adding a dash of authenticity and approachability to the look.
Consider a navy tie with a subtle pattern to add more depth to this intellectual ensemble.
Chilled Charisma
Winter days call for a look that can provide both warmth and style. The navy suit sets the tone, serving as a base layer of timeless elegance.
Layering it with a navy overcoat takes the outfit to a new level of sophistication, perfect for the colder months.
The grenadine tie lends a touch of texture, while the brown Oxford shoes cement the ensemble with their understated elegance.
Whether you're heading to an important business meeting or a high-end dinner, your impeccable style is bound to make a lasting impression.
Derby Daydream
This stunning combination is what old-world charm looks like in a modern setting.
The navy suit lends a dignified air of sophistication, further emphasized by the turtleneck's clean and minimalist aesthetics.
The derby shoes tie the whole look together, ensuring a perfect balance of comfort and elegance.
This outfit is ideal for those times when you want to keep things classy yet understated – whether at a networking event or an upscale city brunch.
High-Profile Glam
Step into any important event with an ensemble that captures attention and oozes class.
The mid-blue three-piece suit is a testament to timeless fashion, presenting a confident look that's hard to ignore.
Meanwhile, the white dress shirt adds a touch of crisp freshness that wonderfully complements the rich hues of the suit.
The outfit is completed with brown suede monks, providing an elegant contrast.
Whether it's an exclusive garden gala or an important business meeting, you are lookin' fire. Enjoy the spotlight; you've earned it.
Coastal Cavaliers
Perfect for smart-casual occasions, this outfit exhibits a laid-back sophistication.
The polo t-shirt adds a relaxed touch to the navy suit, a pairing that seeps a casual, effortless vibe. It's an excellent way to tone down the formality of the suit without compromising on style.
The brown boots complement the outfit, maintaining the overall casual feel.
Perfect for a casual Friday at the office. You'll get some compliments from your colleagues, be prepared.
Urban Utopia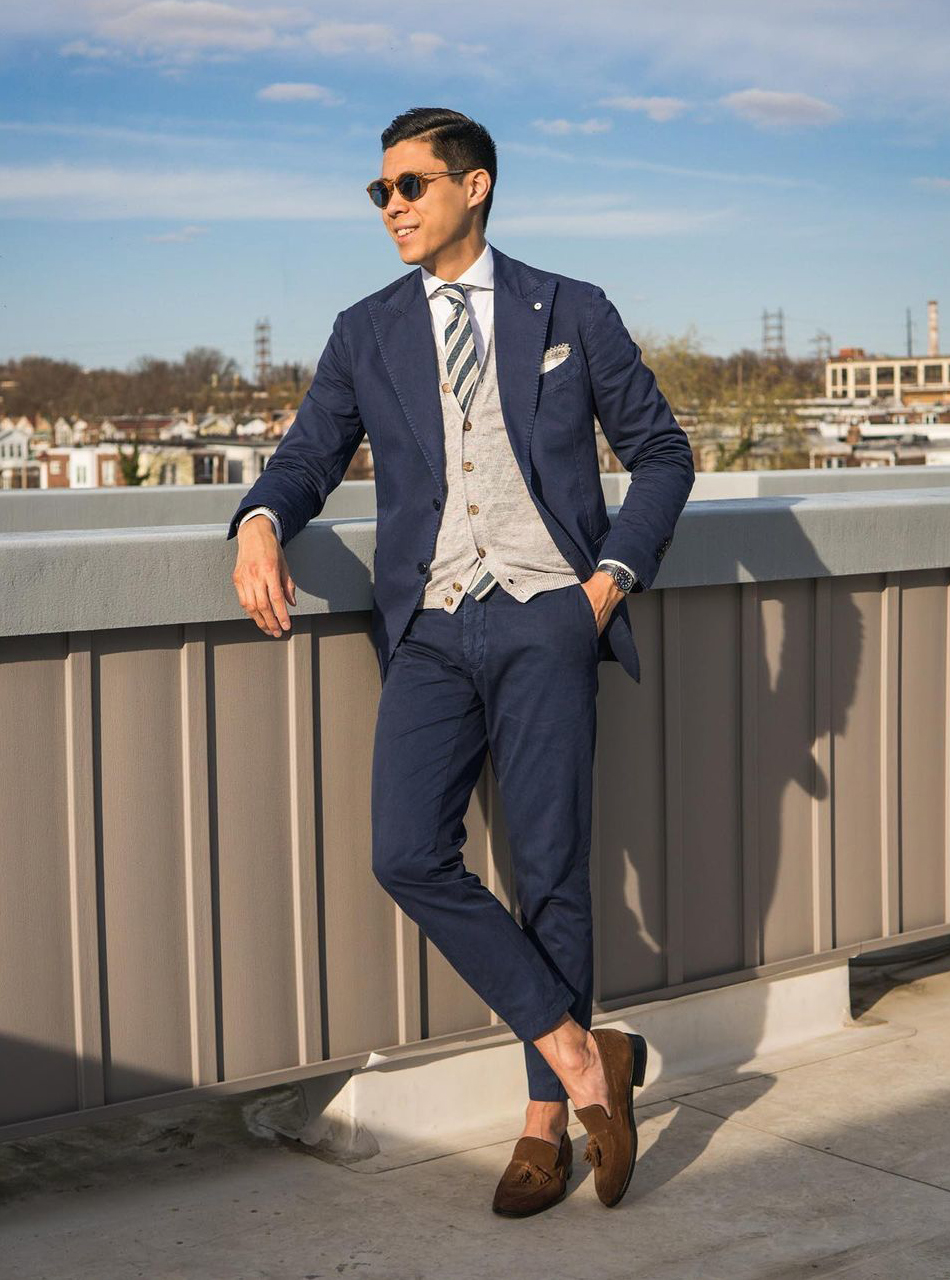 Embrace the contemporary style with a tan cardigan sweater that injects a dose of warmth and texture, standing out against the sleek navy suit.
Meanwhile, the brown loafers echo the sweater's earthy tones, creating a harmonious palette. This outfit blurs the line between formal and casual, ideal for urban settings and cooler seasons.
Things to Consider When Matching a Blue Suit With Brown Shoes
As simple as it may sound, pairing a blue suit with brown shoes involves specific nuances that can make or break your look.
Your choice can significantly impact your overall appearance, shifting it from simply presentable to exceptionally striking.
Shade Matters
When combining a blue suit with brown shoes, one of the crucial aspects to consider is the shade of the suit and the shoes.
The rule of thumb here is that the darker the suit is, the darker the shoes should be.
If you don a navy suit, go for dark brown or chocolate brown shoes.
On the other hand, if your suit is in lighter shades like powder or sky blue, then tan or light brown shoes can provide a harmonious contrast.
Read more: How to wear any blue pants with brown shoes.
Suit Material and Texture
The fabric of your suit also plays a role in deciding what type of shoes will match the best.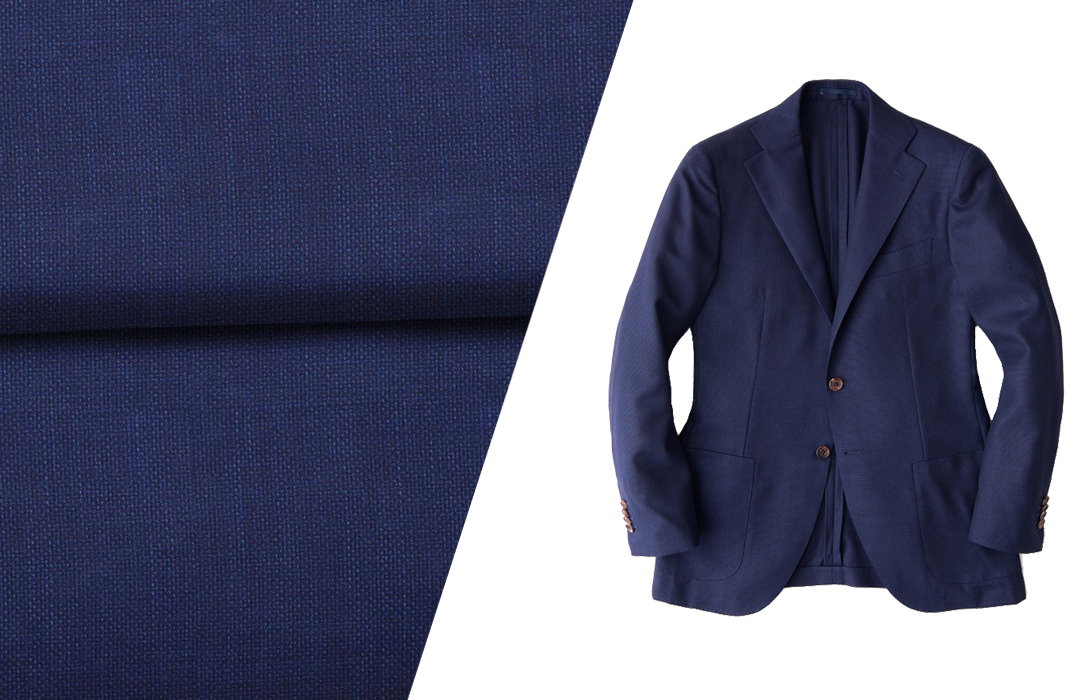 For instance, a sleek, glossy wool suit would pair well with polished brown dress shoes.
If your blue suit has a texture or pattern like a tweed or herringbone, consider brown brogues or other shoes with detailing to complement the richness of the fabric.
Occasion
The event you're attending should always guide your outfit choices. A navy blue suit paired with formal brown shoes is a classic, foolproof combination for formal business meetings.
For less formal or business casual settings, experimenting with lighter hues of blue suits and brown shoes can add a touch of personality to your outfit.
Coordinate with Other Accessories
Remember that your shoes are just one part of your ensemble. When coordinating a blue suit with brown shoes, your other accessories (like ties, belts, and watch straps) should be harmonious.
A brown leather belt and a watch with a brown strap can pull the look together.
Socks
Matching dress socks and suits can sometimes get tricky. One option is to match your socks to your suit, creating a cohesive look.
However, opting for socks in contrasting or complementary colors can add an unexpected dash of character for those who like to express their style.
A well-chosen pair of patterned socks can add a delightful personality and flair to your look.
Whether you opt for subtle polka dots, bold stripes, or playful motifs, it's an opportunity to showcase your individuality and attention to detail.
The Season
While a blue suit and brown shoes are a timeless combination, the shades you choose can reflect the season.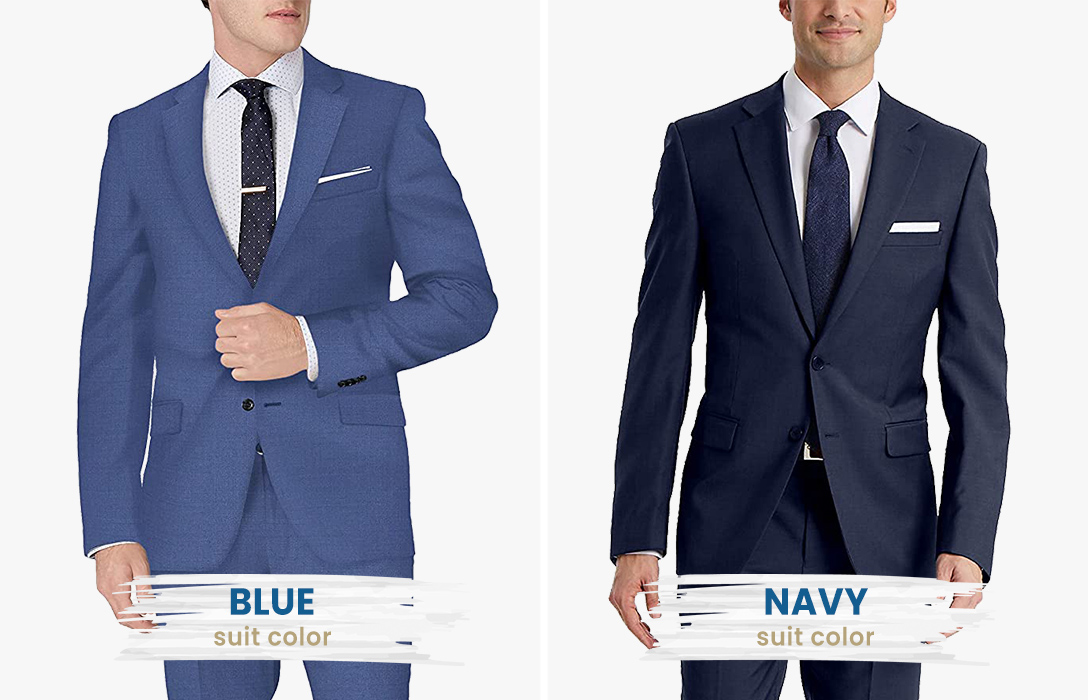 In warmer months, lighter shades of blue suits and brown shoes can mirror the brightness of the season. Darker shades like navy and dark brown are more fitting in cooler months.
Brogue Detailing
Brogue detailing on brown shoes can elevate a simple blue suit outfit. The intricate perforations add visual interest and can make your shoes a talking point.
Whether it's a classic full brogue or a subtler semi-brogue, it all comes down to your preferences.
Brogues can be particularly useful in semi-formal settings where they can add a dash of personality to your look without compromising its overall formality.
Author: Alexander Stoicoff
Hi, I'm Alex, and I've studied and specialized in styling in Rome. Through my writing, I want to help men dress well and learn the purpose and significance of suits and other formal attire. My final goal is to make men more confident in their wardrobe choice and life in general.