A winter wedding can be amazingly beautiful but may have you second-guessing your suit.
The weather will probably be cold, so you need a suit to keep you warm throughout the event.
And does your regular suit fill the needs of a winter wedding outfit? Thankfully, dressing for a winter wedding doesn't have to be rocket science.
Things to Consider
Many factors are in play whenever you decide what to wear to an event, and a wedding is no different.
Dressing for a winter wedding is high stakes because it's such an important event.
Don't let the weather constrain your effort to look good; work with the cold atmosphere and dust off your best winter suit!
Wedding Dress Code
Whether the wedding is traditional or informal, the couple's wishes for the day matter, and you need to dress accordingly.
It's bad manners not to. Fortunately, following somebody else's dress rules doesn't need to be a death sentence to your style. You can still assert your own style while toeing the line.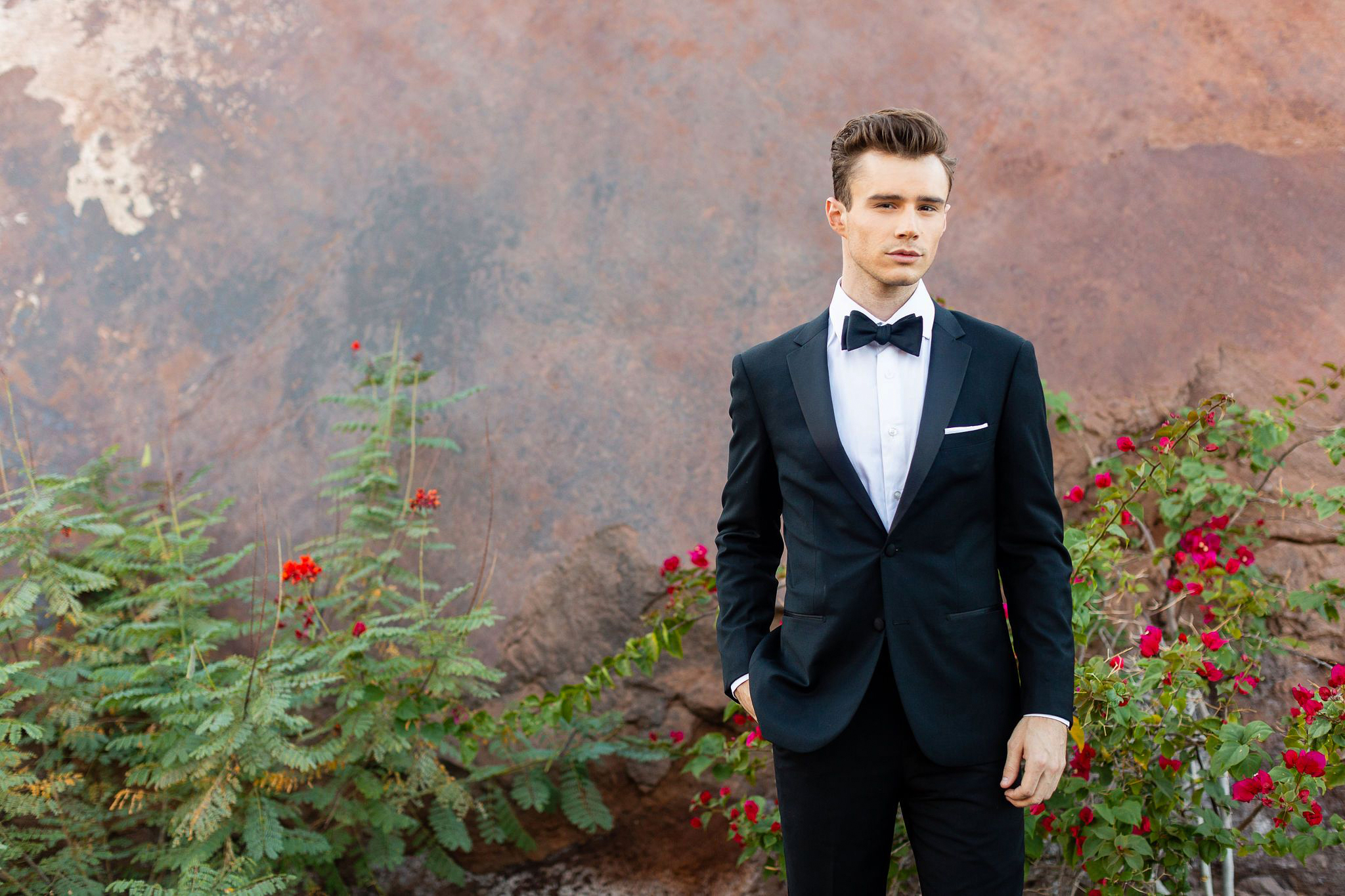 Many wedding invitations will provide you with a dress code so that you can match the feel of the event. You'll be able to know if it's incredibly formal (meaning white tie), standard formal black-tie, or informal.
That doesn't mean you're free to wear jeans; you'll still need a well-tailored suit but will have more room to play.
Wear Winter Suit Colors
Winter clothing is typically dark to match the atmosphere outside. You rarely see people wearing bright summer colors in the depths of winter.
That's not to say that your winter wedding outfit needs to match the cold, grey winter sky; your colors can be a bit more eye-catching than that.
Neutrals like black or navy make ideal choices, but don't shy away from charcoal either; it's so dapper looking.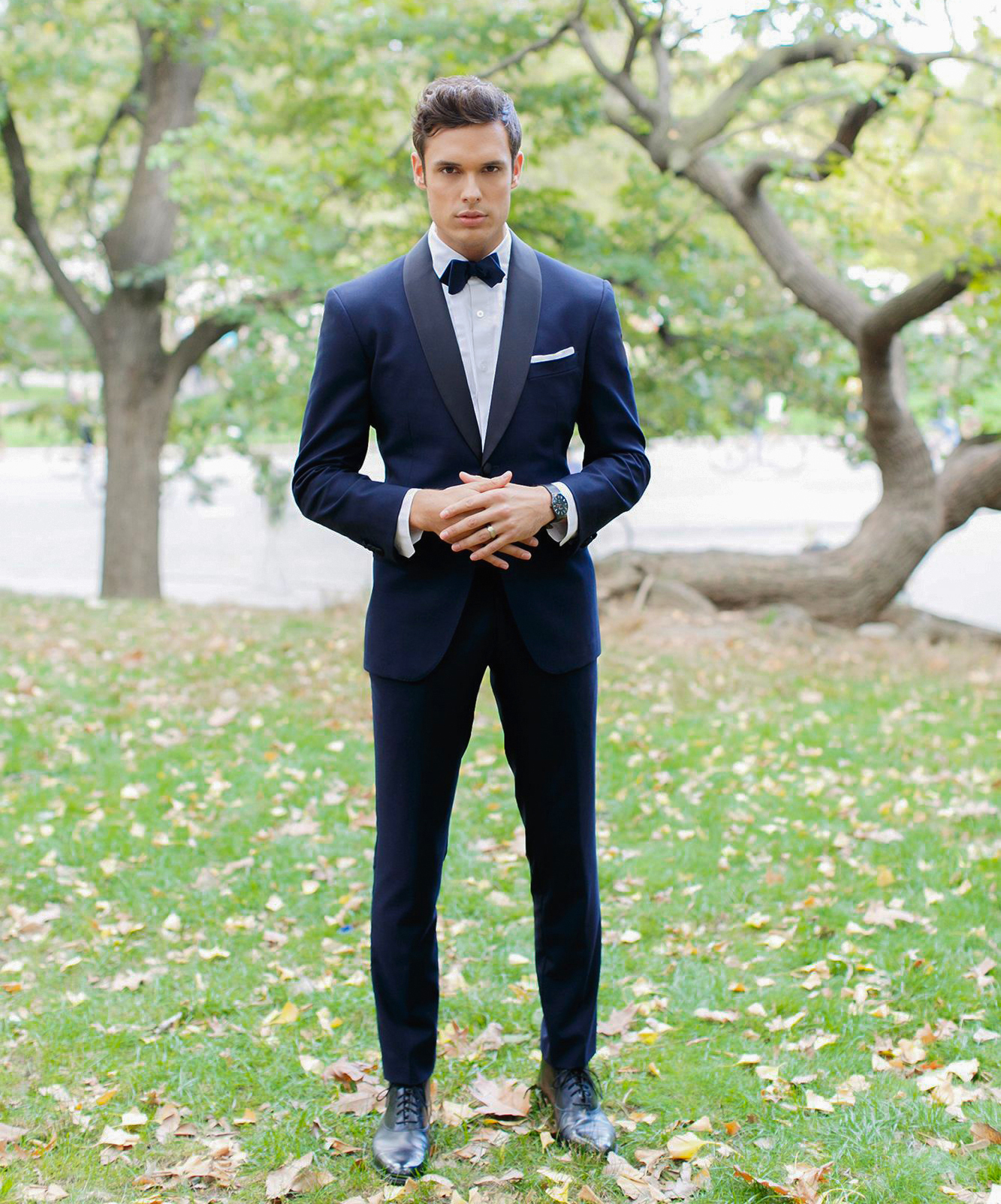 Still, you can't play with some festive and seasonally appropriate jewel tones in your outfit.
Dark and rich shades like deep green, burgundy, blue, and plum are very lush and are sure to stand out.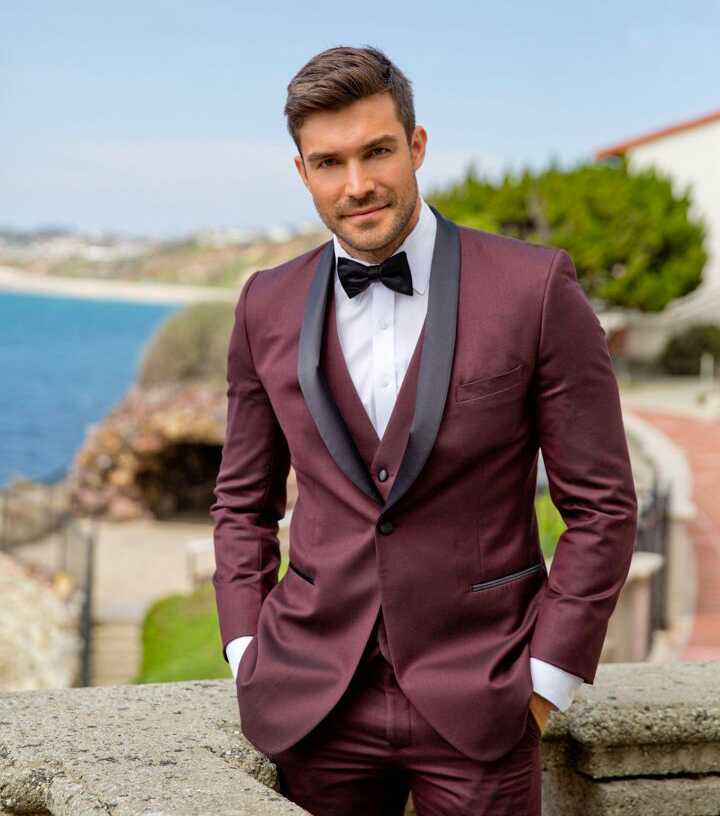 For more informal wedding attire, patterns are acceptable, too. Thin pinstripes look awfully spiffy.
Suit's Fabric
Stick with warm and natural suit fabrics for the coldest months of the year.
A heavy wool or tweed suit would be an excellent choice for an informal wedding. They're warm, not too formal, and still represent a respect for style.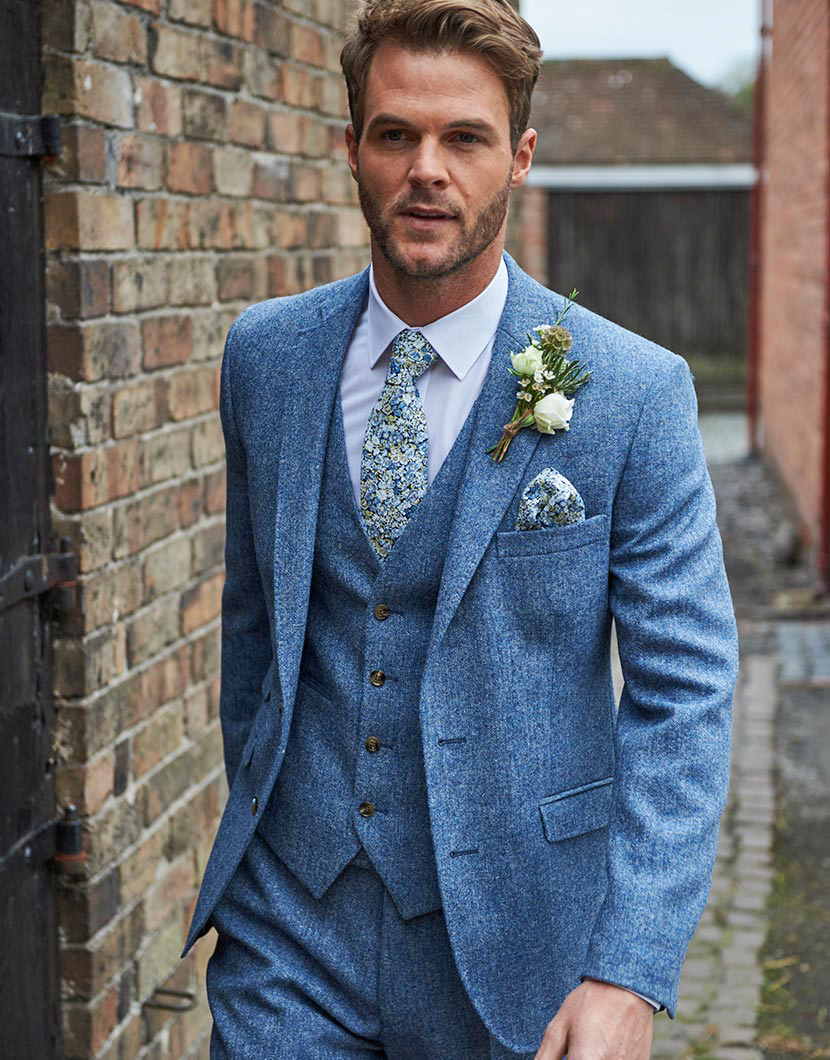 For more formal winter weddings, flannel suits are perfect. They are soft and elegant, not to mention they're insulating, so you'll be sure to stay warm.
If you're looking for a change of pace, try playing with texture.
For example, a velvet suit jacket can be outrageously fun and smooth looking if you're headed to a formal evening wedding.
But corduroy makes a very warm and exciting suit choice if you're dressing for an informal winter wedding.
Cashmere or mohair are gorgeous suit materials for the ultimate in luxury, but they are also very expensive. But if you can afford to splurge, it is well worth it.
Formal Daytime Winter Wedding
In many places, it's rare to hold a formal daytime wedding, but it can happen. (OK, it isn't unheard of in the UK; they hold the market on amazing formal daytime events.)
These types of winter weddings require morning dress and are overflowing with much protocol. You cannot get away with breaking the rules!
This wedding style is exquisite, and you'll rarely have the opportunity to wear a morning dress for a winter wedding suit.
So rather than letting this highly stylized way of dress intimidate you, enjoy the fun! When else can you dress like the Monopoly man?
Morning Coat for the Groom
The centerpiece of your outfit is your morning coat, which is much like a tailcoat. A dinner jacket is also acceptable.
It needs to be dark; charcoal or black is standard, but navy is becoming a more acceptable choice.
Your morning/dinner jacket should be single-breasted with one button enclosure. A perfect fit must be tapered at the waist and have a narrow chest. Peak lapels are the most impressive.
Pair formal trousers with your morning coat; grey with a black satin stripe down the side is most common.
Look for pants with a high waist that pair well with suspenders and have a half-break or quarter-break at the ankle.
You will also need a waistcoat. The best choice is a slim double-breasted covering in a light, neutral color.
It must be long enough to cover your trouser's waistband. It can have shawl or peak lapels.
Finish off your winter wedding outfit with a white dress shirt with French cuffs and a solid-colored silk necktie.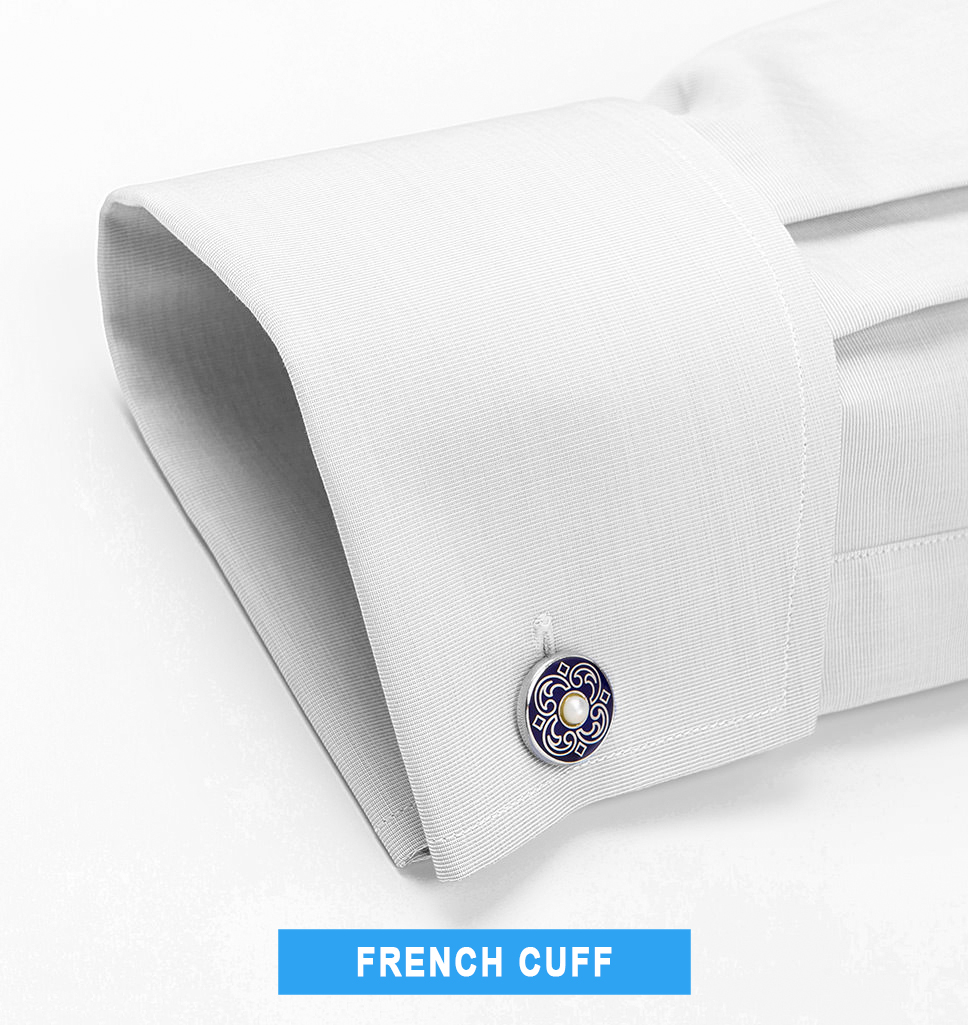 Of course, you'll need cuff links to add the final touch to your dress shirt.
You'll want to include a white pocket square, but be sure it doesn't clash with your boutonniere, which should match your bride's bouquet.
And finally, you'll need the right shoes. Black leather Oxford lace-ups or slip-on Venetian loafers are your top choices. Try not to wear patent leather.
Suit for Guests
This isn't your show, so you have more freedom to play with color and texture. But remember that this is still a strict dress code.
For example, a guest wedding outfit for a formal daytime wedding can still include a morning coat or dinner jacket.
Your dinner jacket should fit the same way as the groom's, with tapering at the waist and a fairly narrow chest and tails that end around the back of your knees.
Again, it needs to be a formal color, but you can incorporate a herringbone pattern for greater depth to your appearance.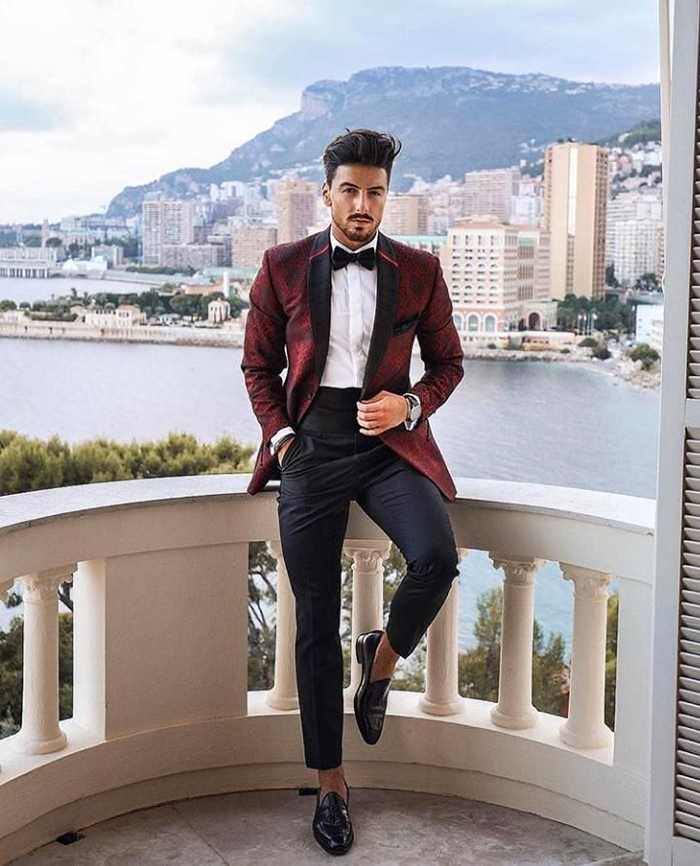 But it's perfectly fine to swap your morning coat or dinner jacket with a formal suit, especially if you're not a family member.
A peak lapel is standard, but you can get away with notch lapels as a guest. Stick to formal colors, like navy, blue, charcoal, or perhaps brown.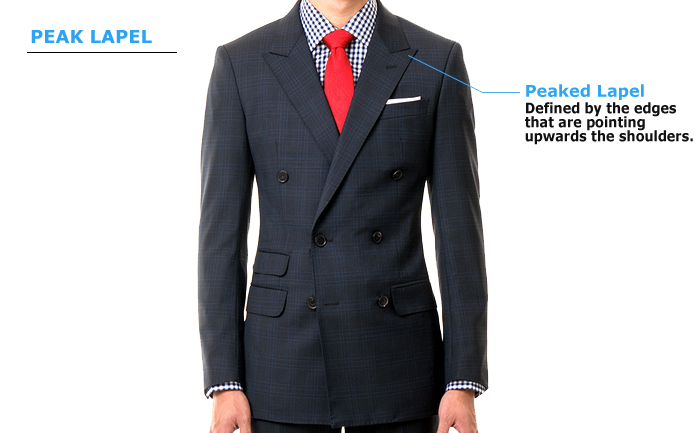 You are always best off with a white dress shirt since that's the most formal style. But you are free to incorporate a light shade of blue or pink as long as the French cuffs and collar are white.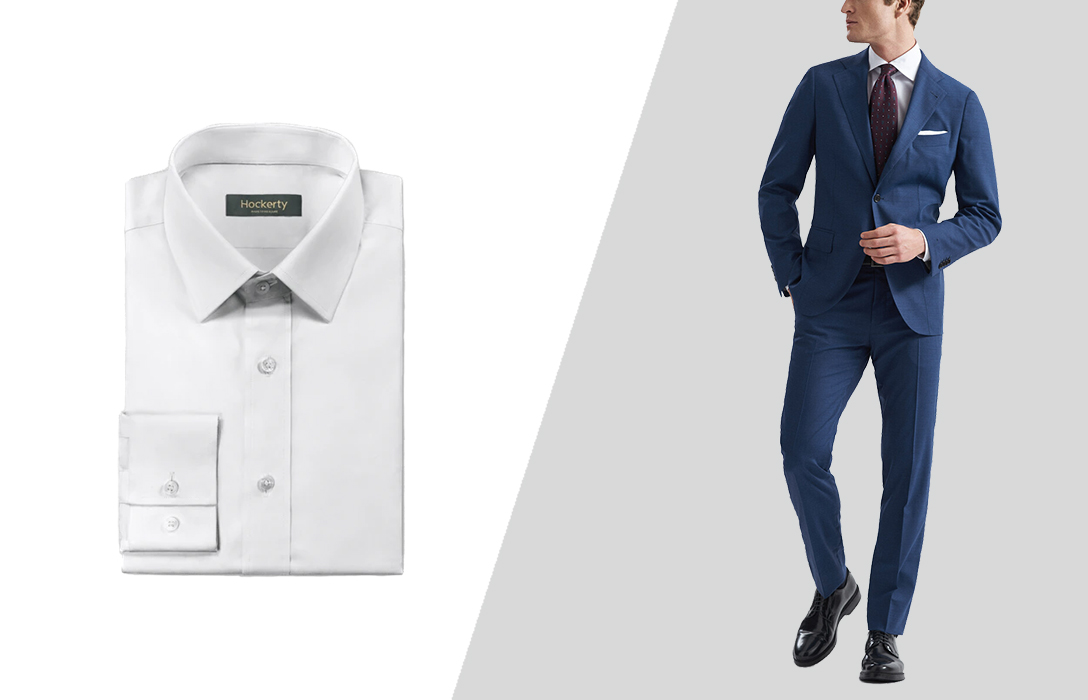 You can also wear subtle stripes, but that also reduces the formality of your shirt.
You also have more wiggle room with your waistcoat. A pastel shade, ideally light blue, is a wonderful choice to lighten your look. Though double-breasted is traditional, it's OK to wear a single-breasted one.
This is your chance to don a top hat if you've ever dreamed of it!
Don't forget cuff links and a pocket square, but a formal outfit requires you to leave your watch at home. Wear the same style of shoes that the groom would wear.
Formal Evening Winter Wedding
Formal dress codes have many rules, but evening wear offers a little flexibility, so you have room to express some character.
However you choose to express your formal winter wedding outfit, it's always dashing. Wearing a tuxedo is an excellent choice for any man because it has instant appeal and is hard to fail at.
The main question with formal winter wedding outfits is whether you should rent or buy your suit. Personally, I think that investing in a fine tuxedo is never a bad idea.
Black Tuxedo for the Groom
This style of dressing for a wedding is the most formal you are likely to see here in the US.
Tuxedos come in several colors but stick with black for your wedding day if you strive for the highest formality.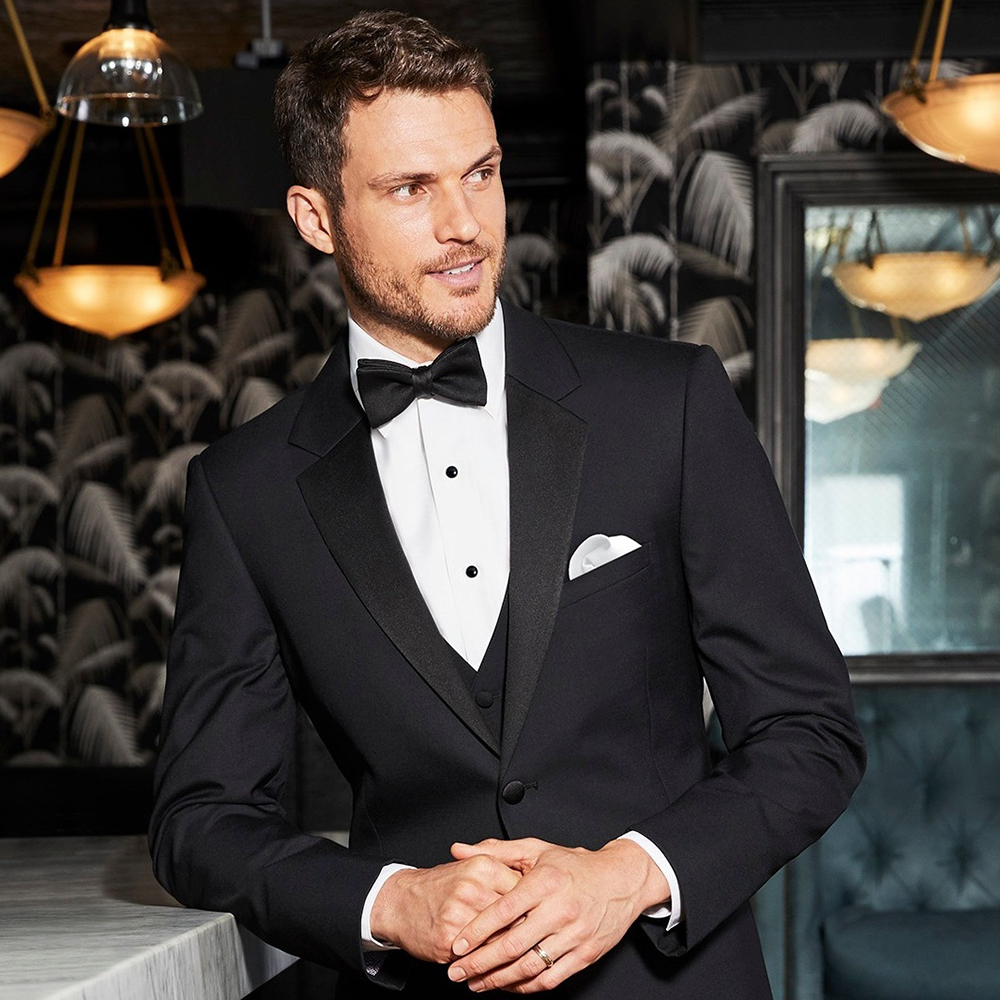 Your tuxedo jacket is a dinner jacket with no tails. To keep it as formal as possible, stick with a single-breasted jacket with a single button. Double-breasted is acceptable but more complex.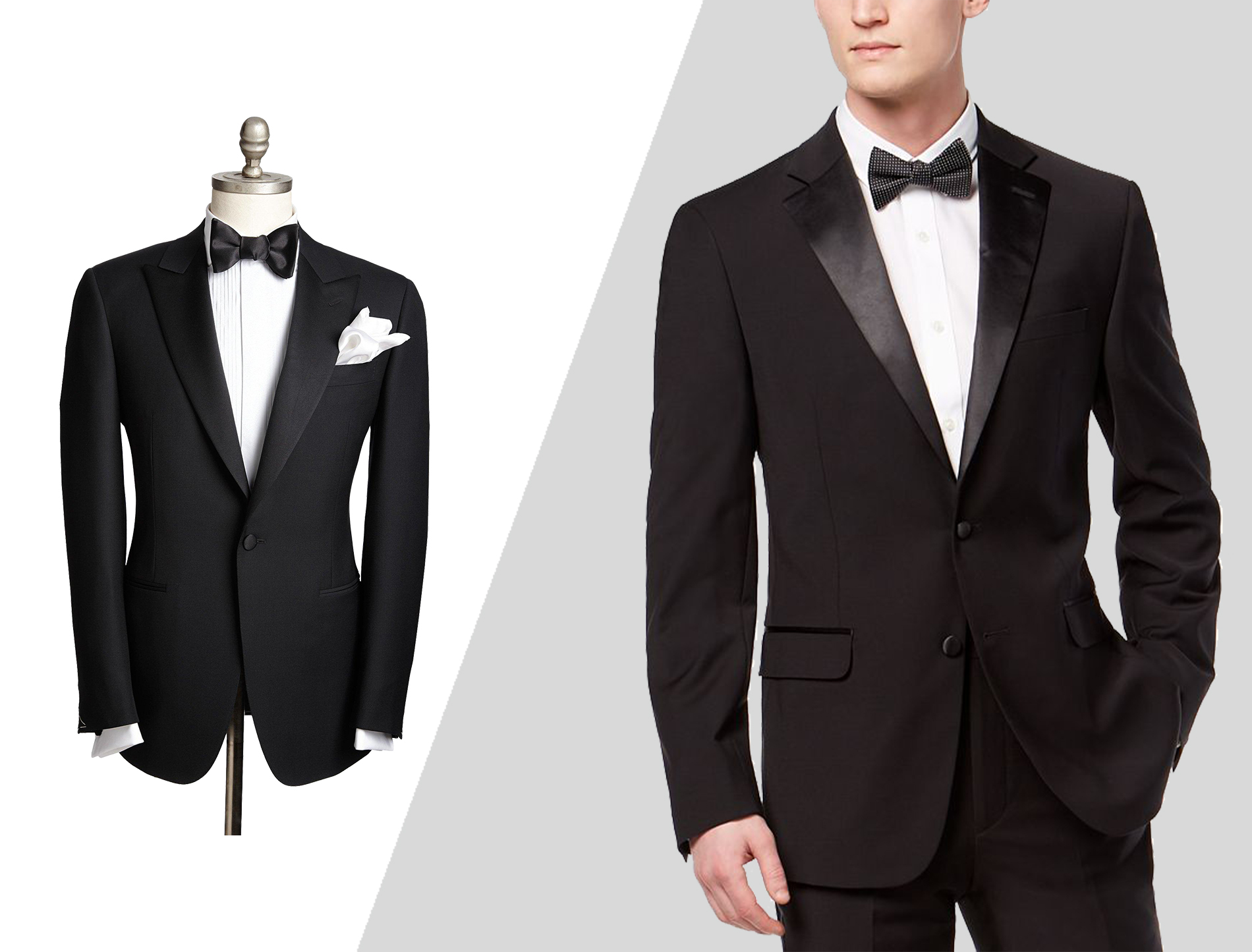 A subtle way to enhance your formality is with the right lapel.
Shawl or peak is the most formal style, so avoid notch lapels. The material for your lapels should match the trim along the rest of your tuxedo.
Your tuxedo trousers must be the same color and will likely have a satin stripe down the outer side of each leg. Your pants should not have belt loops but should sport adjustable tabs on each side.
Pair your tuxedo with a white tuxedo shirt with French cuffs and a black bow tie. Don't forget to pick out simple but dazzling cuff links and matching shirt studs.
You have a choice between adding a waistcoat or a cummerbund. Whichever you choose, it must be black.
Patent leather shoes are standard for tuxedos, but high-quality leather is an excellent second choice.
You should choose between formal pumps for a traditional style or Oxford dress shoes.
Dark Tuxedo or Suit for Guests
As the guest and not a member of the wedding party, you have the flexibility to branch out a bit more in your formal style and wear either a suit or tuxedo.
If your wedding invitation states black-tie optional, you know the wedding party will be dressed formally. The bride and groom would prefer you wear a tuxedo but don't want to put you out too much if you don't have one.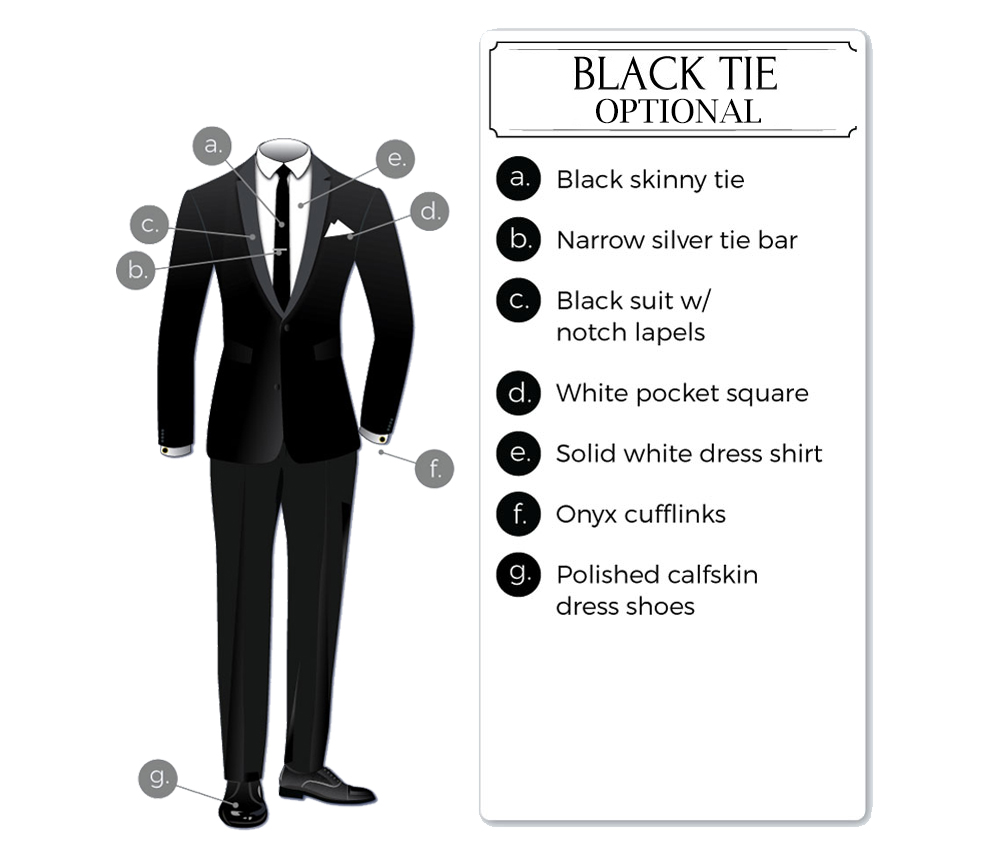 If you can wear a tux, definitely do it. But if it isn't possible, wear a dark suit instead.
Black, charcoal, and navy are all good colors for a formal suit. Of course, you should still wear a white dress shirt, and either French or barrel cuffs will work.
If your invitation reads "black-tie creative," you've hit the formal wear jackpot!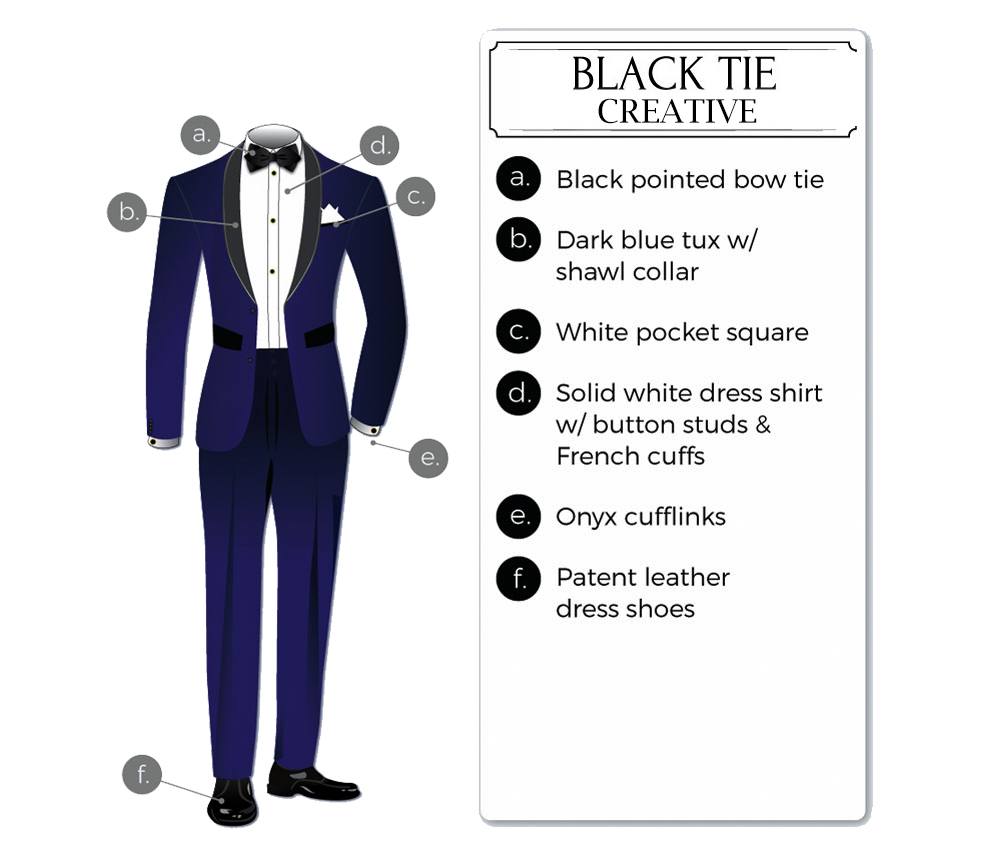 You can wear a colorful burgundy or dark blue dinner jacket with black tuxedo pants for a fun twist on your winter wedding outfit.
The color shouldn't be too vibrant since this is still formal, after all. Lean more toward jewel tones, and save that powder blue tux for a spring wedding.
This is the perfect opportunity to break out a beautiful velvet smoking jacket.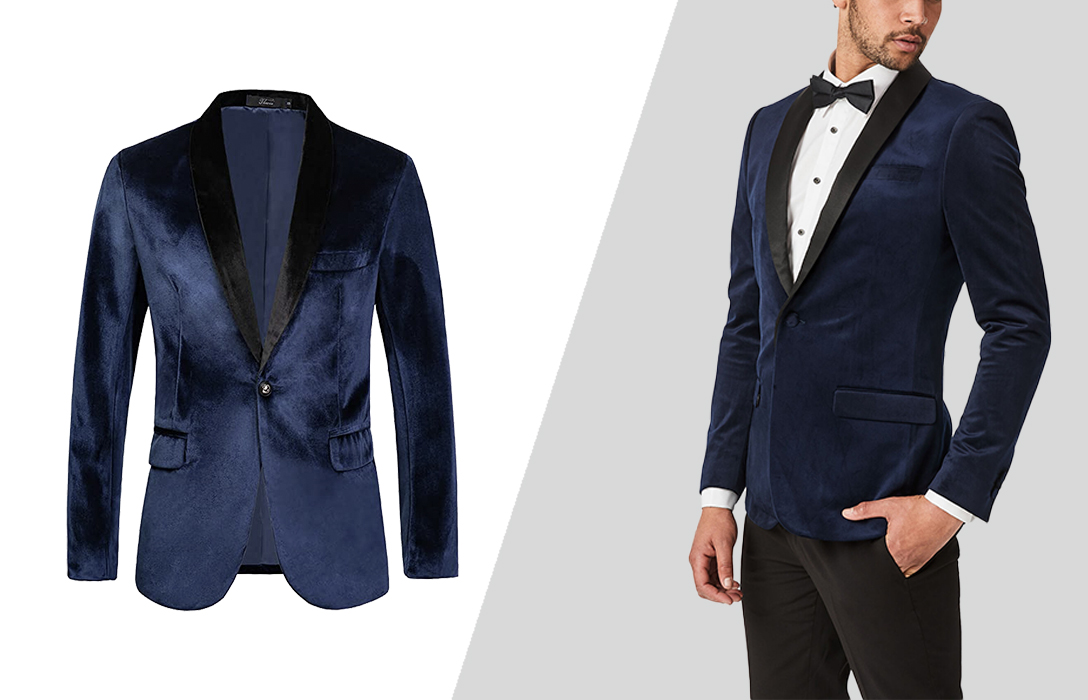 Patent leather shoes are the ideal choice, whichever outfit you land on. But, if that's not possible, simple black leather Oxfords are always a good go-to.
Semi-Formal Daytime Winter Wedding
When your daytime wedding has a semi-formal dress code, black is out, and neutral is in.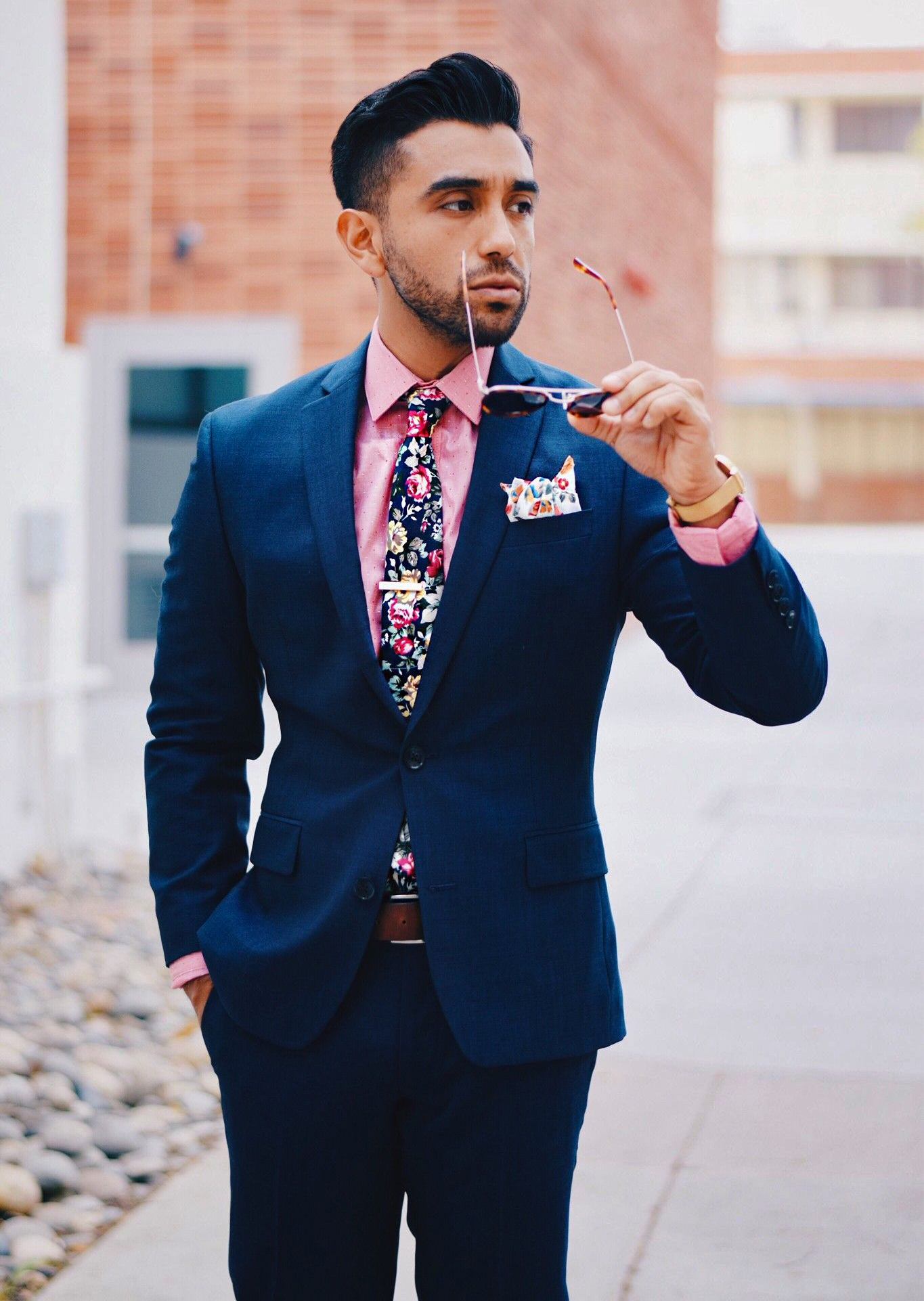 Consider wearing a high-quality suit of navy, charcoal, blue, or brown. A white shirt and a necktie are still the best choices to pair with these semi-formal suit colors.
A winter wedding is perfect for pulling out your three-piece or double-breasted suit. You'll look classy while staying warm and toasty.
A semi-formal winter wedding means you should include some color to brighten the season, so choose a tasteful color and print for your tie. You can even wear a light-colored pink dress shirt.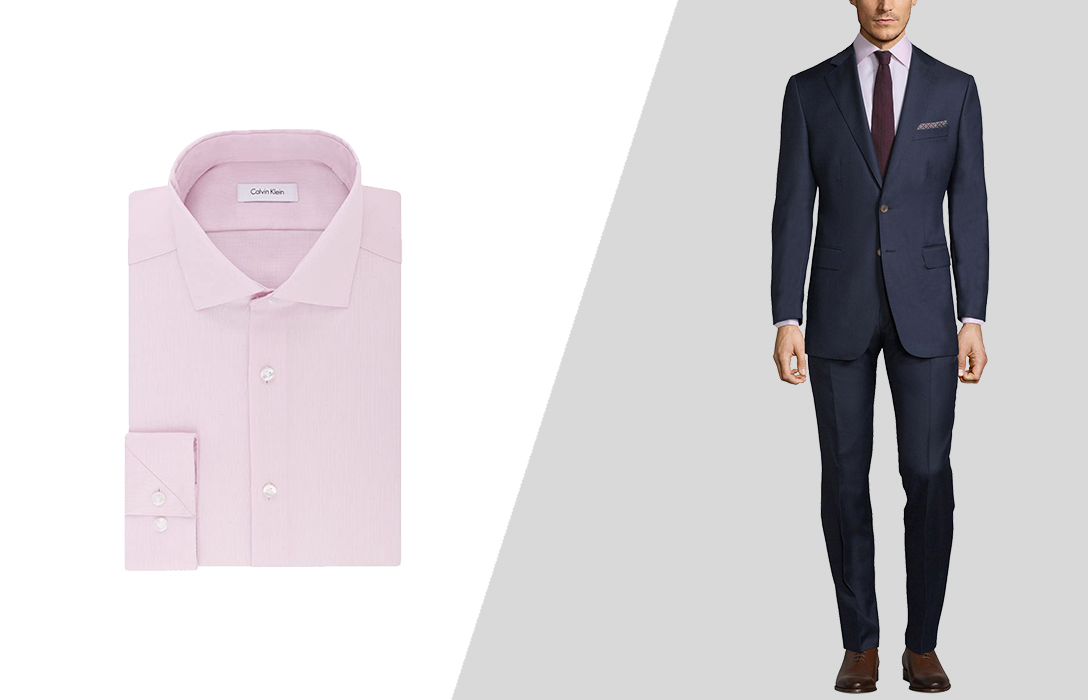 Pocket squares are an essential addition for rounding out this look. You should never match it to your tie, but instead, play the two accessories off each other.
If your tie has a subtle pattern, wear a plain pocket square.
Semi-Formal Evening Wear Winter Wedding
Semi-formal evening wear for a winter wedding isn't too different from daytime wear. It is close to what you would wear for a daytime wedding but with more subdued colors.
Semi-formal wear is that sweet spot of dressing up; it isn't stuffy and formal, but it's still a special change from your day-to-day suit.
Remember, though, that despite its looser structure, there are still rules you must follow to stick to the dress code.
Suit or Tuxedo for Groom
Just because your guests have permission to loosen up their dress code a bit, you should still bring you're A-game.
Sport that tuxedo and wow your bride. No tuxedo, no problem; you can opt for a really great dark suit instead.
Whichever path you choose, you should consider including a vest. Ideally, it should be single-breasted.
Keep your dress shirt classic solid white; French cuffs are a great touch but not required.
A tie is still a must with semi-formal winter wedding outfits.
Still, you can decide between a bow tie or a necktie. Either one should be a solid dark color, possibly a jewel tone.
A plain pocket square with a simple, subtle fold makes an elegant accessory right next to your boutonniere.
Leave the belt at home; if you feel naked without one, switch to suspenders for the evening.
Oxford shoes are always a win, but you can switch things up for a semi-formal suit.
For example, derby shoes are an excellent second choice, or you could make a splash with double monk straps.
But why not break away from the traditional black dress shoe and try dark brown instead? Unless, of course, you're wearing a black tux.
And dress up your wrist with a dress watch, especially if you aren't wearing cuff links.
Full Suit for Guests
Hey, guests, you aren't off the hook for dressing up just because this dress code is less formal!
Nothing less than a full suit will do for a semi-formal winter wedding in the evening.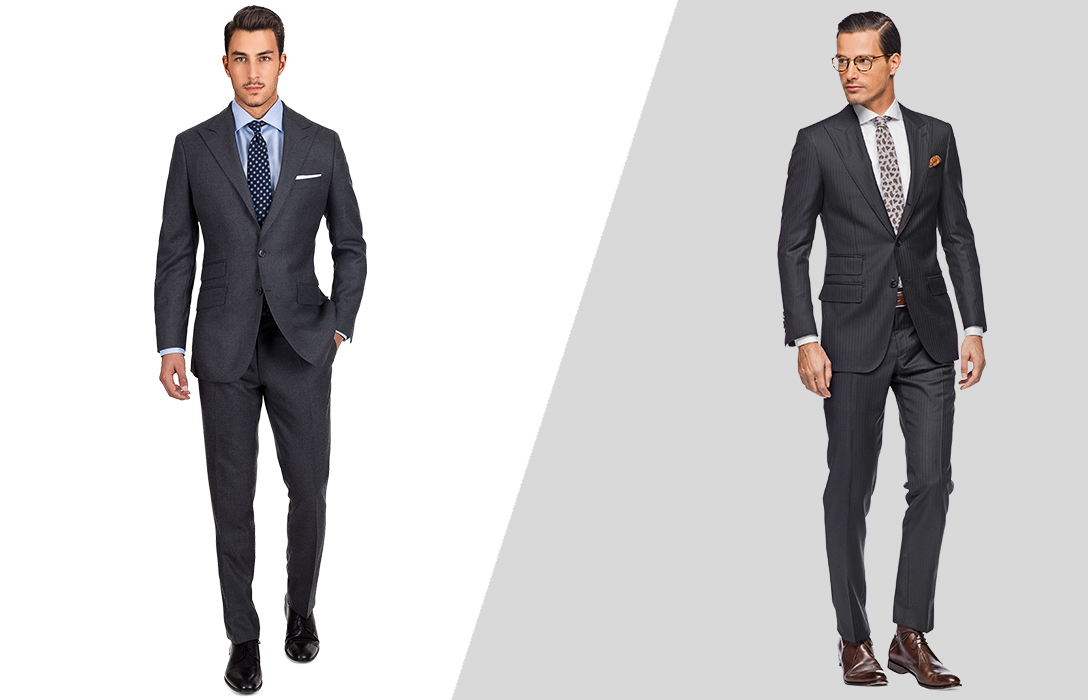 Overall, you have more color options available than the groom but remember your winter color rules. Pastels and bright colors are out of place in a winter setting; instead, add color with deep rich shades.
A double-breasted suit always looks lovely, and so does a textured or subtly patterned suit. These are nice ways to change up your typical suit.
Your dress shirt color also has some room to play; solid white is the more dressy choice, but a light color or small pattern is also fine.
Same for your tie; infuse a dash of color or play with small prints.
You can add accessories, like a tie pin or pocket square, but not both. Also, you can wear a nice watch and add class to the outfit.
Informal Daytime Winter Wedding
If you are the groom, you'll be best off in a full suit. However, a casual choice, like a tweed suit, can be perfect for your informal winter wedding.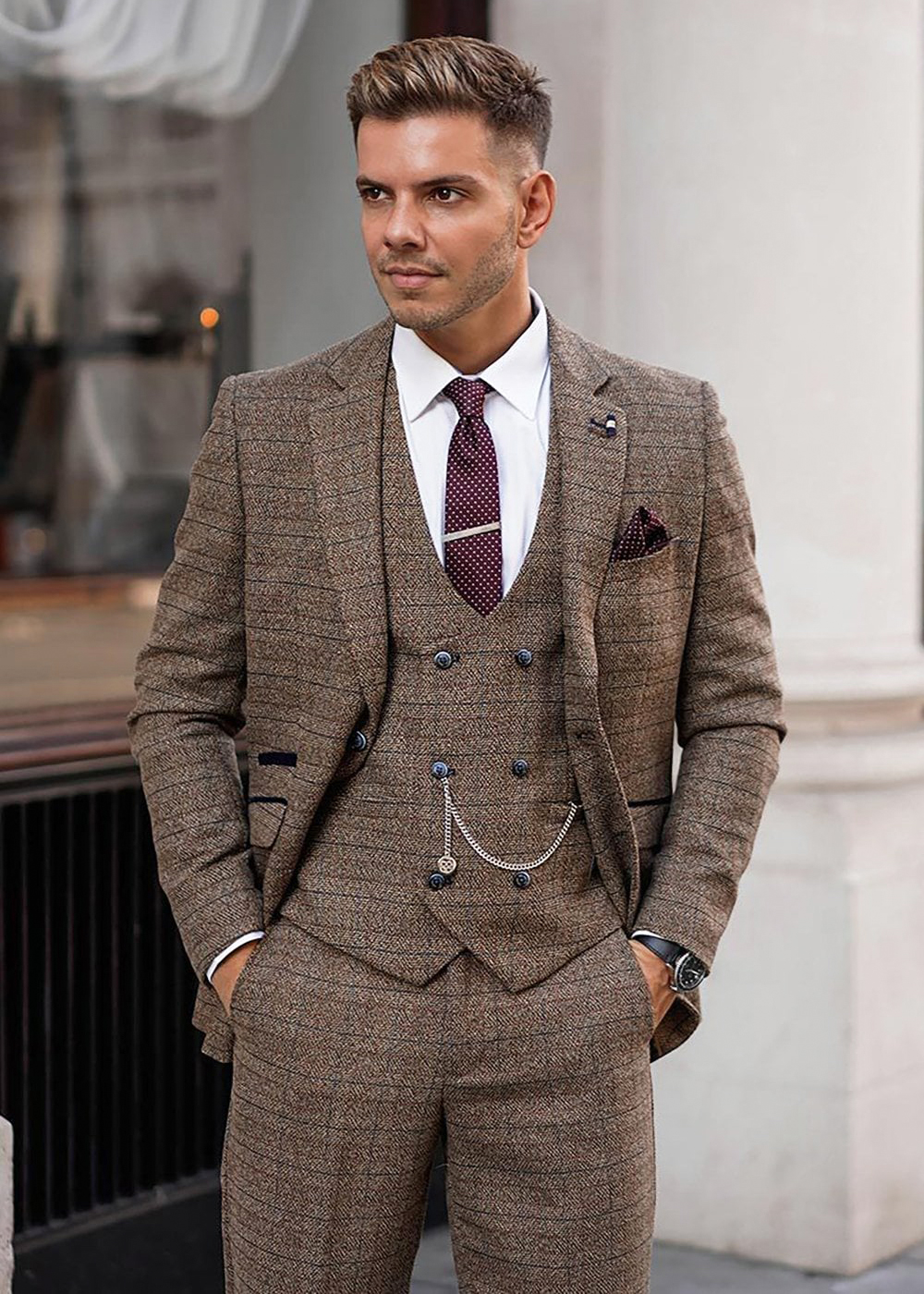 It's a different story if you are a wedding guest at an informal daytime wedding. On such occasions, you can wear the suit more casually.
Separates are acceptable in this setting. Blazers and light-colored pants are also great choices.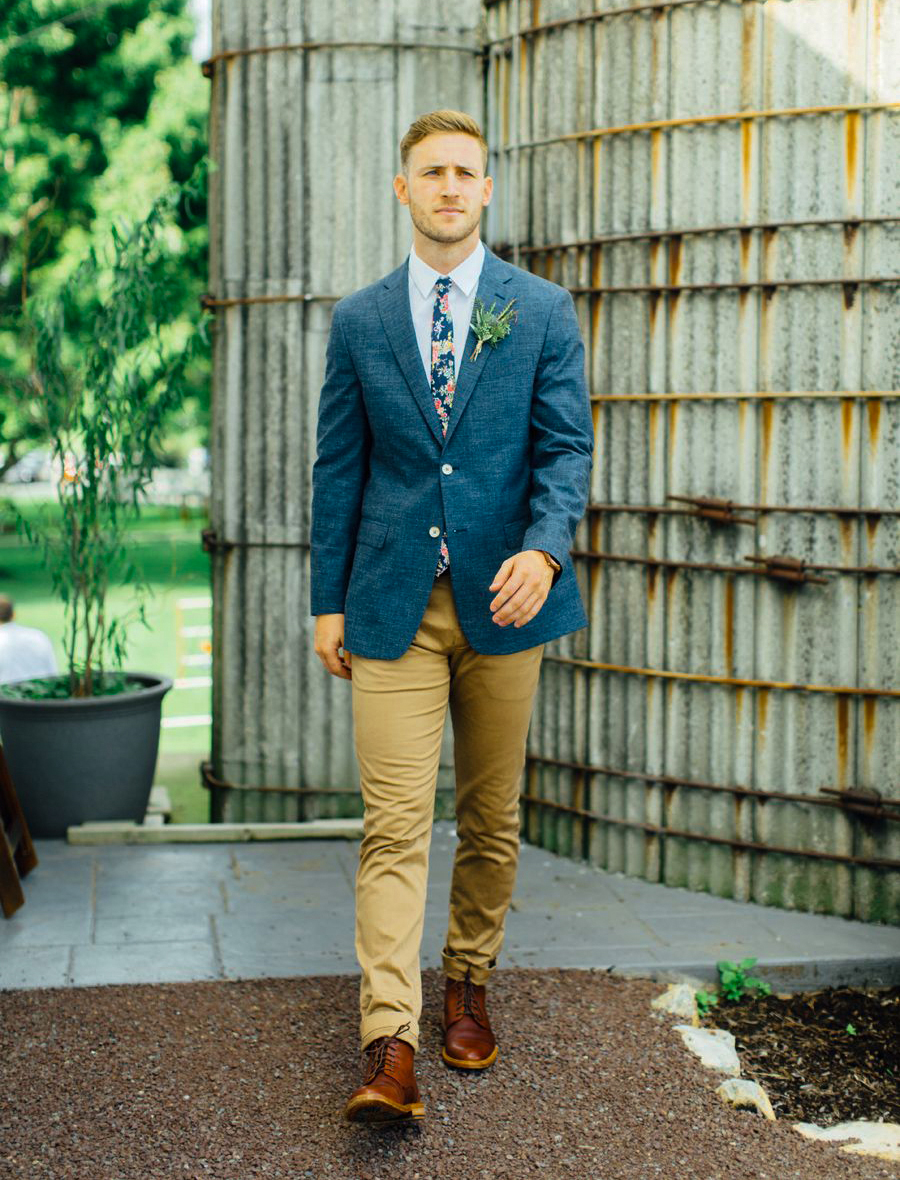 You are welcome to skip the tie for this type of wedding or keep it and wear a fun plaid or paisley pattern. But please, keep the cartoon characters away!
You can wear a colored or patterned dress shirt, but you might even go in a completely different direction.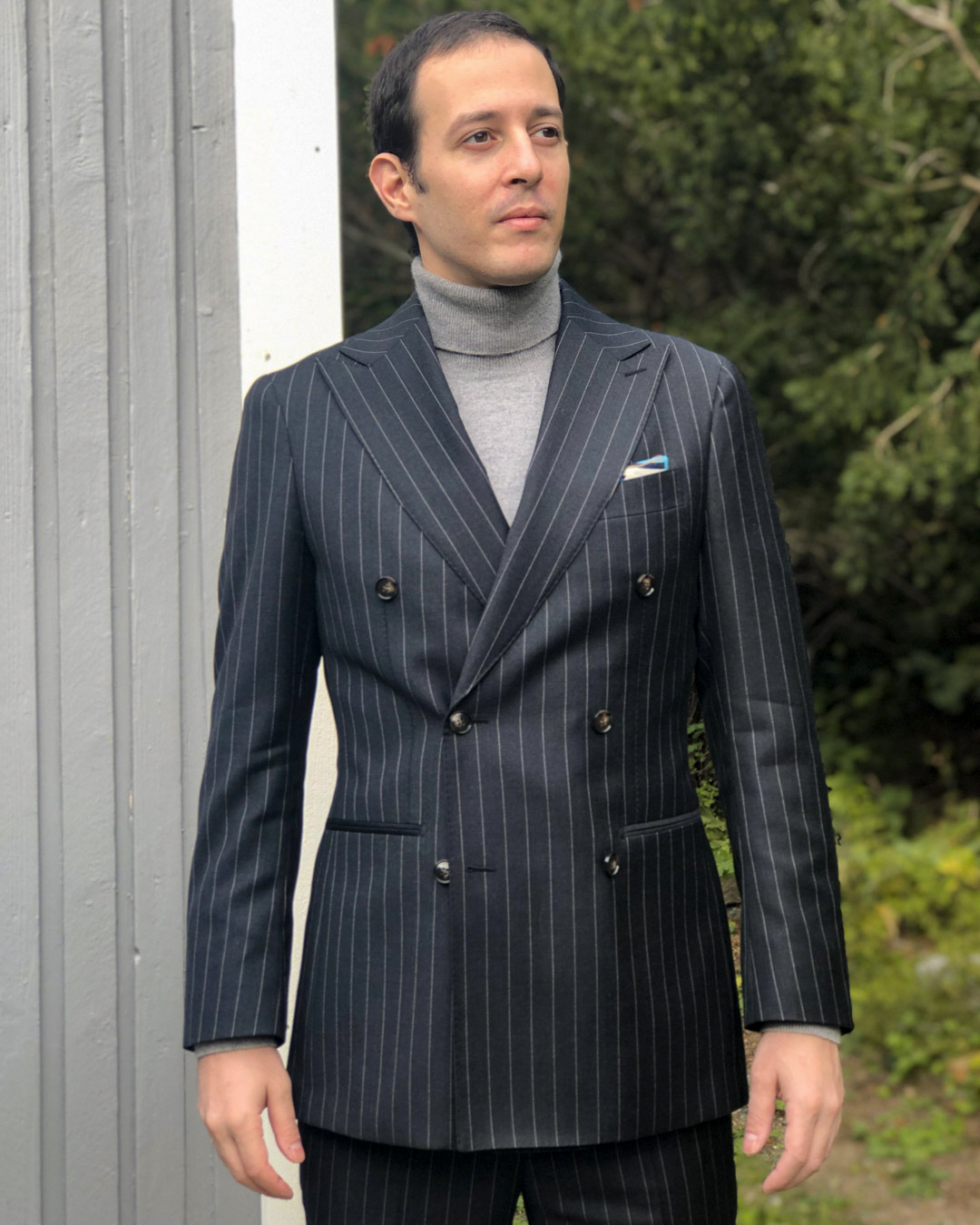 For example, a dark, quality turtleneck under a suit jacket can really hit the mark. Just be sure the fabric is thin and not bulky.
Informal Evening Winter Wedding
Even an informal wedding becomes slightly more formal when it's held in the evening. So, a full suit is ideal, but you may mix and match it with more informal colors.
There's nothing wrong with a classic black suit, but here's your chance to mix things up.
Have fun with your winter wedding outfit, and work in some festive colors without being over the top.
Warm tones such as deep green or burgundy look phenomenal; you could also add silver for that dreamy winter effect.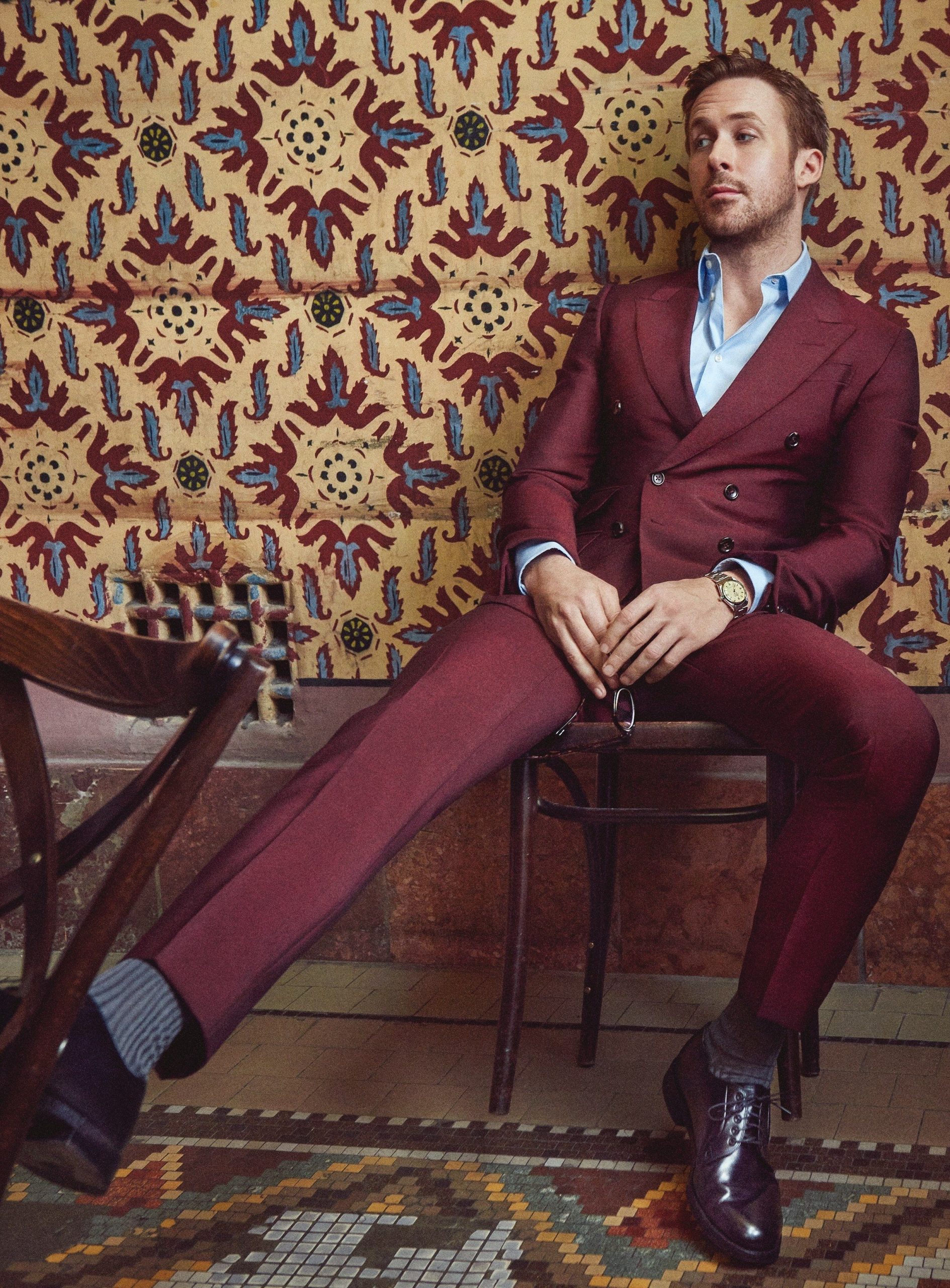 The texture is another excellent way to play with your look. Try out a knit tie!
Your shoes can reflect the informal nature of your outfit, but within reason. Leave the sneakers at home.
Instead, wear brown dress shoes such as loafers, monk straps, or brogues. You can even experiment with suede instead of full leather.
Winter Wedding Outfits by Guest Rank
Whether you are the groom, best man, father of the bride, or just a regular guest, you want to look your best as a sign of respect for this important day.
What you wear to a winter wedding indicates that you are eager to give the bride and groom the event they have been dreaming of. Remember, this isn't about you; it's about the happy couple.
So if you have to spend a few hours wearing clothing you usually wouldn't, that's not such a big sacrifice, is it?
Groom
On one of the happiest days of your life, you want to look your best. You are the man responsible for setting the style that day (but, hey, no pressure!).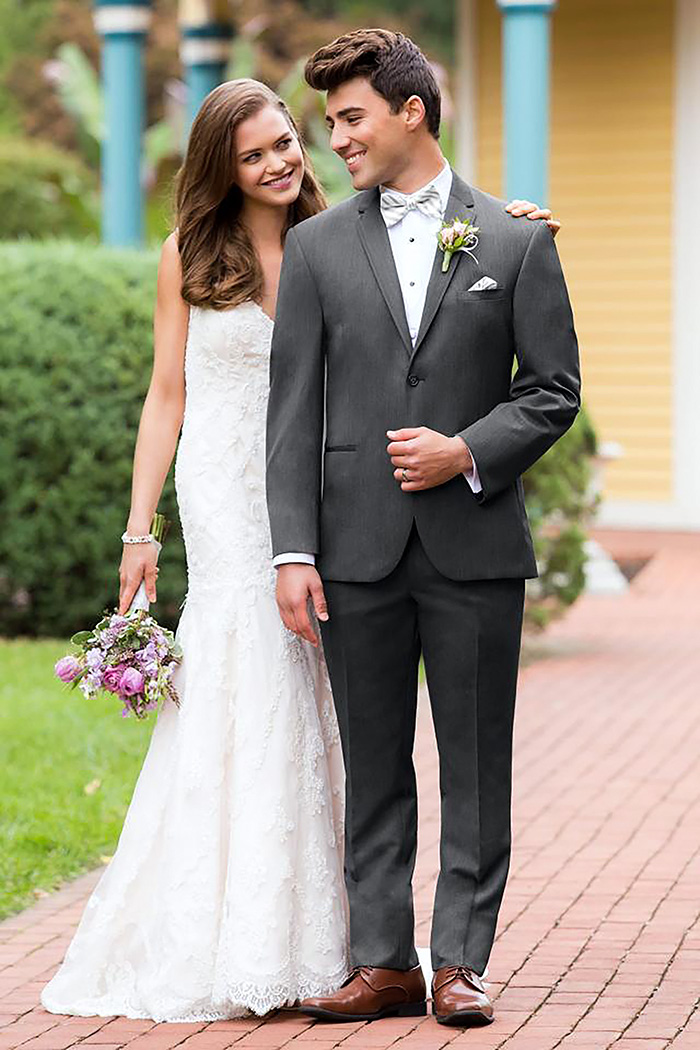 A tuxedo or amazing wedding suit is always the right choice for saying your wedding vows. But, even if your wedding day is an informal affair, you must still rise above everybody else's style.
So, stick to a dark suit that's beautifully tailored to your exact measurements. As long as your suit fits you well and it's well made, the rest will all fall into place.
Don't forget to pick the right shoes and make sure the color matches your suit.
Best Man
The role of best man can be pretty stressful as you support your buddy on his big day. But if you look good doing it, you've won half the battle.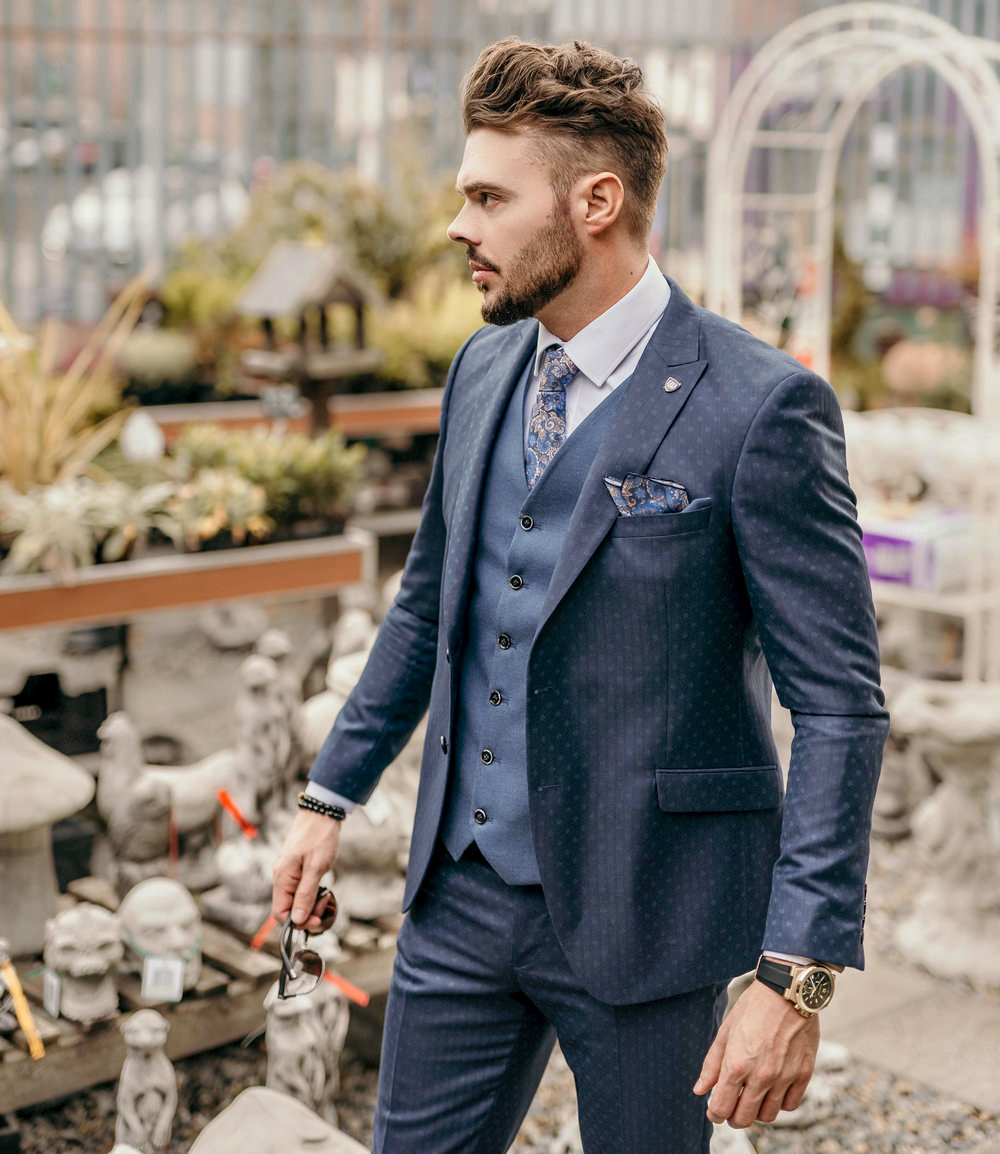 Your wedding outfit should be close to the groom in appearance and formality but with slight changes in shade or style. That is, unless it's a black-tie wedding.
On the other hand, you don't want to compete or detract from the groom, either. Your suit and accessories should not be flashy. If you think you might be more dressy than the groom, dial it back.
Groomsmen
As a wedding party member, a groomsman often has little say in what he wears. This role usually matches what the best man wears, or at least very close to it. Nice and easy, right? It's effortless if the event is formal.
If the wedding is informal, the groomsmen are usually still remarkably close to the groom's outfit, with minor differences.
If, in your role as a groomsman, there is anything for your outfit you need to pick out, do your best to match the bride and groom's color scheme.
Father of the Bride
It's time to kick up your heels and celebrate your son or daughter's big day! But, of course, the pressure is off once you give the bride away, so you can have fun dressing.
First, however, be sure to match the tone the couple has carefully set.
You aren't necessarily expected to follow the color scheme, but you will get a boutonniere, so you might want to work it in somehow.
If the couple sets an informal wedding, that could be your cue to spice up your outfit with a bit of creativity.
But, remember, your outfit should be special. This isn't your average occasion, so don't dress in your average suit.
Guests
You have the most coveted role in getting dressed as a guest – playing with style. You have little obligation here other than to stick to the requested dress code and not outshine the bride and groom.
If you're in doubt about what to wear, you are always in good hands with a polished suit. Stick to neutral colors, and you won't make any waves.
Of course, it helps if you keep the rules about daytime and nighttime colors in mind; lighter colors are acceptable for daytime events and dark ones for nighttime.
Thankfully, you don't need to worry about incorporating the wedding's color scheme into your outfit. As long as you meet the dress code, you are golden.
Author: Alexander Stoicoff
Hi, I'm Alex, and I've studied and specialized in styling in Rome. Through my writing, I want to help men dress well and learn the purpose and significance of suits and other formal attire. My final goal is to make men more confident in their wardrobe choice and life in general.