Whether you're a soccer fan or not, you surely know who David Beckham is. 1
Even if you've never cared about playing soccer like him, you may have wished you could dress like him.
The man oozes class and style. You may not pick up his soccer skills, but you can pick up some of his fashion tips.
David Beckham's Suits
We don't often associate athletes with looking suave and elegant, but David Beckham is a rulebreaker. He looks equally at home in a suit and on the pitch.
David is an incredibly stylish man who understands the value of sticking to a classic suit style. He never fails to look debonair in classic, old-school suits.
He goes in for mostly slim, tailored styles that flatter his athletic frame.
Black suits aren't in heavy rotation for his dressy wardrobe. Instead, David favors classic shades like brown, charcoal, and navy for his suits.
He isn't one to shy away from prints; you'll often notice pinstripes or window pane prints on his jackets and trousers.
Beckham's Signature Style Items
You don't need to be a soccer fan to be a fan of David Beckham's fashion. So don't fret if you don't have the same athletic prowess as him; you can at least emulate his style.
Build your wardrobe piece by piece with these few essentials that will take you far.
Light-Colored Blazers
David Beckham may seem like he was made to always wear suits, but he's also a fan of separates. He likes to sport a light-shade blazer in tweed or checks paired with navy or khaki chinos.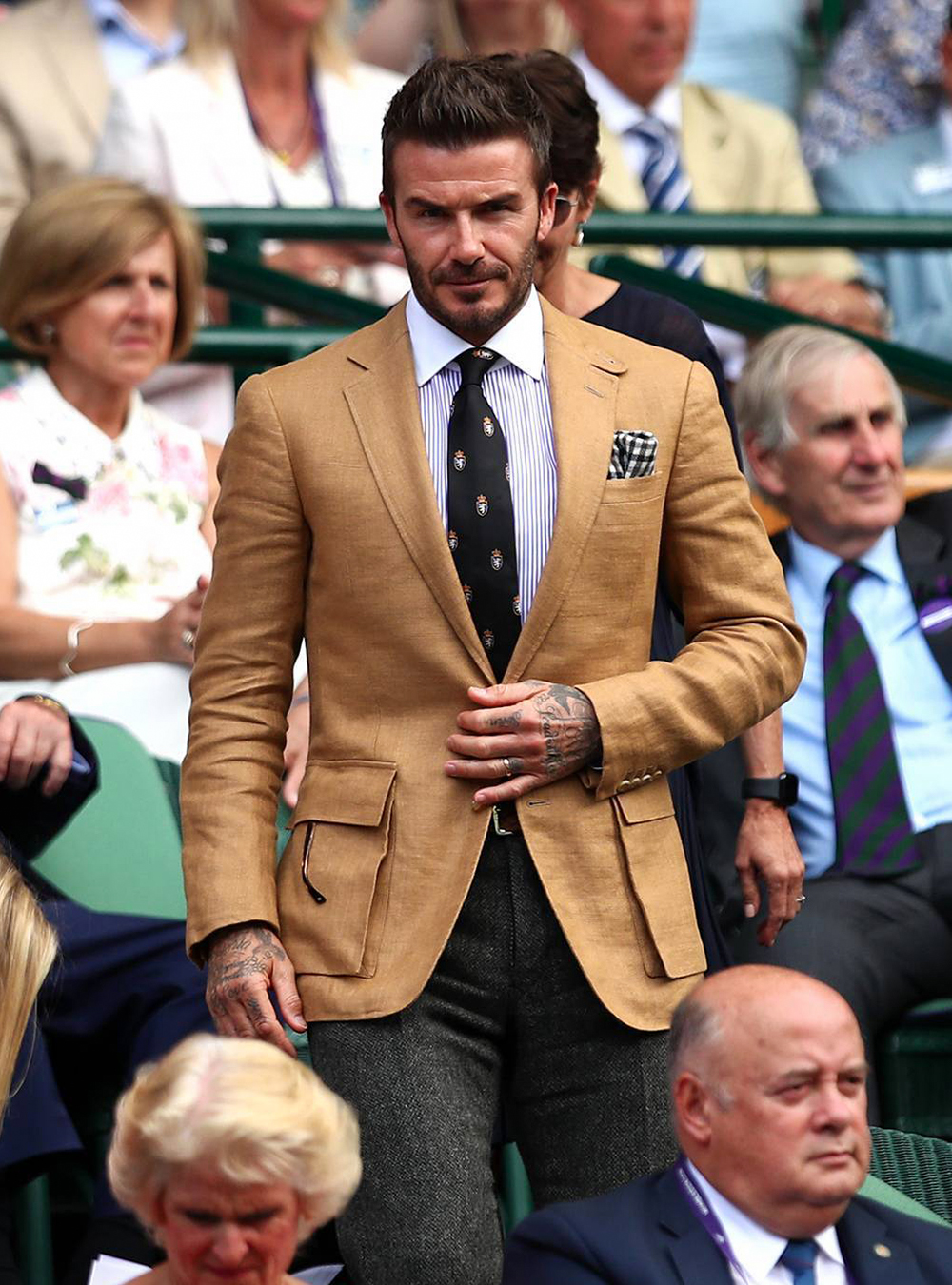 You can imitate this ensemble when you need to look dressy but can dial back your glamour a bit. However, wear navy trousers when you want to keep a bit of class.
White-Collar Shirts
White dress shirts are the highest level of dress shirt formality, and David heavily favors them with his suits.
But one of his signature moves? Donning solid-colored dress shirts accentuated by contrasting white collars.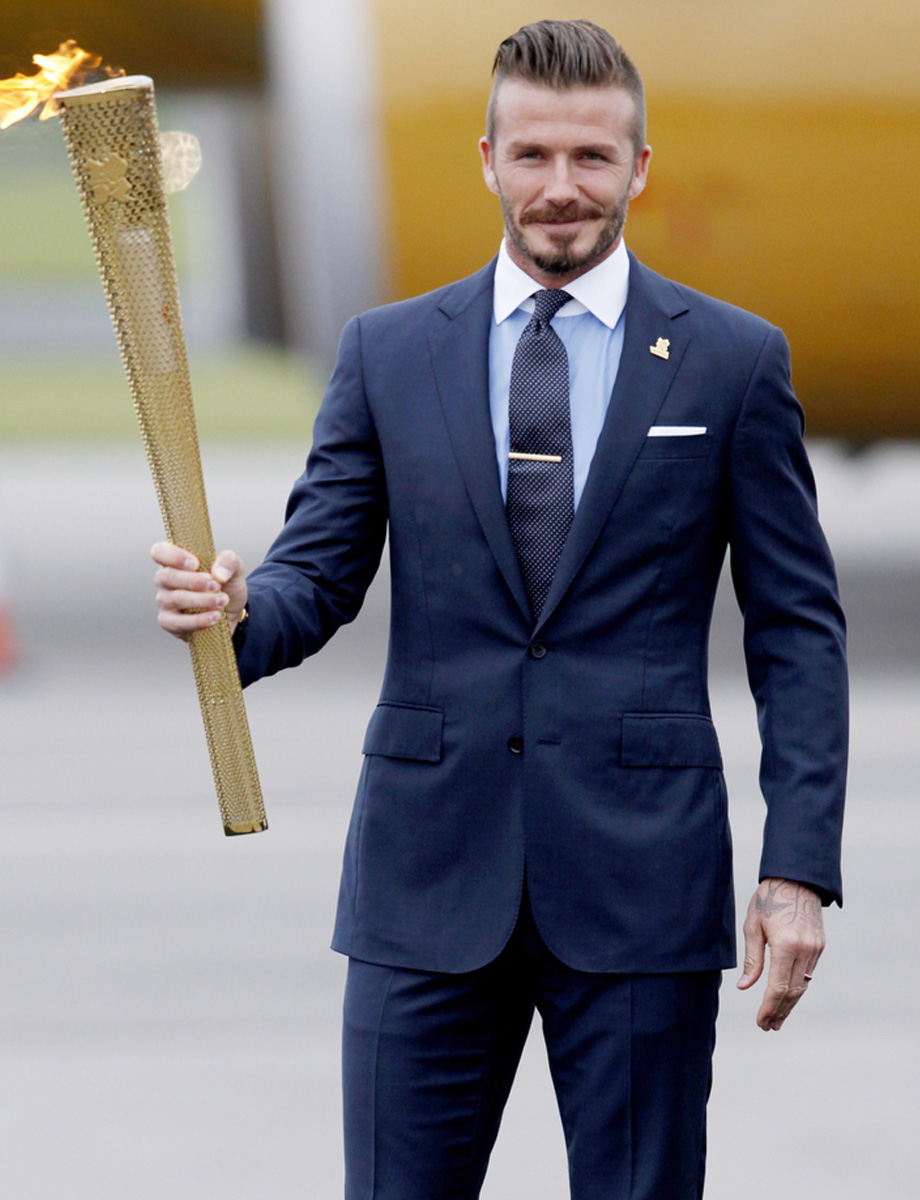 One of David's favorite labels in dress shirts is Ralph Lauren Black Label; he's a huge Ralph Lauren fan. Most of David's white shirts are adorned with a dark tie.
The Black Leather Jacket
David Beckham isn't always dressed for fancy outings. He applies his great fashion sense to all outfits, even casual ones.
His black leather jacket is the perfect way to tap into his bad-boy side. This is one of his favorite casual go-to pieces that never looks slouchy or out of place.
You can also emulate this look by getting a signature piece like this. Pair it with slim-fit jeans, a white t-shirt, and Chelsea boots to create a timeless style.
"Timeless" is kind of David Beckham's signature look!
Earth-Colored Sweaters
David isn't one for flashy colors, but he does love to be cozy in knits.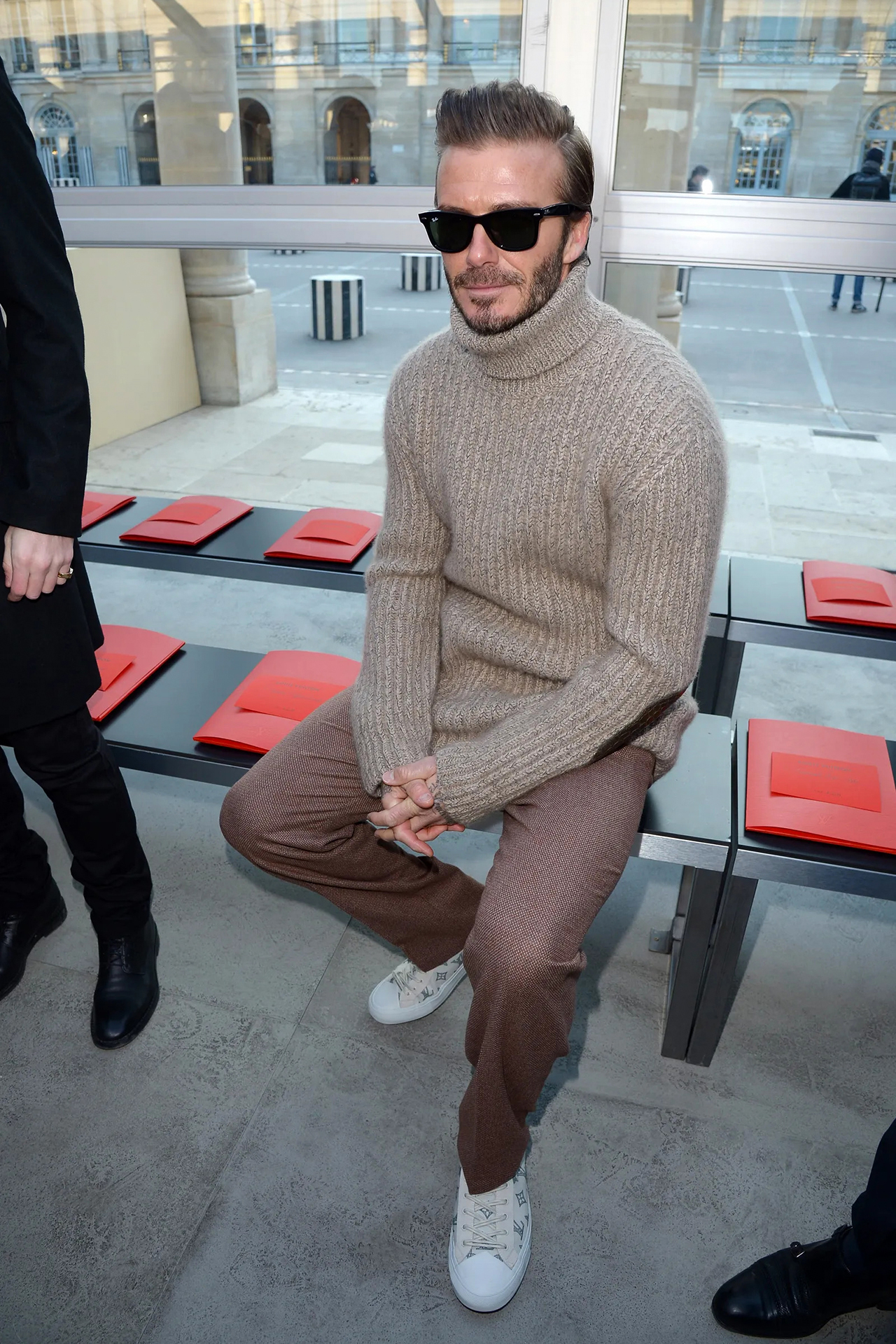 He's often spotted stepping out in heavy cable knits or more delicate cashmere sweaters. Their neutral colors give him a lot of flexibility in how he builds his outfit.
He often pairs his knits with a flat cap, typically with a Herringbone pattern for further texture.
Solid-Colored Polo
Part of understanding how to dress well means knowing that simplicity is best.
David Beckham gets this, which is why he doesn't shy away from a solid-colored polo shirt. However, he knows how to work his polos so they don't look stuffy.
His first secret is to ensure they're well-fitted. An oversized, baggy polo shirt may be comfortable, but it only emphasizes if you have a generous torso.
Do what David does and play with the collar. At times he buttons it up all the way, while at others, he leaves it completely open.
You can even pop the collar for a jaunty, playful look.
Steve McQueen Sunglasses
David Beckham is one of the smoothest celebrities of today, much like Steve McQueen was back in his day. So, it's no surprise that much of their styles match.
Steve McQueen favored Persols sunglasses, an Italian brand made from a special cellulose acetate. David created his own David Beckham Eyewear to reflect his taste in this style of sunglasses.
Like McQueen's beloved Persols, these are also Italian.
Dressing it Up: Beckham's Formal Outfits
It's easy to look good in formal wear; it's naturally flattering on most men. However, David Beckham takes it to new levels.
He knows how to make formal look natural but does it while adding his own twist. He understands the importance of rising to the occasion but doesn't always feel too constrained by tradition.
He rarely dons a black suit, but when he does, he always adds flair to it.
David embraces a contemporary approach to formality with his sapphire black lapel tuxedo. It's still very dressy but stands out in a sea of black suit jackets.
Most men take the easy route and add black dress shoes when they attend formal events, but David isn't most men. See how he tops off his navy suit with brown Oxfords at the Unicef event:
However, he doesn't stray too far from the standard; David still keeps the rest of his formal attire traditional.
What stands out about him is the unmistakable panache he brings to all his attire.
And although double-breasted suits aren't the standard for most men's closets, David knows that it's a sure way to stand out from the usual suit crowd.
Find your twist!
David Beckham's Casual Outfits
As skilled as David is with honoring a traditional formal style, he doesn't shy away from edgier looks in his casual ensembles. He always has panache, even on his most casual days.
David starts with simple, clean lines as his base, such as slim-fitting tops and bottoms.
These are usually neutral colors, which means they have a lot of versatility. He then adds a stand-out piece, such as his leather jacket, cementing a masculine and rugged look.
Dressing casually for the day doesn't require sweatpants and a T-shirt. Though David certainly embraces that look, he's talented at creating relaxed styles that are an upgrade from sweats.
Sticking to his preferred neutral shades, he rocks the sweater look with an oversized, chunky knit turtleneck.
Instead of standard jeans, his brownish-reddish trousers and white sneakers add the perfect final touch to his ensemble.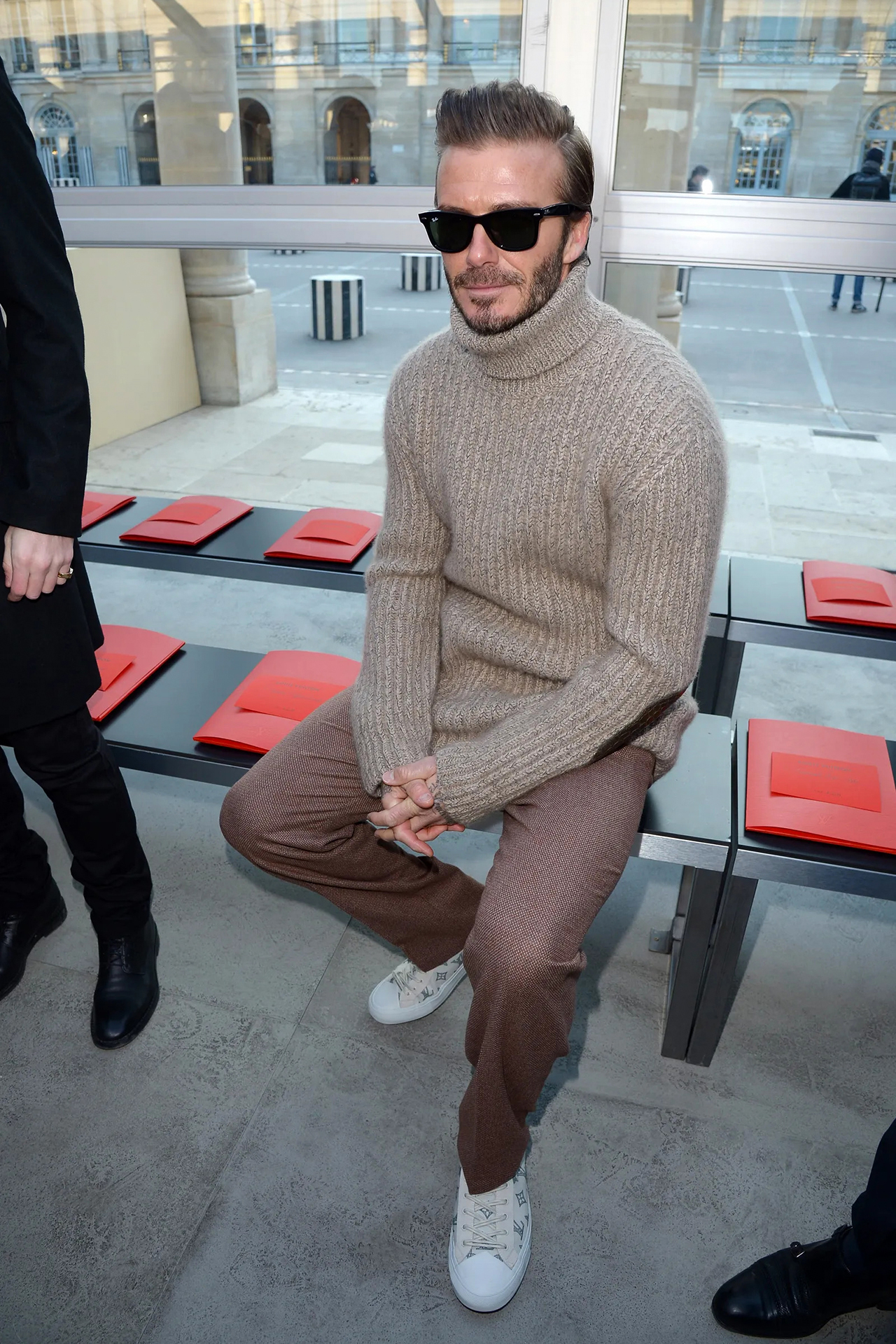 Of course, he knows that sometimes a simple combination of a button-up shirt and dark jeans is unbeatable. To ensure the look remains solidly casual, he throws on a pair of work boots.
But don't worry if they aren't the same color as your pants; David prefers lighter-colored boots for contrast!
Accessorize Like Beckham
David Beckham doesn't cut corners when he's putting his outfits together.
He understands the importance of accessorizing to complete an outfit. These finishing touches can completely upgrade a simple, otherwise dull, ensemble.
David is one dude who loves his hats. He has a vast selection of flat caps in all colors and prints.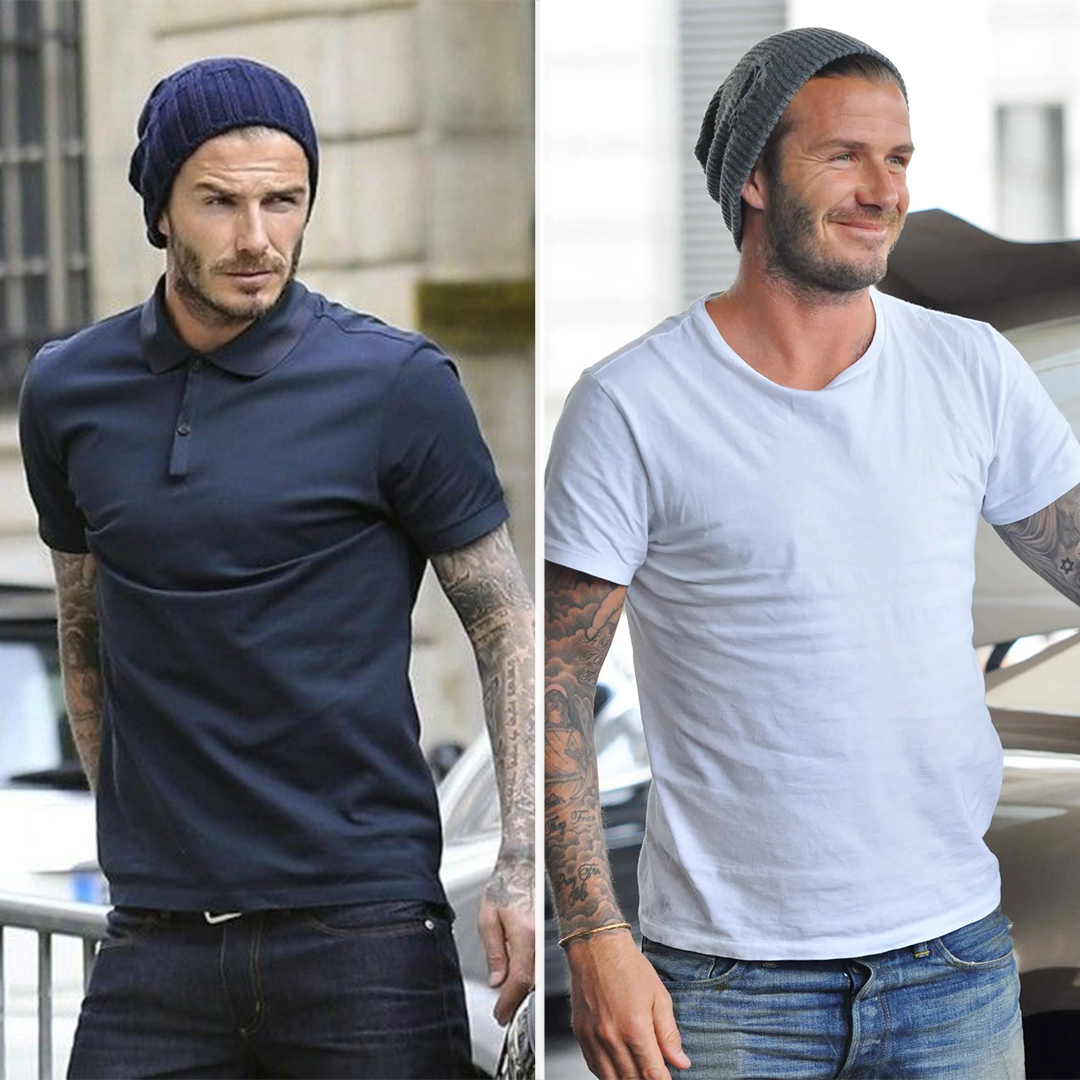 These are great for smart-casual outfits and can elevate many casual styles. For much more laidback days, David dons a wool slouch hat; this lends a truly BoHo vibe to his t-shirt and jeans.
When David dresses up, he's rarely spotted without a tie pin or pocket square. These small touches elevate his suits from "nice" to "wow."
And finally, David Beckham is a watch guy. From dress watches with his suits to casual chrono watches when he's relaxing, he's rarely without a timepiece.
Beckham's Hairstyle
You need to find a hairstyle that flatters your face, and David found his style. He changes it a bit over the years, but his hair is usually a variation on a theme.
He tends to keep the top longish, and the sides and back are short. It's like a modern pompadour, or he simply brushes the top straight back.
He sports a side part. He complements most hairstyles with long sideburns.
Author: Alexander Stoicoff
Hi, I'm Alex, and I've studied and specialized in styling in Rome. Through my writing, I want to help men dress well and learn the purpose and significance of suits and other formal attire. My final goal is to make men more confident in their wardrobe choice and life in general.