Making a list of top watches you can wear with a suit might seem inessential, especially when it comes to slightly more expensive watches.
But, sometimes, you find yourself in moments of success where fortune falls in your favor. You land that interview or snag that client – and it happens when you're least expecting it.
Now, you're scrambling to look the part.
It's Not Just a Watch – It's a Principle
The watch you wear speaks loudly about your character, status, personal preferences, and beliefs.
By now, I guess you know the essentials when it comes to watches and suits.
That includes determining the occasion, the suit color, and the watch's size before buying one, as I've discussed in the how to match a watch with a suit guide.
Also, if you spend extra time and money on something, ensure it isn't rendered useless by going unnoticed and unappreciated.
However, watches don't have to be expensive. In fact, some of the top watches that match best with suits are astonishingly affordable.
Top 10 Watches You Can Wear With Suit
A nice dress watch is a classic choice for a suit. It enhances the sophistication of your overall attire. Why is that?
Any formal dress code that requires a suit or a tuxedo has additional fashion requirements.
It usually includes traditional attire like a dress shirt, a tie, or a bow tie.
However, choosing a high-quality dress watch is a conventional and contemporary fashion statement toward trendsetting looks that elevate your appearance.
But what are some of the top watches you can wear with a suit?
Go for Gold with Gucci
You will undoubtedly imply that you don't care about counting your steps or checking notifications with a Gucci watch.
Gucci YA126470 is a timeless piece. This dress watch has a gold-tone stainless steel case with a width of 38mm and 8mm thickness. It also includes a high-quality alligator leather strap.
Most avid watch-wearers will seek something with all sorts of special features. They either simplify life or allow you to appreciate the innovation of technology.
This one is purely for looks, though. It is best combined with brown and blue suits. I'm not sure if they will matter, though?
Double Oh-Mega Seven
All of us wanted to have the sleek appeal of James Bond's iconic look at some point in our lives. But with the OMEGA Seamaster Diver, you're one step closer.
The standard Seamaster Diver 300 features a 41.5mm case available in both blue and black.
The 007 edition, on the other hand, has a dark brown dial with a bezel ring. I would match it with a navy or charcoal grey suit.
This watch is also the chosen accessory of dive professionals. It can keep you time-aware even in the ocean's dark depths.
Keep It Classy with Cartier
With a name that rings out over the decades, the Cartier Tank Solo XL is a great option for anyone.
This dress watch has a 31mm steel case and is 7.65mm thick. The strap is made of grained calfskin.
Combined with the silver opaline dial, it is perfect for every suit type and style, including light grey and tan suits.
The affordable mechanical watch from Cartier is the finest option for your tuxedo, too. The idea is that you don't care how the times have changed because some things don't need fixing.
Travel Space and Time with Speedmaster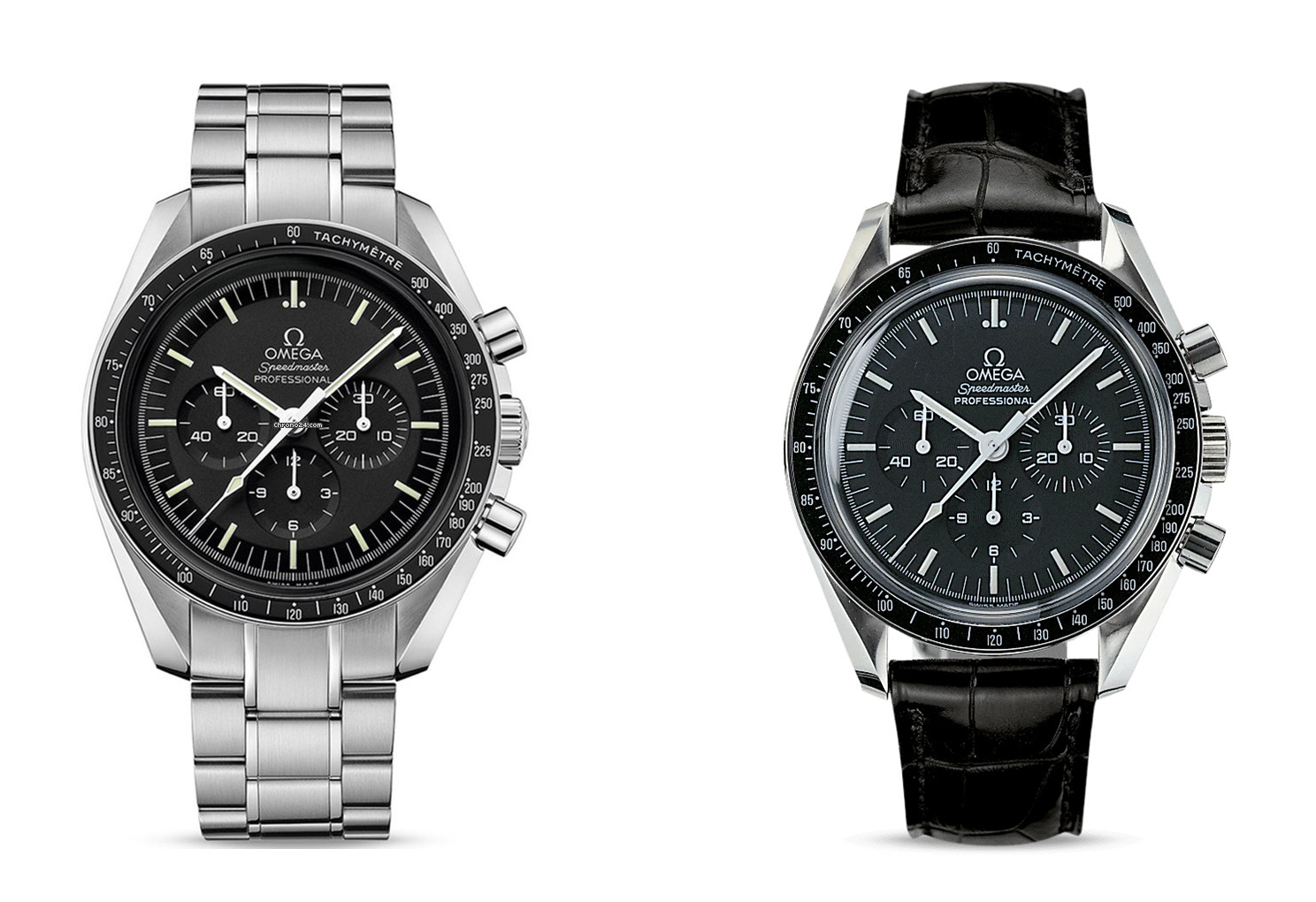 It might come as a surprise that a watch brand has been endorsed and worn on the moon by astronauts. So why would someone need to know the earthly time while moon-trotting?
Omega Speedmaster features a 42mm case with a black dial, a 12-hour recorder, and a chronograph watch.
This iconic watch also comes with a special box containing a NATO strap, astronauts' strap, and tools to change straps.
Being the first watch on the moon, the OMEGA Speedmaster will let everyone know that you dare to go where no man has gone before.
Roll-up Your Sleeves in a Rolex
It might be the first watch to develop one of the most mundane features known to wristwatches (it's waterproof!). But there is nothing dull or commonplace about this accessory.
No one will question your suit's quality or fashion sense if you roll up to an interview or a meeting with this bad boy.
The shining colors of black and silver, along with the famous crown of Rolex, might be the best choice for a navy suit.
But, on second thought, isn't this watch by far the most desired companion for all suit colors?
Piaget Proper
Roses are red; violets are blue. Diamonds are a girl's best friend – it isn't necessarily true. In fact, they're man's best mate with the Piaget Altiplano watch.
Trimmed in diamonds, this 18-karat rose gold watch puts a new spin on romance. The flash of this 40mm watch is balanced well with the timeless alligator leather strap.
This classical dress watch can go along with any dark suit color shades, including black, grey, navy, and burgundy. Of course, tuxedos are covered, too!
Safe with Seiko
Seiko is one of the most trusted brands in the wristwatch business. They are incredibly durable and can last you decades if properly maintained.
The Seiko 5 SNK793 specifically has that archetypal appearance you might be looking for in a watch.
It has an automatic movement with a 36mm case and is 7.8mm thick. But, more importantly, it is incredibly affordable.
Seiko has all the basic features you could want, along with a slightly inconspicuous appearance that won't outshine your best suit.
Famous with Nomos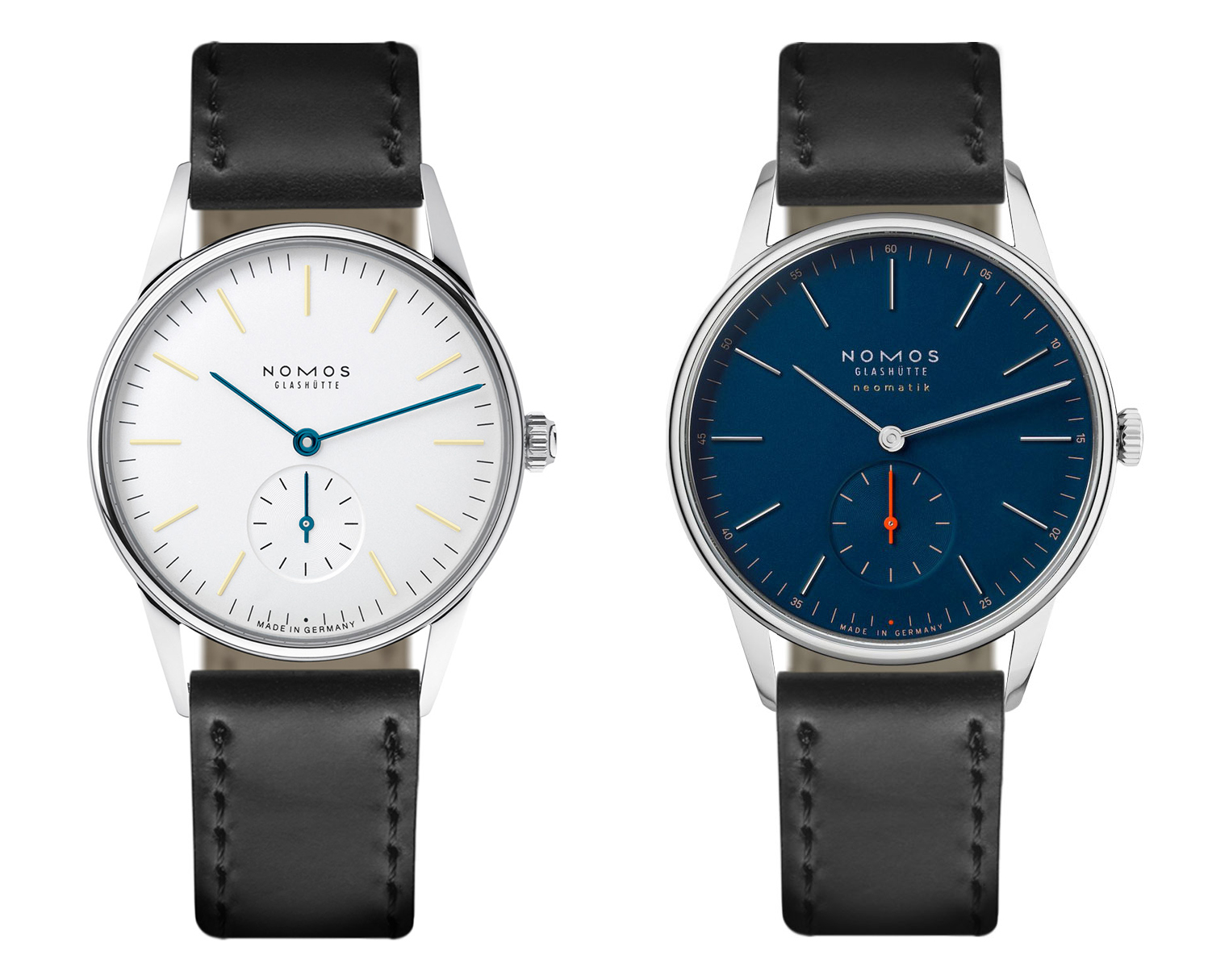 The Nomos Glashütte Orion is a minimalist watch that is sure to catch the eye of someone keen on the details.
This small timepiece weighs in at almost nothing. It's 7 millimeters thick but creates a powerful statement and gives aesthetics to the wearer. Pair it with your best suit or your little black dress.
Keeping Time in a Timex
There's something refreshing about the Timex Easy Reader. It looks like something that maybe your third-grade teacher would have worn. But you liked your teacher, and you liked the watch, too.
This dress watch features a 40mm gold-tone case, a white dial, and a black strap. Is there more to ask for an elegant and high-quality black suit?
It just has a simplicity that allows it to go with anything, fancy or not, and still look like it belongs. Maybe you can personally relate to that sentiment – but no one will know.
In Holy Matrimony with Patrimony
The Patrimony by Vacheron Constantin gives the impression that it could be the dark horse of the race.
This watch possesses a powerful look without the glitz and glamour of diamonds or sterling silver with unembellished elegance. It's certain to catch eyes but not to distract.
This beacon of light seems fit for light-toned suits, such as tan, light brown, or light-grey suits. If you manage to find one, that is!
Final Words
When shopping for an accessory to compliment your best suit, keep the message you want to send to associates in mind.
Whether you're going for a look that reflects ideology, social status, or style, a watch has the power to fulfill all three of these aims if thoughtfully selected.
Choose some of the top watches on the market if you want to leave the impression that you care about your status in society.
Author: Alexander Stoicoff
Hi, I'm Alex, and I've studied and specialized in styling in Rome. Through my writing, I want to help men dress well and learn the purpose and significance of suits and other formal attire. My final goal is to make men more confident in their wardrobe choice and life in general.