If dressing is a chore for you each day, here's the secret to making your mornings much easier: a capsule wardrobe.
If you're picturing a closet filled with several hangars holding the same outfits, think again.
You can build a versatile capsule wardrobe that gives you many different looks with hardly any effort. The key is knowing what's essential and what can be eliminated.
What is a Capsule Wardrobe
A capsule wardrobe is an essential collection of clothing that acts as your foundation for dressing. It's a curated collection of garments, allowing you to create many outfit combinations by mixing and matching the pieces.
Your collection contains everything you need for all occasions and dress codes.
If you're into collecting only a few garment pieces, you can effortlessly maintain a stylish wardrobe with just the basics. Focus only on neutral colors, subtle shades, and high-quality construction.
Why Opt for a Capsule Wardrobe?
You'll notice there are several benefits to gathering a capsule wardrobe. Depending on your personality, you may be in love with all these reasons!
The first advantage is that it can save you a great deal of time when getting dressed.
You only have so many pieces to opt from, so you won't find yourself sorting through piles and piles of shirts, looking for the one you want.
In that aspect, it can save you from decision fatigue, too. You won't wind up standing in front of your closet each morning, unable to decide what to wear because you have too many choices.
And finally, a capsule wardrobe saves you money. When you're only focused on buying a few of each type of garment, you won't be tempted to run out on clothing shopping sprees every weekend. (Or was that just me?)
Capsule vs. Minimalist
You could look at your capsule wardrobe as a minimalist wardrobe, but it really doesn't necessarily need to be one. These two concepts are not mutually exclusive.
You can consider a minimalist wardrobe to be a sort of capsule wardrobe, but your capsule wardrobe doesn't need to be minimalist.
You can have as much clothing as you like in your capsule wardrobe. It's fine to have it very large, as long as you remember that you don't need it to be. That's a personal choice.
Formal Capsule Wardrobe Essentials
Now that you know a few rules for how to assemble your new wardrobe, it's time to begin your checklist.
If you have at least one of each of these in your closet, you should be well-prepared for any situation that calls for looking good.
Suit
Even if you don't wear a suit for work each day, you're bound to need one occasionally.
So rather than panic about what to wear when you get your cousin's wedding invitation, you'll rest easy with a good suit in your closet.
Pick a professional color, like navy or charcoal, to cover all your suit needs. And if you stick to a classic wool or wool blend, it will serve you all year long.
Tuxedo
A black tuxedo looks good on any man, and it's always a good idea to have one readily accessible.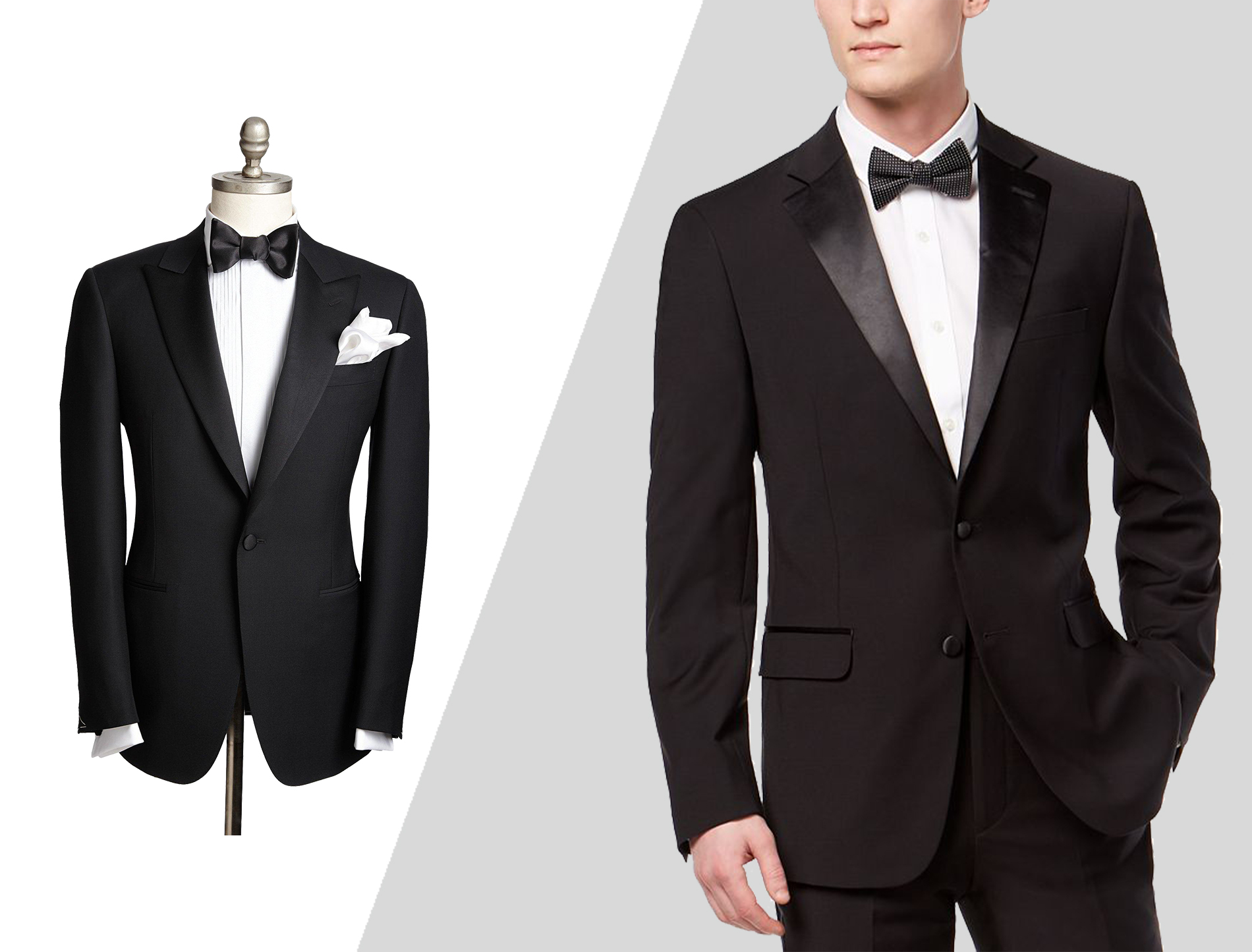 You never know when you will have a James Bond moment and need to rush off to a glamorous party.
Besides, would James Bond ever rent a tux?
Dark Blazer
Sometimes a full suit is just too overboard. Separates are an excellent alternative to dressing up.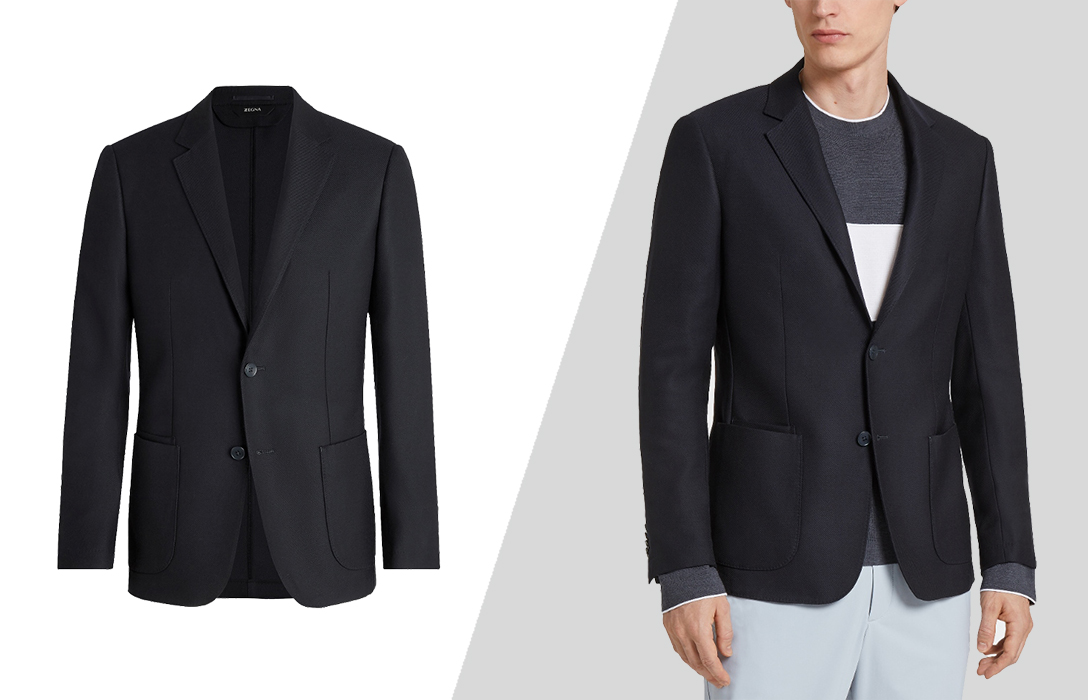 You can look conservative and respectful while loosening up your overall tone. Pair a dark blazer with either khaki-colored chinos or dark dress pants to get more flexibility out of your blazer.
Dress Shirts
You should own a minimum of two button-up dress shirts. A white dress shirt is always a required part of any wardrobe.
It works with any color suit and is the most professional and formal dress shirt. However, having a light blue dress shirt as an alternative is helpful.
It will also go with nearly any suit color and is a terrific way to make your suit a touch informal.
Dress Pants
Aside from your suit pants, which you can wear separately from your suit, you should also have a pair of grey dress pants.
Grey can pair with any color top you have on.
Dress Shoes
You'll have multiple uses for a pair of well-made leather dress shoes. The color of your shoes greatly matters, as does the style.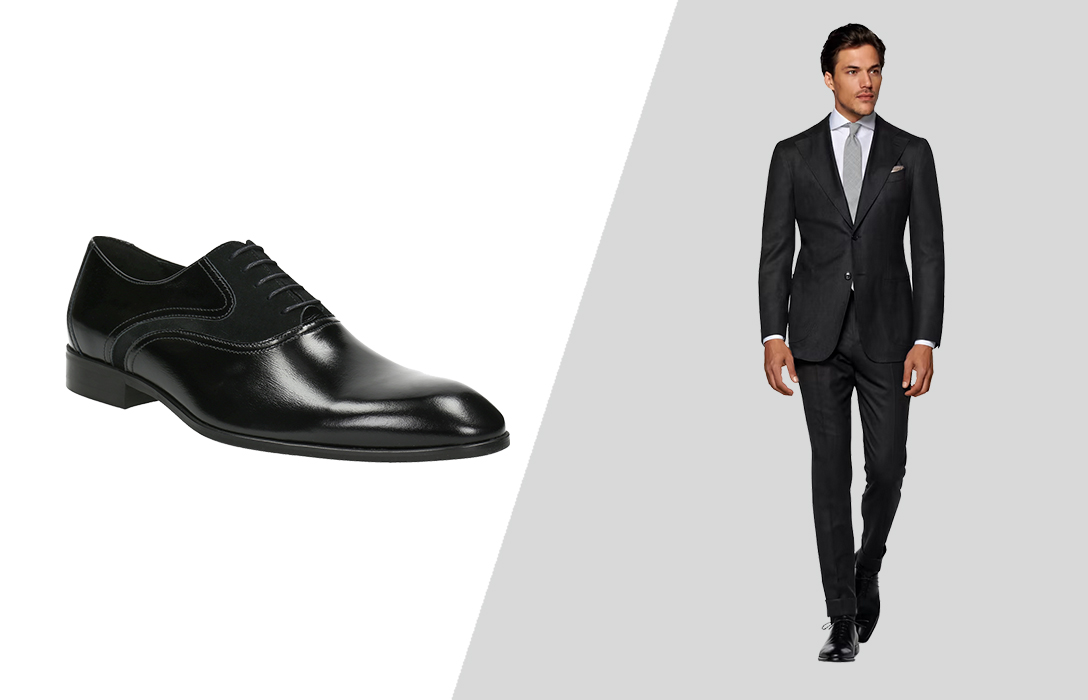 You should own a few styles in different colors; they will see you through all your wardrobe needs.
A pair of black cap-toe oxfords will cover your most formal events. On the other hand, brown derby shoes are slightly less dressy if you want to portray a more casual vibe.
Dress Boots
Your footwear choices critically balance style, comfort, and practicality when building a winter capsule wardrobe.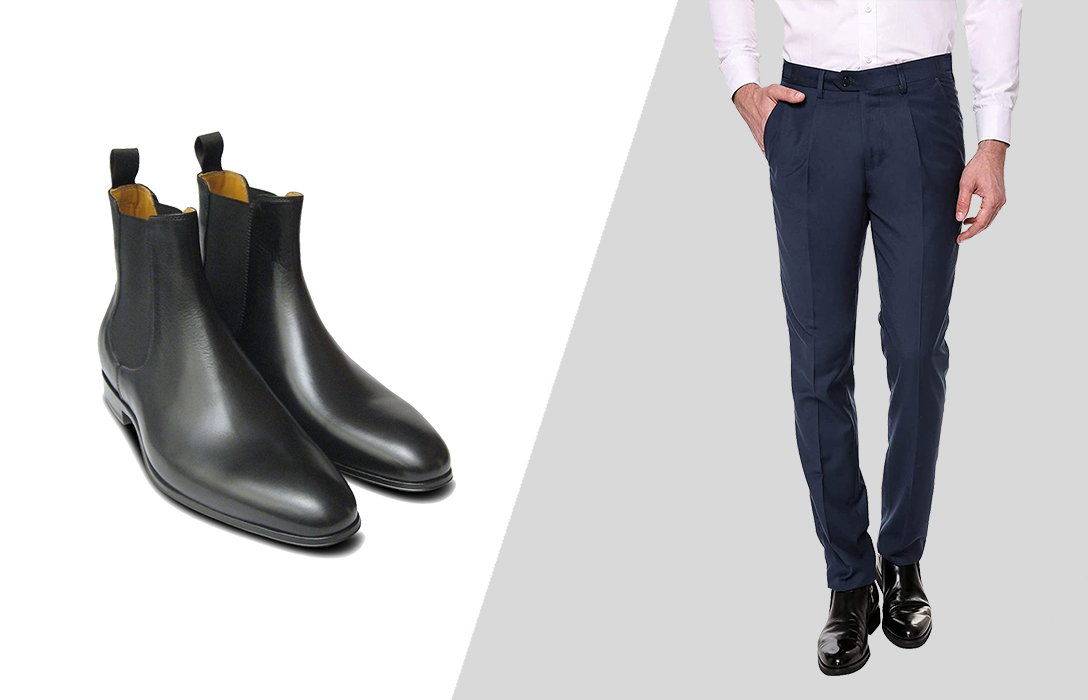 Within the realm of dress boots, Chelsea boots are an absolute must-have. They exude a sense of effortless elegance and can seamlessly transition with any formal attire.
For a genuinely timeless twist, add burgundy lace-up brogued dress boots and completely change your suit to a more elegant, less conservative look.
Overcoat
When your formal event falls on a cold winter night, an overcoat can help you stay dressed up.
An overcoat won't detract from your debonair look for dressy occasions; it will make you look more elegant.
Pea Coat
If your dressy outfit isn't totally formal, a more relaxed pea coat is the perfect solution.
It's incredibly warm and looks great with a suit, nice jeans with dress shoes, and everything in between.
Casual Capsule Wardrobe Essentials
A capsule wardrobe should cover all your clothing options. It's easy to forget about including casual clothing if your main focus is typically wearing a suit for work.
Unstructured Blazer
If you want a slightly dressy twist to your casual outfit, go for an unstructured blazer instead.
A material like linen or cotton is perfect because it won't add stiffness to the blazer. Choose one that's either brown or a light color, which will keep it more laid back.
Button-Down Shirt
A button-down shirt has small buttons on the collar points to secure them to the top of the shirt's chest.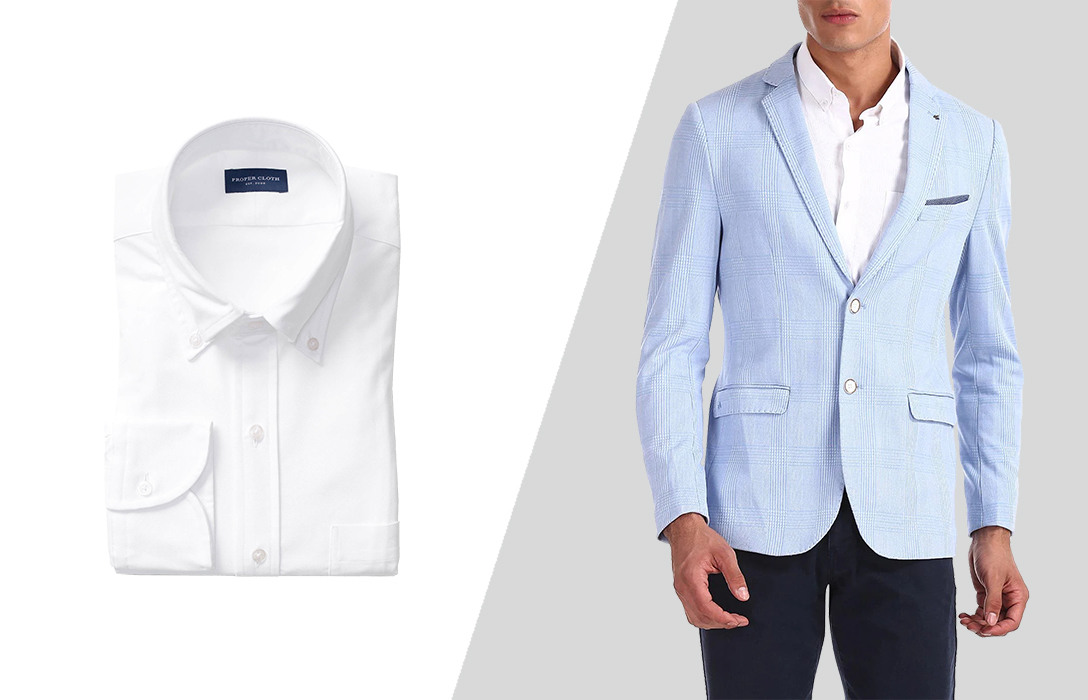 This small addition to the shirt makes a remarkable difference in the shirt's formality. This is not as professional looking.
Chambray Shirt
The fabric is a weave using both white and blue thread, giving it a denim effect.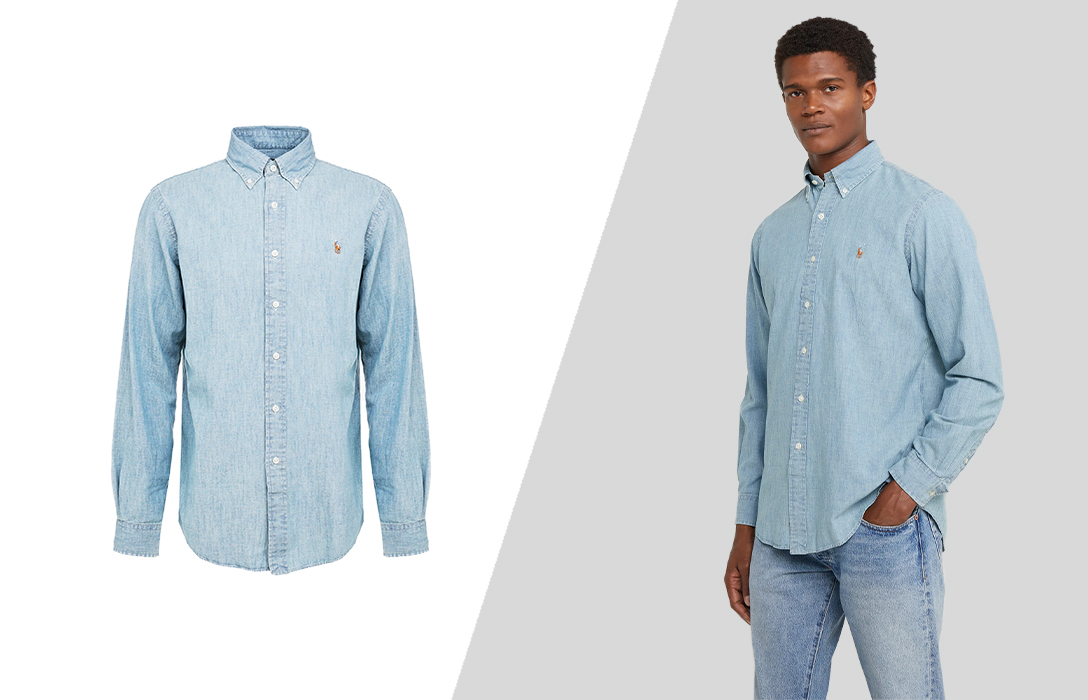 That's why it can look like a hardwearing workshirt or a business casual shirt, depending on how you wear it.
Turtleneck
A turtleneck is a shortcut to looking sophisticated in any setting, as long as you wear it correctly. Always veer toward dark colors for turtlenecks.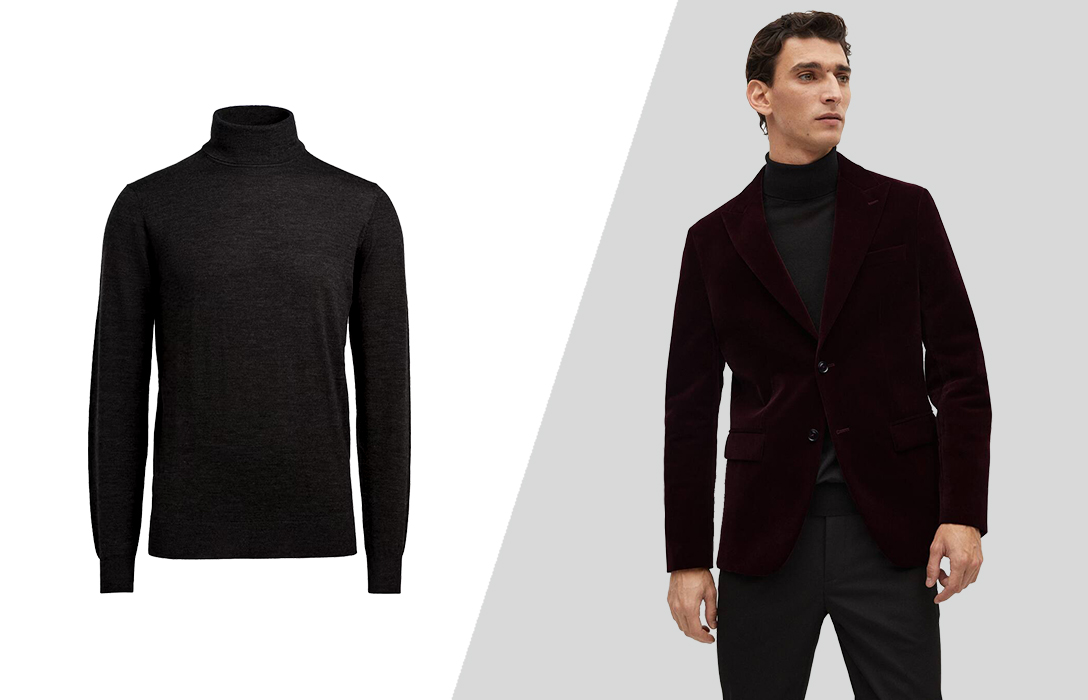 And never pick one that is a thick and heavy weave. The lighter your turtleneck is, the better it will sit against your body.
Cardigan
This style is classic and inviting; it's the perfect way to indicate that you're feeling cozy.
Layering up with a cardigan is incredibly easy. You can toss it over nearly any button-up, t-shirt, or even the right dress shirt.
Crew Neck Sweater
Stick with the layered look by incorporating a crew neck sweater into your capsule wardrobe. As with the turtleneck, this garment needs to be lightweight.
Chunky knits are great for ski trips but not for your daily activities. Again, you can dress this look up with a collared shirt underneath or keep things super simple with a t-shirt peeking out under your neckline.
Polo T-Shirts
The addition of a collar to this lightly woven shirt helps elevate it beyond mere weekend wear. A polo shirt can make a fantastic addition to any business casual setting when paired with chinos.
You can swap over to jeans for after-work drinks and look casually dressy. Or toss on a blazer and head out to a nice dinner.
Minimalist T-Shirts
T-shirts are practically a must for any wardrobe. However, graphic and logo tees won't serve you well.
Instead, focus on a handful of plain-colored t-shirts so you can easily sneak them into nearly any outfit. Plain white, black, and grey will cover all your essential t-shirt pairings.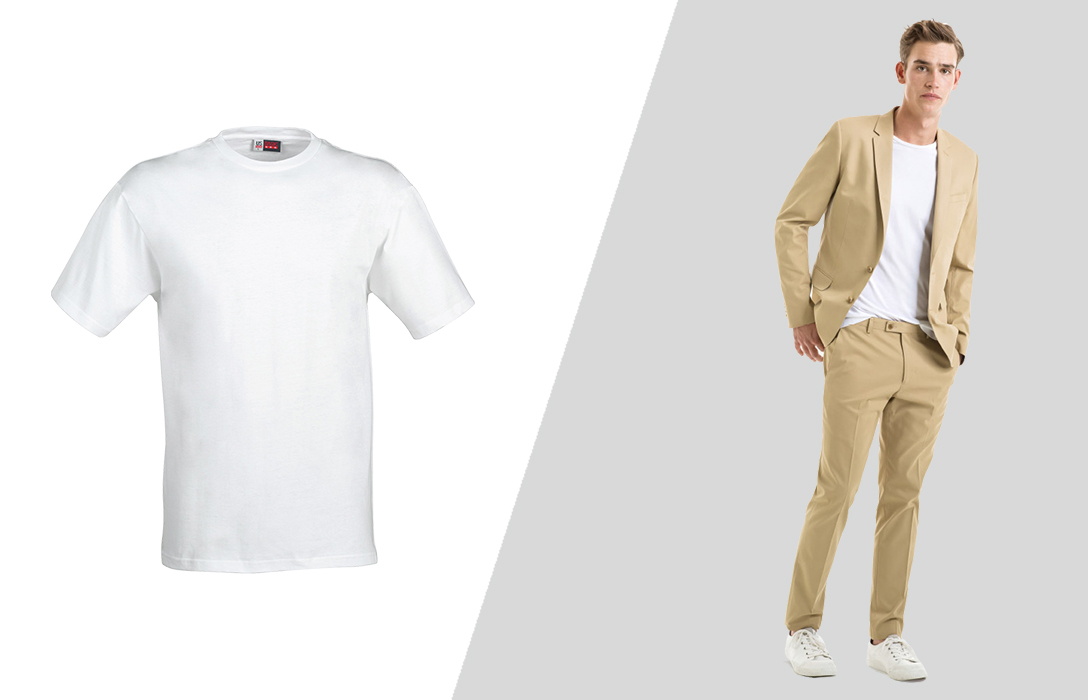 You can wear one under your blazer for a snazzy night out, under a cardigan for a laid-back weekend, or just wear one alone.
Chinos
Face it; you can't lounge around in sweatpants and excuse it by saying you're just dressed casually. If you aren't at home sick, those sweatpants need to go.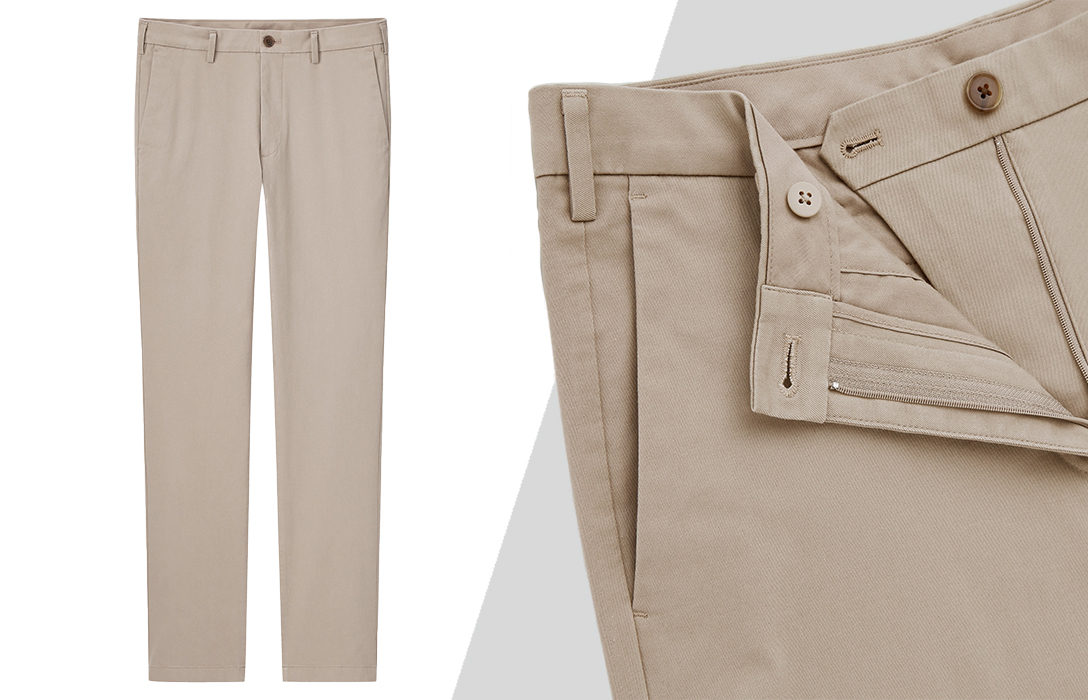 You need some mature casual pants that don't involve elastic. Get a couple of pairs of chinos in different colors, like khaki and navy.
They'll pair wonderfully with a simple t-shirt but can be appropriate for more dressy days with a button-down dress shirt.
Jeans
Denim is a staple of any casual wardrobe, so of course, you'll need some jeans in your capsule wardrobe. However, just as sweatpants don't serve you well, neither do faded and ripped jeans.
Instead, find a pair of slim-fit blue jeans or dark-wash denim. These can be perfectly relaxed, or you can dress them up with a nice blazer when you're interested in making more of an effort.
Loafers
Your brown derby shoes can only take you so far. Slip-on shoes are a lot more informal, so you should also own a pair of brown loafers.
For a departure from your other dress shoes, add some texture with suede loafers. There are dozens of loafer styles, but penny loafers would be the most versatile choice.
You can dress up a leather pair somewhat, but they're also relaxed enough to pass for casual.
Minimalist Sneakers
Sneakers are another staple of the casual wardrobe. But avoid athletic styles – unless you're playing sports, of course.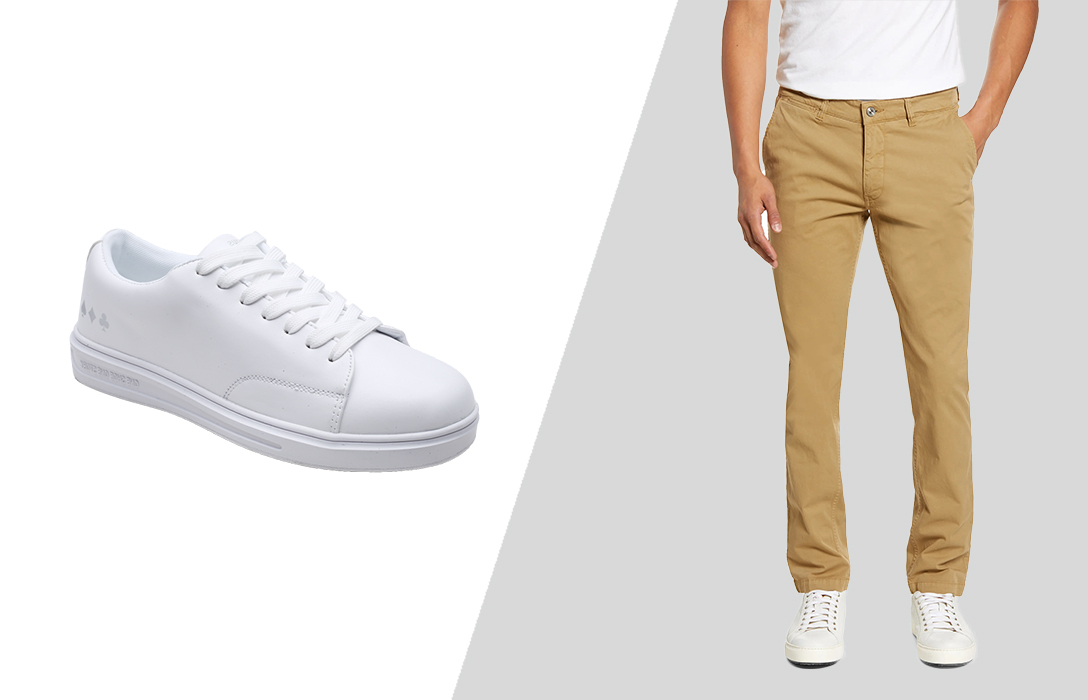 Otherwise, stick to white leather sneakers in a classic, basic style. If your sneakers are free from stains and scuffs, you can pair them with way more than just your jeans.
With the right supporting garments and accessories, you could even wear them with a casual suit.
Chukka Boots
Take a departure from the expected footwear by adding chukka boots to your closet. They go far in changing the tone of your outfit, whether you wear them with jeans or chinos.
Chukkas are perfect for lending your outfit a preppy urban vibe, especially during fall and winter.
Lightweight Jackets
A jacket is helpful to add to your outfit when it's a bit chilly outside, but it can do more than that. Sometimes a jacket can be the centerpiece of your ensemble.
Whether you choose a denim, bomber, or field jacket, you can build your entire outfit around that one piece.
Just be sure you're wearing something appropriate to your outfit underneath it; if you get too warm, you'll want to remove it.
Parka
When the temperatures dip below freezing, that lightweight jacket isn't going to do you any good. Your overcoat will look far too out of place with casual jeans, so you should have a warm parka to rely on.
A timeless parka keeps you warm and looks stylish as it does its job. Parkas are super-insulated jacket types, and most have hoods. Whether you want it fur-lined is up to you.
Accessories for Your Capsule Wardrobe
Most outfits benefit from one or two well-chosen accessories. The secret to completing your look is choosing the best ones.
Most of the time, you'll want to put on a belt. It isn't for need but rather for show.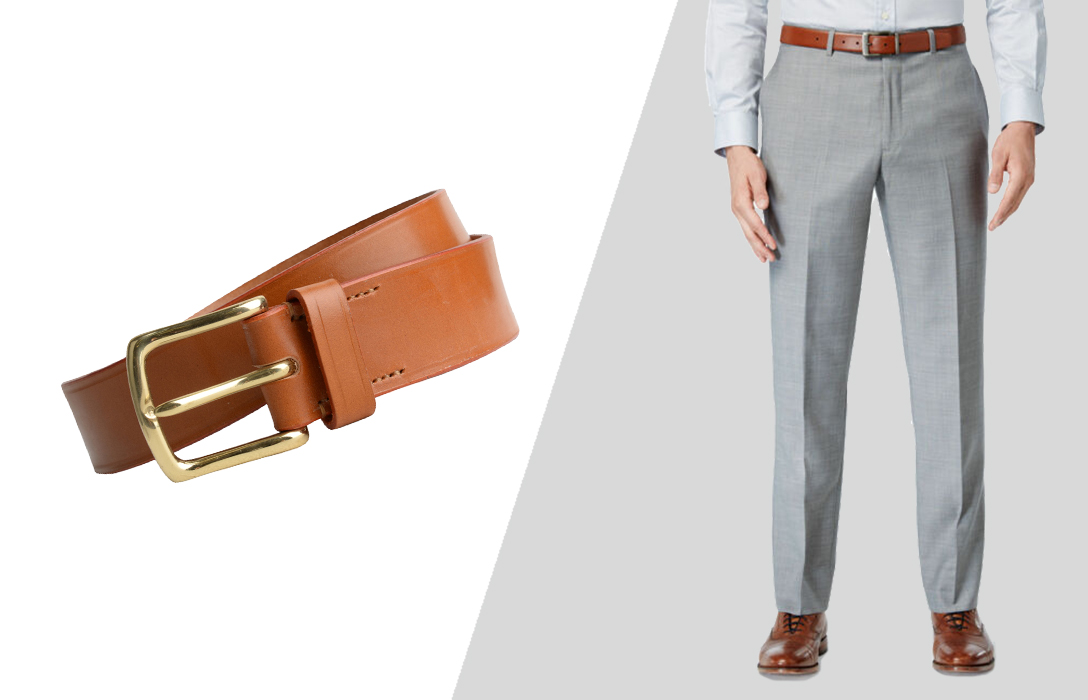 If you aren't wearing formal clothing, play around with canvas styles; these can be a fun way to add personality and color to your outfit. Or experiment with your belt buckles on leather belts.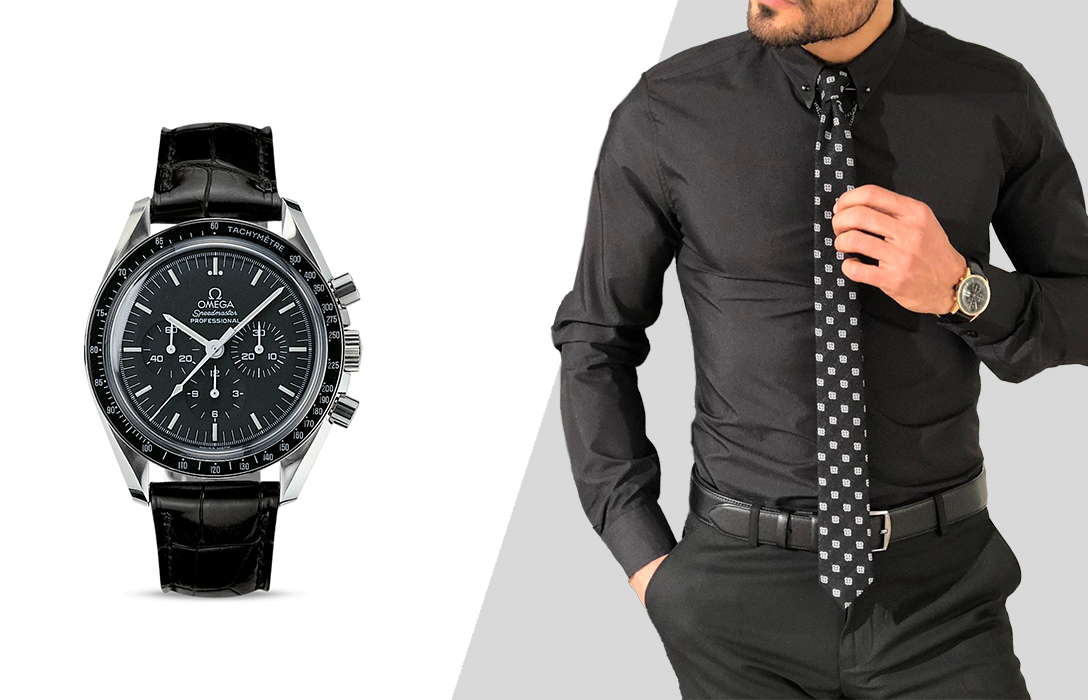 A watch is another item that can make a bold statement. With so many styles, you might have difficulty opting between a diving or an aviation watch.
Of course, if you're firmly in the formal range of dressing, try a pocket square in your breast pocket. It's a small detail that makes a huge splash.
Tips on Building Your Starting Minimalist Capsule Wardrobe
Before you make a shopping list and check it twice, it's essential to do your homework. Putting your capsule wardrobe together requires some pre-planning.
The most crucial step is to understand your "why." What are you looking to get out of your new wardrobe?
If you want ease in dressing or to stick to a specific image, that must be considered in your planning. Once you know your purpose for creating a capsule wardrobe, you can begin your checklist.
Discover Your Fashion Identity
Can you sum up your fashion style in one word? To keep your image consistently well-managed, you need a sense of personal style you can display in your clothing.
If you don't quite have "a look" or even know what you want, you must first figure out which styles inspire you. Spend some time looking at images online.
Save screenshots of what you like, and then put them all together. Do you notice a trend?
You'll likely notice that you gravitate toward specific cuts and fits; you may realize that you prefer comfortable clothing over sleek styles.
Tailor Your Capsule Wardrobe to Your Lifestyle
Be practical when putting your new wardrobe together.
For example, you may love dapper, fancy suits. But building your wardrobe entirely around high-end suits wouldn't make sense if your job is much more casual.
Consider your work needs as well as what your social life looks like. If you're an avid hiker, your capsule wardrobe should account for that.
On the other hand, if most of your days are spent brokering deals for new startups, hiking shorts may not be your wisest move.
Choose Timeless Over Trendy Pieces
The latest fads are fun for a minute, but they never last. That super fashionable shirt you just dropped a wad on won't be wearable a year from now.
Likewise, if your capsule wardrobe is full of super stylish trends, you'll need to replace it in a year or two. But a classic, traditional style can last you for years, especially if they're high quality.
Focus on the Fit
Whatever style you choose, whatever wardrobe you put together, how well your clothes fit is always the most crucial element.
Avoid baggy clothes. Even your most casual, relaxed pieces should not hang off you.
Your goal is to be comfortable, not look sloppy. You can still be comfortable with a closer fit.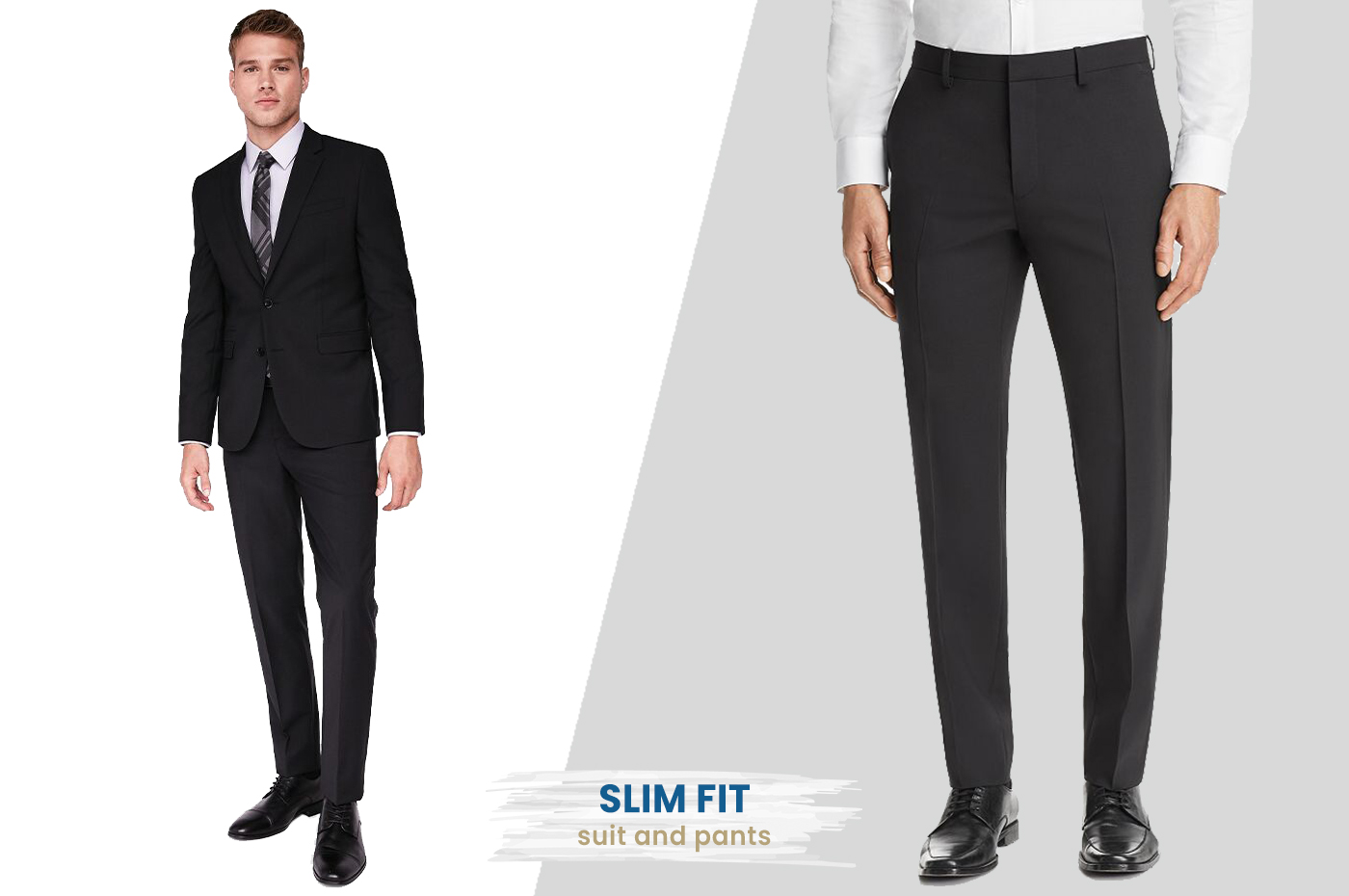 A straight or slim fit is generally the most flattering option for formal outfits. Be mindful that you don't get super skinny cuts, though.
Maintain Your Minimalist Capsule Wardrobe
You've taken great care to pick the perfect pieces to build your timeless capsule wardrobe. So, now what? Now, you need to take good care of your garments.
Investing in high-quality construction isn't enough; you need to maintain that quality. Follow all label instructions when washing your clothes.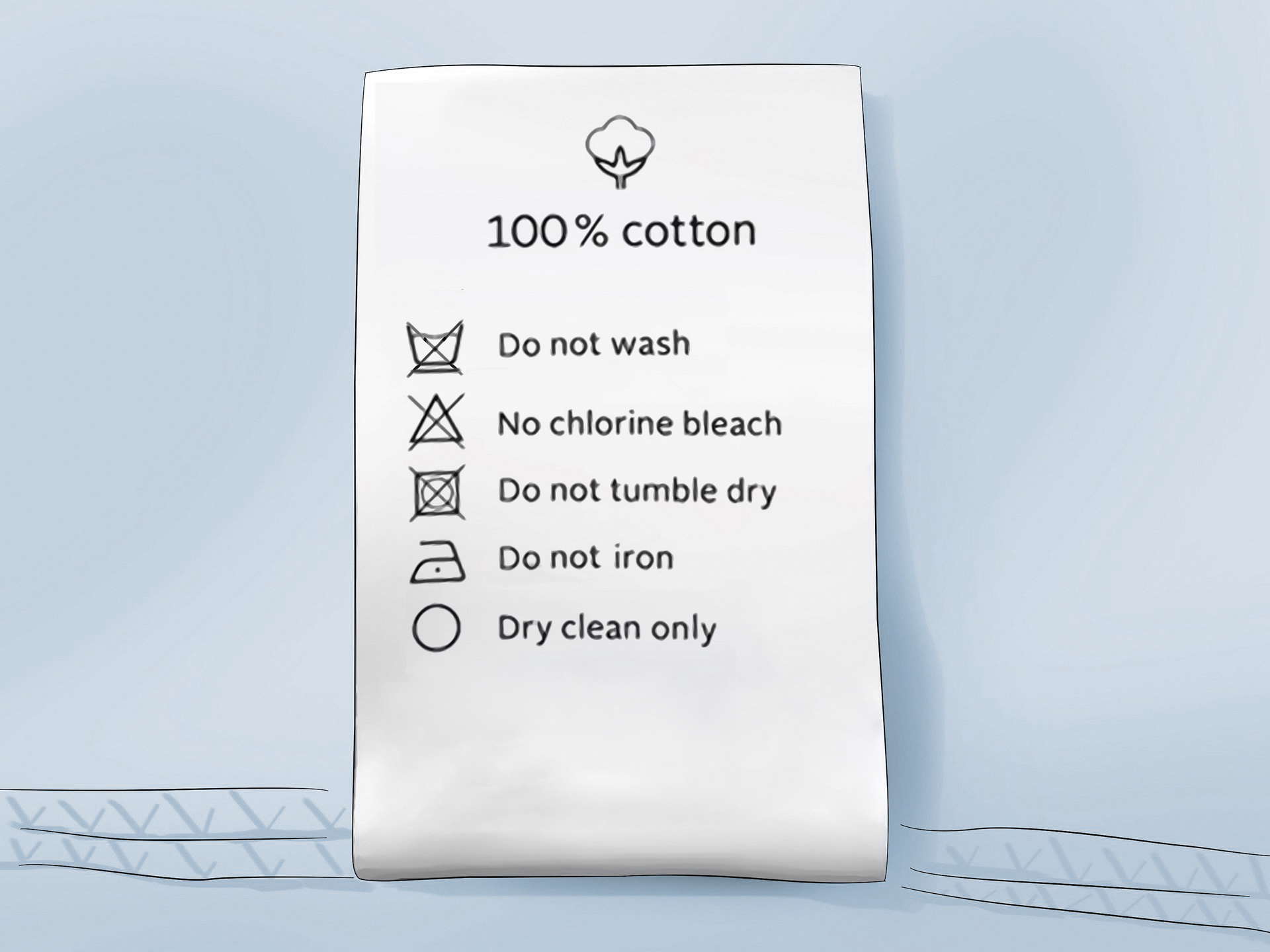 Only wash when necessary, and use the dry cleaner sparingly. Washing and drying can be harsh on your clothes, but dry cleaning is much harsher.
When you are ready to put your clothes away, remember that storage can significantly affect how well your clothes last.
If hanging them up, use wide, sturdy wooden hangers and keep them in a dry, dark space. Don't allow any sunlight; that will make them fade faster.
Author: Alexander Stoicoff
Hi, I'm Alex, and I've studied and specialized in styling in Rome. Through my writing, I want to help men dress well and learn the purpose and significance of suits and other formal attire. My final goal is to make men more confident in their wardrobe choice and life in general.