Feeling in a rut about the shoes you wear with your navy suit? Then perhaps it's time to branch out.
Thankfully, there are many exciting choices for what shoes you can wear with navy, including color choices.
So, set aside your old shoes and step out into something you might not have imagined before.
Black Shoes with a Navy Suit
A navy suit is one of the most formal ways to dress, after a black suit.
So pairing your suit with black shoes is about as acceptably dressy as one can get during daytime hours. It's a classic business professional look.
This pairing is impeccably elegant. The tones are incredibly close to each other and, in certain lighting, may even appear the same color.
This makes for a very streamlined aesthetic.
The style of the shoe is essential in maintaining this traditional appearance. This means you need formal shoes if wearing black with your navy suit.
Oxfords are the top choice; they're simple and very dressy. However, a derby style or a cap-toe design is also perfectly acceptable.
The simplest way to complete your outfit is with a white button-up dress shirt and a dark tie.
A black tie would be a beautiful way to tie the entire ensemble together, but charcoal, navy, or bold red are all stunning tie alternatives.
Dark Brown Shoes and a Navy Suit
Perhaps surprisingly, dark brown shoes can work perfectly in very dressy situations and can step in for semi-formal outfits.
While this color shoe is still quite dark, it isn't quite as formal as wearing black shoes. They also have the attraction of being somewhat less severe looking than black.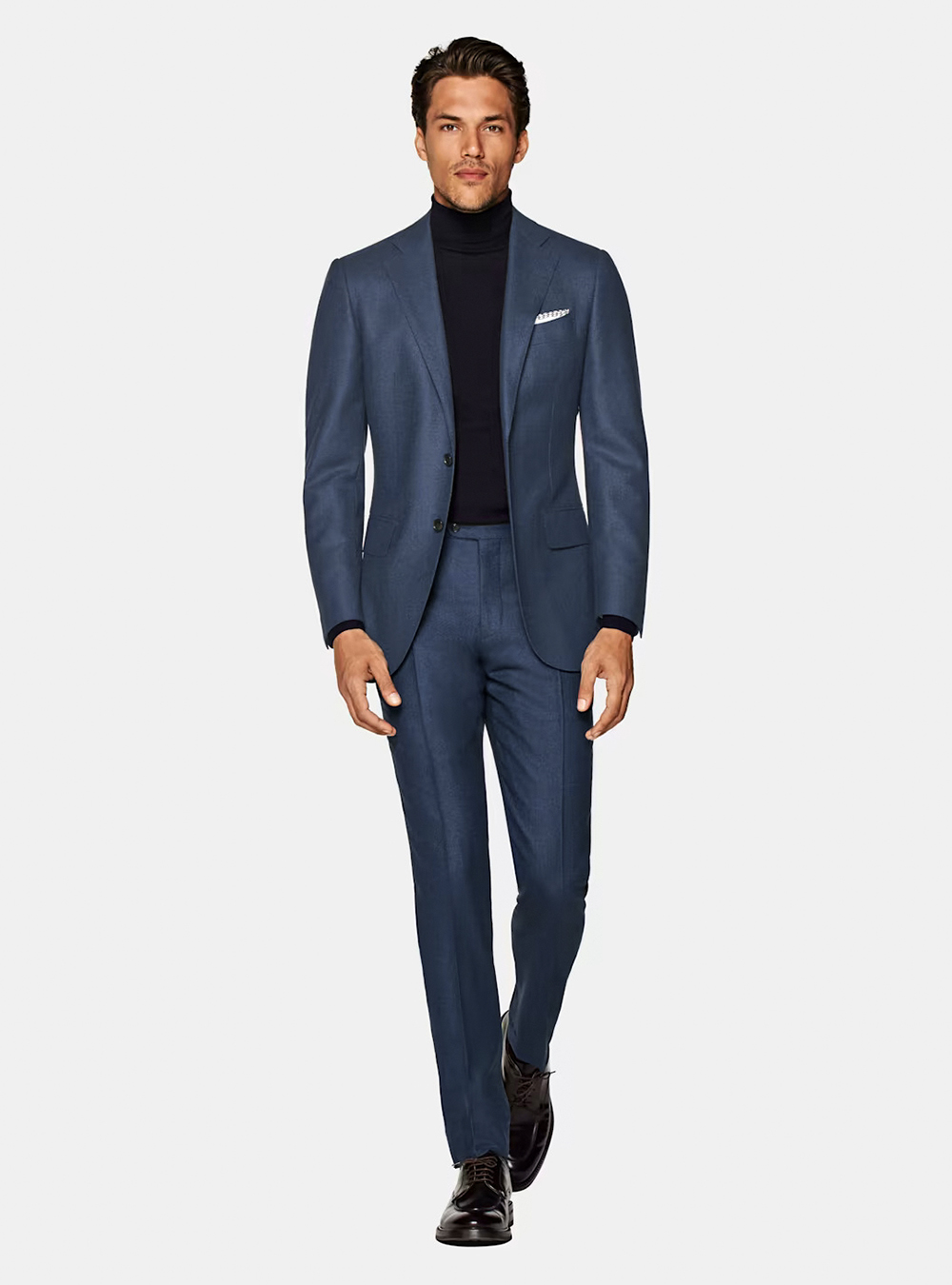 You can gracefully incorporate these shoes into professional outfits for a more approachable appearance.
Dark brown dress shoes are never a wrong choice with a navy suit unless you choose the wrong shoe style.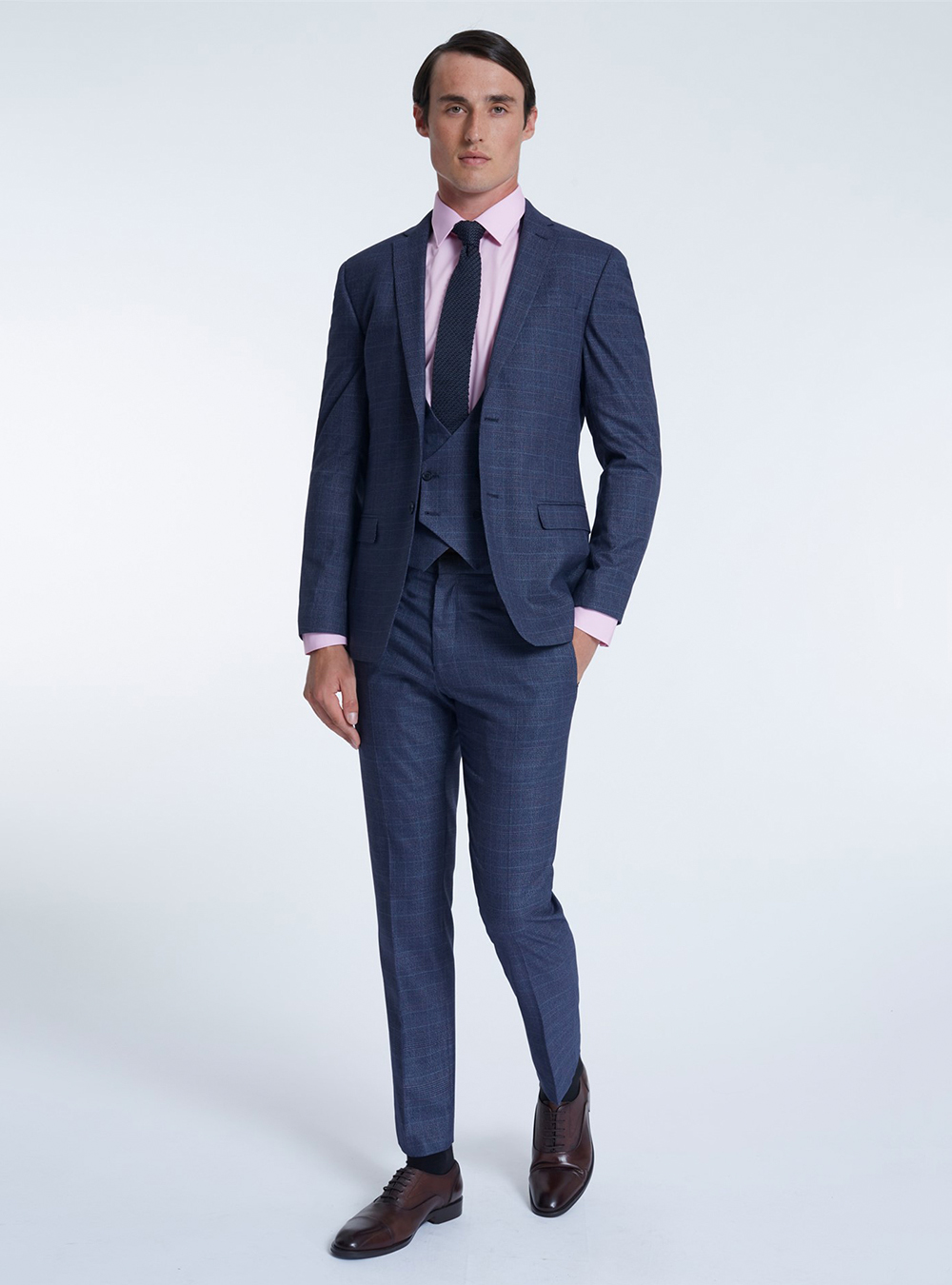 Because they're still very dressy, you can again opt for oxford or derby shoes.
You can also wear something with a bit more personality, like wingtip brogues or monk straps. These styles can inject some contemporary vibes into your sophisticated suit.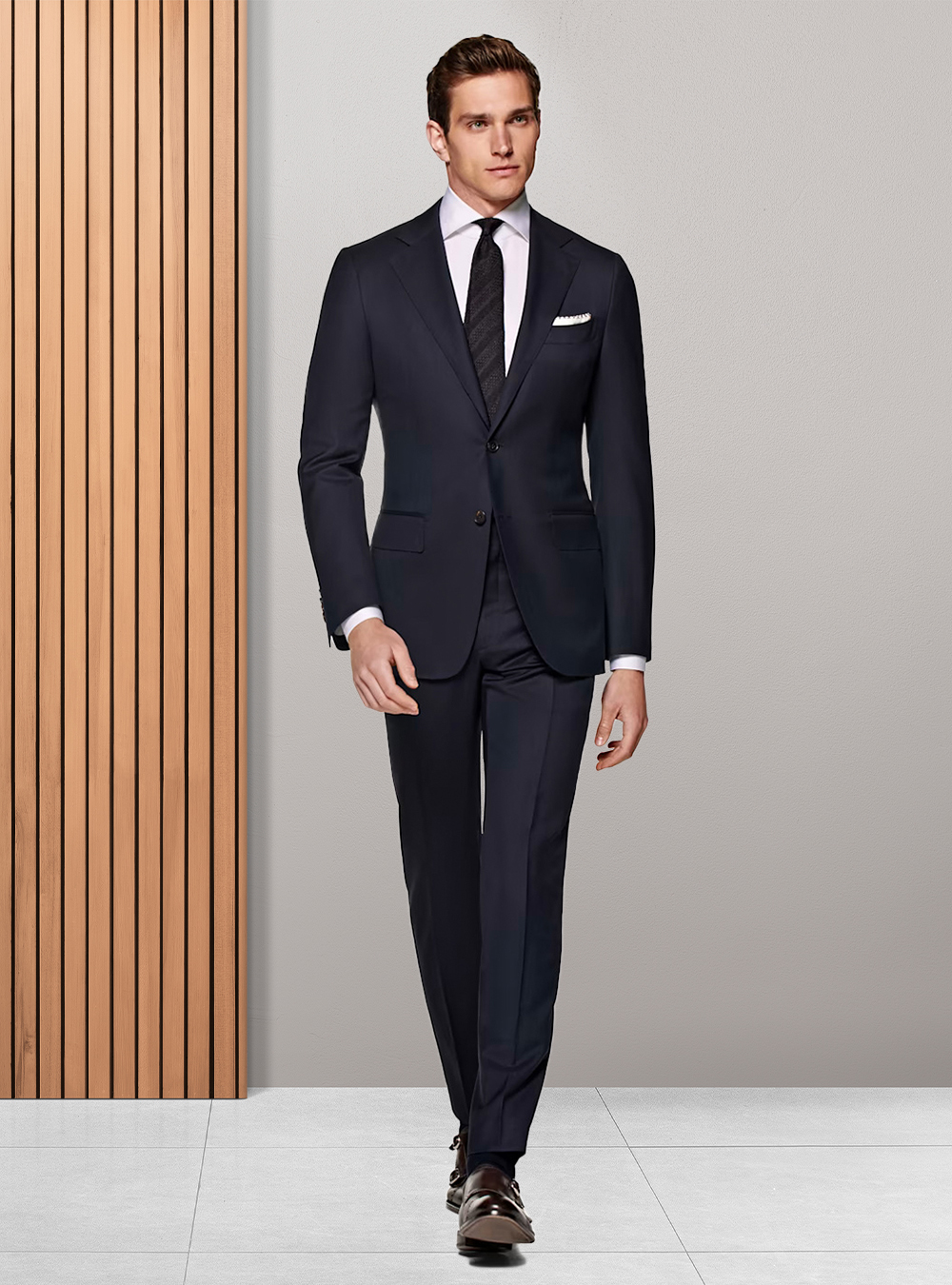 A white dress shirt is still the gold standard for this ensemble.
However, if headed out to a social setting, like a cocktail party, you can make a more festive showing with a pink button-up. A dark tie will perfectly finish off the look.
Brown Shoes and Navy Suits
When you opt for brown shoes that are slightly lighter, you're also downgrading the formality of your suit.
Medium brown shoes can be the ideal way to bring some versatility to your navy suit, making it appropriate for more occasions.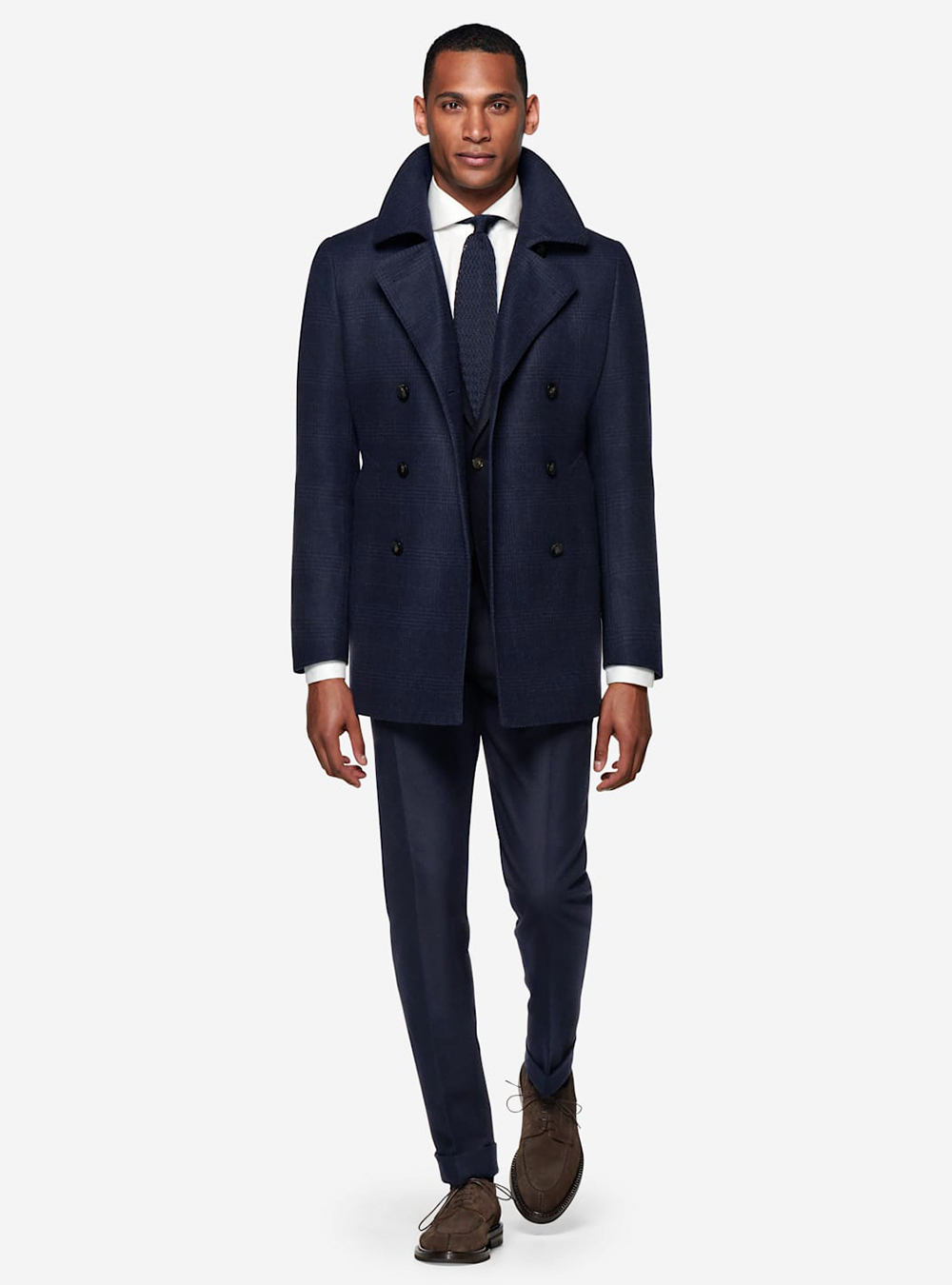 For example, if you need a semi-formal look, incorporate a pair of brown loafers, brogues, or Chelsea boots for a fresh appeal.
Of course, the old stand-bys like Oxfords, derbies, and monk straps also look terrific!
A gentler tone of brown helps create a more natural look, breaking up the head-to-toe darkness of your outfit.
A medium shade of brown is always a win when paired with navy; it looks inviting and comfortable.
And now that you are wearing a more informal shoe, you can also begin to play with the texture of your suit.
Windowpane and pinstripe suits match wonderfully with lighter brown shoes. In addition, a tweed suit in navy looks marvelous with a pair of earthy brown shoes.
Burgundy Shoes and a Navy Suit
Burgundy, and its cousin oxblood, is an amazingly sophisticated color ideally suited for semi-formal outfits.
The color adds a bit of red hue for an exciting tonal combination. It creates a satisfying sense of balance. Consider it the unexpected twist to a standard suit.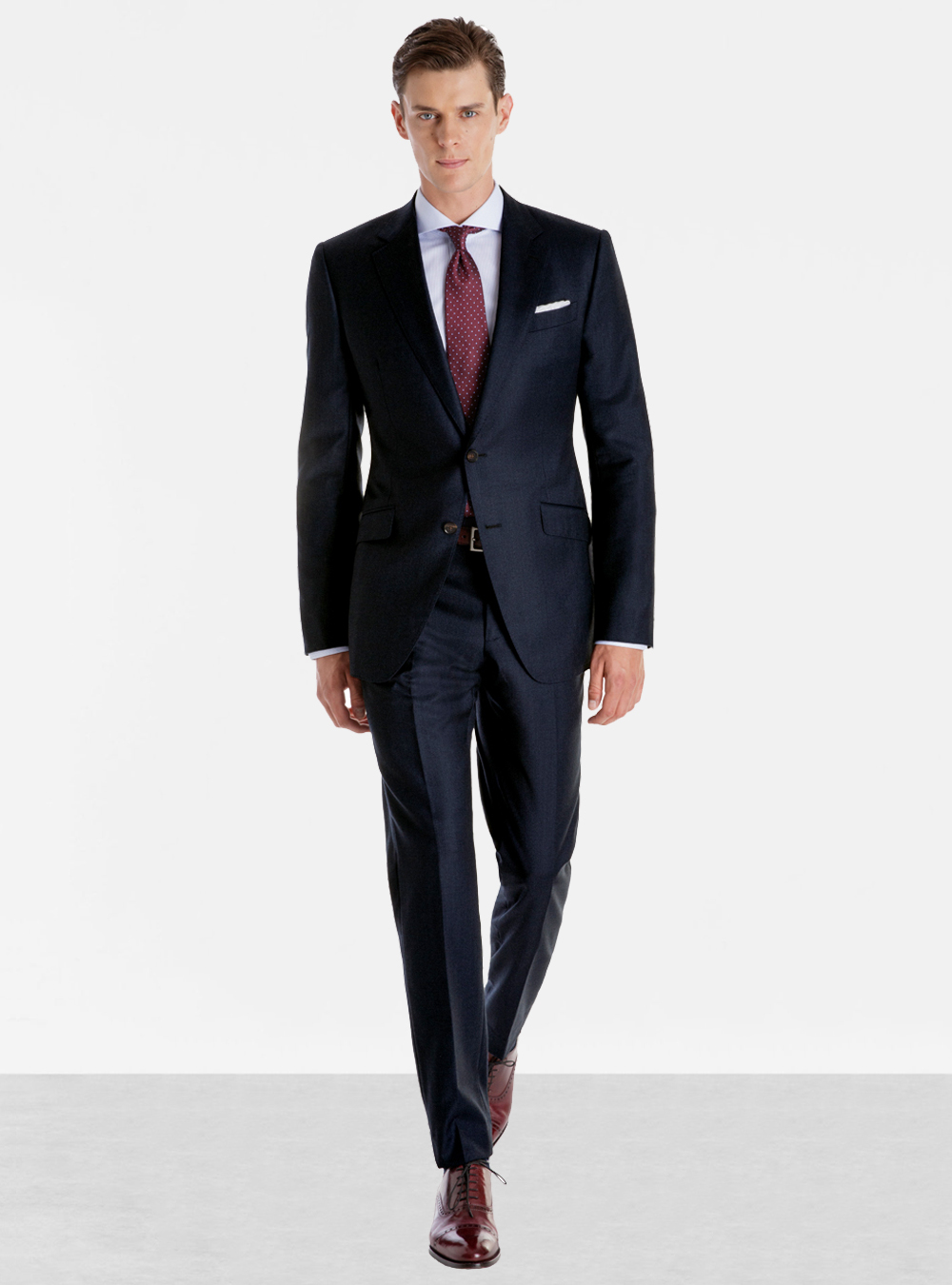 A white dress shirt is your top choice to pull everything together, letting your shoes really stand out and not compete with your shirt.
You can draw your entire suit together with a tie to match your shoes, resulting in an elegant and modern suit.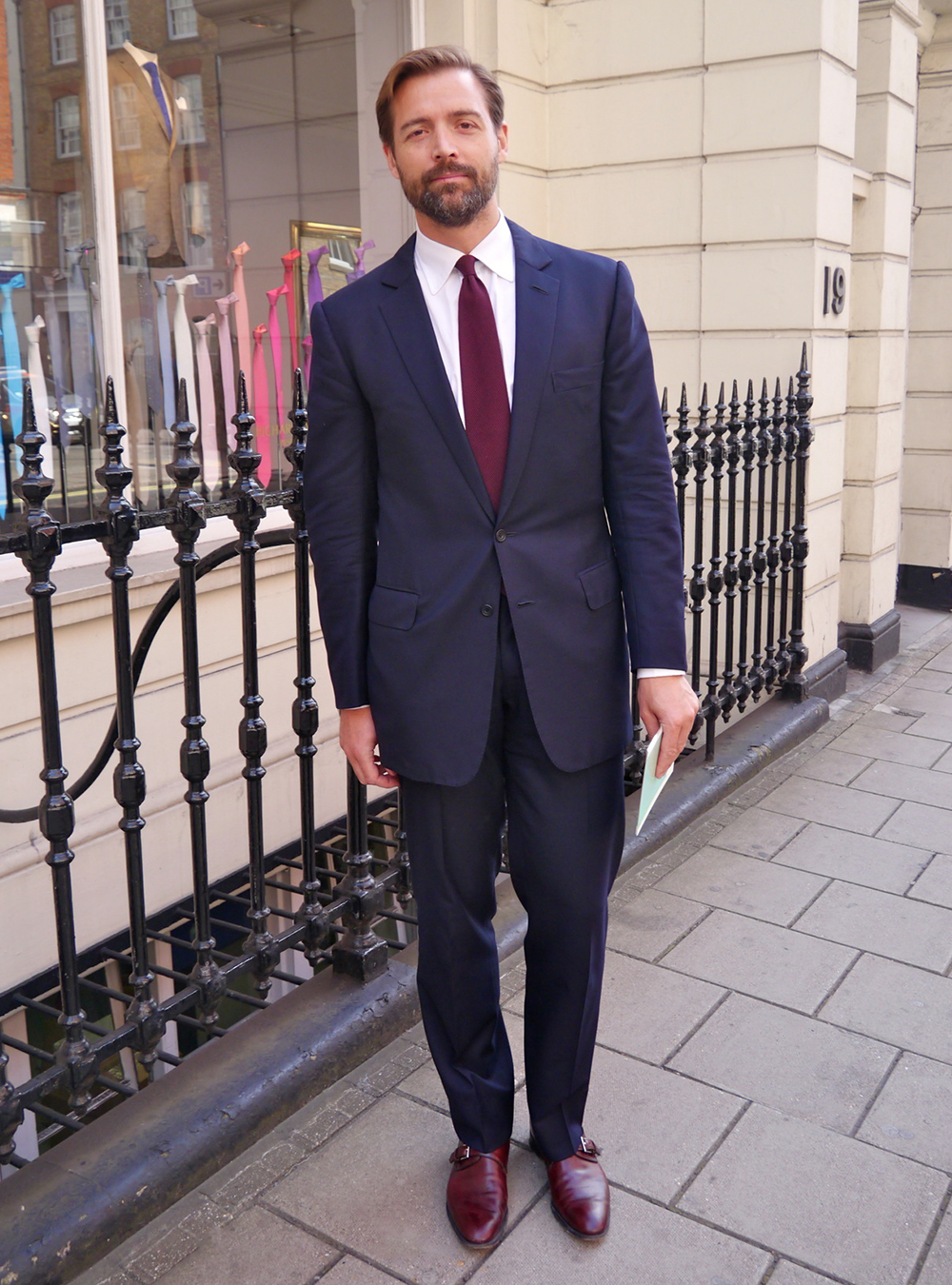 It looks impeccably professional and also freshly modern.
Navy Loafers with a Suit
Construct an entirely monochrome look right down to your shoes for a hip, laidback use of your navy suit.
Wearing loafers the same color as your suit, with no socks, is an undeniably confident way to dress.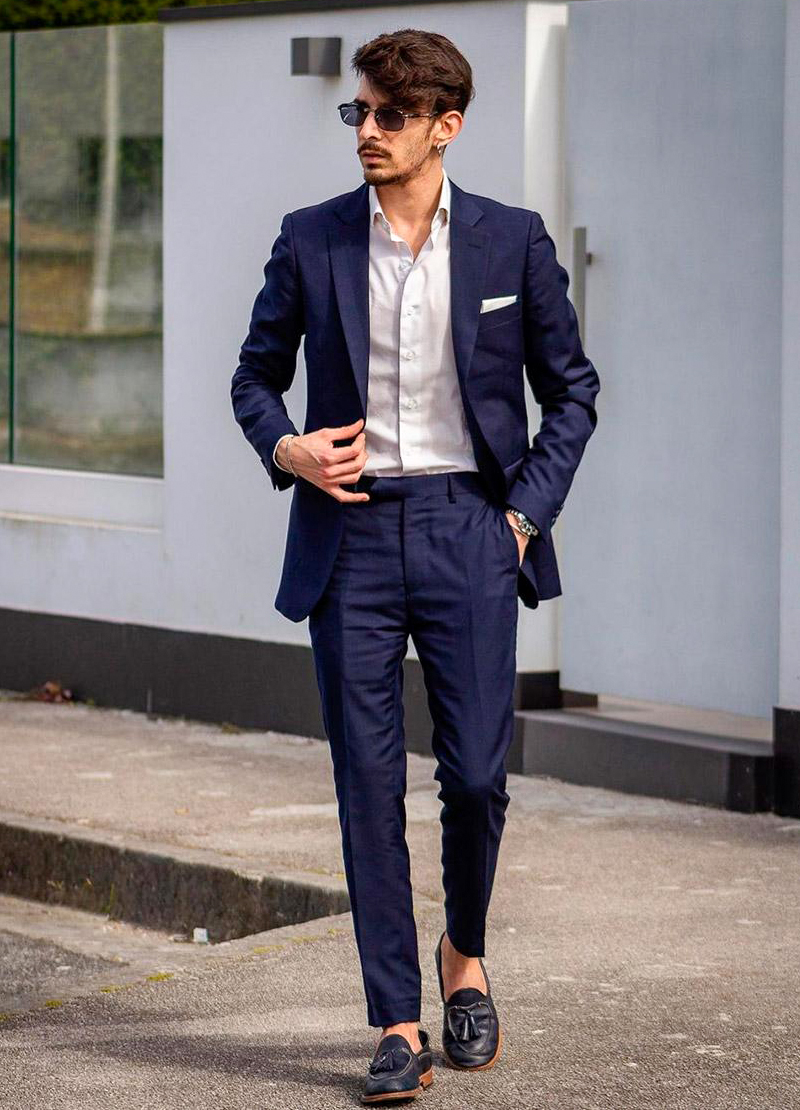 The best part is that nearly any loafer will work for this outfit. Both leather and suede are valid materials for this breezy style.
And you can choose formal loafers or ones that are slightly less dressy for a subtle shift in your ensemble. Either way, the loafers make a strong statement.
Go bold with a similarly colored dress shirt. Top-to-bottom navy is bound to attract some attention.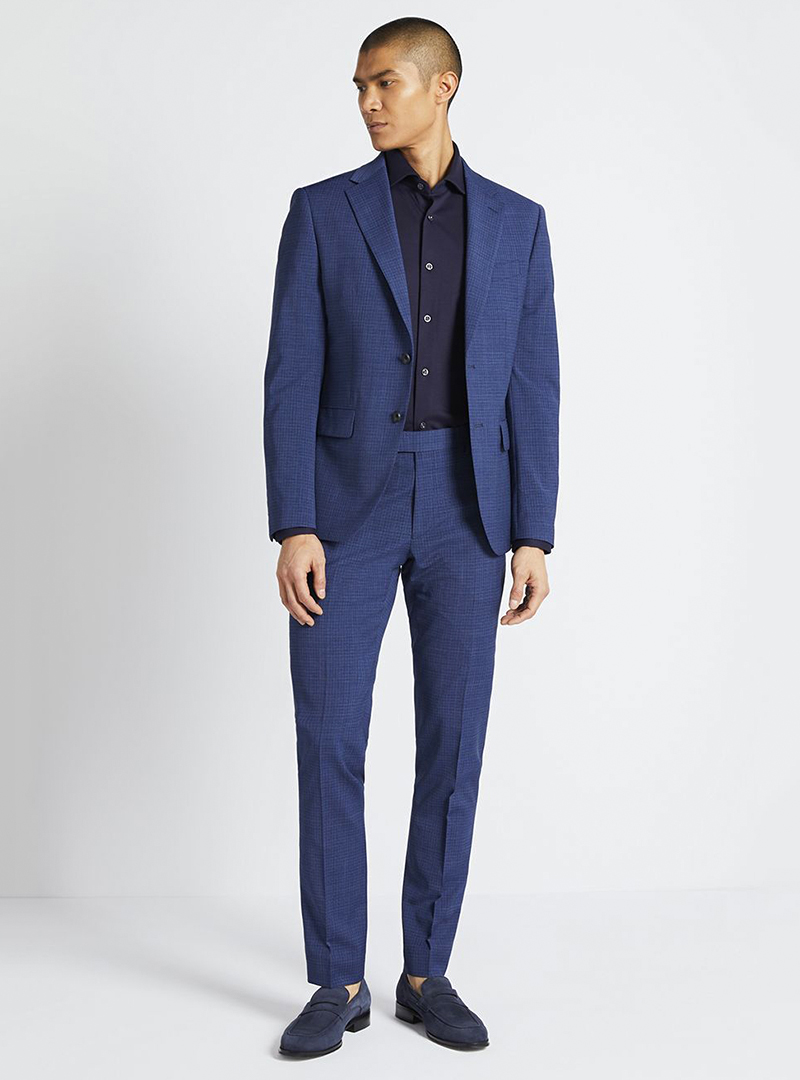 You can also be quietly confident, once again, in a white dress shirt. Leave your collar open and your tie at home.
White Sneakers and a Navy Suit
You can turn your seriously professional suit into a fun, joyfully dressed-down suit with a pair of white kicks. And bonus: they're super comfortable!
Your shoes will boldly pop against the darkness of your dark suit, so be sure they are clean and free from any scuff marks.
Pair them with a solid, well-fitting t-shirt to lean heavily into your day-off vibe.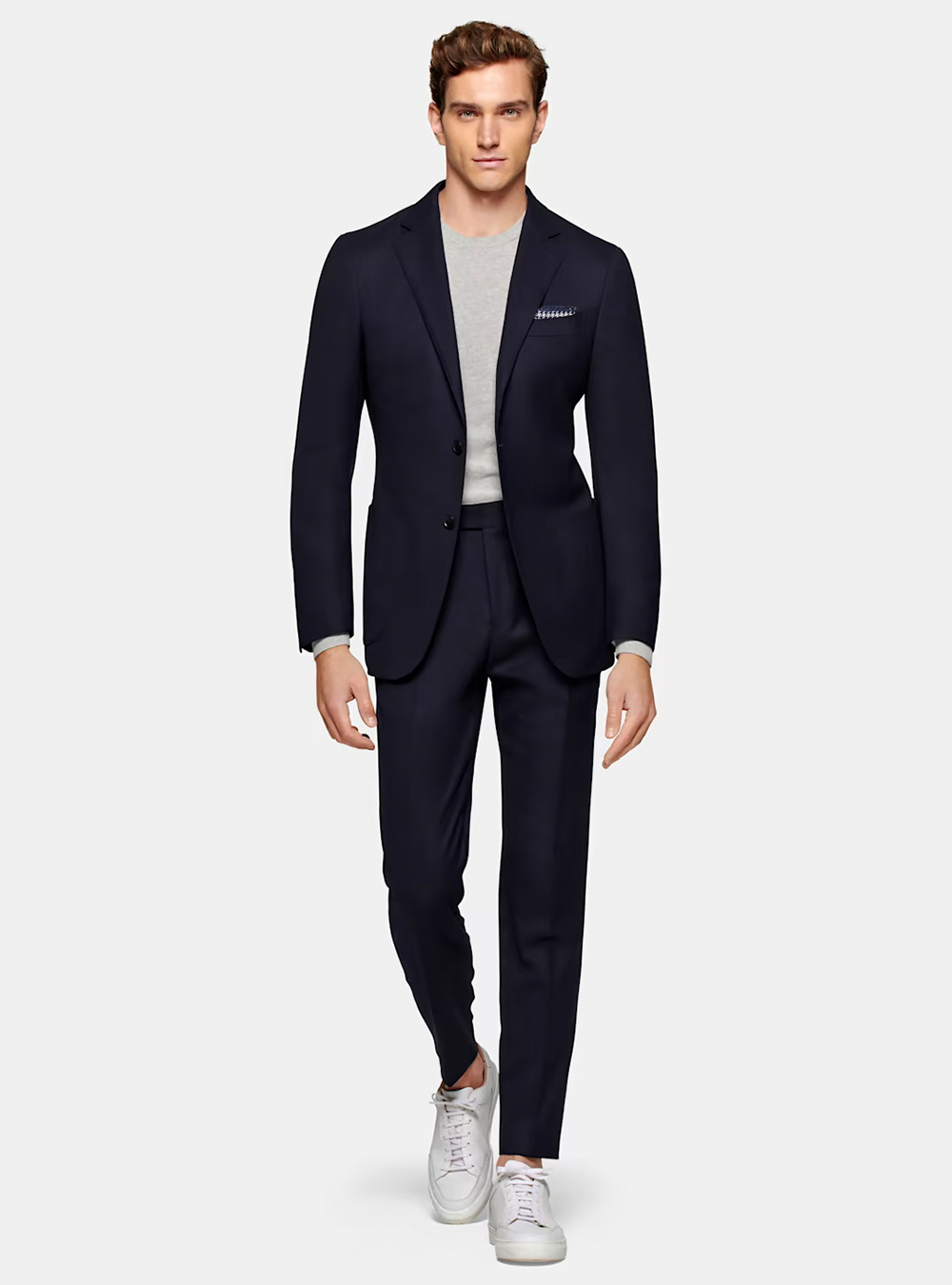 Canvas sneakers are acceptable, but plain leather ones may be a slightly better match for a suit that's professional in nature.
Unsure how to wear sneakers with a suit? Read this guide.
Things to Consider
Each of the above shoe colors is amazing paired with a navy suit… under the proper circumstances.
It's crucial to ensure that you're choosing the right style and color of shoe for the setting.
Remember that the lighter your shoe is, the less formal it is. So, when in doubt, it's probably best to stick with a darker shoe.
And be mindful that a contrast in color between shoes and suit can be good, but don't take it too far. Steer away from tan shoes, for instance.
Dress Shoe Style
The design of any shoe has an inherent formality level. Try to match the formality of your shoe to its color and the dress code.
For example, oxford shoes are always the most dressy option in any color, especially black.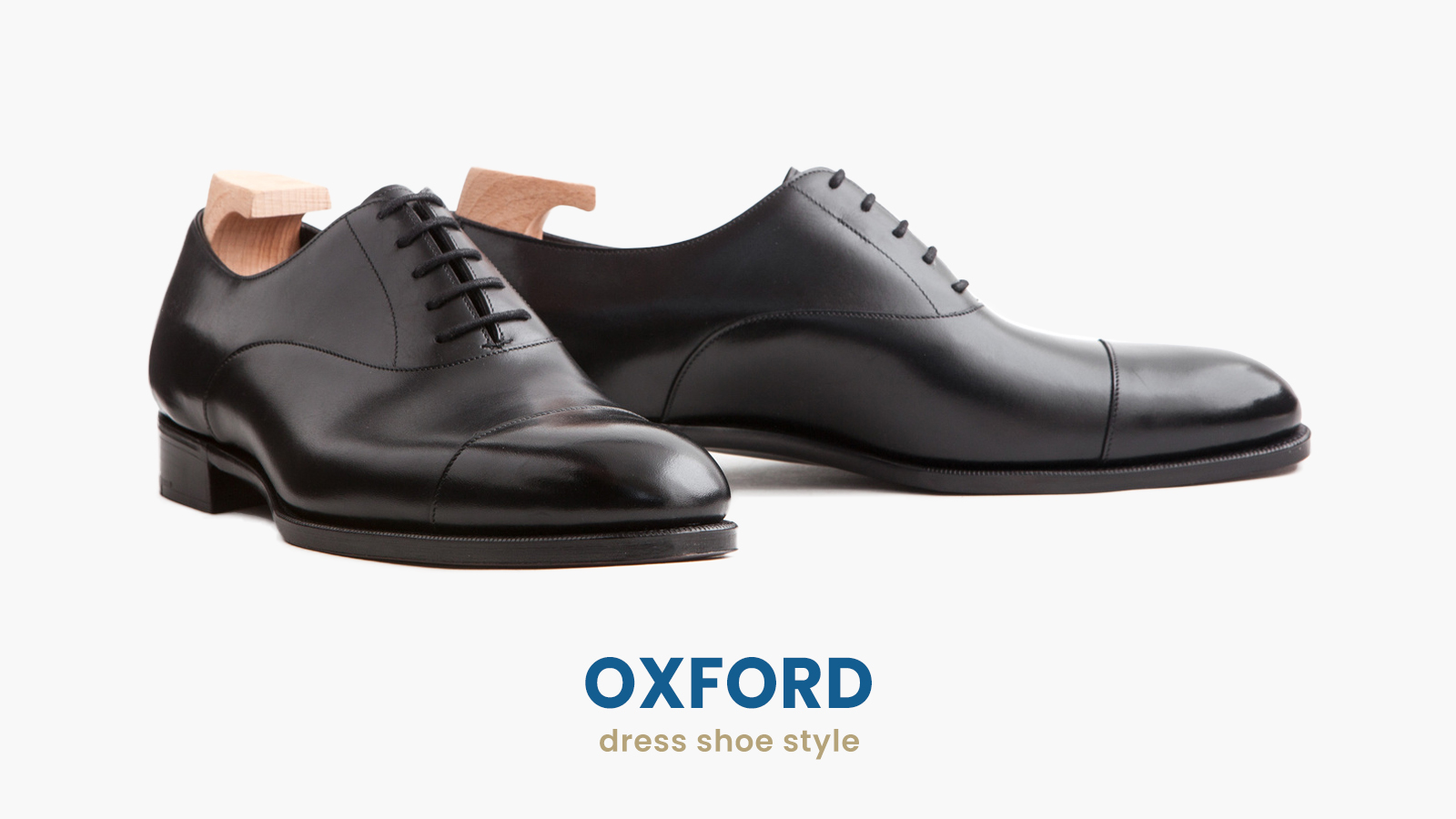 Therefore, they would not work well in a very light color, especially when paired with a navy suit.
Their close cousin, the derby shoe, enjoys similar prestige in terms of formality. Still, they're known to be less rigorous, so you may pick a lighter shade.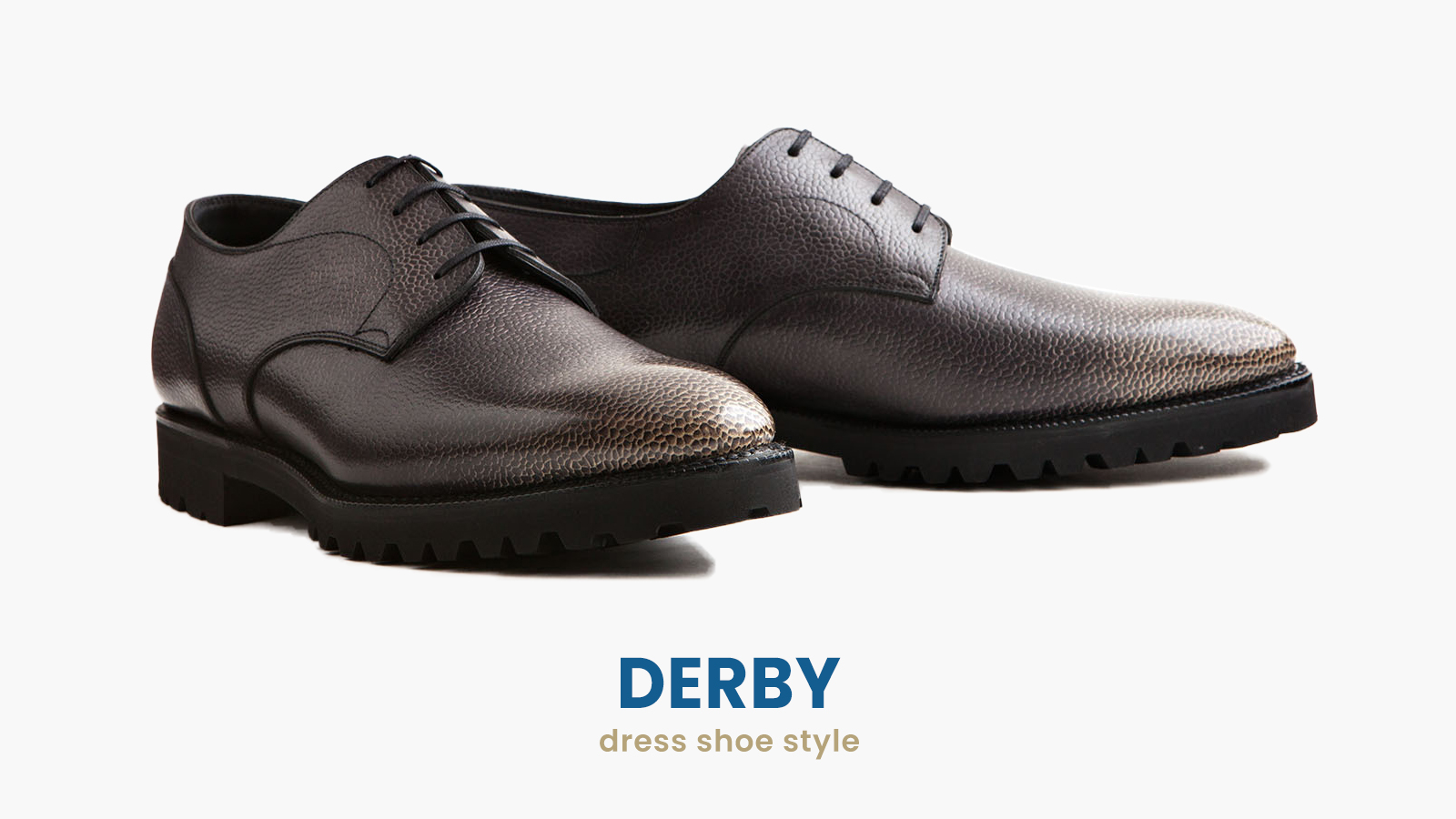 Some shoe styles can be more versatile, like Chelsea boots, which can be dressed up when dark but, thanks to their design, can feel informal.
To explore the different shoe styles for men and their formality, read this article.
The Suit Style
Don't try to force a shoe style that's far along one formality level with a suit on the opposite end of the spectrum.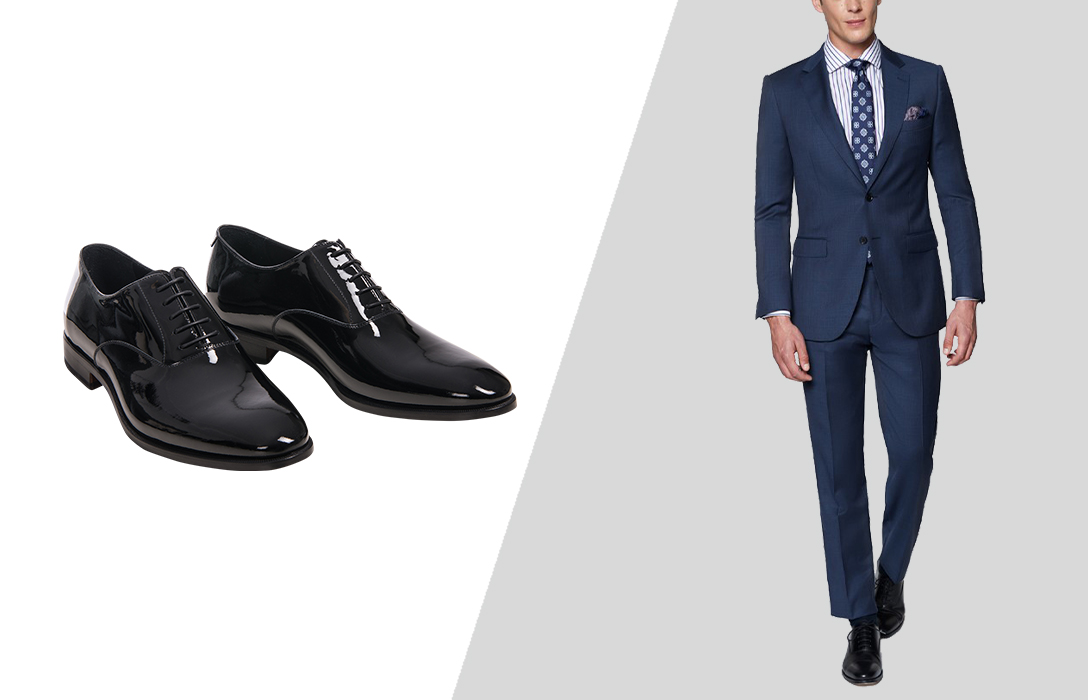 You would never think of pairing sneakers with a tuxedo or a peak lapel suit, so apply that same logic to other shoes.
Different suit styles can transform the navy suit from a formal color to a more casual one. Think of patch pockets, notch lapels, and unlined jackets.
The material of your suit can help you decide, too. If you're wearing a navy linen suit with no tie, you might want a shoe style to reflect your suit.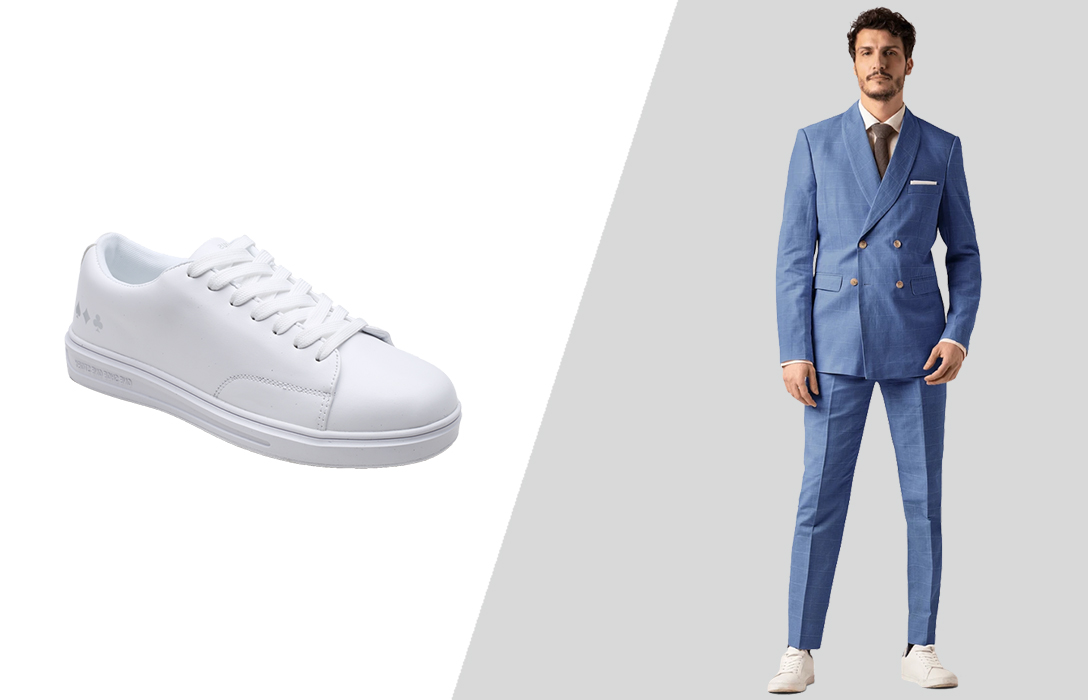 Monk straps, loafers, or even white sneakers would be an excellent choice with this suit!
The Dress Code
If you know you have a specific dress code you need to aim for, that may be a blessing when it comes to choosing your shoes!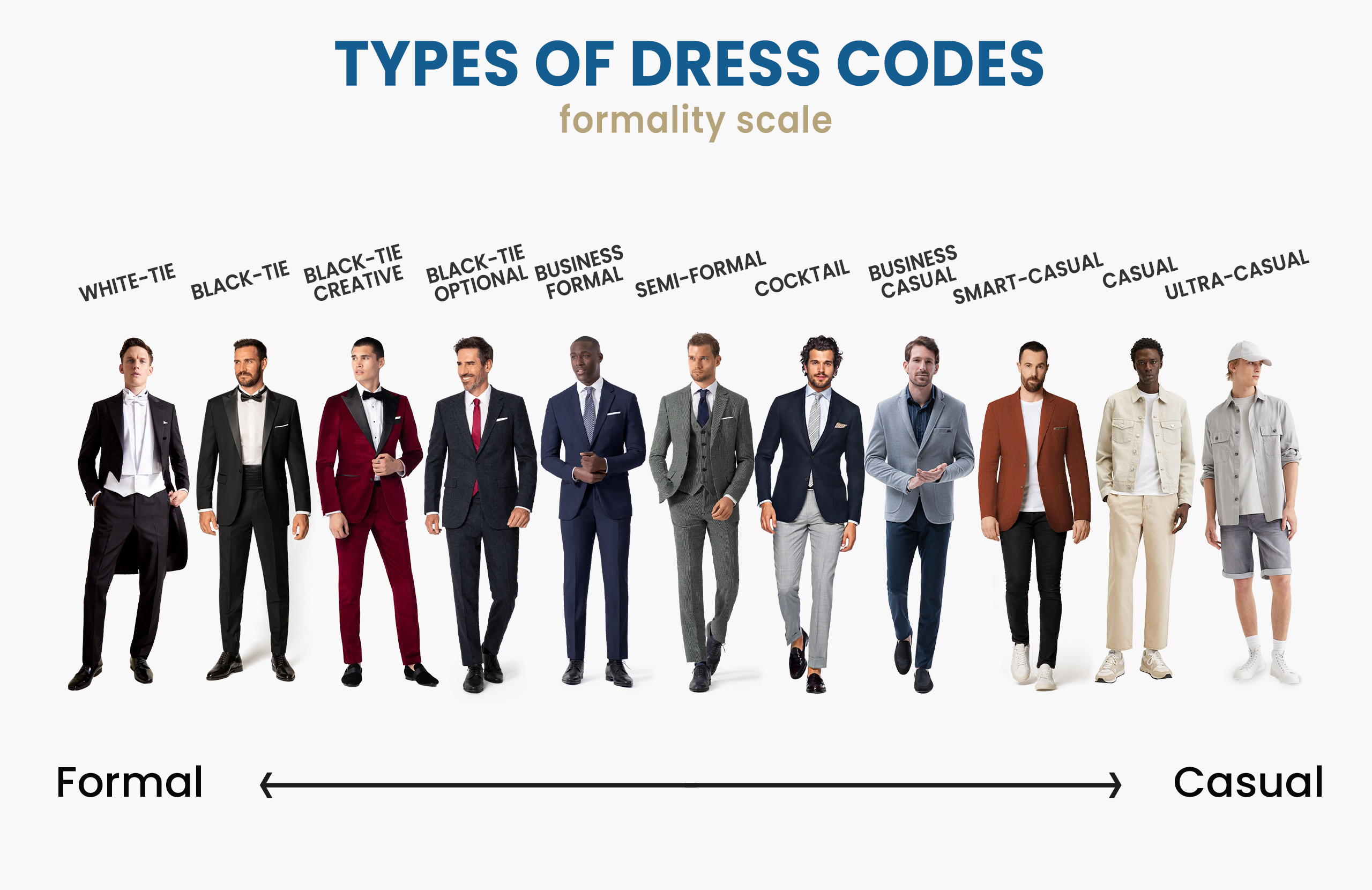 Use what you know about the formality of various shoe styles to help guide you.
If you know you need to dress for business formal, that likely means you'll do well with Oxford dress shoes or other traditional styles.
Not only will your footwear conform to the dress code, but it will also nicely complement your outfit.
Author: Alexander Stoicoff
Hi, I'm Alex, and I've studied and specialized in styling in Rome. Through my writing, I want to help men dress well and learn the purpose and significance of suits and other formal attire. My final goal is to make men more confident in their wardrobe choice and life in general.