It's easy to choose a tie you can wear with your navy suit. But here's the thing.
Choosing a tie merely as an accessory and selecting one to feel like a million bucks are two entirely distinct experiences.
This is the guide if you're focusing on the latter part.
Red Tie with a Navy Suit
There comes a time to bring off your most influential version. Here, you won't find a better combination than wearing a red tie with a navy suit.
It's a standout look with bold contrast favored by politicians and world leaders. You would present power and get the job done like in business meetings.
Wear a white shirt if you want to keep things serious. For a cheerful look, go with a light blue button-up.
Burgundy Tie with a Navy Suit
Converting the red hues into burgundy will give more pleasant vibes.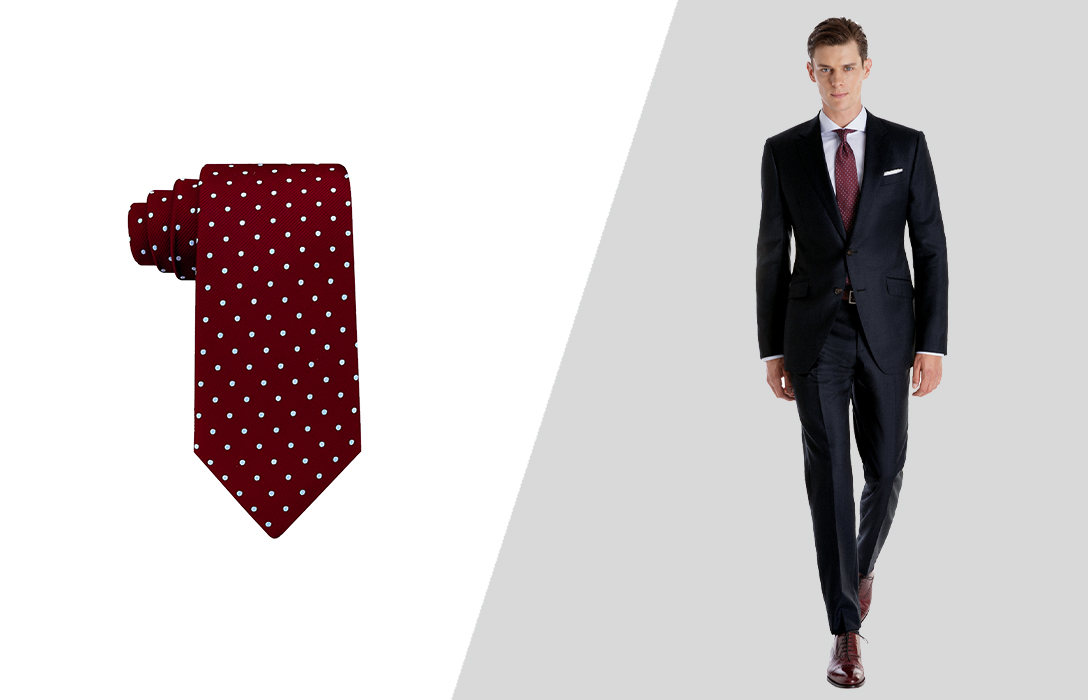 It's a combination that bends the louche of formalwear into smart styling. The white small dots in the burgundy tie add a lot to this outfit.
However, the rest of the outfit keeps things simple, making the tie a statement piece.
If you want to experiment, go for a dress shirt in a subtle pastel shade like lavender or pale pink to introduce some playfulness.
Grey Plaid Tie with a Navy Suit
Nothing says business-appropriate more than navy suits and grey ties.
While the white shirt is a fail-safe choice with this combination, light blue is another acceptable alternative for serious formal events.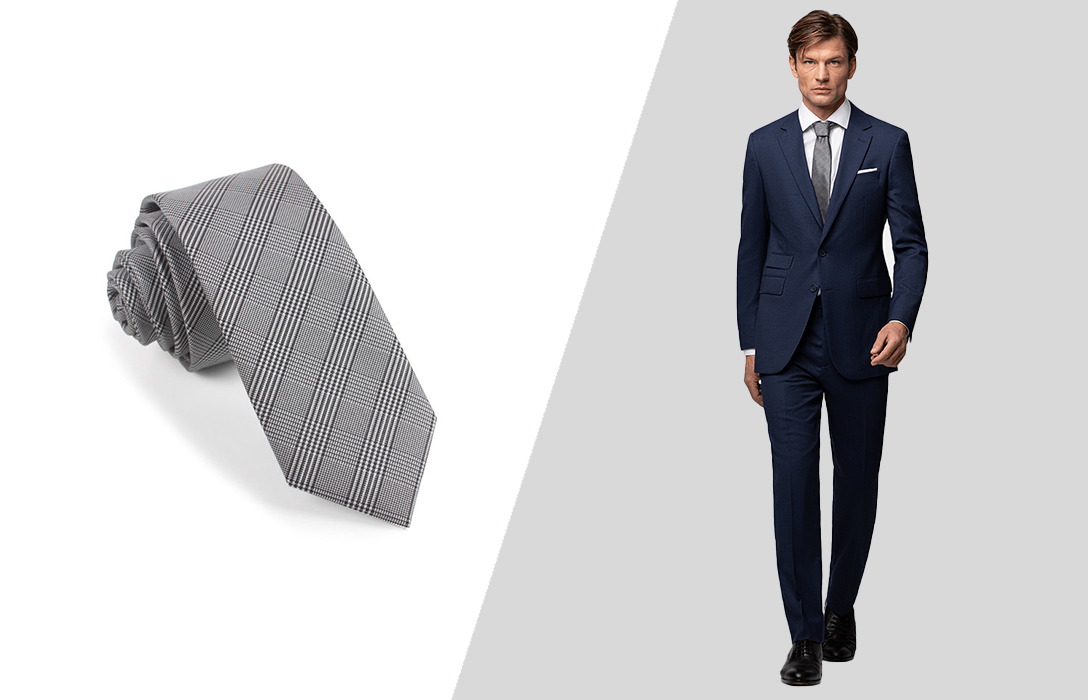 The neutral hues here are not monochromatic but deep enough to display formality.
To add a little intricacy, you can wear some tie patterns. Plaids, for example, can be a thoughtful addition without going overboard.
Black Tie with a Navy Suit
An elegant way to inject a dose of formality into a navy suit is wearing a black tie.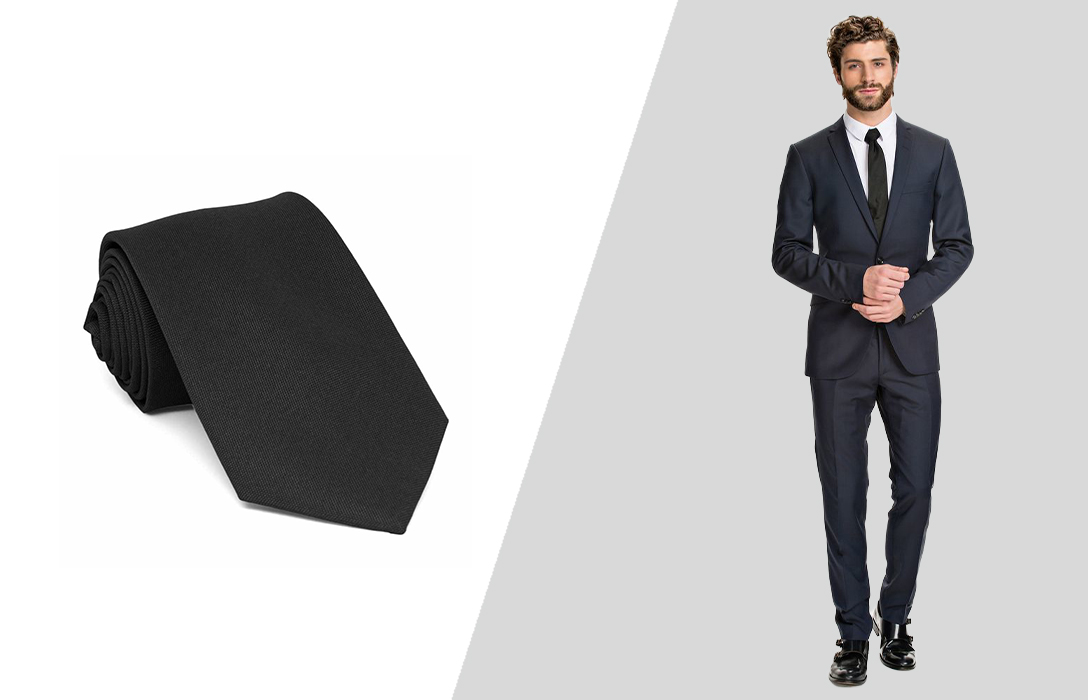 The result will be a conservatively formal look that can easily navigate you through business professional events with confidence.
First, you go a dash up in formality by wearing a polished wool suit. Then, match a white dress shirt and a black solid tie to balance things up.
Dark Green or Olive Ties with a Navy Suit
A dark green or mint tie can be a down-to-earth accent paired with a navy suit.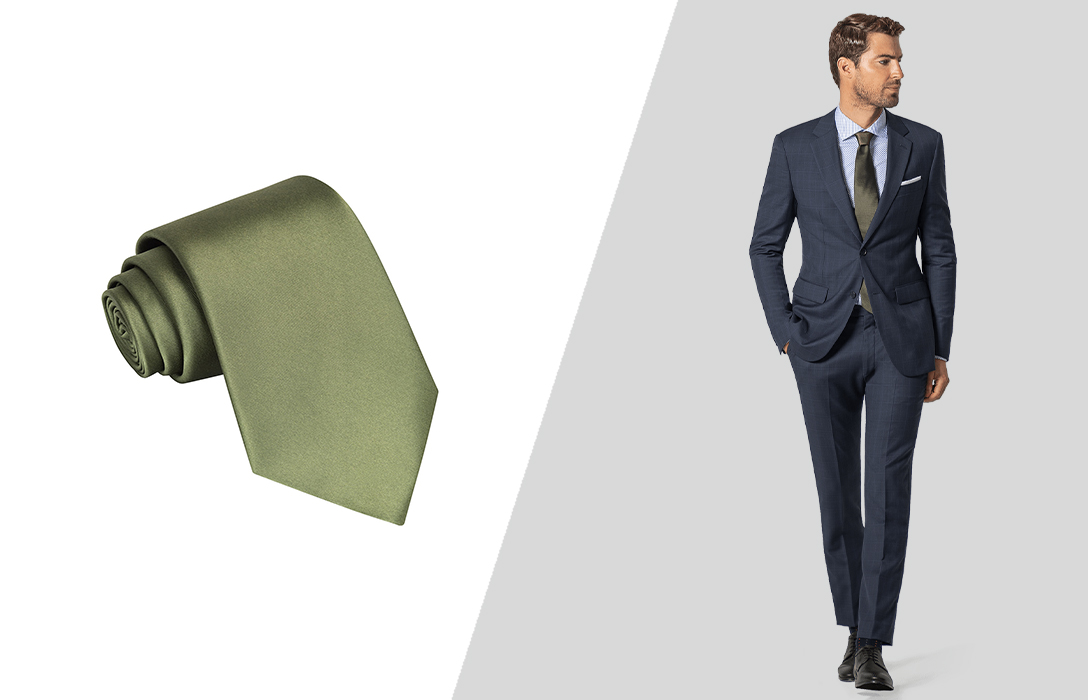 It gives those pleasantly preppy vibes, making it a suitable choice for daytime events. This is a perfect combination if a dress code calls for only a little shebang.
You can add some patterns to upraise the fresh energy. The outfit is doing it via a forest green knit tie and a vertical striped blue shirt.
Consider checks or subtle herringbone for the dress shirt, which can introduce an element of visual interest and break the monotony.
Blue Patterned Ties with a Navy Suit
You can style a blue tie with a navy suit in many different ways.
First, what I call a "dazzle look". wear a Foulard blue tie, characteristic of festive weddings. Especially for daytime or outdoor events, this tie would fit right in.
I suggest wearing a white dress shirt with this combination. In addition, a vertical striped dress shirt complements it beautifully without going overboard.
Yellow Tie with a Navy Suit
The bright yellow tones of the tie will bring a bright contrast against the navy. As a result, you get flamboyant looks for your new-season style book.
This outfit is for cheerful weddings, parties, and other festive occasions.  Notice how the contrasting colors can elevate a traditional outfit and create an edged-up effect.
Keep the rest of the outfit simple with black dress shoes and a subtle picket square for the added pizzazz.
Navy or Floral Ties with a Navy Suit
A navy suit with a navy tie is a simple, elegant, and effortless combination.
Solid tie provides a leeway to do more, which is usually great for business-formal events. On the other hand, a floral one will be more appropriate for cocktail attire and less formal occasions.
Choose a tie shade that's slightly different from your suit. This will avoid a tacky look.
A white dress shirt is the classic route to take. But, since this outfit is already on the cheerful side, spice things up with a soft mint or pale pink for an unconventional approach.
Brown Tie with a Navy Suit
With the tones of mother nature and fresh earthy vibes, a brown tie stands out with a navy suit.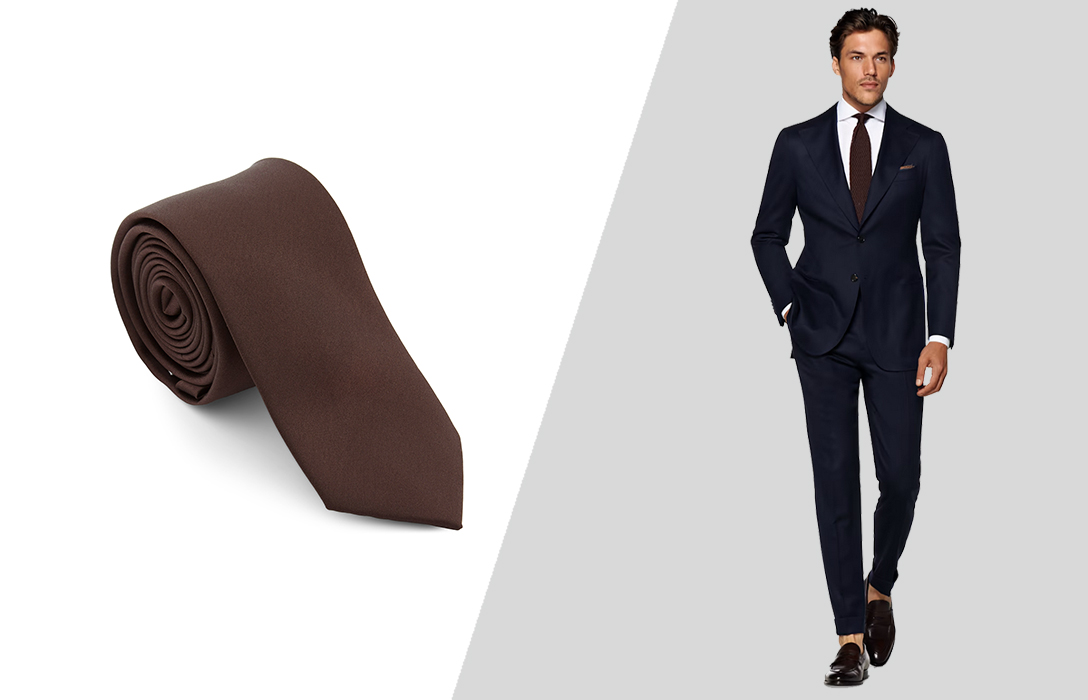 Unlike more vibrant color combinations, this combo is subtle, especially if you pair it with a white shirt.
It's a choice that communicates maturity, sophistication, and a certain timelessness, making it suitable for both formal business settings and semi-formal occasions.
If you want to add more dimension and casualness to the outfit, consider tie textures as opposed to silk material.
Bright & Burnt Orange Ties with a Navy Suit
According to the color scheme, the orange tie will be complementary to the navy blue suit. So, expect a bright contrast for those cheerful looks.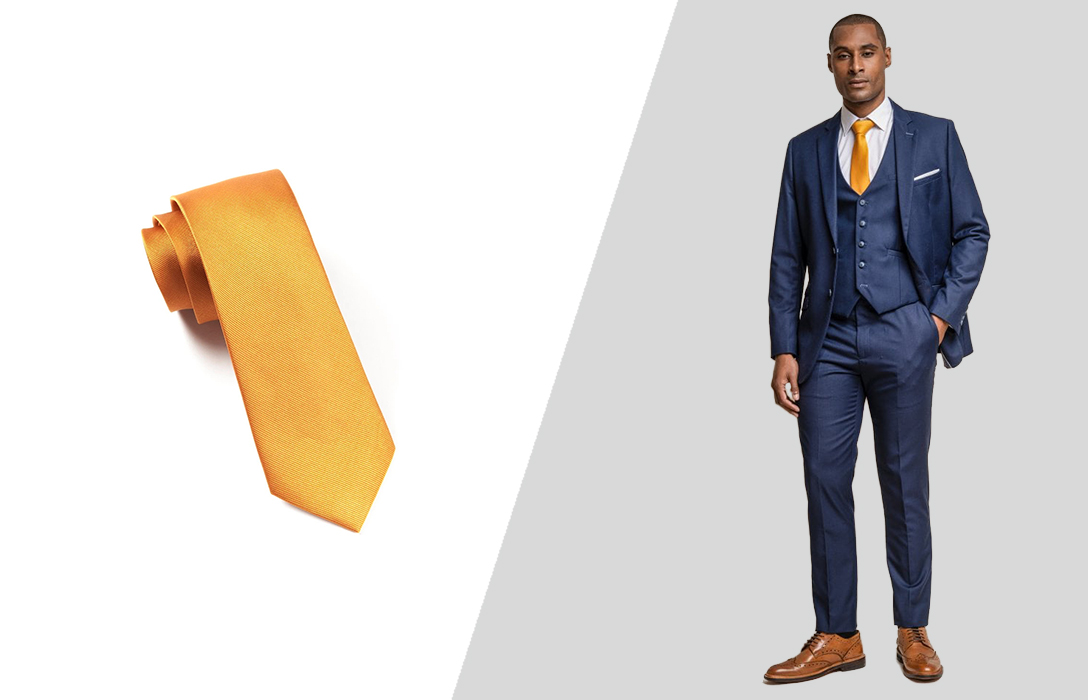 A burnt orange tie gives the same vibes as a brown one. On the dress code scale, expect this combination to slot into the semi-formal spectrum.
Bright orange creates an outfit combination perfect for a festive daytime event. It especially feels dandy with a three-piece suit.
It's fresh, joyful, and full of topical energy.
Pink Tie with a Navy Suit
If your navy suit is lacking in the elegance department, try pairing it with a pink tie.
With all its youthful energy, a pink tie is a thing of beauty. This combination is even office-appropriate.
But I would prefer it for outdoor events as a chance to make a statement. White and light blue dress shirts here are an absolute winner.
Purple Tie with a Navy Suit
With the same base color, we're again into that monochromatic regime. Adjacent to the color wheel, the depth of navy beautifully complements the regal tones of purple.
However, this time, the purple tie shifts the focus to the suit rather than the tie itself. So, you need to worry about going overboard with any details.
Throw in a colorful pocket square; you're now ready to conquer the world.
Bow-Tie Colors to Wear with a Navy Suit
You can wear a bow tie with a suit as long as the dress code is flexible and doesn't forbid it.
While there are many bow-tie options, a black bow tie will always be the most formal choice.
More casual bow ties in pastel colors like solid navy, burgundy, silverish gray, and sometimes charcoal elegantly complement navy suits.
These will provide that effortless authenticity to jolly occasions like beach weddings and garden parties.
Things to Consider When Choosing the Tie Color for Your Navy Suit
Shirt fabrics, color combinations, and patterns – each play an equal part in how a tie looks with a navy suit.
Here's what you definitely need to know:
The Color Wheel
For matching the tie color with a suit and shirt, understand the four-wheel color schemes: monochrome, analogous, complementary, and triadic.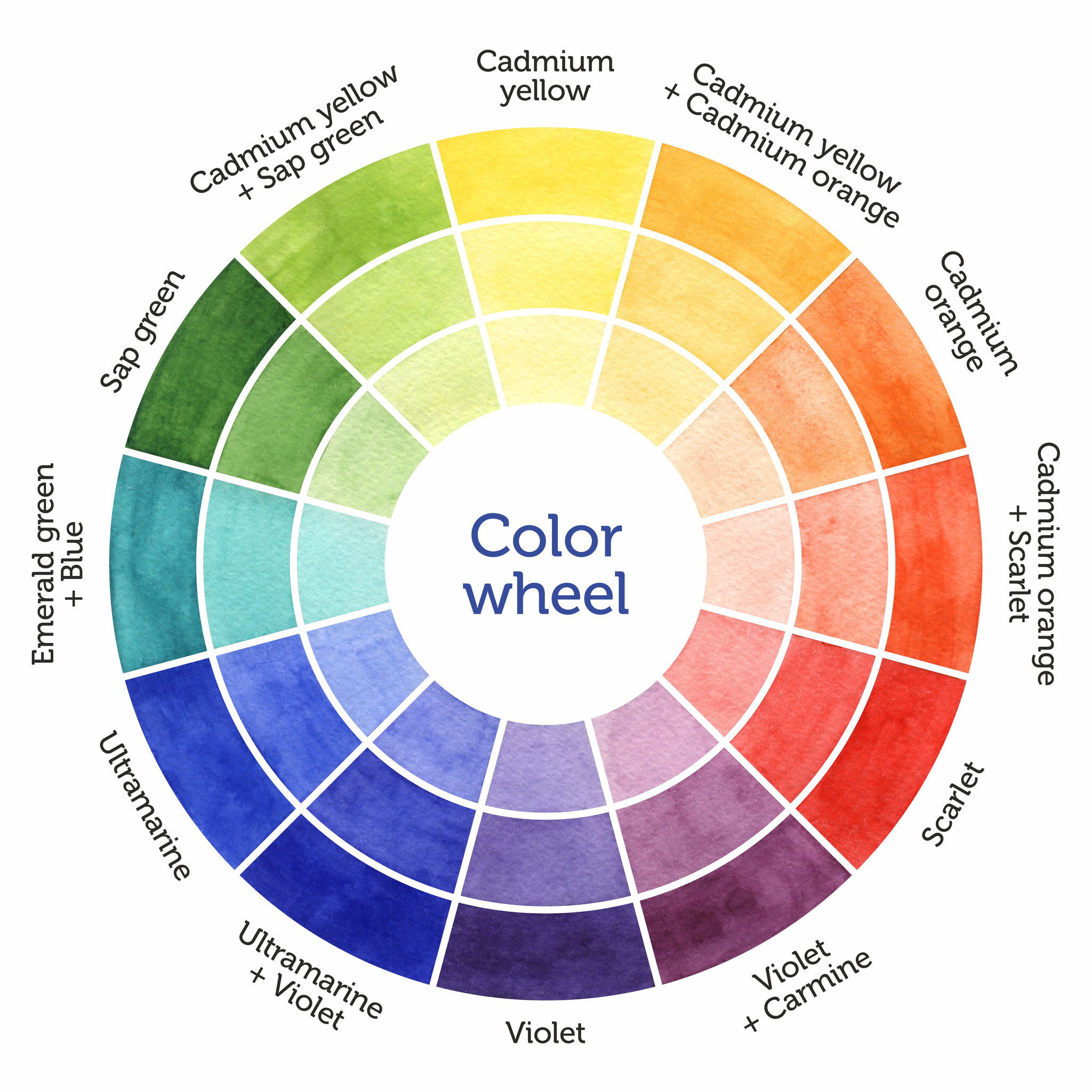 Monochrome to navy are shades of blue. Solid ties in these shades will create simple, formal, and thoughtful looks.
Pink and purple ties are analogous to navy. Wear these for more festive events, like cocktail weddings.
Complimentary to the navy are brown and burnt orange. These ties will provide maximum contrast and a standout look against a navy suit.
The triadic colors of the navy are yellow and red, along with their darker shades. Ties in these colors will provide some diverse and powerful aesthetic looks.
The Dress Shirt Color
A dress shirt acts as a backdrop for the tie. So, it impacts how you perceive tie colors.
A white dress shirt is the safest choice of all. Its rich, neutral tone allows the tie color to be distinctive.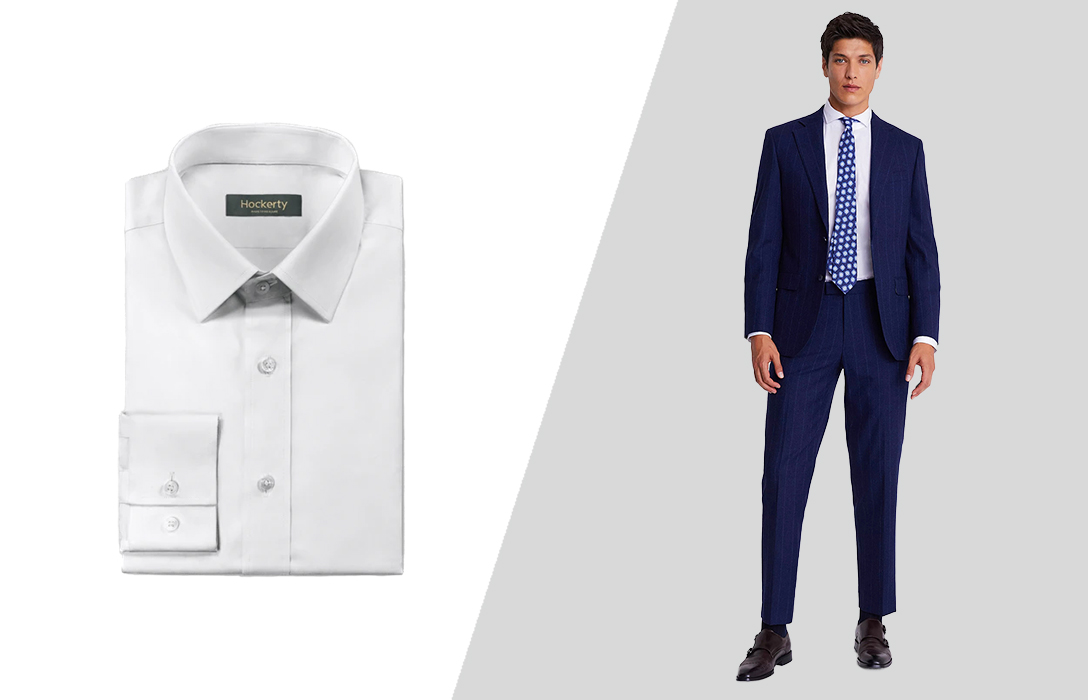 A light-blue dress shirt accents the navy of the suit. It will create a welcomingly cool background for the tie.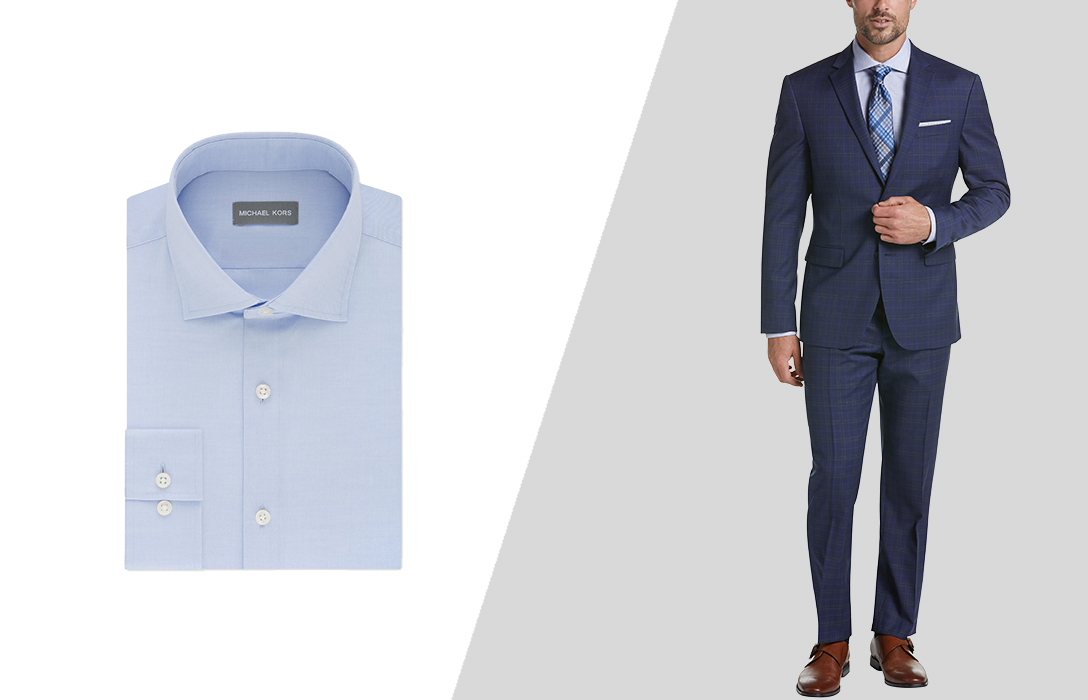 Pink, grey, pale lavender and other pastel dress shirts neutralize the navy shade. These will help the tie to grab some attention.
Mixing Patterns and Textures
For mixing patterns, I recommend choosing two different pattern types.
Stripes, dots, and checks are the most common ones you can come across in ties or shirts.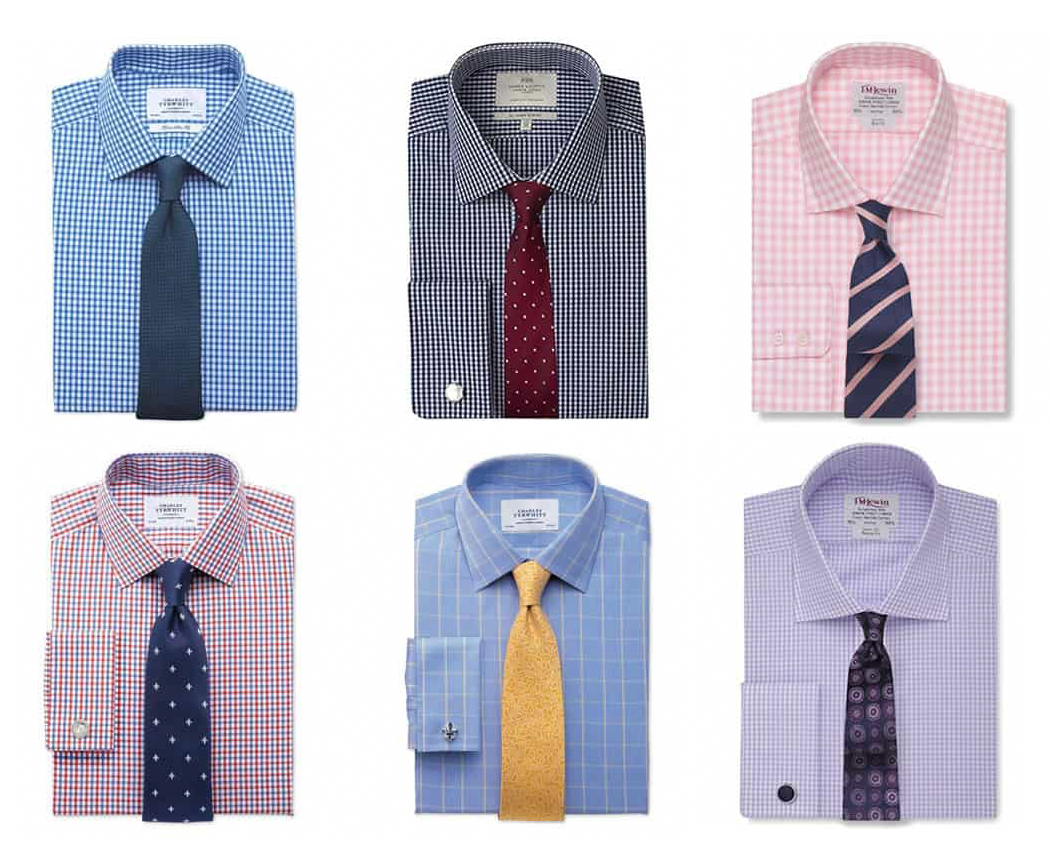 But, if the shirt has one pattern (stripe or check), choose the tie in a contrasting pattern (dots, foulard, or Paisley).
You can also mix patterns or textures where one is bold and the other subtle.
Personal Style
Remember that all rules to wear a specific tie with the navy suit are just guidelines.
If something is good in theory, it doesn't always need to work for you. You have to figure out your personal style as well.
I recommend taking these tie combinations as a starting point. And then figure out what makes you feel confident or match your instinct.
Author: Alexander Stoicoff
Hi, I'm Alex, and I've studied and specialized in styling in Rome. Through my writing, I want to help men dress well and learn the purpose and significance of suits and other formal attire. My final goal is to make men more confident in their wardrobe choice and life in general.