There's a reason some separates became timeless classics, and one such dynamic duo is the navy blazer and black pants.
When assembled just right, these two pieces create outfits that speak volumes about your style, individuality, and sophistication.
Whether attending a high-end formal event, making impressions in a job interview, or a laid-back networking affair, this ensemble ensures you're part of the crowd and leading it.
So, fasten your style seatbelt; we're about to embark on a journey.
Black Tie Extravaganza
This outfit might not be your traditional full-tuxedo ensemble. Still, it's an elegant alternative that refuses to be confined by the conventional black-tie dress code rules.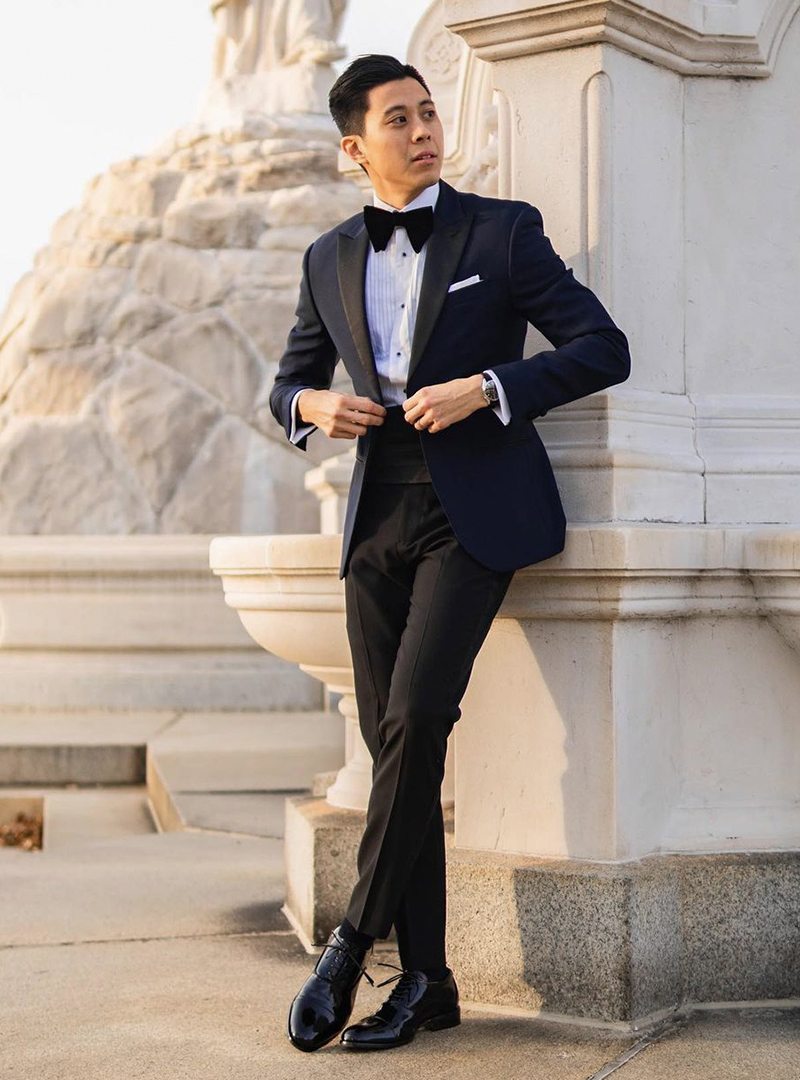 While a black tie event traditionally calls for a full tuxedo of the same color, this audacious blend of navy and black brings a refreshing twist to the table.
Featuring a midnight blue tuxedo jacket, a white dress shirt, black tuxedo pants, and black polished Oxford shoes, exudes a certain timeless elegance.
The black bow tie style adds a touch of extravagance. At the same time, the white pocket square and black cummerbund ensure a clean, classic touch.
If done right, you'll be the star of the show.
Navy and Black Symphony for Work
The navy blazer and black pants are classic pieces that exude professionalism. And, you guessed it, it's a perfect combo for work.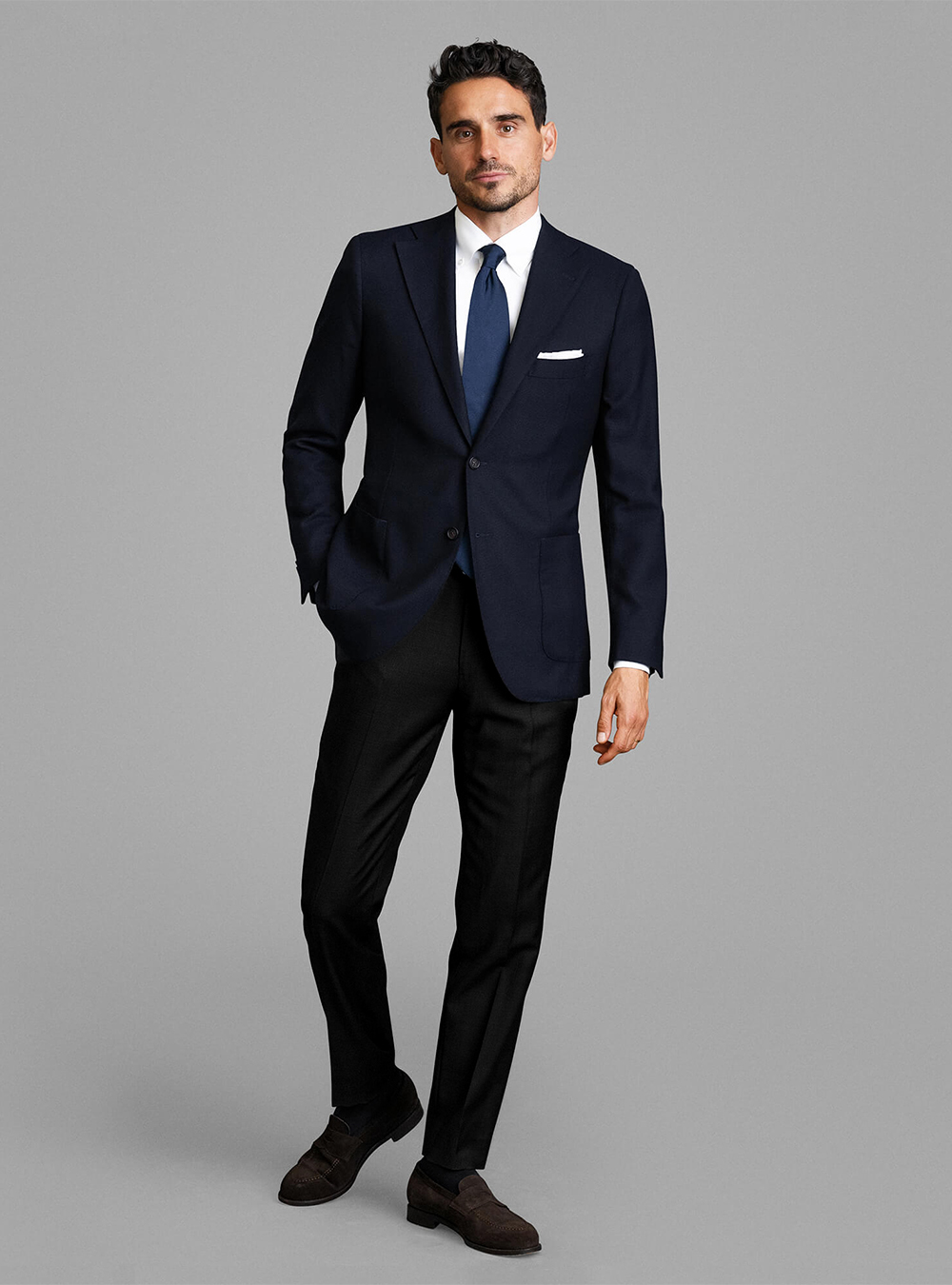 A navy blue tie adds a hint of color that breaks the monotony.
Finally, brown suede loafers infuse a casual element while lending a modern, approachable, yet authoritative appeal.
The right outfit can definitely make a compelling style statement. But also shape a positive and professional business image that speaks volumes about your dedication and approach to work.
Celebrity Classic
Stepping onto the red carpet of style, this ensemble channels allure in the likes of Brad Pitt. This outfit perfectly mirrors the sartorial grace of renowned fashion icons.
The mastery lies in its ability to merge casual and formal elements with finesse.
The navy polo, seen as a laid-back piece, is elevated to a new level. Add black dress pants into the mix, and you've got a look that's effortlessly sleek.
But, the grand finale of this ensemble is the black Oxford shoes. Adding a touch of high-brow class, they complement the rest of the outfit, creating a style symphony worthy of the limelight.
Whether you're attending a premiere or a cocktail party, this outfit commands attention and admiration.
Moonlit Silhouette
If you are ready to blend mystery and style, this next outfit is just for you.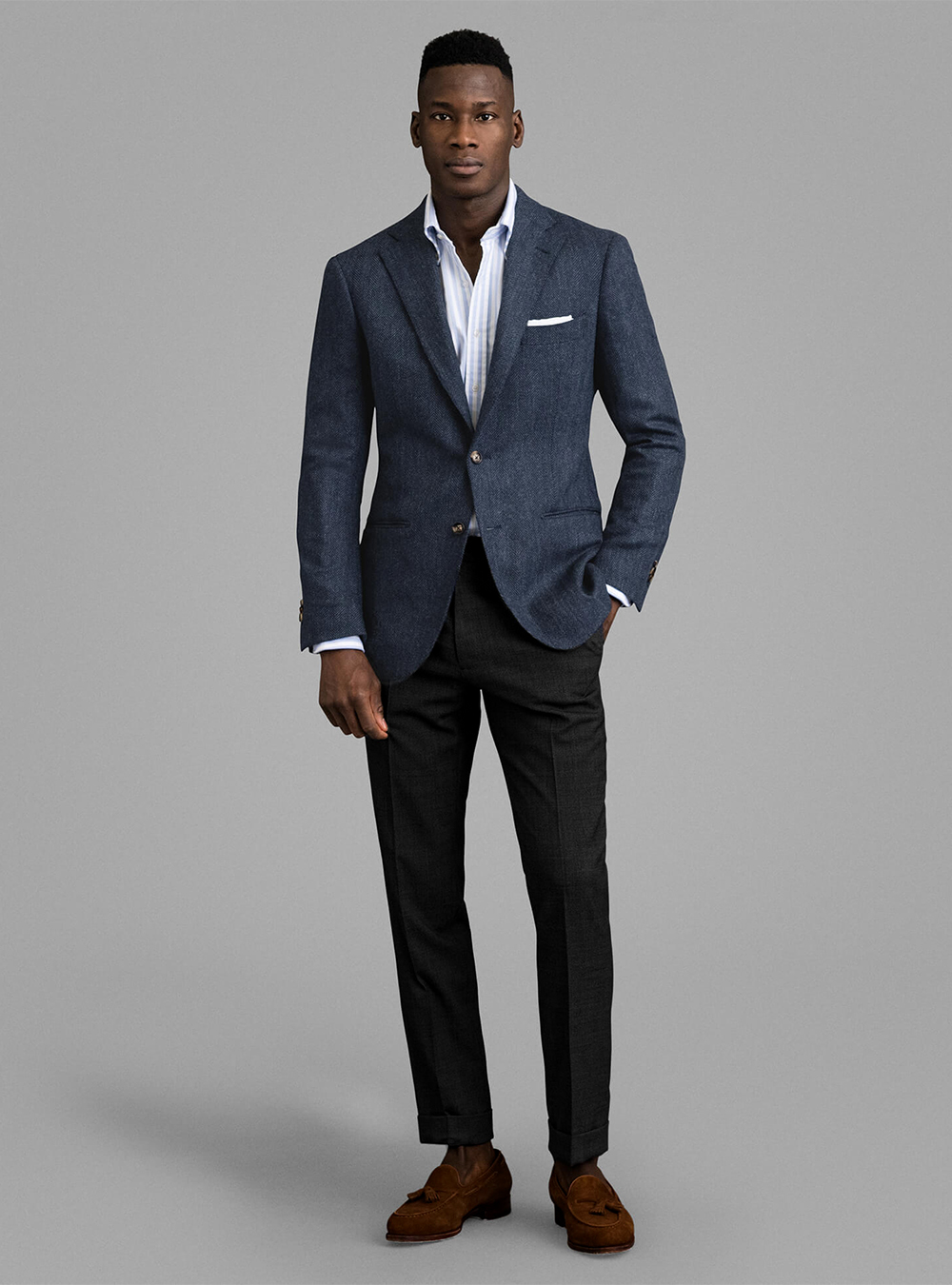 The navy blue blazer and black pants give the outfit a formal base, while the blue striped shirt adds an unexpected twist. Additionally, the brown loafers bring a relaxed vibe.
Plus, with the subtlety of the stripes, you add a dash of pattern to the mix, keeping the outfit exciting and unique.
The ensemble's allure lies in its seamless fusion of varied styles and elements. This makes it ideal for diverse occasions, from days at work to dinner dates and gallery openings.
City Slicker
When metropolitan elegance intertwines with traditional clothing, a balanced harmony of formal and casual elements arises.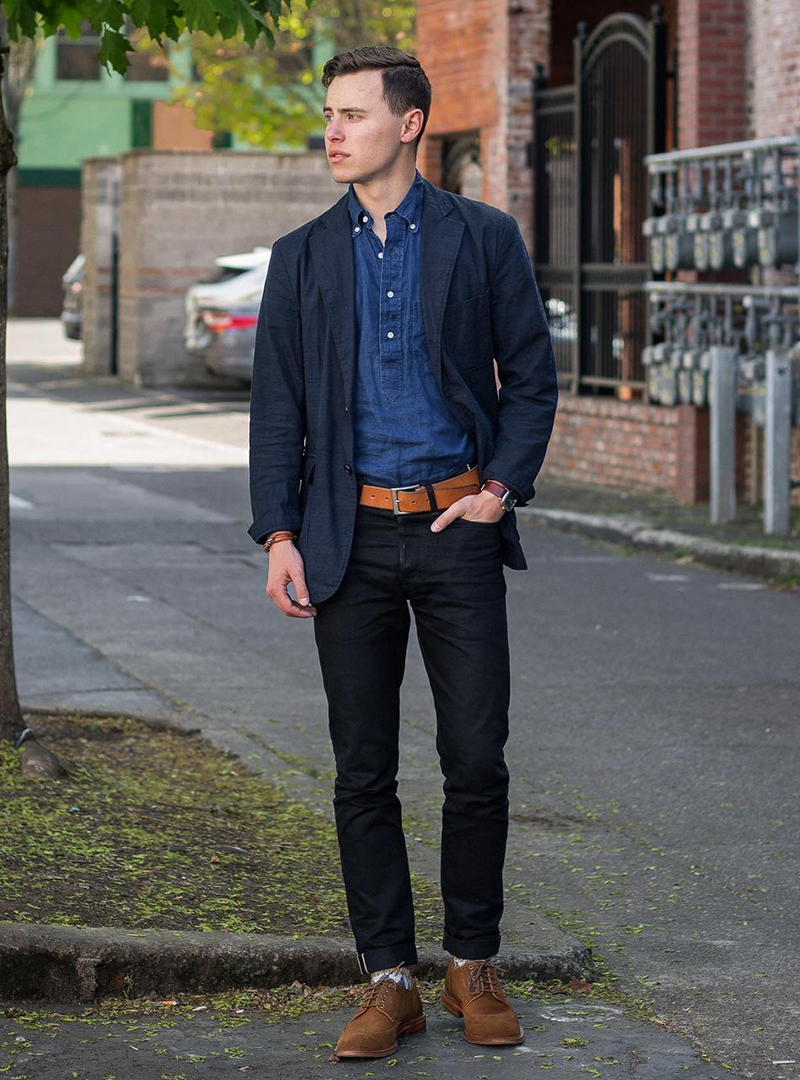 The strength of this outfit resides in its adaptable nature. Effortless solution for diverse occasions from laid-back brunches to casual Fridays at the office.
The navy blazer and black jeans are quintessential pieces that radiate city sophistication and comfort. Nesting a blue chambray short sleeve shirt introduces a relaxed feel that matches the vibe.
Conclude with brown suede derbies to cement your fashion-forward style.
Casual But Smart
For those moments when you crave an ensemble that whispers of nonchalant sophistication yet shouts with definitive intelligence, look no further.
Wear a navy blazer, a stalwart of classic style, adroitly complemented by the urban simplicity of a black t-shirt. The ensemble evolves further with the addition of black pants, lending it an air of polished elegance.
Underfoot, black derby shoes inject an unmistakable casual charm, making for an outfit that embraces both the cool and the smart.
For a suave finishing touch, a white pocket square subtly elevates this smart casual outfit, creating an intriguing counterpoint to its otherwise casual undertones.
The Double-Breasted Suit Revival
A silhouette anchored by a navy double-breasted blazer is a testament to a classic style gaining momentum in the modern era.
Coupled with a crisp white shirt, providing a refreshing interplay of light against the dark hues of the blazer and the black jeans.
Adding a contemporary vibe to the ensemble, burgundy derby shoes toe the line between the past and the present.
Altogether, this outfit serves as a salute to those with a daring spirit who see the beauty in reintroducing vintage styles within a modern context.
It's a brave fashion statement that recognizes and celebrates the resurgence of classic elements in contemporary wardrobes.
Dapper Navy Notables
Embracing the past and its timeless elegance while injecting a modern edge is our next ensemble, a homage to refined sophistication.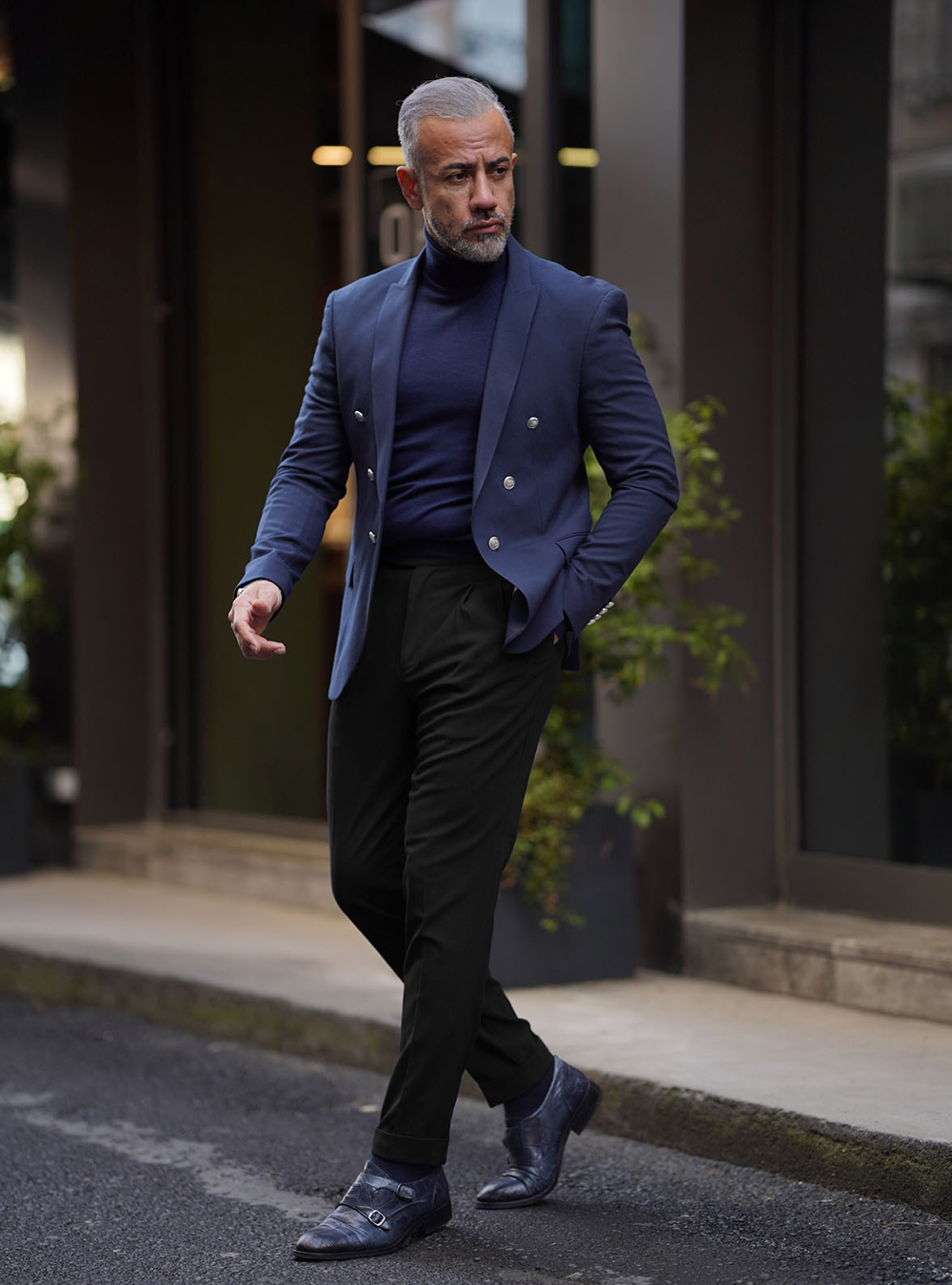 A double-breasted blazer paired with a turtleneck creates a silhouette that exudes style and grace, serving an undeniably sleek profile.
The aesthetic is further elevated with the contrast of black dress pants against the navy elements.
And for that unconventional twist, consider the addition of either black or navy double monks, lending a unique flair to the overall look.
Loafer Luxe
In the realm of effortless style that bridges the gap between tradition and modernity, this outfit emerges as the undisputed champion.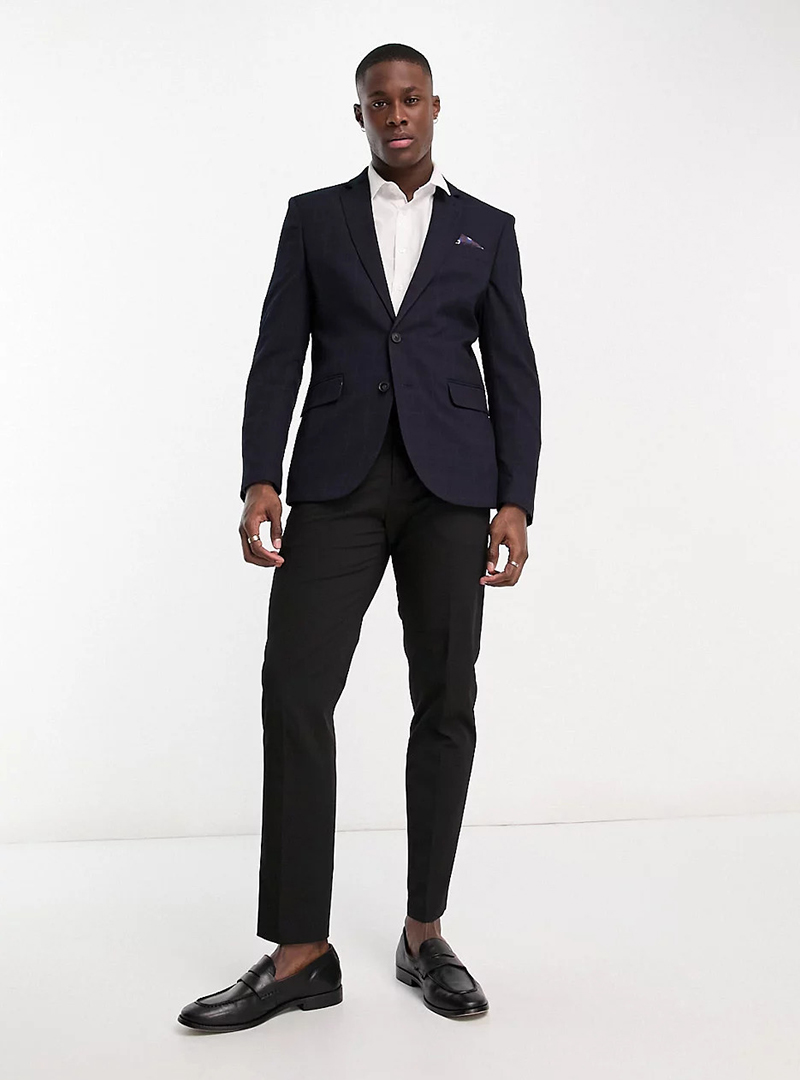 A navy blazer and a white dress shirt exude an aura of classic refinement. Teamed with black chinos that introduce an element of contemporary nonchalance.
And the real showstoppers here, the black loafers, effortlessly straddle the line between laid-back and luxury. They provide an easygoing undertone to the ensemble while simultaneously upholding an element of refinement.
It's a balanced blend of comfort and style, a testament to modern sartorial excellence.
Proper Layering
The art of layering can elevate your outfit to the next level. It's dapper, urbane, perfect for those colder months when you need to stay stylish and warm.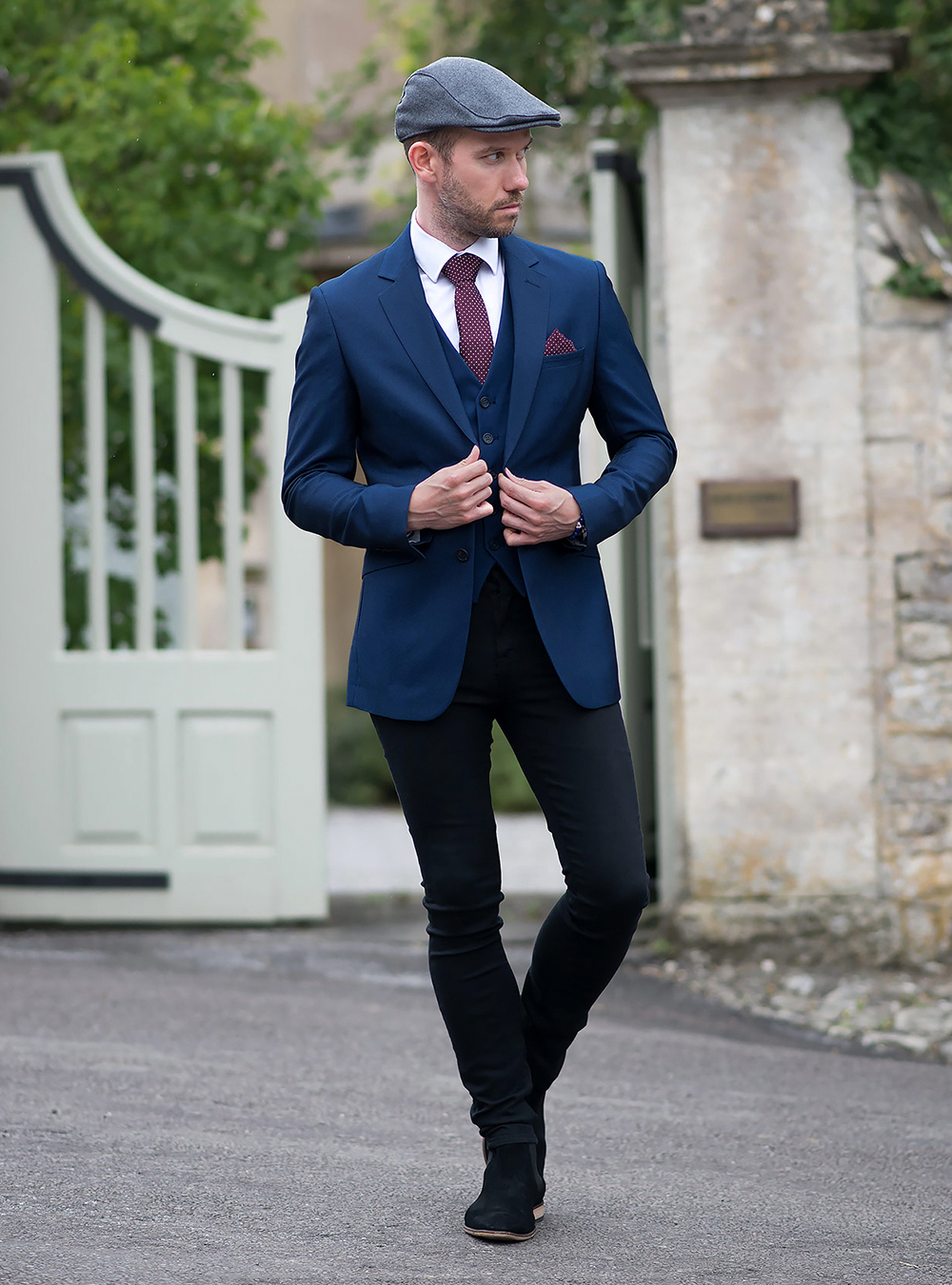 However, always remember that the key to layering is balance.
The navy blazer and waistcoat provide a uniform look that's immediately appealing. While the white dress shirt offers a contrast, breaking up the navy color palette.
The black jeans provide a casual yet polished finish, and the black suede Chelsea boots add an edge of rugged sophistication.
Whether heading to a business casual event or a cocktail party, this outfit ensures you're prepared and stylish.
The Suave Ankle Show
Originally popularized by Italian style icons and now a global trend, the exposed ankle look is a unique and stylish way to add individual flair to your outfit.
Hence, black loafers are the best shoe style to sport this look.
Maintain comfort with a pair of no-show socks. These hidden helpers will keep your feet happy without compromising your style.
The navy blazer and black pants provide a classic base, while the blue-striped shirt adds a fun and colorful element.
Heading out for brunch? Day at the office? First date? You name it.
Things to Consider when Wearing Navy Blazer & Black Pants
Selecting the perfect outfit is merely the initial step; mastering the art of donning it effectively is the real game-changer.
Of paramount importance in this stylish equation is the blazer or suit jacket.
A school of thought in the sartorial world cautions against the lone deployment of a jacket, which is originally part of a suit.
The sheen of the fine materials makes it difficult to blend with the rest of the outfit.
Ensure a Perfect Fit
A well-fitted blazer should accentuate your body shape, highlighting your shoulders and tapering at the waist. Similarly, the pants should fit well, neither tight nor loose.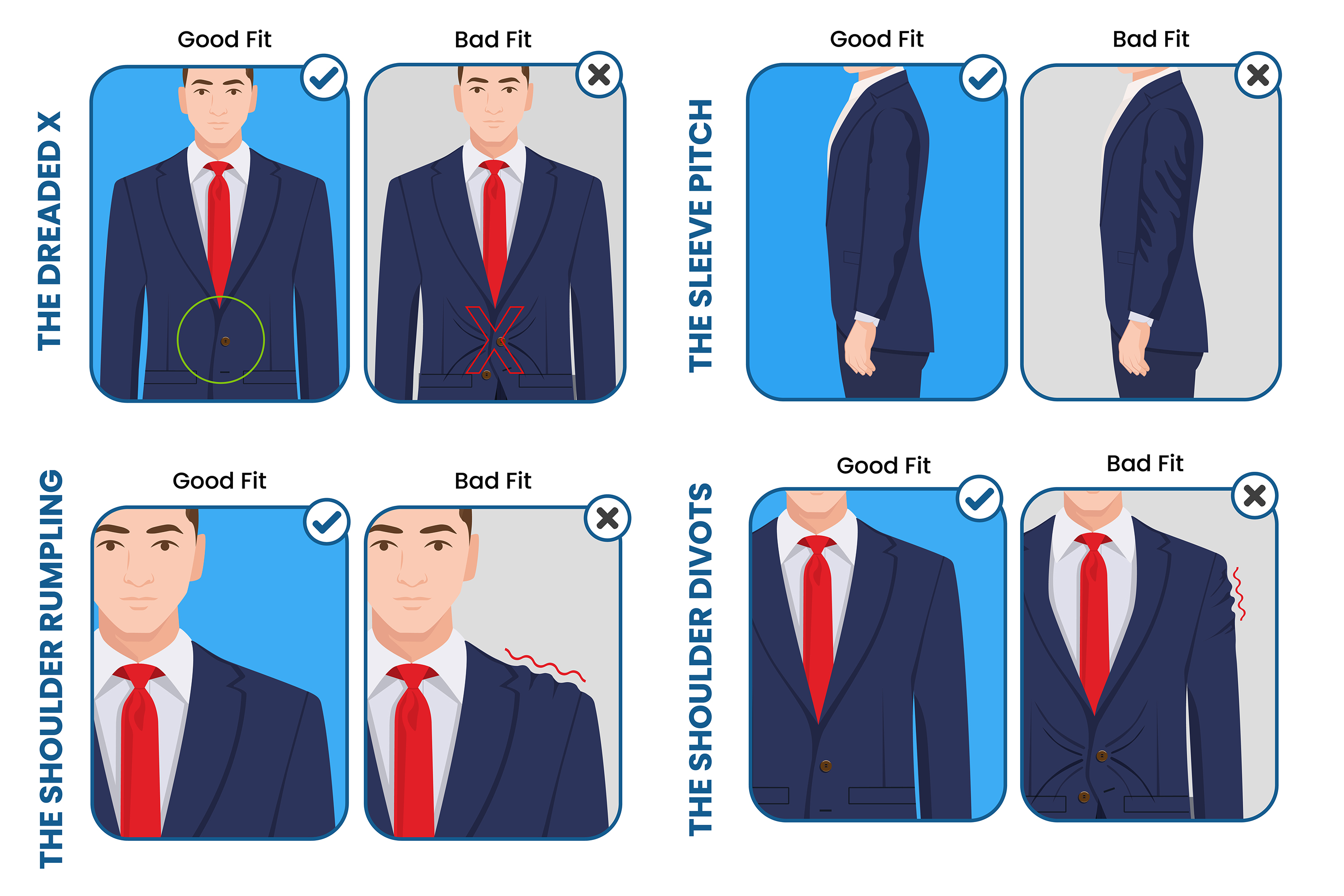 It's worth investing in a good tailor when buying clothes, especially when visiting a ready-to-wear store.
While off-the-rack clothes provide convenience and an array of options, they rarely offer the perfect fit.
A proficient tailor can adapt the clothes to your style preferences. Adjust lengths, let out or take in seams, or even add small details like extra pockets or special buttons.
The Garments Beneath the Jacket
The shirt that nestles under your navy blazer and black pants profoundly impacts the overall mood and tone of your outfit, acting as a critical style catalyst.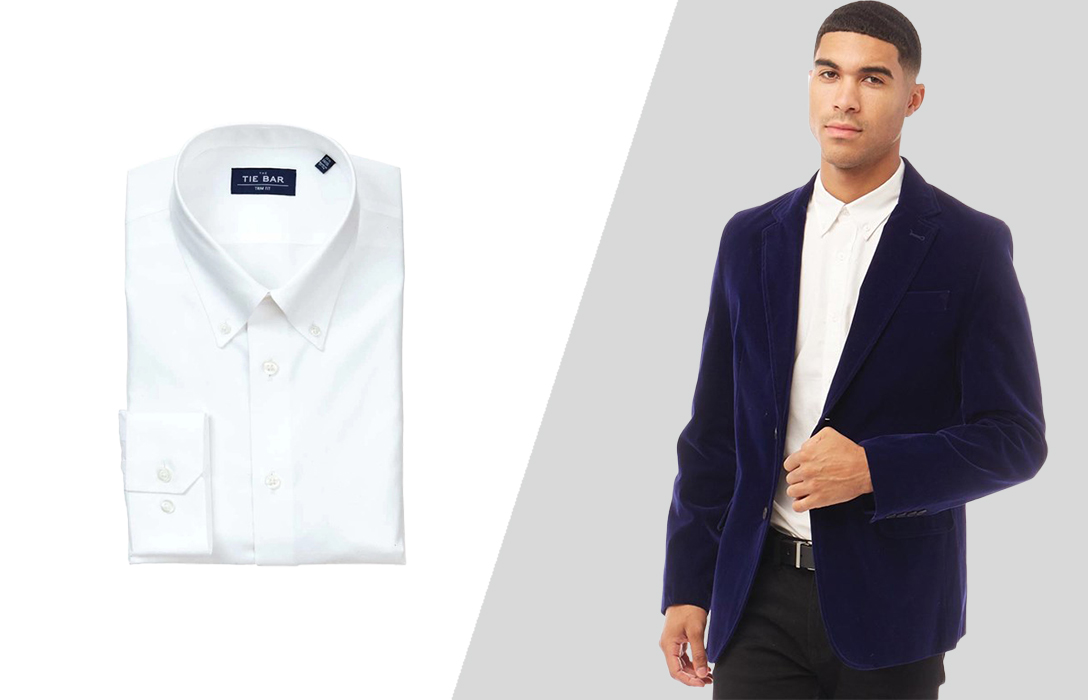 In a quest for formality, nothing beats the timeless elegance of a crisp white dress shirt. On the other hand, if a relaxed, laid-back feel is your target, a simple t-shirt or a classic polo shirt can effortlessly hit the mark.
For those crisp, chilly days, consider a turtleneck or a snug Henley. Not only do they offer added warmth, but they also introduce a dash of vintage charm to your look.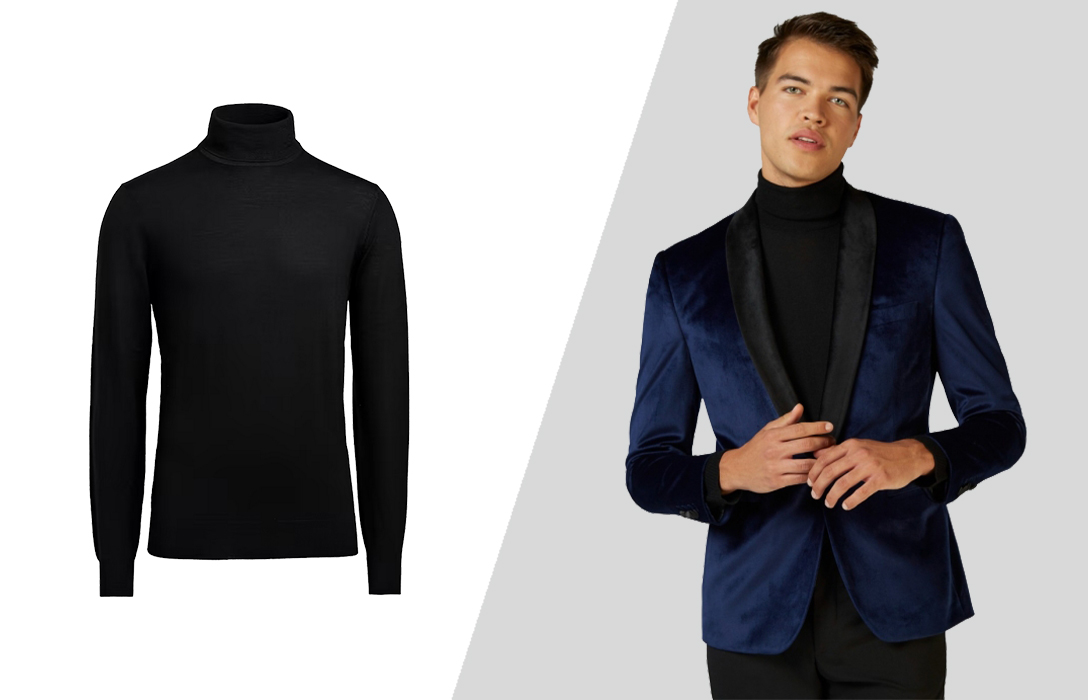 Sweaters, too, can be a game-changer with different styles. From cable knits to crewnecks – offering varying degrees of casualness and formality.
And let's not overlook the power of colors and patterns. While plain shirts, in their simplicity, are a safe and classic choice, shaking things up with patterns and colors can add an element of surprise and individuality.
Stripes, checks, or floral prints can boost your outfit's personality. And as for colors, consider pastels for spring, rich jewel tones for fall, or neutrals for an all-season, versatile approach.
Footwear
Classic types of dress shoes make your outfit more formal, while sneakers give it a casual, relaxed vibe. Brogues or monk straps can add a unique touch to your look if you're feeling adventurous.
The color of your footwear is also important. While black shoes are a standard choice with navy blazers and black pants, brown shoes can provide a warm contrast.
Regardless of your choice, ensure your shoes are clean and well-maintained; they're often the first thing people notice!
Accessories
Accessories are the finishing touches that can truly make an outfit. From ties and pocket squares to watches and bracelets, the right accessories can add an exciting layer of style.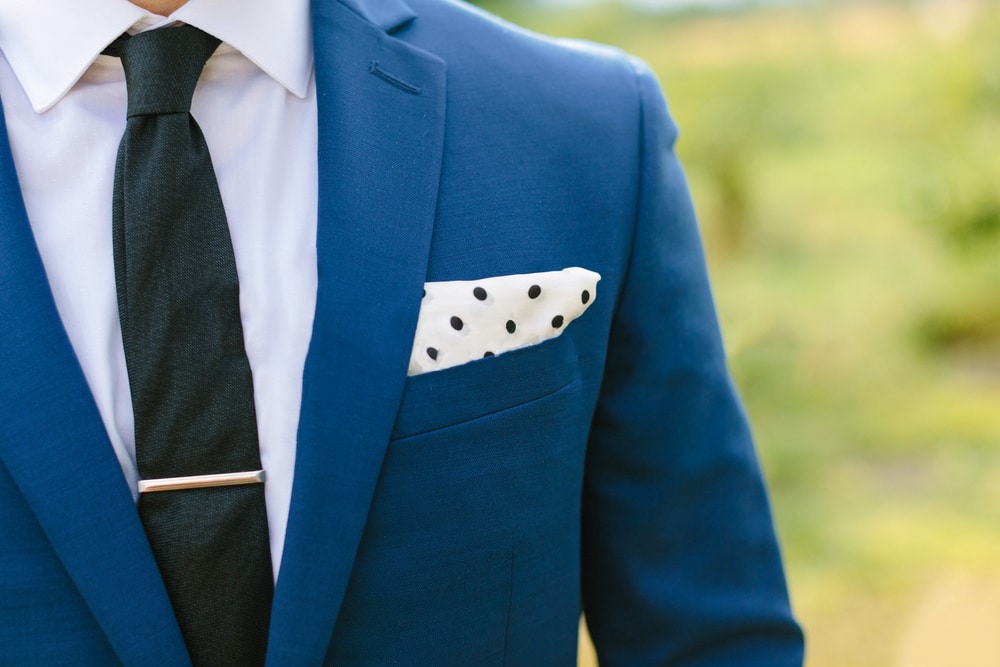 When choosing accessories, consider the occasion and the rest of your outfit. If you're dressing for a formal event, a classic watch, cufflinks, and a tasteful tie can enhance your look.
For more casual settings, less is more – a stylish watch and a casual belt could be enough.
Occasion
Selecting the right outfit is much like choosing the perfect soundtrack to complement the rhythm of your day. What strikes the right chord at a business meeting may create a jarring note on a casual day out.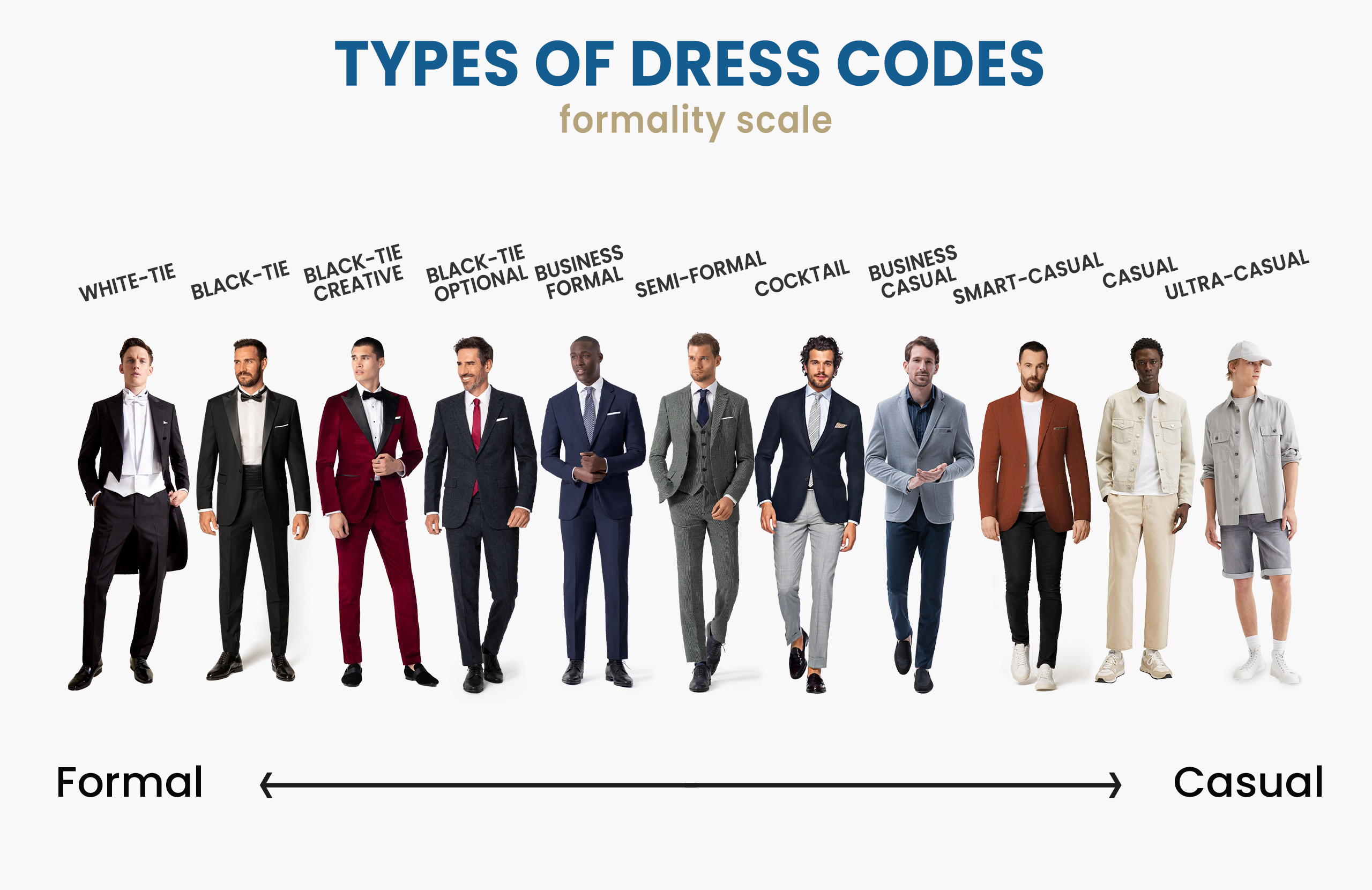 It's essential to harmonize the dual notes of style and appropriateness, making a tasteful sartorial symphony.
The beauty of the navy blazer and black pants duo is its chameleon-like ability to adapt to various occasions.
Its versatility lends itself well to any event, from the high-pressure corporate environment to the laid-back allure of a weekend brunch.
Author: Alexander Stoicoff
Hi, I'm Alex, and I've studied and specialized in styling in Rome. Through my writing, I want to help men dress well and learn the purpose and significance of suits and other formal attire. My final goal is to make men more confident in their wardrobe choice and life in general.