Men and bracelets are a natural fit.
Don't believe me? Just look at nearly any celebrity or male model, and you'll see them sporting some arm candy.
The good news is that you don't need to be rich and famous to be part of the bracelet movement. Ready to learn how to pull it off?
Can Men Wear Bracelets?
Yes, men can absolutely wear bracelets and still feel manly. Bracelets can be effortless to style and incorporate so they feel like part of your wardrobe.
Shop The Look
Most outfits can benefit from the little kick of adding this accessory to your wrist. It sets your possibly mundane ensemble apart from the others.
The secret to pulling off wearing men's bracelets is to not go crazy piling them on. Finding the right match for your outfit and your personality is also crucial.
Different Types of Men's Bracelets You Can Wear
It's easy to feel overwhelmed in the wide world of bracelet types and choices. Here's a quick overview of how to wear some common styles to get you started.
Beaded bracelets: If you wear these with a suit, go minimal and monochromatic. However, your beads can be colorful and stacked for more social settings.
Tennis bracelets: Such a deceptively simple piece of jewelry should be sure to match other metal elements of your outfit.
Chain bracelets: Chain bracelets look classy when worn alone. Put it on the same wrist as your watch only if you're wearing a metal bracelet watch.

Anchor bracelets: This casual bracelet style pairs well with a good summer suit.
Rope bracelets: Skip this accessory if you need to dress professionally, but definitely pair it with a very relaxed look.
Cuff bracelets: You can wear a cuff bracelet in stainless steel as a single bracelet or pair it with a couple of beaded bracelets.
Braided bracelets: Many bracelet materials can be in braided form. Wear a braided metal bracelet for a contemporary feeling or a fabric one for super laidback outfits.

Paracord bracelets: This look is very rugged, so match it with your most outdoorsy outfits.
Figuring out which accessories you should wear according to your dress code is half the challenge.
If you wear a suit regularly, your best bracelet choices would be a beaded one, a thin chain, a tennis bracelet, or a slim metal cuff bracelet.
How to Wear Different Bracelet Materials
The material used to make your bracelet can make all the difference in the world in how it interacts with your outfit.
It isn't too different from how your shoe material can change your look. Learning all your options for adorning your wrist is a step toward making the perfect bracelet choice.
Leather Bracelets
What can be more masculine than leather? Here's an effortless way to don a retro look without going full-on biker mode.
These bracelets can swing between subtle to very bold. Leather accessories can be very rugged or casual if they're wide, while thin ones are smart and tasteful.
However, how you wear the bracelet also determines how it comes across. For example, you can wrap a slim leather bracelet around your wrist twice for a bolder effect.
Metal Bracelets
Metal is the most traditional and straightforward material for men's bracelets. They are often very simple and can come in many forms: chains, cuffs, or ID bracelets. Many of these layer well with other bracelets.
The metal can be very shiny and fancy, like stainless steel. However, look for burnished or oxidized metals for a rougher, less delicate feel.
Precious Metal Bracelets
Shiny, precious metals don't just belong to women! Men can wear them for multiple looks, too. A simple chain or cuff made of silver or gold can be formal.
For a more street style, deck yourself out with several gold or silver chains and cuffs for some extra bling. Just don't mix gold and silver bracelets together.
Jewelry Bracelets
Some men's bracelets don't fit into a strict category, possibly because they're built from multiple materials. For example, there are beaded pearl bracelets with a single metal charm.
Shop The Look
Another example is natural stone beads with a metal clasp or perhaps a decorative plate or rock.
You can wear this type of bracelet with a denim shirt or polo T-shirt or layer with a sweater over your shirt.
Wear a black bracelet with your dark suit if the bracelet is made of pearls to ensure the colors match.
Still, keep in mind that jewelry bracelets are typically informal. Perhaps leave them off for your most professional or formal settings.
Fabric Bracelets
These are excellent everyday bracelets and are usually very inexpensive. They are also easy to pair, so it's no wonder they are so popular.
You can own several of them to match each outfit. Stack them, too; wear a colorful bunch on one arm or just a few neutral colors.
If you have a fabric bracelet that's meaningful to you, you can wear it with your suit, too. However, one is the limit for more dressy events.
5 Tips on Styling Men's Bracelets
There's no need to stress about getting your bracelet to look natural with your wardrobe. It's generally simple to incorporate one for a significant style tweak.
Still not convinced? Here's your fool-proof cheat sheet to make sure your bracelet is a seamless fit.
Wear Bracelets on One Hand Only
While this isn't a solid, official rule, it's a good idea to wear bracelets on one wrist only for a more stylish effect.
Wearing bracelets on both wrists can be overkill and make it look like you are trying too hard.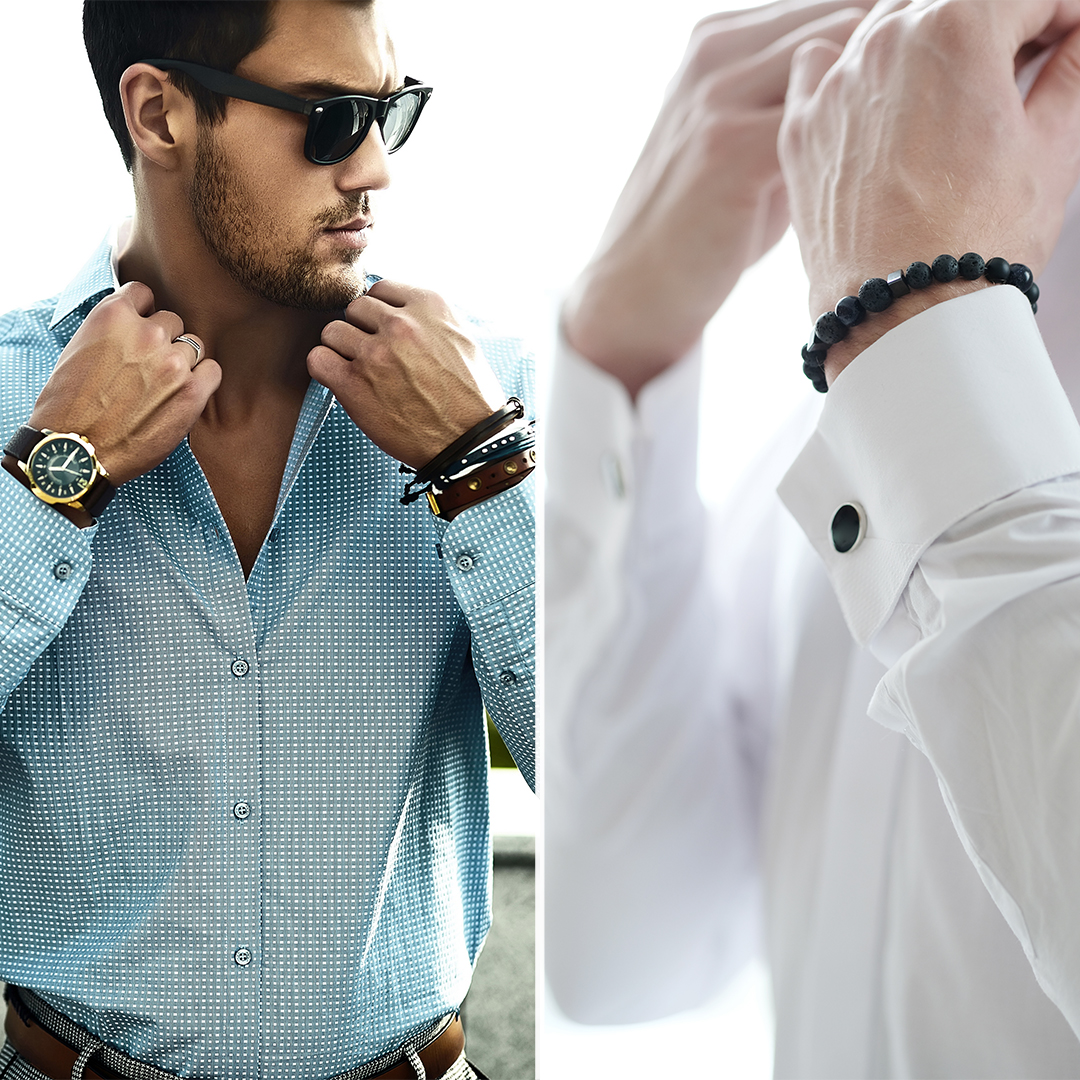 Another helpful reason to avoid sporting bracelets on both hands is that fashion doesn't always care for a very balanced appearance.
Bracelets on either side are too balanced; creating a slight difference is best.
However, smaller watches are fine on the opposite wrist since they are clearly different from a bracelet. This doesn't balance out.
Rest Bracelets Against The Skin
Bracelets are meant to be able to slide under your shirt sleeve, not sit over it. It would look very awkward on top of your clothes; besides, you would probably need a longer one to make it around the fabric.
A bracelet over your sleeve would also hold it hostage, keeping it stuck in one place! Besides, it would make removing your jacket a challenge.
If you're concerned because your bracelet is large and creates a large bump under your shirt sleeve, perhaps that piece is an ideal candidate for only short sleeves.
Wearing Multiple Bracelets Can Look Elegant
A few well-chosen bracelets paired together can have a very graceful effect. It's not a very formal look but can look great with a cocktail party or semi-formal suit.
The secret is to select some slim profile bracelets. Delicate chains and thin cuffs are ideal for making this an effective way to accessorize.
For example, you can wear two or more stone-beaded bracelets that match your suit color or perfectly contrast it according to the color wheel.
Leather bracelets match with beaded bracelets pretty well. Just don't mix and max leather and beaded bracelets with metal ones.
Don't Mix Different Bracelet Materials
While wearing a few bracelets stacked is acceptable, they should be similar in design. Mixing different materials can cause the styles to clash, making your accessories feel out of place.
The exception is if a bracelet has two different materials. In this instance, you can incorporate other bracelets from either material as long as they are the same color.
Wear a Bracelet with a Watch
You can wear a watch and still rock a bracelet; there's no need to choose just one!
There are a couple of ways to style this. You can wear a bracelet (or two) on the opposite wrist from your watch, which is usually the easiest, most effortless way to put this look together.
However, if your bracelet compliments the color of your watch or is made from similar materials, you can wear one bracelet alongside your watch.
How to Choose the Right Bracelet for You
Yes, I've been encouraging you to wear men's bracelets throughout this whole article. However, that doesn't mean it's open season to grab the nearest one!
Finding the right one for you makes all the difference between looking like you are trying too hard or being a naturally gifted accessorizer.
Consider things aside from what the bracelet is made from. The physical fit is imperative, but so is the style fit.
If gemstones aren't really your thing, don't force it. Try out materials that feel more comfortable to your nature and fashion style.
The Bracelet Fits Your Wrist
Anything you wear on your wrist should feel and look comfortable.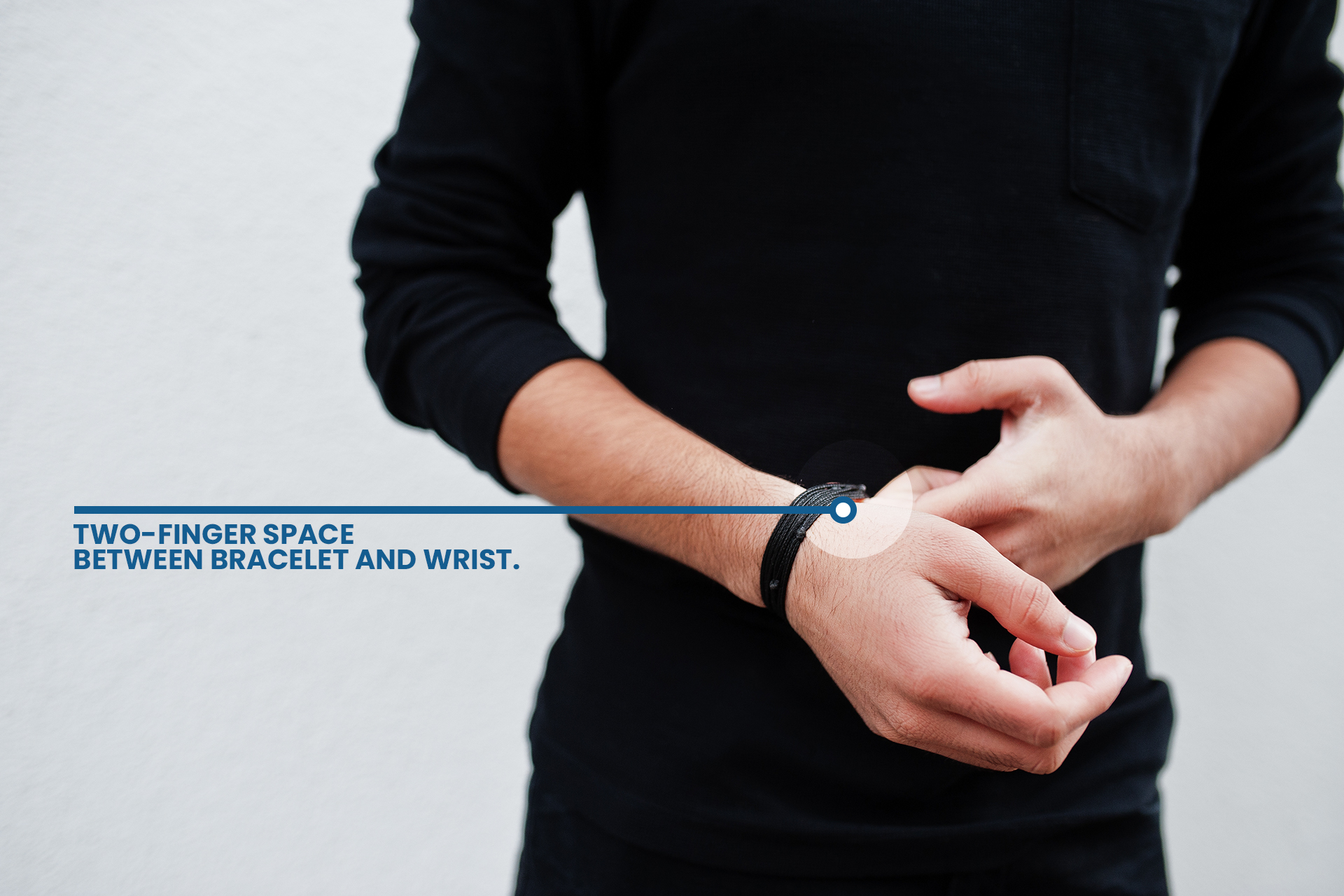 You should have some space between your bracelet and your skin; if it's too tight, you'll feel squeezed, and the effect will look strange.
However, how much space between your bracelet and skin should be determined by the thickness of the bracelet.
It's perfectly fine for smaller, lighter bracelets to slide up and down your arm a bit, but this isn't advisable for large and heavy ones. That can get very annoying after a while.
You should use your wrist size as a cue to how thick your bracelet can be, too. The thicker your wrist is, the chunkier you can go with your bracelet.
Bracelet Matches Your Style
Before putting on a bracelet, ask yourself one question: is it "you?"
Wearing a bling bracelet if you are a hipster doesn't quite fit your aesthetic. Likewise, a woven fabric bracelet may feel out of sorts in a professional business style.
Don't reinvent yourself to work a bracelet into your wardrobe. There's a style for each person; find the right type instead of trying to be somebody you aren't.
It Suits the Occasion
Following the general rules for each dress code can give you a pretty good direction for how to wear a bracelet.
Wearing a discreet, thinner bracelet is best if you're heading to a formal event.
It shouldn't draw attention but add an understated accent to your outfit. That means nothing large, colorful, or made from a rugged material.
On the other hand, if you are headed to a casual party with friends, feel free to express yourself with color and texture! That's the perfect time to experiment and be bold.
Author: Alexander Stoicoff
Hi, I'm Alex, and I've studied and specialized in styling in Rome. Through my writing, I want to help men dress well and learn the purpose and significance of suits and other formal attire. My final goal is to make men more confident in their wardrobe choice and life in general.