If you're like most men, you likely don't think much about what shoes you will wear when you first get your tuxedo.
You vaguely know you need black shoes, but those are the least of your worries when considering all other black-tie rules.
But your shoes say a lot about your style, especially when you're dressed almost exactly like all the other men in tuxedos.
Why not learn how to express yourself through your tuxedo shoes?
Shoe Types You Can Wear with a Tuxedo
Black tie is a very restrictive dress code. You have limited options in your ensemble and little room to add your personal flourishes.
That's why you may be surprised to learn that there are several acceptable shoe styles to wear with your tuxedo.
Naturally, they all follow the same general strict guidelines. They should be black and ideally patent leather, although calfskin leather or velvet are acceptable.
Do some men break tuxedo shoe rules? Yes, of course, it happens. You've probably seen some examples of this on the red carpet.
However, trying to pull this off at your wedding isn't wise.
Patent Leather Oxfords
This shoe style is number one in formality and is a classic for a good reason.
Patent leather Oxfords are the most common shoes that pair with a tuxedo, so this is a completely risk-free choice. It's similar to the Oxfords you might wear with your best suit, only shinier.
А plain toe is the traditional choice, although some models are appropriate with cap-toe as well.
Plain Leather Oxfords
These Oxford shoes are the workhorses that do double duty. Because they aren't only acceptable for evening events, as patent leather ones are, these go excellently with your work suit, too. They're that versatile.
However, these are a slightly less fancy choice. So, to make up for their lack of shine, stick to plain toe or whole-cut Oxfords to make up that loss in formality.
Opera Pumps
These tuxedo shoes are definitely a callback to another era. They may not be very common today, but they sure are super chic and sophisticated.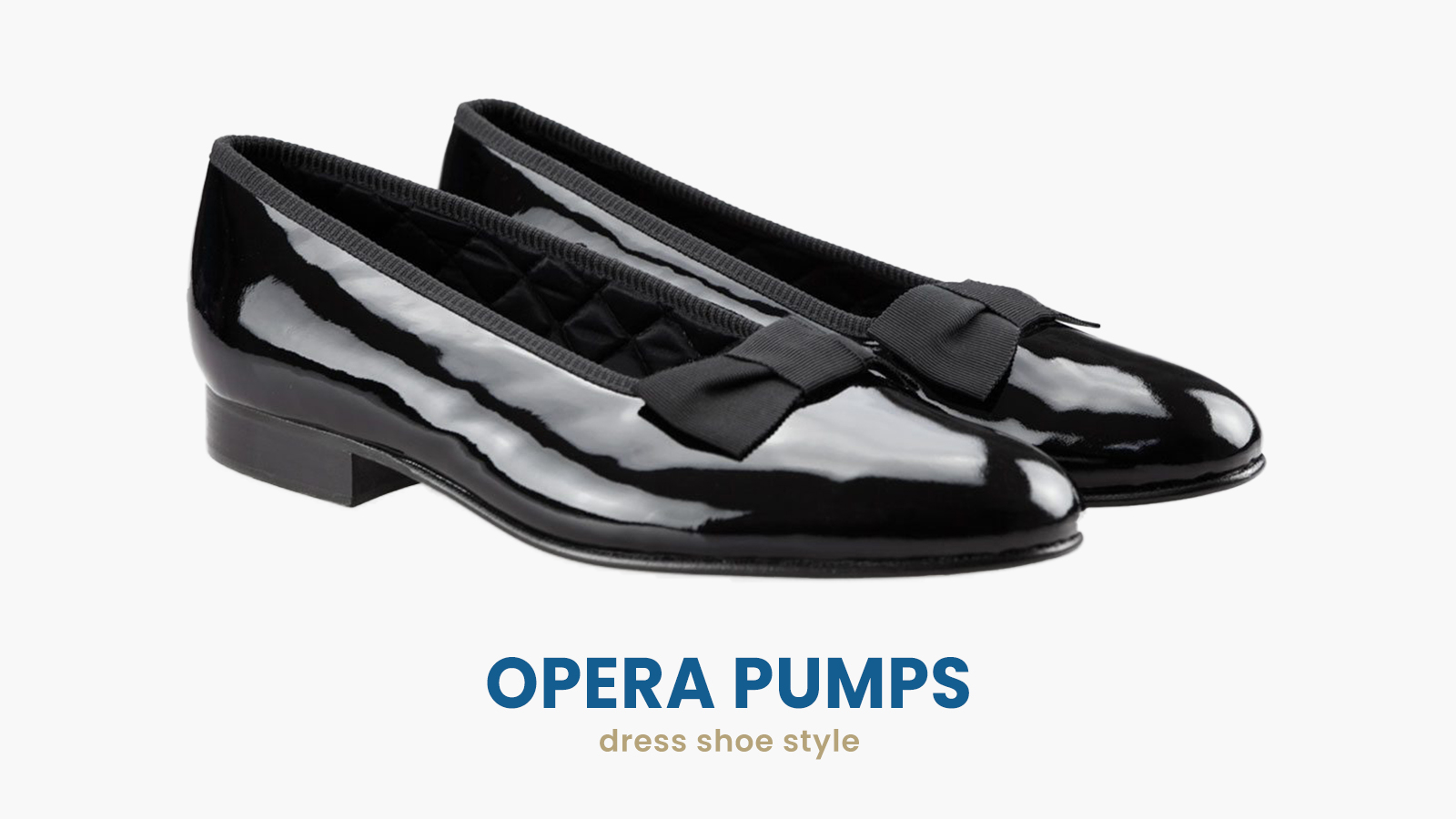 This slip-on style is similar to a loafer, but the vamp is short, not covering nearly as much as the standard loafer. This means you see much more foot, so the right socks become imperative.
Classic opera pumps have a bow across the top, but some contemporary styles have a simple strip of fabric instead.
Dress Loafers
Here's another option for slip-on shoes, but the loafers that suit a tuxedo differ from your standard style.
The tuxedo slipper is a refined loafer style crafted from luxurious materials and distinguished by its elegant designs and exceptional attention to detail.
Another example is the Belgian loafer, recognizable by its unique, tiny bow at the top of the vamp.
They can come in either patent leather or calfskin. Some designers also offer suede versions, but these won't do for a tuxedo.
Velvet Slipper
These dress shoes are tres chic and crazy comfortable (they are called slippers, after all!), but they are also the least dressy of the bunch. These are probably not your best choice for your most formal tuxedo settings.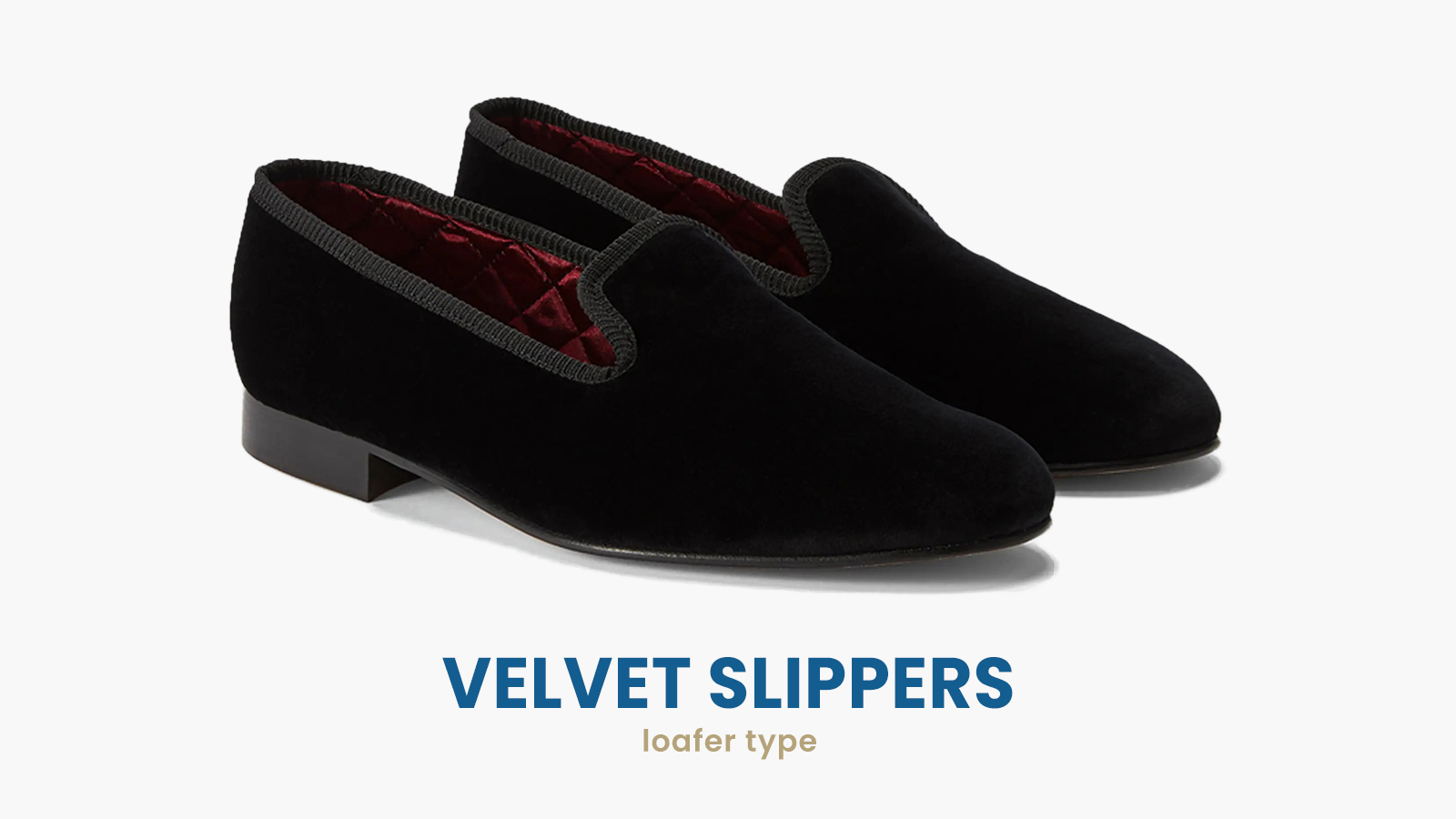 But if you are headed to a black-tie optional or other tuxedo-friendly event, dazzle your friends with these darlings!
15 Best Tuxedo Shoes
Putting together a black-tie outfit can be overwhelming and intimidating. It shouldn't be, since there are strict rules to guide you, but that's what makes it so stressful!
So here is a selection of some of the best bets for your black-tie occasions.
You need something reliable and well-made, a shoe you can return to for all your formal footwear needs. These tuxedo shoes will bring you the most value for your money!
Suitsupply Black Tuxedo Oxford
You can't get a more traditional shoe for your tuxedo than this sleek offering from Suitsupply. They may be a classic choice, but they are anything but stuffy.
They're constructed from patent leather and have a luxurious Italian calf lining and a leather sole outside. They are incredibly slender, giving your foot a polished silhouette.
Lace-ups never looked so good.
Bruno Marc Tuxedo Slip-On
Here is proof that you can get patent leather loafers at an affordable price. These Bruno Marc loafers look sharp and contemporary, giving the standard plain loafer an extra hip quality.
They feature a fabric strap across the top of the foot for a splash of compelling flair.
These are great for when you don't feel the need to conform to the typical tuxedo expectations.
Christian Louboutin Dandelion Loafer
With leather that's smooth as satin, these whole-cut slip-ons are simply irresistible. Their shape is unique; they are very slim and have quite a high vamp. The square toe provides distinction from other loafer styles.
When you're feeling in touch with your European side, these will satisfy that vibe. These loafers are simple but irresistibly attractive.
Allen Edmonds Patent Leather Oxford
These traditional patent leather Oxfords have a modern feel thanks to their narrow shape. And since they are handcrafted, you know they will likely be your go-to shoe for all formal events since they'll last long.
Their cork insole molds to your foot, providing for a comfortable evening. Exactly what you need when dancing all night is on the menu.
Tom Ford Burnished-Leather Dress Loafers
If you don't need to be on the top of the formality chain, try these luxurious and classy slip-ons sporting low heels.
Every aspect of them stands out, from their narrow, square toe to the leather braid and gold buckle across the top.
Tom Ford knows how to design loafers that will help you stand out in a sea of Oxfords.
Ace Marks Wholecut Oxford
You'll feel incredibly decadent in these Italian calfskin Oxfords. They create an impeccably clean silhouette, constructed from one complete piece of leather for an unbroken line along your foot.
When you need to adhere to the highest dress code, try these Oxfords. And since they aren't patent leather, you can keep them around for your professional needs, too!
Magnanni Cap Toe Oxford
Here is a singular shoe. Can't decide between patent leather or Nappa leather? Why not both? You can choose these patent leather Oxfords with wrap-around nappa leather panels.
The rounded, tapered cap toes make these shoes feel accessible. They are high quality and an excellent choice for the most fashion-forward influencers.
Suitsupply Black Velvet Slip-On
Add a sense of style and personality to your tuxedo. Opt for a relaxed slip-on style elevated by its cotton velvet exterior. The delicate contrasting stitching across the top of the vamp decoratively extends down and over the toe of the shoe for some depth to the style.
If your occasion is a creative black-style event, you can feel right at home in these shoes.
Gucci Black Horsebit Loafer
These aren't your average loafer. Their patent leather construction effortlessly elevates them to formal wear. But to mix things up, Gucci included a black metal horsebit across the vamp, leading to a touch of the unexpected.
When you're looking for a loafer for your tuxedo, these can be a fun twist. They're like an updated version of a classic shoe.
Charles Tyrwhitt Patent Leather Oxfords
For a traditionally beautifully patent leather Oxford shoe, these low-heeled classics deliver. The stitching across the vamp and down the sides creates the ultra-classic Oxford shape. Look no further for a standard shoe for your tuxedo.
Don't be fooled by their sensible rubber soles; the narrow toe with slightly rounded tips is just enough to hint at higher fashion.
Bowhill and Elliott Black Opera Pumps
Look no further for the standard in opera pumps. These have it all, from the patent leather exterior to the large grosgrain bow. The toe has just the right amount of narrowness and falls perfectly between perfectly square or rounded.
The vamp is very low cut, helping these slide off and on efficiently. And the interior quilted lining adds to your comfort. And as people admire your dedication to formality, don't forget to brag that your opera pumps are handmade.
Florsheim Cap Toe Oxford
Like a rare jewel, these Oxfords combine beauty, comfort, and affordability. They are entirely patent leather for elegance but have a memory foam interior for your comfort. The cap-toe design adds an element of glamour.
Every capsule wardrobe needs a basic pair of patent leather Oxfords for black-tie events; this is a solid choice.
Ralph Lauren Velvet Slipper
When in doubt about what shoes to wear with a tuxedo, keep things simple and sophisticated, like these slippers. The uninterrupted silhouette elevates your image, so you'll cut a dashing figure. The only adornment is a grosgrain ribbon stripe down the slipper heel seam.
These are an ideal choice for an inviting evening of quiet elegance.
Calvin Klein Bernard Loafer
Are you a fan of minimalist style? If so, you know CK has got your back. Calvin Klein designs are renowned for their modern and streamlined look. These classic, very traditional loafers fit that description.
Their long toe box leading to squared ends is excellent because they look stylish but don't squeeze your toes. A ribbon runs across the vamp to break up all that patent leather shine – the perfect balance between basic and haute couture.
Paul Stuart Venetian Loafer
Here's a loafer that's so uncomplicated and effortless that it could be mistaken for "plain" but is actually quite cosmopolitan. Made from textured calfskin leather, it's one of the most graceful shoes you can wear with your tuxedo.
It is made entirely from leather, including the lining and the sole, resulting in a piece of outstanding craftsmanship. And you don't need to wait for a black-tie event to wear these since you can pair them with nearly any smart outfit.
Matching the Dress Socks with the Shoes
Your socks for your tuxedo are perhaps the most straightforward part of your formal wear. This isn't the time to introduce colorful or novelty socks for a dash of fun.
Socks aren't meant to be noticed with your formal suit, so always start with black. They should connect your tuxedo pants and shoes seamlessly, creating one unbroken line of blackness.
Part of creating that connection between your shoe and your trousers is ensuring that none of your skin gets exposed, especially when you sit.
So, choose a pair of dress socks that go up and over your calf. This gives very little chance that anybody can peek at your legs.
Lace Up vs. Slip-On
Shoes that lace up are the most formal of the shoe choices, so consider a pair of Oxfords if you need to be as formal as possible.
The laces should, of course, be black. Satin laces are ideal; they look the most sophisticated. However, waxed cotton laces will also work well. Just make sure they are round instead of flat.
Don't let lacing up stress you out. There isn't any one "right" way to lace up your tuxedo shoes, so just do what you know works for you.
On the other hand, you can altogether skip the lacing questions if you choose a pair of slip-on dress shoes.
They are usually quite comfortable and easy to deal with. Their main drawback is that they are less dressy than their laced counterparts.
What to Avoid
Boots are a very nice look and can sometimes be combined with a suit. However, it's never appropriate to add them to your tuxedo.
No matter how polished they are, boots are never formal footwear. Save them for your more funky styles.
Steer far away from dress shoes that are made from fake leather. Pleather may be much less expensive, but it also looks it. People can spot cheap, imitation leather a mile away, and it isn't a good look.
You can find affordable shoes made from real leather instead. And while I'm on the topic of material, don't wear suede shoes; they're too casual.
Finally, avoid wearing socks that will attract attention. You should not have prints on your socks or any bright color.
The worst offense would be to wear white socks with your tuxedo. These are a glaring no-no.
Author: Alexander Stoicoff
Hi, I'm Alex, and I've studied and specialized in styling in Rome. Through my writing, I want to help men dress well and learn the purpose and significance of suits and other formal attire. My final goal is to make men more confident in their wardrobe choice and life in general.