Choosing a men's suit can turn out to be tricky.
If you do not have a reason to wear one frequently, you may become unsure of how it should look on you after putting it on.
Some may assume that as long as you can close the button, pulling it on comfortably, that's it. However, reality dictates that there is more than just wearing a suit.
First, you need to get into one. You surely don't want your suit to be extremely tight. It will make you unable to move around freely.
On the other hand, oversized will make you look baggy and unattractive.
This guide will help you get in touch with the basics of choosing a suit. As there are different types of suits available, it is essential to look into every fit's aspect.
How to Choose the Perfect Men's Suit
A perfect men's suit acts as armor. It can give you not just protection but a special kind of swag. Nothing can make you feel more confident than wearing that killer suit.
Most men believe that they only need to have one or two suits at hand. But if you want to achieve that confident look and a respectable image, reality dictates that there is a suit for every occasion.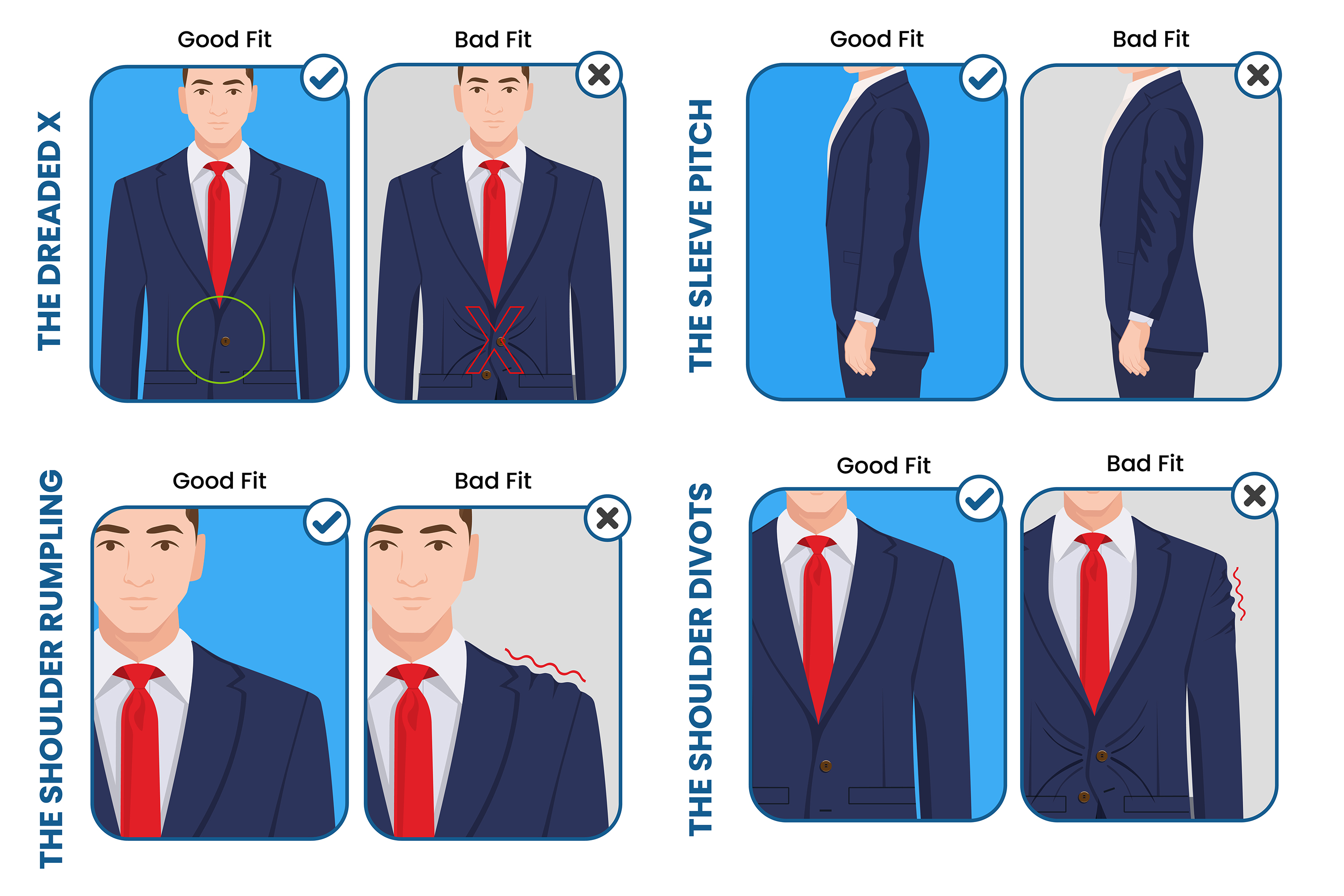 The following are the steps that you can take into consideration when it comes to choosing a great suit.
Understand the Reason Behind the Purchase
A suit is usually a big purchase for any man.
It means that you have to be aware of many things when selecting the best suit for you before making the purchase.
Buying affordable suits is also something that needs to be considered. But keep in mind that having one high-quality suit is better than several mediocre ones.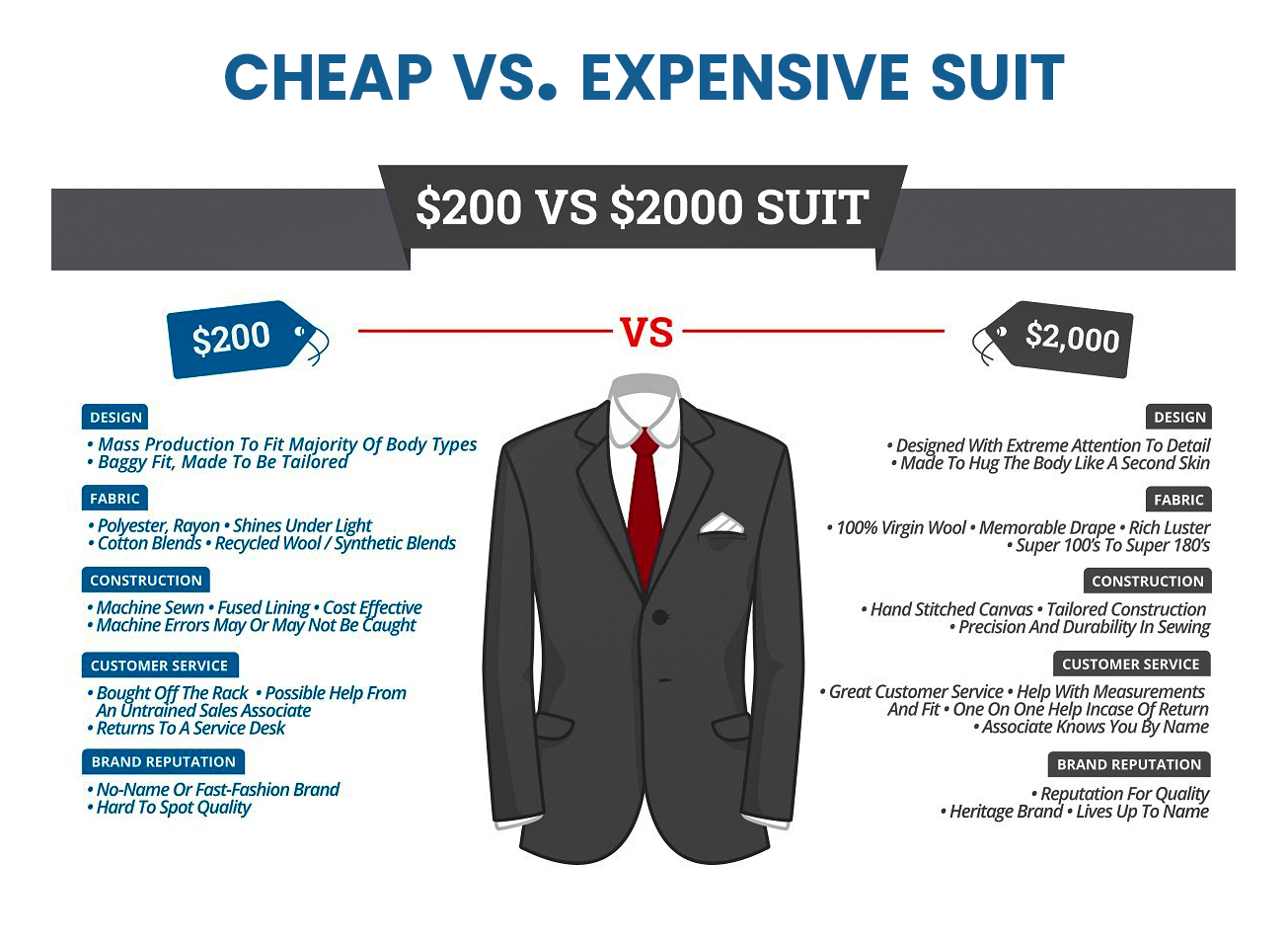 Otherwise, you may only end up with a suit that may not make you feel or look right.
Men who make such mistakes pay a smaller amount first, but the suit stays kept inside the closet rack for several years without use.
Knowing the occasion can help determine what type of suit you need. Here are some other questions that a vendor will probably ask you when you start looking for a suit:
Do you want a suit that comes with one, two, or three buttons? Are you interested in having a notch or peak lapel? What type of color or fabric do you want on your suit? What about the length and the fit?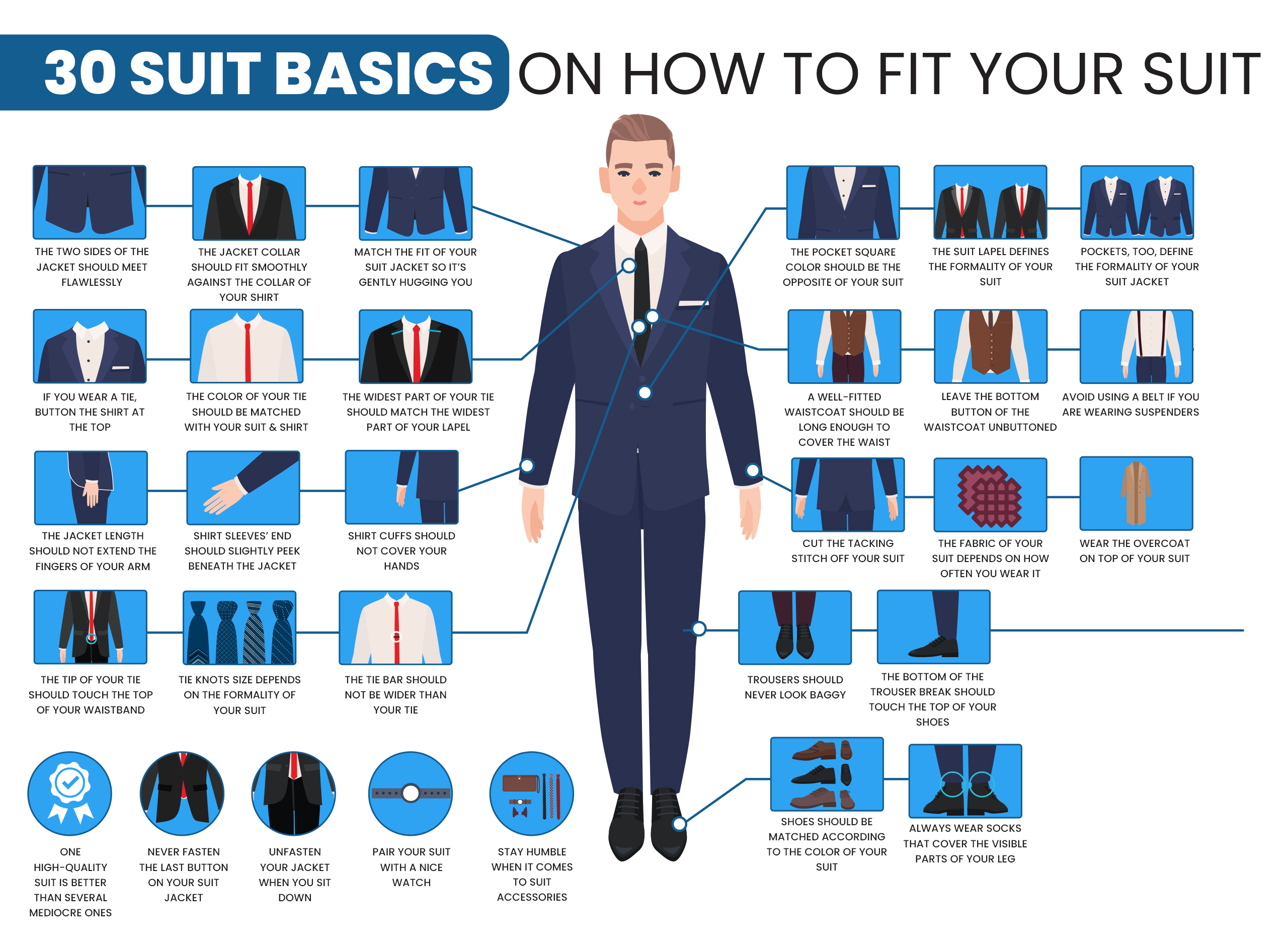 Even if you managed to answer all these questions to your vendor, it's good to know some of the basics that define the suit.
Decide on What You Want
This men's suit guide tends to answer these questions you probably ask yourself when it comes to suits. So let's decide what you need.
Choosing the Fabric
If you are buying your first suit, you can play safe with wool since it can be worn at any time of the year. On the other hand, cotton suits are worn only during summer, spring, and fall.
There are also other options, such as linen, and they are the ones that are best for summer. However, wool can give you real value for your money.
You can play safe by choosing a midnight blue color or a few shades darker than an average navy. It can beautifully transition for day and night use and may be matched with every shoe color.
Number of Buttons
Two-button suits are the most commonly available and best-looking suits. Every label operating these days plays with two-button suits, streamlining them to create a modern look.
They are perfect for men with shorter torsos as they can lengthen the frame. It's by far the most popular suit choice nowadays.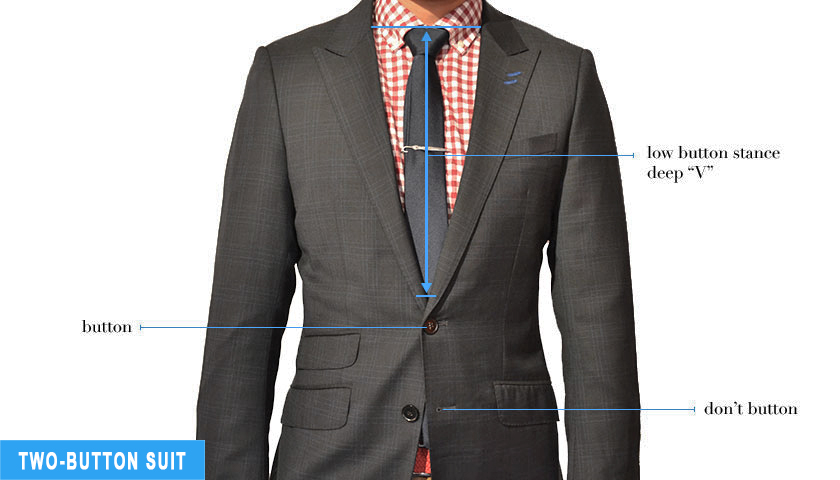 Another common option is the three-button suit. Having a three-button will allow you to reach higher on your chest and be more flattering or comfortable.
They were very popular back in the '90s since the two-button option was the conservative choice. However, fashion is turning its tables.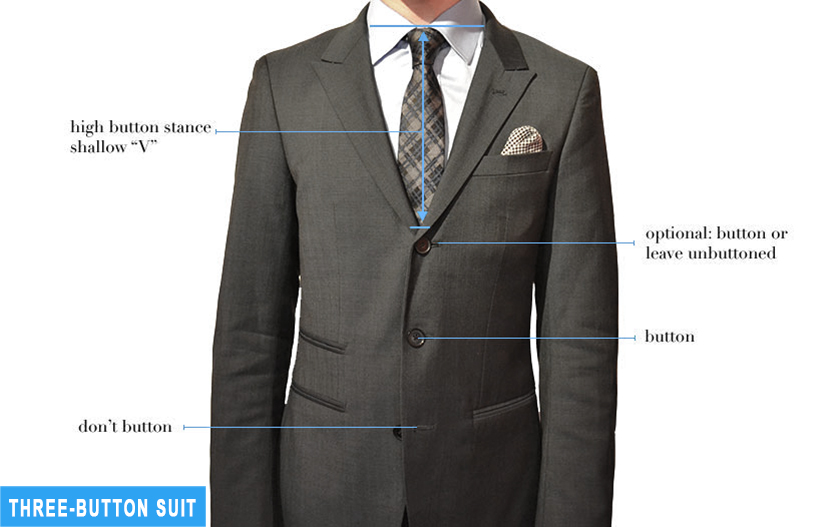 And yes, there is also a one-button suit. However, this style is not fit for everyone.
It is a suit style you should only get if you are within a creative job environment where the atmosphere is less conservative. If you can pull it off effectively, you can achieve that modern and sleek look.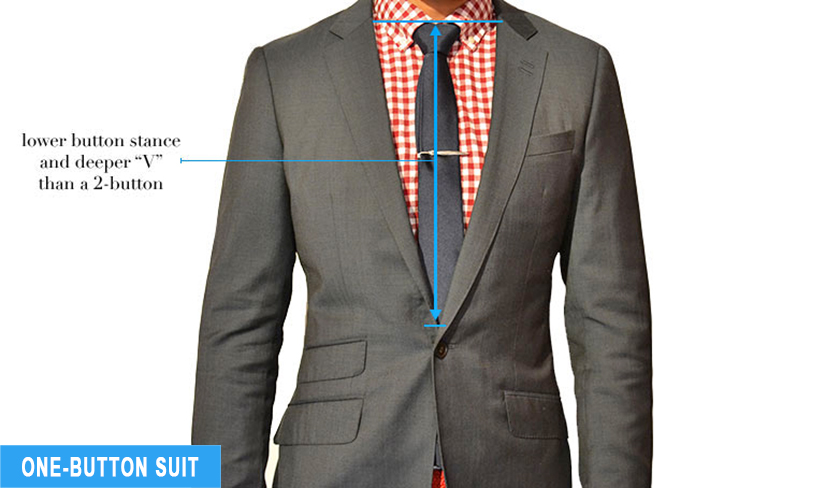 These considerations are just samples among the many things you also have to consider before getting a suit. Now, let's take a look at the different suit types to get that thorough understanding.
Choosing the Right Type of Men's Suit
The right type of men's suit for you depends on various factors. It includes finding the right cut for your body type, addressing personal style, the occasion you're attending, and even the budget.
Most body types prefer a slim-fit suit since it gives a modern touch to your silhouette. But some body shapes, like the triangle shape, would also benefit from a more relaxed fit.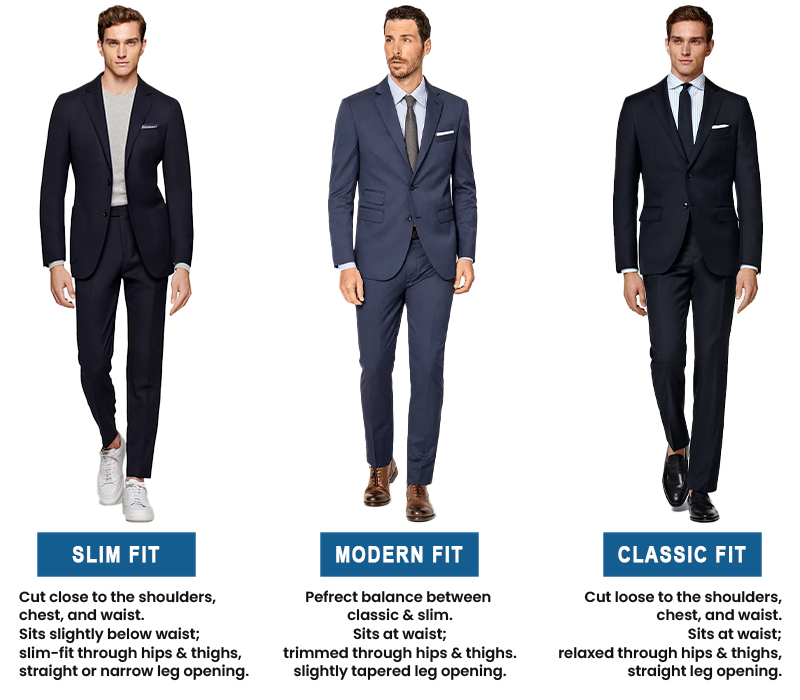 The occasion you're attending usually determines the formality of the suit you need.
For example, if you're attending a wedding or other formal event, you might need to wear a tuxedo or other appropriate wedding suit.
On the other hand, the single-breasted navy suit might be the best choice for more formal business settings.
Considering that there are many different suit styles, your personal preference also plays a huge role in determining what's best for you to start with.
If you prefer an old-classic look, a three-piece suit with notch lapels may be a good option.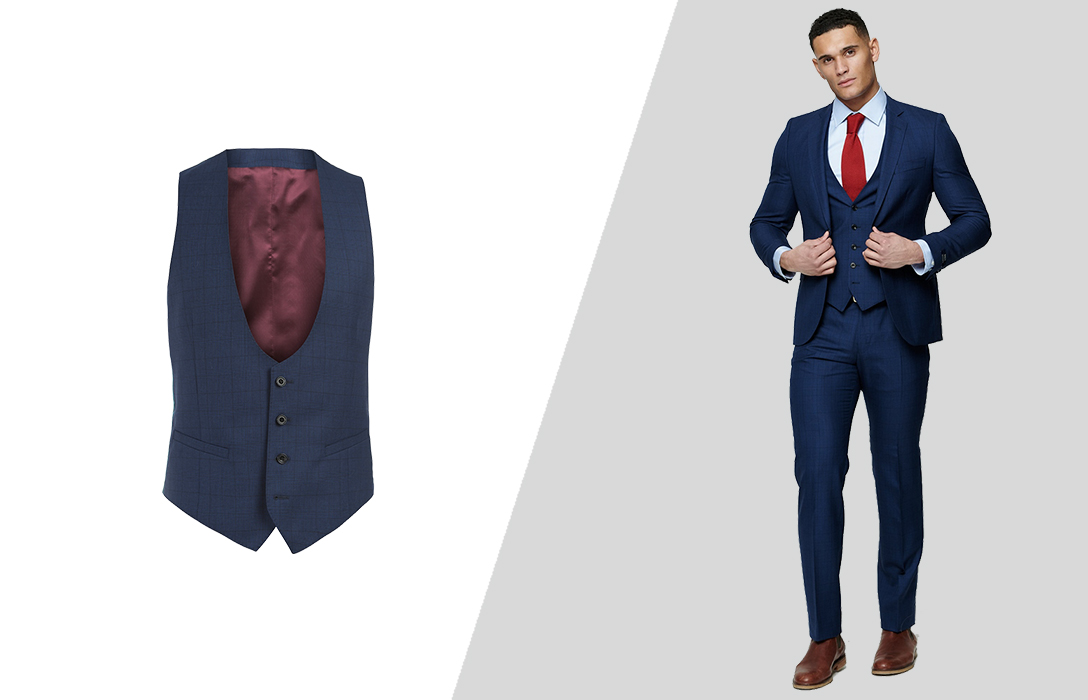 Interested in mixing old school and new school feel? Double-breasted suits are the perfect option.
Match the Suit Size
Whether you are purchasing a men's suit at an actual store or online, getting the correct fit and measurements is very important.
Perhaps you are wondering which aspects regarding suit measures you need to be extremely familiar with.
In a hurry? Watch the video to quickly learn the basic things you need to know about suit fitting:
Anyway, if you are not that of a fan of videos, here is a text transcript of what you've missed:
Shoulder Width
The perfect shoulder width will be the same as the body structure underneath the suit jacket.
The too-narrow shoulder will create wrinkles, mostly on the top of the suit and the upper part of the arms. Too wide, on the other hand, will create inside jacket gaps.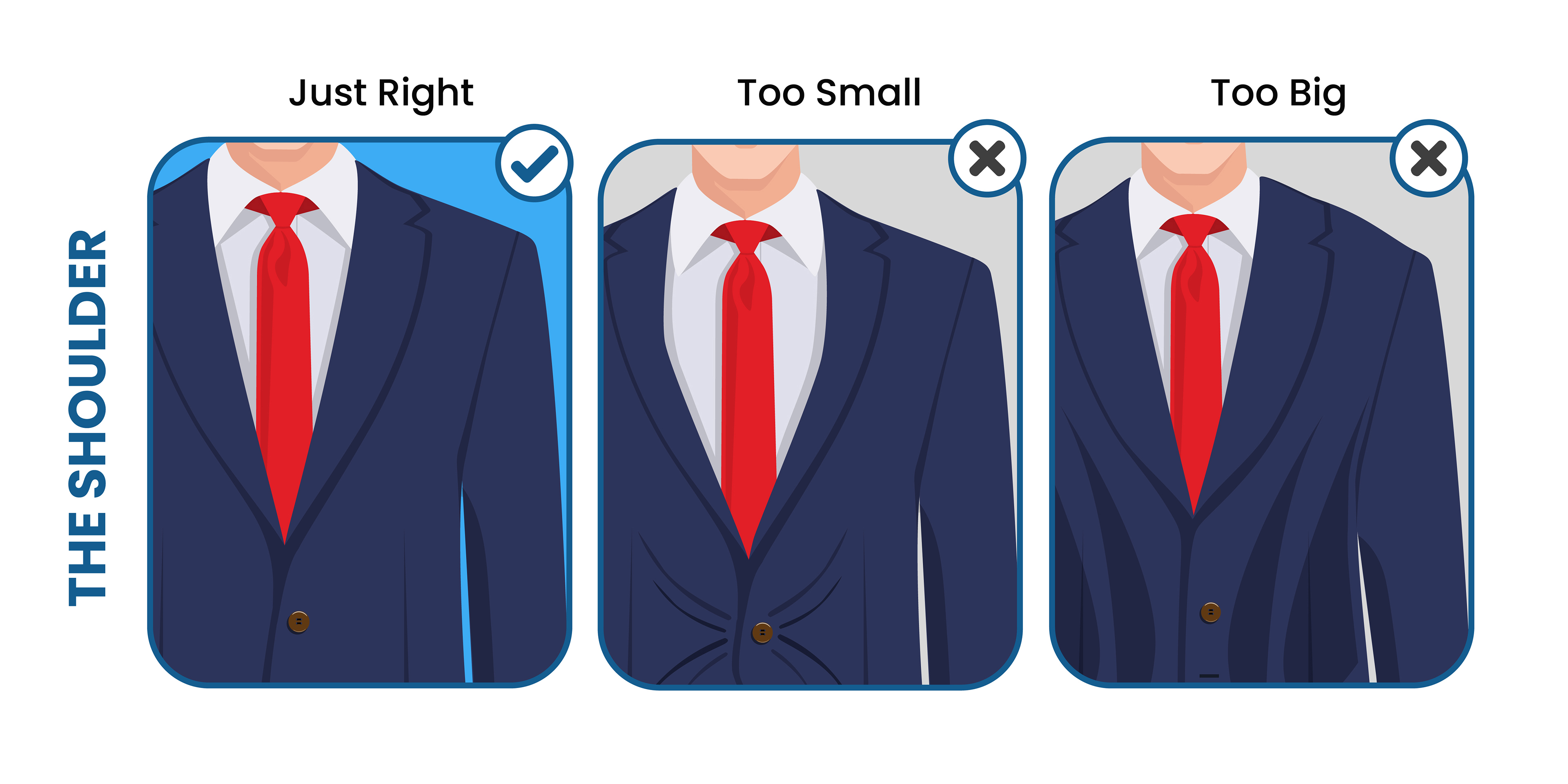 The Jacket Closure
The perfect jacket will reflect an exact button closure, and the two sides will meet flawlessly.
If the suit jacket is too tight, you will notice the lapels widen on the sides. If the men's suit jacket is too loose, it will create a gap in the front. There is a slight variation to this, depending on the fit of your suit.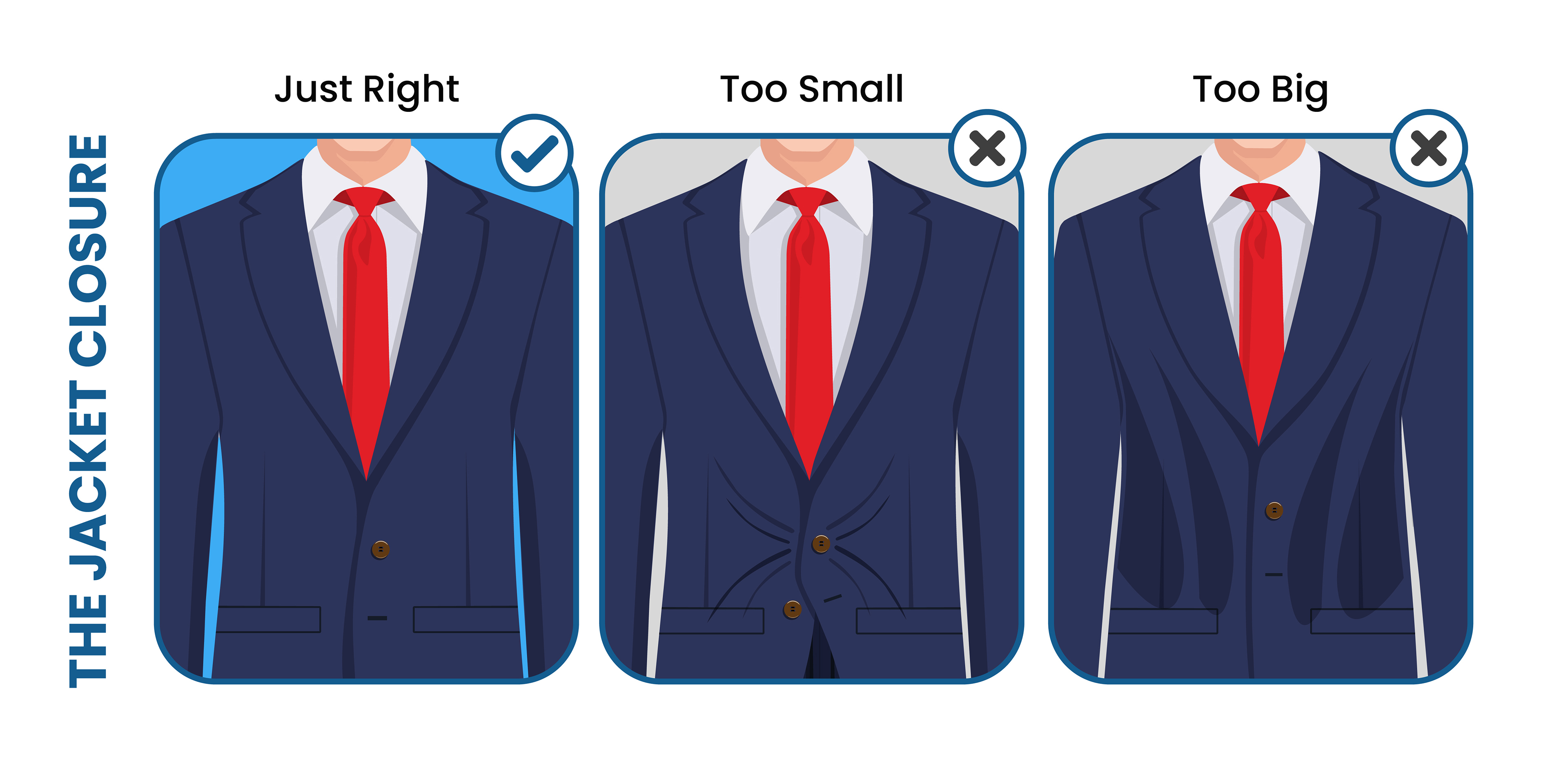 The Sleeve Length
A perfect jacket suit will make the shirt beneath peek at the end of the sleeves slightly.
Too short jacket sleeves will significantly distance the arm's wrist and the sleeve's end. Conversely, if the jacket sleeves are too long, they will cover the shirt beneath the suit entirely.
The Jacket Length
A perfect jacket length will meet your arm fingers when the arm is straightened up.
If the jacket length is somewhere around your arm wrist, that it's too short. If the jacket length has wide past the length of your arms, then it's too long.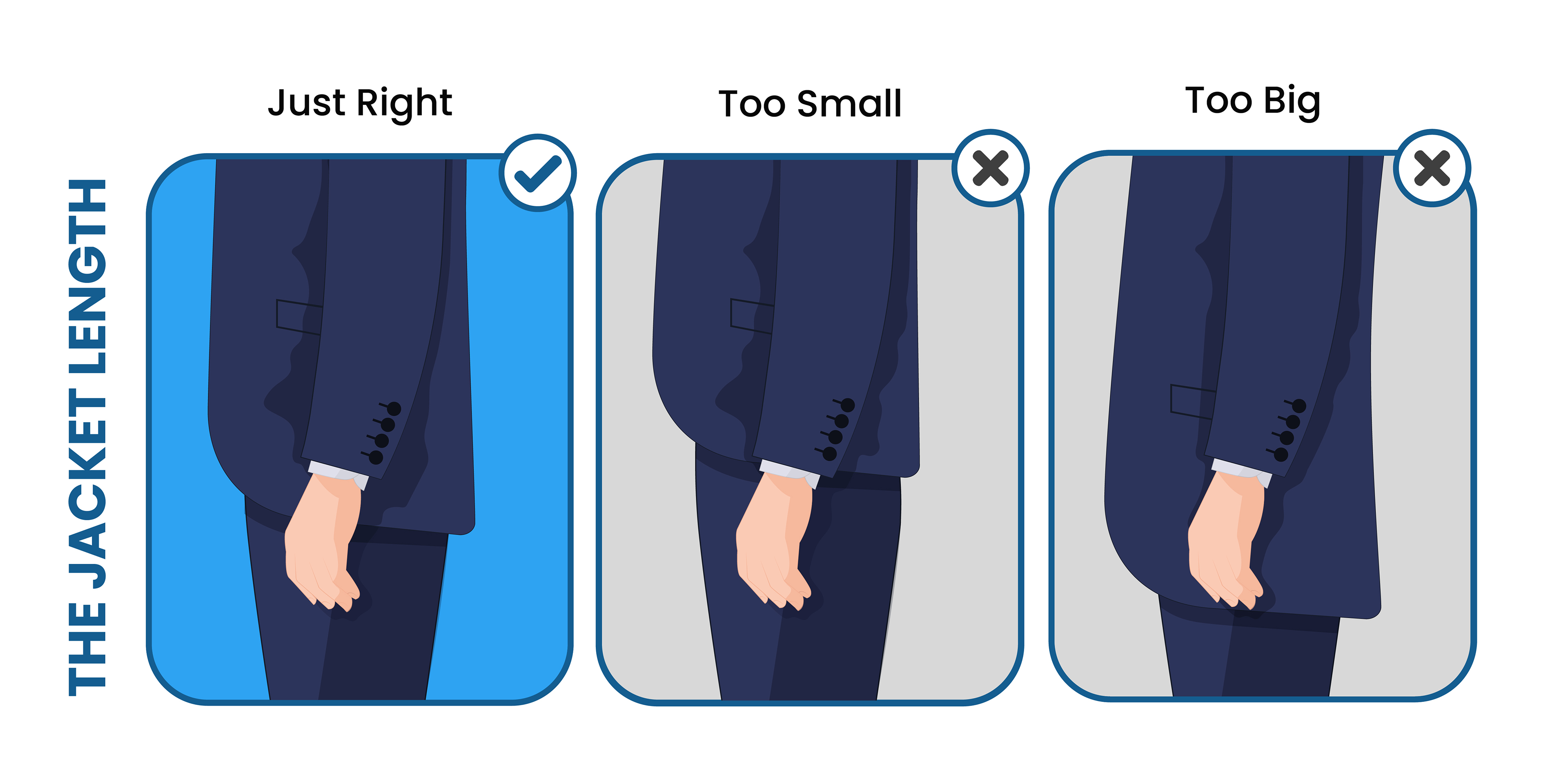 The Jacket Collar
The perfect collar will fit smoothly against the collar of your shirt.
You will notice a tight jacket collar if you find it pretty hard to open up your hands perpendicular to the torso. On the other hand, if the jacket collar is too loose, it will create a gap in the back.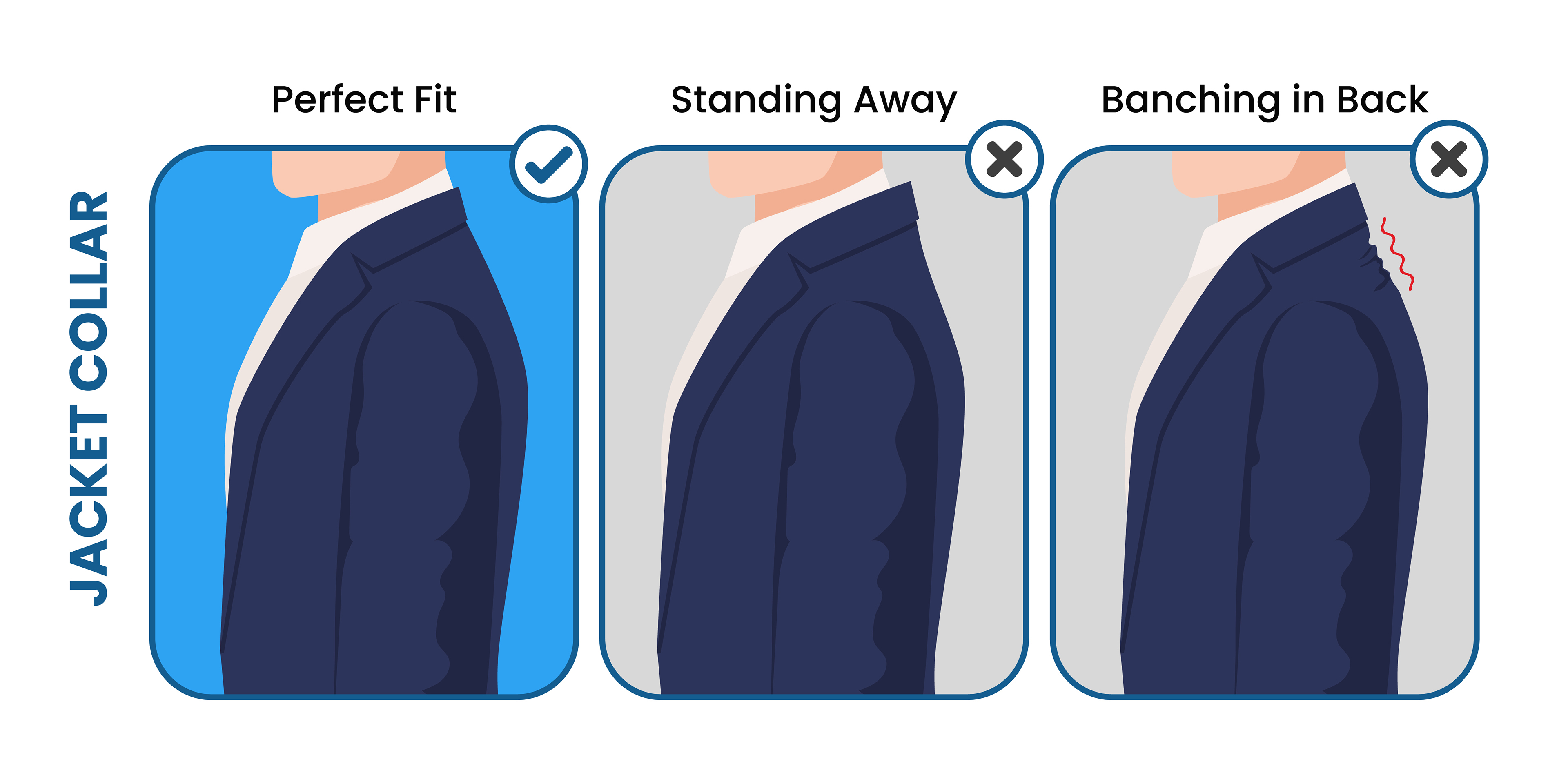 The Seat
The perfect trouser seat will embrace a neat line on the back of your trousers.
If the pants are too tight, it will create wrinkles, especially on the back. If the suit pants are too baggy, a gap between the leg, thigh, and trousers will appear.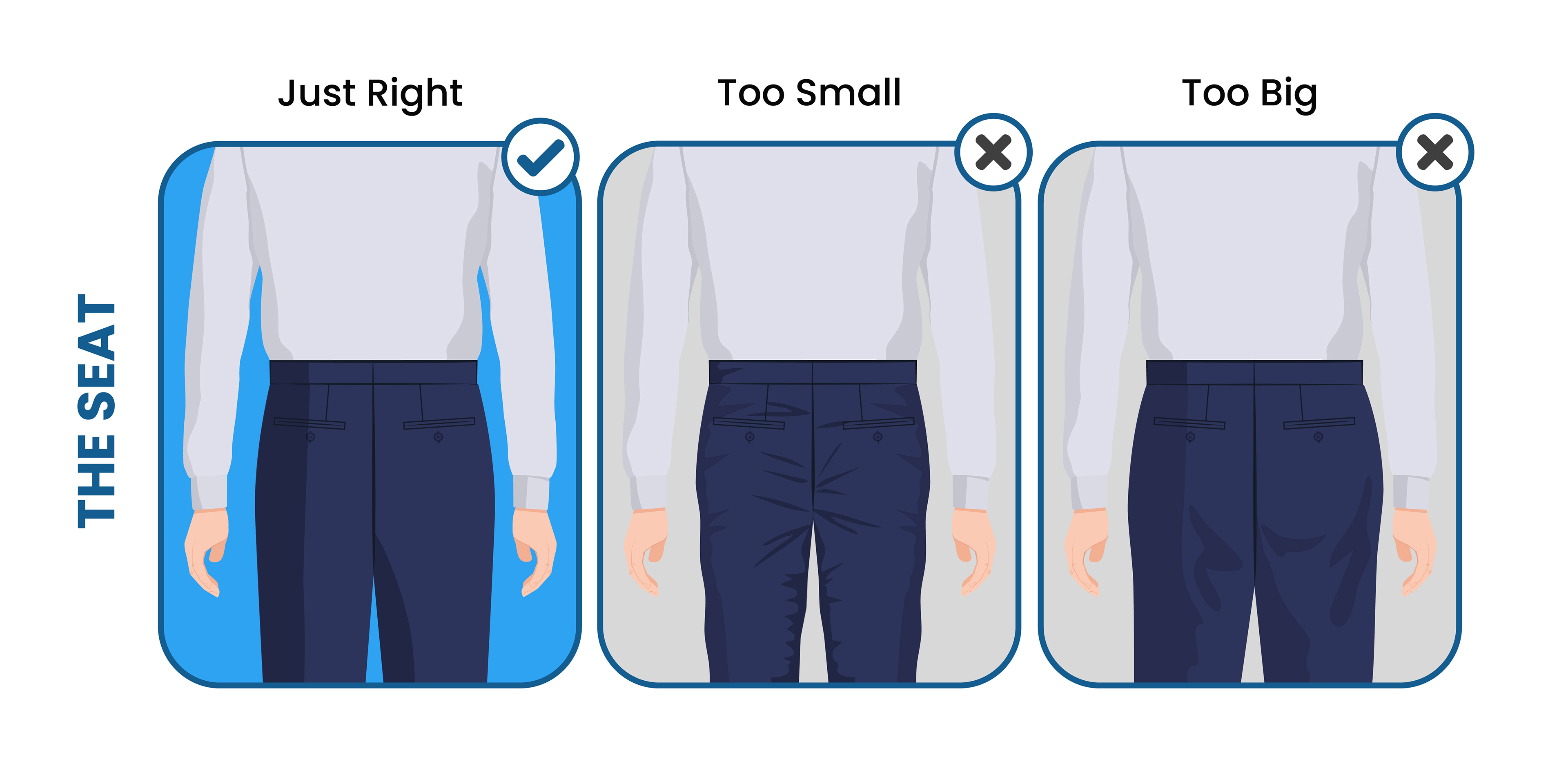 The Trouser Break
The perfect trouser length will break precisely at the top of your shoes. If the pants fail to reach your shoes, then they are too short. If they are too long, the flank will start pulling around your shoes.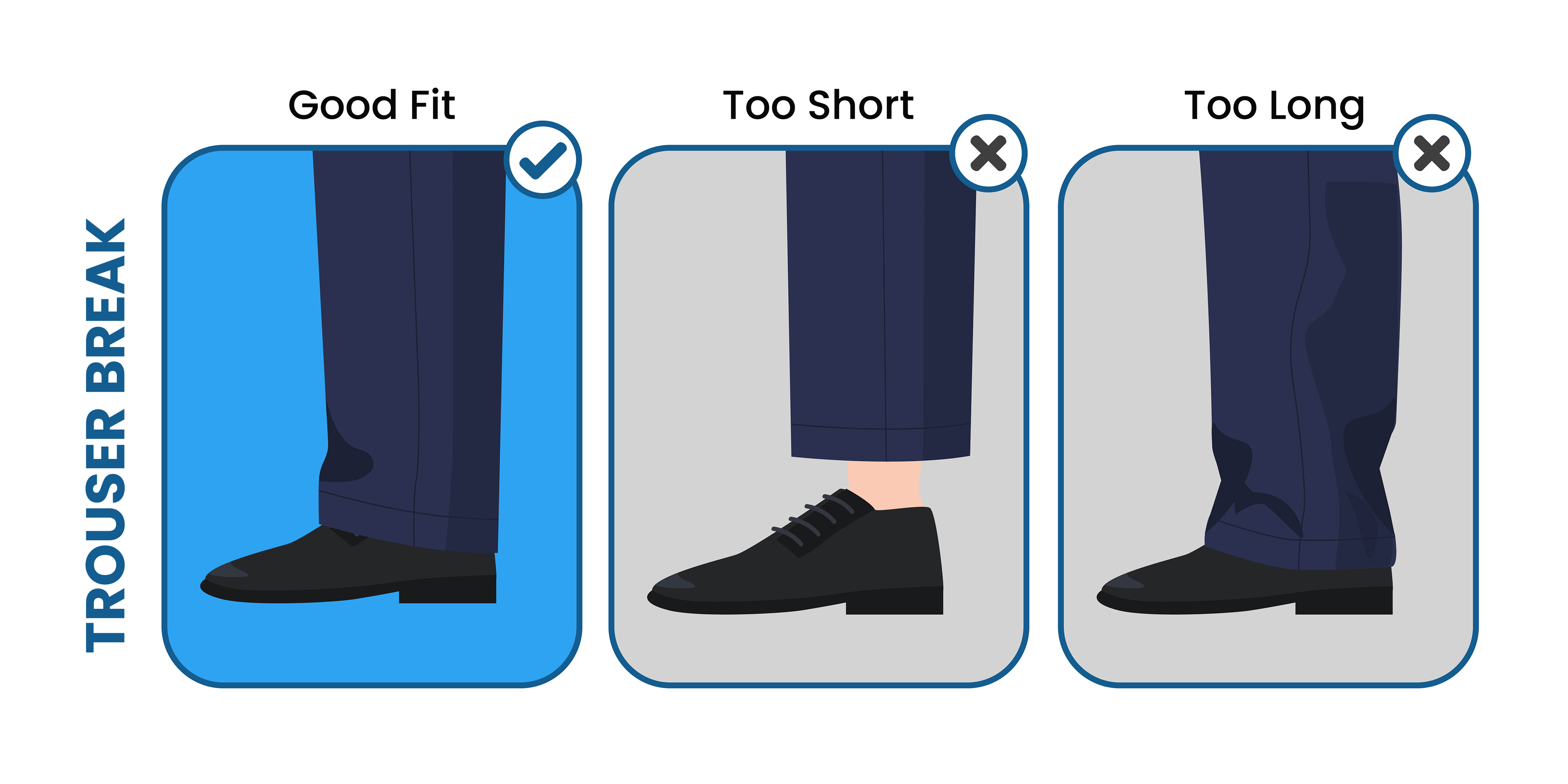 Suit Alterations & Measurements
It is highly advised to have your measurements taken by a reliable tailor.
While you can attempt to get your measurements for a suit, it is generally better to have your measurements taken and recorded by actual personnel.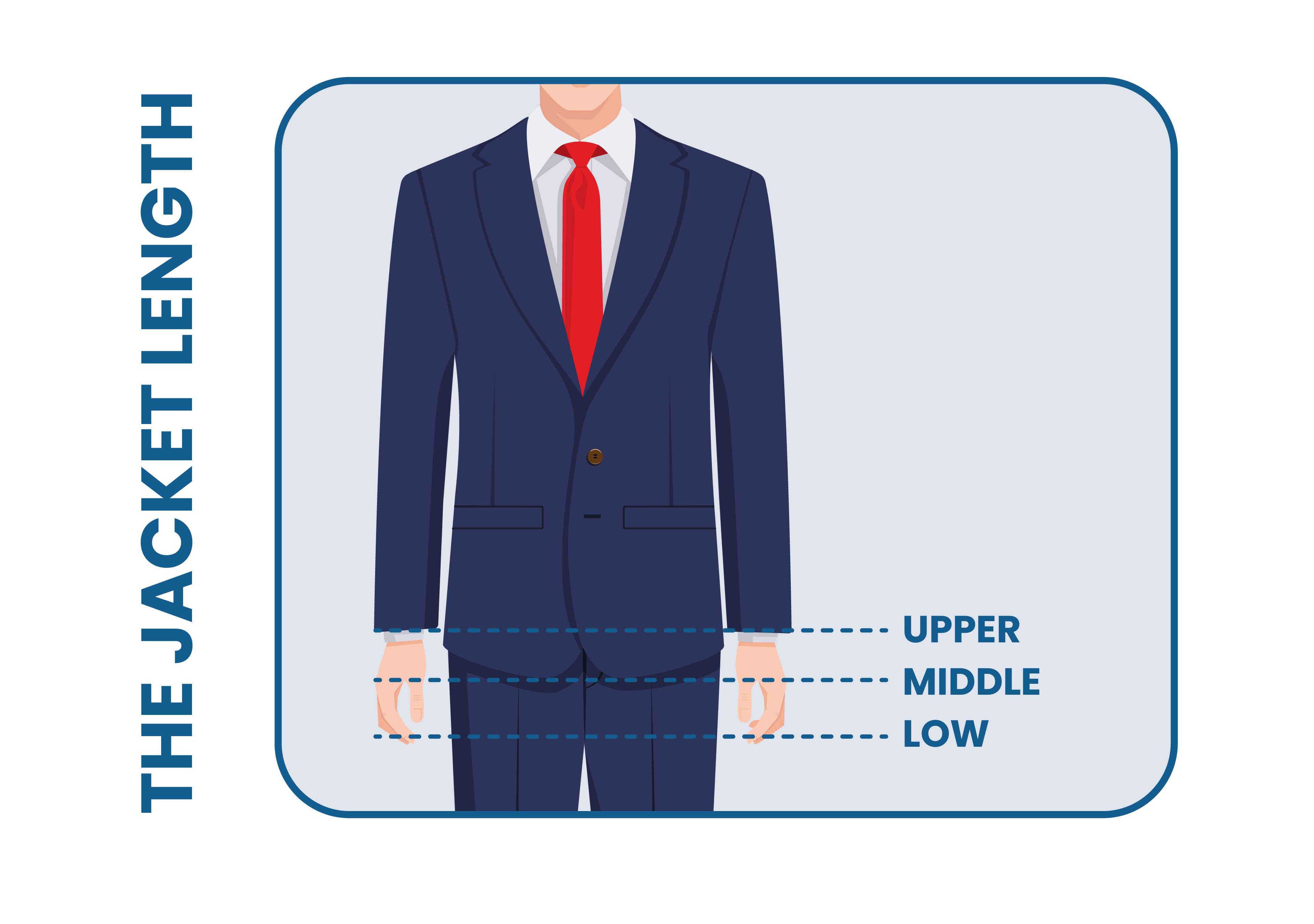 Nonetheless, here are some of the commonly used measurements for men's suits:
Chest: this measurement is taken around the chest area, just below the underarms, across the shoulder blades, and with both arms relaxed on the sides. It is typically the number referenced in sizing a suit, such as mentioning a "40R". It means that the suit has a 40-inch chest with a regular (R) jacket length.
Jacket Length: this measurement is taken from the highest point of the shoulders down. It is usually sized as S (short; for height 5'5″ – 5'7″), R (regular; if the height is 5'7″ – 5'11"), or L (long; for height 5'11" – 6'3″).
Waist: refers to the measurements surrounding the natural waistline, appearing as a crease when a man bends towards the side.
The drop refers to the difference between the number in the waist and suit size.
Height: this measurement is taken from the top of the head going down while standing barefoot on a flat and hard surface with a normal posture.
Neck: taken around the neck's fullest part.
Inseam: taken from the inner crotch seam towards the hem of well-fitting pants.
Sleeve: this is taken from the center of the neck back to the shoulder point, going down the outer arm part of the elbow, towards the wrist with both arms just relaxed on the sides.
Match Pants Size
Depending on the type of men's suit you'll choose, these are the measures that need to be considered when matching the pants' size:
Waist: the most important measurement for matching your pants. It refers to the measurements surrounding the natural waistline.
Inseam: the length from the bottom intersection of the crotch to the bottom of the inside of one leg.
Side Length: the length from the waist down to the hem, measured on the outside of the leg.
Rise: the length from the

middle of the crotch seam, right between the legs up to the waist.

Thigh: the measurement of leg width right below the crotch.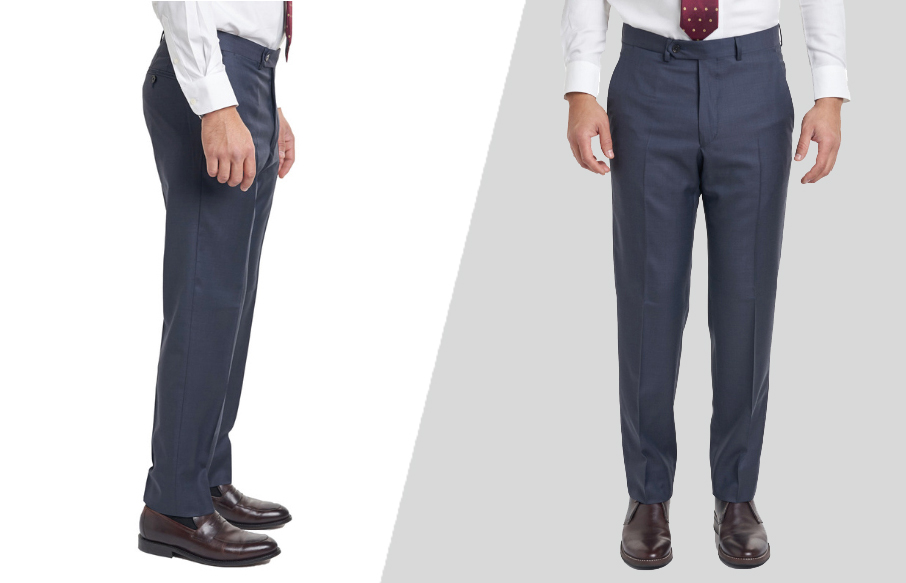 Suit Measurement Tips
Here are a few reminders to consider for the proper suit size:
The exact chest measurement of a men's suit is usually 2 inches bigger than the suit's size to allow movement.
European standard measurements are generally ten numbers higher compared to US sizes. For example, a size 48 in European suit measurement is a size 38 in the US.
There are certain limitations as to the amount in which a tailor adds or subtracts from the pants. Usually, for slacks, it should not be more than 2 inches. However, if the slacks should be taken in more than 2 inches, a tailor may charge further for removing material.
Pants generally come unhemmed and unfinished. Therefore, when ordering, especially from online stores, it is better to check whether they are delivered hemmed or if there is still a need to alter the length with a professional tailor's help.
The tape needs to be held flat on the body when measuring sizes, not droopy or snug. In addition, it should also not be restrictive.
The suit measurements for men need to be taken to the nearest .25 (quarter) inch.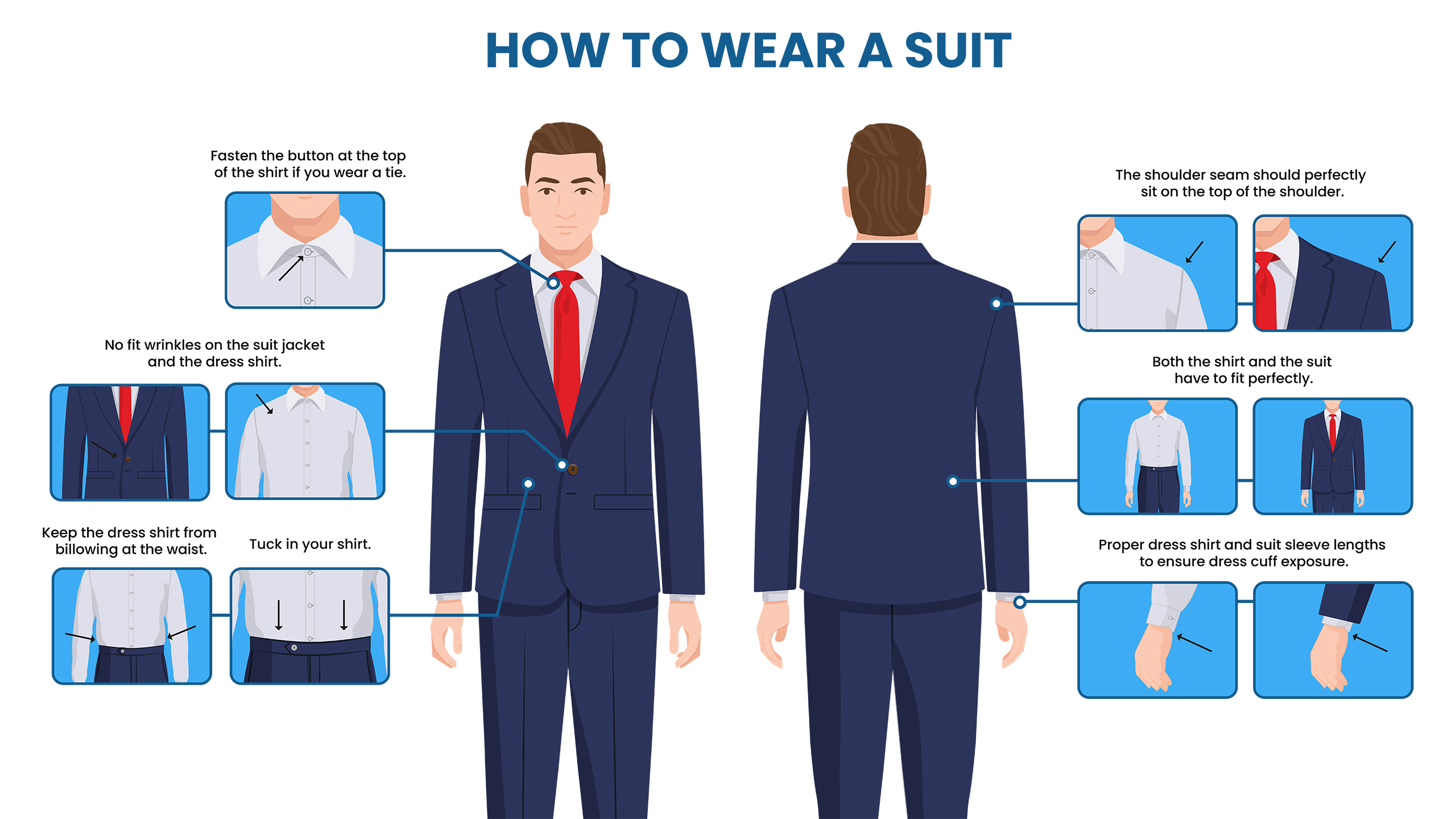 Suit Ties
When you get yourself a suit, wearing it means being exposed to the view of other people.
The reality is that there are a lot of things that other people will undoubtedly notice about your suit: the number of buttons, the cut, the jacket length, and even the drape of the pants.
However, one of the first things that will be noticed right away is the tie that goes with your suit.
Choosing the right color and type for your tie is as important as selecting the suit itself.
Color relays a powerful and strong message. As such, the mix-match of ties and suits should be considered with extreme care.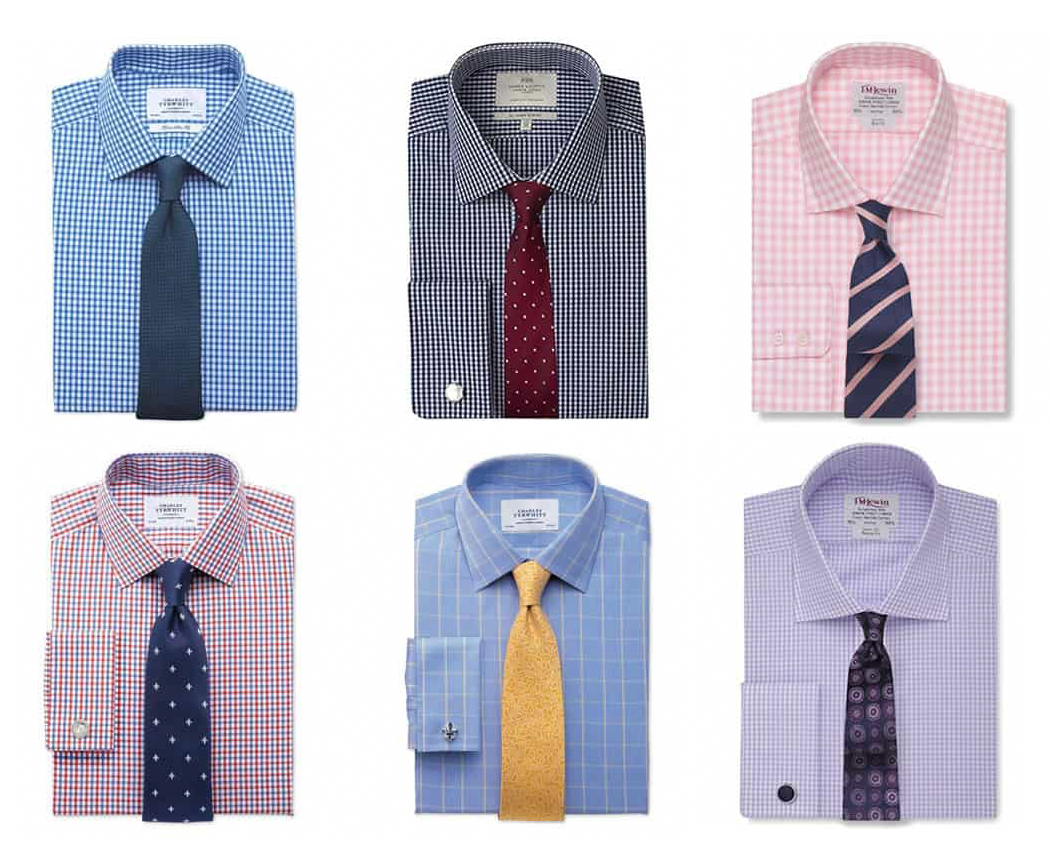 If you want to make sure you are not making a mistake, find some common suit-tie color combinations here.
Except for the basic men's suits colors, there are several others out there that you can choose from. While it's good to rely on your taste and creativity, knowing and respecting the basics is essential.
Men's Suit Care
Consider your suit as an investment. As such, it should be adequately taken care of. Men's suits can be somewhat costly, but they can pay dividends for several years to come.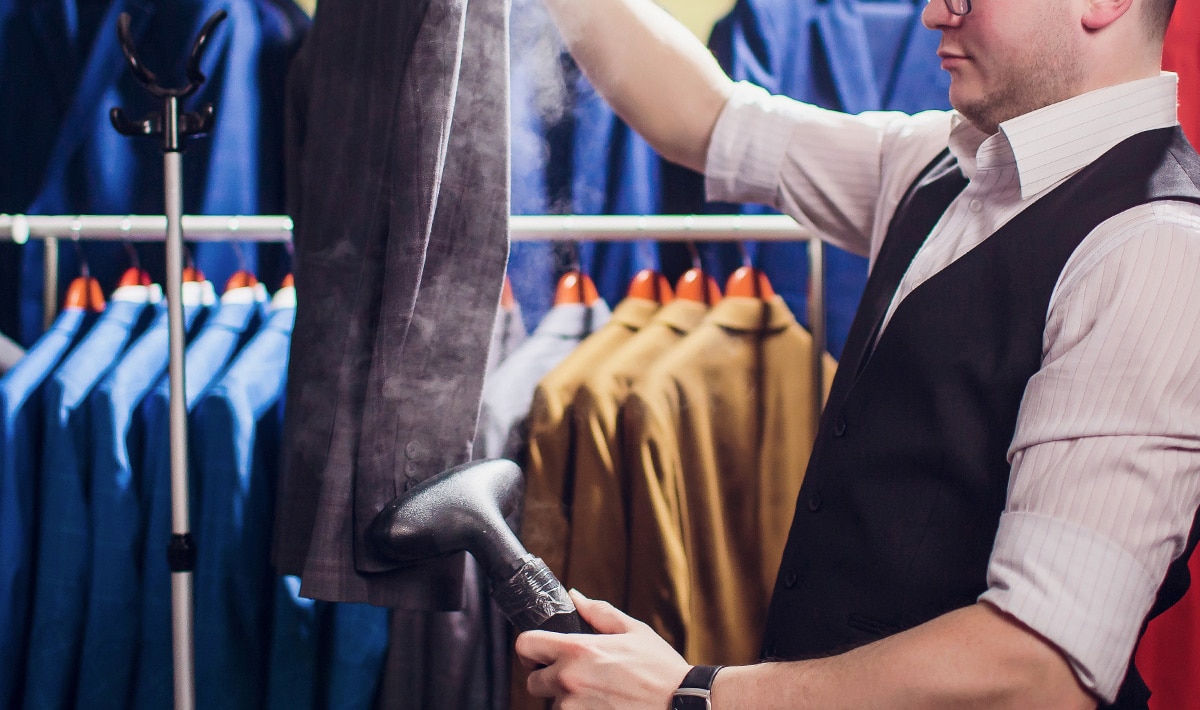 Proper men's suit care is something that most people often take for granted. Yes, you can just easily drop them off at your favorite cleaner. They will come pressed and just ready to go.
However, reality dictates that there is a little more to proper suit care than what meets the eye.
Men's Suit Care Tips
Here are some basic things that you can take into consideration:
If all possible, avoid dry cleaning unless you notice a stain.
It is also advisable not to wear your suit on consecutive days.
If you need to clean your suit, you may do so by brushing it.
Hang your suit on an ergonomic or padded hanger.
A lot of men take their suits to dry cleaners too often. The thing is, dry cleaning is not dry, regardless of what the name of the process implies.
It is a process that involves mixing very harsh chemicals that tend to break down your suit's natural fibers. Therefore, the more you bring your suit for cleaning, the faster it will lose its quality and sharpness.
It would be best to give your suit some time to breathe and air out as it allows the trapped moisture to evaporate. At the same time, this will also straights the wrinkles while getting rid of the odors.
Using a fabric brush will ensure that your suit stays crisp and clean.
Regular brushing can also help make sure that the wool stretches from wearing and breaking, especially when it comes to more delicate wool.
Avoid using cheap plastic hangers to hang your suit with. These hangers tend to warp the shoulder pads of the suit.
Instead, choose hangers that are designed and built with a similar shape to a real human shoulder. Also, it is best to choose hangers that have the same size as your shoulders.
Hanging Men's Suit the Right Way
Again, before finally hanging your suit inside the wardrobe, it is highly advisable to clean it with a clothes brush right after wearing it.
After ensuring that you have selected the right type of hangers to hang your suit in, make sure that there is enough space in your wardrobe. It can allow your suits to drape nicely and avoid the forming of creases.
Make sure that you also unbutton the suit jacket. Removing any items from the pockets is vital in making sure they keep their original shape. By doing so, pockets will not be strained or weighted down too.
An additional way to take care of your suit is to make sure you hang it 24 hours before placing it inside the wardrobe. This process will help in drying out trapped moisture in the suit before being kept in the closet.
As an alternative to the hanger, you can also fold your suit inside out, with the shoulders touching.
It can prevent any possible lint or dirt staining on the outer fabric of your suit. Afterward, you can either lay the suit flat or perhaps drape it on a chair.
Men's Suit Protectors
The moment you bought your suit for the very first time, you most likely received a suit bag that goes along with it. Use it to protect the quality of your wardrobe.
However, if you have already lost that bag, the good news is that you can still purchase one. You need a bag if you plan to extend the life of your suit.
Aside from this necessary commodity of your wardrobe, there are also other ways that you can do to provide your suit the protection that it needs.
Always Get the Right Fit
Particularly true if you are buying online. Getting the perfect fit may be challenging, but as long as you have all the measurements prepared, receiving the best fit for you will not be an issue.
A tight suit may mean unnecessary tension on the fabric. As time passes by, the material may eventually split or tear.
Avoid Using the Pants' Pockets
While you can occasionally use the pockets of your suit, overloading them with a very thick wallet or sharp keys can contribute to wearing out and tearing.
At the same time, it may look lumpy and eventually lose its shape.
Brush or Steam Iron Men's Suit
It would help a lot if you regularly press your suit with a steam iron each time you wear it. This process will help in opening up the fibers, thus helping in removing the creases as well.
Protecting your suit also means investing in a good cloth brush, as it can help remove dust and light stains on your suit. I know I've mentioned this several times, but it's vital for the suit!
Still, investing in a good men's suit protector is necessary, especially when it comes to storing. It is also needed if you are traveling and you need to bring your suit with you.
Aside from protection, it can also serve as storage for your suit, ensuring that it does not just get stacked up with the other items in your wardrobe.