Matching a tie with a blue shirt is still the heart of corporate fashion, especially for formal dress codes.
But match a wrong tie, and the whole office outfit will look tantalizingly incomplete.
Go one step above in bold patterns and colors, and you'll stick out like a Miami Club Owner.
Take inspiration from these combinations to match ties, and style a blue shirt like a workhorse; it truly is.
Blue Shirt with a Navy Tie
To get through formal presentations, bar mitzvahs, and off-guard red-carpet looks, match the blue shirt with a navy blue tie.
It's a match for a high style integrity and the utmost formality.
Don a navy repp-tie over a sky blue shirt for a prep-heavy office look.
Or you can wear a navy foulard tie over a light blue micro-check shirt in a wedding spezzato.
This combination allows you to stay monochromatic. It means you can wear a darker-shade shirt with your navy tie.
Blue Shirt with a Red Tie
Long prized for its lively touch, a red tie can sparkle up any dress shirt, not just blue.
When pairing these together, you can expect to bring-in some life to your formal look.
Make a statement to the office in a pale blue dress shirt and a red micro-pattern tie.
Or wear a royal blue shirt with a solid muted red tie for a snappy summer look.
Blue Shirt with a Burgundy Tie
A burgundy tie with a blue shirt rings the bell of a panache style. It has playfulness, and those purple undertones with a dash of blues take this combination to the next level.
I also think that the burgundy tie is the best bet to style a blue-striped shirt. The combination provides prepster vibes and a timeless cool, otherwise rarely achievable.
You can also rely on a blue shirt and burgundy tie combination for unctuously dashing wedding looks. Just make sure to wear some cool tie patterns to avoid the look getting boring.
Blue Shirt with a Brown Tie
Brown always seems like a reasonable option when going for an earth-colored tie.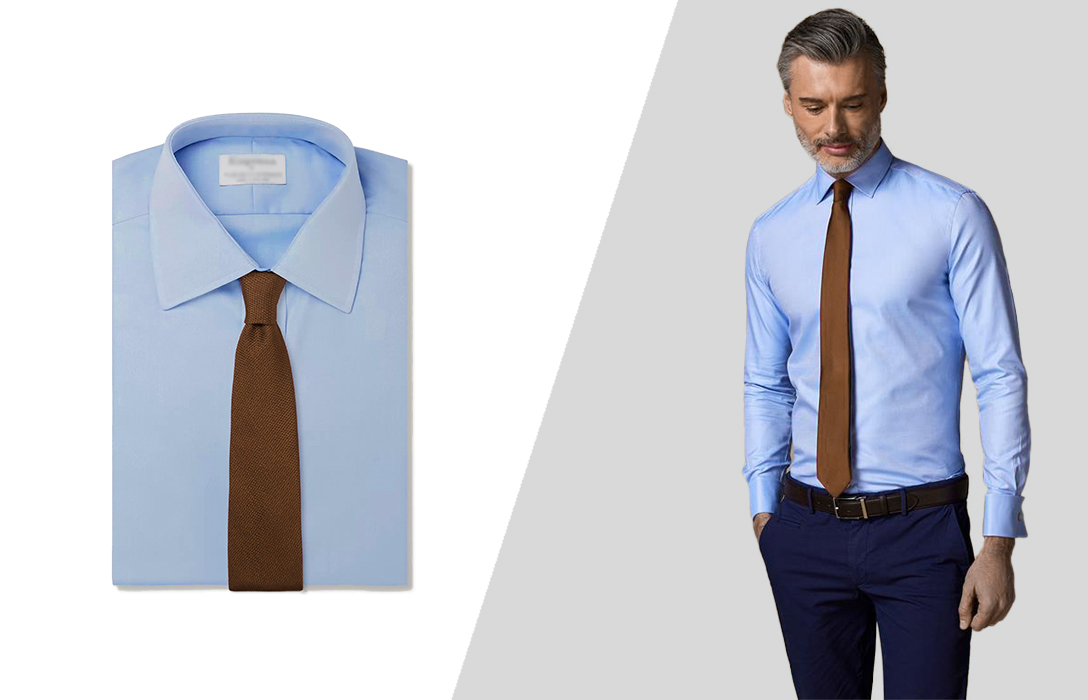 With the blue shirt, this means you don't have to reserve the combination for a specific "anything."
Wear it to the office, cocktails, summer weddings, or any appropriate formal occasion.
A brown tie is also the most meek option for a blue shirt. This contrasts an orange tie which embodies the highest degree of color, with a blue shirt look.
Light blues are always a "dressy" choice for the shade of the shirt. Embrace some patterns in a shirt and tie to flair up the combination.
Dark or navy blue shirts with medium brown ties don't pair well. Do not force this combination unless with a pale brown tie.
Blue Shirt with a Grey Tie
Let's admit it, a solid grey tie with a light blue shirt doesn't match as most people expect. Even if it somehow does, you get a cheeky, dad-style look.
However, this doesn't mean a grey tie can't add anything to the blue-shirt-clad-table. Wear tie patterns like plaid, tartan, checks, and paisley, and see the charm.
The blue shirt and grey tie combination also has some seriousness. With an appropriate contrast and the tie being darker, this combination can work as an earnest corporate look.
In comparison, a lighter grey foulard patterned tie over a light blue shirt will earn you a tailored normcore aesthetic.
Blue Shirt with a Green Tie
Green is arguably the most thrilling tie color you can wear with a blue shirt.
Being close on the color wheel, blue and green sort of blend with each other. And as a result, you get effortless styling with high-stake versatility.
Take an example of a light blue button-down with a hunter-green tie. You can pull off this duo for any occasion in spring or summer.
Similarly, deeper shades of the green tie will help in fall and winter styling.
Forest green textured ties, for example, are quite fun to style with light blue shirts in colder months.
Blue Shirt with a Black Tie
Matching a black tie with a light blue shirt is one of the style hard-line challenges. But you can avoid all the possible fuss by being mindful of a couple of things.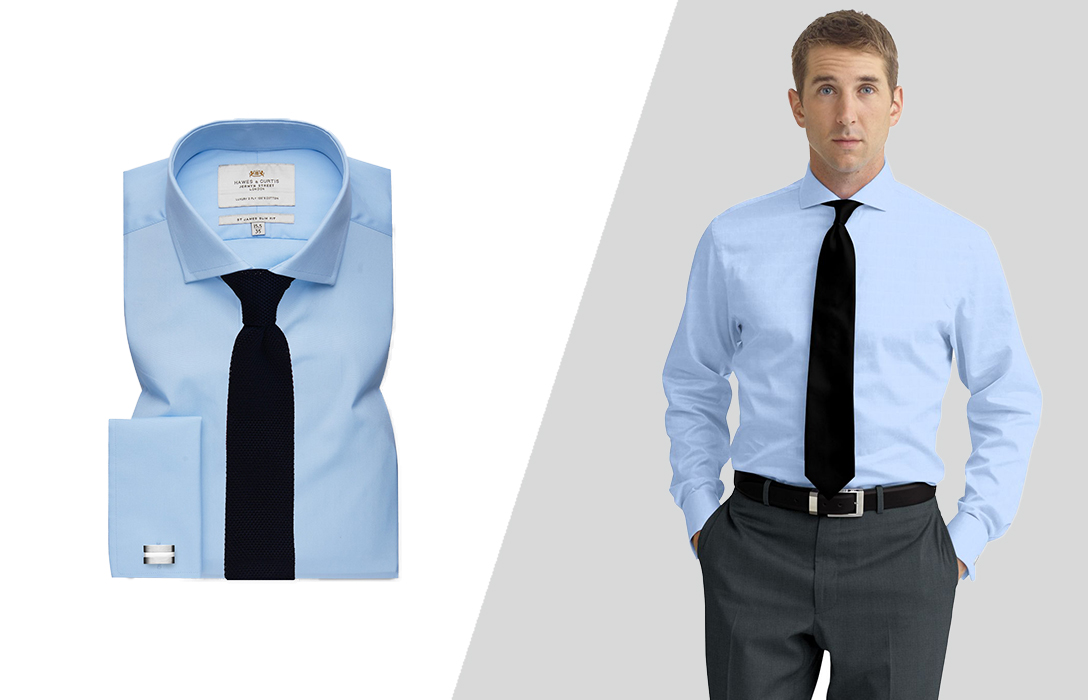 First, a solid black tie with a blue shirt is not the best of options, especially silk.
Instead, choose a pale blue shirt shade that's very close to white. Or you can also add in some tie patterns to attenuate the color clash.
This combination is only for a serious event, business meeting, or presentation.
It's also great to style this shirt and tie with a patterned suit. A check suit, for example, would be an excellent choice.
Blue Shirt with a Gold Tie
There are things you can experience only wearing a blue dress shirt and gold tie. For example, a flair of a dapper luxe style and a forever memorable look.
Whether it's a wedding or any other outdoor event, a blue shirt and gold tie will always get you covered.
Plus, the duo will provide sophistication, charisma, and personality, ideal for any formal festive attire.
If concerned about the shade of the shirt, choose light blue. And go with a solid gold tie or one with subtle patterns.
Blue Shirt with a Purple Tie
A blue shirt with a purple tie is a truly underrated combination.
It's mainly because most gentlemen under shadow the purple tie with navy, not utilizing its full potential. However, there are plenty of styling opportunities.
You can wear a purple tie with a light blue shirt for a monochromatic formal look. Similarly, a purple-striped tie will cover all your office looks.
For some off-duty combination, try a purple tie with a blue shirt in darker shades.
Wear a purple tie, blue check shirt, and navy suit combination for a "freedom to mingle" look.
Blue Shirt with a Pink Tie
A pink tie with a blue shirt is a head-turner. It expresses joie de vivre with some elegant formality.
And from polished suited looks of spring fiestas to wedding guest ensembles, the options are countless.
The best part is that every conceivable pink tie pattern will somehow match the blue dress shirt.
However, in the shirt department, pale or light blue shirts are the only reasonable options.
Matching a Blue Shirt with Tie: Things to Consider
When wearing a tie, the blue shirt plays it cool. There are only a couple of considerations.
First is choosing the right blue shirt shade. Of course, a light-blue dress shirt can never go wrong. Plus, it provides that necessary contrast with almost all tie colors.
You can also choose a dark blue shirt and introduce contrast between the shirt and suit color.
Consider your skin and hair tones as well. Again, the light-blue shirt is the best bet for all skin and hair types.
Consider the Color Wheel
Blue is among the primary colors of the color wheel. This offers many benefits when matching a tie with a blue shirt.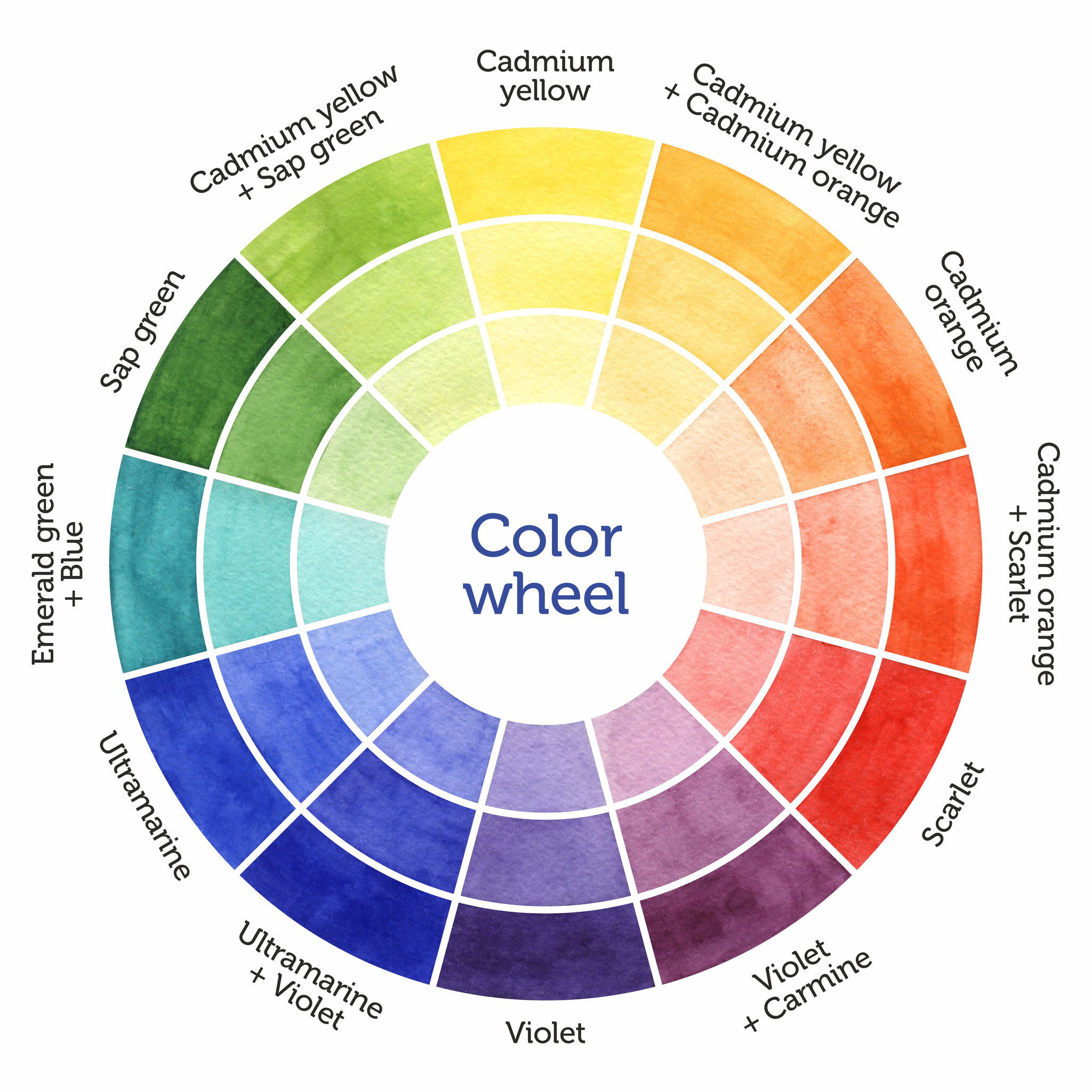 First, there are many shades of blue. You can easily combine two different blue shades, like a light blue shirt and a navy blue tie, to create a formal monochromatic look.
You can match analogous colors (colors that sit next to each other on the color wheel) with your blue shirt. Such tie colors will be different shades of green and purple.
Triadic colors (three colors equally spaced on the color wheel) for blue are red and yellow. The versatility of blue helps expand the matching tie colors with shades like burgundy, maroon, and gold.
Finally, complementary colors for blue (the ones that sit opposite of blue on the color wheel) are orange and brown ties.
Color Psychology for the Occasion
No matter how elegantly you match a blue shirt and tie, it's useless if it isn't occasion-appropriate.
So, the most important thing here is to understand the message each color conveys.
Blue shirt and navy tie, serious business. On the other hand, the red tie symbolizes power and authority.
Swap the navy tie with yellow, and it would be a festive combination.
Also, be mindful of the dress code. Wear solid monochromatic tie colors to more serious dress codes.
Bolder patterns and colors are fine for less-formal situations.
Seasonal Colors
Matching seasonal tie colors is a chance to elegantly enter that fashion-forward territory.
Cooler seasons embrace subdued and muted colors. Brown, dark green, and navy blue are cool weather tie colors with the blue shirt.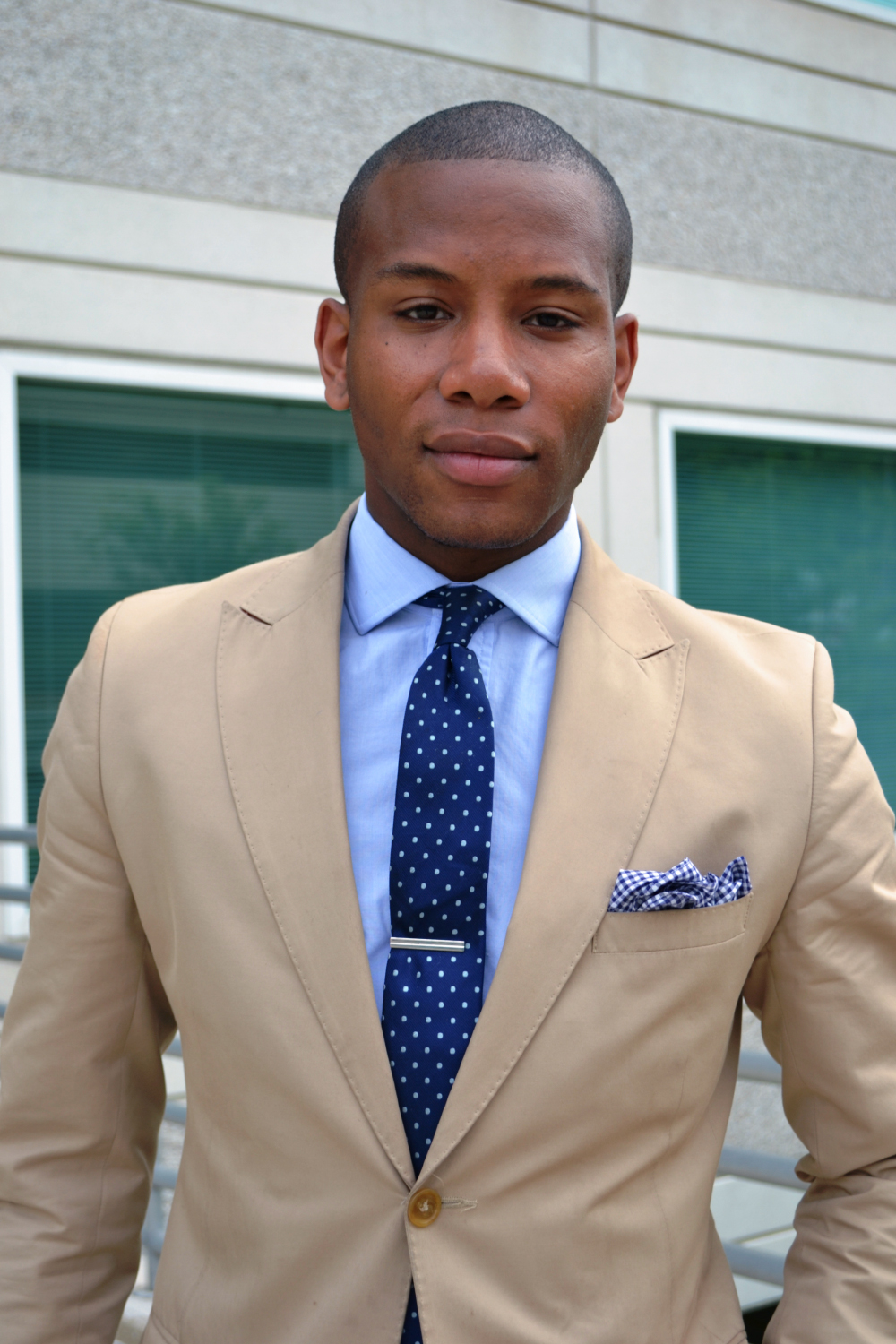 In comparison, summers and springs call for more vibrant and bright colors. Here, pink, yellow, and lavender are matching tie colors for the blue shirt.
Even some colors are seasonless. Blue itself and navy are some options for timeless tie-ing.
Pattern Mixing
To mix tie patterns with the blue shirt, follow the standard guidelines of pattern-mixing.
The name of the game is to complement the shirt and tie patterns. If the shirt features a pattern, balance it with a solid tie.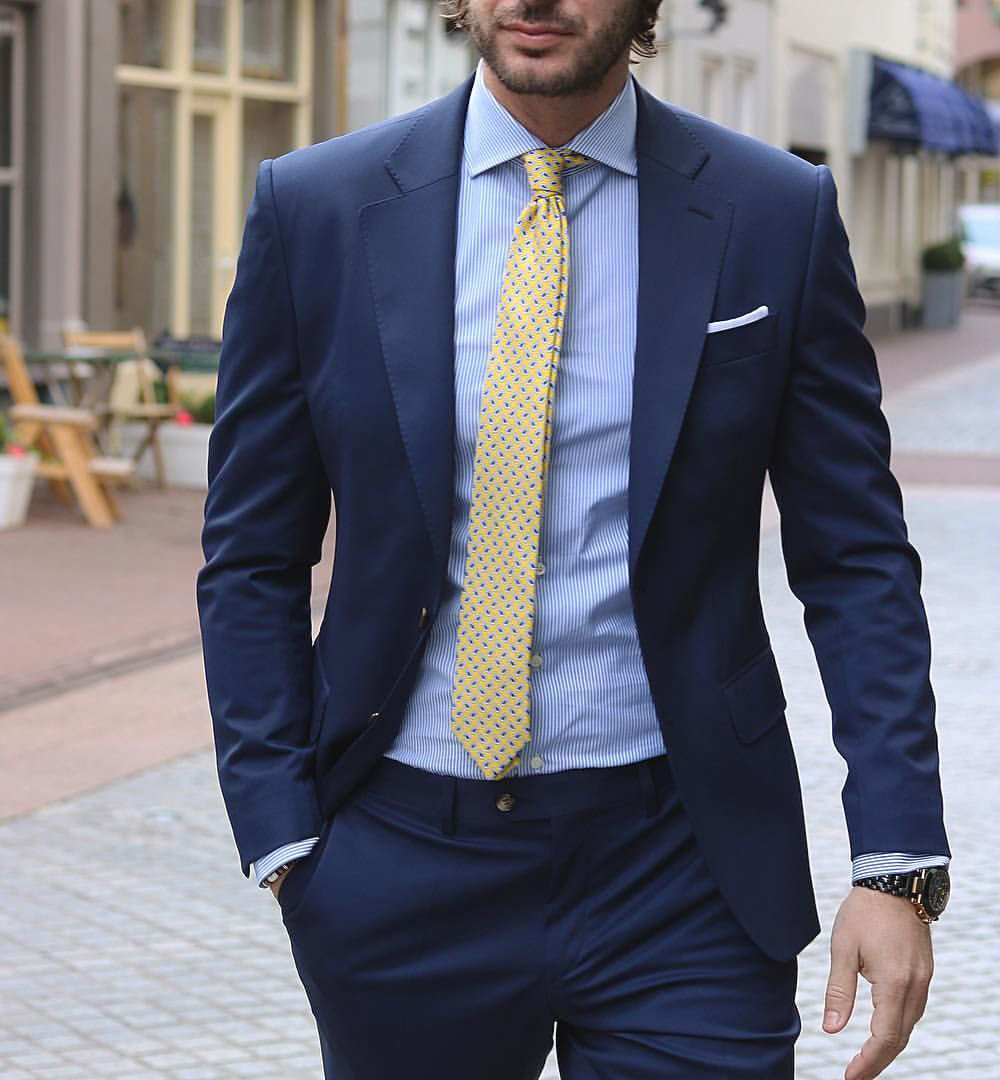 Similarly, smaller or larger tie patterns compared to the shirt will help avoid visual clutter, and vice versa.
You can wear different kinds of patterns to be sartorially safe. For example, wear polka dot ties if the blue shirt has stripes.
Author: Alexander Stoicoff
Hi, I'm Alex, and I've studied and specialized in styling in Rome. Through my writing, I want to help men dress well and learn the purpose and significance of suits and other formal attire. My final goal is to make men more confident in their wardrobe choice and life in general.