Extra slim fit suits are characterized by an uncompromisingly narrow cut, starting from the head down to the toe. Since they are well 'fitted', each and every suit is closely tailored to the body type of the wearer. It's done in order to come up with an extremely sharp silhouette, as well as diversity in styling options. There are no excess fabrics to deal with. Extra slim fit suits jackets are usually designed with soft and rounded shoulders. Trousers are usually with a short rise, sticked up to the body.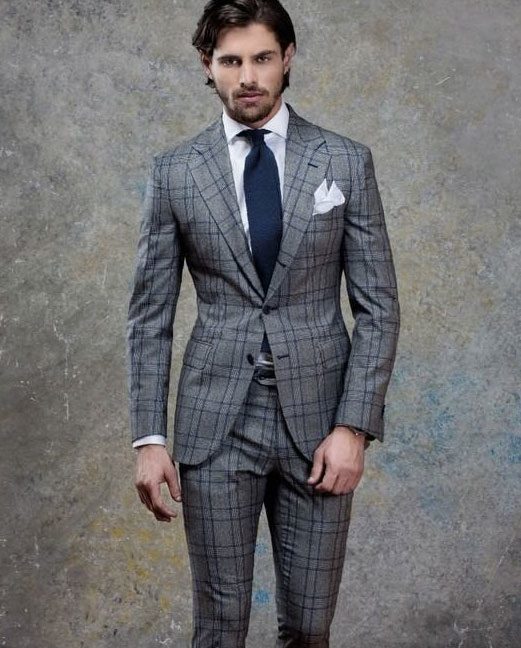 Extra slim fit suits can look severe, too. You don't have to look to wear a classical suit to look professional, a perfect narrow line in the shoulders and torso can make you a lot more bound and determined.
Extra Slim Fit Suits Stores
Malik Extra Slim Fit Suit Stripe with Pants by Calvin Klein

This suit is made of 100% wool, which means that it is not fit for machine wash, but dry cleaning only. The suit comes with 2 buttons and a notch lapel. Just like other pieces from Calvin Klein, this modernly designed suit is perfect for any formal occasion. With its slim fit style, it can also be worn even on casual occasions where you still need to stand out from the rest of the crowd.
The suit includes a flat-front pants featuring belt-loop waist and jetted button-through pockets on the back:
Men's Mabry Extra Slim Fit Suit Stripe by Calvin Klein
 Made 100% from wool, this is a perfect stripe extra-slim fit suit. Perfect for interview and business occasions.
Includes a same material pants, available in various lengths:
Navy Chino Extra Slim Fit Suit by DKNY
This suit comes with notched lapels for its jacket, with an external chest pocket at its left side, two-button closure, front flap pockets, four-button cuffs and side vents. On the other hand, it comes with flat front pants, with zip fly and button-and-hook closure, back button-through welt pockets, and several other amazing features. The pants come with unfinished hem so that you can easily tailor them according to your exact measurements. The trousers are tapered leg, and made of high quality wool.
Extra Slim Fit Three Piece Suit with Ticket Pocket Black Tonal Pinstriped by Émigré

Made up using 65% polyester and 35% rayon, the suit comes in black tonal pinstriped pattern. The jacket comes with dual side vents and two-button closure:
The complete suit includes a flat front pants together with its matching five button vest:
Mabry Extra Slim Fit Suit by Calvin Klein

This extra slim fit suit is made of 100% wool. As such, it should only go through dry cleaning. It comes with a two-button suit with subtle tonal stripes. The jacket also features a straight flap pocket with a welted chest pocket.
Again, the suit comes with a matching pants. The hem is unfinished so you can easily match them to your body.
Conclusion and Recommendation
Among the items in the list, the Calvin Klein Men's Mabry Extra Slim-Fit Suit has received several positive feedbacks coming from the customers who have already tried getting this suit. Some commend the fact that this design is perfect for summer use. The pants are expected to hang quite well. The thing with extra slim fit suits ordered online is that they may arrive not really fit for the wearer. The good thing is that you only need minimal tailoring. At the same time, with the price of the Malik Extra Slim Fit Suit by Calvin Klein, you can really get a great deal when it comes to selecting a good suit under this particular category.
Fitting the best for a night-out, extra slim fit suits are getting a bigger impact nowadays. When it comes to extra slim fit suits, it is very important to carefully measure your chest, waist and arm sizes well and stick to the dimensions. They are perfect for men who need a narrow suit jacket in the shoulders and torso, and a tight leg closure to the end. Add a slim fit dress shirt and have the perfect outfit, whether it's business or pleasure.