There's something incredibly stylish about rocking a pink shirt, isn't there? But what's an elegant shirt without its trusted sidekick – the tie?
In the world of tie combinations, picking the right partner for that pink shirt can feel like speed dating at a fashion show. Too bold? Too plain?
Grab your pink shirt and let me guide you through the tie aisle, one color at a time. Ready to tie the knot?
Pink Shirt with a Navy Tie
First, on the runway, we have the classic navy tie.
Why navy, you ask? Well, thanks to the harmonious dance they perform on the color wheel.
The deep, muted tones of navy contrast brilliantly with the vibrant pink, creating an "opposites attract" appeal.
Subtle patterns like the playful dots on the navy tie can uplift even a pink dress shirt, provided the scales are balanced.
Whether you're dressing for a wedding or a stylish casual dinner, this combination strikes the perfect balance between formal and laid-back.
Pink Shirt with a Blue Tie
Pairing a soft pink shirt with a blue tie is a masterstroke in balancing contrasts.
The muted, pastel shade of the shirt elevates the deep blue of the tie. It creates an effortlessly stylish visual appeal.
Additionally, the tie's texture offers a sophisticated touch against the smoothness of the pink fabric.
Pair it with the right accessories and a classy watch, and you're good to go.
Pink Shirt with a Charcoal Tie
This is a match that seamlessly blends the vibrant shirt vibes with a traditional tie color.
The shirt's pink exudes a fresh, youthful vibe, while a charcoal dotted tie is the answer when you want to go dark but not black.
The subtle dotted pattern on the tie adds depth and texture, preventing the ensemble from being too dull.
Pink Shirt with a Grey Tie
Grey ties are not as bold as red or passive as pale pink, but they hold their ground.
Besides, a grey tie provides a beautiful discrepancy to the vibrant pink of the shirt.
Want to make a statement at the office without saying a word? This combo is the right choice for you.
And if someone calls it boring, they clearly haven't seen it done right.
Pink Shirt with a Red Tie
This sartorial choice of subtle rose-hued dress shirt dance with a red tie whispers confidence while shouting finesse.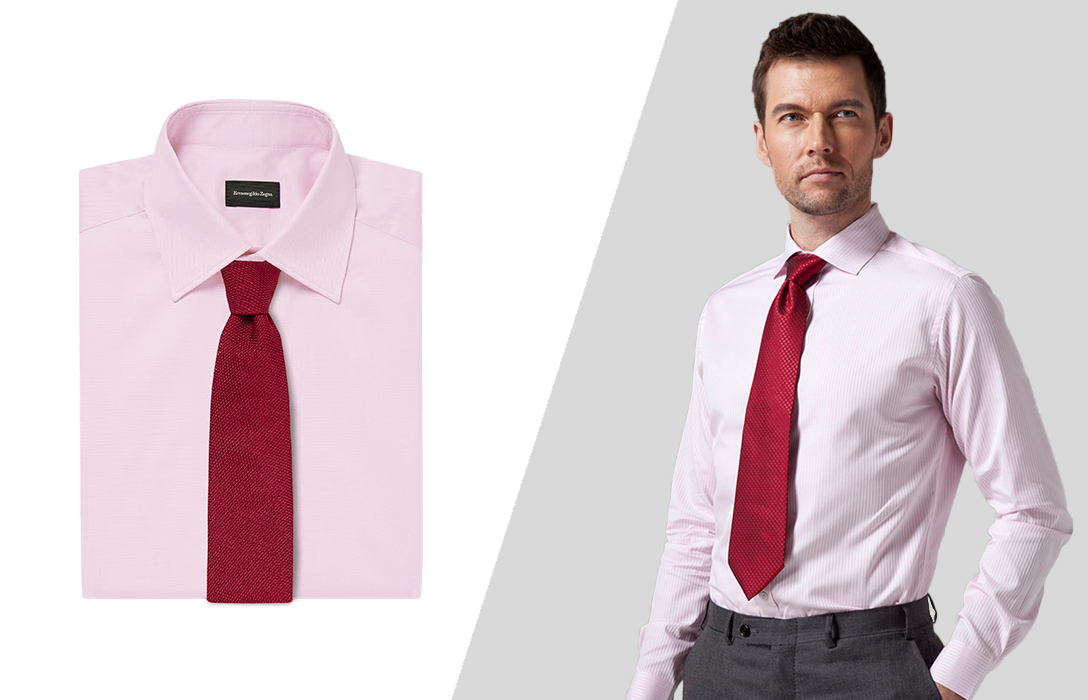 Feel free to drape a paisley tie over a rose quartz shirt for those ritzy garden parties.
Or, adorn a deep red solid or patterned tie over a soft pink shirt as an office outfit.
Pink Shirt with a Burgundy Tie
Pair the light pink shirt with a deep burgundy tie for a more formal version of red and pink.
Drape a polka dot burgundy tie over a blush pink shirt for a more formal office ensemble.
Note: keep in mind that I always advise wearing either white or light blue for professional business settings.
Or consider a burgundy paisley tie atop a pastel pink striped shirt for a semi-formal cocktail night.
This duo invites a chromatic harmony. It hints you could venture into a rosier-hued shirt with your burgundy tie.
Pink Shirt with a Black Tie
To seamlessly transition from high-stakes meetings to cocktail hours, coordinate the pink shirt with a sleek black tie.
Or adorn a black-striped tie over a pink dress shirt for that decisive corporate demeanor.
And between us, if James Bond were to don a pink shirt, you bet he'd pair it with a black tie.
Pink Shirt with a Pale Pink Tie
For those who think going monochromatic is playing it too safe, I challenge you to try the pink-on-pink look.
It's a delicate dance of hues, where a pale pink tie on a slightly darker pink shirt can work wonders.
The key is to ensure the tie is a tad lighter than the shirt.
Are you heading to a summer evening or brunch with your partner? Let this combination do the talking.
Pink Shirt with a Purple Tie
Here's an anticipated choice: a purple tie on a pink shirt. The color wheel did us a solid by placing these two hues close together.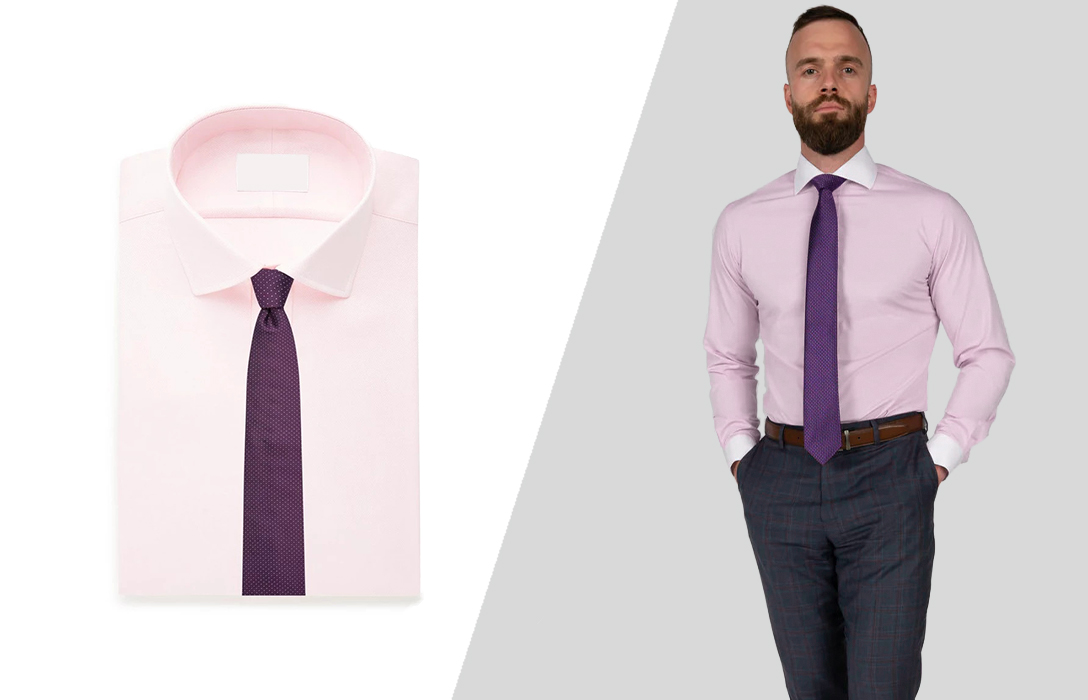 Whether it's a dark purple tie or its more subtle lilac cousin, the combination is daring yet undeniably stylish.
Ideal for events where you want to stand out without screaming for attention.
And remember, confidence is the key. Wear it with panache, and you'll be the conversation starter of the evening.
Pink Shirt with a Brown Tie
Brown, often an underrated tie color, sings in harmony with a pink shirt.
Solids were perfectly fine here.  But the intricate patterns of the foulard provide depth, and the brown offers an earthy contrast to the vibrant pink.
Ideal for semi-formal gatherings where you want your personality to shine, one knot at a time.
Things to Consider
While color and pattern are crucial, your tie's width, length, and knot are equally essential to perfect your look.
Traditional tie widths typically range from 3.25 to 3.75 inches, while slim or skinny ties are often 2.5 to 3 inches wide. The right width should complement your suit jacket's lapels and your body frame.
As for length, the tip of your tie should ideally touch your belt buckle.
When it comes to knots, the choice varies with personal style, collar type, and the tie's thickness. The classic Four-in-Hand knot suits most shirts, while the Windsor or Half-Windsor is ideal for spread collars.
Ensure the knot is symmetrical and sits snug against the collar for a polished finish.
Please check our comprehensive tie guide to learn more.
The Color Wheel is Your Friend
Pink, while not a primary color, has its unique charm on the color wheel. This grants numerous advantages when pairing a tie with a pink dress shirt.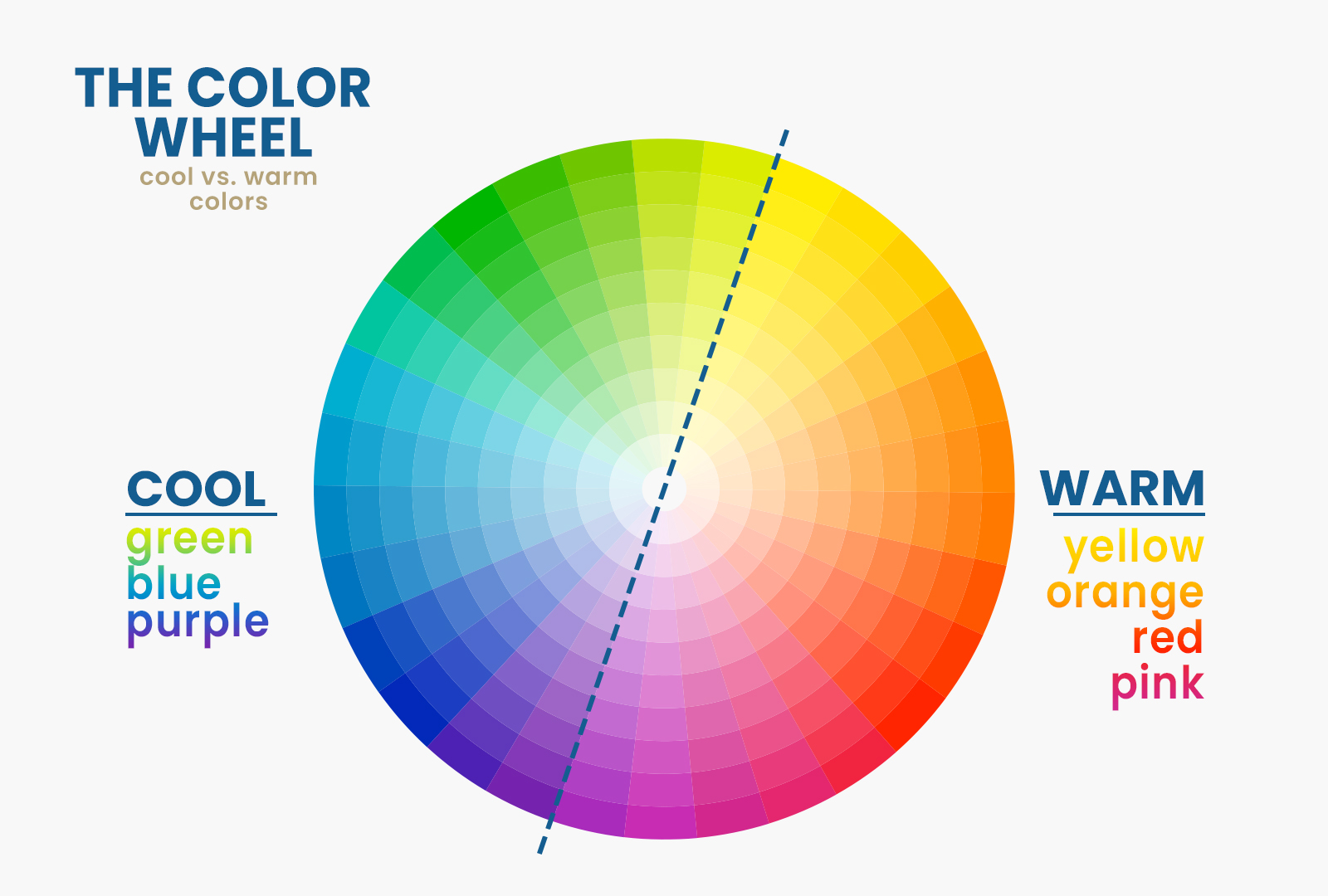 There's a vast spectrum of pink shades. You can seamlessly match varying hues, like a pastel pink with a deep rose tie, for a sophisticated monochromatic appearance.
For analogous colors (those adjacent on the color wheel) with your pink shirt, you can opt for tie colors in shades of lavender or soft reds.
Triadic colors (three hues equidistant on the color wheel) for pink include teal and lime. The adaptability of pink widens the palette for tie options with colors such as mint, turquoise, and light green.
Lastly, the complementary color for pink (directly opposite on the color wheel) is a shade of soft green, making ties in those tones a striking choice.
Tie Patterns
Pattern play can elevate your attire, but caution is key.
Remember to balance scale and intensity when mixing tie patterns with shirt or suit patterns.
A bold tie pattern may overpower a subtly striped shirt. Yet, with a solid shirt, patterns like stripes, polka dots, or even paisleys can add visual interest.
The general rule of thumb is to ensure patterns don't compete but rather complement each other for a polished appearance.
The Fabric
A tie's fabric isn't just about aesthetics; it's a subtle communicator.
Luxurious silk ties with a gentle sheen are ideal for corporate meetings, weddings, or formal dinners. They exude sophistication.
Cotton ties, with their matte finish, are perfect for daily office wear or more casual settings.
Knitted ties, with their unique texture, strike a balance between formal and casual, making them versatile choices for various occasions.
Occasion Matters
The event or occasion plays a pivotal role in tie selection.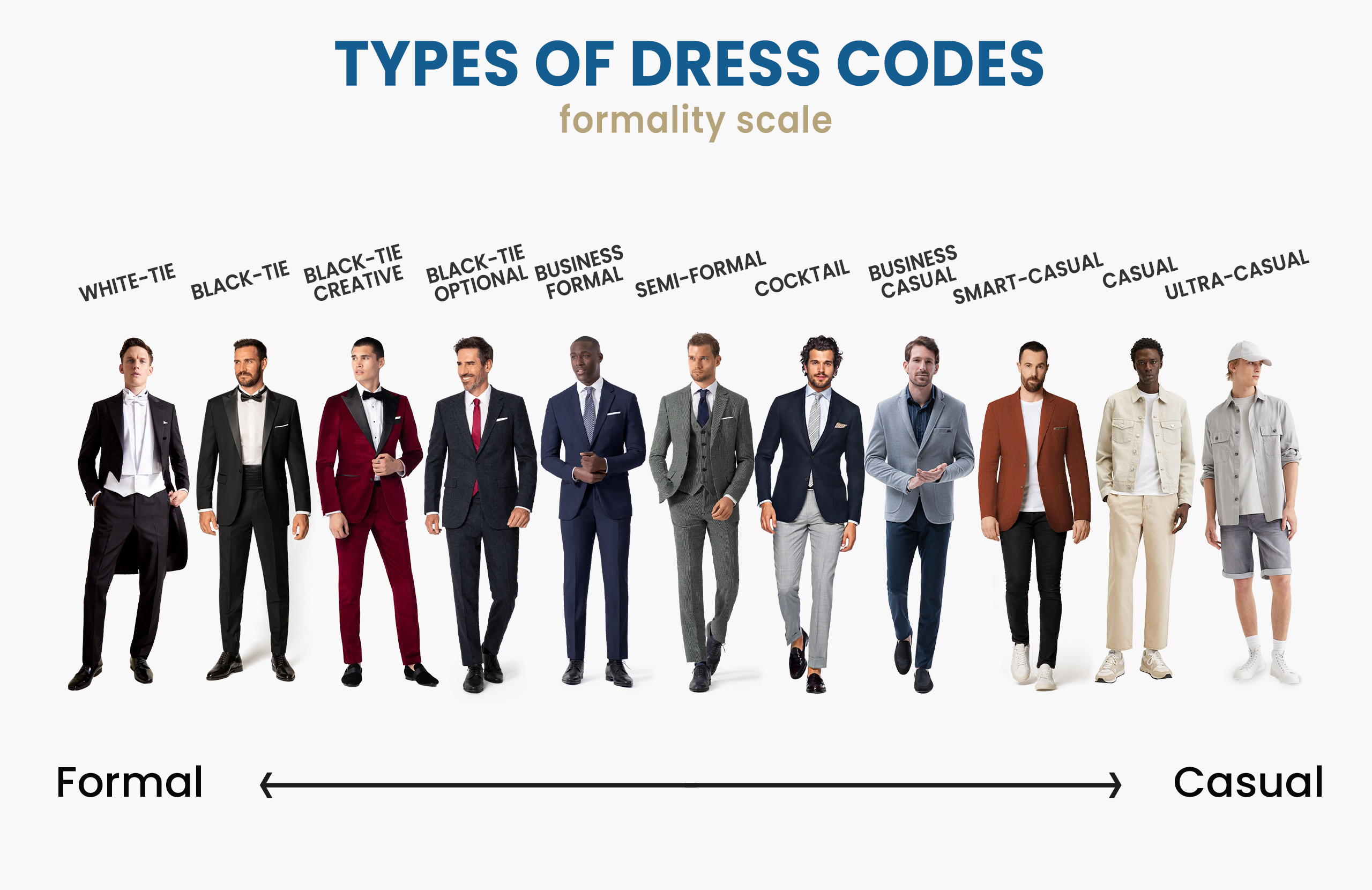 Corporate settings or formal occasions often call for understated elegance – think subtle patterns or solid dark tie colors.
However, semi-formal or casual events open doors to experiment. This is your chance to showcase vibrant patterns, quirky designs, or ties with a bit of sheen.
A garden party might be the perfect place for that bright floral tie you've been saving.
Author: Alexander Stoicoff
Hi, I'm Alex, and I've studied and specialized in styling in Rome. Through my writing, I want to help men dress well and learn the purpose and significance of suits and other formal attire. My final goal is to make men more confident in their wardrobe choice and life in general.