Can a well-dressed man wear a suit jacket as a blazer without doubling his wardrobe budget?
Yes, because the savvy dresser knows that, under the right circumstances, a suit jacket can effectively function as a standalone blazer.
Still, not all suit jackets can be dressed down to the informal level of a blazer. But many have the proper qualifications to do double duty.
Knowing which suit jackets you can convert makes your wardrobe feel immensely larger!
Differences Between Blazer and a Suit Jacket
Sometimes the distinction between whether a jacket is part of a suit or is simply a blazer is glaringly apparent.
If the top garment has a pair of pants that match, yes, that's clearly a suit jacket. But sometimes, the line feels a bit blurred.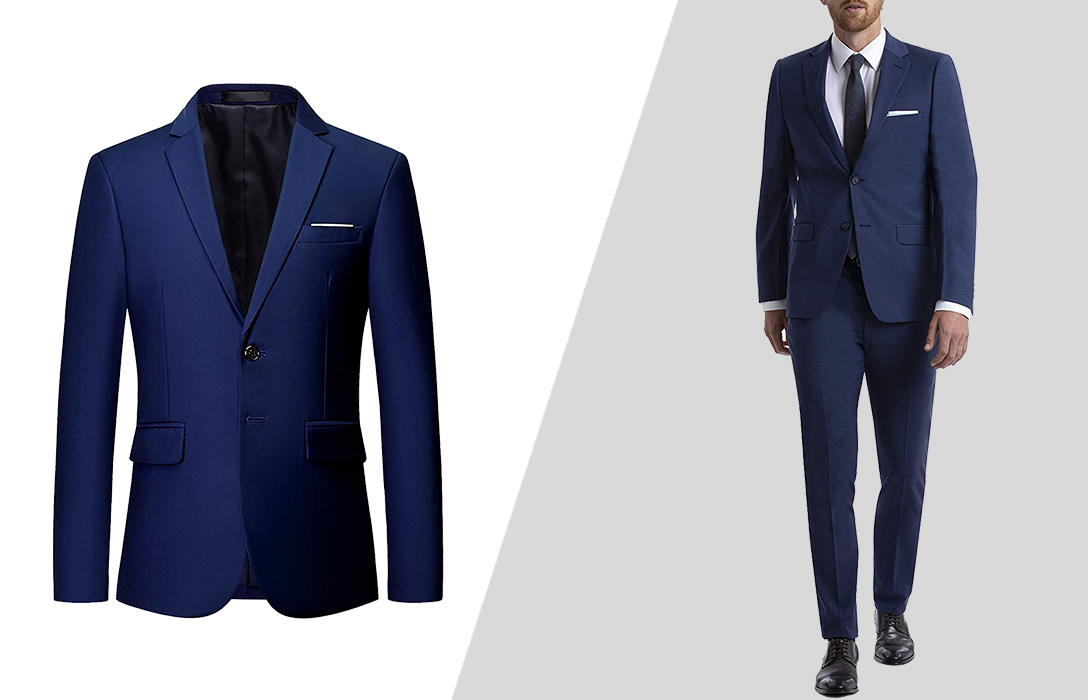 A suit jacket is typically dressier than a blazer. It's also likely to include some level of structuring and perhaps some padding, as well.
On the other hand, a blazer is a good deal more relaxed than a suit jacket and has much less structuring, if any.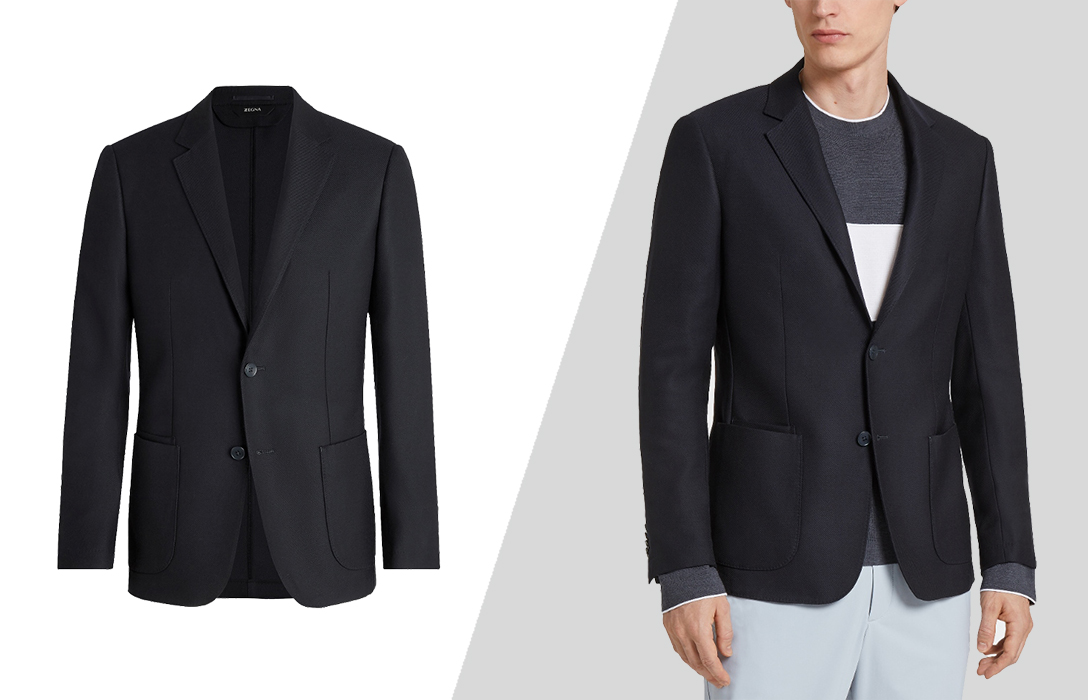 Suit jackets don't offer much in the way of contrasting detailing and are constructed from finer fabrics than blazers, usually soft wool or high-quality cotton blends.
Suit Jacket Details That Will Help You Decide
By definition, a blazer is less formal than a suit jacket. However, playing with specific details of a suit jacket can help sway the garment's formality, making it more appropriate for dressing down.
A suit jacket with no informal additions isn't likely to convert well to a blazer. For example, consider the formality of the suit jacket colors.
Dark shades are mostly a formal option, so it would be difficult to dress down a navy or charcoal suit jacket. Difficult, but not impossible.
The only impossible color to convert is black; it's too formal.
However, light shades like pale blue or tan might be ideal candidates for blazers!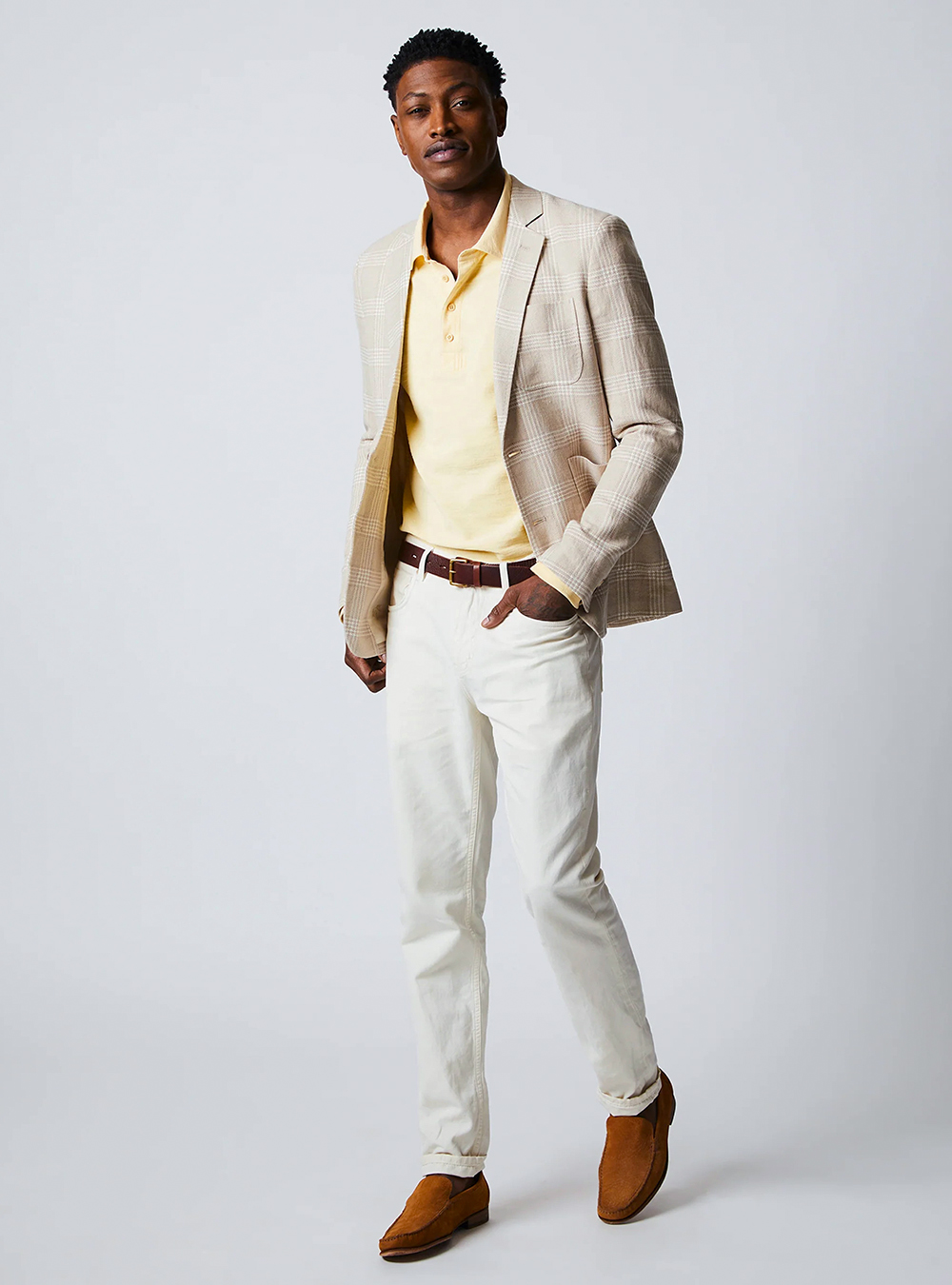 Here are some other considerations that may be helpful in how you wear your suit jacket.
Fabrics
Suit jackets aren't typically textured. Instead, they're mostly soft and smooth, possibly even with a subtle sheen to the fabric.
In addition, they're usually tightly woven and have a fine grain. Because of this, they aren't typically able to be seen as informal garments.
But a suit jacket with a heavier texture and a plain weave is an excellent candidate to wear as a blazer.
So, for example, casual fabrics such as cotton, linen, and flannel are acceptable for blazers.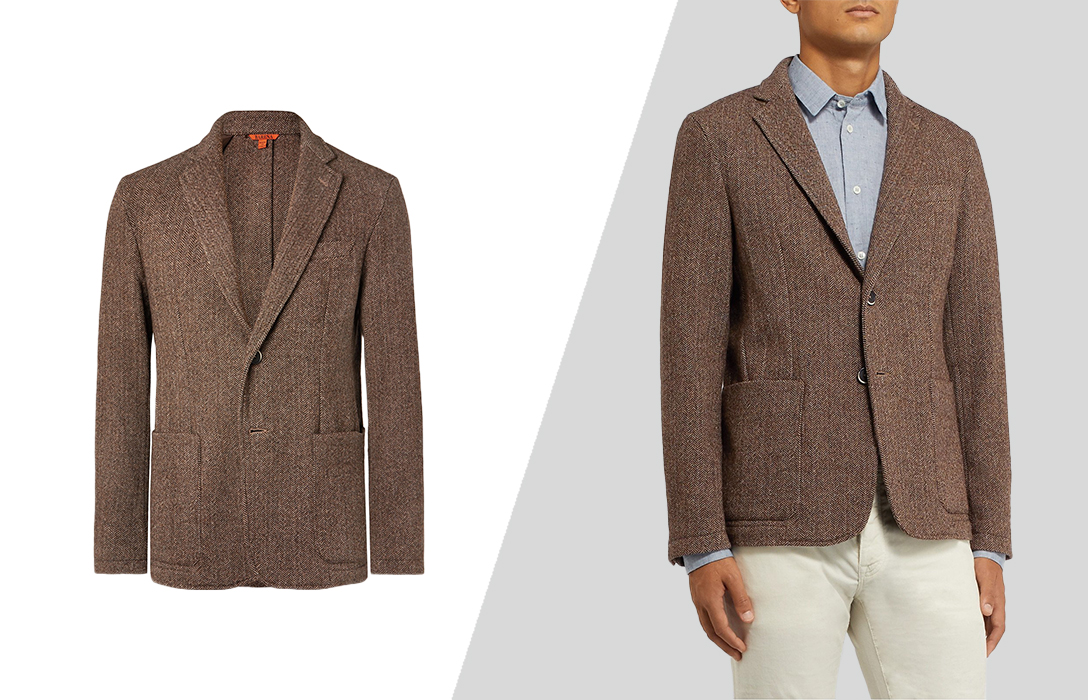 Tweed is a fabric full of beautiful texture with bumps and bold grains; it can't be worn formally but is ideal for blazers.
Solids vs. Patterns
Generally, a patterned suit is less dressy than a solid one. This means that patterned suit jackets are more likely to be eligible to wear as a blazer.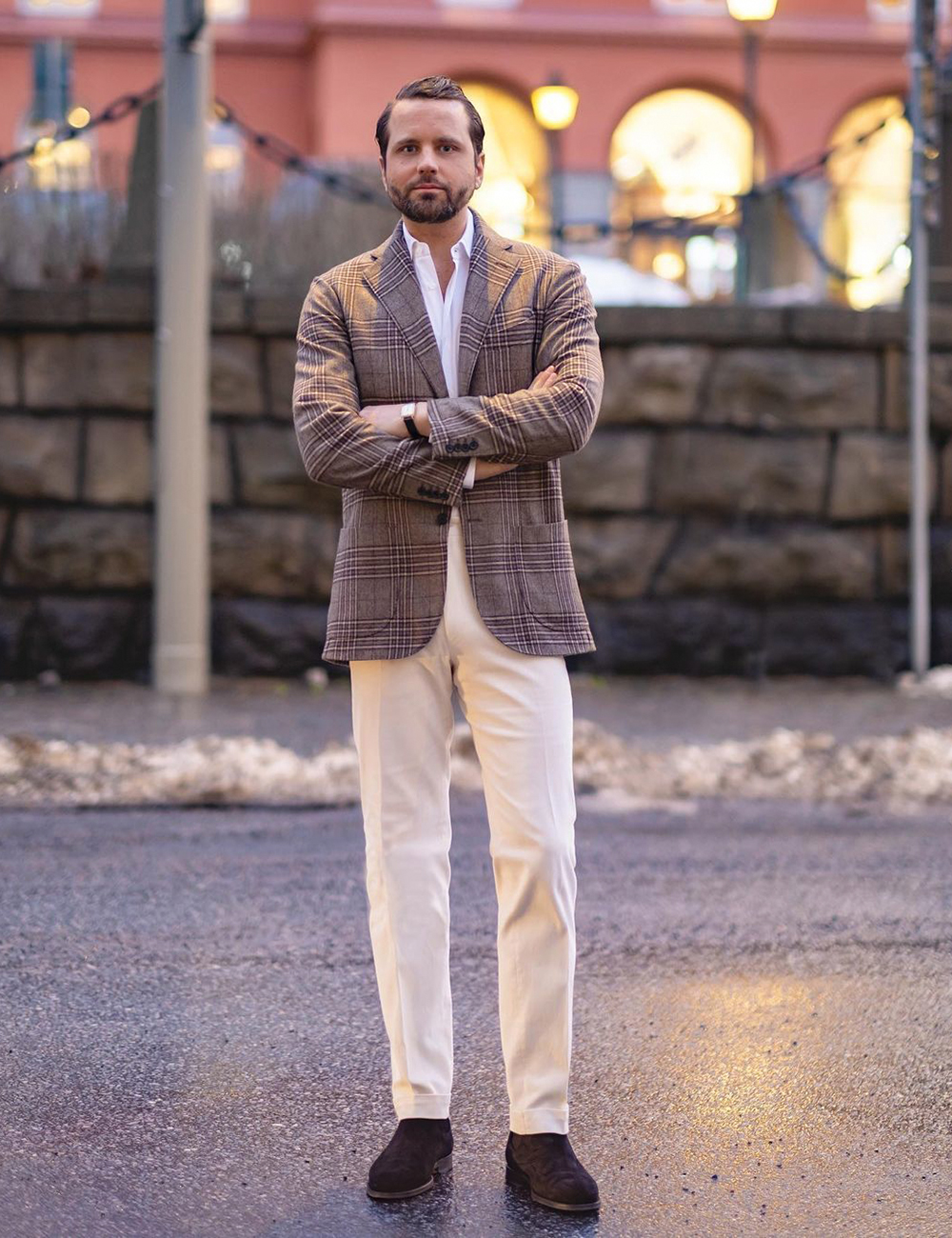 The bigger and bolder the jacket patterns are, the better for using it as a blazer.
There are, as always, a few exceptions. For instance, a pinstripe suit jacket can't be worn as a blazer. Ever.
Pinstripes are a formal pattern and can only be worn with matching pants. Unless the fabric is seersucker, putting it back into the informal category.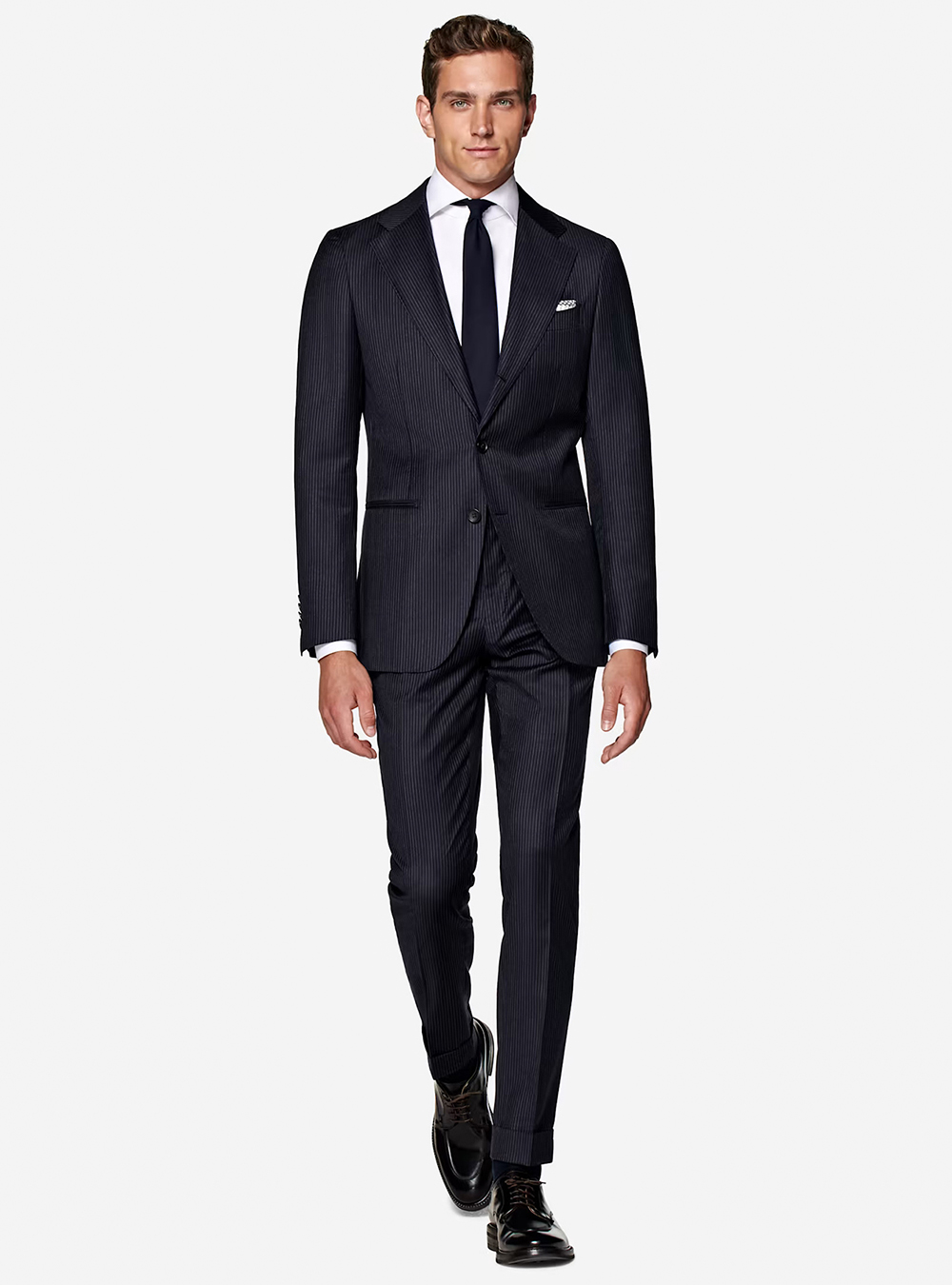 A solid color doesn't automatically disqualify a suit jacket from being worn as a blazer. Blazers can be solid, but this typically signals a greater formality.
Solid navy blazers are usually the signature blazer for more classy settings.
Jacket's Construction
Structuring plays a prominent role in a jacket's level of formality. Unstructured suit jackets are always good as blazers since they are more relaxed and less stuffy.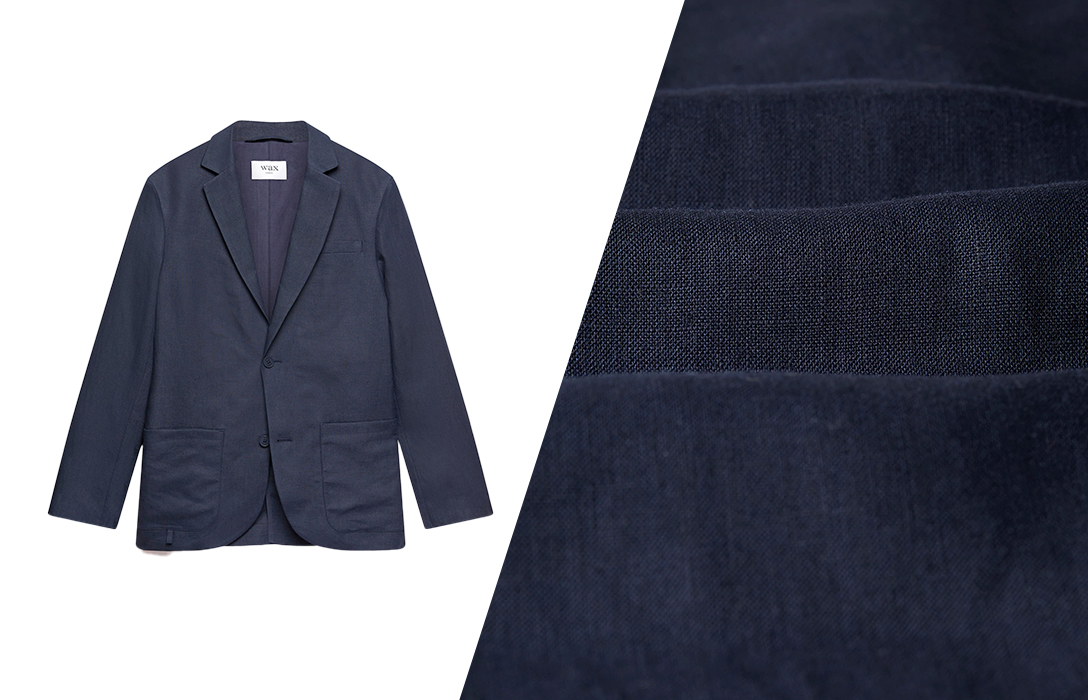 They have a looser drape and feel more flowy. But, even some light structuring can still be present in a blazer or sport coat.
A suit jacket with a soft canvas and no padding has a good deal of versatility. It can be dressed up but is easily converted to casual.
Pockets & Lapels
The style of a jacket's lapel and pockets are a subtle signifier of the jacket's level of dressiness.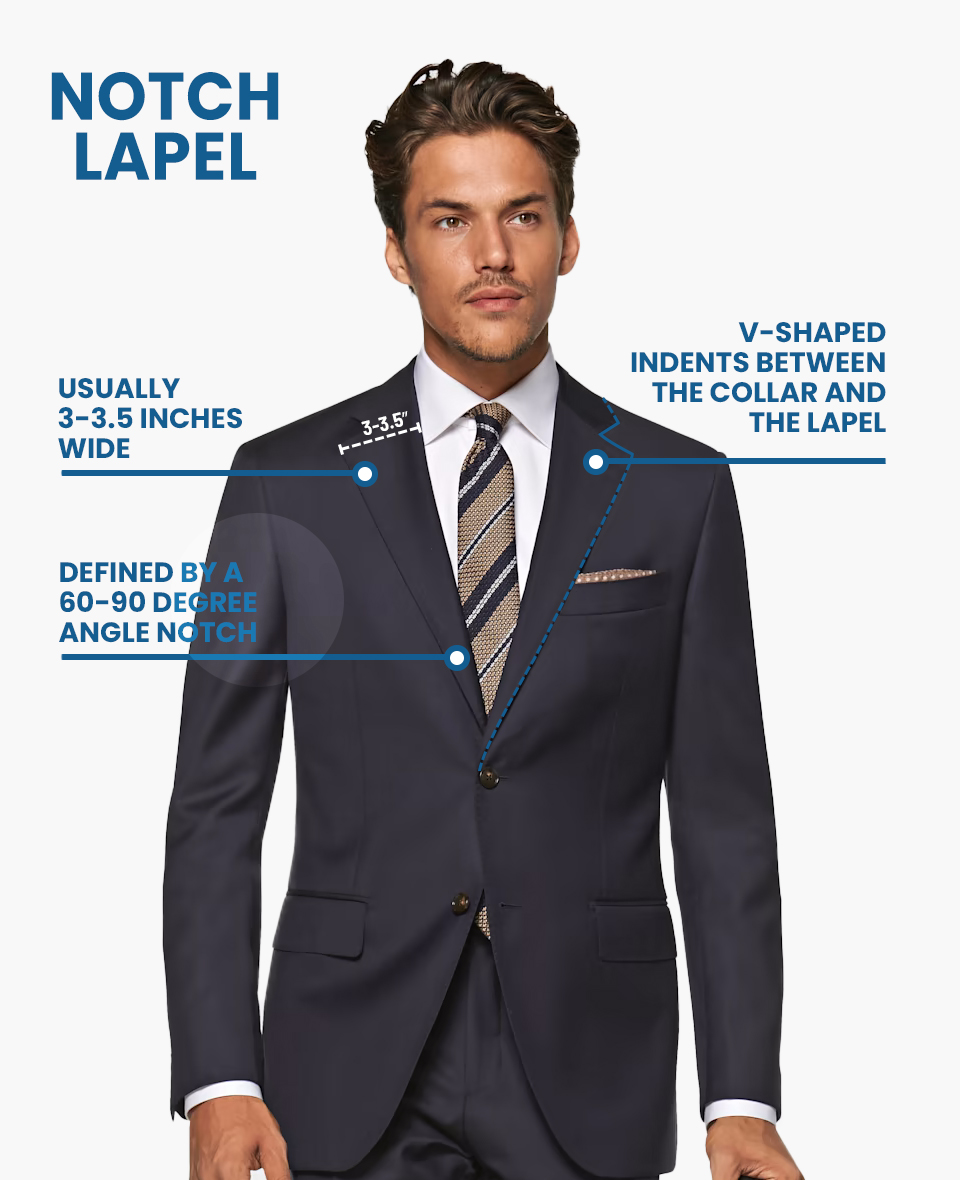 The only acceptable style for a blazer is a notch lapel. The only other two lapel styles, shawl and peak, are both firmly formal.
Patch pockets are the best style choice for blazers. This style of pocket, where an extra piece of fabric is sewn right on top of the jacket, is a very casual choice.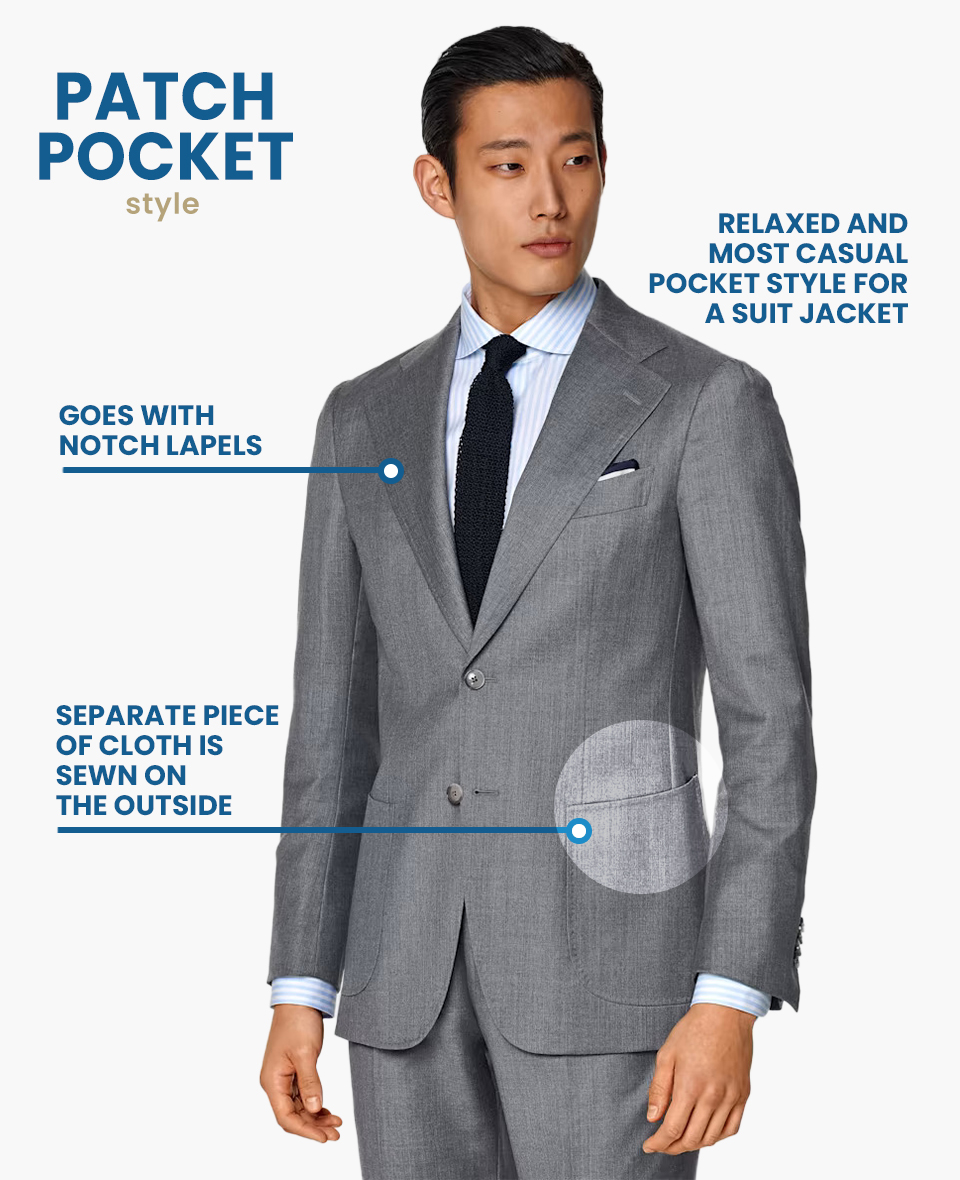 On the other hand, jetted pockets are highly formal; flap pockets may be acceptable, but only if all the other style choices are very casual.
Other Suit Jacket Styles
Other details on a suit jacket can contribute to its overall formality.
For example, a small item, like elbow patches, makes an enormous difference in helping you convert your suit jacket to a blazer.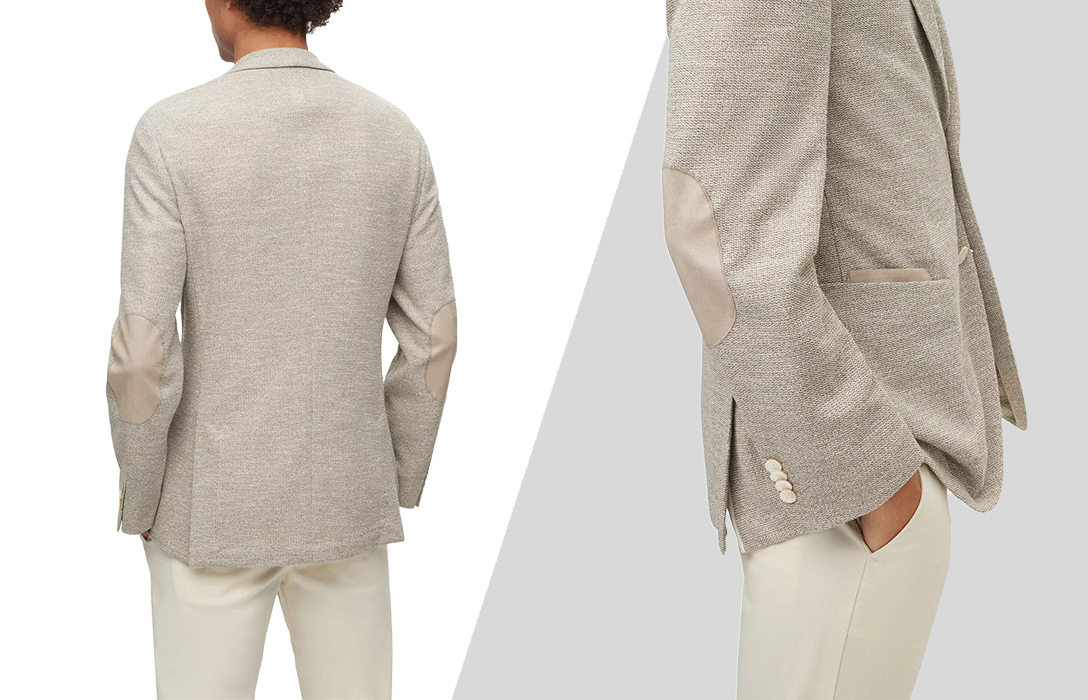 Also, consider the jacket's buttons. Do they match the color of the suit and blend in?
That's a strong indicator of formality. Contrasting buttons on a jacket help to decrease its stuffiness, meaning it's easier to convert to a blazer.
Going back to the example of the classic navy blazer, this is why you'll often see them with large gold buttons. The gold doesn't elevate the jacket; its contrast actually makes it less formal.
Additional Style Tips: Balance Out the Silhouette
Once you determine that your suit jacket will also work as a blazer, you need to ensure that the rest of your ensemble supports your choice. Your trousers need to coordinate well if this look is going to be successful.
Of course, color is an important decision. Wear pants that stand out from the color of your blazer, but complement it at the same time.
So, if you're wearing a navy blazer, navy pants are a terrible idea; that's just imitating a suit. But khaki or grey pants pair very nicely with a navy blazer.
However, you also need to ensure that the style of the pants also complements the cut of your blazer.
If you're replacing suit pants, the new pants can be a different fabric and color but should be a similar cut.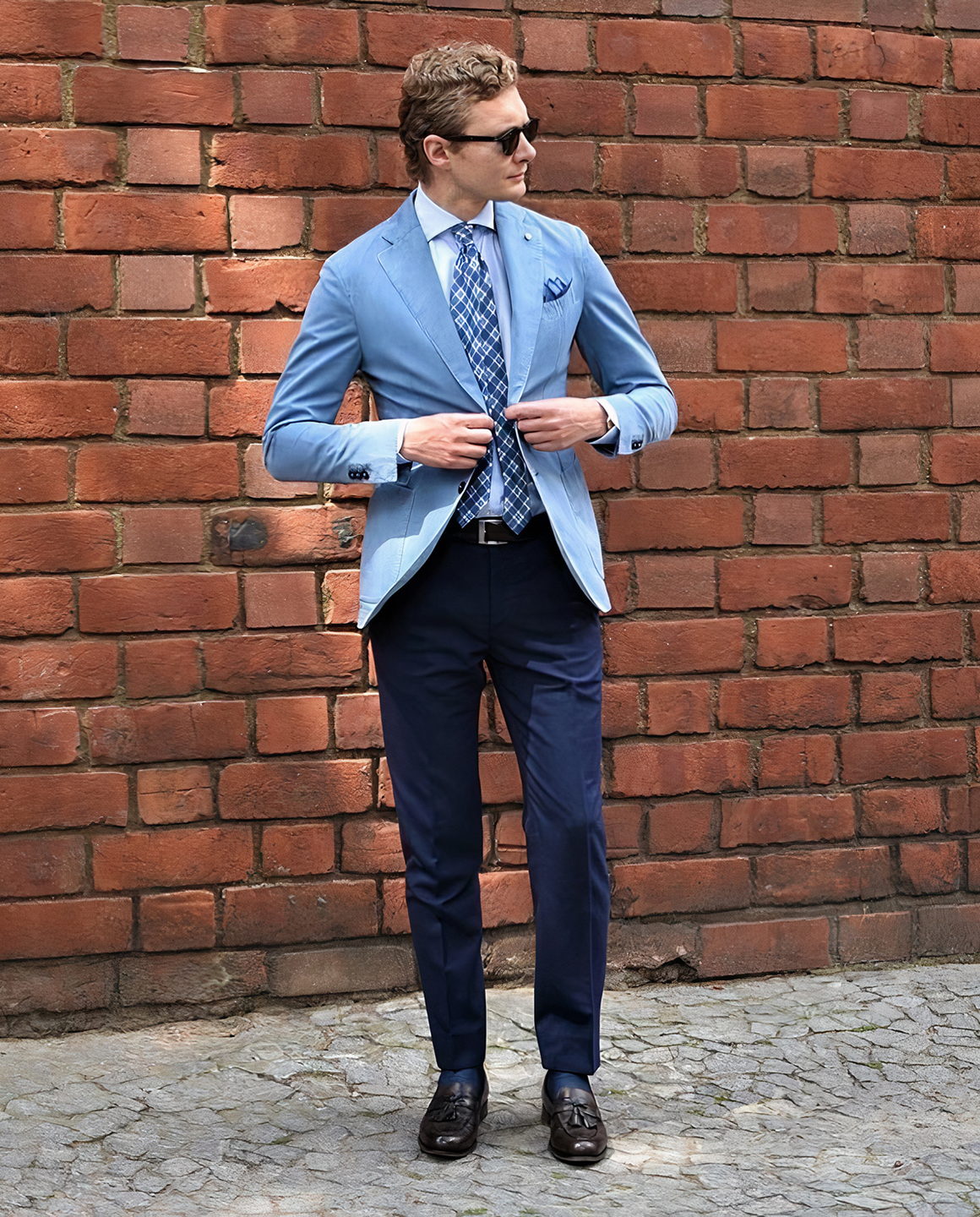 This helps to create harmony from head to toe. Don't go for contrast in an effort to be stylistically edgy; it will only create chaos in this instance.
When It's Not Appropriate to Wear a Suit Jacket as a Blazer
As tempting as it may be to lean into a more relaxed way of wearing your suit jacket, it isn't always appropriate to wear it as a blazer.
Just because your jacket can be converted to this laidback style, there are times you need to refrain from doing so.
If you're attending a formal event, it's imperative that you follow the dress code. Wearing a blazer to a formal social event or a professional setting is not your best plan.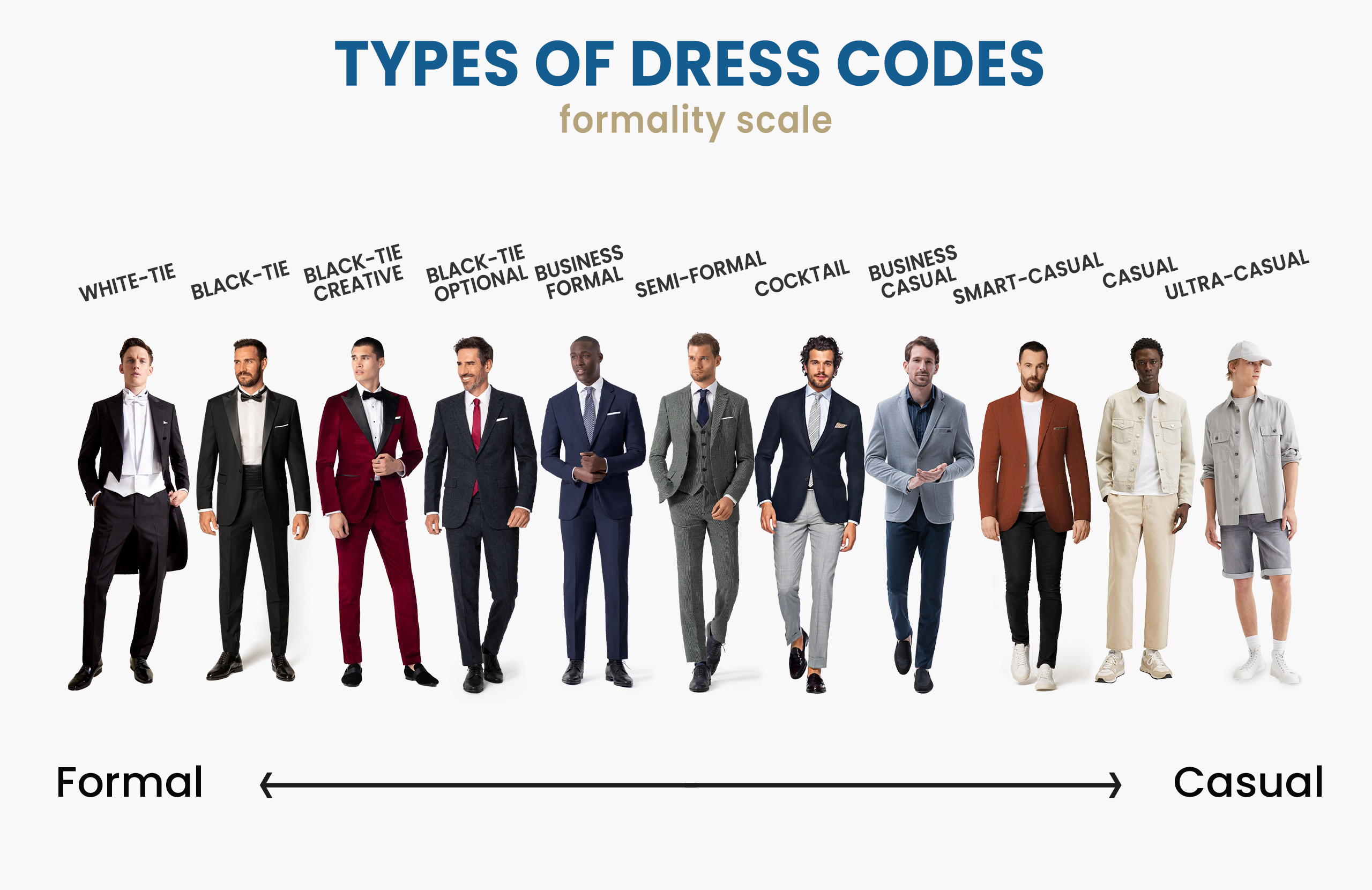 It's inappropriate to be underdressed in these settings, so stick with a full suit. Also, if you are in any doubt about the dress code, play it safe and keep the suit.
Author: Alexander Stoicoff
Hi, I'm Alex, and I've studied and specialized in styling in Rome. Through my writing, I want to help men dress well and learn the purpose and significance of suits and other formal attire. My final goal is to make men more confident in their wardrobe choice and life in general.