The charcoal suit is a sartorial masterpiece that's led many fashion-forward individuals down the rabbit hole.
But "which color shoes" has created an existential crisis for those who want to master the look!
Ready for a journey from confusion to clarity? Let's make your charcoal ensemble even more captivating.
Black Shoes and Charcoal Grey Suit
Black leather shoes are the ultimate go-to for a charcoal grey suit.
Perfect for formal events where you need to make an impression, like job interviews, corporate offices, or weddings.
The right dress shoe style choice is crucial when you intend to present a polished and formal image.
In that sense, derbies or classic Oxfords are the best choices for this ensemble.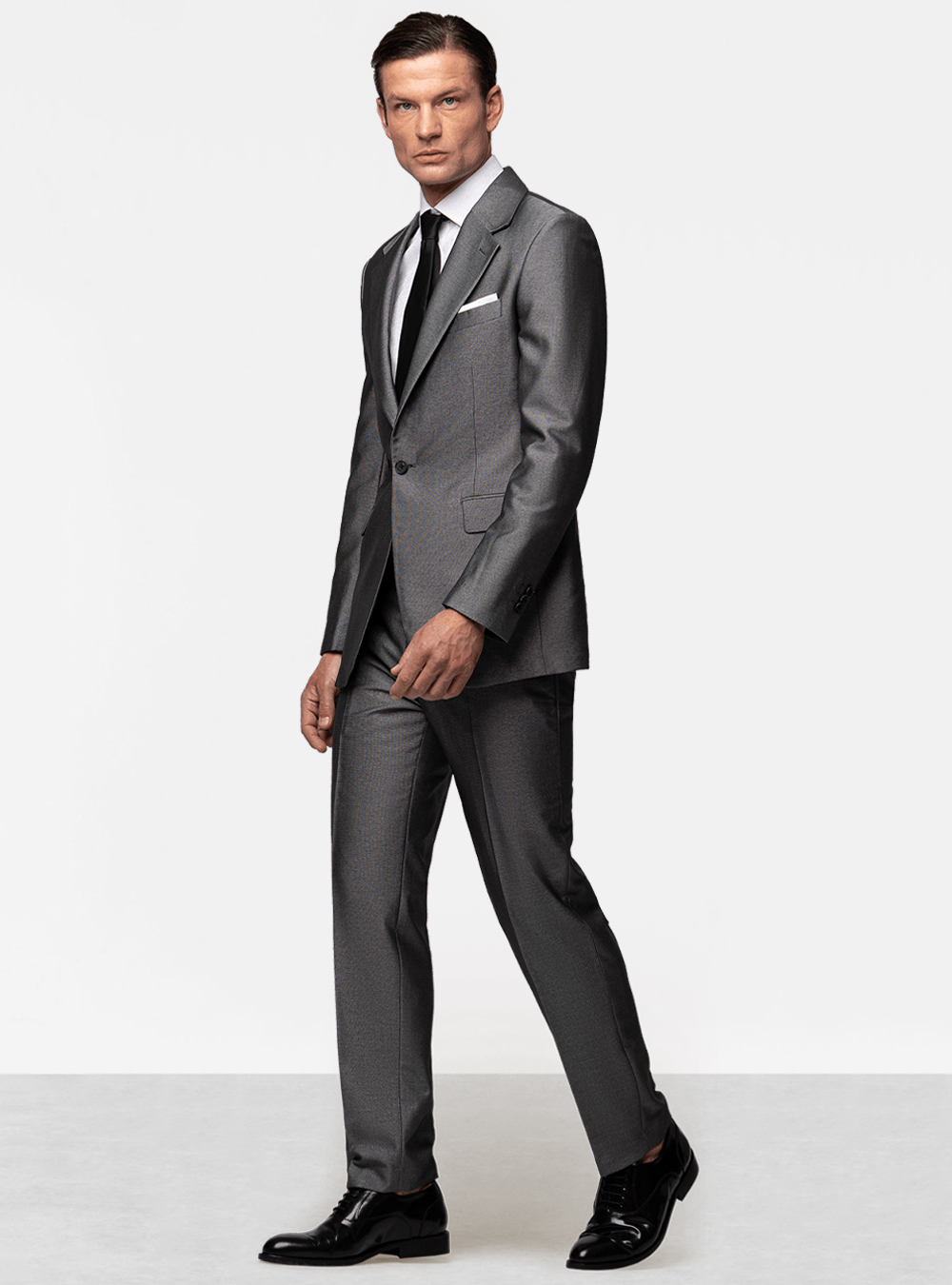 The traditional route to complete the look is with a crisp white dress shirt.
However, a blue shirt also matches the vibe and adds a pop of color. The key to this pairing lies in the subtlety of the shades.
The classic finishing touch is a dark tie, like black, dark grey, navy, or even burgundy.
Pocket squares in a simple fold or a leather watch are small details that work wonders, too.
Dark Brown Shoes and a Charcoal Suit
Pairing dark brown shoes with a charcoal suit perfectly balances formality and modern flair.
While being quite dark, they still present a softer edge. This gives a nice touch of warmth to your ensemble.
It's best for settings that call for a formal appearance but allow a little room for personal flair.
Oxfords and derbies are still the classic choice. However, you can experiment with shoe perforations like cap toe or broguing.
Other shoe styles like loafers, brogues, and monk straps come into play as well. This will give you that extra panache.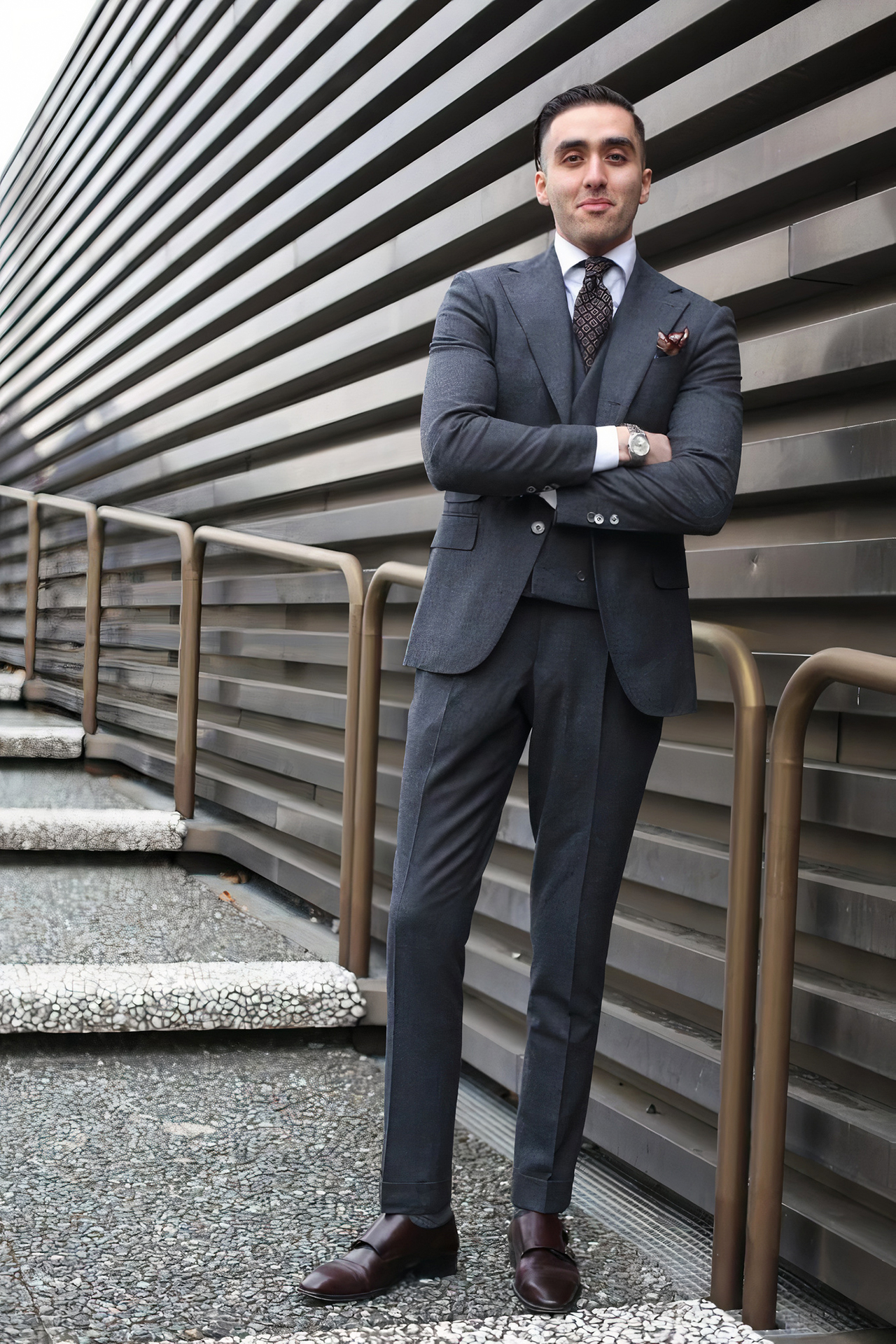 A button-up shirt is still your ultimate choice. This time, I recommend spicing up things and going for a pale blue dress shirt.
It would be the perfect choice for presentations, public speaking, or business settings.
Light Brown Shoes and a Charcoal Suit
With light brown shoes, we are now downgrading the formality of your ensemble even more.
A word of caution: the lighter color will draw the eye first to your shoes, so make sure they are well-kept and polished. We don't want any scuffs or marks!
A caramel or tan shade can enliven a charcoal suit, making it suitable for smart-casual and professional settings.
You can even consider suede for texture.
And since this is a more informal pairing, consider a less formal shoe style, like loafers or monk straps.
Perfect for daytime semi-formal occasions where making an entrance counts!
Burgundy with a Charcoal Grey Suit
The inclusion of burgundy shoes beneath the hem of a charcoal grey suit is an expression of refined taste and a hint of adventurous spirit.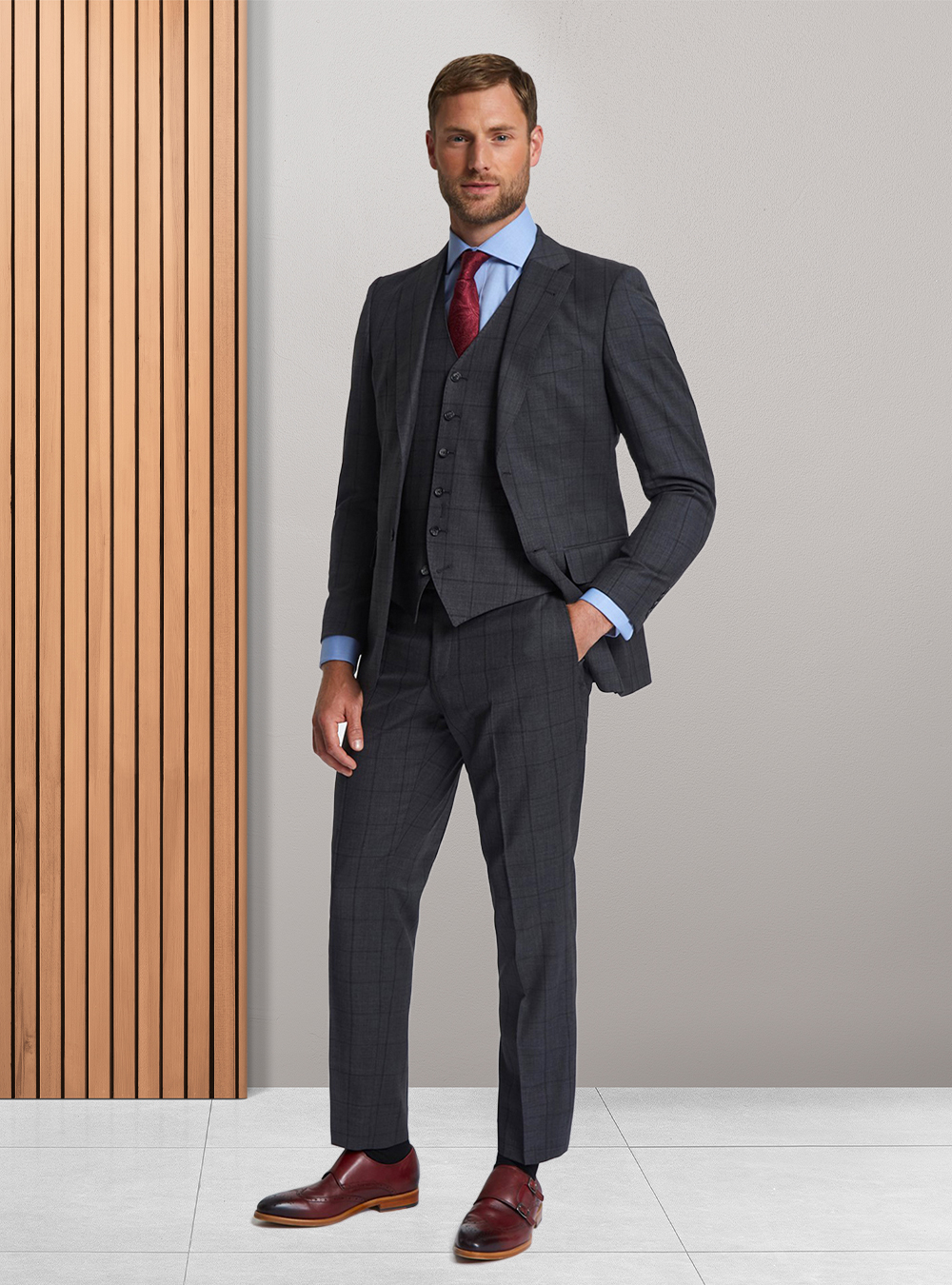 Much like its effect with navy, burgundy imparts an air of sophistication to the charcoal suit. The deep red tones provide a striking yet pleasing contrast.
It also offers versatility in shirt color choices beyond the classic white.
Light blue, pink, or even a pale lavender shirt can complement the richness of burgundy while still keeping the outfit balanced.
Textured materials like a knit tie or a wool scarf can add depth to the outfit. Keep the suit's tailoring sleek to ensure the shoes remain a subtle statement piece.
Oxblood Shoes and Charcoal Suit
For those unaware, oxblood refers to a mid-to-light-toned brown shoe with heavy red undertones. It's like the sophisticated cousin of burgundy.
The key here is ensuring the saturation of the oxblood remains deep and rich. It shouldn't veer too bright or cherry-toned, which can disrupt the harmony.
Burgundy dress shoes are a perfect way to elevate your fashion style. It's also an easy way to stand out and get shoe compliments from your colleagues.
As an old saying goes, "Always look at a man's shoes; they will tell you a lot about him."
So, if you are wondering what to wear for a casual Friday at the office, pièce de résistance has to be the oxblood derbies. They won't disappoint.
White Sneakers and Charcoal Suit
White sneakers are definitely your go-to choice if you are building a capsule wardrobe.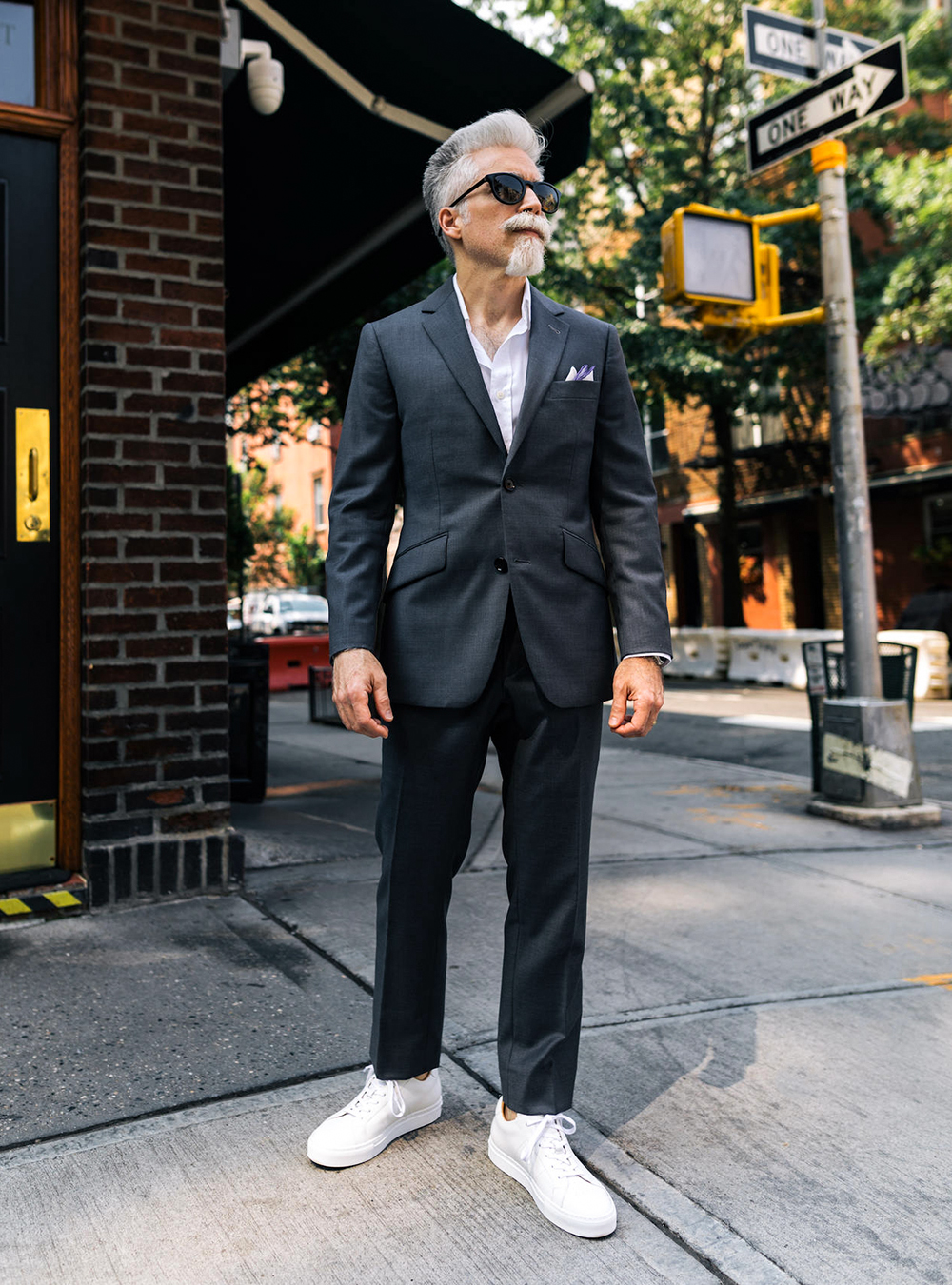 They're perfect when matching with a charcoal suit casually, for smart casual affairs, contemporary workplaces, etc.
When choosing the sneaker style, make sure to opt for low-top and plain leather for that clean and smart look.
Match the vibes with a plain T-shirt or patterned shirt for a smooth summer outing.
Pay close attention to scuffs or marks on sneakers, as they can detract from the suit's sleek appearance.
Things to Consider
Before we dive deep into the finer nuances of mastering the charcoal suit and shoe game, let's brush up on some overarching principles.
From the texture of your suit fabric to the maintenance of your shoes, every detail plays its part in creating a cohesive look.
With the groundwork laid, let's get into the specifics!
Shoe Type and Material
The material and type of your shoes truly hold equal footing (pun intended!) with color when orchestrating that show-stopping look.
Black Oxford and Derby shoes in polished leather are your trusty sidekicks for those formal events, offering a sprinkle of ageless charm.
Are you heading somewhere more chill? Slide into loafers, monk straps, or brogues to instantly transform that suit vibe from "all-business" to stylish.
And for those looking to add some rugged chicness, leather or suede boots, like Chelsea or Chukka, can be the perfect match.
The Charcoal Suit Style
The style of your charcoal suit can guide your shoe choice.
A suit featuring casual elements like patch pockets, notch lapels, and an unlined structure pairs well with casual shoes like brogues or loafers.
Even white sneakers, in some cases, are a great option.
Conversely, suits with structured shoulders and peak lapels lend themselves to classic footwear like black leather Oxfords or Derbies.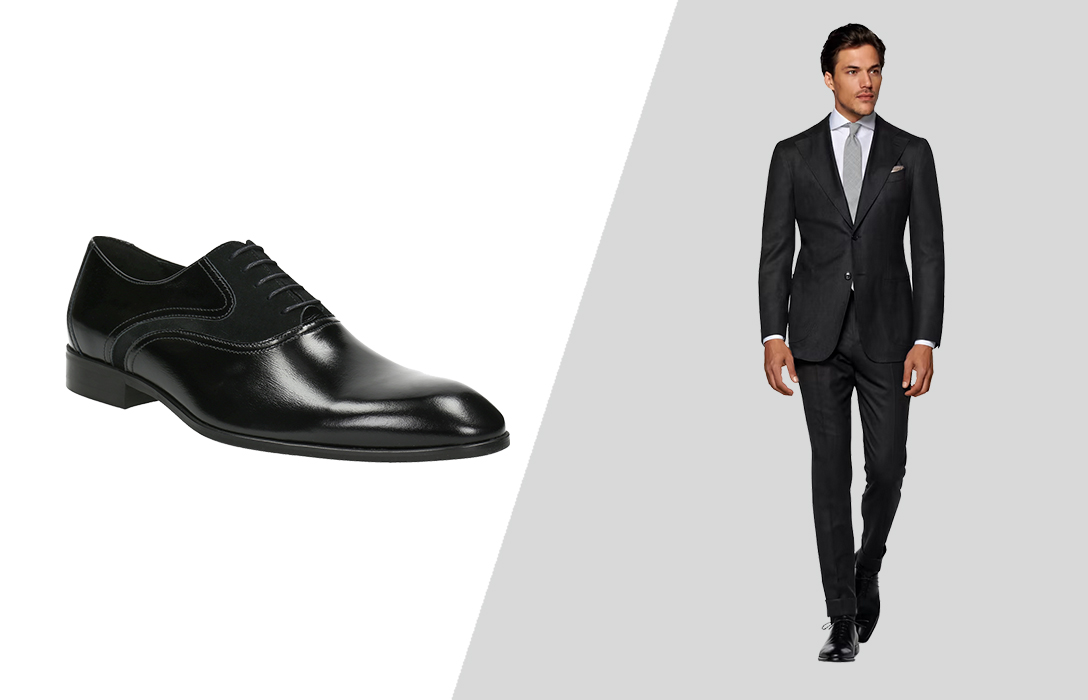 These details subtly dictate the suit's formality, steering your shoe selection to maintain a harmonious ensemble.
Time of the Day
When you're strutting your charcoal suit, the time of day sets the mood for your shoe game.
Morning or afternoon vibes? Medium brown shoes can be just the ticket.
Opt for black, dark brown, or sultry oxblood shoes when the sun dips and evening cocktails are on the horizon.
Occasion & Seasonality
If you're off to a spring fling in that charcoal suit, lighter shoes like medium brown keep things in tune with the season's vibes.
But for fall, you'll want darker shoes like burgundy, deep browns, or classic blacks.
Keep in mind that black is your best friend for those professional or business events.
On the other hand, brown and burgundy are probably best for festive events like weddings.
Casual rooftop party? Play around with lighter shades or even a suede finish.
Author: Alexander Stoicoff
Hi, I'm Alex, and I've studied and specialized in styling in Rome. Through my writing, I want to help men dress well and learn the purpose and significance of suits and other formal attire. My final goal is to make men more confident in their wardrobe choice and life in general.