In menswear, the black-on-black look has always turned heads. Pairing a black suit with a black shirt is a bold move: done right, it's striking; done wrong, it's a faux pas.
From the sleek boardrooms of Wall Street to the edgy nightclubs of downtown LA, this combo remains a favorite.
But how do you wear it without blending into the background?
Modern Black-Tie Optional
Nothing says refined like a contemporary black tuxedo with just a hint of satin on the lapel's edge for a black-tie optional event.
Now, if James Bond decided to take a fashion-forward detour on his way to the casino, this would be it.
Complemented by a tuxedo shirt and a sharp tie (skipping the traditional bow tie), the collar pin anchors the collar.
But let's not forget those polished black leather Chelsea boots, They make you want to walk a bit taller, don't they?
Sockless Look
Wearing a black suit with a black shirt sounds simple until you see the execution here.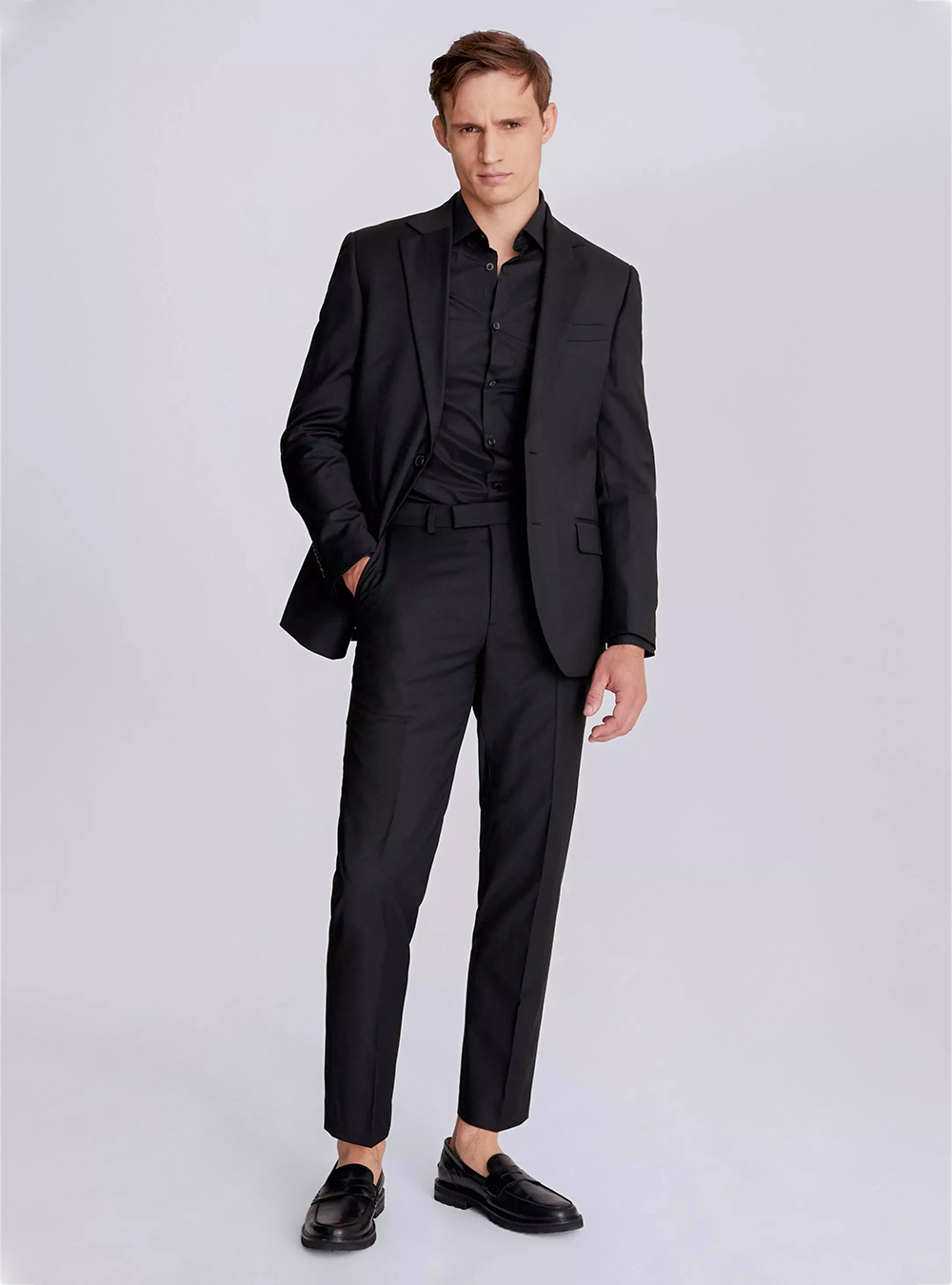 The high-rise trousers allow for a sockless look, ensuring those black loafers get all the attention they deserve.
Now, I always say a hint of ankle can be the fashion equivalent of a cheeky wink, and here's the proof.
Less is more? I think so, too!
Sneaker Street Meets Workwear Chic
Who said suits are strictly formal? Take a black suit, throw in a black crew-neck t-shirt, and finish it off with leather sneakers boasting white soles.
Add that little flair with a white pocket square, and you've got an outfit that says, "I mean business, but I'm also here to chill."
Paint it Black
Effortless fashion comes to mind when you wear a black suit with a casually unbuttoned black shirt.
Three buttons undone? It's a move only the daring would attempt, but boy, does it work. Add in black dress socks and a coordinating belt, and finish with suede loafers.
This all-black outfit shouts confidence without trying too hard.
Twice the Style, Double the Impact
There's a reason men should wear double-breasted suits more often: they're downright commanding.
This black ensemble is a testament to that age-old wisdom.
Combined with a sleek black dress shirt and loafers, it's a look that showcases authority, taste, and a nod to timeless fashion.
Suiting up the Sweater Game
Breaking traditional norms is the heart of contemporary fashion.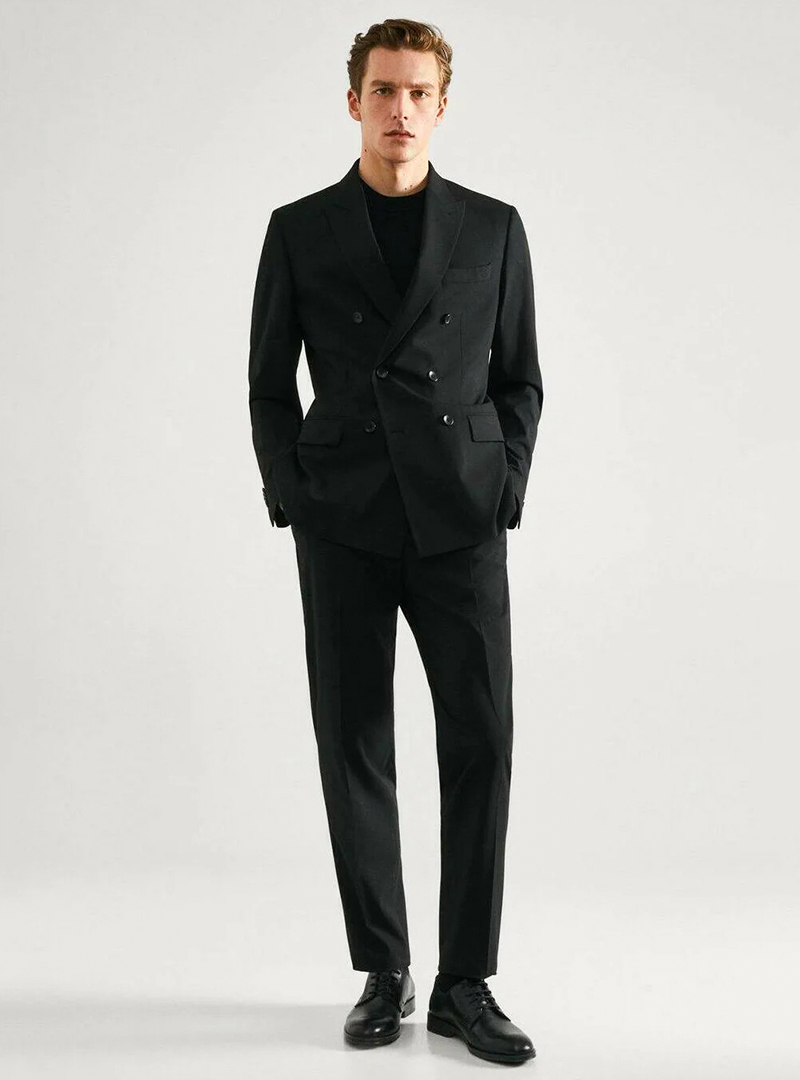 Enter the black double-breasted suit paired with a snug sweater. It's smart to inject some extra style into your everyday wardrobe.
And if you're not sure what shoes to wear, go for black leather derbies; they won't disappoint.
Black & Sun-Kissed
When the temperature rises, it's time to switch to breathable fabrics.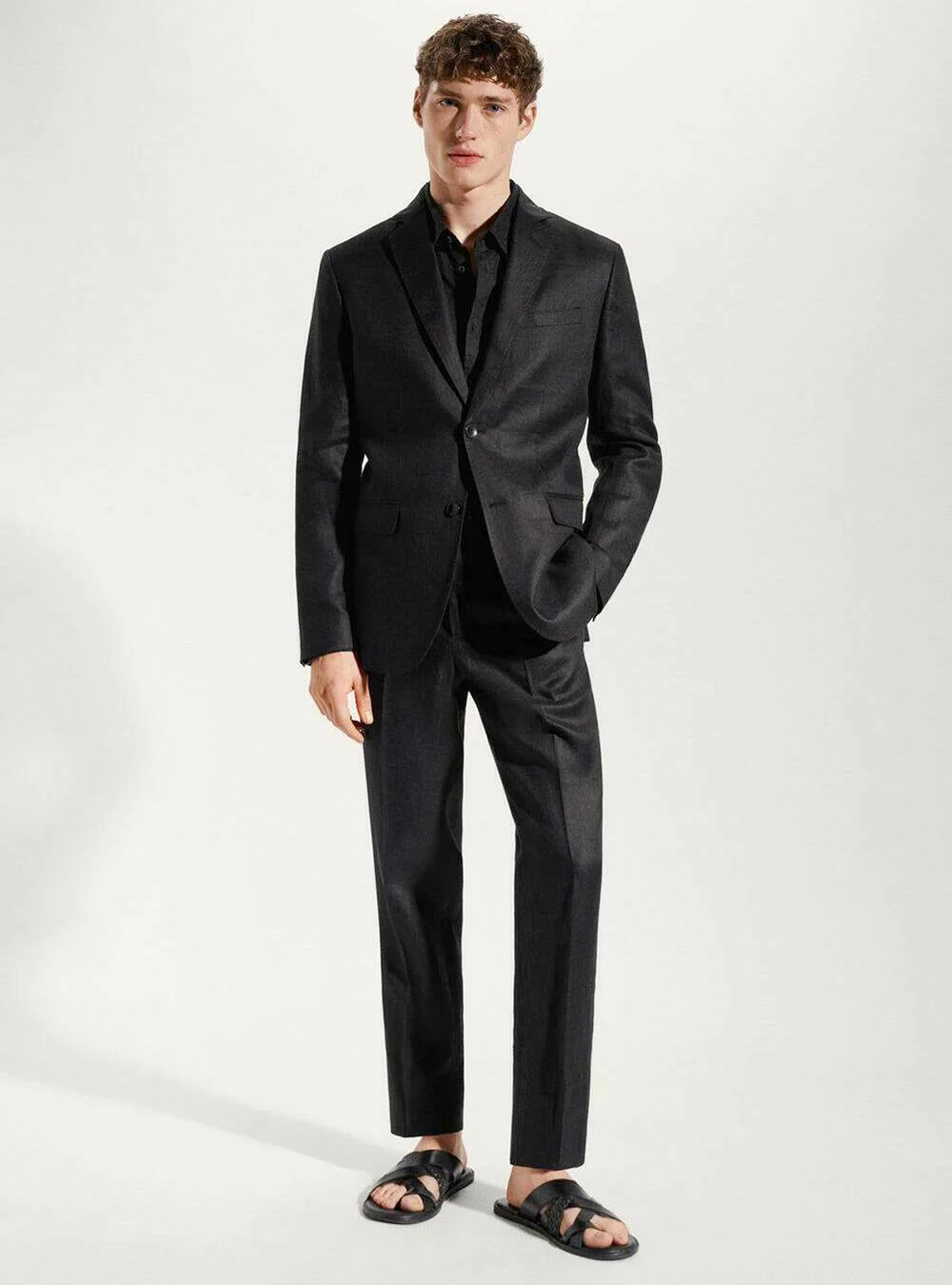 This black suit, tailored from fine linen, is your summer savior. The black shirt underneath complements the relaxed feel, especially when paired with those cool black sliders.
This is the Ideal laid-back summer outfit for the events where you still want to make an impression.
Suit Jacket and Jeans: The Ultimate Duo
The art of mixing formal with casual is showcased perfectly here.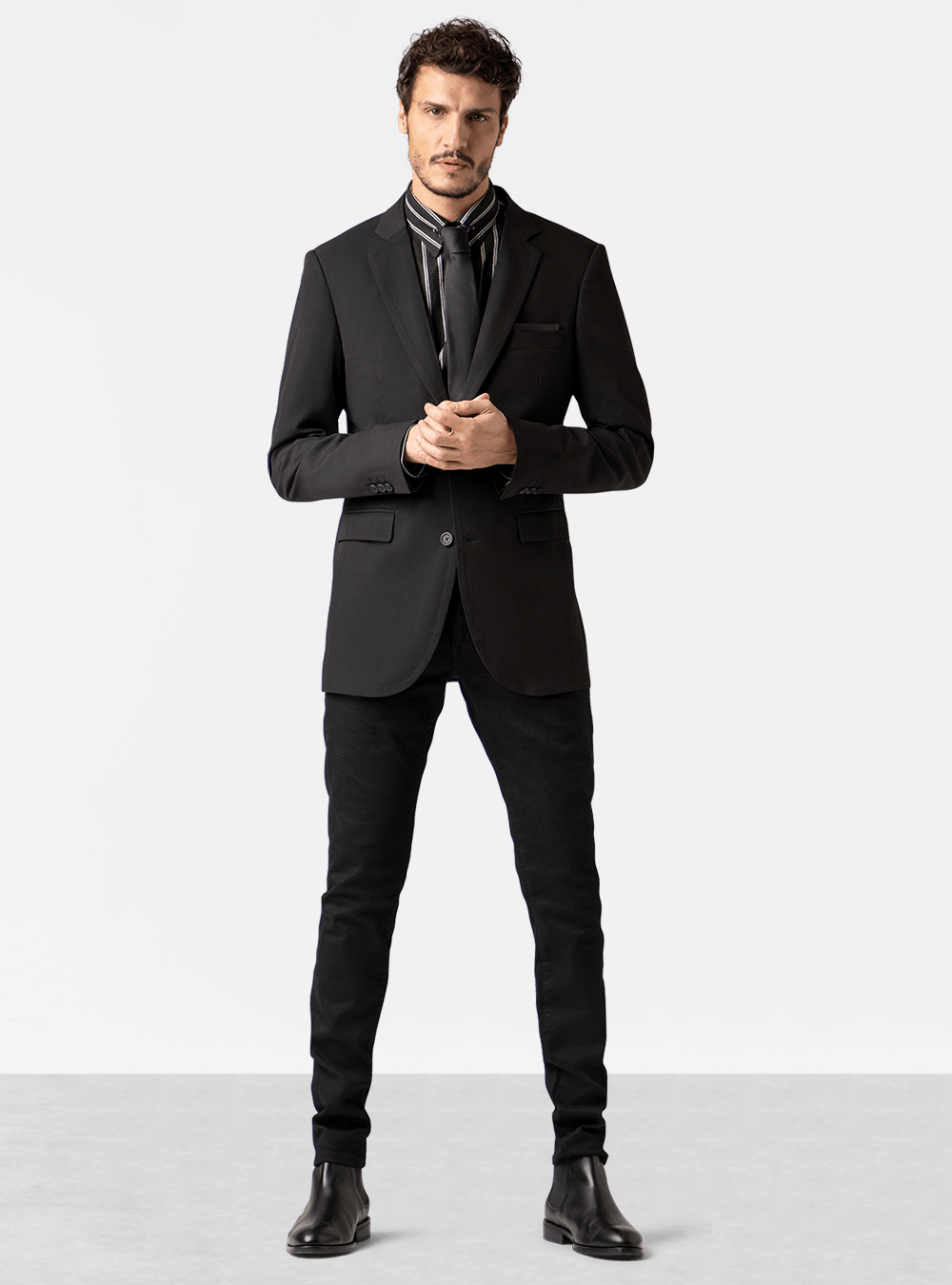 A sharp black suit jacket paired with a black and white dress shirt is already a winning combo. Add a matching black tie and those glossy black Chelsea boots, and you're onto something special.
But the pièce de résistance? Those jeans bring a casual kick to an otherwise formal ensemble.
Read more: How to wear a suit jacket with jeans.
Layering Up with Leather
This outfit featuring a dark-brown leather overcoat draped over a tailored black double-breasted suit and black dress shirt screams luxury.
Tying the look together with a subtle dark brown tie and a sleek pair of black leather derby shoes adds an unmistakable touch of style.
Did I mention Richard Biedul wore this? Yes, that seals the deal!
Burgundy Elevations in Classic Black
Something about a three-piece suit commands attention, especially when it's complemented by a red pocket square peeking out from the breast pocket.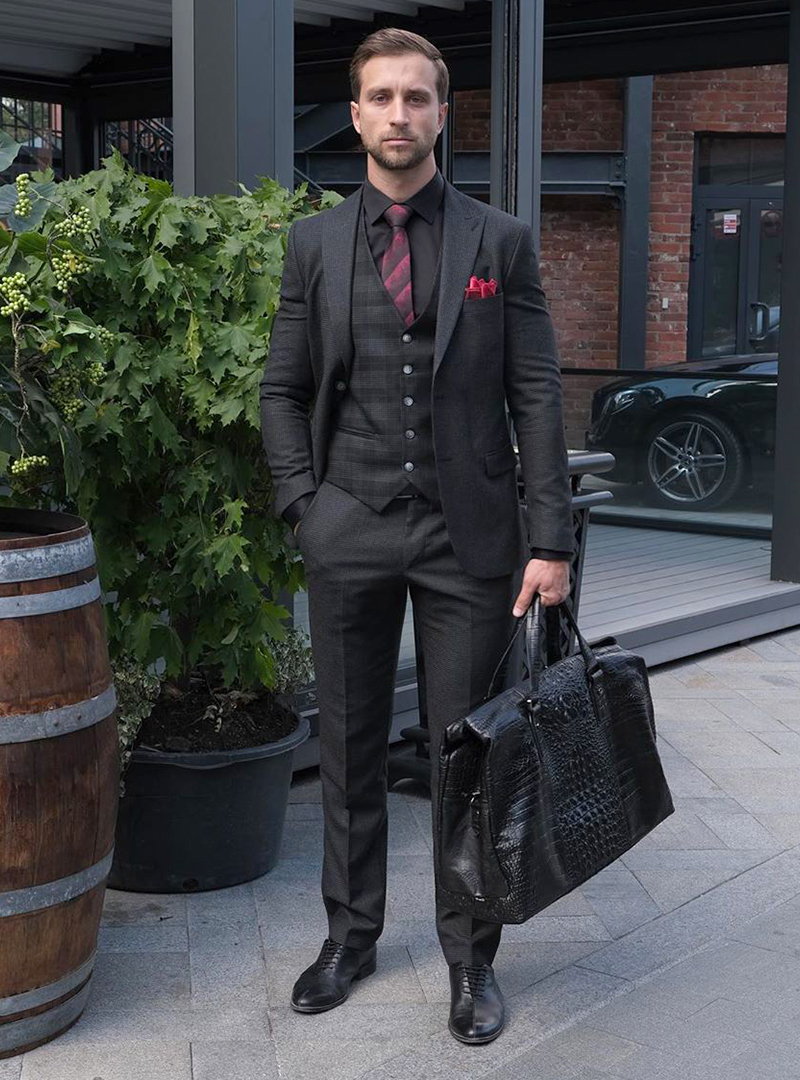 But the real game-changer? That contrasting burgundy-striped tie.
Topped off with black Oxford shoes, this is the attire of a man who knows his fashion, loves a little flair, and possibly schedules board meetings and brunches with the same level of enthusiasm.
Things to Consider
It's remarkable how versatile a black suit can be, isn't it?
With just a few tweaks and the right accessories, you can create various looks that range from dapper to daring.
Whether you're headed to a gala, a business meeting, or just a night out with friends, there's a black suit look tailored just for the occasion.
Combine Different Shades of Black
Black isn't just one hue – it spans from deep jet to near-charcoal. To avoid a flat, monochromatic look, play with these variations.
Pair a charcoal-leaning shirt with a dark black suit, or vice versa. This intentional contrast, however subtle, adds depth and breaks the monotony.
If you find your shades too similar, don't fret; there are other ways to introduce differentiation, such as accessories.
Time of the Day
Dressing in a black shirt and suit combo is best reserved for evening soirees.
Don this ensemble during the day, and you risk seeming out of step. While it exudes sophistication post-sunset, it can feel stark and misplaced under the bright sun.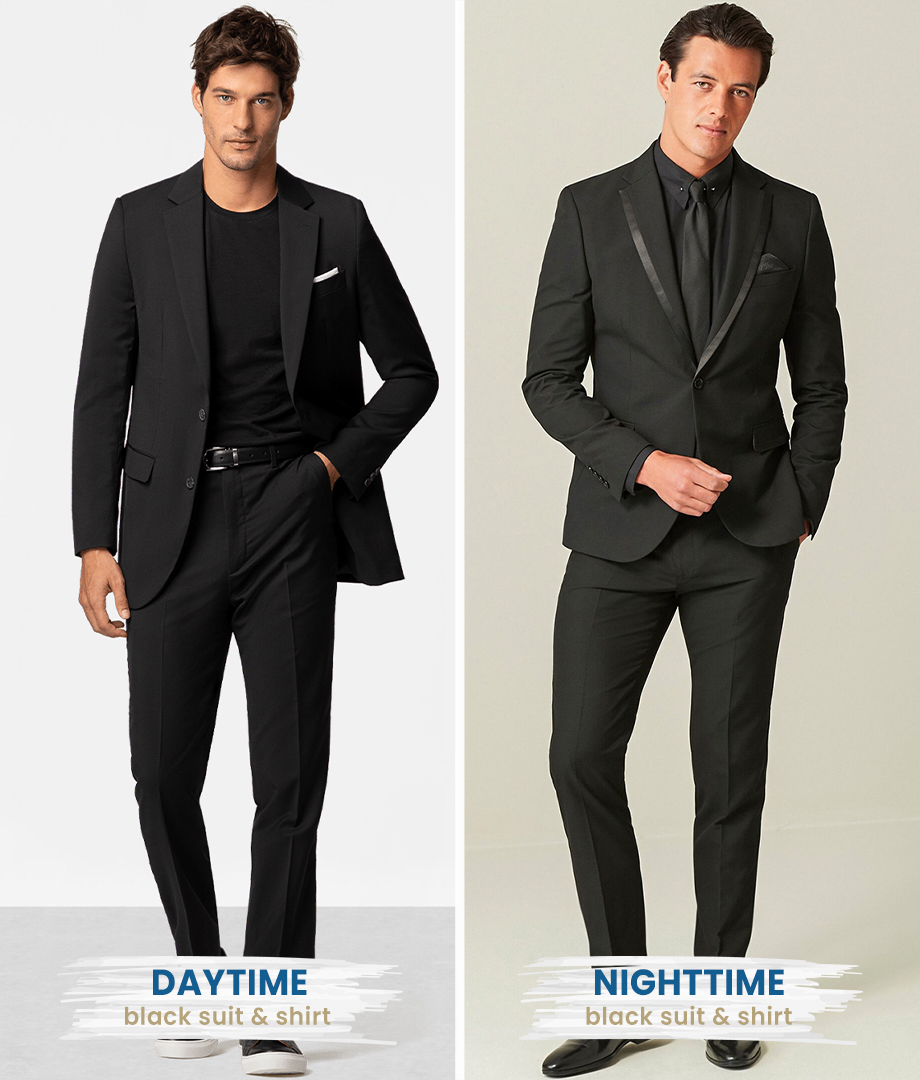 This mirrors the principle behind the black-tie dress code, typically flaunted after 6 p.m., while its daytime counterpart, "morning dress," embraces a lighter color palette.
Sure, you're not always aiming for ultra-formal, but the essence remains: black-on-black shines after dark. A crisp white or soft off-white shirt offers a more balanced look for sunlit affairs.
Skin Tone and Contrast
We often underestimate how our skin tone can elevate or diminish the effect of certain hues. With black, it's about contrast.
Fair-skinned gents? A black suit provides a striking contrast, making you stand out. For those with deeper skin tones, black emphasizes richness and depth.
In both scenarios, choosing a shirt or tie that complements your natural palette is key.
Maybe a splash of color or even a muted tone? It's all about balance, ensuring your outfit complements, not competes with, your skin tone.
Occasion
"Is this too formal?" "Can I wear this to brunch?" I've asked myself these questions a million times.
And let's face it, with the myriad of dress codes out there, it's easy to feel lost. When sporting a black suit, context is king.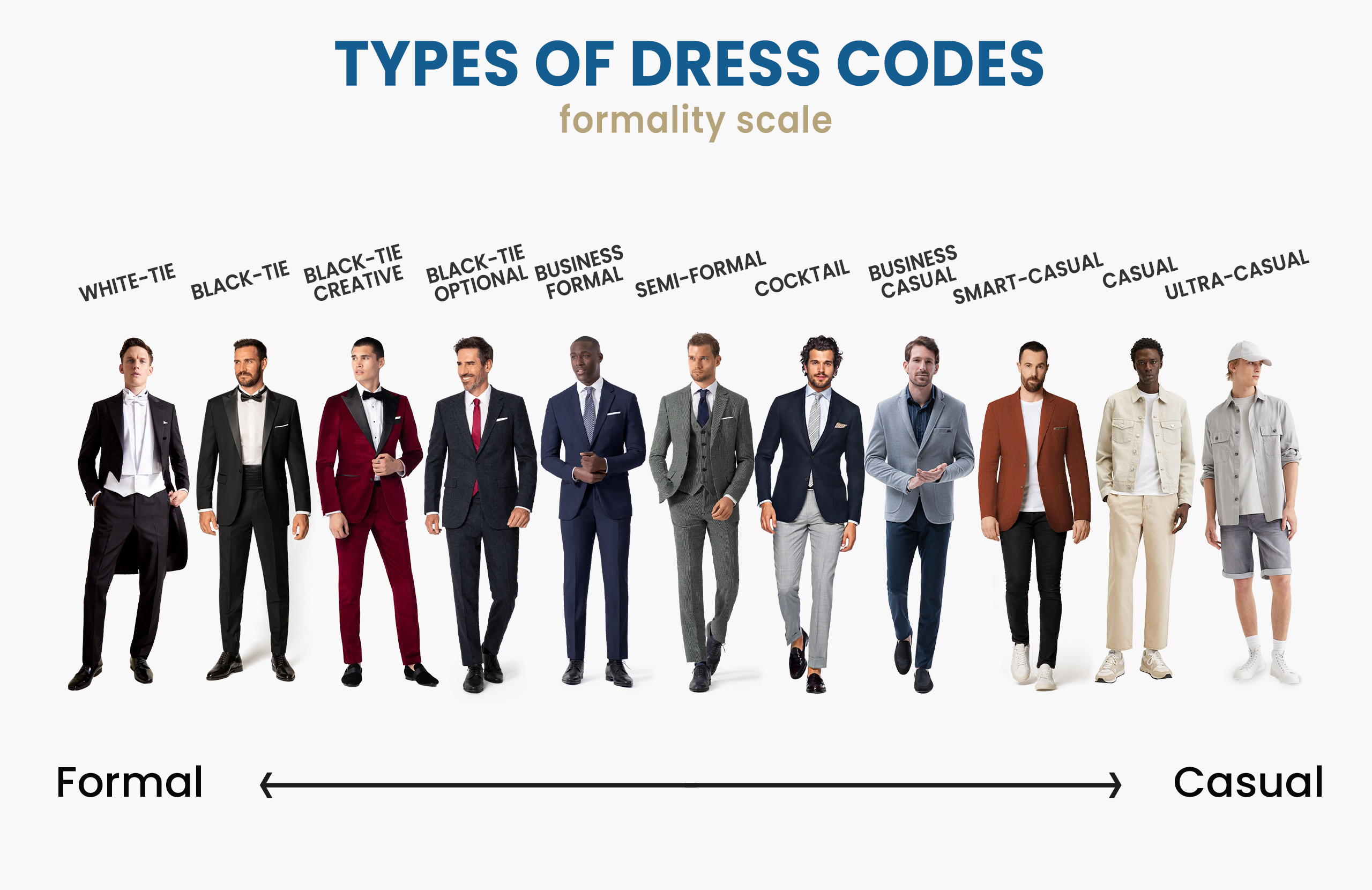 Cocktail party? Go classic with a crisp shirt and polished dress shoes.
Casual Friday or a smart-casual event? Swap that dress shirt for a polished polo or a sleek t-shirt. Even a refined sweater can elevate the vibe.
Want to up the ante? Infuse some personality with your footwear. Whether it's dashing sneakers, rich suede, or chic slippers, there's room to play and make it uniquely yours.
Accessorize to Add Interest
What's a suit without its knightly armor of accessories?
These little additions can elevate your black suit to new heights, be it ties, pocket squares, or even a dazzling pair of cufflinks.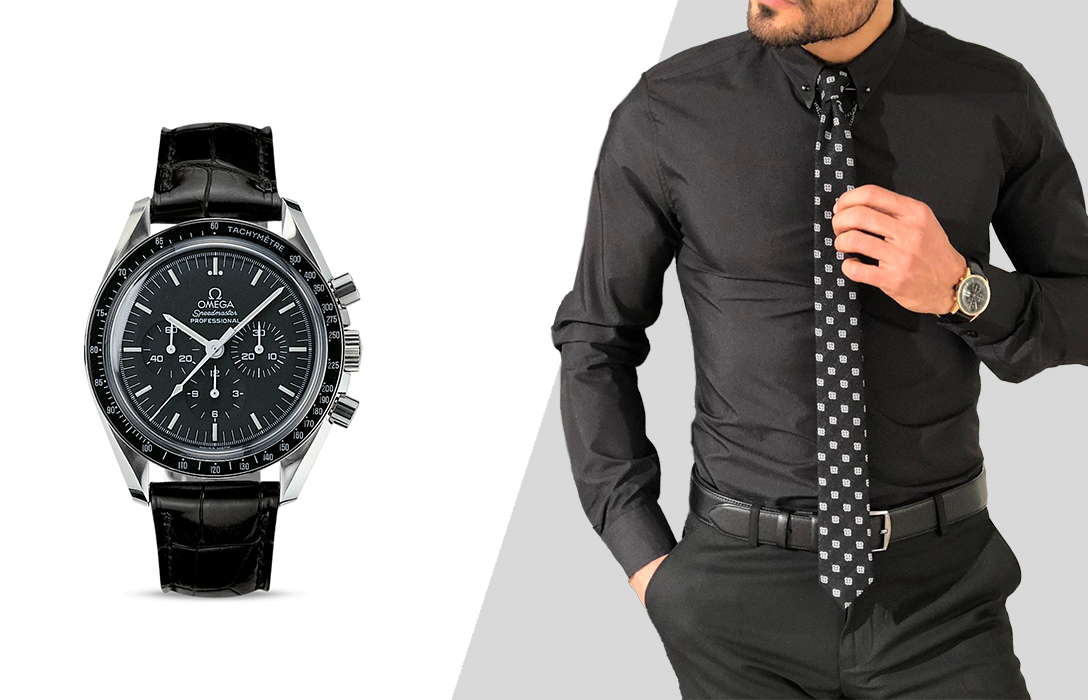 However, a word of caution: don't overdo it. It's like cooking – a sprinkle of salt can enhance the flavor, but too much can ruin the dish.
Similarly, pick one or two accessories to highlight your outfit without overshadowing it. Maybe it's that red tie for a pop of color or a sleek leather watch for subtle intricacy.
Author: Alexander Stoicoff
Hi, I'm Alex, and I've studied and specialized in styling in Rome. Through my writing, I want to help men dress well and learn the purpose and significance of suits and other formal attire. My final goal is to make men more confident in their wardrobe choice and life in general.